A 10,000-year clock is being built under a mountain owned by Amazon CEO Jeff Bezos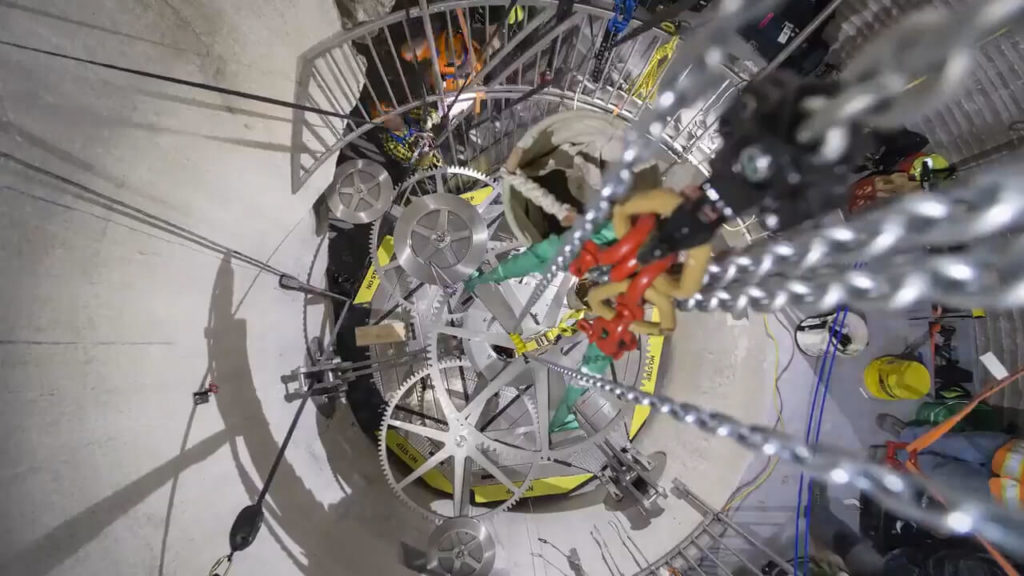 Hours away from any airport, deep in the heart of the Sierra Diablo mountains along the Texas-Mexico border, a 500-foot-tall clock is taking shape. In an era when atomic clocks can tick billions of times a second, the colossal timepiece will tick once a year — for the next 10,000 years.
The 10,000 Year Clock is the brainchild of inventor Danny Hillis, who dreamed up the idea in 1986 as a way to encourage people to think about humanity's distant future. After spending a decade designing the clock, Hillis and the San Francisco-based Long Now Foundation he co-founded are building and installing it within a mountain owned by Amazon and Blue Origin founder Jeff Bezos, who has invested $42 million in the project.
Last week Bezos tweeted a time-lapse video showing construction of the clock, calling it "a symbol for long-term thinking."
Installation has begun—500 ft tall, all mechanical, powered by day/night thermal cycles, synchronized at solar noon, a symbol for long-term thinking—the #10000YearClock is coming together thx to the genius of Danny Hillis, Zander Rose & the whole Clock team! Enjoy the video. pic.twitter.com/FYIyaUIbdJ

— Jeff Bezos (@JeffBezos) February 20, 2018
The foundation's website offers its own rationale for building the clock via a series of questions: "If you have a Clock ticking for 10,000 years what kinds of generational-scale projects will it suggest? If a Clock can keep going for ten millennia, shouldn't we make sure our civilization does as well? If the Clock keeps going after we are personally long dead, why not attempt other projects that will request future generations to finish?"
The clock will be driven by giant gears within a shaft in the mountain and powered by thermal energy harvested from the changes in temperature associated with the day/night cycle on the mountain above. The clock can also be wound by people who make the difficult hike to the site for a visit.
A century hand will advance once every 100 years, and a cuckoo will emerge once every 1,000 years, according to a blog post by Bezos. The mechanism will also contain 10 bells and a so-called "melody generator," created by rock musician Brian Eno, that is designed to produce a unique pattern of chimes each time the bells sound.
No completion date for the clock has been set. But already it's captured the imagination of many people, including Lee Smolin, a theoretical physicist and the author of "Time Reborn: From the Crisis in Physics to the Future of the Universe." As he told NBC News MACH in an email, "The clock of the Long Now impels us to wonder how we will live as far in the future as we are from the beginnings of cities, far beyond the spans it will take to solve all the problems that occupy our thoughts now… If the clock can be built, it may inspire the imaginations of billions of people."
Source www.nbcnews.com
NTP nuclear rocket engine will take humans to Mars in just three months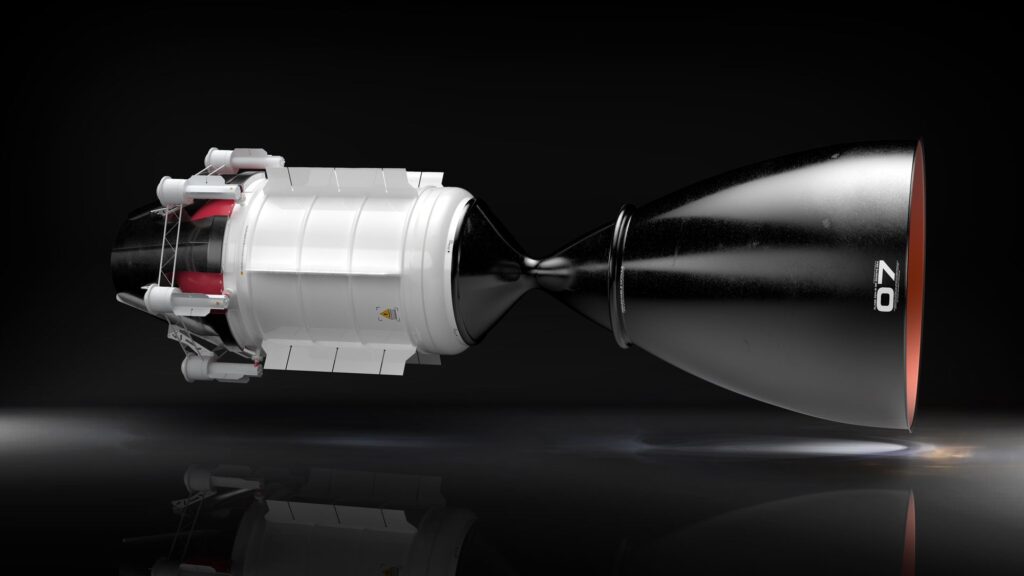 Although the romance of the peaceful atom has subsided since the mid-1960s, the idea of ​​using nuclear reactors for "civilian" purposes is still regularly returned. The new nuclear rocket engine (NRM) will deliver a man to Mars much faster than is possible now.
The danger of cosmic radiation is much more serious than the risk of infection from an accident with such an engine. The most dangerous of all the constraining vectors for projects of sending people to other bodies in the solar system is cosmic radiation. Radiation from our star and galactic rays can seriously damage the health of the mission crew. Therefore, when planning flights to Mars, engineers and scientists try to reduce travel time as much as possible.
One promising way to get to the Red Planet in just three months could be a new NTP engine. Its concept was developed and submitted to NASA by Ultra Safe Nuclear Technologies ( USNC-Tech ) from Seattle, USA. The name of the unit is simply deciphered – Nuclear Thermal Propulsion ( NTP ), that is, "thermal nuclear power plant". The novelty differs from its previously created or invented counterparts in the most secure design.
A key component of USNC's development is mid – grade uranium fuel "pellets". They contain 5% to 20% of the highly reactive isotope U- 235 coated with zirconium carbide ceramics. This degree of enrichment lies roughly halfway between the "civilian" nuclear power plants and the military. The proprietary ceramic coating technology makes the tablets incredibly resistant to mechanical damage and extreme temperatures.
The company promises that their fuel elements are significantly superior in these parameters to those currently used at nuclear power plants. As a result, the engine will have a higher specific impulse with a lower degree of uranium enrichment than in earlier versions of NRE. In addition to the flight to Mars, among the goals of the ambitious project are other missions within the solar system. The perspectives of the concept will soon be considered by specialists from NASA and the US Department of Defense ( DoD ). Perhaps departments will even allow its commercial use by private companies.
Theoretically, NRE based on modern technologies can have a specific impulse (SR) seven times higher than that of chemical jet engines. And this is one of the key performance parameters. At the same time, unlike electric and plasma ones, the ID of a nuclear rocket engine is combined with high thrust. One of the limiting factors in the use of NRE, in addition to safety issues, are extremely high temperatures in the reactor core.
The higher the temperature of the gases flowing out of the engine, the more energy they have. And accordingly, they create traction. However, mankind has not yet come up with relatively inexpensive and safe materials that can withstand more than three thousand degrees Celsius without destruction. The solution created by USNC will operate at the limit of modern materials science (3000 ° C) and have a specific impulse twice that of the best liquid-propellant engines.
The official press release does not specify which working body will be used in NTP . Usually, in all NRE projects, the reactor core heats hydrogen, less often ammonia. But, since we are talking about a long-term mission, the creators could have chosen some other gas. Keeping liquid hydrogen on board for three months is no easy task. But you still need to invent something for the way back.
Scientist Peter Scott-Morgan is set to become "the world's first complete cyborg"
Two years ago scientist Peter Scott-Morgan was diagnosed with motor neuron disease, also known as Lou Gehrig's disease, and today he is still fighting for a new life, not just for survival.
This October, Dr. Scott-Morgan is on track to become the world's first full-fledged cyborg, potentially giving him more years of life.
The world's first complete cyborg
It was in 2017 that Dr. Peter Scott-Morgan (a brilliant robotics writer, scientific writer, and talented speaker) was diagnosed with degenerative motor neuron disease that ultimately paralyzed his entire body except his eyes.
The diagnosis is understandably grim, especially considering that he has only two years to live, but he has not given up the fight.
Teaming up with world-class organizations with expertise in artificial intelligence, Dr. Scott-Morgan is transforming himself into what he calls "the world's first fully fledged cyborg."
"And when I say 'Cyborg', I mean not just that some kind of payment will be implanted in me, I mean that I will become the most advanced human cybernetic organism ever created on Earth for 13.8 billion years. My body and brain will be irreversibly changed, "says Dr. Scott-Morgan.
What does it mean to be human
According to Dr. Scott-Morgan, he will become part robot and part living organism. Moreover, the change will not be one-time, but with subsequent updates.
"I have more updates in the process than Microsoft ," says Dr. Scott-Morgan.
AI-powered creative expression
The cyborg artist is a great example of the power of human-AI collaboration. AI uses the data that make up Peter's digital portrait ( articles, videos, images, and social media ) and is trained to recognize key ideas, experiences, and images.
Peter will introduce a theme, AI will suggest composition, and Peter will apply images to suggest style and mood. Peter will direct the AI ​​to render a new digital image that none of them could create alone.
A unique blend of AI and human, reflects Peter's creative and emotional self – a critical aspect of what it means to be human.
Peter 2.0
This October, Dr. Scott-Morgan will undergo what he calls the latest procedure that will transform him into "Complete Cyborg".
October 9 he tweeted a photo of himself, writing the following:
"This is my last post as Peter 1.0. Tomorrow I will trade my vote for potentially decades of life as we complete the last medical procedure for my transition to Full Cyborg, in the month that I was told statistically I would be dead. I am not dying, I am transforming. ! Oh, how I LOVE science !!! ".
Japan has developed an inflatable scooter that weighs practically nothing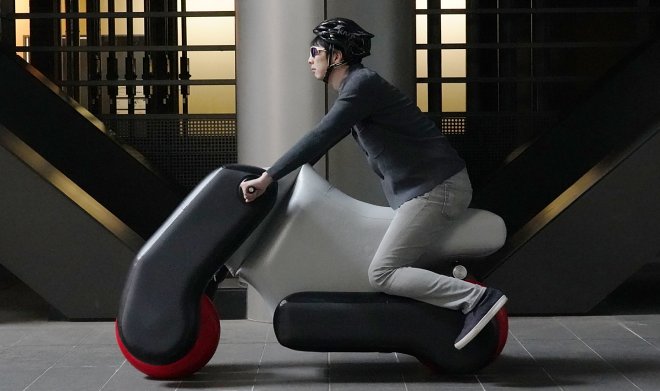 The University of Tokyo engineers have developed the Poimo inflatable electric scooter, which is created individually for each owner. It is enough to send your photo to the manufacturers – and a personal optimized model will be assembled for you.
The scooter is designed with a special program for the body size of a particular user and his specific fit. Moreover, each owner is free to make any changes to this model. If he makes any changes to the drawing, the program will automatically redesign the electric bike to maintain its strength, stability and controllability. When the model is finished and approved, it is handed over to the manufacturer.
The scooter consists of seven separate inflatable sections that are constructed from durable fabric and sewn with straight stitch. It remains to add electronic components – in particular, a brushless motor and a lithium-ion battery.
The finished electric scooter weighs about 9 kg and can travel at speeds up to 6 km / h (that is, slightly faster than a pedestrian). It can work for an hour on one charge.
This is how the current version of Poimo looks like in action: