74 Year Old Describes & Paints His Encounters With Extraterrestirals Since Childhood
The Facts:David Huggins, an artist from New Jersey has been painting his encounters he's had extraterrestrials since childhood. The more he paint, the more he remembers. He is one of thousands who have had and been having contact experiences.
Reflect On:With the existence of UFOS now being inarguable, and hundreds if not thousands of credible witness testimonies, is it not time to go beyond mere UFOs and start examining who is behind the wheel, and what their intentions are?
David Huggins, a man from New Jersey, is one of thousands of documented abductees who have come forward to share their story. The most fascinating aspect of extraterrestrial abductees is the fact that all of them share practically the exact same story, the same description of the beings involved, and similar experiences during the abduction coupled with telepathic messages.
How do we know this? Well, there are a handful of professionals on the planet who have hypnotically regressed people who claimed to have had these experiences. Two of the most prominent in the field are Dr. David Jacobs, a retired university professor and historian from Temple University, and Young-Hae Chi from the University of Oxford in the United Kingdom. Others are the late great Dr. John Mack, a psychologist from Harvard University, and Bud Hopkins. Together, along with others, they have talked to and also regressed thousands of individuals claiming to be abductees.
"Yes, it's both. It's both literally, physically happening to a degree; and it's also some kind of psychological, spiritual experience occurring and originating perhaps in another dimension. And so the phenomenon stretches us, or it asks us to stretch to open to realities that are not simply the literal physical world, but to extend to the possibility that there are other unseen realities from which our consciousness, our, if you will, learning processes over the past several hundred years have closed us off." – John Mack (source)
Dr. Jacobs also makes a great point: The "consistency is mind-boggling" with regards to the stories these abductees shared. There are thousands of them all over the world who, again, share practically the exact same stories. How is this possible?
Now, let us suppose it is not happening, all those things still remain, and yet it's not happening, there is no such thing as the abduction phenomenon. If that is the case, we have found the most important thing ever in the history of neurology, brain function, cognition… all these people are saying the same thing at their risk, this is not going to bring applause to them, that they say they've been abducted by aliens from outer space. High functioning people say this knowing full well it could destroy their careers, and they say this around the world… And it's not happening then what? – Jacobs
Before we go any further, it's important to mention that there are multiple types of alleged extraterrestrial contact. Some people have been taken against their will, like abductees, others simply have contact experiences through non-forced encounters or some type of telepathic communication. Overall, the general consensus behind why people are being contacted seems to be that they're concerned for our planet and the direction we're headed, although not all researchers agree. This narrative comes from experiences, for example, like the 60 school children in Zimbabwe who had an encounter, which was one Mack was heavily involved in investigating. Multiple children received telepathic messages regarding the care-taking and well-being of our planet. You can read more about that here. Not only that, but this narrative also comes from multiple credible 'insiders' with very interesting backgrounds.
Colonel Ross Dedrickson is one of many examples of 'credible' sources I've used in the past. He was assigned to the US Atomic Energy Commission and was in service there between 1950-1958, making him privy to some very sensitive information. He eventually decided to go public and tell the world that the "preservation of the planet is their main concern." He did so in this interview with Dr. Steven Greer.
Young-Hae Chi believes there is great concern among the extraterrestrials and abductees with regards to the way we are treating our environment, and Dr. Jacobs believes the opposite: that there might be some sort of 'take over' sinister type of agenda, and he uses that as an explanation for the supposed hybrid program. You can watch their talks and find more information on their perspectives on this phenomenon in this article. Both have regressed thousands of people, who again shared practically the exact same stories.
One of Many Examples: David Huggins
David Huggins is an abductee who has been experiencing abductions since he was eight years old. In one encounter, as described in a documentary about him called Love and Saucers, he describes walking through the forest near his home when an extraterrestrial woman appeared and seduced him. He goes on to describe multiple instances of sex between himself and the alleged female human/alien hybrid beings, and he also claims that he lost his virginity to an extraterrestrial at the age of 17.
As a young boy growing up in rural Georgia, he was abducted multiple times, and the contacts continued for several decades, which according to him resulted in the birth of more than sixty hybrid children.
There are multiple theories based on abductees' testimonies and the research that's been conducted thus far. One common theme seems to be an alien/human hybridization program. Many abductees claim to have been subjected to strange procedures, from having their sperm or eggs extracted from their bodies to forced orgasms to having sex with extraterrestrials. Others report being forced to breed with human-like extraterrestrials.
Many women who are abducted and subjected to these procedures become pregnant shortly after they're returned, and during their pregnancies they often experience another abduction event where they are returned without their fetuses inside of them. After this, the next abduction usually occurs years later, which often involves the abductee enduring a 'meet and greet' with their hybrid child or children. They spend time together aboard the craft and are observed during this type of activity by the extraterrestrials.
"This is extremely common for women, women have these experiences all the time." – Jacobs (source)
It seems the same thing is happening to men, although if you go through the literature it's more common for women.
Below is a picture of Huggins meeting his child for the first time.
David Huggins, Our Son. Scan of book page from Love In An Alien Purgatory- the art of David Huggins by Farah Yurdozu  published by Anomalist Books
David's paintings sometimes spark even more memories. He describes his first encounter:
"I am sitting under a tree, and I hear this voice say, 'David, behind you.' And I turned around and there is this little hairy guy with large glowing eyes coming straight towards me. I thought it was the bogeyman. I didn't know what to think of it," he says in the film. Another day, an "insect-like being" that reminded Huggins of a praying mantis appeared. "I was very terrified," he says. "It was like, 'What in the world am I looking at?' And for an eight-year-old, you don't know what to think."

Once the shock wore off, Huggins says his encounters were weird, but not all that threatening. When he left Georgia in the mid 60s for art school in New York City, the beings followed. Nocturnal visits from Crescent, the ET who deflowered him, became routine. "My relationship with Crescent was warm and friendly. A little strange. What do I mean, a little. Very strange. She was my girlfriend, really," Huggins says in the film. "A very unconventional relationship," he adds.
David along with thousands of other abductees share experiences with little 'Gray' aliens who have taken them.

Along with these ones, it's very common in the lore of abductees to also experience encounters with Mantis type beings, alien/human hybrid type beings, reptilian type beings, and tall white humanoid extraterrestrial type beings. These seem to be the most common, but there are also stories from very credible sources of extraterrestrials that pretty much look exactly like human beings as well as human-looking extraterrestrials who range from the 8-12 feet tall. (See some examples here and here.) It appears all of these different types of beings, at least during the abduction experiences, are all aboard the same craft while the abductions are taking place. This is also what David experienced.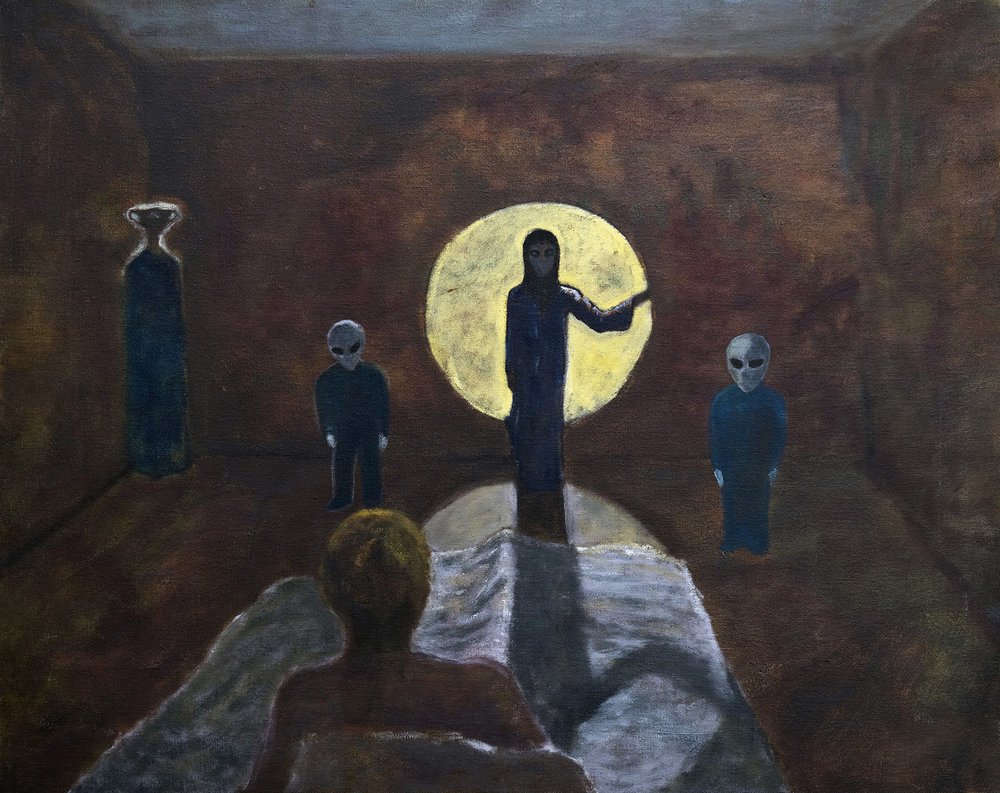 Filmmaker Brad Abrahams tracked Huggins down in Hoboken, New Jersey where he lives now. Abrahams heard Huggins' story on a podcast about UFOs and paranormal phenomena.
Huggins said his paintings were a form of release.
"He was able to sleep for the first time in weeks. And since then, he has painted every single detail of every encounter. A hundred-something paintings. It is art therapy. I don't know if that's how David would describe it, but that was a big part of what I wanted to show, too. Once he found a way to show the rest of the world, or even just himself, [what happened] visually through art, he was able to process, make sense of, and come to peace with whatever it was that happened to him." (source)
Corey Armpriester from The Artblog conducted a fascinating interview with Huggins, which provides greater insight into his experience.
"Condemnation without investigation is its own form of insanity. I'm writing this piece not to give the impression that I know David is telling the truth, because I don't know; I'm on the fence about all of this. I celebrate the world of ideas no matter how far out some of them may seem. Even if this is a made-up story from the mind of a delusional man, the power of the idea remains the same. Ideas are essential to the curious mind, and we as artists need not fear the ideas of other artists no matter how alien they sound. If David is indeed "crazy" he's in good company. Unusual ideas are almost always perceived as odd or askew until the common mind can make use of it. And as we all know artists are anything but common; and that's why I love talking with them and sharing our conversations with you, the reader." – Armpriester
I am not sure if Armpriester is aware that Huggins story correlates with several thousands of other people all over the globe.
Another interesting encounter painted by Huggins below is with another human-looking extraterrestrial he met when he was a boy. There seems to be multiple races involved in the abduction phenomenon described here. Abductees often report seeing all of them aboard the same craft, serving different purposes.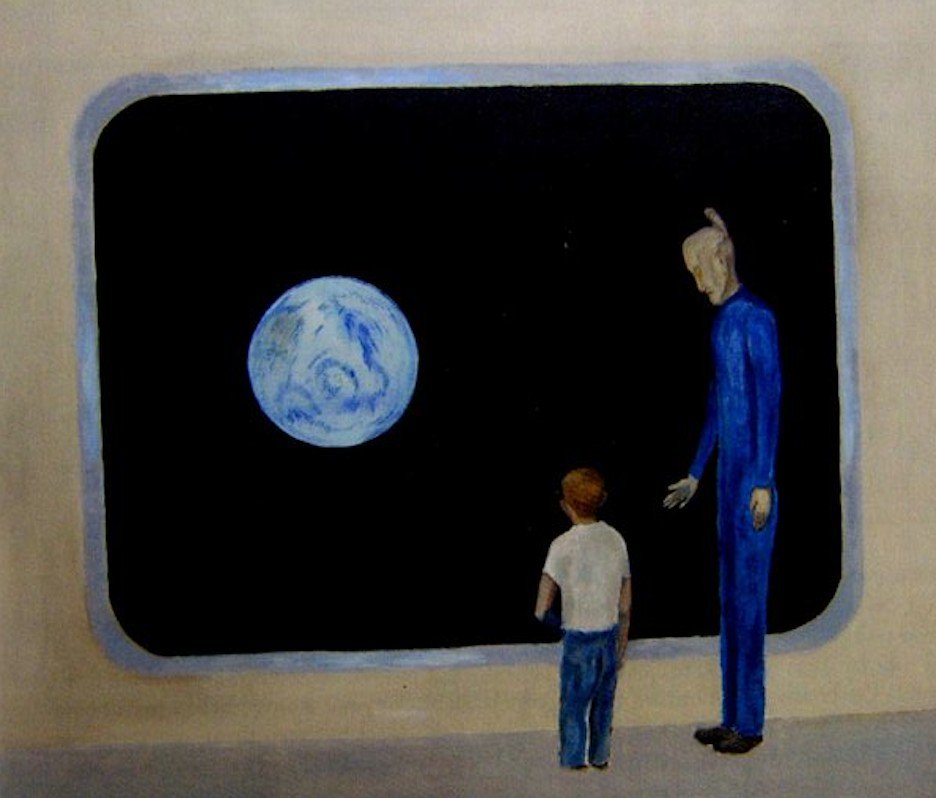 Some of these experiences are terrifying, but according to Huggins, there is no malevolent will.
Below are a few questions asked by Armpriester to Huggins, and you can read the full set of questions and answers here.
How have your parents dealt with your ET experiences?
As a kid I would see one of the beings and I would run to the house and say "Hey mom and dad, there is something out at the barn or something behind the house." And they would say "Quit making things up, there is nothing there." One time I did it and it was too much — I got a whipping really good. The next day I went behind the house and there is the woman [Crescent] with a few Grays and one Insect-Being and I remember telling the woman "My momma and daddy don't believe me that I see you and I got a whipping." As soon as I said that, I knew she [Crescent] didn't like that. She looked at me and said, "Then don't tell them." After that, I never said a word.
Do you have absolute trust in these beings?
Yeah, they have helped me in a lot of ways.
How?
Well they saved my life a couple of times. There was the incident with the snake under the tool shed; there was another incident were I nearly drowned. I'm looking at this person while I'm drowning and I hear this voice say "Let him live." And just as they said that my toe catches hold of a root and I'm able to pull myself to shore.
How are the ETs organized?
There are the Grays; then there is Crescent; then there is a guy, very tall and angular, very thin, and he has a hair bun on the back of his head.  He has red eyes and he communicates with the insect beings; so does Crescent.
Are you in contact with them today?
Oh yes.
When was your last encounter with them?
Maybe about a month ago.
Are you in your physical body during these encounters or are you out of body?
It's a combinations of all those. Sometimes they come and just take me. I know I've had a lot of the out of the body experiences. There are times when I'm with them — I feel like I'm in a human body, but a much younger body.
Do you feel violated — do you have a say in what they do to you?
It was up to me. The Little Hairy Guy came to my room one time and asked "David can we use your body?" and I said "Yes, you can use it as much as you like."  He seemed very happy by my response and he left the room, just kind of vanished.
Was that before the sexual encounters?
That was after. I was like, "Hey man, why are you asking now?"
Do they confirm to the law of free will?
There is free will.
Is there a male equivalent to Crescent?
I can't say. I have seen a lot of males. I have no idea. There does seem to be a faint memory of other males but I don't remember too much.
Why do you think you were chosen?
Good question, I don't know.
The Takeaway
One of the biggest mouthpieces for "the establishment,"  The New York Times, admitted something that the establishment, or facets of it, have been concealing for years: UFOs are real. The Times broke the story about a secret Pentagon program, but any UFO researcher knows these programs are more in-depth, expensive, and expansive than anything that's been described in mainstream media.
Christopher Mellon, the former United States Deputy Assistant Secretary of Defense for Intelligence, wrote an article for the Washington Post, sharing his frustrations about the fact that we now have observed phenomena, officially verified to be real with actual electrooptical data and radar tracking, yet the government pays very little attention to it.  They've also stressed that, as many other governments have, these are not isolated incidents and they occur all the time.
The point is that UFOs for which the extraterrestrial hypothesis is plausible are without a doubt real. Perhaps it's time to listen to these people who are coming forward and telling their stories. They have nothing to gain by doing so except ridicule.
Mainstream UFO disclosure, however, could be used for ulterior motives, just like false-flag terrorism is. You can read more about that here. That being said, the extraterrestrial hypothesis itself, without the spin of mainstream media and the global elite, is a very real possibility.
"We have, indeed, been contacted — perhaps even visited — by extraterrestrial beings, and the US government, in collusion with the other national powers of the Earth, is determined to keep this information from the general public."
-Victor Marchetti (Second Look, Volume 1, No 7, Washington, DC, May, 1979)
Robert Bigelow, founder of the Bigelow Aerospace Corporation, lets the world know that he has knowledge that we are not alone, and that we are currently being visited by intelligent extraterrestrials. You can review his comments here.
Paul Hellyer, former Canadian Defense Minister once pointed out that:
"Decades ago, visitors from other planets warned us about where we were headed and offered to help. But instead, we, or at least some of us, interpreted their visits as a threat, and decided to shoot first and ask questions after." 
There are thousands of credible people who support the extraterrestrial hypothesis.
It's time to stop ridiculing and to start listening and exploring. This is perhaps the greatest story in human history, it leaves no aspect of humanity untouched.
Another TR-3B? Huge triangular UFO flew over New York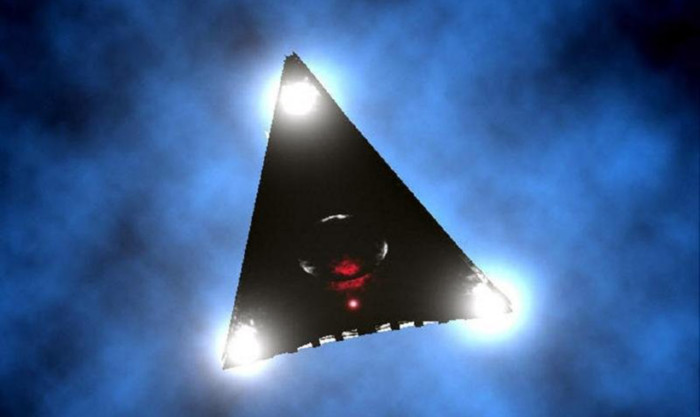 A resident of Bronx, New York, on January 16, 2021, saw three UFOs above the houses in his area, moving synchronously in the form of a huge triangle. The brightly shining points were very clearly visible in the night sky.
The man managed to capture a triangle slowly floating in the sky on video (see below) and posted it on his YouTube channel.
Since he was a very modest blogger who had only a few subscribers, his video went unnoticed for several days by UFO lovers, until finally it was re-posted on social networks, and from there it got to news sites.
The video shows how the author of the video is very surprised by what is happening, he looks up into the sky and says:
"They fly nearby and look like stars. It's a triangle and I don't know what it is."
Then he tried to ask someone from the passers-by about whether they knew that it was in the sky, but they could not answer either.
On social networks, this video caused a lot of comments from curious people who offered their versions of what they saw. From the fact that someone has programmed the drones to move in the form of a triangle, to the fact that they are actually Chinese lanterns.
The lantern version was quickly criticized, as the lights move at such a high altitude that Chinese lanterns could not continue to burn so brightly.
The drone version also drew a lot of criticism, because in order to launch several large drones over residential buildings in New York, you need to obtain special permission and it is not so easy.
The most popular was the theory that what he saw was a secret American reconnaissance aircraft TR-3B, about which there have been many rumors for a long time. Allegedly, it was developed on the basis of an alien ship that fell in Roswell, it can move silently and is practically invisible to radars.
Indians and aliens – "I was told that there are four aggressive species in the universe, and humans are one of them."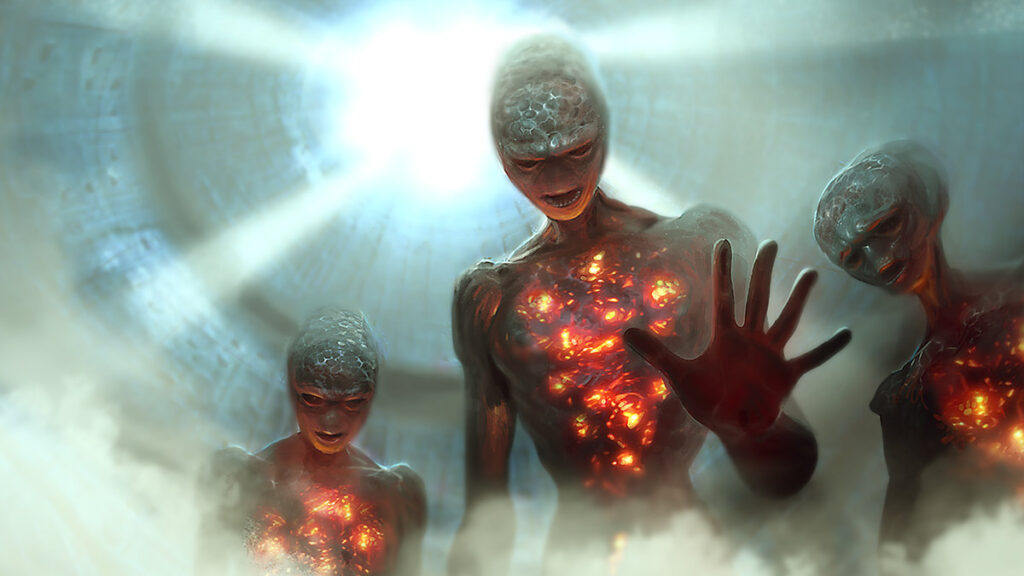 Dr. Ardi Sixkiller Clarke, professor emeritus at Montana State University, who is a native of the Cherokee tribe, has studied Indian stories about the "Star People" and collected stories of encounters between aliens and native Indians over the years.
Here is one of the stories she recorded, which she recorded from the words of a female elder named Tali:
I have seen star creatures all my life. The first time I was about 8 years old. I picked berries by the river. I watched the ship descend and land across the river. I crossed the river, stepping carefully over the rocks so as not to get my feet wet. I was curious; I've never seen anything like it.
As I approached, the door opened and I went inside. I remember that the star beings greeted me. There were two women. One combed my hair and said that I was beautiful. After that, I often met with them.
Sometimes I brought them flowers, sometimes stones. My grandmother told me that stones have a soul, and I tried to explain it to them. I don't think they understood. But they taught me to heal with my hands. Star doctors taught me how to treat diseases with my hands. They taught my grandmother how to heal.
When my grandmother died, the star beings were very saddened and I was tasked with continuing her work and learning about herbs and healing people naturally and metaphysically.
They are light, tall and thin. They are much smarter than us, but they are interested in our development. They travel the stars and learn from others throughout the star system. They collect information about the aging process of earthlings. They are trying to understand why we die so young.
Star people live much longer than we do. The normal age for them is 1000 Earth years. They do not have such diseases as we do. Their civilization does not consume alcohol and tobacco.
They choose who they will be, their job and stay on it forever. They become experts in their field, which leads to many discoveries that improve their lives. Star physicians visit Earth constantly. They mostly watch, but all over the world there are "helpers" who serve them. Both my grandmother and I were their assistants.
Star people call themselves observers.
They weren't cruel. I was told that there are four aggressive species in our universe. People are one of them."
Dr. Clarke ends the story like this:
"For the next five plus years, I frequently visited the reservation to meet Tali. She remained strong and mobile until her death at 95. On the day of her funeral, several people saw a UFO appear and hover in the sky. I was one of them."
Observers
In the stories of many people who have come into contact with representatives of extraterrestrial civilizations, there are references to the fact that they are just observers. It seems that some of these creatures are just curious observers of planet Earth, collecting data, as if some of them are carrying out scientific missions to bring information about other planets and civilizations back to their planet.
We are not alone in the universe. Perhaps one day we ourselves will become aliens for someone exploring another planet.
Can we change?
As for the fact that humans are one of the most violent species in the universe … We are empathetic beings with tremendous potential for good. We really can, but we do not change, and if you were an alien watching what is happening on our planet, you would probably be intimidated by how aggressive and cruel we are …
It is a pity that we are in a group of worlds characterized as aggressive, but I really hope that we will change. People can change, but only by standing at the edge of the abyss and realizing that if they do not change, human civilization will simply disappear. We are already on the edge of the abyss. We have actually destroyed the house we live in and the name of this house is Earth.
Humanity has only two ways – to change or die out.
The CIA has laid out all its information about UFO's in the public domain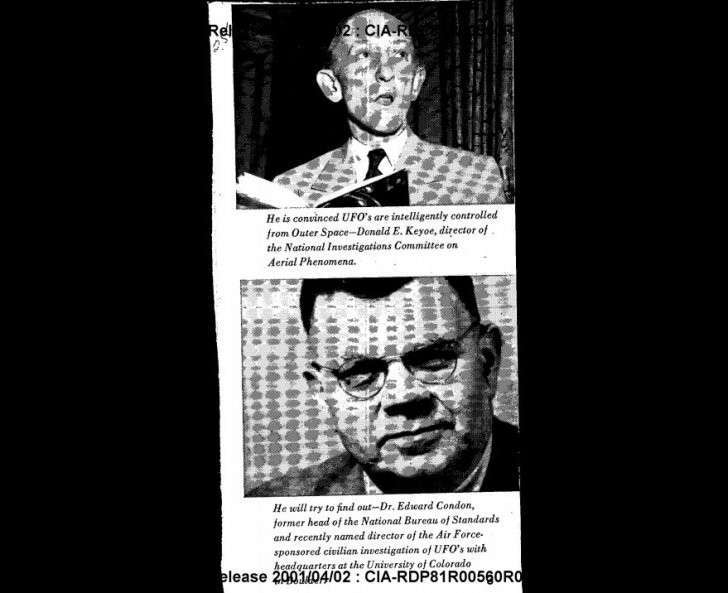 The Black Vault, which publishes declassified data, has posted on its website an impressive archive of CIA documents related to UFOs. The founder of the project, John Greenwald, says that he received all the documents by official means from the hands of the organization's employees.
And suddenly, the CIA declassified its entire database of UFOs. That is, the secret service has documents from the 1980s and everything shows that conspiracy theories are becoming a reality. Already, the "Black Vault" website contains several relevant documents, which can be downloaded by anyone.
The term "Unidentified Flying Objects" is commonly used in the documents.
Some of these may be due to light reflections or errors in the pilot instruments. However, some are objects of inquiry by the Pentagon.
The CIA claims that they have nothing else, but it is not possible to verify this statement.
It was possible to obtain information thanks to the Law on Freedom of Information, and the process itself was launched at the turn of the 70-80s of last century.
The representatives of the special services had to admit that the public ultimately has the right to find out the secrets of the government, but the process of transferring information is not really regulated. According to Greenwald, he spent 25 years in endless meetings, disputes and bickering with the CIA, until he finally got what he wanted.
But not everything is so simple – the researcher was handed a box with about 10,000 printed sheets of very low quality. He had to scan them manually, some things could not be disassembled at all, many documents were scattered. 
"Starting about 20 years ago, I struggled for years to get additional UFO records from the CIA," Greenwald said in an email to Motherboard. "It was like pulling teeth! I went around with them to try and do it, finally achieving it. I received a large box with a couple of thousand pages, and I had to scan them one page at a time."
The CIA used the rather outdated .tif format, so software processing is also difficult. Ufologists don't have to talk about a gift, it's more like trying to get rid of garbage in order to get rid of annoying researchers. 
"Researchers and curious minds alike prefer simplicity and accessibility when they look at such data dumps," says Greenwald. "The CIA made it INCREDIBLY difficult to use its archives in a sensible way. They offer a very outdated format (multi-page .tif) and offer largely unusable text output, which I think they intend to use as a "search" tool. In my opinion, this outdated format makes it very difficult for people to view documents and use them for any research purposes."
However, there are also enough mysterious stories there.
Thousands of files were uploaded in the first 24 hours after release, Greenwald said. Some documents are crisp and clear, while others are almost impossible to decipher.
According to Greenwald, one of the most interesting documents in this article relates to the fact that the Assistant Deputy Director of Science and Technology passed on some serious information about UFOs to the CIA back in the 1970s. After that, it became extremely difficult to obtain information from the government about extraterrestrial phenomena.
The release of the documents comes six months before the UFO report to be released by the US government. This means that the revelations are not made at this time randomly.
In particular, intelligence experts have 180 days to formulate an official report on signs or secret aircraft near US military bases, which will be released later.
Greenwald posts the files in the Black Vault, as he claims that publishing the files is a matter of public interest and notes that citizens have a right to know.
"The public has a right to know!" Greenwald says. "When I started my research almost 25 years ago, at the age of 15, I knew there was something about this topic. Not from viral online pranks, not from secret meetings with insiders that no one has ever seen. No, this is all UFO evidence straight from the CIA and NSA. I feel like I've almost achieved what I set out to do – give people easy access to important material so that people can form their own opinion about what's going on."
The aliens are already among us.