7 Things You Probably Didn't Know About The Lost City Of Atlantis
Atlantis, the intriguing mystery that leaves many of us curious to learn more, and some of us skeptical and dismissive. What is it about this lost city that leaves so many of us questioning much of what we have been taught to believe? Is there some truth to the story of Atlantis that we inherently know, deep down inside that is true? Are we connected in some way to this mythical place from, perhaps our past lives?
These questions are fun to ponder, but we are unlikely to get any definite answers, at least not yet.
First, Some History
How much do you know about Atlantis? Where does this story even come from? From what we do know, the first known documentation of the story of Atlantis came from the Greek philosopher, Plato in two of his writings, Timaeus and Critias, both these books date back to about 360 BC. Within these books, Plato wrote that the Greek sage, Solon was given the story of Atlantis in Egypt by a priest and upon his arrival back to Greece, he shared the story with his relative, Dropides who passed it down to his son Critias, who then passed it down to his grandson – also names Critias, who then finally shared it with the well-known Greek philosopher, Socrates.  
So, given the above information, you can see that this was a story that was told, and passed down through many generations, therefore it should not be taken as fact. Despite of this, for some reason many of us feel a strong connection to the story of Atlantis and believe it to be true.
In the report, author M. Pierre Termeir, a member of the Academy of Sciences and Director of Service of the Geologic Chart of France, gives a lecture regarding the Atlantean civilization.  He makes a compelling case for further study of this lost city:
After a long period of disdainful indifference, observe how in the last few years science is returning to the study of Atlantis. How many naturalists, geologists, zoologists, or botanists are asking one another today whether Plato has not transmitted to us, with slight amplification, a page from the actual history of mankind. No affirmation is yet permissible; but it seems more and more evident that a vast region, continental  or made up of great islands, has collapsed west of the Pillars of Hercules, otherwise called the Straight of Gibraltar, and that its collapse occurred in the not far distant past. In any event, the question of Atlantis is placed anew before men of science; and since I do not believe that it can ever be solved without the aid of oceanography, I have thought it natural to discuss it here, in this temple of maritime science, and to call to such a problem, long scorned but now being revived, the attention of oceanographers, as well as the attention of those who, though immersed in the tumult of cities, lend an ear to the distant murmur of the sea.
You can read this full report here, starting on page 219.
Regardless of how you feel about the lost city of Atlantis, here are 7 things you probably didn't know…

1. We Know The Supposed Location
In Plato's writings, he tells us exactly where the lost city lies, his text reads, "came forth out of the Atlantic Ocean… there was an island situated in front of the straits which are by you [in reference to the ancient Greeks], called the Pillars of Heracles." Today, these are known as the Straits of Gibraltar, the area between Spain and Africa.
In 2011, archaeologist from the University of Hartford, Richard Freund and his team found cities that were built in the image of Atlantis known as "memorial cities." They were found in the swamps of Doana National Park, which is just North of Cadiz Spain. Interestingly Cadiz sits right outside of the straights, which has Freund convinced that the real Atlantis was buried in the mud flats of the Atlantic. This matches the part of Plato's story that says, "the sea in those parts is impassable and impentrable, because there is a shoal of mud in the way; and this was caused by the subsidence of the island."
2. The City Of Atlantis Was Named After A Demigod
Despite the fact that Atlantis is apparently in the Atlantic ocean, that's not where it got it's name. According to the texts, Poseidon – the Greek god of the sea – had five pairs of male twins with an Atlantean woman, named Cleito. Poseidon gave each of his 10 sons a different portion of the island to rule. His first-born Atlas had the entire island and the surrounding ocean named after him.
3. We Are Missing Half The Story

While we have a complete version of Timaeus, we do not have the completed copy of Critias. In this story we have up until Zeus, head of all Greek gods. "Collected all the gods into their most holy habitation, which, being placed in the center of the world, beholds all created things. And when he had called them together, he spake as follows" and that's where it ends, talk about leaving you on the edge of your seat! Who knows, maybe this next portion of the book was deliberately left out…  it is not known whether Plato did this on purpose or if we just never were able to find the completed version. There is also a belief that Plato either wrote or had planned on writing a third book about Atlantis called Hermocrates.

4. If Atlantis Were Real, It Would Be At Least 11,500 Years Old
As the text goes, the story of Atlantis was handed to Solon in Egypt after he wanted to draw one of the priests to speak about their oldest of tales. In order to do this, Solon told the priests of the oldest Greek story what he could recall and spoke to them about the great flood and the first man. One priest responded, "O Solon, Solon… there is not an old man among you… in mind you are all young; there is no old opinion handed down among you by ancient tradition."
The priest continued to say that the home city of Solon, Athens was actually much older than he thought it was.
5. Plato Believed The Story To Be True
Even though, aside from hearsay, this story doesn't really have any solid legs to stand on in terms of physical evidence, Critias claims that this story is in fact, true, "Then listen… to a tale which, though is strange, is certainly true, having been attested by Solon." To which Socrates responds, "Very good, and what is this ancient famous action of the Athenians, which Critias declared, on the authority of Solon, to be not a mere legend, but an actual fact?"
6. Atlantis Was An Empire
In the story told by Plato, he tells us that Atlantis was an empire, "Now in this island of Atlantis, there was a great and wonderful empire which had rule over the whole island and several others, and over parts of the continent, and, furthermore, the men of Atlantis had subjected the parts of Libya within the columns of Heracles as far as Egypt, and of Europe as far as
Tyrrhenia is another name for Eturia, which is now simply known as Central Italy.
7. Atlantis Represents Just One Of Many Times Mankind Has Been & Will Be Destroyed
The Egyptian priest told Solon that none of his stories were actually "truly ancient" compared to his own. He claimed that the reason that Solon lacked true ancient knowledge is because mankind has been destroyed time and time again.
"There have been, and will be again, many destructions of mankind arising out of many causes; the greatest have been brought about the agencies of fire and water, and other lesser ones by innumerable other causes. When, on the other hand, the gods purge the Earth with a deluge of water, the survivors in your country are herdsmen and  shepherds who dwell on the mountains."
There are many philosophers and spiritual teachers that believe that humankind has been wiped out before and will be wiped out again. Some believe this for a simple reason of science and or natural disasters, others believe this is sort of like a cleansing process for us to start again if we have headed on a path of destruction. I mean think about it, the way we are heading now, in regards to how we are treating our environment, there is a chance that we could wipe ourselves out yet again, unless we learn from our mistakes and change our ways.
What do you think about Atlantis? Do you recall a past life there? Do you feel a strong connection to this mythical place? Let us know in the Collective Evolution Group, and join the discussion!
Much Love
H/T: ListVerse for coming up with the list.
The Book of the Giants: Text with 2,000 years of Antiquity describes the Nephilim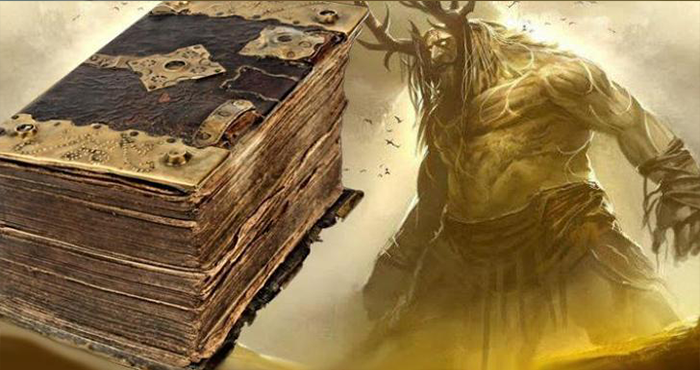 More than 60 years ago, excavations at the Qumran Caves (Dead Sea) revealed almost a thousand ancient scrolls that offered important glimpses of humanity's past.
Archaeologists were surprised to find so many unusual texts and among them, a roll of paper that offers clues about the Nephilim.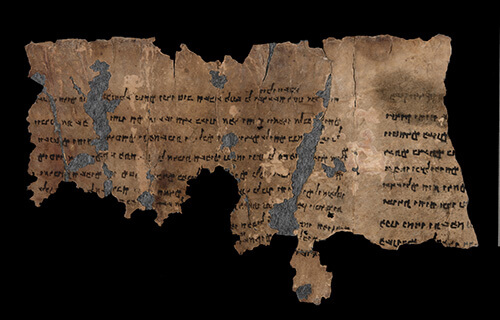 It's called The Book of the Giants. Let's review the ancient stories about these beings.
The Bible makes several references to the Nephilim and most can be found in the book of Genesis. Most of the information concerning these giants of antiquity come from the apocryphal book of Enoch. This ancient Jewish religious work is attributed to Noah's great-grandfather, although some scholars date parts of it to around 300 BC.
Enoch is a disconcerting character. The book of Genesis tells us that he lived on Earth for 365 years, before being taken by God; "He walked with God, and he was gone; because God took him. "During his time here, our planet was also inhabited by" angels "who interacted freely with humans, and eventually crossed paths with the" daughters of men "and gave birth to a race of abnormally strong hybrids and giant called Nephilim.
The origin of the word Nephilim is not fully understood, but scholars have proposed several etymologies: "The fallen", "apostate", or "these that cause others to fall." Regardless of their name, the Nephilim have always been a synonym for giants.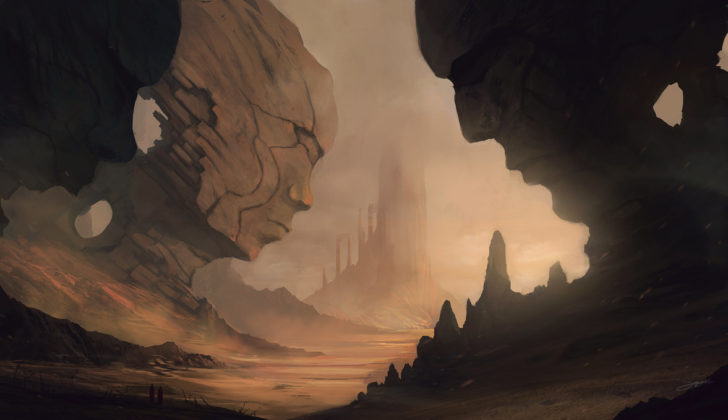 The Book of Giants found in the Qumran caves offer a different perspective from that of the Enoch book. Although incomplete, the fragments of the scrolls paint a grim picture: the Nephilim became aware that, as a result of their violent and deviant forms, they faced imminent destruction, and that it scared them enough to ask Enoch to speak in his name before God.
The text begins by detailing how the Nephilim plagued the Earth and everything that lived in it. But once everyone begins to receive the prophetic dreams of fate, fear seeps into their hearts. The first to have these dreams was Mahway, the titan son of the angel Baraquel. In his dream, he saw a tablet being submerged in the water. When the tablet emerged, all but three names had been removed. This symbolizes the flood and subsequent destruction of all, except the children of Noah.
At that time, this fact had not become evident to the Nephilim so they debated the meaning of Mahway's dream, but they were not successful in interpreting the signs. Soon after, two more giants, Ohya and Hahya, the children of the fallen angel Shemihaza began to have similar dreams; They dreamed of a tree being uprooted except for three of its roots.
After this, the rest of the group of giants began to have apocalyptic dreams:
Then two of them had dreams and the dream of their eyes had fled before them, and getting up, he came to [… and told him] his dreams, and told him in the assembly of [his companions] the monsters [… En] my dream I was seeing this night [and there was a garden …] the gardeners and those who were watering [… two hundred trees and] great buds came out from its root […] all the water, and the fire burned all [the garden … ] They found the giants to tell them the dream … "
The giants have realized the prophetic nature of their dreams and sought the help of Enoch. Unfortunately, Enoch had already disappeared from the face of the Earth so the chosen Nephilim, one of its members, made a cosmic journey in order to find it.
[Mahway] poured into the air like strong winds, and flew with his hands like eagles [… left behind] the inhabited world and passed over desolation, the great desert […] and Enoch saw it and greeted it, and Mahway said to him […] here and there for the second time for Mahway […] the giants await his words, and all the monsters of the Earth. If it has been taken […] from the days of […] its and that would be added […] we would like to hear from you its meaning […] two hundred trees that came down from heaven … "
Unfortunately, parts of the rolls were damaged without possibility of repair, but the description of the text is obvious. One of the Nephilim traveled off the Earth in search of Enoch and his powers of vision-interpretation. The text becomes very interesting if we substitute some terms and consider it not as an allegorical story, but as the description of an actual event whose meaning became confused in time.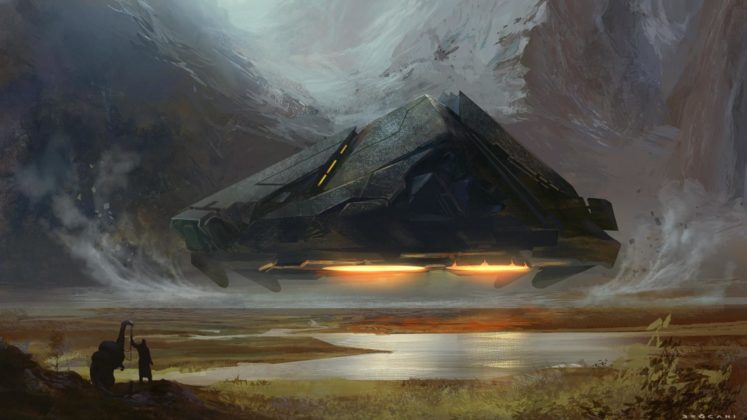 If we consider flying "hands like eagles" a metaphor, can we hypothesize that Mahway took off from Earth in a spaceship? In this case, does "desolation, the great desert" refer to interstellar space? It depends on how far we are willing to interpret a fragment of a 2,000-year-old scroll.
Enoch sends Mahway back from where he came from, promising that he will speak to God on his behalf. Unfortunately for the Nephilim, the Enoch tablets sent to them did not bring them good news:
The Enoch scribe […] a copy of the second tablet that [Enoch] sent in the same part of Enoch the scribe observed [… In the name of God the great] and a saint, for Shemihaza and all his companions […]
Let it be known that you have not […] and the things you have done, and that your wives […] them with your children and the wives of [your children] for your debauchery on Earth, and there has been over you […] and the earth is crying out] and they complain that you and your children's acts […] the harm you have done to him.
[…] Until Raphael appears, behold, the destruction [is approaching, a great flood, and will destroy all living beings] and what is in the deserts and the seas. And the meaning of matter […] about you as evil. But now, untie the bonds [that tie you to evil …] and pray. "
VIDEO:
1000 Pillar Temple – Impossible Ancient Technology Found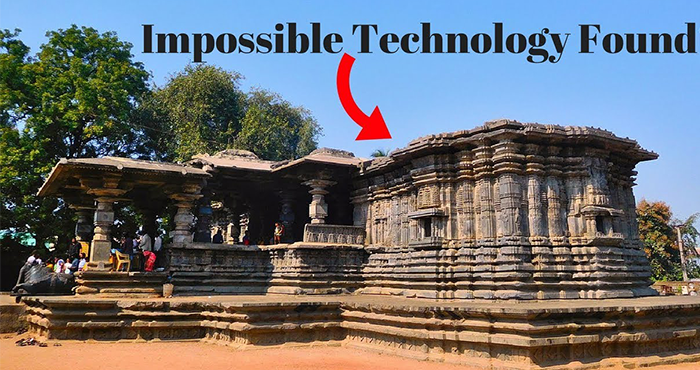 Today we are going to look at one of the strangest ancient sites in India – this is the Thousand Pillar Temple which is at least 750 years old. On first sight, it looks like a regular temple, but there is something fundamentally different about this temple, because there are no visible joints at all between the stone blocks in the walls of this temple.
This is a large temple, but look carefully as I go from the ground to the top, do you see any joints? This makes people wonder if this entire temple is made of one solid rock, like the Kailasa Temple, but archeologists confirm that it is in fact made of many many blocks of stone.
In 1300 A.D , an army of the Muslim King Allauddin Khalji tried to demolish this temple, and they took out many of the stone blocks from the ground and the ceiling, because it was easier to dismantle them, but they could not dismantle the blocks on the walls. If you look at the floor, these are newer stone slabs placed by the Archeology department, and you can see how these blocks are loosely connected.
If you compare the modern day stone masonry with the ancient technique, modern technology appears quite primitive, because you can clearly see the joints. The archeology department has been trying to restore the temple from the destruction and graffiti by Allauddin Khalji's army.
Now, why is this temple called 'The thousand pillar temple'? Most visitors wonder why this is known as the thousand pillar temple because it doesn't have a thousand pillars. It is called so because it is made of one thousand blocks of stone, this is the actual reason why this name is used. But even in most sophisticated temples like the Lepakshi temple, we can see clear evidence of joints between the blocks, but in this temple, the joints are not visible.
What is fascinating is that there was no cement, mortar, or glue used to join these blocks. How did ancient builders achieve such an extraordinary level of jointing, many centuries ago? What kind of technology existed and how was such a temple built?
The underlying technology is this:
Ancient builders created a complex interlocking system with at least a dozen different cuts in each stone block. These complex cuts maximize the amount of surface area shared by the connecting blocks, and will create an extremely tight fit.
This is hard enough to do between 2 stone blocks, but imagine using several stone blocks on all sides and how many cuts would have been needed to connect 4 or 5 blocks together. I mean, this is just an extraordinary technology. This can be done on wood, but how did they manage to make these cuts on large stone blocks many centuries ago? Making these cuts is one thing, but the level of precision, to make these joints invisible can be achieved only with advanced machines.
We can clearly see that building a massive temple with no visible joints is impossible with primitive tools. Did ancient builders use cutting, drilling and polishing tools, just like today? If so, do we have any evidence of these tools in the temple itself?
How about these carvings which resemble modern drilling and polishing tools? In most temples, we usually see carvings of Gods, but in this temple, we can see these tool like carvings, with a conical, striated top with a long shaft, which is remarkably similar to modern day tool bits.
Just compare these carvings with today's tool bits side by side. You have to admit there is an uncanny similarity. Is this a coincidence, or did ancient builders use tool bits just like us, to make these precise interlocking system?
The pillars in the temple confirm that drilling machines were in fact used. There are very tiny holes drilled on these pillars. My friend is struggling to send a thread through the small holes, but these holes are too small even for a thread. The priest is happy to help us, he picks up something thinner than a thread and inserts it successfully through these holes.
If you think these carvings are not drill bits, how do you explain such tiny holes carved on the pillars? How do you explain the construction of an entire temple with no visible joints? Were they created with advanced machines, or with simple tools like chisels and hammers?
VIDEO:

1,000-Year-Old Mammoth Bone Pendant With A Mysterious Message In Turkic Runes Discovered In Yakutia
An 11-year-old boy in the village of Yakutia has discovered a 1,000-year-old message on a pendant that was carved into a mammoth bone with Turkic runic inscriptions.
The four mysterious words are believed to be in the Orkhon-Yenisei type script. Such writings are normally found in rock art in Yakutia, also known as Sakha Republic, the world's coldest region.
Academic Ninel Malysheva said: 'Runes rarely occur on such things as talismans and amulets. 'If it is confirmed that this bone found in Namsky district is genuine, it will be a great scientific discovery for the republic.  'A comprehensive study is now required involving paleontologists, archaeologists and Turkologist. Studies on exact dating and decoding the inscription are underway at the Museum of Writing, part of the North-Eastern Federal University (NEFU).
Photo © Michil Yakovlev (Image Source)
Photo ©Michil Yakovlev (Image Source)
Interesting fact:
One of the earliest recorded Turkic language is in the form of a script called "Turkic Runes", found in Russia's southern Siberia and the Xinjiang uygur Autonomous Region of China (a region not surprisingly also known as Chinese Turkestan) beginning at around the 8th century CE.
Example of Turkic runes. "Irk Bitig Fal Kitabı" page 7. 9th century. ©The International Dunhuang Project (Image Source)
What are the four mysterious words?
One theory is that the words express 'good wishes', but scientists hope to find the exact meaning.
Village where the ancient pendant was discovered is some 100 kilometres north of Yakutsk, the regional capital, and the world's coldest city. Another example of Turkic runes in Yaktutia is the so-called Petrov inscription. It is a writing made using ocher some 200 km from Yakutsk. It is known as the most northerly rune inscription in the world.
Researchers in the middle of the last century believed that the inscription indicated the location of medieval treasure.
A literal translation is said to read: 'Pearls of the tribe Az.' Scientists claim such Turkic scripts date back 1,000 years or more.
The Old Turkic script – also known as variously Göktürk script, Orkhon script, Orkhon-Yenisei script –  is the alphabet used by the Göktürks and other early Turkic khanates during the 8th to 10th centuries.
The script is named after the Orkhon Valley in Mongolia where early 8th century inscriptions were discovered in an 1889 expedition by Nikolai Yadrintsev. These Orkhon inscriptions were published by Vasily Radlov and deciphered by the Danish philologist Vilhelm Thomsen in 1893. This writing system was later used within the Uyghur Khaganate.
Additionally, a Siberian variant is known from 9th century Yenisei Kirghiz inscriptions, and it has likely cousins in the Talas Valley of Turkestan and the Old Hungarian alphabet of the 10th century. Words were usually written from right to left.
Yakut runic letters are the least studied in Siberia. They provoke heated discussions among the linguists and Turkologists. But most new finds of inscriptions are made in Yakutia. Now the total number all Yakutian finds is close to 90. Most runic inscriptions of Yakutia have not yet been deciphered.
Source: siberiantimes