7 Proven Reasons To Eat More Blueberries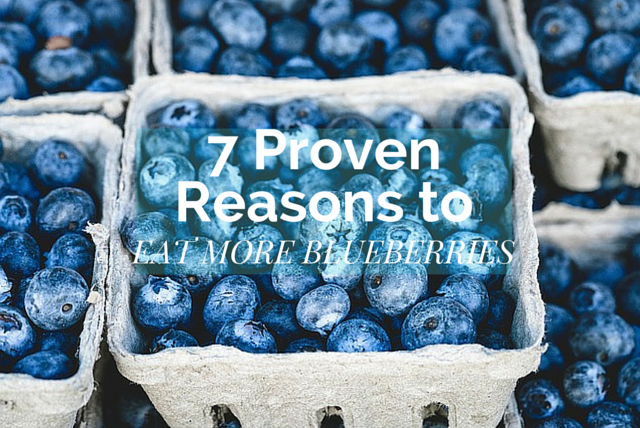 Spring and summer are prime seasons for fresh blueberries.  But there are good reasons to eat them all year round.  Blueberries pack huge health benefits in a tiny package.
Research confirms that eating even less than a cup of blueberries a day helps fend off heart disease, cancer, brain aging, and much more. Here are seven great reasons to eat more blueberries every day.
1. Berries Stop Heart Attacks
According to a study published in Circulation: Journal of the American Heart Association eating at least three servings of blueberries and strawberries every week can save women from heart attacks.  Researchers from the Harvard School of Public Health and the University of East Anglia reviewed the berry-eating habits of 93,600 women between the ages of 25 and 42 over 18 years.  The women were part of the Nurses' Health Study II. Researchers concluded that women who ate three or more servings of blueberries and strawberries per week reduced their risk of heart attack by as much as one-third.
And it really had to be berries.  Women who ate a diet rich in other fruits and vegetables did not enjoy the same reduced heart attack risk.
2. Lower Blood Pressure With Blueberries
Blueberries can lower your blood pressure.  Researchers conducted a double-blind, placebo-controlled clinical trial on 48 post-menopausal women with pre-hypertension or stage one hypertension.  Every day half the women were given 22 grams of freeze-dried blueberry powder equivalent to one cup of fresh blueberries.  The other half received a placebo. The results were published in the Journal of the Academy of Nutrition and Dietetics.
After just 8 weeks the women who took the blueberry powder had significantly lowered their systolic (5.1%) and diastolic (6.3%) blood pressure.  Those on the placebo had no change.
In addition, the blueberry powder reduced arterial stiffness on average by 6.5%.  No change was seen in the placebo group. Arterial stiffness is a symptom of atherosclerosis and predicts cardiovascular risk.  It indicates that the heart has to work harder to circulate blood to the peripheral blood vessels.
The researchers attributed the beneficial effects to an amazing 68.5% increase in blood levels of nitric oxide in the women who took the blueberry powder.  Nitric oxide is known to widen blood vessels to increase blood flow and lower blood pressure.  Those on the placebo had no changes in nitric oxide levels.
3. Wild Blueberries Boost Vascular Health
A study from Florida State University found that a daily serving of blueberries could be key to fighting cardiovascular disease in women.
And in another study, researchers from England and Germany proved that less than a cup of wild blueberries can have an almost immediate and long lasting effect on how well your vascular system is circulating blood. The more easily blood flows through your arteries and veins, the less your heart has to work.
They conducted two randomized, controlled, double-blind crossover studies in 21 healthy men between 18 and 40 years old.  In the first study, some of the men drank varying amounts of blueberry polyphenols, ranging from the equivalent of 240 grams (3/4 cup) to 560 grams (1.25 cups) of wild blueberries.  Others were given a drink with the same macro and micronutrients but no blueberry polyphenols.
The researchers then measured changes in the men's "flow-mediated dilation."  FMD is the gold-standard to measure endothelial function.  The endothelium is the lining of the blood vessels.  FMD is considered a good predictor of cardiovascular disease risk.
They found that as blueberry polyphenols were broken down by enzymes into various metabolites, endothelial function in the men improved.  The benefits lasted at least 6 hours.
A second study showed that FMD improved in a dose-dependent manner up to the equivalent of about 240 grams of wild blueberries.  Then the effects plateaued.  In other words, the men didn't get any additional benefit in endothelial function by eating any more than the equivalent of three-quarters of a cup of wild blueberries.
4. Prevent Cancer With Blueberries
A study in the journal Nutrition Research found that daily blueberries increase natural killer (NK) cells.[i]  NK cells are white blood cells that play a critical role in the immune system's defense against foreign invaders like viruses and tumors.  They scan the body for abnormal cells and destroy them before they can develop into actual cancers.
The researchers divided 25 sedentary men and post-menopausal women in two groups.  Every day one group received a placebo while the other was given 38 grams of blueberry powder.  The powder was equivalent to 250 grams of fresh fruit.
After six weeks the blueberry group saw significant increases in NK cells.  The results were consistent with earlier research by the same team finding that blueberries improve NK cell counts, oxidative stress, and inflammation in trained athletes.
Other research shows that blueberries are rich in antioxidants that help prevent cancer.  Antioxidants work by neutralizing free radicals, atoms that contain an odd number of electrons and are highly unstable.  Free radicals can cause the type of cellular damage that is a big factor in cancer development.
Blueberries are also rich in anthocyanins.  These compounds give blueberries their beautiful color. They also help explain why blueberries may help prevent the free-radical damage associated with cancer.
5. Berries Protect Lungs
Anthocyanins in blueberries also protect your lungs as you get older.  A study in the American Journal of Clinical Nutrition followed 839 participants from the VA (Veterans Affairs) Normative Aging Study.  Over 16 years it found that men who ate two or more servings of blueberries a week had up to 37.9 percent less decline in their lung function compared to those who ate no or very little blueberries.
6. Berries Improve Insulin Sensitivity
A double-blinded, randomized, and placebo-controlled clinical study in The Journal of Nutrition found that bioactive compounds found in blueberries improve insulin sensitivity.
Twice a week researchers had 32 obese, non-diabetic, insulin-resistant patients drink smoothies with or without 22.5 grams of blueberry bioactives.  After six weeks the blueberry group improved their insulin sensitivity by a factor of four over the placebo group.
In another randomized controlled study from Oklahoma State University 48 people consumed either a freeze-dried blueberry beverage or a placebo drink once a day. The freeze-dried drink was equivalent to about 350 grams (3.5 cups) of fresh blueberries. After eight weeks researchers found that the blueberries improved measures of metabolic syndrome.
7. Blueberries Keep Your Brain Young
A study in the Annals of Neurology found that anthocyanins in blueberries can slow brain aging by up to 2.5 years.  Harvard researchers measured cognitive function in 16,010 participants 70 years and older in the Nurses' Health Study.  Based on dietary questionnaires, they concluded that eating more blueberries slowed cognitive decline by up to 2.5 years.
It works for young people too.  In a crossover study in the journal Nutrition 14 children aged 8 to 10 years old consumed a blueberry drink or placebo. Two hours later they completed a battery of five cognitive tests.  The blueberry drink significantly improved delayed recall of a list of words.
Eat Blueberries More Often
Making one simple change to your diet by adding blueberries could have a significant impact on cardiovascular health, cancer prevention, and brain power.
In addition to polyphenols, blueberries are an excellent source of vitamins K and C, manganese, and fiber.
Wild blueberries are particularly potent.  They are smaller than the cultivated versions most often found in your supermarket, with about twice the number of berries per pound.  They also have less water and a higher skin-to-pulp ratio.  That means the wild versions have more intense flavor and double the antioxidant content.
During the spring and summer months enjoy blueberries fresh.  Out of season you can easily find them frozen or dried.  Add them to salads, yogurt, oatmeal, or smoothies.  Or just eat them by the handful.
But many berries are heavily treated with pesticides.  Always choose organic blueberries to be safe.
For more information visit GreenMedInfo's page on blueberries.
Additional References
---
[i] McAnulty LS et al. "Six weeks daily ingestion of whole blueberry powder increases natural killer cell counts and reduces arterial stiffness in sedentary males and females." Nutr Res. 2014 Jul;34(7):577-84. doi: 10.1016/j.nutres.2014.07.002.
Polar vortex: "wild" winter is coming in the US, Northern Europe and East Asia after the 16th of January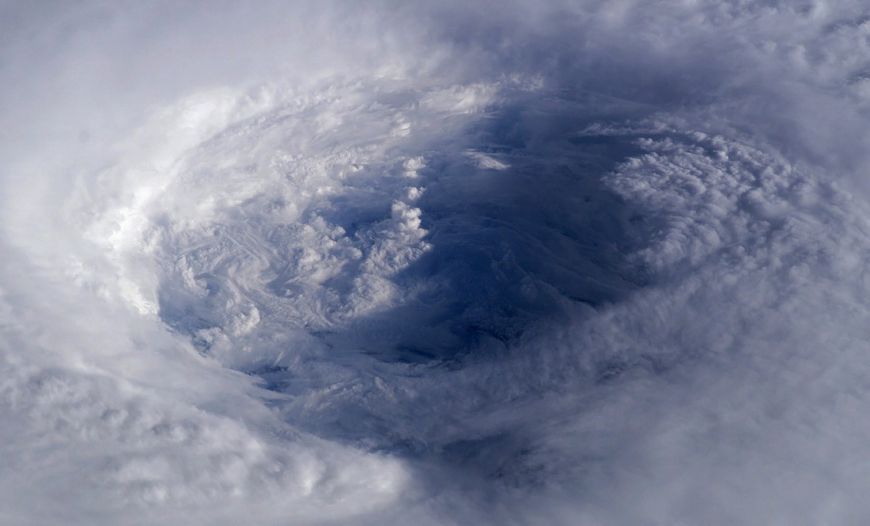 In the upper atmosphere above the North Pole, experts saw a rapidly swirling vortex of cold air that could bring severe frosts to the United States, Northern Europe and East Asia. Serious cold snap and snowy weather are expected after January the 16th.
Snowfalls and a cold snap hit South Korea since the start of 2021, hitting historic snow maximums and temperatures. In the country, for the first time since 1964, television and newer communications are sending people cold snap warnings:
The situation is similar in Japan, where a new snow storm hit historic highs:
On January 7, the thermometer In Beijing dropped to -20 degrees Celsius, breaking the 1966 record. In other regions of China, the temperature is also not sugar, and you can only move around in special uniforms:
The cold even reached Taiwan, where the temperature in some areas dropped below freezing point, snow poured down and people realized that rice terraces can be used as a ski jump:
Even more snow went to Spain, where on January 6, 2021, a temperature of -34.1 ° C was recorded – the lowest on record. After that, a snow storm hit the country, which has not been seen for 80 years:
The same thing happens in Canada and in the northern states of the United States:
It seems that after a stratospheric warming, the subpolar vortex began to split:
The vortex itself is a standard phenomenon. However, this time experts were surprised at his movement. It is possible that in the near future it will be divided into two parts. 
Scientists associate the strange behavior with the changed climate in the Arctic, which has become warmer. From September to December, the amount of ice cover decreased significantly.
The polar vortex is a low-pressure region located in the stratosphere and filled with cold air. When the jet stream of air that holds the vortex weakens, the low pressure area moves south. 
As the ice shrinks, more moisture will move inland. It will turn to snow, so snowfalls are expected. Snow, in turn, reflects heat, leading to a cold snap.
Hospital in Naples was evacuated after a new, huge sinkhole appeared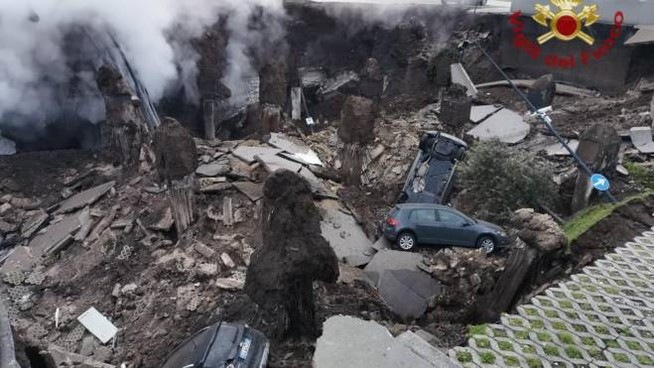 Eyewitnesses said they heard a loud crash at dawn when a huge hole in the ground formed outside the Ponticelli Ospedale del Mare hospital in eastern Naples.
Early in the morning of January 8, 2021, a sinkhole occurred in the parking lot of a clinic in Naples. The depth of the formed cavity is about 20 meters, the total area of ​​the hole is about 2,000 square meters.
No casualties were found at the scene; firefighters say the sinkhole "affected an area of ​​about 500 square meters" and engulfed several cars parked near the hospital.
As the press writes and as a little can be seen from the videos, rescuers and firefighters were running around the pit together with the governor of the area.  But who should be there in the forefront are Italian geologists, since Naples stands in the very center of the volcanic system known as the Phlegrean Fields.
If the surface collapsed, moreover – the surface reinforced with concrete and reinforced from below with some kind of communications, then we are talking about serious soil deformations caused by the activity of magma.
Italy has been in doubt since the summer of 2020, because swarms were observed there in very atypical places in May, and according to the forecasts of old Italian seismologists, who had witnessed many strong earthquakes, it should have boomed in the August region.
Fortunately, nothing bad happened to Italy and there was no big earthquake. But, since there are swarms, it means that something is being prepared, the magma is gathering strength. 
Following this particular sinkhole event – an obvious sign that a major earthquake in Italy is already very close.
A new great pandemic cycle has begun (again) in China
In the first months of 2020, the whole world with a certain fright followed the events unfolding in China, where people fell on the streets during the day and astronauts wandered, and in the evening crematoria began to smoke. And now, with the onset of December, the cycle seems to be repeating itself.
Shunyi area in Beijing, where the authorities announced "wartime status" the day before. As you can see in the videos, thousands of people are lined up in the queue for mandatory testing:
Dalian city, where "wartime" is also declared. Neighborhoods are blockaded, people are walled up in entrances, familiar characters of George Lucas roam the streets:
Chinese 'rescuers', before performing a combat mission:
Chengdu City:
Daluo Port, Yunnan – tourists came for adventure and they received the 'time of their life' after leaving the ramp:
If something happens in Beijing, it does not mean that tomorrow the same will happen everywhere. However, the trend towards such dynamics is observed and, as the practice of the first wave of the pandemic has shown, all countries and people, to one degree or another, have taken into account the 'Chinese experience'.
Therefore, one must think that everything will now be in peace, as in spring – a new global round of the fight against the Covid has begun in China, a new great pandemic cycle!