7 Proven Reasons To Eat More Blueberries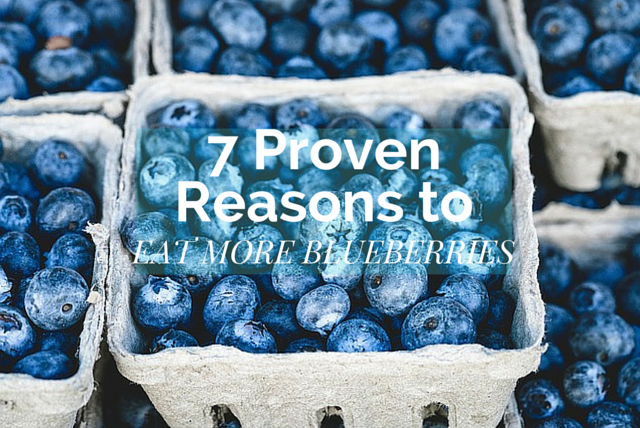 Spring and summer are prime seasons for fresh blueberries.  But there are good reasons to eat them all year round.  Blueberries pack huge health benefits in a tiny package.
Research confirms that eating even less than a cup of blueberries a day helps fend off heart disease, cancer, brain aging, and much more. Here are seven great reasons to eat more blueberries every day.
1. Berries Stop Heart Attacks
According to a study published in Circulation: Journal of the American Heart Association eating at least three servings of blueberries and strawberries every week can save women from heart attacks.  Researchers from the Harvard School of Public Health and the University of East Anglia reviewed the berry-eating habits of 93,600 women between the ages of 25 and 42 over 18 years.  The women were part of the Nurses' Health Study II. Researchers concluded that women who ate three or more servings of blueberries and strawberries per week reduced their risk of heart attack by as much as one-third.
And it really had to be berries.  Women who ate a diet rich in other fruits and vegetables did not enjoy the same reduced heart attack risk.
2. Lower Blood Pressure With Blueberries
Blueberries can lower your blood pressure.  Researchers conducted a double-blind, placebo-controlled clinical trial on 48 post-menopausal women with pre-hypertension or stage one hypertension.  Every day half the women were given 22 grams of freeze-dried blueberry powder equivalent to one cup of fresh blueberries.  The other half received a placebo. The results were published in the Journal of the Academy of Nutrition and Dietetics.
After just 8 weeks the women who took the blueberry powder had significantly lowered their systolic (5.1%) and diastolic (6.3%) blood pressure.  Those on the placebo had no change.
In addition, the blueberry powder reduced arterial stiffness on average by 6.5%.  No change was seen in the placebo group. Arterial stiffness is a symptom of atherosclerosis and predicts cardiovascular risk.  It indicates that the heart has to work harder to circulate blood to the peripheral blood vessels.
The researchers attributed the beneficial effects to an amazing 68.5% increase in blood levels of nitric oxide in the women who took the blueberry powder.  Nitric oxide is known to widen blood vessels to increase blood flow and lower blood pressure.  Those on the placebo had no changes in nitric oxide levels.
3. Wild Blueberries Boost Vascular Health
A study from Florida State University found that a daily serving of blueberries could be key to fighting cardiovascular disease in women.
And in another study, researchers from England and Germany proved that less than a cup of wild blueberries can have an almost immediate and long lasting effect on how well your vascular system is circulating blood. The more easily blood flows through your arteries and veins, the less your heart has to work.
They conducted two randomized, controlled, double-blind crossover studies in 21 healthy men between 18 and 40 years old.  In the first study, some of the men drank varying amounts of blueberry polyphenols, ranging from the equivalent of 240 grams (3/4 cup) to 560 grams (1.25 cups) of wild blueberries.  Others were given a drink with the same macro and micronutrients but no blueberry polyphenols.
The researchers then measured changes in the men's "flow-mediated dilation."  FMD is the gold-standard to measure endothelial function.  The endothelium is the lining of the blood vessels.  FMD is considered a good predictor of cardiovascular disease risk.
They found that as blueberry polyphenols were broken down by enzymes into various metabolites, endothelial function in the men improved.  The benefits lasted at least 6 hours.
A second study showed that FMD improved in a dose-dependent manner up to the equivalent of about 240 grams of wild blueberries.  Then the effects plateaued.  In other words, the men didn't get any additional benefit in endothelial function by eating any more than the equivalent of three-quarters of a cup of wild blueberries.
4. Prevent Cancer With Blueberries
A study in the journal Nutrition Research found that daily blueberries increase natural killer (NK) cells.[i]  NK cells are white blood cells that play a critical role in the immune system's defense against foreign invaders like viruses and tumors.  They scan the body for abnormal cells and destroy them before they can develop into actual cancers.
The researchers divided 25 sedentary men and post-menopausal women in two groups.  Every day one group received a placebo while the other was given 38 grams of blueberry powder.  The powder was equivalent to 250 grams of fresh fruit.
After six weeks the blueberry group saw significant increases in NK cells.  The results were consistent with earlier research by the same team finding that blueberries improve NK cell counts, oxidative stress, and inflammation in trained athletes.
Other research shows that blueberries are rich in antioxidants that help prevent cancer.  Antioxidants work by neutralizing free radicals, atoms that contain an odd number of electrons and are highly unstable.  Free radicals can cause the type of cellular damage that is a big factor in cancer development.
Blueberries are also rich in anthocyanins.  These compounds give blueberries their beautiful color. They also help explain why blueberries may help prevent the free-radical damage associated with cancer.
5. Berries Protect Lungs
Anthocyanins in blueberries also protect your lungs as you get older.  A study in the American Journal of Clinical Nutrition followed 839 participants from the VA (Veterans Affairs) Normative Aging Study.  Over 16 years it found that men who ate two or more servings of blueberries a week had up to 37.9 percent less decline in their lung function compared to those who ate no or very little blueberries.
6. Berries Improve Insulin Sensitivity
A double-blinded, randomized, and placebo-controlled clinical study in The Journal of Nutrition found that bioactive compounds found in blueberries improve insulin sensitivity.
Twice a week researchers had 32 obese, non-diabetic, insulin-resistant patients drink smoothies with or without 22.5 grams of blueberry bioactives.  After six weeks the blueberry group improved their insulin sensitivity by a factor of four over the placebo group.
In another randomized controlled study from Oklahoma State University 48 people consumed either a freeze-dried blueberry beverage or a placebo drink once a day. The freeze-dried drink was equivalent to about 350 grams (3.5 cups) of fresh blueberries. After eight weeks researchers found that the blueberries improved measures of metabolic syndrome.
7. Blueberries Keep Your Brain Young
A study in the Annals of Neurology found that anthocyanins in blueberries can slow brain aging by up to 2.5 years.  Harvard researchers measured cognitive function in 16,010 participants 70 years and older in the Nurses' Health Study.  Based on dietary questionnaires, they concluded that eating more blueberries slowed cognitive decline by up to 2.5 years.
It works for young people too.  In a crossover study in the journal Nutrition 14 children aged 8 to 10 years old consumed a blueberry drink or placebo. Two hours later they completed a battery of five cognitive tests.  The blueberry drink significantly improved delayed recall of a list of words.
Eat Blueberries More Often
Making one simple change to your diet by adding blueberries could have a significant impact on cardiovascular health, cancer prevention, and brain power.
In addition to polyphenols, blueberries are an excellent source of vitamins K and C, manganese, and fiber.
Wild blueberries are particularly potent.  They are smaller than the cultivated versions most often found in your supermarket, with about twice the number of berries per pound.  They also have less water and a higher skin-to-pulp ratio.  That means the wild versions have more intense flavor and double the antioxidant content.
During the spring and summer months enjoy blueberries fresh.  Out of season you can easily find them frozen or dried.  Add them to salads, yogurt, oatmeal, or smoothies.  Or just eat them by the handful.
But many berries are heavily treated with pesticides.  Always choose organic blueberries to be safe.
For more information visit GreenMedInfo's page on blueberries.
Additional References
---
[i] McAnulty LS et al. "Six weeks daily ingestion of whole blueberry powder increases natural killer cell counts and reduces arterial stiffness in sedentary males and females." Nutr Res. 2014 Jul;34(7):577-84. doi: 10.1016/j.nutres.2014.07.002.
More than 5,000 birds die suddenly from a mysterious death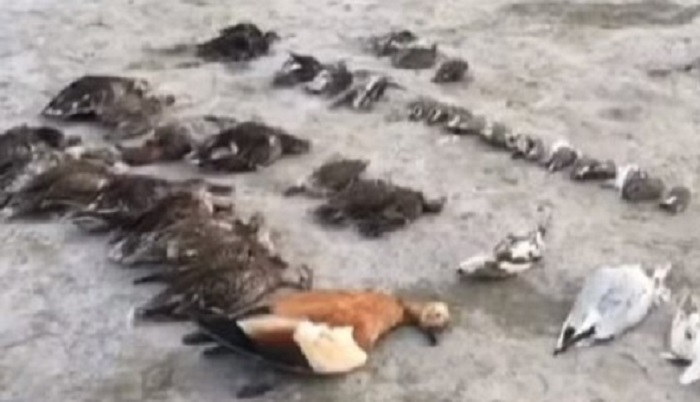 Wildlife experts are trying to understand the cause of the massive deaths of birds on the shores of Sambar Lake – India's largest salt lake.
Sambar Lake is located 80 km southwest of Jaipur (Jaipur). It covers an area of ​​190 to 230 square kilometers, depending on the season.Many migratory birds, marsh birds, gather at the lake shores at certain times of the year (Wader), flamingos, storks, ducks and dozens of different species. But, about two weeks ago, locals often began to see carcasses of birds.
To date, more than 2,000 dead birds have been found on the coastal stretch, about 12 km wide, and more than 5,000 on unofficial ones. According to locals, the former lively shores of the lake have now become a bird cemetery, among which there are rare species.
According to one resident, there are so many bird carcasses in some places that they look like a large pile of manure from afar!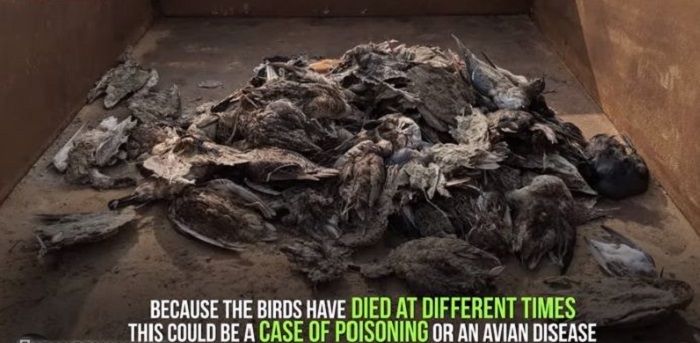 The cause of the death of the birds has not yet been clarified. They were not killed with a firearm or other weapon. No wounds or signs of disease were found on their bodies. Large piles of dead birds in one place indicate that they died suddenly, exactly at the same place they were in groups overnight.
Local ornithologist Abhinav Vaishnav tells reporters:
"We have never seen anything like this here. About 5,000 birds have died here from a mysterious death …! "
Environmentalists and animal rights activists have voiced several versions of the mass deaths of birds – from a severe hailstorm to pesticides used in nearby agricultural fields. There is also a version for mass infection.
But for the locals, all of these versions seem like a pitiful attempt to put what's going wrong. For them, such bird death is a mysterious and abnormal phenomenon.
Ramesh Chandra Road says:
"I have not seen anything like this in my 40 years of service in the forestry department. At first, I also thought it might be due to hail, but here every year there are strong hail storms. I also don't believe in the pesticide version. No trace of them was found in the water samples. "
Some of the dead bird carcasses were sent for analysis to a laboratory in Bopal.
The locals gather the rest of the carcasses in piles, then bury them in deep holes near the beach.
Expect to be informed if further information is available on what is happening.
Former Apollo Astronaut Pushes for International Commitment to Protect Earth from Killer Asteroids
There are few astronauts more respected and remembered than those who served on the Apollo missions – thirty-two military jet and test pilots who made or died training for the three-man Apollo missions that eventually sent humans to the Moon and back. When they have spoken – about space travel, the Moon, future missions, UFOs and other subjects – the world has listened. Rusty Schweickart, the Lunar Module pilot on Apollo 9, spoke recently about the need for an international commitment to protect Earth from killer asteroids. As usual, his comments are worth listening to.
"During the Apollo 9 mission we were dark-adapted for an experiment, looking at the spectacular night-time Earth, watching weather fronts, thunder storms and lightning, a really great sight out of the window. Then, who knows who said it first, but one of us said they saw a little flash down there and someone else says 'yeah, I saw it too,' but you wouldn't have mentioned it if the first person hadn't said it. And then we realized: that was a meteor, burning up below us. Wow, below us – which meant it came down through our altitude!"
A close encounter of the worst kind – an asteroid impact in space – instead became an experience that forever influenced Russell "Rusty" Schweickart. When he was selected in 1963, Rusty Schweickart was a unique member of NASA Astronaut Group 3 – the fourteen astronauts selected by NASA to succeed the two-man Gemini missions in the three-man Apollo flights that would eventually lead to a walk on the Moon. Those names are well-known to the public today — Collins, Cunningham, Gordon, Aldrin, Cernan, Chaffee to list a few – but back then they were better known in the military as fighter pilots and test pilots. Schweickart was an experienced Air Force pilot, but he was also a research scientist at the Experimental Astronomy Laboratory at the Massachusetts Institute of Technology in the fields of upper atmospheric physics, star tracking and stabilization of stellar images.
The 1969 flight of Apollo 9 was the first flight of the lunar module, piloted by Schweickart, and the first spacewalk of the Apollo missions, also by Schweickart. During a recent ESA Open Day at the European Space Agency's ESTEC technical center in Noordwijk, The Netherlands, the former astronaut heard about the latest plans to stop asteroids like the one the Apollo 9 crew encountered before they destructively impact Earth. In 2022, NASA's Double Asteroid Redirect Test will hit the smaller member of the Didymos binary asteroids. Then, if approved this month by Europe's space ministers, the ESA's Hera mission will perform a close-up survey of the asteroid and crater after impact. Schweickart says he likes the idea of a multi-spacecraft mission rather than a single asteroid-seeking rocket.
"And one of the key unknowns of the kinetic impactor technique is a term we call 'beta' – when we hit the asteroid, how much stuff is going to come flying off? If it's moving at greater than escape velocity, then that adds to the momentum shifting the orbit, boosting the technique's effectiveness. That factor depends on the asteroid's composition and structure, and we need a close-up look to find out what that is."
In 2002, Schweickart helped found the B612 Foundation (named for the planetoid in The Little Prince), whose primary mission is "protecting the Earth from asteroid impacts and informing and forwarding world-wide decision-making on planetary defense issues." Since asteroids can hit anywhere on Earth, Schweickart has long advocated international cooperation in both deflecting space rocks and in determining which ones to hit. He sees the NASA/ESA tandem as the first example of this cooperation. Unfortunately, we're barely into asteroid defection business and have no idea what an impact will do – it could actually push the space rock into a higher likelihood of impact.
"In that case the observer spacecraft would have another job to do – to switch to gravity tractor mode, using altimeters and ion engines to stay just away from the asteroid, and nudge its orbit enough to miss the keyhole as well as the planet."
Rusty Schweickart makes it sound so easy and doable, but the former Apollo and Skylab astronaut knows the dangers of space. He was the backup pilot for Roger B. Chaffee on Apollo 1, which ended in the tragic deaths of the crew members in a ground test accident. He also knows how expensive a worldwide asteroid deflection system would be and how difficult it is to get nations to agree on anything, let alone unseen dangers from outer space. That's why he stays involved in both the technology and the politics of space.
At 84, Rusty Schweickart is still influenced by that near-impact experience on Apollo 9. For that, we should all be grateful.
Source: Mysterious Universe
Climate change would be altering deer to give birth early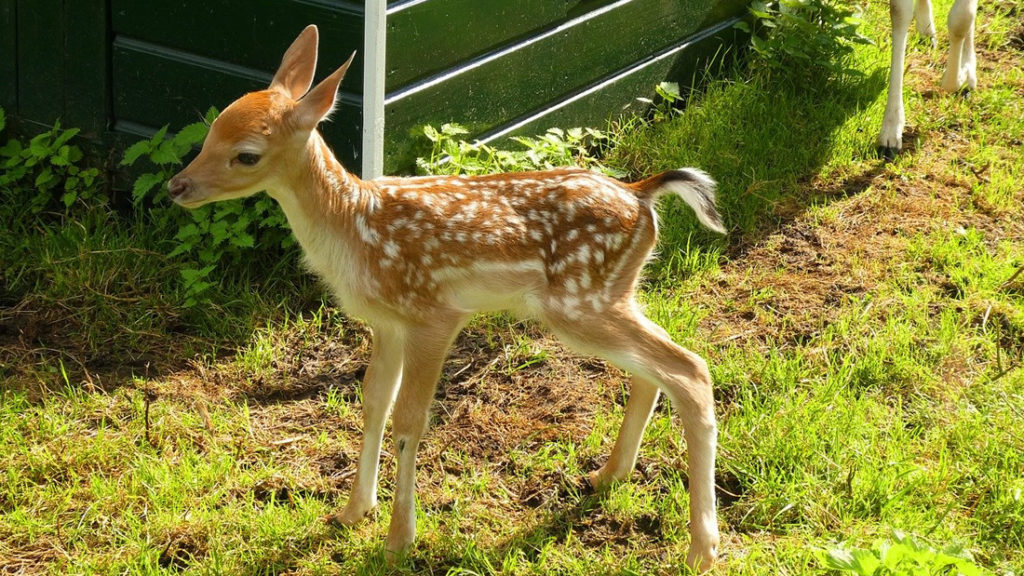 Credit: Elsemargriet / Pixabay
Usually, we think of evolution as a slow process that takes place over millions of years. However, a team of scientists has now documented how deer on a Scottish island seem to be evolving over the course of decades, possibly in response to climate change, which makes them give birth earlier, at the beginning of the year.
According to a study published in the open access journal PLOS Biology, these deer, who live on the island of Rum, near the west coast of Scotland, have undergone genetic changes that have contributed to the animals having children almost two weeks earlier over the past four decades.
Previous studies by other groups of scientists have shown that deer on this island have been giving birth before, partly as a result of warmer temperatures that have altered their behavior and the functioning of their bodies.
Genetic changes in deer
However, the latest study sheds light on the important role of adaptive genetic changes in this process. The researchers say that this work represents some of the first evidence that evolutionary changes are affecting the time of year when wild animals give birth.
Timothée Bonnet, lead author of the study of the Australian National University said in a statement:
This is one of the few cases in which we have documented the evolution in action, which shows that it can help populations adapt to climate warming. "
For their research, Bonnet and his colleagues examined the field records and genetic data that scientists collected from the deer population living on the island between 1972 and 2016.
Bonnet told the website Newsweek:
That population of red deer has been monitored intensely since the 1970s, and even before in less detail. That is why researchers have been able to notice changes in birth dates over the years. That is the fundamental motivation for our study: try to understand that change. "
Impact of climate change on deer
The team's analysis revealed that red deer hinds, known as hinds, with genetic adaptations that made them give birth at the beginning of the year, they tended to have more offspring throughout their lives. Therefore, responsible genes offer an evolutionary advantage and as a result they have become increasingly common in this deer population in recent decades.
Bonnet said:
We discovered that the genetic makeup of the population had changed to determine the dates of birth before spring. We discovered that genetic change is probably a response to natural selection, but we do not know what causes selection: it could be climate change, change in population density or any unknown factor that has changed in recent decades.

It is very difficult to say when climate change causes genetic change, but genetic change occurs at a rate similar to direct (non-genetic) responses to climate warming and fast enough to matter in the ecological dynamics related to climate change. " .
Sally Thomas, from Scottish Natural Heritage, who also did not participate in the study, said in a statement:
These findings are a fascinating example of the impact that climate change can have on wildlife. More and more research shows that climate change is influencing species throughout the United Kingdom and the world. "
Climate change is affecting life on our planet Earth in several ways and scientists say that for species to survive they must adapt by experiencing genetic changes or migrating to more suitable habitats, for example.
But a recent research published in the magazine Proceedings of the National Academy of Sciences suggests that genetic adaptation along with dispersion in new ranges could put species in conflict with each other.
This finding could mean that scientists have been underestimating how the global climate change will affect biodiversity and the amount of extinctions that will occur.
Some scientists have argued that the Earth is currently experiencing its sixth mass extinction, with species that disappear significantly faster than historical reference rates.
In fact, a historical report by the UN recently warned that 1 million species around the world run the risk of disappearing due to human pressures and climate change.
The scientific study has been published in PLOS Biology.
Source: Newsweek