7 Proven Reasons To Eat More Blueberries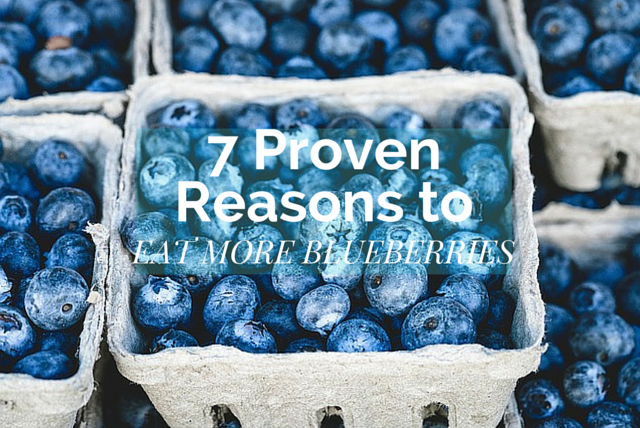 Spring and summer are prime seasons for fresh blueberries.  But there are good reasons to eat them all year round.  Blueberries pack huge health benefits in a tiny package.
Research confirms that eating even less than a cup of blueberries a day helps fend off heart disease, cancer, brain aging, and much more. Here are seven great reasons to eat more blueberries every day.
1. Berries Stop Heart Attacks
According to a study published in Circulation: Journal of the American Heart Association eating at least three servings of blueberries and strawberries every week can save women from heart attacks.  Researchers from the Harvard School of Public Health and the University of East Anglia reviewed the berry-eating habits of 93,600 women between the ages of 25 and 42 over 18 years.  The women were part of the Nurses' Health Study II. Researchers concluded that women who ate three or more servings of blueberries and strawberries per week reduced their risk of heart attack by as much as one-third.
And it really had to be berries.  Women who ate a diet rich in other fruits and vegetables did not enjoy the same reduced heart attack risk.
2. Lower Blood Pressure With Blueberries
Blueberries can lower your blood pressure.  Researchers conducted a double-blind, placebo-controlled clinical trial on 48 post-menopausal women with pre-hypertension or stage one hypertension.  Every day half the women were given 22 grams of freeze-dried blueberry powder equivalent to one cup of fresh blueberries.  The other half received a placebo. The results were published in the Journal of the Academy of Nutrition and Dietetics.
After just 8 weeks the women who took the blueberry powder had significantly lowered their systolic (5.1%) and diastolic (6.3%) blood pressure.  Those on the placebo had no change.
In addition, the blueberry powder reduced arterial stiffness on average by 6.5%.  No change was seen in the placebo group. Arterial stiffness is a symptom of atherosclerosis and predicts cardiovascular risk.  It indicates that the heart has to work harder to circulate blood to the peripheral blood vessels.
The researchers attributed the beneficial effects to an amazing 68.5% increase in blood levels of nitric oxide in the women who took the blueberry powder.  Nitric oxide is known to widen blood vessels to increase blood flow and lower blood pressure.  Those on the placebo had no changes in nitric oxide levels.
3. Wild Blueberries Boost Vascular Health
A study from Florida State University found that a daily serving of blueberries could be key to fighting cardiovascular disease in women.
And in another study, researchers from England and Germany proved that less than a cup of wild blueberries can have an almost immediate and long lasting effect on how well your vascular system is circulating blood. The more easily blood flows through your arteries and veins, the less your heart has to work.
They conducted two randomized, controlled, double-blind crossover studies in 21 healthy men between 18 and 40 years old.  In the first study, some of the men drank varying amounts of blueberry polyphenols, ranging from the equivalent of 240 grams (3/4 cup) to 560 grams (1.25 cups) of wild blueberries.  Others were given a drink with the same macro and micronutrients but no blueberry polyphenols.
The researchers then measured changes in the men's "flow-mediated dilation."  FMD is the gold-standard to measure endothelial function.  The endothelium is the lining of the blood vessels.  FMD is considered a good predictor of cardiovascular disease risk.
They found that as blueberry polyphenols were broken down by enzymes into various metabolites, endothelial function in the men improved.  The benefits lasted at least 6 hours.
A second study showed that FMD improved in a dose-dependent manner up to the equivalent of about 240 grams of wild blueberries.  Then the effects plateaued.  In other words, the men didn't get any additional benefit in endothelial function by eating any more than the equivalent of three-quarters of a cup of wild blueberries.
4. Prevent Cancer With Blueberries
A study in the journal Nutrition Research found that daily blueberries increase natural killer (NK) cells.[i]  NK cells are white blood cells that play a critical role in the immune system's defense against foreign invaders like viruses and tumors.  They scan the body for abnormal cells and destroy them before they can develop into actual cancers.
The researchers divided 25 sedentary men and post-menopausal women in two groups.  Every day one group received a placebo while the other was given 38 grams of blueberry powder.  The powder was equivalent to 250 grams of fresh fruit.
After six weeks the blueberry group saw significant increases in NK cells.  The results were consistent with earlier research by the same team finding that blueberries improve NK cell counts, oxidative stress, and inflammation in trained athletes.
Other research shows that blueberries are rich in antioxidants that help prevent cancer.  Antioxidants work by neutralizing free radicals, atoms that contain an odd number of electrons and are highly unstable.  Free radicals can cause the type of cellular damage that is a big factor in cancer development.
Blueberries are also rich in anthocyanins.  These compounds give blueberries their beautiful color. They also help explain why blueberries may help prevent the free-radical damage associated with cancer.
5. Berries Protect Lungs
Anthocyanins in blueberries also protect your lungs as you get older.  A study in the American Journal of Clinical Nutrition followed 839 participants from the VA (Veterans Affairs) Normative Aging Study.  Over 16 years it found that men who ate two or more servings of blueberries a week had up to 37.9 percent less decline in their lung function compared to those who ate no or very little blueberries.
6. Berries Improve Insulin Sensitivity
A double-blinded, randomized, and placebo-controlled clinical study in The Journal of Nutrition found that bioactive compounds found in blueberries improve insulin sensitivity.
Twice a week researchers had 32 obese, non-diabetic, insulin-resistant patients drink smoothies with or without 22.5 grams of blueberry bioactives.  After six weeks the blueberry group improved their insulin sensitivity by a factor of four over the placebo group.
In another randomized controlled study from Oklahoma State University 48 people consumed either a freeze-dried blueberry beverage or a placebo drink once a day. The freeze-dried drink was equivalent to about 350 grams (3.5 cups) of fresh blueberries. After eight weeks researchers found that the blueberries improved measures of metabolic syndrome.
7. Blueberries Keep Your Brain Young
A study in the Annals of Neurology found that anthocyanins in blueberries can slow brain aging by up to 2.5 years.  Harvard researchers measured cognitive function in 16,010 participants 70 years and older in the Nurses' Health Study.  Based on dietary questionnaires, they concluded that eating more blueberries slowed cognitive decline by up to 2.5 years.
It works for young people too.  In a crossover study in the journal Nutrition 14 children aged 8 to 10 years old consumed a blueberry drink or placebo. Two hours later they completed a battery of five cognitive tests.  The blueberry drink significantly improved delayed recall of a list of words.
Eat Blueberries More Often
Making one simple change to your diet by adding blueberries could have a significant impact on cardiovascular health, cancer prevention, and brain power.
In addition to polyphenols, blueberries are an excellent source of vitamins K and C, manganese, and fiber.
Wild blueberries are particularly potent.  They are smaller than the cultivated versions most often found in your supermarket, with about twice the number of berries per pound.  They also have less water and a higher skin-to-pulp ratio.  That means the wild versions have more intense flavor and double the antioxidant content.
During the spring and summer months enjoy blueberries fresh.  Out of season you can easily find them frozen or dried.  Add them to salads, yogurt, oatmeal, or smoothies.  Or just eat them by the handful.
But many berries are heavily treated with pesticides.  Always choose organic blueberries to be safe.
For more information visit GreenMedInfo's page on blueberries.
Additional References
---
[i] McAnulty LS et al. "Six weeks daily ingestion of whole blueberry powder increases natural killer cell counts and reduces arterial stiffness in sedentary males and females." Nutr Res. 2014 Jul;34(7):577-84. doi: 10.1016/j.nutres.2014.07.002.
Geologists have confirmed a strange unprecedented "boomerang" earthquake deep under the Atlantic Ocean
Earthquakes come and go, often leaving destruction behind. What they luckily don't usually do is turn around immediately and come back for another push. Except … it looks like they can do it on very rare occasions.
In a new study, scientists have uncovered evidence of an unusual and almost unprecedented boomerang earthquake that shook the deep seafloor under the Atlantic Ocean in 2016.
This earthquake, dubbed "reverse super-shear rupture", occurred along the Romansh fracture. It is an area that lies near the equator, about halfway between the east coast of Brazil and the west coast of Africa.
The rift, which stretches about 900 kilometers between the South American and African tectonic plates, adjacent to the Mid-Atlantic Ridge, caused a 7.1 magnitude earthquake in August 2016, which was detected by underwater seismometers in the region, as well as by remote monitoring stations.
Analysis of the signals reveals that this was not an ordinary earthquake, but a strange earthquake that went one way before turning around and returning and with a significant increase in speed.
"While scientists have found that this reverse rupture mechanism is possible on the basis of theoretical models, our new study provides some of the clearest evidence that this mysterious mechanism actually occurs," Stephen Hicks said, lead researcher and seismologist of Imperial College London.
According to the analysis of seismic data, the 2016 earthquake had two separate phases.
First, the rip extended upward and eastward towards the weak point where the rip zone meets the Mid-Atlantic Ridge. Then, in a sudden U-turn, an "unusual westward propagation" occurred, with the tremors returning to the center of the fault and at significantly accelerated "super-shear" velocities of up to 6 kilometers per second.
"Even though the structure of the fault appears to be simple, the quake grew differently, and it was completely the opposite of how we expected the quake to look before we started analyzing the data."
While the team's explanation for how this boomerang unfolded remains speculative so far, the researchers speculate that the first, deep phase of the quake released enough fracture energy to initiate a reversal of the rift in the shallower, western underwater terrain.
"Either both sections of the fault were preseismically loaded enough to promote seismogenic failure, or the deeper SE1 fracture instantly increased static stress, immediately causing the shallower portion of SE2 to collapse," the authors explain in their paper.
Although earthquakes propagating in the opposite direction have been studied by seismologists before, so far there has been little evidence of their existence, and this phenomenon is mainly observed in theoretical modeling.
Finding this type in the real world – in the middle of the ocean – is the first of its kind, not to mention the boomerang that returned at super shear speed.
"To my knowledge, this is the first time this has been reported," geophysicist Yoshihiro Kaneko of GNS Science in New Zealand, who was not part of the research team, told National Geographic.
The results are reported to Nature Geoscience.
What is the real cause of explosions and fires around the world in the past few days?
What has caused all these giant explosions and apocalyptic fires in China, North Korea, Lebanon, India, USA, Iraq, Iran over the past few days?
China
It all began on August 3, 2020 in the Chinese province of Hubei, where an instant explosion at a chemical plant killed at least six people and injured four. The reason is under investigation.
North Korea
This first explosion was followed a few hours later by a giant explosion following a possible "gas leak" in Hyesan, Yangan Province, North Korea, killing 9 people and injuring at least 30 residents. The reason is being investigated.
Lebanon
The next day, the port area of ​​Beirut, Lebanon, was destroyed by a giant explosion, killing more than 140 people and injuring thousands.
India
Also on the afternoon of August 4, 2020, an explosion caused panic among residents living around the Vijayshree Pharma Company plant in the Rambilli Zone FEZ in Vishakhapatnam in Andhra Pradesh, India. The reason is being investigated.
Great Britain
On 4 August, an explosion occurred again in the middle of a residential street in Birmingham, UK, causing smoke and fireballs to rise into the air and residents fleeing to seek refuge. The explosion was so strong that fire alarms went off in the houses.
United States of America
Finally, on Tuesday, firefighters put out a massive fire in downtown St. Paul, Minnesota, that engulfed a building under construction. When the firefighters arrived at about 4:20 am, the flames were flying high into the air, and the glow was visible for miles.
Iran
A fire broke out on Tuesday inside three industrial warehouses east of Tehran. The fire destroyed production materials, including lumber and leather.
Then, on August 5, at least seven ships burst into flames at a shipyard in the southern Iranian port of Bushehr. According to reports, the reason remains unclear, no casualties.
United Arab Emirates
On 5 August 2020, on Wednesday evening at 18:30, a fire broke out in a market in the emirate of Ajman, 50 km from Dubai, in the United Arab Emirates. The reason is being investigated.
China
A gas pipeline exploded and several roads collapsed after torrential rains flooded parts of Yulin, a city in China's northwestern Shaanxi province. Local authorities evacuated about 600 people from the area. The reason is being investigated.
United States of America
On the same day in Midland, Texas, an investigation is under way of an explosion and subsequent fire in an oil storage facility. The reason is also unknown.
Iraq
Again, on August 6, 2020, a major fire broke out in over 20 wholesale market warehouses in Najaf, Iraq. The reasons are being investigated.
Geneticists have clarified the origin of American slaves
It is the largest study of DNA from people living in the Americas. It shows where the slaves came from in the United States and reveals the details of their abuse.
The work includes information on 50 thousand people, of which 30 thousand are of African origin. The article, published in the American Journal of Human Genetics , serves as "evidence that genetics can shed light on history," said Alondra Nelson, professor of social sciences at the Institute for Advanced Study in Princeton.
The study began with the work of Joanna Mountain, senior director of research at the company 23andMe. Together with the team, she created a genetic database, which included mainly information about the company's clients, whose grandparents were born in regions where slavery flourished. Dr. Stephen Micheletti, the geneticist at 23andMe who led the study, compared it to data from the Slave Travels digital project, which contains information about the people brought in: information on ports of embarkation and disembarkation, the number of enslaved men, women and children. He also collaborated with historians to learn more about the plight of African regions, such as contemporary Angola and the Democratic Republic of the Congo, in the 17th and 19th centuries.
Scientists have found out: the DNA of the study participants from the United States showed their Nigerian origin. This means that there are far more ships that transported enslaved people directly to America from Nigeria than would be expected based on historical records. 
At first, historians "could not believe how many Nigerian ancestors were there in the United States," Micheletti said.
Later, after consulting with experts, the study authors learned that slaves were first sent to the British Caribbean Islands, and only then sold to the Americans.
Experts estimate that more than half of the people were brought into the United States and Latin America from West Africa. The study found that the modern black population is genetically related to six regions, among them Senegal, Gambia, Nigeria and Benin. Moreover, according to historical sources, there were more regions from which slaves were exported.
The work also showed that the brought women made a much greater contribution to the modern gene pool than men, although there were much fewer of them. Scientists have calculated that in the United States there are 1.5 times more descendants of slaves, and in Latin America and the Caribbean – 13-17 times. Moreover, in the United States, European men have influenced the modern gene pool of people of African descent three times more than European women, and 25 times more in the Caribbean.