6 Credible Elf Incidents?
If you ask an Icelander whether elves exist or not, chances are he or she will say it is quite possible.
Many polls over the years have shown the majority of Icelanders believe in elves to some degree. Late last year, a judge even halted the building of a road in Iceland because it may disturb elves living in the area.
Myth often has fact as its foundation.
In 2004, the fossils of small humanoid beings were found on the remote Indonesian island of Flores. The being, named Homo floresiensis but better known as the "hobbit," stood about three feet tall. The journal Nature explains that bones from several individuals were uncovered, showing that it was a society of people this size and not an anomaly.
So are elves more like the tall, lithe, and strong Legolas of "Lord of the Rings," or more like Santa's helpers who look like small children? Here are some accounts of elf encounters.
1. 'Little People' Legends, Mummy Found
A mummy found in the Pedro Mountains in 1932, thought to be possible evidence of the Nin' am-bea little people of whom the local Shoshone natives spoke. (Wikimedia Commons)
The Cherokee native Americans spoke of Yunwi-Tsunsdi, which literally means "little people." The Yunwi-Tsunsdi were described as kind and helpful, barely reaching the height of a man's knee. The natives of Hawaii spoke of the Menehune, a plentiful race of little people who built cities, fished, and farmed. The Shoshone natives of Wyoming also spoke of little people, the Nin' am-bea, whom they feared offending. The Nin' am-bea were known to shoot people with arrows if offended.
In 1932, a mummy was found in the Pedro Mountains, close to where the Shoshone lived. It was examined by the anthropology department at Harvard University and at the American Museum of Natural History. It was originally identified as belonging to a 65-year-old man, though it is just over a foot tall.
The mummy was lost after one of its owners died. Dr. George Gill of the University of Kansas examined x-ray photographs decades later; he said the mummy was likely an infant with a birth defect that caused it to have an adult-sized skull, but remained open to other explanations.
Other people in the Pedro Mountains region have told stories of finding similar tiny mummies, as documented in books about local folklore.
2. Little People's Burial Site in Ohio
The American Journal of Science published an account in 1837 of a strange discovery in Coshocton, Ohio: "From some remains of wood still apparent in the earth around the bones, the bodies seem all to have been deposited in coffins; and what is still more curious, is the fact that the bodies buried here were generally not more than from three to four and a half feet in length. They are very numerous, and must have been tenants of a considerable city or their numbers could not have been so great. A large number of graves have been opened, the inmates of which are all of this pigmy race. … Similar burial grounds have been found in Tennessee, and near St. Louis in Missouri."
3. Bulldozing Operation Inexplicably Halted in Suspected Elf Habitat
In 1996, an attempt to bulldoze a hill in Kopavogur, Iceland inexplicably failed. The hill, which was to be cleared for a graveyard, was believed to be occupied by elves. During the operation, two bulldozers inexplicably malfunctioned. Television cameras malfunctioned, unable to focus on the hill.
Elf communicators were called in and apparently were able to reach an agreement with the elves. The elves decided to leave, the communicators said, and the machinery began to work again. The event was reported on by the New York Times.
Hildur Hakonardottir told the New York Times in 2005: "My daughter once asked me, 'How do you know where elves live?' … I told her you just know. It's just a feeling."
Another Icelander, Vigdís Kristín Steinthórsdóttir, expressed a similar idea in 2011 when a mining operation near her home was believed to be sabotaged by elves.
"I had been [in the mountain] before with other people who sensed the natural beings weren't content with the disturbances to the ground and they hadn't been asked to move. We sensed they were sad about it. I wanted for us to apologize," she told IcelandReview.
4. Elvish Gathering in Mangrove Swamps
A file photo of a  green mangrove forest in Africa (Shutterstock)
Stephen Wagner has been investigating the paranormal for 30 years and has written books on the subject, including "Touched By a Miracle: True Stories of Ordinary People and Extraordinary Experiences." In an About.com article, he tells of multiple accounts of elf encounters, including that of Paul in South Africa.
In 1986, Paul was hiking near the Mangrove Swamps Nature Reserve with a group of friends.  At around 6 p.m., they came across an open space with rock formations.  Paul told Wagner: "We looked around and witnessed little people sitting on the illuminated rock formations and others who were interacting with each other."
The experience lasted about 10 seconds, and he estimated there had been 20 to 30 of these little people. Startled, Paul and his friends ran back to the car. They later returned to the same spot and found the lights and rock formations, along with the little people, were gone.
5. A Shimmery Little Person Behind a Tree
Wagner recounts another story, this one from Greenburg, Penn. In 2003, a woman whose name is only given as K.T. was walking in the woods at dusk. The area around her appeared unusually "shimmery," as she described it.
As she rounded a bend, she came face-to-face with a little elf. It was peeking at her from behind a tree. K.T. described it:  "It was almost a stereotypical elf: long, pointy ears, long funny-shaped nose, very long fingers and pointy cap. It was wearing red clothes and hat, and its skin appeared to be a very light lavender color."
When she made an exclamation of surprise, it jerked back and disappeared.
6. An Elf Neighbor Borrowed Scissors
Let's return to Iceland for our final account. Iceland is home to the only Elf School. Located in the capital of Iceland, Reykjavik, the Elf School is a good place to learn all the elf-related stories. The headmaster, Magnus Skarphedinsson, has spent 30 years talking to thousands of people who claim they have encountered the hidden people.
One of the stories he tells is of Elly Erlingsdottir, the head of the  Hafnarfjordur town council's planning committee. She said some elves had simply borrowed her kitchen scissors and returned them a week later. She was completely confident that this really happened, and a local mystic was often invited to communicate with elves to get their opinions before the committee made decisions.
Andri Snaer Magnason, a well-known environmentalist, spoke to the Huffington Post about the Icelandic belief in elves in relation to development decisions.
When elf advocates were saying the construction of a road from Reykjavik to the Alftanes peninsula would disturb the little people, Magnason's major concern was that the road would destroy bird nesting sites and have other environmental impacts.
He's a bit skeptical about elves, but he said: "I got married in a church with a God just as invisible as the elves."
Numerous accounts beyond those recorded here have been given of encounters with little people, whether with the leprechauns of Ireland or those with other names and slightly varying forms.
Video: From the documentary "The Fairy Faith," directed by John Walker.
People of the shadow: what do the mysterious shadow creatures want from us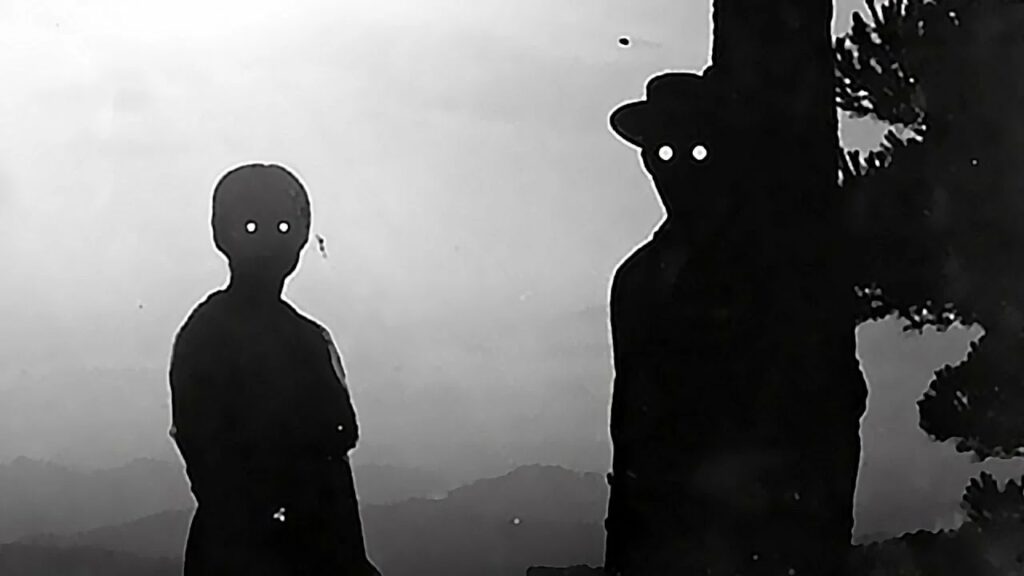 Shadow creatures are neither ghosts nor people, and we know these creatures as shadow people. It seems that the "shadow" know about our location and want us to feel fear or even panic in their presence.
People-shadows or shadow people are paranormal dark barely visible silhouettes known to mystics for a long time. They look like dark humanoid creatures or barely noticeable ghosts, often seen only with peripheral vision. Witnesses claim that shadow people only catch a few seconds, eyewitnesses also say that they looked into the eyes of shadow people and their eyes shone with a red light, like demons.
Shadow people can take different shapes and sizes: look like full-fledged people or even like animals. But most often these are thin tall strange figures. Be that as it may, they appear only for a moment, quickly evaporating into the air. Unfortunately, they can harm humans, which was proven in 2013.
The video posted on the web had confirmation of the existence of a shadow man who was visible for over a minute! An unknown silhouette knocks down a man walking down the corridor and drags him across the floor for several seconds. After some time, it also suddenly disappears, releasing the person. As it became known, the building where the striking phenomenon was filmed has complaints from tenants who more than once meet paranormal events in their home.
There are very few known cases though of adverse events caused by shadow people. In most cases, they appear or disappear as soon as they are found.
Shadow creatures can be spotted out of the corner of your eye. Some people who saw them or knew about their presence say that they are alien creatures, slipping in and out of our field of vision. In the eyewitness accounts, the observation of the recurrence of shadow manifestations is especially often mentioned.
Whether they are an elusive race that has always coexisted with us is an interesting theory suggesting that these creatures are frequent guests in our lives.
Paranormal researchers consider shadow people to be malevolent supernatural entities. Perhaps shadow people will not cause physical pain, but they can affect you emotionally, for example, cause fear – this gives them energy.
Skeptics and scientists believe that shadow people are optical illusions or hallucinations that appear under the influence of drugs or physiological changes in the body. When the left temporo-parietal brain is stimulated, these strange images are created.
Often the appearance of these shadows is inextricably linked with sleep paralysis, when a person is, as it were, between sleep and reality. Scientifically, this is called hypnogogy. Hypnogogia is called "the phenomenon of the face in the dark" for such hallucinations.
All eyewitnesses, regardless of where they live, talk about the same sensations in the presence of shadow creatures. Fear is a cold feeling that overcomes a person at this moment.
Some people say they even saw the eerie red eyes of these dark personalities that momentarily appear anywhere and demonstrate the ability to walk on the walls of enclosed spaces, which defies the general laws of physics.
Whoever they are, they feed on human energy, emit bad vibrations and give negative emotions. We do not know how they got into our dimension, about the purpose of their mission and how they affect the human essence. The main thing is to stop feeling fear in their presence and not to "feed" anyone with your precious energy.
Ghost hunter told how to summon spirits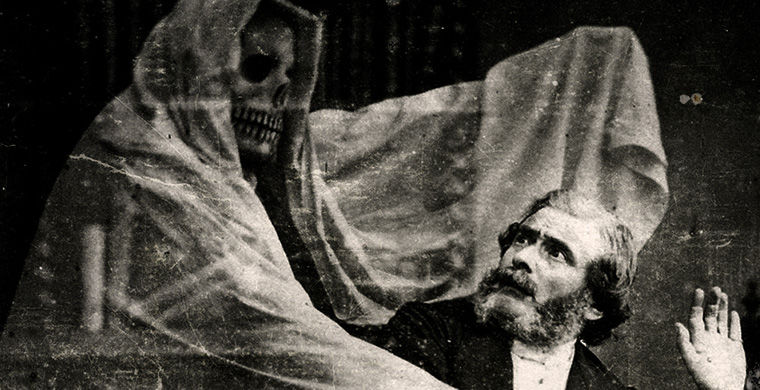 A ghost hunter explained how to summon ghosts and when is the best time to do it according to The Daily Star.
Jade Capasso explores hotels, inns, historical places to allegedly reveal the spirits and ghosts that are present in them. She shares her discoveries on the YouTube channel Ghost Club Paranormal. The girl is sure that you can also talk with spirits.
The 28-year-old ghost hunter is confident that you can talk to ghosts and spirits using a voice recorder. A particularly good time for this, according to her, is the eve of All Saints' Day – Halloween.
"I think there is more activity during Halloween. More people believe in the other world, "she said.
She recalled that Halloween pumpkin is an invariable attribute and symbol of the holiday. People decorate their home with funny, scary, and sometimes even terrifying faces.
"I'm sure there will be more sessions and many will use Ouija boards," she says.
To connect with the "other world", you can go to a famous haunted place, says Kapassa. She also recommends checking your home for ghosts.
To hear a ghost, the girl recommends using special equipment. 
After all, ghosts, she said, emit sounds at ultra-low frequencies that are not perceived by the human ear. You can hear them, as she notes, only on audio recordings.
The girl says that you need to leave the digital voice recorder in a room where paranormal activity is observed all night, or ask questions and wait for an answer.
"Ask questions, and who knows, you might hear a disembodied voice answering you," says Jade.
According to her, there is no need to rush, because the spirits must be given enough time to respond.
"You probably won't hear them in real time. But if you listen to the recording, you might hear someone from the underworld, "she said.
A photographer took a picture of an old house, but did not know that a woman lived there. No wonder – you can only see it in the photo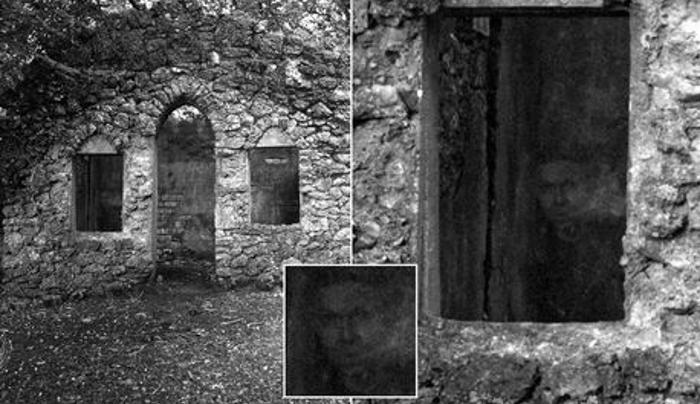 A Scottish resident took a photo of an abandoned building, and then could not believe his eyes when he looked at the finished photograph. From there the woman's face was looking at him, but the man is sure: there was no one in the ruins of the house. Finding an explanation for what he saw was not easy.
A photographer from Scotland, who wished to remain anonymous, decided to arrange an unusual photo session, Unilad writes.
His choice fell on several abandoned buildings that are located in one of the parks in the North Ayrshire region. After taking a couple of pictures, he went to the studio to print them, and then looked at the finished result.
Mysticism often happens in abandoned buildings , and the case with a man was no exception. In one photo, the Scotsman saw the ghostly silhouette of a woman looking at him from a window. However, the man assures that there was no one in the building, and he was alone in the ruins.
During the shooting, I did not feel anything unusual or anything otherworldly.
Despite the fact that the woman's face looks intimidating, he is glad that he managed to capture it. Moreover, the hero of the story shared the frame with all friends who adore mysticism and riddles.
I'm happy that I was able to capture something that looks like a ghost. I am even proud to be able to show photos to people who love riddles.
Many people, according to the photographer, are inclined to believe that this is a ghost, who love to talk to children so much, although the author of the picture himself is in no hurry to draw conclusions. He even looked at the frame under a microscope, but never came to the truth.
You can, of course, speculate, but the human brain makes us see familiar traits everywhere, especially if we look at them long enough.
Moreover, the photographer, according to him, does not really believe in ghosts and other mystical phenomena.
I don't like the term paranormal. As for ghosts, I don't know if they exist. I don't even know how to define them. What is it? Energy?