5 Reasons That Make It Clear We Are Not Alone In The Universe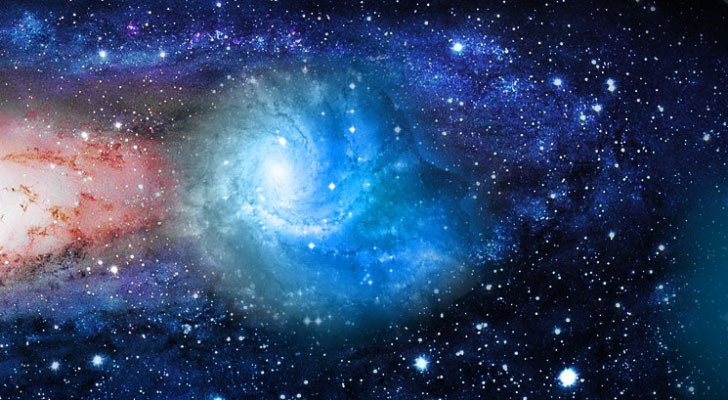 One of the most popular questions today is "are we alone in the universe?" Believe it or not, you're in the minority if you believe that absolutely no intelligent life exists in the universe. In the United States alone, at least half of all Americans say that we're not alone in the universe. Fifty percent of Americans already believe that there is some form of life on other planets, while only seventeen percent think that there isn't. A quarter of Americans believe that intelligent extraterrestrial visitors have already come to Earth and have been doing so for a long time. (source)
Here's one of them:
"Yes there have been crashed craft, and bodies recovered. We are not alone in the universe, they have been coming here for a long time." (source) (source) – Apollo 14 Astronaut, Air Force Captain and Founder of the Institute of Noetic Sciences, Dr. Edgar Mitchell
There are multiple reasons why the extraterrestrial question continues to gain popularity. People are starting to ask questions about the world around them, utilizing critical thinking and investigation. After thoroughly investigating this topic your conclusions will be similar to the conclusions of the majority, we are not alone, and we are being visited.
1. The Size of the Universe
How often do you look up into the night sky and wonder just how many stars, planets, galaxies and more are out there? Space has been a high area of interest that has always fascinated scientists, philosophers, musicians and pretty much just about everyone. What is it about deep space that grabs our attention so much? To think about just how big the universe is can really put things into perspective.
Counting the stars in the universe  is like trying to count the number of sand grains on a beach , not possible. Although estimates vary among different experts, the general consensus is that there are at least between 100 billion and 200 billion galaxies in our universe. Think about that for a moment, and now throw in billions of stars in each galaxy! (source) This number could very easily be in the trillions for all we know.
Take the Milky Way Galaxy for example, which measures to about 120,000 light years across (it would take light that many years to travel across the galaxy), and contains up to 400 billion stars. Again, that's billions of galaxies that contain billions of stars. (source)
Scientists estimate that at least 10 billion habitable Earth-sized planets exist in the milky way alone ( one galaxy out of billions), but it's important to keep an open mind as to what type of conditions and environments some unknown extraterrestrial like forms could thrive in. They all don't necessarily have to be Earth-like.
Given our estimation of the size of the universe, or multiverse (whatever you want to call it), odds are we are not alone.
2. Whistle Blowers
The past few years have seen a surge of whistle-blowers that've come out and said some remarkable things. Bradley Manning, Edward Snowden and Julian Assange have received the most attention, but the reality is that there are hundreds of whistle blowers who have come forward with verified credentials and backgrounds. Mass survelience and the security state is not the only thing shocking people around the world, it's the fact that many of these whistle blowers claim that we are not alone in the universe. It wouldn't be so hard to ignore if it wasn't for the backgrounds these people have in their respected fields. 
The first one that comes to mind is Paul Hellyer, Former Canadian Defence Minister, the man responsible for unifying the Canadian Air Force, Army and the Navy into one united force now known as the Canadian Forces. For someone with such a background to come out and make these extraordinary claims definitely grabbed the attention of many people.
"Decades ago, visitors from other planets warned us about the direction we were heading and offered to help. Instead, some of us interpreted their visits as a threat, and decided to shoot first and ask questions after. Trillions of dollars have been spent on black projects which both congress and the commander in chief have deliberately been kept in the dark." (source)
Read more about "black projects" HERE.
"In one of the cases during the cold war, 1961, there were about 50 UFOs in formation flying South from Russia across Europe. The supreme allied commander was very concerned and was about ready to press the panic button when they turned around and went back over the North Pole. They decided to do an investigation and they investigated for three years and they decided that with absolute certainty that four different species, at least, have been visiting this planet for thousands of years. There's been a lot more activity in the past two decades, especially since we invented the atomic bomb." (source)
Paul Hellyer isn't the only one making extraordinary statements, at least a dozen NASA astronauts have done the same. Just like Dr. Edgar Mitchell's quote, other astronauts have said some remarkable things. Let's take a look at a few (out of many) examples.
"There is abundant evidence that we are being contacted, that civilizations have been monitoring us for a very long time. That their appearance is bizarre from any type of traditional materialistic western point of view. That these visitors use the technologies of consciousness, they use toroids, they use co-rotating magnetic disks for their propulsion systems, that seems to be a common denominator of the UFO phenomenon" (source) – Dr. Brian O'leary, Former NASA Astronaut and Princeton Physics Professor
"In my opinion I think they were worried that it would panic the public so they started telling lies about it. And then I think they had to tell another lie to cover their first lie, now they don't know how to get out of it. Now it's going to be so embarrassing to admit that all these administrations have told so many untruths, it would be embarrassing getting out of it. There are a number of extraterrestrial vehicles out there cruising around." (source) – Gordon Cooper, Former NASA Astronaut, Aeronautical Engineer and test pilot. One of the seven original Astronauts in Project Mercury, the first manned space program of the United States
The list goes on and on, the latest in NASA Astronaut statements about UFOs came from the 2005 International Space Station (ISS) Commander, Leroy Chiao. You can read more about that HERE.
Here is a video of John Podesta who was recently appointed as councillor to Barack Obama supporting UFO disclosure.
Some of the most extraordinary statements about UFOs and extraterrestrials come from persons who have held some of the highest positions known. Those who would be in a position to 'know' about possible extraterrestrial encounters.
"There is a serious possibility that we are being visited and have been visited for many years by people from outer space, by other civilizations. Who they are, where they are from, and what they want should be the subject of rigorous scientific investigation and not be the subject of 'rubishing' by tabloid newspapers." (source) – Lord Admiral Hill-Norton, Former Chief of Defence Staff, 5 Star Admiral of the Royal Navy, Chairman of the NATO Military Committee
" Everything is in a process of investigation both in the United States and in Spain, as well as the rest of the world. The nations of the world are currently working together in the investigation of the UFO phenomenon. There is an international exchange of data." – General Carlos Castro Cavero (1979). From "UFOs and the National Security State, Volume 2″, Written by Richard Dolan
The list of military whistle blowers is huge, there are hundreds of them and hundreds of quotes to choose from. To view military whistleblowers (with verified backgrounds) give a press conference at The National Press Club about UFOs deactivating nuclear weapons, click HERE. You can also look up Dr. Steven Greet and the disclosure project.
The list of quotes from all fields, from many people is outstanding. I could literally fill pages upon pages so I'll stop here, I think you get the picture. These quotes by whistleblowers and people with prestigious backgrounds leads perfectly into the next point as to why almost everybody knows that we are not alone in the universe.
"There is another way whether it's wormholes or warping space, there's got to be a way to generate energy so that you can pull it out of the vacuum, and the fact that they're here shows us that they found a way." (source) – Jack Kasher, Ph.D, Professor Emeritus of Physics, University of Nebraska.
In this clip, it seems he is referring to FREE ENERGY. 
3. The Evidence of UFOs
Within the past few years, dozens of governments admitted to allocating resources and having programs to study the UFO phenomenon. For instance, in Canada the RCMP, Transport Canada, and the Department of National Defence recently admitted to tracking UFOs and investigating them. (source) They've been doing it for years, accumulating thousands upon thousands of UFO related documents. Many of these documents have since been officially released.
HERE is the latest batch of UFO files released from the United Kingdom.
Documents released by the National Security Agency (NSA) reveal what is recorded when a UFO is being tracked on radar. HERE is one example. HERE is a four page U.S. Defense Intelligence Agency and NSA report describing a particular encounter in great detail.
"As the F-4 approached a range of 25 nautical miles it lost all instrumentation and communications. When the F-4 turned away from the object and apparently was no longer a threat to it, the aircraft regained all instrumentation and communications. Another brightly lighted object came out of the original object. The second object headed straight toward the F4. "
You can read more about the radar tracking of UFOs HERE. 
HERE is a Wikileak cable that describes how some politicians already know we are not alone in the universe. You can read more about that HERE.
Again the list goes on and on and thousands upon thousands of UFO related documents are now available in the public domain. For a summary of more documents that have been declassified and made available, a video done by UFO Richard Dolan does a great one in 10 minutes. To watch it click HERE.  and see what type of information is out there.
4. Mass Mainstream Media Attention
Media outlets of all kind are covering the topic, almost every movie that comes out these days has something to do with space or some kind of extraterrestrial intelligence. We've been bombarded with the topic for a while now so it's not hard to see how it's on the minds of many.
The most recent case of mainstream extraterrestrial 'noise' was made when scientists recently spoke to the house Committee on Science, Space and Technology. Dan Werthimer of the SETI Research Centre at the University of California, Berkeley, recently called for more funding to be allocated to the search for extraterrestrial life since he is "close to 100 percent" certain that we are not alone. (source)
In mid 2013, the same committee held a hearing about exoplanet discoveries, but perhaps one of the largest UFO/extraterrestrial hearings came at the National Press Club, which also took place in Mid-2013.  At this event, hundreds of researchers, activists and military/agency/political witnesses representing ten countries gave UFO/extraterrestrial testimony to six former members of the United States Congress about events and evidence indicating an extraterrestrial presence engaging the human race.
Former Sen. Mike Gravel (D-Alaska), and 2008 presidential candidate said that there is "an extraterrestrial influence that is investigating our planet. Something is monitoring the planet and they are monitoring it very cautiously." You can learn more about the citizens hearing here.
Apart from these events, UFOs are constantly a topic of interest in today's mainstream news. Unfortunately, most mainstream media outlets that cover the topic seek out to ridicule it rather than investigating it properly.
 To view military whistleblowers (with verified backgrounds give a press conference at The National Press Club about UFOs deactivating nuclear weapons, click HERE.
HERE is a clip on the same topic on CBC news.
5. Personal Experience and Video Footage
There are millions of people out there claiming to have contact with extraterrestrial beings. This has played a large role in spreading the influence of extraterrestrial interest across the world. All of us seem to be naturally fascinated with the unknown, especially when it comes to space. It seems  like human nature.
Neuroscience can now explain what happens to our body when we meditate, but it's something we all knew to be beneficial before the science. Is extraterrestrial life similar? Is it something we all feel deep down inside, something we don't need proof for? (Even though the proof is there).
Besides the thousands of videos available on YouTube, there is some very fascinating officially documented UFO footage available for us to see. Click HERE to see raw footage of a UFO showing up in Norway for scientists at their observatory.
Click HERE to see film from the 1991 NASA STS-48 Discovery Space Shuttle mission. It's some of the best, officially documented UFO footage that's out there today.
HERE  is a video that made headlines once released. It came from straight front the Mexican Air Force. Do a quick UFO search on youtube and you'll see many fakes, but many real videos of unknown aerial objects.
I have personally had multiple UFO encounters, by myself and with others here on the CE team which makes it easier to tell if some of the videos are fake our could be real.
Final Thoughts
A few years ago the question was "Do UFOs exist?", today that question has been answered, and the presence of UFOs performing maneuvers that defy our laws of physics has been well documented. The question has more so shifted to, "Is that an extraterrestrial space craft?"
It's nothing to fear, in my opinion they've been around forever. They have been aware of us long before we have been aware of them. As speculated with our ancient civilizations in Earth's brief past, perhaps they will one day interact with humanity again. I guess we will see.
Perhaps some groups are concerned about our planet, and come here further pushing the idea that we need to start changing the way we are doing things here. Perhaps one day soon we will find out.
I definitely believe that a good chunk of these UFOs are of extraterrestrial origin. I also believe that many of these crafts are "ours."
Voyager 2 has discovered something amazing: Denser space outside the solar system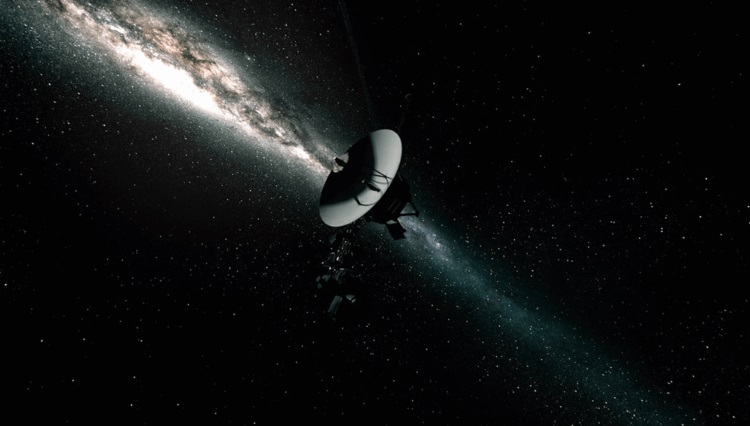 In November 2018, after a 41-year voyage, Voyager 2 crossed the boundary beyond which the Sun's influence ends, and entered interstellar space. But the mission of the little probe is not yet complete – it continues to make amazing discoveries
Perhaps the probes have found some kind of traffic jam at the edge of the solar system. The Voyager flight continues and we will soon find out what it was.
Voyager 2 discovered something amazing: as the distance from the Sun increases, the density of space increases.
Voyager 1, which entered interstellar space in 2012, transmitted similar indicators to Earth. New data have shown that the increase in density may be a feature of the interstellar medium.
The solar system has several boundaries, one of which, called the heliopause, is determined by the solar wind, or rather by its significant weakening. The space inside the heliopause is the heliosphere, and the space outside is the interstellar medium. But the heliosphere is not round. It looks more like an oval, in which the solar system is at the leading edge, and a kind of tail stretches behind it.
Both Voyagers crossed the heliopause at the leading edge, but within 67 degrees heliographic latitude and 43 degrees longitude apart.
Interstellar space is usually considered a vacuum, but this is not entirely true. The density of matter is extremely small, but it still exists. In the solar system, the solar wind has an average density of protons and electrons from 3 to 10 particles per cubic centimeter, but it is lower the further from the Sun.
The average concentration of electrons in the interstellar space of the Milky Way is estimated to be about 0.037 particles per cubic centimeter. And the plasma density in the outer heliosphere reaches approximately 0.002 electrons per cubic centimeter. When the Voyager probes crossed the heliopause, their instruments recorded the electron density of the plasma through plasma oscillations.
Voyager 1 crossed the heliopause on August 25, 2012 at a distance of 121.6 astronomical units from the Earth (121.6 times the distance from Earth to the Sun – about 18.1 billion km). When he first measured plasma oscillations after crossing the heliopause on October 23, 2013 at a distance of 122.6 astronomical units (18.3 billion km), he found a plasma density of 0.055 electrons per cubic centimeter.
After flying another 20 astronomical units (2.9 billion kilometers), Voyager 1 reported an increase in the density of interstellar space to 0.13 electrons per cubic centimeter.
Voyager 2 crossed the heliopause on November 5, 2018 at a distance of 119 astronomical units (17.8 billion kilometers. On January 30, 2019, it measured plasma oscillations at a distance of 119.7 astronomical units (17.9 billion kilometers), finding that the density plasma is 0.039 electrons per cubic centimeter.
In June 2019, Voyager 2's Instruments showed a sharp increase in density to about 0.12 electrons per cubic centimeter at a distance of 124.2 astronomical units (18.5 billion kilometers).
What caused the increase in the density of space? One theory is that the lines of force of the interstellar magnetic field become stronger with distance from the heliopause. This can cause electromagnetic ion cyclotron instability. Voyager 2 did detect an increase in the magnetic field after crossing the heliopause.
Another theory is that the material carried away by the interstellar wind should slow down in the heliopause, forming a kind of plug, as evidenced by the weak ultraviolet glow detected by the New Horizons probe in 2018, caused by the accumulation of neutral hydrogen in the heliopause.
NASA has banned fighting and littering on the moon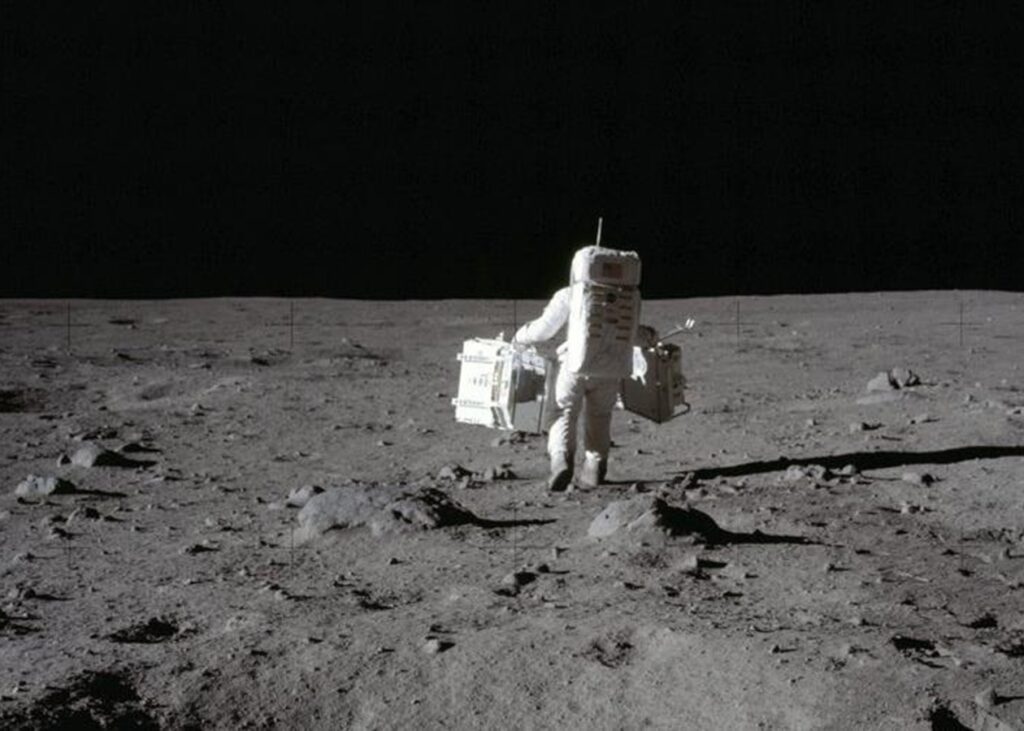 New details of the agreement signed by representatives of a number of countries on the development of the moon and the extraction of minerals within the framework of the Artemis program have appeared. Reported by the National Aeronautics and Space Administration (NASA).
So, astronauts involved in the mission are prohibited from littering and fighting on the territory of a natural satellite of the Earth.
So, we present to you the new rules for being on the Moon:
Everyone comes in peace;
Confidentiality is prohibited, all launched objects must be identified and registered;
All travel participants agree to help each other in case of emergencies;
All received data is transferred to the rest of the participants, and space systems must be universal;
Historic sites must be preserved and all rubbish must be disposed of;
Rovers and spacecraft should not interfere with other participants.
""It is important not only to go to the moon with our astronauts, but also that we bring our values ​​with us," said Mike Gold, acting head of NASA's international and inter-agency relations.
According to him, violators of the above rules will be asked to "just leave" the territory of the moon.
The effect of these principles so far applies to eight signatory countries of the agreement: the USA, Australia, Canada, Italy, Japan, Luxembourg, the United Arab Emirates and the United Kingdom. Countries other than China can join if they wish.
 It should be noted that at the moment NASA is prohibited from signing any bilateral agreements with the PRC leadership.
The first NASA mission to the moon, known as "Artemis 1", is scheduled for 2021 without astronauts, and "Artemis 2" will fly with a crew in 2023.
Methane snow found on the tops of Pluto's equatorial mountains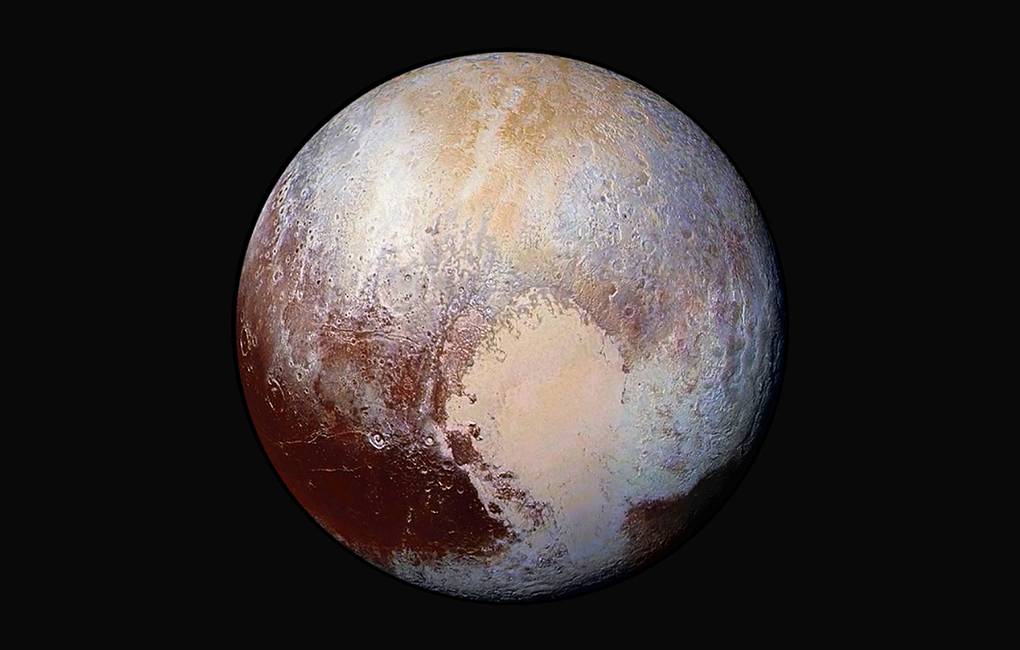 Scientists believe that it arose as a result of the accumulation of large amounts of methane at an altitude of several kilometers above the surface of the planet.
In the images of the Cthulhu region – a dark region in the equatorial regions of Pluto – planetary scientists have found large reserves of methane snow that covers the peaks of local mountains and hills. It formed quite differently from how snow forms on Earth, astronomers write in the scientific journal Nature Communications.
"The white caps on the tops of Pluto's mountains did not arise from the cooling of air currents that rise along the slopes into the upper atmosphere, as it happens on Earth, but from the accumulation of large amounts of methane at an altitude of several kilometers above Pluto's surface. This gas condensed on the mountain tops, "the scientists write.
We owe almost everything we know about Pluto to the New Horizons interplanetary station. It was launched in January 2006, and in mid-July 2015 the station reached the Pluto system. New Horizons flew just 13 thousand km from the dwarf planet, taking many photographs of its surface.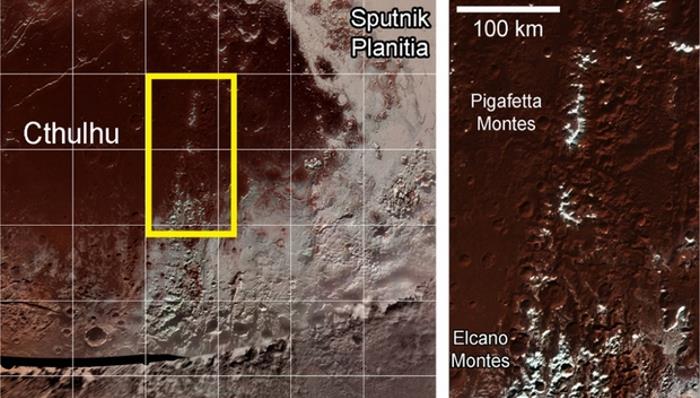 New Horizons data indicated an interesting feature of Pluto – in its depths, a giant subglacial ocean of liquid water can be hidden. It can be a kind of engine of those geological processes, traces of which can be seen on the surface of a dwarf planet. Because of this discovery of New Horizons, many discussions began among planetary scientists. Scientists are trying to understand how such a structure could have arisen, as well as to find out the appearance of Pluto in the distant past.
Members of the New Horizons science team and their colleagues from France, led by planetary scientist from NASA's Ames Research Center (USA) Tanguy Bertrand, have discovered another unusual feature of Pluto. They studied the relief of one of the regions of the dwarf planet – the Cthulhu region. This is what astronomers call a large dark region at Pluto's equator, which is whale-like in shape and is covered in many craters, mountains and hills.
Snow in Pluto's mountains
By analyzing images of these structures taken by the LORRI camera installed on board New Horizons, astronomers have noticed many blank spots on the slopes of the highest mountain peaks. Having studied their composition, scientists have found that they consist mainly of methane.
Initially, planetary scientists assumed that these are deposits of methane ice. However, Bertrand and his colleagues found that the slopes and even the tops of Pluto's equatorial mountains are actually covered not only with ice, but also with exotic methane snow that forms right on their surface.
Planetary scientists came to this conclusion by calculating how methane behaves in Pluto's atmosphere. In doing so, they took into account how the molecules of its gases interact with the sun's rays and other heat sources. It turned out that at the equator of Pluto, at an altitude of 2-3 km from its surface, due to the special nature of the movement of winds, unique conditions have formed, due to which snow is formed from methane vapor.
Unlike Earth, where such deposits are formed as a result of the rise of warm air into the upper atmosphere, on Pluto this process goes in the opposite direction – as a result of contact of the cold surface of the peaks and slopes of mountains with warm air masses from the relatively high layers of the dwarf planet's atmosphere.
Previously, as noted by Bertrand and his colleagues, scientists did not suspect that this was possible. The fact is that they did not take into account that due to the deposition of even a small amount of methane snow and ice, the reflectivity of the peaks and slopes of mountains in the Cthulhu region increases. As a result, their surface temperature drops sharply, and snow forms even faster.
Scientists suggest that another mysterious feature of Pluto's relief could have arisen in a similar way – the so-called Tartarus Ridges, located east of the Sputnik plain. A distinctive feature of this mountainous region is strange peaks that are shaped like skyscrapers or blades. Bertrand and his colleagues suggest that these peaks are also methane ice deposits that grow "from top to bottom."