5 Healing Honeys Known For Their Medicinal Power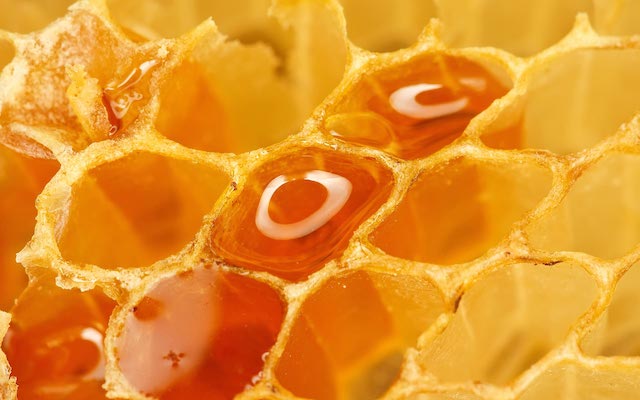 by Anna Hunt
One of the most natural foods in the world, honey has many uses and benefits the body in many different ways. Many of us think of honey as a nutritional natural sweeter – a great replacement to processed white sugar – and as a flavor enhancer in dressings and sauces, but in addition honey has been used worldwide since ancient times for its medicinal properties.
Honey's Medicinal Properties
Honey is an effective treatment for many health conditions. It is rich in antiseptic and antibacterial properties, making it a great alternative to topical antibiotic ointments, which are starting to be less and less effective due to the rise in antibiotic resistant bacteria. It is also great for respiratory ailments, especially symptoms of cold and flu such as sore throat and cough. Furthermore, honey contains flavonoids and antioxidants, two essential elements needed to aid in the prevention of cancer cell growth. With skyrocketing cancer rates, honey can be a beneficial component of your daily cancer prevention regimen.
Honey's composition consists of equal parts fructose and glucose that have bonded with water molecules. This means that each serving of honey gives your body a natural energy boost. Additionally, honey's antibacterial and antifungal properties may help reduce gastrointestinal disorders. Your skin can also benefit from honey. Its antibacterial properties make it an effective moisturizer that will nourish the skin, especially when combined with other ingredients such as apples or cucumbers. Honey can also help some unpleasant skin ailments such as acne and sores.
The Creative Honeybee
It may surprise you that there are over 300 unique types of honey available in North America and thousands of varieties worldwide. Honeys differ in color, flavor and aroma depending on the nectar source of the flowers visited by the honeybees. Lighter honeys such as Alfalfa and Clover usually have a milder flavor and are considered a great natural sweetener for everyday use, while darker honeys such as Manuka, Avocado and Buckwheat can be quite robust and rich in flavor.
Lab testing shows that different types of honeys differ in their vitamin and mineral content, because each honey has a unique compilation of nectars. Similar to wine, honeys of a specific type can even vary year to year, depending on the climate, temperature and rainfall.
If honeybees are predominantly visiting a certain type of plant, then they will produce a specific honey variety. Each variety is packed with certain levels of nutrients, thus giving different honeys different healing properties. Yet, many honeys – even specific varieties – include a blend of nectars because honeybees are quite intelligent when it comes to which flowers they visit. They collect nectar of certain flowers because of the vitamins and minerals that will give them a balanced diet and a mix of needed phytochemicals (biologically active compounds produced by plants). Honey manufacturers will also add different honeys to a specific honey type to meet certain qualities. For example Sage honey is blended with other varieties to slow down granulation because it is extremely slow to granulate.
Healing Honey Varieties
Although all honeys have some of the same medicinal properties, certain honeys have shown to alleviate specific health problems and have been used as natural medicines for ages. The following honeys have become quite popular over the last few years and now are somewhat easy to find:
1. Acacia honey is created from the nectar of the Black Locust blossoms (Robinia pseudoacacia). Its high fructose and low sucrose content make it a great choice for diabetics. Acacia honey is known for its therapeutic effects such as cleansing the liver, regulating digestive processes especially in the intestines, and reducing inflammation in the respiratory system.
2. Eucalyptus honey comes in many varieties because Eucalyptus is one of the larger plant genera with over 500 species, hence Eucalyptus honeys can vary in color and flavor. Its origin is Australia but it is now also produced in California. Traditionally, Eucalyptus honey has been used to protect against colds and headaches. With a hint of menthol flavor, it can be quite effective in alleviating mild cough, chest congestion and other cold symptoms. Furthermore, Eucalyptus honey has also been widely used as a topical treatment or blended in natural topical medicines for healing wounds, ulcers, burns, sores and abrasions, as well as for insect bites and stings. Its anti-inflammatory properties make it beneficial in relieving muscle and joint pain when massaged into the skin.
3. Linden honey, most commonly recognized in Northern Europe where Linden trees (Tilia) are planted in city parks and gardens and along the roads, is known for its light yellow color and delicate woody scent. It has slight sedative properties, therefore it is recommended for anxiety. It can also aide with insomnia if used in a bath before bedtime. Its antiseptic properties make it a natural treatment for colds, cough and other respiratory ailments such as bronchitis.
4. Manuka honey is collected from the flowers of the Tea Tree bush (Leptospermum), found in the coastal areas of New Zealand. This type of honey has strong antibacterial properties thus making it an effective elixir for digestive problems such as stomach ulcers and indigestion, for symptoms associated with colds such as sore throat, and for skin problems such as acne and pimples. The taste of Manuka honey can be quite robust, but it will vary depending on which brand you buy so if you don't like one, try another.
5. Neem honey is a popular Ayurvedic treatment and can be commonly found in India where Neem trees (Azadirachta indica) are common. It is used to lower high blood pressure, diabetes, skin problems, allergies, dental illnesses, and throat infections.
In addition to buying raw and, if possible, organic honey, many natural products are now available, especially for skin care, that come pre-blended with these honey varieties. Some of my favorites include Wild Ferns Manuka Honey Facial Care products and Amazing Ayurveda cleansers.
There are many other wonderful honey varieties that are perfect for cooking, baking, salad dressings and so forth. Some common ones include Alfalfa honey, Avocado honey, Clover honey, Blueberry honey and Orange Blossom honey, although, once again, there are thousands of honey varieties. If you haven't found something that suits your needs, keep exploring.
About the Author
Anna Hunt is a staff writer for WakingTimes.com and an entrepreneur with over a decade of experience in research and editorial writing. She and her husband run a preparedness e-store outlet atwww.offgridoutpost.com, offering GMO-free storable food and emergency kits. Anna is also a certified Hatha yoga instructor. She enjoys raising her children and being a voice for optimal human health and wellness. Read more of her excellent articles here.
Sources:
http://naturehacks.com/natural-food/how-raw-honey-is-the-ultimate-survival-food/
http://www.motherearthliving.com/health-and-wellness/natural-remedies/honey-as-medicine-zm0z14ndzhou.aspx
http://www.honey.com/honey-at-home/learn-about-honey/honey-varietals/
http://www.benefits-of-honey.com/eucalyptus-honey.html
Polar vortex: "wild" winter is coming in the US, Northern Europe and East Asia after the 16th of January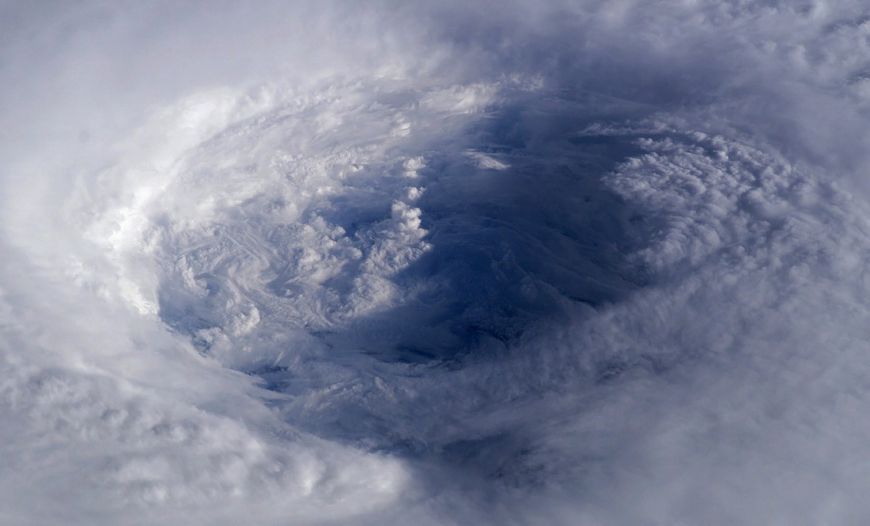 In the upper atmosphere above the North Pole, experts saw a rapidly swirling vortex of cold air that could bring severe frosts to the United States, Northern Europe and East Asia. Serious cold snap and snowy weather are expected after January the 16th.
Snowfalls and a cold snap hit South Korea since the start of 2021, hitting historic snow maximums and temperatures. In the country, for the first time since 1964, television and newer communications are sending people cold snap warnings:
The situation is similar in Japan, where a new snow storm hit historic highs:
On January 7, the thermometer In Beijing dropped to -20 degrees Celsius, breaking the 1966 record. In other regions of China, the temperature is also not sugar, and you can only move around in special uniforms:
The cold even reached Taiwan, where the temperature in some areas dropped below freezing point, snow poured down and people realized that rice terraces can be used as a ski jump:
Even more snow went to Spain, where on January 6, 2021, a temperature of -34.1 ° C was recorded – the lowest on record. After that, a snow storm hit the country, which has not been seen for 80 years:
The same thing happens in Canada and in the northern states of the United States:
It seems that after a stratospheric warming, the subpolar vortex began to split:
The vortex itself is a standard phenomenon. However, this time experts were surprised at his movement. It is possible that in the near future it will be divided into two parts. 
Scientists associate the strange behavior with the changed climate in the Arctic, which has become warmer. From September to December, the amount of ice cover decreased significantly.
The polar vortex is a low-pressure region located in the stratosphere and filled with cold air. When the jet stream of air that holds the vortex weakens, the low pressure area moves south. 
As the ice shrinks, more moisture will move inland. It will turn to snow, so snowfalls are expected. Snow, in turn, reflects heat, leading to a cold snap.
Hospital in Naples was evacuated after a new, huge sinkhole appeared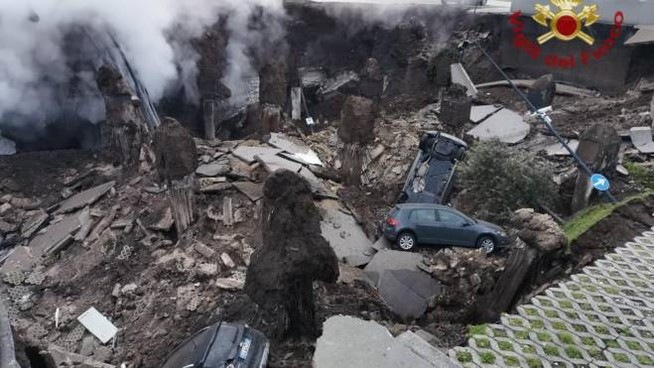 Eyewitnesses said they heard a loud crash at dawn when a huge hole in the ground formed outside the Ponticelli Ospedale del Mare hospital in eastern Naples.
Early in the morning of January 8, 2021, a sinkhole occurred in the parking lot of a clinic in Naples. The depth of the formed cavity is about 20 meters, the total area of ​​the hole is about 2,000 square meters.
No casualties were found at the scene; firefighters say the sinkhole "affected an area of ​​about 500 square meters" and engulfed several cars parked near the hospital.
As the press writes and as a little can be seen from the videos, rescuers and firefighters were running around the pit together with the governor of the area.  But who should be there in the forefront are Italian geologists, since Naples stands in the very center of the volcanic system known as the Phlegrean Fields.
If the surface collapsed, moreover – the surface reinforced with concrete and reinforced from below with some kind of communications, then we are talking about serious soil deformations caused by the activity of magma.
Italy has been in doubt since the summer of 2020, because swarms were observed there in very atypical places in May, and according to the forecasts of old Italian seismologists, who had witnessed many strong earthquakes, it should have boomed in the August region.
Fortunately, nothing bad happened to Italy and there was no big earthquake. But, since there are swarms, it means that something is being prepared, the magma is gathering strength. 
Following this particular sinkhole event – an obvious sign that a major earthquake in Italy is already very close.
A new great pandemic cycle has begun (again) in China
In the first months of 2020, the whole world with a certain fright followed the events unfolding in China, where people fell on the streets during the day and astronauts wandered, and in the evening crematoria began to smoke. And now, with the onset of December, the cycle seems to be repeating itself.
Shunyi area in Beijing, where the authorities announced "wartime status" the day before. As you can see in the videos, thousands of people are lined up in the queue for mandatory testing:
Dalian city, where "wartime" is also declared. Neighborhoods are blockaded, people are walled up in entrances, familiar characters of George Lucas roam the streets:
Chinese 'rescuers', before performing a combat mission:
Chengdu City:
Daluo Port, Yunnan – tourists came for adventure and they received the 'time of their life' after leaving the ramp:
If something happens in Beijing, it does not mean that tomorrow the same will happen everywhere. However, the trend towards such dynamics is observed and, as the practice of the first wave of the pandemic has shown, all countries and people, to one degree or another, have taken into account the 'Chinese experience'.
Therefore, one must think that everything will now be in peace, as in spring – a new global round of the fight against the Covid has begun in China, a new great pandemic cycle!