4 Ways to De-Escalate Extremism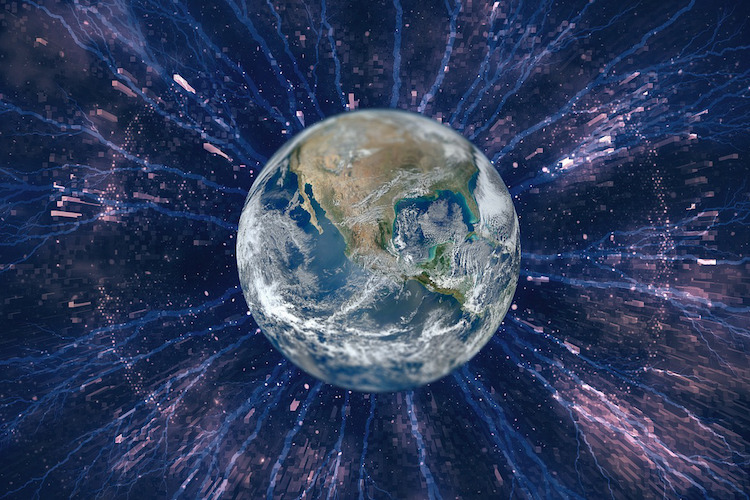 "Problems are solvable. That does not mean that they will solve themselves, but it does mean that we can solve them if we sustain the benevolent forces of modernity that have allowed us to solve problems so far, including societal prosperity, wisely regulated markets, international governance, and investments in science and technology." ~Steven Pinker
Humanistic environmentalism is the way forward if we wish to survive in harmony with the planet and to evolve in a healthy and progressive way.
This means being proactive in the de-escalation of carbon, unsustainable material excess, poverty, and overreaching bloated militaries.
This means not only placing our best efforts in building something new, but also in systematically dismantling the unsustainable system that outflanks us. As Arundhati Roy said, "Our strategy should be not only to confront empire, but to lay siege to it. To deprive it of oxygen. To shame it. To mock it. With our art, our music, our literature, our stubbornness, our joy, our brilliance, our sheer relentlessness."
This means going beyond merely being eco-aware, but also being eco-centric and eco-moral. Precisely because we are interdependent beings. We are the earth, and the earth is us: self-as-world and world-as-self.
The rising ecowarriors are the spearhead of this revolution-turned-evolution. They are the voices of logic and reason in the Desert of Conditioned Ignorance. They are the embodiment of healthy change amidst all the unhealthy stagnation. They are a personified force of nature. And they are willing to die bringing water to wasteland.
Decarbonization
"A thing is right when it tends to preserve the integrity, stability, and beauty of the biotic community. It is wrong when it tends otherwise." ~Aldo Leopold
As it stands, the excessive use of fossil fuels does the exact opposite of preserving the integrity, stability, and beauty of the biotic community.
Forget the ongoing debate about climate change and global warming. Some people's cognitive dissonance is so powerful that no amount of arguing will convince them. It will only solidify their hardheaded stance.
Focus instead on the real problem; something we can all agree on: pollution. There is no denying that the excessive use of fossil fuels is a dangerous pollutant. From oil-based plastics choking plankton at the bottom of the food chain, to oil-slicked coastlines clogging our waterways. From non-biodegradable plastics piling up in landfills, to orange-hazed ozone poisoning the air we breathe. Nobody can deny that pollution is a huge problem in our world.
The new eco-warriors are focusing on scaling back the use of fossil fuels. They are co-creating new, healthier, more sustainable technologies while also shaming and mocking outdated, unhealthy, less sustainable technologies.
Dematerialization
"The real revolution is the revolution of consciousness and each one of us first needs to eliminate the divisionary, materialistic noise we have been conditioned to think is true; while discovering, amplifying, and aligning with the signal coming from our true empirical oneness." ~Peter Joseph
Unfortunately, the predominant paradigm in our culture is ego-centric, materialistic and ownership-based. We live in a world where human relations are mostly based upon materialism, ownership and immediate gratification. It's almost like we're conditioned to consume to the point that we "consume" each other. Even the words we use toward each other imply ownership.
It's sad. But no condition is insurmountable. We can recondition ourselves to form healthy relationships based upon respect, honesty, and trust.
This process begins by first dematerializing our lifestyles. By investing in healthy experiences rather than unhealthy material excess. It begins by transforming our lifestyles into relationship-based rather than ownership-based lifestyles; into courage-based rather than fear-based lifestyles. It begins by doing as Gandhi wisely suggested: "live simply so that others may simply live."
Let us not be possessed by our possessions. When we escape the linear, ownership-based matrix and discover the interconnected, relationship-based paradigm, we remove ourselves from the dead-end state of coercion, victimization and the subliminal desire to bend others to our will. We move, instead, into the open-ended embrace of cohesion, relationship and the holistic compassion of motivating and bringing people together.
Deimpoverization
"From the point of view of morality, it is not important that everyone should havethe same. What is morally important is that each should have enough." ~Harry Frankfurt
Extreme poverty and starvation are avoidable in this age of extreme surplus. The utter failure of our distribution system undermines freedom itself. It prevents people from thriving because they are expending all their vital energy on merely surviving.
It behooves us, as both reasonable and moral human beings, to make sure that we each have enough by fixing the corrupt system of distribution. Fixing the problem of distribution and then creating a way where everyone has their basic needs met will go a long way in preventing unnecessary poverty.
The deeper psychological problem is that we believe that our sense of worth is wrapped up in how skilled we are at something, because we were raised and conditioned in a culture that values competition over cooperation. This creates ego-centric specialists concerned only with narrow-minded one-upmanship over open-minded compassion.
But we are social creatures, first and foremost. We need each other to survive. Competition has always been secondary to cooperation; otherwise we wouldn't have survived as a species (Darwin).
So, our worth is actually wrapped up in how much we care for each other. The problem is that we've had the cart (competition) in front of the horse (compassion) for too long. It's time we got the horse back in front of the cart. This will be an arduously Herculean task, considering our cultural conditioning. But it is very important, for the survival of our species, that we get it right.
Demilitarization
"The fairest rules are those to which everyone would agree if they did not know how much power they would have." ~John Rawls
The U.S. military is larger than the next seven militaries in the world, combined!
Let that sink in. World military spending totaled more than $1.6 trillion in 2015 alone. The U.S. accounted for 37 percent of that total. If that's not a bloated military, I don't know what is.
It's time to scale back. It's time to see the military industrial complex for what it really is: a terrorist-generating war machine propped up by profiting weapons manufacturers. As Arundhati Roy said, "Once weapons were manufactured to fight wars. Now wars are manufactured to sell weapons."
Rising eco-warriors understand that violence is not the answer. The non-aggression principle is paramount. Only self-defense is needed. Overreaching bloated militaries with plutocratic political agendas is never needed. Unless your goal is to keep the rich richer and the poor dead.
At the end of the day, our militarized culture of violence and war is only fruitful through a vigilant rebellion against it. Demilitarization is the systematic dismantling of the war-machine while maintaining an organic adherence to the non-aggression principle.
The new eco-warriors realize that a species hellbent on violence against itself is unhealthy and eventually destroys itself. While a species determined to be healthy, on the other hand, only uses violence in self-defense.
The hardhearted tyrant juts his ugly head, violently declaring himself free at the expense of the freedom of others. The defiant hero rises-up in self-defense, denying the tyrant's violent oppression while affirming freedom through the freedom of us all. That's what Albert Camus meant when he wrote: "I rebel –therefore we exist."
About the Author
Gary 'Z' McGee, a former Navy Intelligence Specialist turned philosopher, is the author of Birthday Suit of God and The Looking Glass Man. His works are inspired by the great philosophers of the ages and his wide awake view of the modern world.
This article (4 Ways to De-Escalate Extremism – The Rise of the New Eco-Warriors) was originally created and published by Waking Times and is published here under a Creative Commons license with attribution to Anna Hunt and WakingTimes.com. It may be re-posted freely with proper attribution, author bio, and this copyright statement.
Ancient meteorite older than the Earth discovered
A space rock formed 4.5 billion years ago during the birth of the Solar System could help us understand the origins of life on Earth.
The tumultuous period during the birth of the Solar System saw space rocks swarming around the growing gravitational field of the Sun and colliding at a rapid rate to form the planets, moons and meteors we see today.
Scientists have analysed one of the meteorites that formed during this period before crashing down on Earth 4.5 billion years later.
The analysis of the ancient grapefruit-sized space rock, known as Orgueil, revealed the elemental building blocks for life.
A chemical 'fingerprint' for oxygen, carbon and nitrogen was discovered hidden within the meteorite, opening the door for further research into how life blossomed on Earth and potentially on other planets, both in and outside our Solar system.
The rock is made of the first solid materials – such as rocks, organics, water ice, and fine grain dust – that formed in our Solar System.
When these early rocks are discovered on Earth, they act as time capsules to help scientists understand how planets formed and evolved over billions of years.
Isotope analysis of the 4.5 billion year-old Orgueil meteorite revealed traces of carbon, hydrogen, oxygen, nitrogen, and sulphur – all of which are central to the beginnings of life.
Isotopes are varying versions of the same element, with a different amount of protons but the same number of neutrons in the nucleus.
The research, published in PNAS, confirms these organic materials were likely formed via basic chemical reactions during the solar system's infancy.
The scientists, led by researchers at the University of Manchester, believe that if organic materials can be formed through relatively simple processes, it is possible they are widespread elsewhere, too.
As well as helping us understand more about our own planetary system, it could also help us learn about the habitability of other solar systems.
The asteroid, borrowed from the Muséum National d'Histoire Naturelle in Paris, is an extremely rare rock known as a carbonaceous chondrite and weighed around 30 pounds (14kg) when it landed. It was first discovered in 1894 in southwest France.
Only a few per cent of all meteorites are Chondrites – rocks that have not been changed due to melting during their journey in space – making them hard to come by, and even harder to study.
The research team spent two years measuring and interpreting the oxygen isotope composition of organic compounds in some of these early-formed meteorites.
Continue Reading: http://www.dailymail.co.uk/
Eight black rhinos die after move to new park

Image Credit: GNU 1.2 Ikiwaner
There are only around 5,500 black rhinos left on Earth.
The critically endangered rhinos had been living in a new sanctuary in southern Kenya when the disaster occurred.
A total of fourteen black rhinos had been moved from the Nairobi and Lake Nakuru national parks to Tsavo East national park as part of an operation carried out in collaboration with WWF Kenya.
The goal was to increase the country's overall number of black rhinos by creating new populations in suitable areas, however disaster struck when eight of the new arrivals unexpectedly wound up dead.
It is believed that the rhinos had succumbed to poisoning due to the higher salt content in the water.
Kenyan conservationist Paula Kahumbu described the incident as "a complete disaster".
An investigation has since been launched in an effort to find out how this could have happened.
"The eight dead rhinos were among those that had been moved to the sanctuary in an initiative to start a new population in line with the National Rhino Conservation and Management Strategy," the Kenyan Ministry of Tourism and Wildlife said in a statement.
"This kind of mortality rate is unprecedented in Kenya Wildlife Service operations."
Source: The Guardian
Dr. Mercola, Guest
Waking Times
Cannabis, better known as marijuana, has been used for its medicinal properties for thousands of years. It's been heralded as a "cure-all," revered for its healing properties, particularly for pain but also as a potential anticancer treatment. Marijuana was a popular botanical medicine in the 19th and 20th centuries, common in U.S. pharmacies of the time.
It wasn't until 1970 that the herb was declared a Schedule 1 controlled substance in the U.S., a classification reserved for drugs with "high potential for abuse" and "no accepted medical use." Three years later the Drug Enforcement Agency was formed to enforce the newly created drug schedules, and the fight against marijuana use began. In light of its history as a global panacea for all sorts of ills, it's classification as a controlled substance is particularly unjustified.
As noted in the documentary "Cannabis: A Lost History," written, directed and narrated by Chris Rice, marijuana has been "an integral part of human civilization," featuring in ancient Japanese cave paintings, as well as Chinese and Siberian burial rites dating back to 3000 B.C. Based on the evidence — especially the discovery that the human body is equipped with a cannabinoid system — it appears our relationship with cannabis goes back to the very dawn of the human species.
Historical remnants from all around the world also reveal the importance of cannabis in medicine and spirituality. For example, Taoist monks in ancient China burned cannabis as incense, and consumed it with ginseng — a combination thought to open your psychic centers, allowing you to see the future. Cannabis was also revered as sacred in Hinduism, Zoroastrianism and Buddhism.
Cannabinoids and the Cannabinoid Receptor System
The marijuana plant contains more than 60 different cannabinoids; chemical compounds the human body is uniquely equipped to respond to. The two primary ones are cannabidiol (CBD) and tetrahydrocannabinol (THC), the latter of which is the psychoactive component. Cannabinoids interact with your body by way of naturally occurring cannabinoid receptors embedded in cell membranes throughout your body.
There are cannabinoid receptors in your brain, lungs, liver, kidneys, immune system and more; the therapeutic (and psychoactive) properties of marijuana occur when a cannabinoid activates a cannabinoid receptor. Your body also has naturally occurring endocannabinoids similar to THC that stimulate your cannabinoid receptors and produce a variety of important physiologic processes.
So, your body is actually hard-wired to respond to cannabinoids through this unique cannabinoid receptor system. We still don't know exactly how far its impact on your health reaches, but to date it's known that cannabinoid receptors play an important role in many body processes, including metabolic regulation, pain, anxiety, bone growth and immune function.1
The Earliest History of Cannabis
According to the featured video, the earliest written references to cannabis are found in the Chinese Materia Medica, said to be written by Shen Nung around 2800 B.C. The oldest known copy of this book dates back to 50 B.C. Nung is one of three "celestial emperors" revered in the Chinese culture. "Half emperor, half deity, he is said to have ruled over China long before written history," Rice says.
Nung is credited with inventing agriculture — including the hoe, plow and irrigation — as well as acupuncture and Traditional Chinese Medicine (TCM). Often depicted draped in leaves and chewing on various plants, Nung was the first pharmacologist, experimenting with and recording the health effects of plants. Nung documented around 100 different conditions that responded well to cannabis, including gout, rheumatism, malaria and absentmindedness.
Before Nung declared its medicinal attributes, the cannabis plant, called "ma" in Chinese, had been used for centuries in the production of textiles, paper, rope and pottery. Around 200 A.D., a Chinese physician named Hua Tuo performed the first surgery using an anesthetic — a formula called Ma Fei San, which translates to "cannabis boiling powder."
For thousands of years, cannabis remained one of the 50 essential plants used in TCM. It was only removed from widespread use in recent times due to its controversial legal status. The film also reviews the history of cannabis in Indian culture. In the Vedas, the sacred text of India, cannabis (bhang) is listed as one of five sacred plants, and the Hindu god Shiva is referred to as "Lord of the bhang," meaning the Lord of cannabis.
According to the Mahanirvana, "bhang is consumed in order to liberate oneself," and liberation is the path to immortality. The ancient Egyptians, Persians and Greeks also used cannabis in a variety of ways, including medicinally and for spiritual upliftment. References to cannabis are even found in Islamic, Judaic and Christian texts, although an error in translation appears to have crept into the Bible along the way. The original Hebrew term "kaneh bosm," or cannabis, is found several times in the Old Testament.
In Exodus, chapter 30, God instructs Moses on how to make a holy anointing oil: "Take for yourself choice spices: 500 shekels of pure myrrh, half as much fragrant cinnamon, 250 shekels of kaneh bosm and 500 shekels of cassia and mix these with olive oil." In more modern Bibles, kaneh bosm has been translated as sweet calamus. The problem is this plant does not have the properties that the Bible ascribes to kaneh bosm.
According to the film, a 12th century painting found in a Sicilian basilica also "appears to show Jesus near a pot leaf." The painting is titled "Jesus healing the blind." Interestingly enough, "modern scientific studies have since proven that cannabis delays retinal degeneration," Rice says.
The American History of Cannabis
In the U.S., the prohibition of marijuana began to turn in 1996 when California became the first state to legalize medical cannabis. Since then, many others have followed. In 2012, Colorado and Washington state became the first states to legalize its recreational use. Today, the majority of Americans support cannabis either as a medicine, for recreational use, or both. Surveys show at least 4 in 10 Americans have tried marijuana, while nearly 60 percent support full legalization.
A 2013 survey found a majority of physicians — 76 percent — also approve of the use of medical marijuana.2 CNN's chief medical correspondent and neurosurgeon Sanjay Gupta also made a highly publicized reversal on his marijuana stance after the production of his two-part series "Weed," which aired in 2014.3
The American history of cannabis goes back to our Founding Fathers, who cultivated the plant for industrial purposes. George Washington, for example, is said to have grown more than 100 hemp plants at his home in Mount Vernon, Virginia.4 Cannabis is called hemp when being used for its fibers, which are extracted from the stem and constructed into rope, clothing and paper.
Hemp plants are low in tetrahydrocannabinols (THC) levels and therefore do not get you high. During the 17th century, hemp was viewed as an important cash crop. It was used for rope by navies around the world, and as a thick durable linen ideal for clothing and packaging heavy materials. Hemp seed oil was used in soaps, paints and varnishes.
The battle that has raged over marijuana is a long and arduous one. You can read a brief history of marijuana prohibition in the Huffington Post.5 Still, movements to legalize marijuana have persisted throughout, starting as early as 1973, when Oregon became the first state to decriminalize cannabis. The most successful movement to date, and the one that produced the first legal marijuana market in decades, is the medical marijuana movement.
Medical cannabis is now legal in 30 U.S. states,6,7 the majority of which allow limited use of medical marijuana under certain medical circumstances, although some limit medical cannabis to oils or pills only. Eight states have legalized it for recreational use.
A number of municipalities have also created their own marijuana rules, either decriminalizing it, legalizing it, enacting rules that direct city law enforcement to cease arresting individuals for marijuana possession, or making cannabis offenses the lowest priority for law enforcement.
What Can Cannabis Treat?
As mentioned, your body makes its own cannabinoids, similar to those found in marijuana, but in much smaller amounts. These endocannabinoids appear to perform signaling operations similar to your body's neurotransmitters, such as dopamine and serotonin. Cannabinoid receptors can be found on cell membranes throughout your body. In fact, scientists now believe they may represent the most widespread receptor system.8
The fact that your body is replete with cannabinoid receptors, key to so many biological functions, is why there's such enormous medical potential for cannabis. Even though research has been limited by its classification as a Schedule 1 controlled substance, its list of medicinal benefits is still quite long. For example, cannabis has been found useful in the treatment of:9,10,11,12,13
| | |
| --- | --- |
| Mental disorders, including post-traumatic stress disorder, mood disorders and Tourette's syndrome | Seizure disorders such as epilepsy |
| Pain (in one study,14 three puffs of marijuana a day for five days decreased chronic nerve pain) | Rheumatoid arthritis |
| Spasticity, dystonia and tremors | Heart disease |
| Multiple sclerosis and other autoimmune issues | Autism |
| Parkinson's disease | Chronic fatigue syndrome |
| Cancer, including melanoma, leukemia and cancers of the brain, breast, prostate, lung, head and neck,15thyroid, colon and pituitary | Nausea, vomiting and lack of appetite16 |
| Insomnia | Glaucoma |
| HIV/AIDS | Amyotrophic lateral sclerosis |
| Crohn's disease | Anorexia |
| Alzheimer's disease (the U.S. government, through the Department of Health and Human Services, holds a patent on CBD as a neuroprotectant) | Hepatitis-C |
| Cachexia (wasting syndrome) | Asthma |
| Drug dependency and withdrawal | High blood pressure |
Among the most exciting research is that on cancer. Not only does cannabis help with the unpleasant side effects of traditional chemotherapy (including pain, nausea and insomnia), but the cannabis itself appears to be a natural chemotherapy agent.17
Researchers have found cannabis is pro-apoptotic, meaning it triggers cellular suicide of cancer cells while leaving healthy cells untouched, and anti-angiogenic, meaning it cuts off a tumor's blood supply. Dozens of studies point to marijuana's effectiveness against many different types of cancer. For example, Harvard researchers found THC cuts tumor growth in lung cancer while significantly reducing its ability to spread.18
Medicinal Marijuana Can Help Stem Death Toll From Narcotic Pain Killers
Another area where cannabis offers great hope is in the treatment of pain. Overdoses from narcotic pain killers are now the leading cause of death among Americans under the age of 50, and pharmaceuticals in general have for decades been among the leading causes of death in the U.S. According to Dr. Margaret Gedde, owner and founder of Gedde Whole Health and the Clinicians' Institute of Cannabis Medicine, research clearly confirms that cannabis is safer and less toxic than many prescription drugs.
This includes liver and kidney toxicity, gastrointestinal damage, nerve damage and death. Moreover, cannabinoids often work when pharmaceutical drugs fail, so not only is cannabis safer but it's typically more effective. Besides treating intractable seizures, one of the strongest areas of research regarding marijuana's health benefits is pain control.
In 2010, the Center for Medical Cannabis Research released a report19 on 14 clinical studies about the use of marijuana for pain, most of which were FDA-approved, double-blind and placebo-controlled. The report revealed that marijuana not only controls pain but in many cases, it does so better than pharmaceutical alternatives.
If you compare opioids to marijuana, marijuana is unquestionably safer. Contrary to opioids, a cannabis overdose cannot kill you because there are no cannabinoid receptors in your brain stem, the region of your brain that controls your heartbeat and respiration.
What's more, marijuana has been shown to ease withdrawal symptoms in those trying to wean off opioids, which are extremely addictive. In states where medical marijuana is legal, overdose deaths from opioids decreased by an average of 20 percent after one year, 25 percent after two years and up to 33 percent by years five and six.
Big Pharma Takes Aim at CBD
Unfortunately, but not surprisingly, the drug industry is now trying to turn CBD oil into a drug, and hence illegal for sale as a supplement.20 Showing promise for a wide range of ailments, the drug industry sees cannabis as major competition, and rightfully so. June 25, 2018, GW Pharmaceuticals became the first company to gain FDA approval for a CBD-based drug.21,22
The drug in question, Epidiolex, was approved for the treatment of intractable childhood epilepsy in children aged 2 and older. Another product called Sativex is also awaiting FDA approval. Sativex has already been approved in a number of other countries for the treatment of spasticity in multiple sclerosis patients. In a June 25 statement,23 FDA Commissioner Dr. Scott Gottlieb stated:
"This product approval demonstrates that advancing sound scientific research to investigate ingredients derived from marijuana can lead to important therapies … This is an important medical advance. But it's also important to note that this is not an approval of marijuana or all of its components. This is the approval of one specific CBD medication for a specific use. And it was based on well-controlled clinical trials evaluating the use of this compound in the treatment of a specific condition.
Moreover, this is a purified form of CBD. It's being delivered to patients in a reliable dosage form and through a reproducible route of delivery to ensure that patients derive the anticipated benefits. This is how sound medical science is advanced. So today, in addition to celebrating this scientific achievement and the medical advance that it represents … we should also reflect on the path that made this possible.
It's a path that's available to other product developers who want to bring forth marijuana-derived products through appropriate drug development programs. That pathway includes a robust clinical development program, along with careful review through the FDA's drug approval process. This is the most appropriate way to bring these treatments to patients. This process also includes a review of the purity of a new drug and manufacturing controls."
FDA Cracks Down on CBD Supplements
As expected, with its approval of the first CBD drug, the FDA has increased its scrutiny of companies making CBD extracts. In November 2017, four Colorado businesses received FDA warning letters for making "illegally unsubstantiated health claims" on their CBD products.24 In a November 1 press release, the FDA said:25
"[T]he agency today issued warning letters to four companies illegally selling products online that claim to prevent, diagnose, treat or cure cancer without evidence to support these outcomes … The deceptive marketing of unproven treatments may keep some patients from accessing appropriate, recognized therapies to treat serious and even fatal diseases.
The FDA has grown increasingly concerned at the proliferation of products claiming to treat or cure serious diseases like cancer. In this case, the illegally sold products allegedly contain cannabidiol (CBD), a component of the marijuana plant that is not FDA approved in any drug product for any indication."
The warning letters26 also rejected claims that CBD oil can be classified as dietary supplements since Investigational New Drug (IND) applications have been submitted for the CBD-containing drugs Sativex and Epidiolex. This suggests the agency is not just aiming to clean up the cannabis industry's propensity to make illegal claims; it also raises concerns that the legality of all CBD products is in question now that at least one CBD-containing drug has been approved.
Many CBD Products Are Mislabeled
The FDA scrutiny is not entirely unwarranted, however. A November 2017 study27 in JAMA found only 30 percent of CBD extracts sold online accurately list the amounts of cannabinoids on the label. And, while CBD is very safe, accuracy is still of utmost importance.
The FDA and DEA will also use information like this to push CBD into pharma-only territory. The JAMA study used triplicate tests to analyze the cannabinoid content of 84 CBD products purchased online, along with a 10-point method validation procedure. A 10 percent plus or minus allowable variance was used, which is consistent with herbal product labeling in general in the U.S. According to the authors:
"Observed CBD concentration ranged between 0.10 mg/mL and 655.27 mg/mL (median, 9.45 mg/mL). Median labeled concentration was 15.00 mg/mL … With respect to CBD, 42.85 percent of products were underlabeled, 26.19 percent were overlabeled, and 30.95 percent were accurately labeled.
Accuracy of labeling depended on product type, with vaporization liquid most frequently mislabeled … and oil most frequently labeled accurately … Concentration of unlabeled cannabinoids was generally low; however, THC was detected (up to 6.43 mg/mL) in 18 of the 84 samples tested … Of tested products, 26 percent contained less CBD than labeled, which could negate any potential clinical response.
The overlabeling of CBD products in this study is similar in magnitude to levels that triggered warning letters to 14 businesses in 2015-2016 from the U.S. Food and Drug Administration (e.g., actual CBD content was negligible or less than 1 percent of the labeled content), suggesting that there is a continued need for federal and state regulatory agencies to take steps to ensure label accuracy of these consumer products."
Educate Yourself on the Scientific Evidence Supporting Medical Marijuana
If you're still on the fence when it comes to giving people the right to use medical marijuana, one of the best ways to still your fears is to look at the research, and look at what doctors are doing in clinical practice. To start, I recommend listening to my interviews with Geddeand Dr. Allan Frankel, in which they discuss many of the medical benefits of cannabis. Other helpful resources include:
The International Association for Cannabis website, which maintains a Clinical Studies and Case Report page.28
Cancer.gov,29 the U.S. government's cancer website, contains research relating to the use of cannabis
PubMed30 is a searchable public resource containing a vast amount of medical literature, including studies involving cannabis
The Journal of Pain31 is a publication by the American Pain Society with a long list of studies on the pain-relieving effects of cannabis
National Institute on Drug Abuse32 provides information about preclinical and clinical trials underway to test marijuana and various extracts for the treatment of a number of diseases, including autoimmune diseases such as multiple sclerosis and Alzheimer's disease, inflammation, pain and mental disorders
ProCon.org lists 60 peer-reviewed studies on medical marijuana and cannabis extracts published between 1990 and 2014, listed by the condition treated33