3,000-Year-Old Sarcophagus Opened and Contains Perfectly Preserved Mummy
The last time the Egyptian government opened a sealed sarcophagus on live TV, the stench of sewer water sent everyone (except those who actually wanted to drink it and obtain superpowers) running from the room. And yet, they decided to try it again. This time, the results were much different. Did someone peek first?
"(Egyptian archeologists have discovered) a new tomb… with very nice paintings."
That very unexciting announcement was made by Antiquities Minister Khaled al-Anani while standing in front of the temple of Queen Hatshepsut on the west bank of the Nile near the Valley of the Kings. The tomb was found in the El-Assasif necropolis in Luxor and actually contained more than just some "very nice paintings." (Pictures here.) Archeologists recovered sarcophagi, statues and about 1,000 "Ushabatis," which are funerary figurines made of wood, faience (tin-glazed earthenware) and clay. The tomb dates back to the Middle Kingdom and hieroglyphics indicate it belonged to "Thaw-Irkhet-If," mummification supervisor at the Temple of Mut in Karnak. You would think that meant his mummy would be in tiptop condition, but his wasn't the sarcophagus opened on live TV.
"One sarcophagus was rishi-style, which dates back to the 17th dynasty, while the other sarcophagus was from the 18th dynasty. The two tombs were present with their mummies inside."
Minister Khaled Al Anani was definitely more excited about these mummies found in a separate tomb because they were so well-preserved. Discovered near the tomb of Padiamenopé (a prophet and head of priests-readers) by a French team led by of Prof. Frédéric Colin of the University of Strasbourg, one mummy belonged to a woman named Pouyou or Pouya who lived during the 18th Dynasty (1550-1295 BCE). The second mummy was unidentified and dated back to the 17th Dynasty (1580-1550 BCE). There were also other unidentified mummies found outside of the sarcophagi and may have been relatives off Pouyou. While the sarcophagi had never been opened, they appeared to have been reburied at the time of the construction of Padiamenopé's tomb around 700 BCE. (Pictures here.)
No one ran out of the elaborate ceremonial opening of the sarcophagus retching because they apparently had really been unopened and were without leaks. As expected, the Minister use this as an opportunity to promote Egyptian tourism … which is fine as long as the excavations are done carefully and the remains and artifacts are preserved and treated with respect. In this case, the announcement was sponsored by Orascom Investment Company which funds these types of events. They expect to be back because digs at both sites are ongoing.
Let's hope the good intentions continue as the tourist dollars increase.
SOURCE:
Ancient 'Texas Serengeti' is Filled With Strange Fossils
From 1935 to 1943, the Works Progress Administration (WPA) employed millions of (mostly) men unemployed by the Great Depression for public works projects such as building roads, bridges and schools. The WPA also employed musicians, writers and actors in arts and literacy projects. One little known activity in Texas involved hunting for and collecting fossils across the state. Those fossils – tens of thousands of them – were taken to a storage facility at the University of Texas and, once the Depression was over, forgotten … until now. A researcher found them and traced many of the most unusual fossils to an area in Beeville that had such a diverse animal population, it has been given a new name: the Texas Serengeti.
"It's the most representative collection of life from this time period of Earth history along the Texas Coastal Plain."
Steven May is the research associate at the UT Jackson School of Geosciences who found and studied the fossils and traced them to four dig sites, including one in Bee County in southern Texas. According to a press release by UT, finding where they came from was necessary because, while the collection was huge, there were many missing pieces.
"They collected the big, obvious stuff. But that doesn't fully represent the incredible diversity of the Miocene environment along the Texas Coastal Plain."
Using aerial photography and notes from the WPA program stored in the university's archives, May and his team found the exact location of one of the dig sites along a creek on a private ranch near Beeviille, the Bee country seat. In his paper, "The Lapara Creek Fauna: Early Clarendonian of south Texas, USA," published in Palaeontologia Electronica, May describes the breadth of the diversity that earned the spot the title of "Texas Serengeti."
"Of the 50 species of fossil vertebrates, five species are fish, seven are reptiles, two are birds and 36 are mammals. The 36 species of mammals represent 31 genera of which four are rodents, five are carnivores, two are proboscideans, 10 are artiodactyls and 10 are perissodactyls."
For those not up on their Clarendonian age animals, proboscideans are elephant ancestors, artiodactyls are hoofed animals that bear their weight on two of their five toes (cattle, sheep, llamas, etc.) and perissodactyls are hoofed animals that bear their weight on one toe (horses, rhinos, etc.). If that's not enough to get you excited and yelling "Go Texas" and "Hook 'em Horns," May points out that the collection includes new genus of gomphothere, an extinct relative of elephants, an extinct cousin of modern dogs and the oldest fossils of the American alligator.
After being kept in the dark for 80 years at UT and about 10,000 years in Beeville dirt before that, the Texas Serengeti fossils are moving around more now than they did on the Texas plain. They're being used in UT classes to teach archeology students how to carefully find and remove fossils so they can resume the work started in the 1930s when it was just an activity to keep people whole, active and earning a decent wage until the Depression ended. These students will have the advantage of better equipment, computerized analysis tools and educators who won't forget where the bones are.
The Texas Serengeti … an archeological Lone Star goldmine or a new adventure movie starring Matthew McConaughey?
Can we have both?
Source: Mysterious Universe
Anunnaki Visitors from the Stars May Have Jump Started Humanity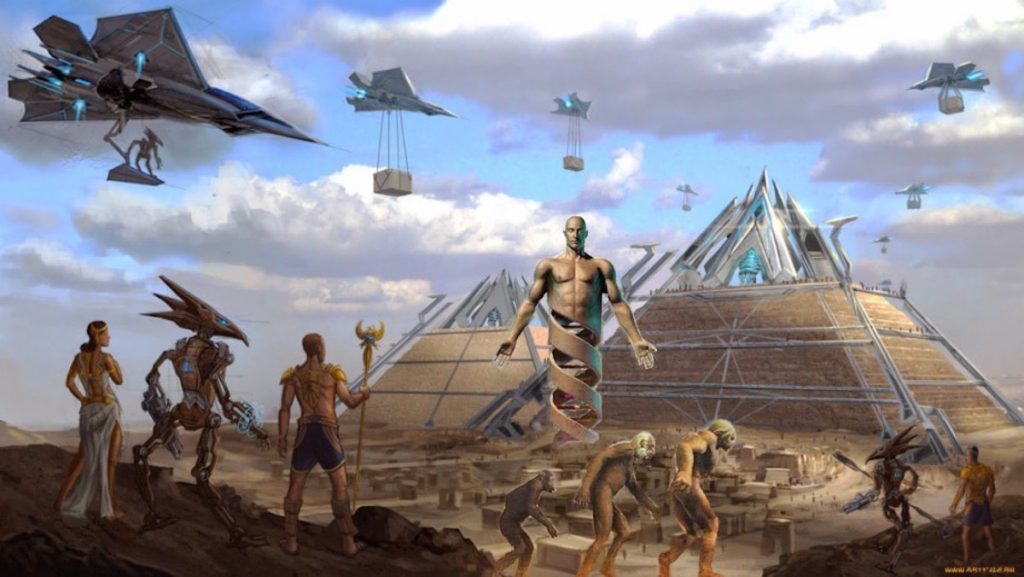 A revealing and intriguing video that shares an independent point of view based on deep research on the topic of the Sumerians and the Anunnaki.
Sumer was an ancient civilization founded in the Mesopotamia region of the Fertile Crescent situated between the Tigris and Euphrates rivers. Known for their innovations in language, governance, architecture and more, Sumerians are considered the creators of civilization as modern humans understand it. – (source)
Anunnaki literally means, "Those who from heaven came down to earth."
"They Landed Somewhere in the Middle East, Then Things Get Really Weird!"
Could this explain why Islam, Christianity and Judaism are such similarly based religions?
Oldest pyramid on Earth is hidden in Antarctica claims researcher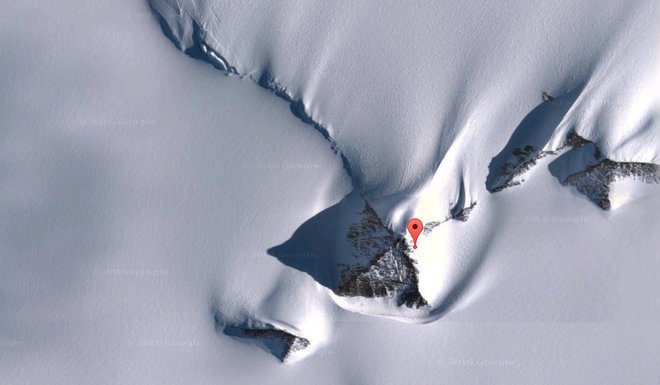 Sebastian Kettley
The Express
Ancient alien theorists who are certain secret pyramids are concealed all around the globe, think some may be hidden on Antarctica. Conspiracy theorists, in particular, point to a vaguely pyramid-like structure near the Shackleton mountain range on the icy continent. The "pyramid" in question, when viewed on satellite imagery, does appear to have four steep sides much like the Great Pyramid of Giza. This incredibly bizarre theory was presented on the History Channel's TV series Ancient Aliens, which investigates various extraterrestrial theories.Episode one of season 11 of Ancient Aliens, explored the remote possibility such pyramids were left behind by ancient alien visitors or human civilisations.
Conspiracy theory author David Childress told Ancient Aliens there is a distinct possibility the Shackleton pyramid is the oldest of its kind on Earth.
He said: "If this gigantic pyramid in Antarctica is an artificial structure, it would probably be the oldest pyramid on the planet and in fact it might be the master pyramid that all the other pyramids on planet Earth were designed to look like."
Another conspiracy theorist agreed, saying: "All the way around the world we find evidence of pyramid structures."We should start looking at the possibility there was habitation on Antarctica."Was it a lost civilisation? Could it be ancient astronauts?"And just maybe, the earliest monuments of our own civilisation came from Antarctica."But the theory was challenged by Dr Michael Salla, author of Exopolitics Political Implications of the Extraterrestrial Presence.
The alien expert argued the Antarctic pyramid is just one node in a global network of power-generating pyramids strategically placed around Earth.
A popular pyramid conspiracy claims the triangular structures act as power generators of sorts, built for the purpose of transiting vast amounts of energy wirelessly.
It would probably be the oldest pyramid on the planet
Dr Salla said: "There has been extensive research done on pyramids throughout the world, in terms of their structure an what is they really are.
"One of the theories is that pyramids are power generators and so, if you have these pyramids strategically placed around the world generating a charge, it's possible to create a general standing wave around the world that is a wireless transmission of energy."
However, not everyone who saw the Ancient Aliens episode was convinced by the wild theories presented.
YouTube user Derrick commented: "Snow covered pyramid shape in Antarctica, I believe geologists would call that a mountain."
Lazaros Tsakpounidis Tsakpounidis said: "I feel like I'm losing my brain cells after watching this."
And Mohammad Ziaul Mushtafa Khan said: "No evidence, only a bunch of authors referred them as extraterrestrial theorists claimed everything on Earth is conspired by some aliens, now latest victim is Antarctica.
"Maybe geologist must take lessons from so-called experts."
And according to geologists, there is nothing unusual about the angular shape of the mountain.
Dr Mitch Darcy, a geologist at the German Research Centre for Geosciences in Potsdam, argued mountains like this are known as nunataks.
Nunataks are exposed and rocky mountain peaks and rides which are naturally occurring and pyramid-like in shape.
Speaking about a similar "Antarctica pyramid" near the Ellsworth Mountains, the geologist told IFLScience: "The peaks are clearly composed of rock, and it's a coincidence that this particular peak has that shape.
"It's not a complicated shape, so it's not a special coincidence either.
"By definition, it is a nunatak, which is simply a peak of rock sticking out above a glacier or an ice sheet.
"This one has the shape of a pyramid, but that doesn't make it a human construction."