30 Years Ago Climate Change Became News And Both Sides of Politics Took It Seriously

June 23, 1988 marked the date on which climate change became a national issue.
In landmark testimony before the US Senate Energy and Natural Resources Committee, James Hansen, then director of NASA's Institute for Space Studies, stated that:
"Global warming has reached a level such that we can ascribe with a high degree of confidence a cause-and-effect relationship between the greenhouse effect and observed warming…In my opinion, the greenhouse effect has been detected, and it is changing our climate now."
Hansen's testimony made clear the threats posed by climate change and attributed the phenomenon to human exploitation of carbon energy sources. Its impact was dramatic, capturing headlines in The New York Times and other major newspapers.
(New York Times)
As politicians, corporations and environmental organizations acknowledged and began to address this issue, climate change entered into the political arena in a largely nonpartisan fashion.
Yet despite decades of public education on climate change and international negotiations to address it, progress continues to stall. Why?
One reason for the political inaction is the gaping divide in public opinion that resulted from a deliberate – and still controversial – misinformation campaign to redirect the public discussion on climate change in the years following Hansen's testimony.
James Hansen testifying to Congress in 1988 (AP Photo/Dennis Cook)
Just as predicted
Four years after Hansen testified to Congress, 165 nations signed an international treaty, the United Nations Framework Convention on Climate Change.
They committed themselves to reducing carbon emissions to avoid dangerous disruption of the Earth's climate system, defined as limiting future temperature increases to 2 degrees Celsius.
The signatories have now held 25 annual UNFCCC conferences dedicated to developing goals, timetables and methods for mitigating climate change, the most consequential of which are encompassed in the Paris Agreement of 2015.
But as of today, not one single major northern industrial country has fulfilled its commitments under the Paris treaty, and the nonprofit Climate Action Tracker has rated the United States' plan to achieve the Paris goals critically insufficient.
There have been more than 600 congressional hearings on climate change, according to my calculations, and numerous attempts to pass binding limits on carbon emissions.
Despite those efforts, the United States has yet to take meaningful action on the problem – a discrepancy compounded by President Donald Trump's decision last year to withdraw from the treaty altogether.
In the three decades since Hansen's testimony, the scientific certainty about the human causes and catastrophic effects of climate change on the biosphere and social systems has only grown stronger.
This has been documented in five Intergovernmental Panel on Climate Change assessment reports, three US National Climate Assessments and thousands of peer-reviewed papers.
Yet CO2 levels continue to rise.
In 1988, atmospheric CO2 levels stood at 353 parts per million, or ppm, the way to measure the concentration of CO2 molecules in the atmosphere. As of June 2018, they have reached 411 ppm, the highest monthly average ever recorded.
The effects of these increased concentrations are just as Hansen and others predicted, from disastrous wildfires in the western US and massive hurricanes associated with historical flooding to extended droughts, rising sea levels, increasing ocean acidification, the pervasive spread of tropical diseases and the bleaching and death of coral reefs.
Massive gap on public opinion
Future generations will look back on our tepid response to global climate disruption and wonder why the world did not act sooner and more aggressively.
One answer can be found in the polarization of public opinion over climate change in the United States.
The latest Gallup Poll shows that concern about climate change now falls along partisan lines, with 91 percent of Democrats saying they are worried a great deal or fair amount about climate change, while only 33 percent of Republicans saying the same.

(The Conversation/Gallup/CC-BY-ND)
Clearly, a massive gap between Republicans and Democrats has emerged regarding the nature and seriousness of climate change.
This partisan divide has led to an extreme political conflict over the need for climate action and helps to explain Congress's failure to pass meaningful legislation to reduce carbon emissions.
Polarizing public opinion
The current political stalemate is no accident. Rather, it is the result of a well-financed and sustained campaign by vested interests to develop and promulgate misinformation about climate science.
My scholarship documents the coordinated efforts of conservative foundations and fossil fuel corporations to promote uncertainty about the existence and causes of climate change and thus reduce public concern over the issue.
Amplified by conservative media, this campaign has significantly altered the nature of the public debate.
These findings are supported by recent investigative news reports showing that since the 1970s, top executives in the fossil fuel industry have been well aware of the evidence that their products amplify climate warming emissions.
Indeed, industry scientists had conducted their own extensive research on the topic and participated in contemporaneous scientific discussions.
The American Petroleum Institute, an industry trade group, even circulated these research results to its members.
By 1978, a senior executive at ExxonMobil had proposed creating a worldwide "CO2 in the Atmosphere" research and development program to determine an appropriate response to growing evidence of climate change.
Unfortunately, that path wasn't taken. Instead, in 1989, a group of fossil fuel corporations, utilities and automobile manufacturers banded together to form the Global Climate Coalition.
The group was convened to prevent the US adoption of the Kyoto Protocol, an international agreement to limit greenhouse gas emissions. In its public statements, the coalition's official position was to claim global warming was real but that it could be part of a natural warming trend.
The corporate drive to spread climate misinformation continued beyond fighting Kyoto. In 1998, API, Exxon, Chevron, Southern Co. and various conservative think tanks initiated a broad public relations campaign with a goal of ensuring that the "recognition of uncertainties of climate science becomes part of the 'conventional wisdom.'"
While that coalition disbanded in 2001, ExxonMobil reportedly continued to quietly fund climate misinformation, funneling donations through conservative, "skeptic" think tanks such as the Heartland Institute, until 2006, when the nonprofit Union of Concerned Scientists exposed its funding scheme.
ExxonMobil – the nation's largest and wealthiest company – continues to work with the American Legislative Exchange Council, a self-described public-private partnership of corporations and conservative legislators, to block climate change policies.
Holding fossil fuel companies responsible
ExxonMobil's conduct – promoting uncertainty about climate science it knew to be accurate – has generated public outrage and led New York's attorney general to initiate an investigation into whether the company has illegally misled the public and its investors about the risks of climate change.
This trend in litigation has expanded, and there are now several ongoing climate litigation suits.
While important, lawsuits cannot fully address the larger issues of corporate social and political responsibility to acknowledge and address climate change.
Just as Congress investigated efforts by the tobacco industry to dupe the public into believing its products were harmless in the 1990s, I believe a full and open inquiry is needed now to unmask the vested interests behind scientific misinformation campaigns that continue to delay our efforts to mitigate a global threat.
At a minimum, the US needs to change the system of hidden funding, in which companies such as ExxonMobil or the Koch brothers use pass-through organizations to camouflage donations to climate denial efforts.
Current US tax rules for nonprofit organizations, including climate-denying think tanks, do not require them to reveal their donors, enabling them to support large-scale political activities while remaining unaccountable.
American voters deserve to know who is behind climate disinformation efforts, and revising nonprofit reporting laws is a good place to begin.
In my view, the central concern here is nothing less than the moral integrity of the public sphere. The Declaration of Independence states that governments "derive their just powers from the consent of the governed."
But when vested interests with outsize economic and cultural power distort the public debate by introducing falsehoods, the integrity of Americans' deliberations is compromised.
So it is with the fossil fuel industry's efforts to distort public discourse on the urgent subject of climate change.
If corporations and public relations firms can systematically alter the national debate in favor of their own interests and against those of society as a whole, then democracy itself is undermined.
I believe Congress can and should act to investigate this issue fully. Only then can we restore trust and legitimacy to American governance and fulfill our society's moral duty to address climate change at a scale commensurate with its significance.
Robert Brulle, Professor of Sociology, Drexel University.
This article was originally published by The Conversation. Read the original article.
Thousands of "apocalyptic" lightning strikes and flash floods hit the UK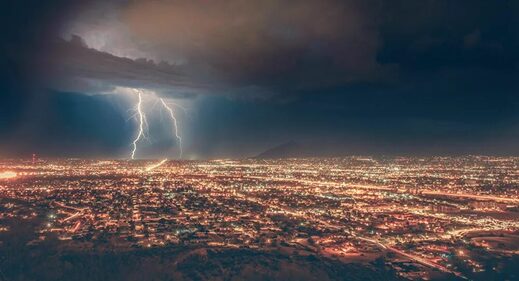 Parts of the UK have been hit by flooding due to heavy rainfall, with a flood warning issued in Scotland, Wales and northern England. Meanwhile, the sweltering heat continues to bake the rest of Britain. 
Heat alerts have been issued to young children and the elderly as 34 ° C (93.2F) has been recorded for the fifth day in a row.
The skies over the UK were illuminated by approximately 50,000 lightning strikes per night, resulting in blackouts and power outages for several hours.
Heavy rains continued for four hours, and golf-ball-sized hail hit the Curig Herons in North Wales. The drainage system overflowed, flooding streets in different parts of Britain.
The sky looked fiery red due to thunderstorms in South Wales, and in Bowland, Lanks and Worcestershire.
"I've never seen anything like it," a resident said, stating that they saw constant flashes of lightning for 25 minutes.
Geologists have confirmed a strange unprecedented "boomerang" earthquake deep under the Atlantic Ocean
Earthquakes come and go, often leaving destruction behind. What they luckily don't usually do is turn around immediately and come back for another push. Except … it looks like they can do it on very rare occasions.
In a new study, scientists have uncovered evidence of an unusual and almost unprecedented boomerang earthquake that shook the deep seafloor under the Atlantic Ocean in 2016.
This earthquake, dubbed "reverse super-shear rupture", occurred along the Romansh fracture. It is an area that lies near the equator, about halfway between the east coast of Brazil and the west coast of Africa.
The rift, which stretches about 900 kilometers between the South American and African tectonic plates, adjacent to the Mid-Atlantic Ridge, caused a 7.1 magnitude earthquake in August 2016, which was detected by underwater seismometers in the region, as well as by remote monitoring stations.
Analysis of the signals reveals that this was not an ordinary earthquake, but a strange earthquake that went one way before turning around and returning and with a significant increase in speed.
"While scientists have found that this reverse rupture mechanism is possible on the basis of theoretical models, our new study provides some of the clearest evidence that this mysterious mechanism actually occurs," Stephen Hicks said, lead researcher and seismologist of Imperial College London.
According to the analysis of seismic data, the 2016 earthquake had two separate phases.
First, the rip extended upward and eastward towards the weak point where the rip zone meets the Mid-Atlantic Ridge. Then, in a sudden U-turn, an "unusual westward propagation" occurred, with the tremors returning to the center of the fault and at significantly accelerated "super-shear" velocities of up to 6 kilometers per second.
"Even though the structure of the fault appears to be simple, the quake grew differently, and it was completely the opposite of how we expected the quake to look before we started analyzing the data."
While the team's explanation for how this boomerang unfolded remains speculative so far, the researchers speculate that the first, deep phase of the quake released enough fracture energy to initiate a reversal of the rift in the shallower, western underwater terrain.
"Either both sections of the fault were preseismically loaded enough to promote seismogenic failure, or the deeper SE1 fracture instantly increased static stress, immediately causing the shallower portion of SE2 to collapse," the authors explain in their paper.
Although earthquakes propagating in the opposite direction have been studied by seismologists before, so far there has been little evidence of their existence, and this phenomenon is mainly observed in theoretical modeling.
Finding this type in the real world – in the middle of the ocean – is the first of its kind, not to mention the boomerang that returned at super shear speed.
"To my knowledge, this is the first time this has been reported," geophysicist Yoshihiro Kaneko of GNS Science in New Zealand, who was not part of the research team, told National Geographic.
The results are reported to Nature Geoscience.
What is the real cause of explosions and fires around the world in the past few days?
What has caused all these giant explosions and apocalyptic fires in China, North Korea, Lebanon, India, USA, Iraq, Iran over the past few days?
China
It all began on August 3, 2020 in the Chinese province of Hubei, where an instant explosion at a chemical plant killed at least six people and injured four. The reason is under investigation.
North Korea
This first explosion was followed a few hours later by a giant explosion following a possible "gas leak" in Hyesan, Yangan Province, North Korea, killing 9 people and injuring at least 30 residents. The reason is being investigated.
Lebanon
The next day, the port area of ​​Beirut, Lebanon, was destroyed by a giant explosion, killing more than 140 people and injuring thousands.
India
Also on the afternoon of August 4, 2020, an explosion caused panic among residents living around the Vijayshree Pharma Company plant in the Rambilli Zone FEZ in Vishakhapatnam in Andhra Pradesh, India. The reason is being investigated.
Great Britain
On 4 August, an explosion occurred again in the middle of a residential street in Birmingham, UK, causing smoke and fireballs to rise into the air and residents fleeing to seek refuge. The explosion was so strong that fire alarms went off in the houses.
United States of America
Finally, on Tuesday, firefighters put out a massive fire in downtown St. Paul, Minnesota, that engulfed a building under construction. When the firefighters arrived at about 4:20 am, the flames were flying high into the air, and the glow was visible for miles.
Iran
A fire broke out on Tuesday inside three industrial warehouses east of Tehran. The fire destroyed production materials, including lumber and leather.
Then, on August 5, at least seven ships burst into flames at a shipyard in the southern Iranian port of Bushehr. According to reports, the reason remains unclear, no casualties.
United Arab Emirates
On 5 August 2020, on Wednesday evening at 18:30, a fire broke out in a market in the emirate of Ajman, 50 km from Dubai, in the United Arab Emirates. The reason is being investigated.
China
A gas pipeline exploded and several roads collapsed after torrential rains flooded parts of Yulin, a city in China's northwestern Shaanxi province. Local authorities evacuated about 600 people from the area. The reason is being investigated.
United States of America
On the same day in Midland, Texas, an investigation is under way of an explosion and subsequent fire in an oil storage facility. The reason is also unknown.
Iraq
Again, on August 6, 2020, a major fire broke out in over 20 wholesale market warehouses in Najaf, Iraq. The reasons are being investigated.