30 unbelievable facts about the universe in three minutes
The Universe is big. Really big. It also happens to be full of amazing things, so we thought we'd put together a snap guide to the place we call home, with 30 incredible facts in just three minutes. Everything from exoplanets to galaxies to black holes and the moon landing, condensed into one tiny package. Enjoy!
Mysterious Object Is 570 Billion Times Brighter Than The Sun
So bright that it pushes the energy limit of physics.
Billions of light years away, there is a giant ball of hot gas that is brighter than hundreds of billions of suns.  It is hard to imagine something so bright.  So what is it?  Astronomers are not really sure, but they have a couple theories.
They think it may be a very rare type of supernova — called a magnetar — but one so powerful that it pushes the energy limits of physics, or in other words, the most powerful supernova ever seen as of today.
This object is so luminous that astronomers are having a really difficult time finding a way to describe it.  "If it really is a magnetar, it's as if nature took everything we know about magnetars and turned it up to 11," said Krzysztof Stanek, professor of astronomy at Ohio State University and the team's co-principal investigator, comedically implying it is off the charts on a scale of 1 to 10.
The object was first spotted by the All Sky Automated Survey of Supernovae (ASAS-SN or "assassin"), which is a small network of telescopes used to detect bright objects in the universe.  Although this object is ridiculously bright, it still can't be seen by the naked eye because it is 3.8 billion light years away.
ASAS-SN, since it began in 2014, has discovered nearly 250 supernovae, however this discovery, ASASSN-15lh, stands out because of its sheer magnitude.  It is 200 times more powerful than the average supernova, 570 billion times brighter than the sun, and 20 times brighter than all the stars in the Milky Way Galaxy combined.
"We have to ask, how is that even possible?" said Stanek.  "It takes a lot of energy to shine that bright, and that energy has to come from somewhere."
Todd Thompson, professor of astronomy at Ohio State, has one possible explanation.  The supernova could have generated an extremely rare type of star called a millisecond magnetar — a rapidly spinning and very dense star with a crazy strong magnetic field.
This is how crazy magnetars are: to shine as bright as it does, this magnetar would have to spin at least 1,000 times a second, and convert all of that rotational energy to light with pretty much 100 percent efficiency — making it the most extreme example of a magnetar that is physically possible.
"Given those constraints," Thompson said, "will we ever see anything more luminous than this? If it truly is a magnetar, then the answer is basically no."
Over the coming months, the Hubble Space Telescope will try to solve this mystery by giving astronomers time to see the host galaxy surrounding this object.  The team may find that this bright object lies in the very center of a large galaxy — meaning the object is not a magnetar at all — and the gas around it is actually evidence of a supermassive black hole.
If that is the case, then the bright light could be explained by a new kind of event, said study co-author Christopher Kochanek, professor of astronomy at Ohio State.  It would be something that has never, ever been seen before at the center of a galaxy.
Whether it is a magnetar, a supermassive black hole, or something else entirely, the results are probably going to lead to new thinking about how objects form in the universe.
SOURCE: alien-ufo-sightings.com
That Leak on The ISS Was Made by a Person. Here's What We Know So Far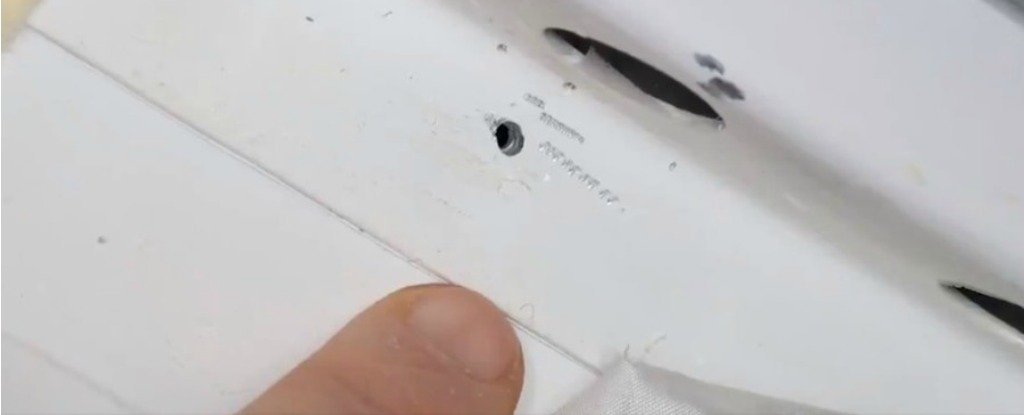 Last week astronauts on board the International Space Station (ISS) awoke to a worrying message from flight control.
Hidden somewhere on board the ISS was a tiny pressure leak that was slowly allowing air to seep out of the spacecraft and into the abyss.
The six astronauts on board were not in any imminent danger, although locating the leak was their top priority for the day. The US crew hunkered down in the Russian segment and sealed off all the compartments one by one.
A two millimetre hole was at last discovered in the Russian segment itself. And while that hole may not seem very big, if nothing had been done to fix it, it would have deprived the ISS of air in just 18 days.
The hole was immediately sealed over with a special type of tape to buy the astronauts some time for a permanent solution.
Meanwhile, a special commission was set up by the Russian State Space Corporation Roscosmos to investigate the cause of the rupture. What they found was unexpected.
At first it seemed likely that the tiny hole had come from a micrometeoroid impact – one of the many bullets of debris that whizz around in space.
The theory was even supported by former astronaut Scott Kelly, who explained that this sort of thing happens all the time.
"We've dodged a lot of bullets over the past 20 years," he tweeted.
This leak seems to have resulted from a micrometeoroid impact. We've dodged a lot of bullets over the past 20 years. There's a lot of space junk up there, a serious issue which needs to be addressed. Great job by the #ISS crew! https://t.co/5IfjnimyPz

— Scott Kelly (@StationCDRKelly) August 31, 2018
But as the inquiry progressed, the hole began to look more and more like it came not from the outside, but from the inside.
"We are considering all the theories," said Dmitry Rogozin, head of Roscosmos, according to the Russian news agency Tass.
"The one about a meteorite impact has been rejected because the spaceship's hull was evidently impacted from inside".
Then, things began to get shadier. A photo, released by NASA and then mysteriously deleted, reveals what looks strangely like a drill hole.
"It was done by a human hand – there are traces of a drill sliding along the surface," confirmed Rogozin.
ISS Leak summary:

First thought was MMOD strike.

Then NASA released pics. Lots of people: "Hmmm, doesn't look like MMOD". NASA deleted the photos.

Top Russian news site RIA NOVOSTI reported – via sources but apparently confirmed by Mr. Rogozin – it was a drill hole. pic.twitter.com/520kHK0TMc

— Chris B – NSF (@NASASpaceflight) September 3, 2018
Rogozin assured the media and the public that the Russian space agency was doing everything it could to find the culprit.
"It is a matter of honour for Energia Rocket and Space Corporation to find the one responsible for that, to find out whether it was an accidental defect or a deliberate spoilage and where it was done – either on Earth or in space," he said, referring to the Russian manufacturer of the space craft.
Right now, the leading theory comes from an unnamed source at Energia, which told the Russian news agency RIA Novosti that "[t]he hole was made on the ground" and that "[t]he person responsible for the act of negligence has been identified".
Another anonymous source confirmed that the hole was accidentally drilled by a worker at Energia, who decided to hide their mistake with a seal and decorative fabric instead of reporting it.
For two months, the gamble paid off. Their patchy solution even managed to pass the spacecraft's pressurisation tests before it was launched into space to meet up with the ISS. But then, the seal began to leak.
"[Once in orbit], the glue dried and was squeezed out, opening the hole," the second source told RIA Novosti.
Repairing the hole has been neither simple nor straightforward, and the problem may have even caused a few cracks between Moscow and Houston.
It appears that the Russian space agency wanted to immediately and permanently seal the breach with a special glue, adding insulation and medical gauze on top.
But NASA astronaut Andrew Feustel, who is currently in charge of the 56th ISS mission, was uncomfortable with the plan. In audio from the event, Feustel asks flight control in Houston if the proposed glue has any expanding properties to it.
"Andrew, right now, we are not completely sure all the properties that that sealant that Moscow is talking about. We're discussing with them right now," flight control replies.
Not satisfied with the answer, Feustel can be heard requesting 24 hours of extra time so that the procedure can be tested on Earth.
"I would really like to see a test of that, somehow, on the ground before we do a test up here and see if it's going to work," Feustel says.
"We sort of feel like we've got one shot at it and if we screw it up, then the implications are one of these vehicles is going home, or that vehicle is going home, sooner than later".
But without another option on the table, Moscow insisted on their plan. After just an hour or so, the decision was made to go ahead with their proposed solution. A second patch was added the next day, and pressure in the ISS now appears to be stable.
Rogozin told reporters that they were looking into whether the hole was made because of negligence, or if it was made deliberately.
"Now it is essential to see the reason, to learn the name of the one responsible for that," he said.
"And we will find out, without fail".
There has been no further statement from Roscocosmos about the latest allegations that a worker at Energia is responsible.
Trump's 'Space Force' Is Serious And We Just Got a Bunch of New Details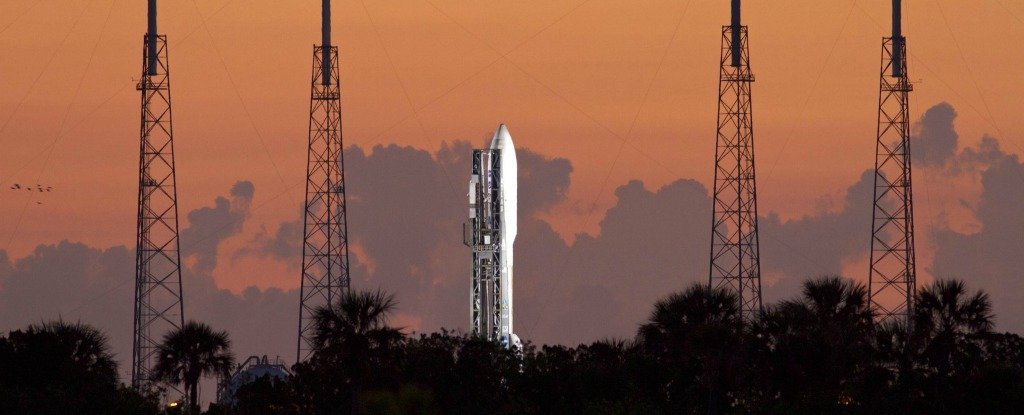 Vice President Pence laid out an ambitious plan Thursday that would begin creating a military command dedicated to space and establish a "Space Force" as the sixth branch of the US military as soon as 2020, the first since the Air Force was formed shortly after World War II.
Pence warned of the advancements that potential adversaries are making and issued what amounted to a call to arms to preserve the military's dominance in space.
"Just as we've done in ages past, the United States will meet the emerging threats on this new battlefield," he said in a speech at the Pentagon.
"The time has come to establish the United States Space Force."
But the monumental task of standing up a new military department, which would require approval by a Congress that shelved the idea last year, may require significant new spending and a reorganization of the largest bureaucracy in the world.
And the idea has already run into fierce opposition inside and outside the Pentagon, particularly from the Air Force, which could lose some of its responsibilities.
Defense Secretary Jim Mattis last year said he opposed a new department of the military "at a time when we are focused on reducing overhead and integrating joint warfighting functions."
This week, Mattis said the Pentagon and the White House "are in complete alignment" on the need to view space as a warfighting domain. But he stopped short of endorsing a full-fledged Space Force.
In a briefing with reporters after Pence's speech, Deputy Defense Secretary Patrick Shanahan suggested that Mattis's comments opposing the Space Force were made at a different time, before the Pentagon received a bolstered budget.
White House officials have been working with national security leaders to aggressively move ahead without Congress.
The first step is creating a new US Space Command by the end of the year, which would be led by a four-star general, the way the Pentagon's Indo-Pacific Command oversees those regions.
The new command would pull space experts from across the armed services, and there would be a separate acquisitions office, dedicated to buying satellites and developing new technology to help the military win wars in space.
After the announcement Thursday, President Trump tweeted, "Space Force all the way!"
For months, Trump has been calling for a Space Force, a new, free-standing military department, with its own chain of command and uniforms.
In a letter to supporters Thursday, the Trump 2020 campaign said it would sell a line of gear that could come with a logo of their choosing – including one labeled "Mars Awaits" – to commemorate "President Trump's new Space Force," according to a copy of the email – a move that fueled criticism that the effort was motivated by politics.
The White House intends to work with lawmakers to introduce legislation by early next year, a senior administration official said, with the hope of standing up the first new military department since the Air Force was formed in 1947.
Some members of Congress and military leaders have been warning that space is no longer a peaceful sanctuary, but a domain of conflict that needs more attention and resources.
Space is vital to the way the United States wages war; the Pentagon's satellites are used for missile defense warnings, guiding precision munitions and providing communications and reconnaissance.
Russia and China have made significant advancements, challenging the United States' assets in space.
In 2007, China blew up a dead weather satellite with a missile, creating a massive debris cloud in orbit, which Pence called "a highly provocative demonstration of China's growing capability to militarize space".
China also has demonstrated the ability to hit satellites in a much deeper orbit where the military parks some of its most sensitive assets.
In his speech, Pence acknowledged the difficulties in establishing a new service, and said the Pentagon would create an assistant secretary of defense for space, a top-level civilian who will report to the defense secretary "to oversee the growth and expansion of the sixth branch of service."
The official must sort out many details, including how the Pentagon would recruit for the Space Force and compete for resources within the Pentagon. Even basic details, such as what uniforms and what rank structure the Space Force would use, must be decided.
Some members of Congress advocated last year for creating a Space Corps in the Air Force Department, similar to how the Marine Corps is part of the Navy Department. Elevating the proposal to create a new department will mean additional Pentagon bureaucracy, critics say.
Deborah James, who served as Air Force secretary in the Obama administration, said Trump's decision to create a full new department is "a solution in search of a problem."
Before Trump's announcement in June that he wanted a Space Force, Mattis and Air Force Secretary Heather Wilson had cautioned against creating new Pentagon bureaucracy to address space issues. James said she thinks they're now "stuck because the president announced this by surprise."
Efforts to reach several senior Air Force officials were not successful Thursday. Wilson was traveling on business and not at the Pentagon when Pence made his announcement.
Gen. David L. Goldfein, the Air Force's top officer, and Gen. Stephen Wilson, the vice chief, sat quietly in the Pentagon auditorium as Pence spoke.
Air Force Gen. Paul Selva, the Pentagon's vice chairman of the Joint Chiefs of Staff, said in a briefing with reporters that the Pentagon is very much in favor of establishing a Space Command as a way to speed up efforts in space.
But when it comes to establishing a new branch of the military, Selva said, "there's an obligation" to present a set of options that can be presented to Congress.
"He's the commander in chief," Selva said of the president.
The White House has pushed for Congress to invest an additional US$8 billion in national security space systems over the next five years.
The new command and reorganization "should be budget-neutral," Scott Pace, the executive secretary of the National Space Council, said in an interview.
"However, going forward, there probably will need to be an increase in resources to buy improved capabilities and more warfighters as the Space Force matures."
After Pence's speech, Reps. Mike D. Rogers and Jim Cooper, members of the House Armed Services Committee, praised the move, saying a Space Force "will result in a safer, stronger America."
"We have been warning for years of the need to protect our space assets and to develop more capable space systems," they said in a joint statement.
In his speech, Pence urged the audience to support the administration's effort to create the department.
Speaking to a room made up mostly of US troops in uniform, Pence said their "commander in chief is going to continue to work tirelessly toward this goal, and we expect you all to do the same."
"The only thing we can't afford is inaction," he said.
2018 © The Washington Post
This article was originally published by The Washington Post.