3 Legendary Heroes Who May Or May Not Have Existed
From Britain's most beloved outlaw to the founder of all Turkic peoples, find out more about three historical figures whose existence remains up for debate.
1 – King Arthur. Knight Of Camelot
We've all heard stories about King Arthur of Camelot, who according to medieval legend led British forces (including his trusted Knights of the Round Table) in battle against Saxon invaders in the early sixth century. But was King Arthur actually a real person, or simply a hero of Celtic mythology? Though debate has gone on for centuries, historians have been unable to confirm that Arthur really existed. He doesn't appear in the only surviving contemporary source about the Saxon invasion, in which the Celtic monk Gildas wrote of a real-life battle at Mons Badonicus (Badon Hills) around 500 A.D. Several hundred years later, Arthur appears for the first time in the writings of a Welsh historian named Nennius, who gave a list of 12 battles the warrior king supposedly fought. All drawn from Welsh poetry, the battles took place in so many different times and places that it would have been impossible for one man to have participated in all of them.
The Death of King Arthur. James Archer (artist) (1823 – 1904)
Welsh origin
Later Welsh writers drew on Nennius' work, and Arthur's fame spread beyond Wales and the Celtic world, particularly after the Norman conquest of 1066 connected England to northern France. In the popular 12th-century book "History of the Kings of Britain," Geoffrey of Monmouth wrote the first life story of Arthur, describing his magic sword Caliburn (later known as Excalibur), his trusted knight Lancelot, Queen Guinevere and the wizard Merlin. An irresistible blend of myth and fact, the book was supposedly based on a lost Celtic manuscript that only Geoffrey was able to examine.
Evidence from the ground
The second key source of information about Arthur is archaeology. Archaeological evidence for contact between Wales, Cornwall and the Saxon World takes many forms – from metalwork manufactured in an Anglo-Saxon style discovered in south-east Wales, to the distribution of early medieval pottery imported from the Continent and the shores of the Mediterranean.
Excavations at Dinas Powys, a princely hillfort near Cardiff occupied between the 5th and 7th-centuries, has informed us about the nature of a high status site in south Wales at this time. This site is contemporary with others like South Cadbury in Somerset and Tintagel in Cornwall (both with their own Arthurian traditions).
Arthur's court at Caerleon
A large number of sites in Wales have Arthurian associations, though few have proven medieval origin. In the 12th century, Caerleon was thought by Geoffrey of Monmouth to be the location of Arthur's court, while the hillfort of Dinas Emrys in north Wales is associated with Ambrosius, Vortigern and Merlin.
Area 51 Raid Will Be 'Live Streamed'. Nearly 2,000,000 Are Going
Everyone is very curious about what is going to happen on September 20th when over a million people have promised to storm the secret military base "Area 51." As we have reported, experts on the mythical site are warning curiosity seekers to stay home, because the United States military is saying that they will defend the territory with force if necessary.
There is a party planned on the same day at a nearby tourist attraction called Area 15, which is described as an 'experiential retail and entertainment complex.' In addition to the party, the entertainment complex will also be live-streaming the event for viewers at home so everyone can keep up on what is happening.
This location is not to be confused with the "Area 51 Alien Center tourist attraction," which is a separate property where the people are supposed to meet before they rush the gates of the military base.
The complex is welcoming curiosity seekers to their building, which is located near Rancho Drive and Desert Inn Road.
"Okay. Now we're curious too about what's going to happen on 9/20 at the storming of #AREA51. We're going to live stream the "event" here at #AREA15 to watch what goes down. And, of course, costumes and tin foil hats are required. Interested? Leave your information and we'll send you the details," a post from the business said.
It seems like the very few tourist attractions that are lined up outside of Area 51 will be seeing some of their best business in years. The Area 15 entertainment complex is actually not scheduled to open for business until 2020, but they are opening early just for this special occasion.
No one really knows what is going to happen on September 20th. Perhaps no one shows up. Perhaps plenty of people show up, but they just have a party out in the desert. Perhaps someone will get shot or arrested.
Below is footage that was taken just a few years ago, when a family is nearly taken out by a group of soldiers for trespassing on Area 51 property.
Source: www.anonews.co

House abandoned by its owners because they hear screaming from the basement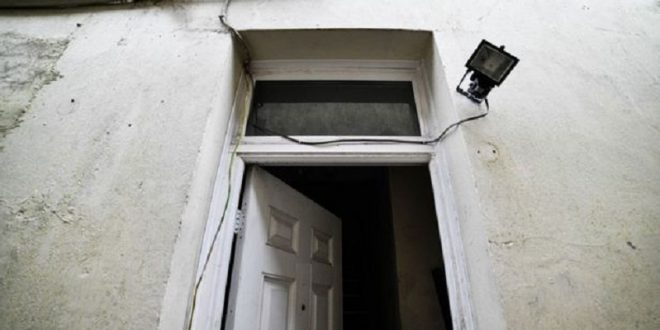 There is a house in a Welsh town at the centre of a mystery which has seen its owners fleeing the country in utter terror.
So petrified are they about the sounds they can hear underneath their home that they refuse to step foot inside it ever again.
The police have been called but the sound of screaming coming from underneath the basement has not been identified.
But they are convinced there is something going on below the ground.
The claims may sound outlandish, like something from a Hollywood horror, but there are recordings that the owners have made, inside the property, which they say prove the existence of a dark, sinister secret.
It all started one night in June 2018.
The owners, Alan and Christine Tait, were up late at the Ammanford house when the latter went to the kitchen to make a coffee. While stood over the kettle, she was convinced that she could hear strange noises, and went to inform her husband.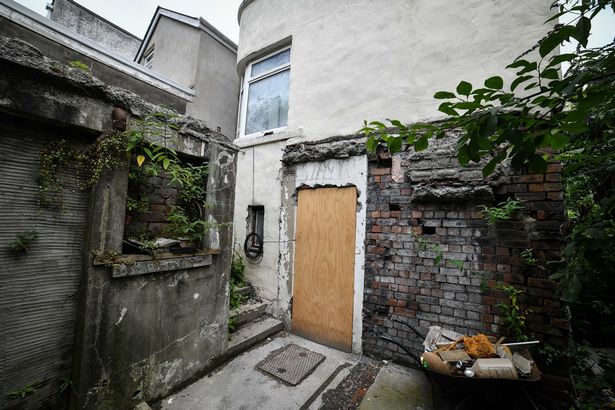 Women and children screaming, heavy knocking and men talking in a foreign language were just some of the sounds that disturbed the couple to the point where, within weeks, they would leave their home of 11 years and vow not to return.
They had no idea where the noises were coming from, but they were coming from somewhere, so they set out to investigate.
"It was like a flushing noise that I heard first," says Christine Tait from the couple's camper van that they now live in.
"I told Alan about it and that I couldn't figure out where it was coming from. He left his phone in the bathroom with the recorder on to try to pick up the source of the noise, and then we could hear a machine running.
"We started to record all over the house, and we picked up the sounds of chains, a motorbike starting, and people screaming."
It soon became apparent to Mr and Mrs Tait, both 62, that the noises were of a subterranean nature.
They appeared to be coming from the kitchen area. Not directly underneath the kitchen, but underneath the basement that sits below it.
Eager to discover more, Mr Tait dug two 1.5 metre channels into the walls and placed recording equipment inside the shafts created.
In his own words, the sounds he picked up included  "a woman screaming, sexual sounds, dogs barking, a printing press running, a motorbike, a car horn honking and what sounds like a police siren".
The couple have hundreds of hours of recordings containing different sounds, all of which they claim are coming from underneath their house.
The ordeal has upset them so much that they now travel around the UK trying to spread the word about "what is going on" in Ammanford.
"Hundreds of people have been in touch with us and agreed that this needs to be properly looked at," says Mr Tait.
"All I really want is an explanation. Why are there people screaming? There must be something going on. We have placed microphones all over the place, because we wanted to prove or disprove what we were hearing.
"Were these noises coming from the main road? Were they coming from a park?
"We put microphones at the front of the house, at the back of the house, inside and out, and in the basement.
"The device we left in the basement picked up the screaming and other noises. The other devices, which were recording simultaneously at the front and back of the property, picked up nothing at all."
Mr and Mrs Tait sent WalesOnline a key to the house, but advised us that if we entered the property we did so at our own risk.
Despite being in a busy town centre, the property lies hidden down a narrow and lonely alleyway. The street is filled with shops and other commercial properties, bar one empty building next door that is up for sale.
The front door immediately leads to a staircase which rises to a winged 1st floor that is split in two. There's a room to the right and a larger, sprawling room to the left.
The kitchen sits directly above the now-sealed-off basement.
There is no direct access to the underground space, other than down a small hole with nine feet of darkness below it.
We left our own recording device at the edge of the hole for a number of hours.
Meanwhile neighbours we spoke to were largely unaware of the mystery on their doorstep.
The recording we took showed a single spike.
Unfortunately it was us leaving the property.
The recordings made by Mr and Mrs Tait, however, were carried out inside the walls of the basement, rather than above a hole in its ceiling.
They are adamant that something is going on.
They have set up a petition as they try desperately to get the authorities to investigate further.
They claim police are ignoring their concerns and that "this matter needs an urgent, full investigation".
Dyfed-Powys Police has confirmed that they have received correspondence from Mr Tait and that officers attended the area in November last year. They did not find any evidence of any wrongdoing.
Their assertion has not weakened Mr and Mrs Tait's firm belief that there are people – men, women and children – living, sleeping and working underneath the house.
Mrs Tait believes there are "quite a lot of people down there" and that the mystery might be connected to people trafficking, as well as drug manufacturing.
The couple refuse to return to Ammanford, in fear of what they might find. They even say they are concerned for their own safety.
Such is the strength of their conviction that illegal activity is taking place underneath their house, they have felt compelled to flee. They were in Gloucester earlier this year and their story was featured in the local paper, but since then they have moved on again.
They are not prepared to say where in the UK they currently reside and did not want pictures of themselves published in the press.
"We're travelling around the country handing out posters and fliers about what we think is going on," said Mr Tait, defiantly.
"We want as many people as possible to know about this so that the police are urged to carry out a more thorough investigation.
"We don't want to go back until the matter has been resolved.
"I think we're dealing with a serious criminal gang here, and I think our lives could be in danger if they knew where we were."
Fact or fiction? The unearthing of a sinister operation or a fanciful horror story? You can make up your own minds. Mr and Mrs Tait already have.
Source: Wales Online
"I Saw Hyper-Advanced Aquatic Alien Creatures In the Ocean", says Nat Geo Photographer
Director of Photography for OceanX and National Geographic, Lu Lamar, made a rather unusual claim in a video clip.
In the YouTube clip posted by OceanX on June 15, Lamar states the following:
"I think, in the ocean, I have come across potentially beings from another heavenly body that are more highly advanced than humans."
Lu Lamar is a respected photographer with a lot of experience documenting oceanic wildlife in the deepest parts of our oceans.
IF there is any truth to this claim, it may lend credence to the existence and sightings of USOs, alien underwater bases, and even intelligent life in the depths of our oceans.