26 electricity poles in a row collapse on a street in Seattle for no apparent reason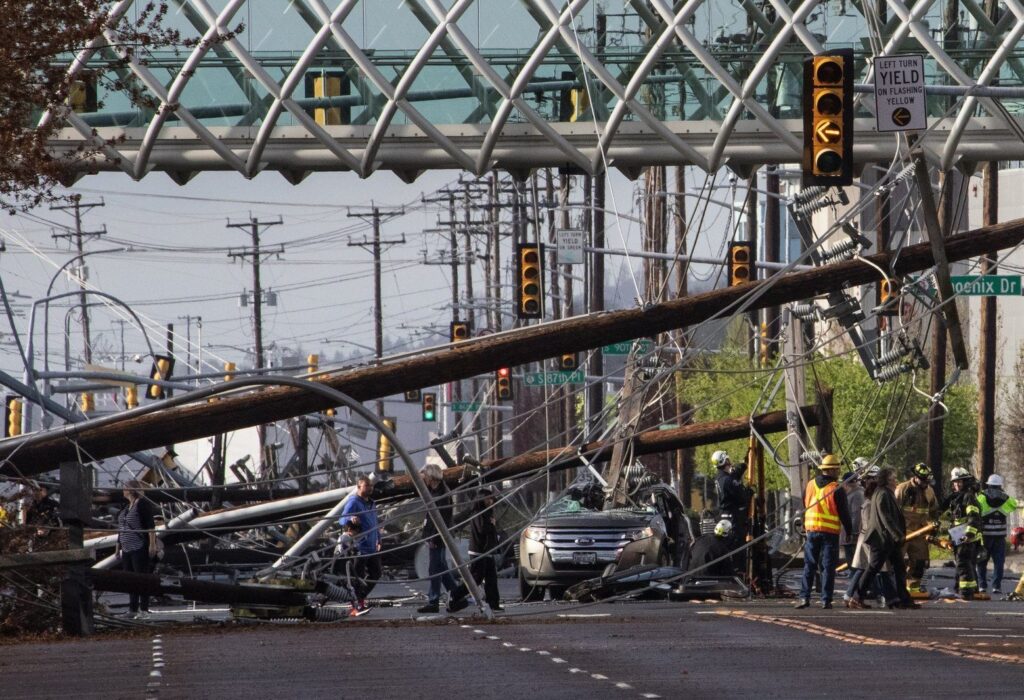 © Ellen M. Banner / The Seattle Times
Mike Lindblom
Seattle Times
Two people were trapped in their car, center, for more than an hour after 26 power poles came crashing down on East Marginal Way on Friday afternoon. The two were discharged from the hospital late Friday.
The more than two dozen power poles that collapsed near the Museum of Flight on Friday underwent a "full inspection" three years ago, and showed no risks of a mass failure, said Debra Smith, the recently-hired CEO of Seattle City Light.
Some were replaced in 2016 as a result, some were due to be replaced within five years, and others had many years remaining, "but there were none that were outside of the identified life span," Smith said in an interview Saturday.
Engineers this weekend are examining the 26 snapped wooden poles for clues, and walking East Marginal Way South to determine how and where to rebuild lines west of the huge roadway, she said.
City Light doesn't have an explanation yet about why any of the poles suddenly toppled at 4 p.m. Friday, causing a domino effect where not just one but an entire row snapped.
The incident – which included the astonishing rescue of two people trapped inside a car by a tangle of live wires and a pole that had smashed through the windshield – raises questions: Why did poles break on the west side of the six-lane road but not the east side? Why would so many topple together? Were they carrying an excessive weight or number of distribution lines?
Some people who work nearby, or took photos, have conjectured that rotten wood succumbed during spring gusts.
Weather may have triggered the failure, but the showers and wind Friday weren't unusual for spring in Seattle. According to the National Weather Service, gusts reached 30 mph. Further review didn't show strong evidence of any freak "microburst," and no other structures near Boeing Field were damaged, said meteorologist Carly Kovacik.
A witness reported seeing lightning, but that may have been a spark near a pole, a City Light spokesman said. The weather service said there were no lightning strikes.
The Tukwila Police Department released video of power lines striking a car in Tukwila on Friday, April 5, 2019. A couple in the car suffered minor injuries.
A possible factor, Smith said, is the posts are 90 feet tall to allow Boeing to roll airplanes out of hangars and cross the road to King County International Airport. If a pole falls, the torque is much greater than with shorter utility poles, she said. In addition, they carry large, heavy distribution lines from Tukwila toward central Seattle.
Utility workers quickly cleared the tangle of wires and broken posts overnight, and by Saturday only 13 customers remained without electricity. Power was out at some Boeing offices and buildings, while a few businesses in the area were using temporary generators, said City Light spokeswoman Julie Moore.
The street was fully reopened around 2:30 p.m. Saturday, with four-way stops replacing some traffic signals, Tukwila police said. The corridor is within Tukwila city limits but supplied by Seattle's electric utility.
On Friday, officials reported 24 poles fell, but increased the count to 26 on Saturday.
Some metal streetlights and traffic signals were also pulled or knocked down, pictures show. For a time, live wires draped the museum's tubular pedestrian bridge. The two people trapped in the car Friday were discharged from Harborview Medical Center late Friday, and Smith said she's thankful they weren't hurt seriously.
Read the rest here
About the author

Mike Lindblom: 206-515-5631 or [email protected]; on Twitter: @MikeLindblom. Staff reporter Mike Lindblom covers transportation for The Seattle Times.
Comment:
Ok, now that is weird.
Some kind of power surge? Perhaps not via the power grid per se (which utilities and companies would have noticed), but from the atmosphere? From below ground? But then why would such an externally-sourced surge snap strong wooden poles in the same manner along a discrete, specific area?
An eyewitness in this King 5 Seattle News report describes seeing "a flash of light" and hearing "an explosion" just before "they all came tumbling down…"
This ABC News report includes footage from people's camera-phones, recorded shortly aft it happened. The weather doesn't look particularly windy, though there could still have been a super-brief meteorological micro-burst moments before…
Here's CCTV footage of the moment it happened. It is overcast, raining, and somewhat windy, but the trees in the background don't move as much as one might expect during the intensity of a micro-burst:
Also notice how, in the second angle CCTV view, beginning at 00:35, there's a flash, followed by the pole in view beginning to keel over. Note also that it broke right at its base, at ground level…
More info from another Seattle Times report:
Meteorologists at the National Weather Service in Seattle said there were no Boeoi strikes in Western Washington on Friday.

There was a decent burst of wind accompanied by moderate rain earlier in the day, but nothing particularly alarming, said Carly Kovacik, a meteorologist with the National Weather Service in Seattle.

Around 16,500 customers in South Seattle, Tukwila, Burien and White Center lost power as a result of the incident, but power was restored to all but 300 of them by 6 p.m., according to Seattle City Light. Some Boeing offices in the area lost power, White said.

David Drum, a structural engineer who works at Boeing, said he left his office around 4:15 p.m. and saw at least 10 poles on the ground on the west side of the street.

"It was really dramatic. Really dystopian. The poles were snapped. They hit the ground with enough force and splintered," he said. "It must have taken a lot of force to do what I saw."
Indeed, it's as if some powerful EM force bent everything – power poles, street signs, a couple of trees, street lights – over, in one direction and on one side of the street.
Also, Seattle City Light power company has announced that an unnamed "third party" will be conducting an "independent" investigation into what happened. Hmmm…
It's very interesting that Boeing HQ is located nearby… in fact, it's located RIGHT THERE!

Rough location of downed power poles in red. Known Boeing, Inc. facilities marked in yellow…
The mile-long stretch where these poles broke corresponds more or less exactly with the stretch of East Marginal Way in Seattle where Boeing offices, hangars and testing centers are located. Boeing Field airport, named after the founder of the major airplane and weapons company, runs parallel to this stretch of road…
Boeing's run of bad luck continues…
Water on the Moon: NASA cannot understand where it came from in temperate latitudes and what keeps it there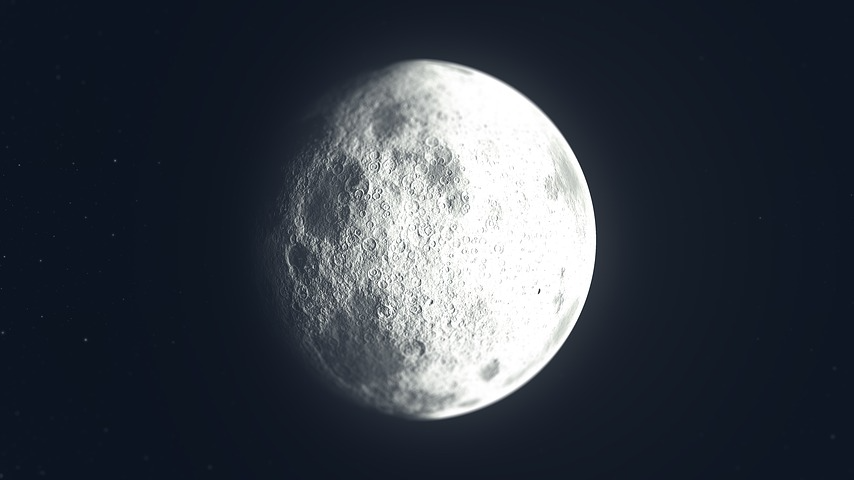 It is unknown where the frozen puddles appeared for the first time in the temperate latitudes of our natural satellite.
Water on the moon – in the form of ice, of course, was first found 10 years ago. Found in deep, dark and cold craters located at the poles. They were also delighted with this, deciding that in other – warmer and sunlit places – there could be no water. It would have disappeared long ago, even if it had come from somewhere.
However, either the scientists were mistaken, or they misunderstood something then, but the "new" water on the Moon was found exactly where it was not expected at all. The stratospheric observatory SOFIA (NASA's Stratospheric Observatory for Infrared Astronomy) found characteristic traces of "real" water not bound in minerals.
Her telescope, equipped with an infrared camera (Faint Object infraRed CAmera), is installed on board a Boeing 747SP aircraft. Flying at an altitude of 15 kilometers, he observes our natural satellite – catches radiation – as part of a joint project of NASA and the German Aerospace Center.
Water on the surface of the Moon – in its temperate latitudes – was discovered by NASA's flying observatory.
Water, as shown by recent observations, "splashed" the crater Clavius ​​(Clavius ​​Crater), located in the southern hemisphere of the moon on its visible side. The water in it is distributed over areas of about 40 thousand square kilometers. It is about 412 ppm. Not much – in the Sahara Desert about 100 times more. But there is water on the moon. The researchers reported this on the US Space Agency website and in the journal Nature Astronomy.
How the water ended up in temperate latitudes, scientists do not yet know.
Water comes from somewhere and something keeps it there, – Casey Honniball, who led the research from NASA, is perplexed. But he suspects that water can be distributed over the entire surface of the moon, and not just in its individual nooks and crannies.
The search for lunar water will continue – in other places. In parallel, scientists will try to more accurately estimate its reserves.
Up to the waist, and somewhere up to the neck
The fact that the moon is by no means dry became known many years ago. Analyzes of the lunar soil, which were brought to Earth by Soviet automatic stations and American astronauts, demonstrated that water in a bound form is part of local minerals. It's there – from 64 parts per billion to 5 parts per million. Not so little.
Scientists who have conducted a second analysis not so long ago, testify: if you "squeeze out" all the water trapped inside the rocks of the moon, and pour it over the surface, a layer 1 meter thick is formed. Almost up to the waist.
Scientists were experimentally convinced of the fact that there is not bound, but real – frozen – water on the Moon in 2009 by sending a stage of the Centaurus rocket, previously docked with the LCROSS probe and the probe itself to the Cabeus crater . The analysis of the exploding cloud of the explosion made it possible to find the cherished H2O molecules.
In 2009, vapor from lunar water kicked up an explosion from a rocket stage hitting a crater.
In the same 2009, NASA specialists processed the data obtained using the radars of the Chandrayaan-1 probe of the Indian Space Research Organization. And they understood: there is more real water, hidden, however, under a layer of soil, on the Moon than one could imagine. Much more. In a relatively small area near the North Pole of our natural satellite, they found as many as 40 craters filled with ice. The crater diameters range from 2 to 15 kilometers. They contain at least 600 million tons of water. It's almost a cubic kilometer – a huge lake in total. Deep in places.
In 2018, Chandrayan-1 came in handy again. Thanks to a device called the Moon Mineralogy Mapper (MMM), installed on board, astronomers from the University of Hawaii and Brown University, along with colleagues from NASA (Ames Research Center in California's Silicon Valley), saw for the first time naked lunar ice – a kind of "skating rinks", filled in the polar and subpolar regions. Where there is always a terrible frost.
The location of frozen bodies of water at the South (left) and North Poles of the Moon.
And here is a new discovery: water on the entire lunar surface. It inspires optimism for future conquerors of extraterrestrial spaces – there is no need to import water from Earth. Its own, obtained right on the moon, is enough to get drunk, and wash, and produce rocket fuel.
Murder Mysterious: What Happened at the Hinterkaife Farm?
This story, which took place on April 4, 1922, on the Hinterkaifike farm, located between Ingolstadt and Schrobenhausen in Bavaria, still excites the minds of lawyers and journalists. Then they found the bodies of the owner of the farm and his wife, their daughter and her two children, a maid who had recently come to them to work …
Everyone in the village knew about the Gruber. They were a wealthy family, but with a bad reputation. The father of the family, Andreas Gruber, was a cruel and rude man, so the workers on the farm did not stay long. Although everyone wanted money, few were willing to endure Andreas' harsh temper. Cecilia Gruber, his wife, used to be the owner of Hinterkaifeke – she inherited the farm from her husband. From him, she left two children, Martin and Cecilia. Soon the couple had a daughter, Victoria. She was not the only child, but the only one survived to adulthood – the rest of the children died in the absence of proper care.
Victoria grew up with Cecilia the younger as a sister. She was a quiet girl who sang in the church choir. Andreas did not deny himself the pleasure of making fun of both girls, and when Victoria turned 16, he forced her to enter into a relationship with him. Nobody knew about this, because the family lived as hermits, and the locals preferred not to pry into other people's affairs.
Cecilia the younger got married and left. At the age of 27, Victoria also found herself a husband, Karl Gabriel. According to rumors, he married solely for the sake of a share of the land, but upon learning of the incestuous relationship between his wife and father-in-law, he dropped everything and went to the front. A month later, Victoria gave birth to a daughter, Cecilia.
In the end, Victoria broke down and told about incest in confession. Gruber was sentenced to a year of hard labor, and she herself was imprisoned for a month. However, when Andreas returned, everything was resumed. Once their neighbor Lorenz Schlittenbauer wooed Victoria – his wife died then, he had sex with Victoria several times in the barn and must have decided that his farm still needs a mistress, besides, he is a respected non-poor man. But Andreas refused to marry his daughter, claiming that he "fondled her himself." When it turned out that Victoria was pregnant, she persuaded Lorenz to recognize the child as her own, but she never got married, and Gruber was named his guardian. So Lorenz was forced to pay child support until the child came of age, not even being sure that he was from him.
The baby was named Joseph. Unfortunately, he was unwell, grew poorly and was often ill. For the villagers, this served as a signal that Joseph was born as a result of an unnatural relationship between Victoria and her father.
Footprints and ghosts
Shortly before the murder, Victoria was seized with anxiety. She repeated that she felt that the farm was being watched. She saw the silhouette of a man, but could not find out who it was. Andreas also noticed oddities: footprints in the snow around the house, rustling in the attic (and when he got up, no one was there), flashing torches … Once he found a Munich newspaper that no one in the family subscribed to. He also lost his keys.
On March 31, a couple of days before the murder, the maid Maria arrived at the farm. The previous one asked for a calculation when she began to suspect that a ghost was in charge of the house.
Murder
For several days, nothing was heard about the Gruber, but life was in full swing on the farm: smoke poured from the chimney, sounds were heard, someone walked … But after several people with whom Andreas had appointments, they could not getting inside, their neighbor Lorenz became worried and called the police.
The bodies of all six were found in a house that was in perfect order. Little Joseph was killed in his cradle, Maria – in her bed, the rest were piled up in a heap by the barn and obviously not the first day dead. All residents of the farm were killed in one way – hitting the head with a hoe. At the same time, nothing of the valuable things and money, which was abundant on the farm, was not lost. Cynologists with dogs were able to take the trail of the criminal, but lost him at the edge of the forest.
The police interviewed about a hundred suspects, chief among whom was a neighbor of the Lorenz farm, whom Victoria had deceived and, perhaps, her ex-husband, who allegedly died at the front, could in fact be alive. In 2007, the students of the police academy, as a practice, re-investigated the case, found a new suspect, but out of respect for their relatives, they did not disclose their name.
A dead star in our galaxy has sent a new radio signal
Magnetar SGR 1935 + 2154, which emitted the first known rapid radio burst from inside the Milky Way in April, flared again, giving astronomers another chance to unravel the cosmic mystery.
The little dead star that sent the signal earlier this year did it again.
On October 8, 2020, the CHIME / FRB collaboration discovered SGR 1935 + 2154 emitting three millisecond radio bursts in three seconds. Following the CHIME / FRB detection, the FAST radio telescope detected something else – pulsed radio emission corresponding to the rotation period of the magnetar.
It is very interesting to see SGR 1935 + 2154 again, and I am optimistic that if we study these bursts more closely, it will help us better understand the potential relationship between magnetars and fast radio bursts, "says astronomer Deborah Goode of the University of Britain Colombia in Canada and a member of CHIME / FRB.
Until April of this year, fast radio bursts (FRBs) were ever recorded only from outside the galaxy, usually from sources millions of light years away. The first was discovered in 2007, and since then astronomers have been trying to figure out what causes them.
As the name suggests, FRBs are bursts of extremely powerful radio waves found in the sky, some of which release more energy than hundreds of millions of suns. They only last a millisecond.
Since most sources of fast radio bursts seem to flare up once and no repetition is detected, they are highly unpredictable. In addition, the ones we detect usually come so far that our telescopes cannot distinguish individual stars. Both of these characteristics make it difficult to track the FRB to either the exact source galaxy or a known cause.
But SGR 1935 + 2154 is only 30,000 light-years away. On April 28, 2020, it spat out a massive millisecond pulse that has since been dubbed FRB 200428 under the fast radio transmission naming convention.
Once the signal strength was adjusted for distance, FRB 200428 was not as powerful as the extragalactic fast radio bursts, but everything else was in line with the profile.
"If the same signal came from a nearby galaxy, such as one of the closest typical FRB galaxies, it would look like an FRB to us," said astronomer Srinivas Kulkarni of the California Institute of Technology. "We've never seen anything like it before."
We don't know much about the three new bursts yet. Since scientists are still working on the data, it is possible that some of the early findings could change, Goode said. But now we can say that they are both similar and not similar to FRB 200428.
They are a little less powerful again, but they are all still incredibly strong, and they all lasted only milliseconds.
"Although less bright than those detected earlier this year, they are still very bright flares that we would see if they were extragalactic," Goode added.
"One of the more interesting aspects of this discovery is that our three bursts appear to have occurred during the same rotation period. The magnetar is known to rotate every ~ 3.24 seconds, but our first and second bursts were separated by 0.954 seconds, and the second and third were separated by 1.949 seconds. This is a bit unusual, and I think we will look at it later. "
This could reveal something new and useful about the behavior of magnetars, because – let's face it – they're pretty weird.
Magnetars, of which only 24 have been confirmed to date, are neutron stars; it is the collapsed core of a dead star, not massive enough to turn into a black hole. Neutron stars are small and dense, about 20 kilometers in diameter, with a maximum mass of about two Suns. But magnetars add something else to this: a stunningly powerful magnetic field.
These stunning fields are about a quadrillion times more powerful than Earth's magnetic field and a thousand times more powerful than a normal neutron star. And we still do not fully understand how they came to this.
But we know that magnetars have periods of activity. As gravity tries to hold the star together – an internal force – the magnetic field pulling outward is so powerful that it distorts the star's shape. This results in a constant voltage that sometimes causes giant starquakes and giant magnetic flares. SGR 1935 + 2154 is undergoing such activity, which suggests a link between magnetar attacks and at least some FRBs.
Obviously, astronomers have found that the source of the first intragalactic FRBs is of great interest. When CHIME / FRB reported their discovery, other astronomers decided to look at the star, including a team led by Zhu Weiwei of the National Astronomical Observatory of China, which had access to FAST, the largest single-aperture radio telescope in the world.
And they discovered something interesting, which was also reported on the astronomer's Telegram – pulsed radio emission. These radio pulses were nowhere near as strong as the bursts, but they are extremely rare: if confirmed, SGR 1935 + 2154 will only be the sixth pulsed radio frequency magnetar. And the pulse period turned out to be equal to 3.24781 seconds – almost exactly the rotation period of the star.
This is curious, because until now astronomers have not been able to find a connection between magnetars and radio pulsars. Pulsars are another type of neutron star; they have a more normal magnetic field, but they pulsate with radio waves as they spin, and astronomers have long tried to figure out how the two types of stars are related.
Earlier this year, Australian astronomers identified a magnetar that behaved like a radio pulsar – a possible "missing link" between the two and evidence that at least some magnetars could evolve into pulsars. SGR 1935 + 2154 might be another piece of the puzzle.
"Based on these results and the increasing burst activity, we hypothesize that the magnetar may be in the process of transforming into an active radio pulsar," Weiwei's team wrote.