25 Reasons to Avoid the Gardasil Vaccine
Children's Health Defense
Waking Times
It has been 13 years since the U.S. Food and Drug Administration (FDA) supplied fast-tracked approval for Merck's Gardasil vaccine—promoted for the prevention of cervical cancer and other conditions attributed to four types of human papillomavirus (HPV). The agency initially licensed Gardasil solely for 9- to 26-year-old girls and women, but subsequent FDA decisions now enable Merck to market Gardasil's successor—the nine-valent Gardasil 9 vaccine—to a much broader age range—9 to 45 years—and to both males and females.
As a result of Gardasil's expanding markets not just in the U.S. but internationally, the blockbuster HPV vaccine has become Merck's third highest-grossing product, bringing in annual global revenues of about $2.3 billion. However, Gardasil's safety record has been nothing short of disastrous. Children's Health Defense and Robert F. Kennedy, Jr. have just produced a video detailing the many problems with the development and safety of Gardasil. Please watch and share this video so that you and others may understand why Mr. Kennedy refers to Merck's methodologies as "fraudulent flimflams."
What follow are 25 key facts about Gardasil/Gardasil 9, including facts about the HPV vaccines' clinical trials and adverse outcomes observed ever since Merck, public health officials and legislators aggressively foisted the vaccines on an unsuspecting public.
Inappropriate placebos and comparisons
Inappropriate inclusion and exclusion criteria
In the only Gardasil trial in the target age group (11- and 12-year-old girls) with a control group design, fewer than 1200 children received the vaccine and fewer than 600 served as controls. This single trial involving fewer than 1800 children set the stage for the vaccine's subsequent marketing to millions of healthy preteens all over the world.
The Gardasil clinical trials had numerous exclusion criteria. Not allowed to participate in the trials were people with: severe allergies; prior abnormal Pap test results; over four lifetime sex partners; a history of immunological disorders and other chronic illnesses; reactions to vaccine ingredients, including aluminum, yeast, and benzonase; or a history of drug or alcohol abuse—yet Merck now recommends Gardasil for all of these groups.
Inadequate monitoring
Some of the study participants—but not all—were given "report cards" to record short-term reactions such as redness and itching. The report cards monitored reactions for a mere 14 days, however, and Merck did not follow up with participants who experienced serious adverse events such as systemic autoimmune or menstrual problems.
Injured participants complained that Merck rebuffed their attempts to report adverse side effects. In numerous instances, Merck maintained that these "weren't related to the vaccine."
Half (49.6%) of the clinical trial subjects who received Gardasil reported serious medical conditions within seven months. To avoid classifying these injuries as adverse events, Merck dismissed them as "new medical conditions."
Annual deaths from cervical cancer in the U.S. are 2.3/100,000. The death rate in the Gardasil clinical trials was 85/100,000—or 37 times that of cervical cancer.
Cervical cancer risk-benefit ratio not worth it
Since Gardasil came on the U.S. market in 2006, people have reported over 450 deaths and over 61,000 serious medical conditions from HPV vaccines to the Vaccine Adverse Event Reporting System.
Fertility effects
Accumulating evidence points to Gardasil's potentially severe adverse effects on fertility, including miscarriage and premature ovarian failure.
Merck never tested the vaccine for fertility effects. However, Gardasil and Gardasil 9 clinical trials showed high spontaneous miscarriage rates of 25% and 27.4%, respectively—significantly higher than the background rates of approximately 10%-15% in this reproductive age group.
Polysorbate 80 and sodium borate (Borax) are associated with infertility in animals. Both are Gardasil ingredients, and both were present in the one clinical trial protocol that professed to use a benign saline placebo.
Post-licensing
In 2015, Denmark opened five new "HPV clinics" to treat children injured by Gardasil. Over 1300 cases flooded the clinics shortly after their opening.
Since Gardasil came on the U.S. market in 2006, people have reported over 450 deaths and over 61,000 serious medical conditions from HPV vaccines to the Vaccine Adverse Event Reporting System (VAERS).
Merck lied to VAERS about the case of Christina Tarsell's death, falsely claiming that her doctor blamed a virus instead of Gardasil. [Source: The HPV Vaccine on Trial  (p. 144).]
The vaccine that should never have been licensed
As suggested in the conclusion to the 2018 book The HPV Vaccine on Trial, the rollout of Gardasil in 125 countries worldwide has illustrated—in an all-too-real and shocking manner—the phenomenon that prompted Hans Christian Andersen to write "The Emperor's New Clothes." Around the world, over 100,000 Gardasil-related adverse events have now been reported to the FDA and WHO, and accounts continue to multiply of "scandal, lawsuits, severe injuries, and deaths." For almost 200 years, Andersen's story has taught readers about the need to speak the truth, pay attention to evidence and listen to children. The rosy narrative manufactured for the dangerous Gardasil vaccine must not be allowed to hold sway any longer. It is time, in the words of the HPV Vaccine on Trial authors, to proclaim—loudly—that "the Emperor has no clothes."
Why are Spanish scientists working to create a chimera of man and ape in China?
The Internet is full of rumors. So, according to the leaked studies of Spanish scientists, as reported by El Pais, the world's first ape-human hybrid was created in a Chinese laboratory.
Lead author Juan Carlos Ispisua previously worked on pig and human embryos. The proposed research goal is to use animals to create organs for human transplantation. In the course of the work, scientists injected human stem cells into the monkey embryo, allowing the cells to create any kind of tissue within the embryo. But for ethical reasons, the Spanish authorities stopped the experiment before the animals began to get pregnant. For this reason, Spanish scientists were forced to conduct an experiment in China, since the country has a large infrastructure in transgenic scientific field – in other words,
The research project was led by biologist Juan Carlos Ispisua, who also runs a laboratory at the Salk Institute of California. The stated aim of the work is to figure out how to use animals to create organs for human transplantation.
Creation of chimeras ape man
Despite the fact that the word "chimera" sounds intimidating, their creation is relatively simple and not even scary. Scientists inject human embryonic stem cells into another species of embryo that is only a few days old. Ispisua has experience with this kind of research, as he previously tried to add human cells to pig embryos. As his research with pigs ran into obstacles, he turned to experiments on primate embryos.
During the creation of chimeras, scientists genetically engineer certain types of animal cells to be disabled so that human stem cells have a better chance of anchoring. This kind of research is prohibited in a number of countries, but in China, for example, there are no such laws.

It is important to understand that the human-ape hybrid in question has never been born. The fact is that mixed embryos do not progress after one to two weeks of growth in the laboratory. In a statement to El País, Estrella Nunez, biologist and administrator of the Catholic University of Murcia, said that mechanisms have been created to stop the progressive growth of the embryo.
The creation of the ape-man chimera, like other such experiments, has generated mixed reactions from the general public. For example, a number of ethical questions have been raised, such as the fear that human stem cells might somehow migrate into the brain of a monkey embryo. Dr. ngel Raya of the Barcelona Center for Regenerative Medicine told El Pais the following:
What happens if stem cells break out and form human neurons in the animal's brain? Will he have consciousness? What happens if these stem cells turn into sperm?
However, Nunez notes that human cells self-destruct if they enter the brain. In addition, there is an established agreed date for the destruction of all such chimeras – 14 days of pregnancy. This is necessary so that the embryo does not have time to develop the central nervous system.
The consequences of such studies
Nunez described her findings as "very promising," and said the study was pending peer review in a reputable scientific journal. At the moment, we are not aware of the full scope of the experiment, as the results have not yet been published.
Notably, this news came after Japan became the first country to approve experiments with human and animal embryos. The Japanese government intends to allow stem cell researchers to conduct experiments with the same goal – one day, create organs that could be transplanted into humans.

There is still debate over whether this is the best method. Pablo Ross, a UC Davis veterinarian who has worked on experiments on pig and human chimeras, doesn't believe it makes sense to grow human organs in monkey cells, for example.
"I've always thought there was no point in using primates for this. They are usually very small and take too long to develop, "he said in an interview with Big Think.
Ross believes that researchers may be looking for answers to more fundamental scientific questions, such as "evolutionary distance and interspecies barriers," since the creation of chimeras causes disgust in both the public and ethicists. Whether the research proves to be valid or productive, it still – at first glance – continues to push the boundaries of biological and genetic research.
Although China has already made a mistake with the scientist He Juankui, who edited the genes of two babies, the country's open laws generally allow for more daring experiments.
Scientists create meat from human cells. Its name is 'Ouroboros'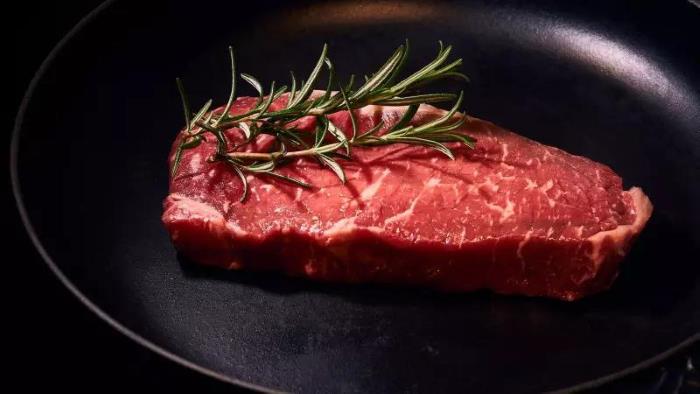 A group of American scientists and designers have created meat grown from human cells, according to Deezen.
The grown steak was named Ouroboros by scientists. This word denotes a snake biting its own tail and is an ancient symbol of eternity and the cyclical nature of life. The authors of the project themselves do not consider this method of manufacturing cannibalism.
In addition, the creators believe that such meat can be grown in eateries or right at home. To get a steak, you need to harvest your own cells from the inside of your cheek and then place them in expired blood serum. As a result, a piece of meat the size of one bite grows from the cells. The whole growing process takes three months.
The authors emphasize that the advantage of the study is the absence of harm to animals. A person gets all the same meat, but no one dies. The scientists used expired donated blood as a basis. If it had not been taken for development, then the doctors would have simply disposed of it.
McDonald's began testing a meatless burger last September. Restaurants in Germany, for example, have added vegetarian burgers to their menus. It is not yet known how many vegan items on the McDonald's menu will appear next year and in which countries they will be available. 
Earlier in November, it became known that the restaurant chain plans to launch its own vegan McPlant burger cutlet next year. So far, we are talking about a beef substitute, but in the future, vegan chicken may appear in the chain's restaurants. The project involves the manufacturer of artificial meat Beyond Meat.
World Economic Forum Project: "Resetting the Agenda for the Future: Destruction and Renewal in the Post-COVID World"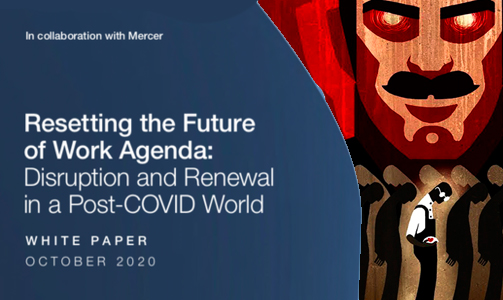 Nowadays, few people are interested in what is happening in the world in general – in fact. The era of free Internet has long passed and imperceptibly and even routinely – "Big Brother" put this once free space under complete control. The main streams of information are controlled by the leading media, TV and two monopolists "G" and "I".
Now we are witnessing a banal "carrot and stick" method, when the fundamental changes affecting the very near future of human society are hidden under the waves of fear of "terrible Covid" and wrapped in a white and fluffy, unobtrusively stupefying information field, and in the meantime we stand on the threshold of total lack of freedom.

We guess that hardly any of you have read the draft of the World Economic Forum (WEF): " Resetting the Agenda for the Future: Destruction and Renewal in the Post-COVID World», Which was published on October 2, 2020. This is our very present and the nearest future. After reading this report, the plot of Orwell's book 1984 comes to mind – which I consider to be a warning to all mankind, which is that if the course of history does not change, people around the world will lose their most human qualities, turn into soulless automata and will not even suspect about it.

Only this book by Orwell, in comparison with the WEF project, will seem like a children's fairy tale. The only problem is that this is not a fairy tale and not a fantasy on the topic, but a guide to action. The period allotted for implementation is ten years. These plans will be implemented by 2030 – the UN agenda for 2021-2030 should be completed by that time.
Great Reboot & Planned business measures in response to COVID-19:

1. Accelerate the digitization of work processes (eg, use of digital tools, video conferencing)
2. It is planned that about 83% of people will work remotely – ie. there will be no more interaction between colleagues – absolute social distancing, the separation of humanity from human contact.
3. It is planned to automate about 50% of all tasks – in other words, human participation will be significantly reduced, even when working remotely.
4.advanced training / retraining (for example, educational technology providers) – 42% of advanced training or training in new skills will be digitized, in other words, without contact with people – everything on a computer, using artificial intelligence (AI), algorithms.
5. Accelerating the introduction of advanced training / retraining programs – 35% of skills are planned to be "readjusted" – ie. it is planned to abandon the existing skills.
6.Accelerating ongoing organizational changes (eg restructuring) – 34% of existing organizational structures are planned to be "restructured" – or in other words, existing organizational structures will be declared obsolete to make room for new sets of organizational structures, digital structures that provide maximum control over all activities …
7.Reassign workers temporarily to other tasks – 30% of the workforce is expected to be affected. It also means a completely different pay scale – most likely unfit for living, which will make the planned "universal base wage" or "basic income" a reality – a wage that will allow you to barely make ends meet. This will put you completely dependent on a digital system that you have absolutely no control over.
8. Temporary workforce cuts are projected to affect 28% of the population. This is an additional unemployment rate in disguise, as "temporarily unemployed" will never return to full employment.
9. To permanently reduce the staff – 13% will be permanently reduced.
ten.Temporarily increase the labor force – 5% – there is no indication what type of labor force – probably unskilled labor, which sooner or later will also be replaced by automation, AI and robotization of jobs.
11. No specific measures have been implemented – 4% – does this mean that only 4% of jobs will remain untouched?
12. Continuously Increase Workforce – Just 1% is forecasted as a "constantly expanding workforce". This is not a joke, only 1%
The Great Reset also provides a credit scheme that will "forgive" all of your personal debt – subject to the transfer of all personal assets to an administrative body or agency – possibly the IMF.

This means that you do not own anything – and you will be "happy". Because everything you need will be provided to the extent that the system decides.

If human equality must be made impossible forever, if the higher ones, as we call them, want to keep their place forever, then the dominant state of mind must be controlled madness. ("1984" Orwell)
You will say "I will not agree to this!", And who will ask you? Are you asked now? Will the Constitution ensure your rights? Will the laws ensure your rights? Do they provide them now? Think about Elon Musk's global satellite system, think about 5 and 6G technologies, think about how to simply use it all to govern the new "digital world".
"In addition to the number of positive effects of giving employees the flexibility to work remotely, it also gives companies the opportunity to expand their employee base by looking outside of traditional sources — both geographically and demographically. Remote work removes physical boundaries that previously limited talent. reserve, and allows you to hire employees in different cities, countries. and continents. New ways of working open up new opportunities, allowing companies to find qualified employees around the world "- the problem is that there will no longer be an internal market for jobs and your job may be taken someone from "another country or another continent," simply because he is more skilled, or less demanding.
In the UK, 48% of telecommuters reported long and irregular working hours, and 60% said they had increased fatigue symptoms. Working at night, the inability to get rest after a working day, since the very concept of "working day" has disappeared.
"The impact of COVID-19 has led companies around the world to suddenly redefine the role of the office. The traditional goals of a company's dedicated space include fostering team interaction, creating a sense of community, performing certain types of work in which materials and equipment cannot be transferred, and providing a workplace for those who do not have the infrastructure at home or the ability to work effectively remotely. However, in the long run, offices may not be an important component for all employees. Facebook, for example, expects that half of its employees will work remotely in the future."
Teleworking increases the risk of isolation and mental health problems. In the US, 88% of workers said they were under moderate to severe stress during the pandemic, and more than two-thirds said it was the most stressful
period of their careers.
Brave New World or Digital Prison?
Employees working entirely remotely overlook the camaraderie and casual interactions of office life. The British Institute for Employment Research found that 33% of workers often feel isolated when working remotely.
What makes a person – a person, and human society – a society? Communication is live communication. Team relations are an important component of the formation of the whole society. If we deprive people of the opportunity for live communication in the process of work, we will break these ties, turning people not into society, but into separate, isolated citizens. At the same time, we will be able to fully control each "digital worker", depriving him of the opportunity to participate in the "collective opinion".
Social and human relationships are depleted. This has many advantages for the new "totalitarian" approach of the WEF to humanity – to control over humanity.
You had to live – and you lived, according to a habit that turned into instinct – with the knowledge that your every word is overheard and your every movement, until the light goes out, is watched. ( "1984" Orwell)
…and the living will envy the dead!