Is R. C. Christian back at it again?
"LET THESE BE GUIDESTONES TO AN AGE OF REASON"
1. MAINTAIN HUMANITY UNDER 500,000,000 IN PERPETUAL BALANCE WITH NATURE
2. GUIDE REPRODUCTION WISELY – IMPROVING FITNESS AND DIVERSITY
3. UNITE HUMANITY WITH A LIVING NEW LANGUAGE
4. RULE PASSION – FAITH – TRADITION – AND ALL THINGS WITH TEMPERED REASON
5. PROTECT PEOPLE AND NATIONS WITH FAIR LAWS AND JUST COURTS
6. LET ALL NATIONS RULE INTERNALLY RESOLVING EXTERNAL DISPUTES IN A WORLD COURT
7. AVOID PETTY LAWS AND USELESS OFFICIALS
8. BALANCE PERSONAL RIGHTS WITH SOCIAL DUTIES
9. PRIZE TRUTH – BEAUTY – LOVE- SEEKING HARMONY WITH THE INFINITE
10. BE NOT A CANCER ON THE EARTH – LEAVE ROOM FOR NATURE – LEAVE ROOM FOR NATURE
---
Notice the "notch" in the upper right hand of this picture…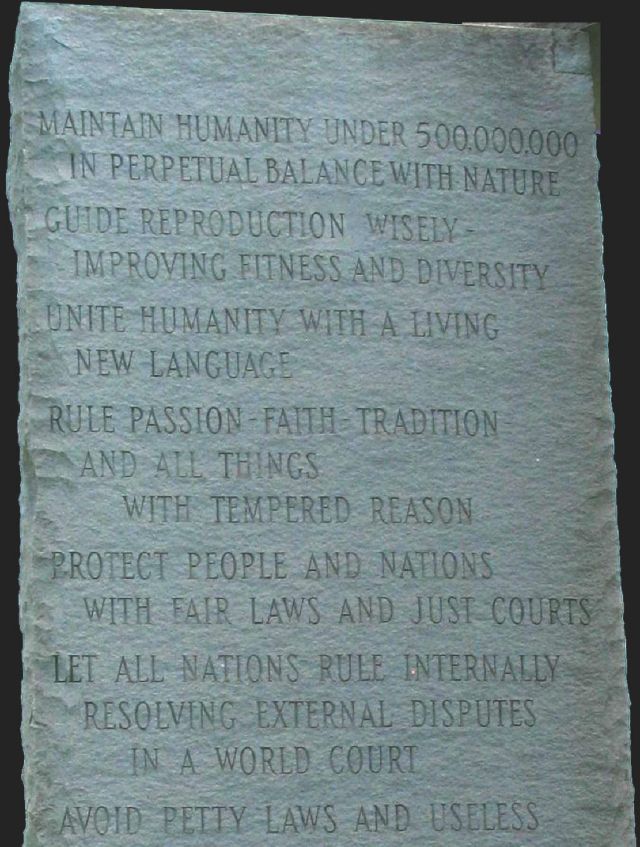 Now,  a new stone has been added in the notch with the numbers "2014″ engraved in it…
About 5 years ago, the notch was chisled out…
And now a block has been inserted.
Is this the year it takes place?
Link to wikipedia article about the Georgia Guidestones:http://en.wikipedia.org/wiki/Georgia_Guidestones
Video about the stones:
Disclaimer – All images and videos are property of their respective owners and are displayed here under fair use