20 Shocking Examples Of How Sadistic And Cruel People Have Become
How much sicker can people get?  It seems like our world is becoming more sadistic and more cruel with each passing day.  If you doubt this, just keep reading.  Sadly, I could have easily included hundreds more examples just like these.  Changes are happening to our society at a very deep and very fundamental level.  Everywhere you look, hearts are growing colder and it seems like we are completely surrounded by psychopaths and sociopaths.  But if all you do is listen to the mainstream media, you would be tempted to think that we are the smartest, most moral, most "enlightened" generation in all of human history.  Unfortunately, that is most definitely not the case.  Society is literally coming apart at the seams right in front of our eyes.  "Normal" crimes are not enough for many criminals these days.  Murders and rapes have become so common that often they barely get noticed by the newspapers, and so now many criminals seem to have the desire to make their crimes "twisted enough" to get noticed.  In other instances, people are doing really twisted things because they are high on drugs or they are into the occult.  Darkness is spreading, and we can see the evidence all around us.  But until we admit how bad things have really gotten and that what we are doing right now is clearly not working, then we won't be ready for a solution.
Posted below are 20 examples of how sadistic and cruel people have become.  Please don't read this list if you have a weak stomach, and please don't let your young children read it.  I am trying to make it very clear that our society has become very sick, very twisted and very evil and so I have included a number of very graphic examples.  Believe me, the list below could have been even worse.  I decided to leave out some really wicked things that some degenerate parents have done to their own children.  But hopefully the list below will suffice to prove to you that we have a major problem on our hands.  Normal people don't do these kinds of things…
#1 Down in Florida, authorities recently discovered four cats that had been shoved into sandwich bags and stuffed into a freezer.  Fortunately, three of the cats were still breathing when they were rescued, but the fourth cat did not make it.
#2 Animal welfare workers recently found 11 puppies that were dead and that had been skinned in a park in eastern Pennsylvania.
#3 Down along the Gulf of Mexico, authorities have been coming across a substantial number of dolphins that have "gunshot wounds, cuts and missing jaws".  Authorities believe that there is a group of people out there on a "rampage" that are involved in mutilating these precious dolphins.
#4 A mother of four teenage children down in Florida shot them a total of 18 times at close range before turning the gun on herself and ending her own life.
#5 Christmas statues of baby Jesus and Joseph were beheaded by vandals in Portland, Oregon the other day.
#6 Down in Texas, one set of parents kept their 10-year-old son locked in a bedroom and only fed him bread and water for months.  Eventually he died of starvation and they dumped his body in a creek.
#7 In the Middle East, cutting out the tongue is increasingly being used as a form of punishment by gangs of Islamic radicals.
#8 The former executive director of a Salvation Army facility in Toronto has been accused of stealing thousands of toys that were intended to be given to little children.
#9 At one high school in California, a number of male students are being accused of participating in a "fantasy slut league" in which they would earn points for "documented engagement in sexual activities with female students".
#10 Two twin brothers are accused of killing a journalist and encasing his body in concrete just so that they could steal his rare set of game cards.
#11 A pastor in north Texas was recently assaulted by an enraged man who beat him to death with an electric guitar.
#12 A 31-year-old man up in Canada was found guilty of raping an 8-year-old girl, breaking 16 of her bones and smashing her in the face with a hammer.
#13 Some prison inmates in North Carolina are alleging that correctional officers forced them to rub hot sauce on their most private areas.  Authorities are currently investigating these allegations of abuse.
#14 According to the FBI, a New York City police officer is being accused of "planning the kidnap, rape, torture and cannibilization of a number of women".
#15 A Secret Service officer that had been assigned to protect Joe Biden's residence has been charged with sexually assaulting a 14-year-old girl.
#16 All over the nation we have been seeing a bizarre string of "zombie attacks".  The following is one example from Pennsylvania…
A Doylestown man, who was naked and bleeding profusely, gnawed on woman's head all while "screaming like an animal" during a wild neighborhood rampage, state police said.
#17 Over in Texas, a very sick 29-year-old man stabbed his girlfriend to death and then burned his one-year-old baby alive because she had gone to court and filed for child support.
#18 A chef that was on trial for killing his wife in California reportedly confessed that he "slow cooked her body then dumped it out as kitchen waste".
#19 A debt collector recently told a disabled veteran the following…
"If you would have served our country better you would not be a disabled veteran living off Social Security while the rest of us honest Americans work our asses off"
He also told the veteran that he "should have died".
#20 Over in Utah, a 21-year-old man is accused of stabbing his grandmother 111 times and then removing her organs with a knife.
Sadly, these are not just isolated incidents.  As I have written about previously, the streets of many of our cities are being transformed into a living hell, and there are a whole bunch of statistics that show that the next generation of Americans is even more messed up than we are.
Even governments are becoming more sadistic and more cruel.  Just check out what is going on in the Netherlands…
Nuisance neighbours in Amsterdam will be exiled from the city and rehoused in 'scum villages' made up of caravans or containers under constant police supervision.

Holland's capital already has a special hit squad of municipal officials to identify the worst offenders for a compulsory six month course in how to behave.

Social housing problem families or tenants who do not show an improvement or refuse to go to the special units face eviction and homelessness.
Can you imagine something like that happening in America?
If you don't "behave" you get sent off to a "scum village" which is constantly monitored by the authorities?
What is our world coming to?
Where do we go from here?
More than 5,000 strange holes have been found at the bottom of the Pacific Ocean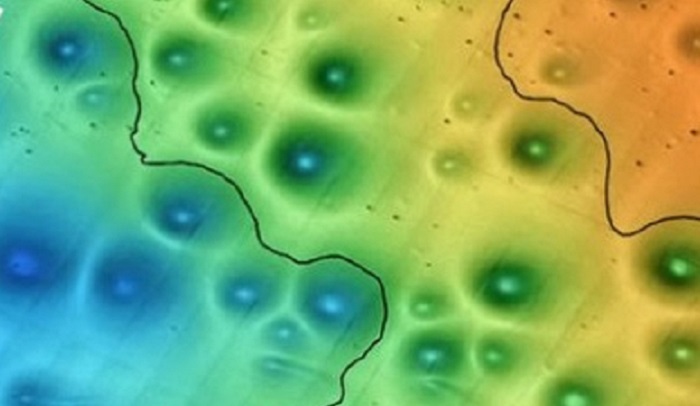 On a relatively small part of the Pacific Ocean, off the western coast of the United States, there are several thousand indentations of various sizes, the origin of which is not completely clear.
This was reported by scientists at the Monterey Bay Aquarium Research Institute (MBARI).
The larger pits have an average width of 175 meters and a depth of about five meters. Their shape is almost perfectly round.
Over the last few years, experts at MBARI and other organizations have found more than 5,200 such holes, such as smallpox, on an area of ​​approximately 1 300 square kilometers. So far, this is the largest concentration of such sites in North America.
More recently, scientists have been exploring the bottom of California in more detail. The fact is that they want to build a power plant there, but first they need to study the local conditions in detail.
Thousands of small pits or micro-depressions have been discovered using sonars mounted on autonomous submarines. Their width is about 11 meters and the depth is about a meter. Moreover, their shape is not round but oval.
Previously, similar seabed depressions have been found elsewhere in the world, and their origin is mainly due to methane emissions.
However, MBARI researchers find no evidence of this gas in the bottom sediments or in the water in this region.
Sonar data showing sludge bed layers, indicate that these points have been inactive for the last 50,000 years.
Scientists discover that the Y chromosome is disappearing from the blood of men
A study has found that Y chromosomes of men are disappearing as they get older and could put them at greater risk of cancer.
Humans have 23 pairs of chromosomes. The Y chromosome is considered the male chromosome and women don't have it: they have the XX chromosomes while men have XY.
But researchers have discovered that many men also lack Y chromosomes in some of their white blood cells.
The investigation
To reach this conclusion, scientists led by the University of Cambridge conducted a study on samples of 205,011 men, obtained from the Biobank gene bank in the United Kingdom, which contains the DNA of 500,000 volunteers.
They identified 156 autosomal genetic variants related to the loss of the Y chromosome, which were preferably close to genes involved in the regulation of the cell cycle, susceptibility to cancer or somatic drivers of tumor growth.
They found that more than four in 10 men (43.6%) had lost a notable proportion of their Y chromosomes at the age of 70.
The researchers found that one in five men in a sample of more than 200,000 had begun to lose Y chromosomes of DNA in some of their blood cells.
20% of men of all ages had lost some of the Y chromosomes in their blood and this proportion had doubled when men were 70 years old.
Subsequent analysis showed that people with high genetic predisposition to lose the Y chromosome were at greater risk of suffering from some type of cancer. The autosomal genetic variants found also influenced other aspects such as reproductive aging or type 2 diabetes.
Possible causes
The study authors believe that the loss of Y occurs through predisposition to processes that promote errors in cell division, or processes that help create an environment where aneuploid cells (cells with an abnormal number of chromosomes) are more likely to proliferate.
The team that made the discovery said that this strange change may be a sign that men's DNA was unstable and that the body was allowing random genetic mutations to accumulate.
The research has been published in the magazine Nature.
The Dani cannibal tribe and their smoky dead ancestors
In the Baliem Valley, West Papua Province in Indonesia, lives a weirdly primitive tribe called the Dani People.
A few decades ago, Dani actively practiced ritual cannibalism. It is now reported that this tradition has been discontinued.
In their recent macabre history, there is no less a frightening tradition of smoked dried carcasses of their dead relatives over a fire. And also cutting off the phalanges of women's fingers.
The phalanges were cut with a stone axe. This procedure is performed for those women who have lost a male relative: husband, son, brother or nephew, to emphasise the pain of loss and to appease the dead's spirit.
The surgery was primitive and rough, but the wounds on the hands of the women healed well and fairly quickly.
Recently, Italian photographer Gianluca Chiodini visited the village of Dani People and made unique color photographs.
Chiodini wandered in the jungle for days trying to find the tribe and finally he was lucky.
The photographer shares:
"The natives greeted me warmly and did not even try to eat me."
Gianluca was shocked to see the 250-year-old corpses of the dead, Dani's "eternal" ancestors, completely black from smoking for a long time.
The guide told the Italian that seven smoked mummies are stored in the village, but only two of them are allowed to be shown to strangers. The rest are taboos, and if the photographer tries to find them himself and photographs them, the natives could kill him.
To prevent mummies from decomposing, they are removed daily and carefully smeared with ointment of herbs and lard. Then they are hung over the fire so that the smoke can penetrate well into the body. All this has been happening daily for 250 years.
Dani people stopped eating their relatives only after 1990, at least officially. Now the meat they eat is mostly pork.
The natives hunt wild pigs with bows and arrows. After being captured and killed, the pigs are wrapped in palm leaves and allowed to be smoked by fire, like the mummies of their ancestors.
When the meat is hot, it is considered ready. Men are the first to eat, and women and children eat what is left behind.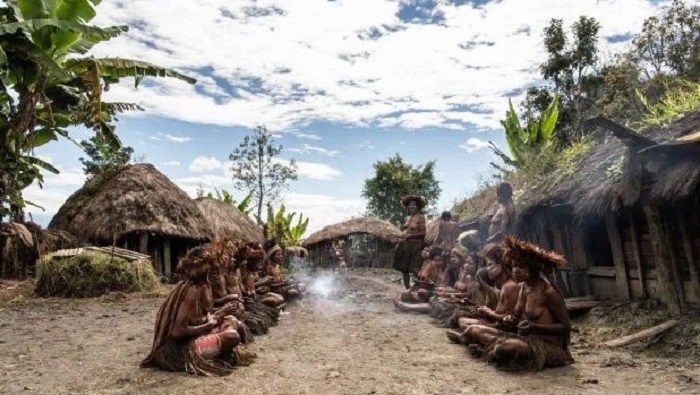 Many women in the tribe have their fingers cut off, meaning they have lost many male relatives.
Whether these deaths were in battle with neighboring tribes or through illness, history is silent …
Now, finger-cutting is also considered a forbidden procedure and in young women the fingers are already intact but you can still see the amputated hands of the older women.