Between the moon landing in 1969 and the growth of the science fiction genre, most would likely peg the 20th century as the origin of humanity's interest in extraterrestrial life. Think about it: is there anything more "modern" sounding than the idea of aliens?
In actuality, this may not be the case. There are a number of historical paintings that some claim feature alien contact —we're talking about UFOs, people! Here are 20 works of art — painted centuries before we ever went to space — that are so out of this world they might be proof of alien existence!
1. St. John the Baptist (1513 – 1516): Leonardo Da Vinci is known for leaving hidden codes in his work. Well, if you join two mirror images of this painting, the face of an alien figure can be seen. Was he trying to send us a message?
Leonardo da Vinci
2. "Charama, India, Cave Paintings" (8,000 B.C.): Archaeologists have discovered alien-like paintings inside an Indian cave. Scientists have gone straight to NASA to investigate whether or not these paintings prove aliens visited our planet 10,000 years ago.
Times of India
3. "Two Dutch Ships" (unknown): Although the artist and era of this painting are unknown, it can be seen that two Dutch ships are sailing towards floating orbs in the sky. Upon further inspection, there appear to be faces inside the orbs suggesting that this is a UFO sighting.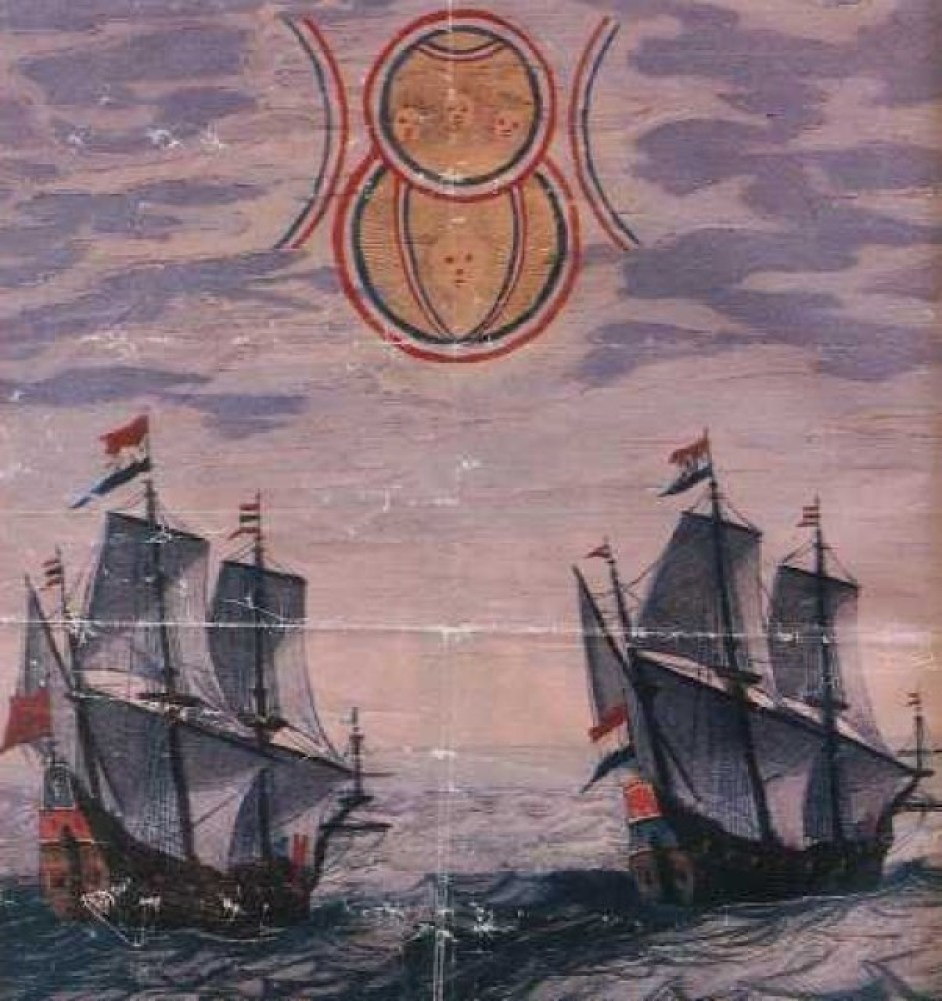 4. UFO sighting outside Windsor Castle (1783): This painting depicts Thomas Sandby's account of a pale blue object entering the night sky from beyond. He recounted that the glowing orb came to a halt and moved directions at one point during the encounter.
Thomas Sandby
5. Mayan carving (1st Century): Carved in stone, there is a man worshiping or surrendering to an alien-type figure hovering above. Some suggest the UFO carving is really just a representation of an ancient Mayan god, but the extraterrestrial reference is strong.
6. The Annunciation With Saint Emidus (1486): Painted by Carlo Crivelli, this work depicts the Virgin Mary just before she learns she is going to give birth to Jesus Christ. The light beaming down on her is either the halo of the Lord… or it's a UFO and a sign that Mary was abducted, depending on who you ask.
Carlo Crivelli
7. The Crucifixion Of Christ (1350): This painting, which hangs above the Visoki Decani Monastery in Kosovo, depicts the crucifixion of Christ. Supposedly, the objects in the upper corners are some sort of spacecraft!
8. The Baptism Of Christ (1710): Showing the baptism of Jesus, this painting by Aert de Gelder features four separate beams of light. Some believe this demonstrates that the disc in the sky is actually a UFO.
Aert de Gelde
9. The Madonna With Saint Giovannino (late 1400s): Domenico Ghirlandaio painted an object over the Madonna's left believed by some to be a UFO. A man is staring at it in the distance and a dog seems to be barking at it as well.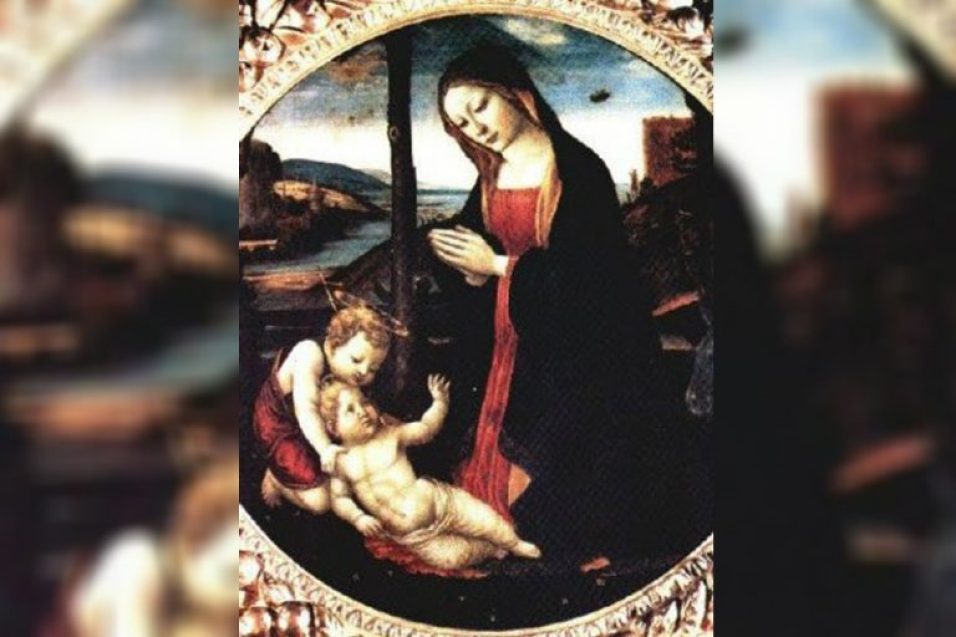 Domenico Ghirlandaio
10. Triumph Of Summer Tapestry (1538): This tapestry was created in Bruges, Belgium, and features depictions of three strange objects in the sky. They don't seem to match any known religious symbols, and the scene on the tapestry is of a ruler's rise to power.
11. La Tebaide (mid-1400s): This painting shows a number of scenes from monastic life in the 15th century, as well as the Crucifixion. Some point to the red disc at the bottom as a sign of something alien, but debunkers say it's nothing but the hat style commonly worn by cardinals at the time.
12. The Miracle Of The Snow (1428-1432): Painted by Masolino da Panicale, it evidently shows a snowfall that happened on a hot August day in Italy. Many believe the clouds might really be representative of something far more otherworldly.
Masolino da Panicale
13. "Israel, Put Your Hope In The Lord" Painting (circa 1600s): Residing now in the Church of the Dominican Monastery in Sighisoara, Romania, this eerie painting shows a church on fire. Above it appears to be some sort of UFO wreaking havoc.
14. Glorification Of The Eucharist (early 1600s): Painted by Ventura Salimbeni, it's hard not to notice the globe in the middle of the work. Some say it's evidence of time travel, while experts suggest it's a "creation globe," and the antennas are actually wands used by God and Jesus.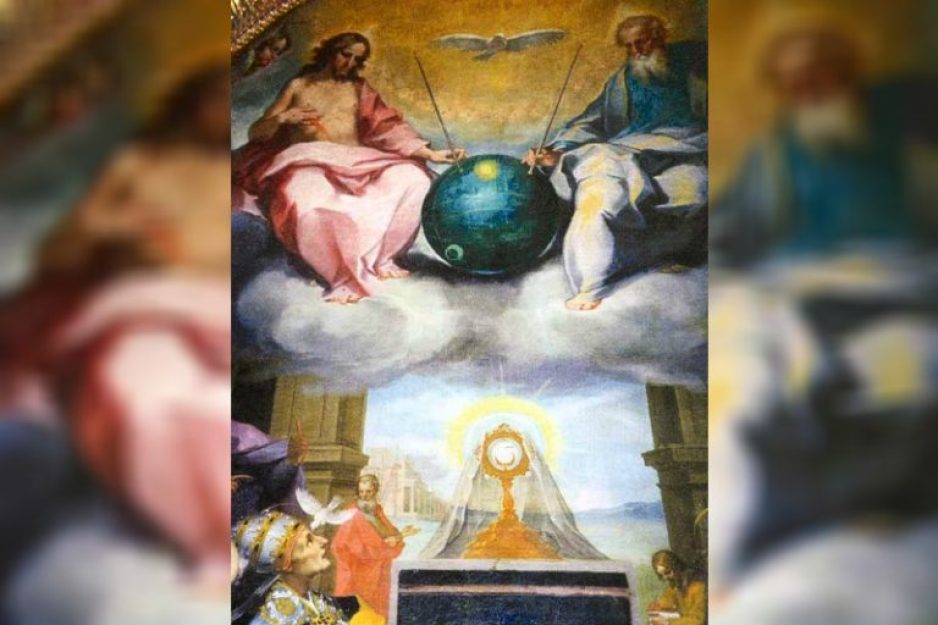 Ventura Salimbeni
15. The Crucifixion Of Christ (circa 1600s): Found in the Svetishoveli Cathedral in Mtskheta, Georgia, this painting apparently shows two flying objects on either side of Christ during the Crucifixion. Some believe this is proof that Jesus was some form of human-alien hybrid.
The Crucifixion Of Christ
16. Saint Wolfgang and the Devil (circa 1475): This piece by Michael Pacher shows Saint Wolfgang himself getting help from some devilish alien creature to build his church.
Michael Pacher
17. Egyptian Pictograph (400 B.C.): This pictograph appears to show a male Egyptian offering a live bird to a cloaked alien figure of some sort. Potentially a peace offering after unwanted aliens invaded earth?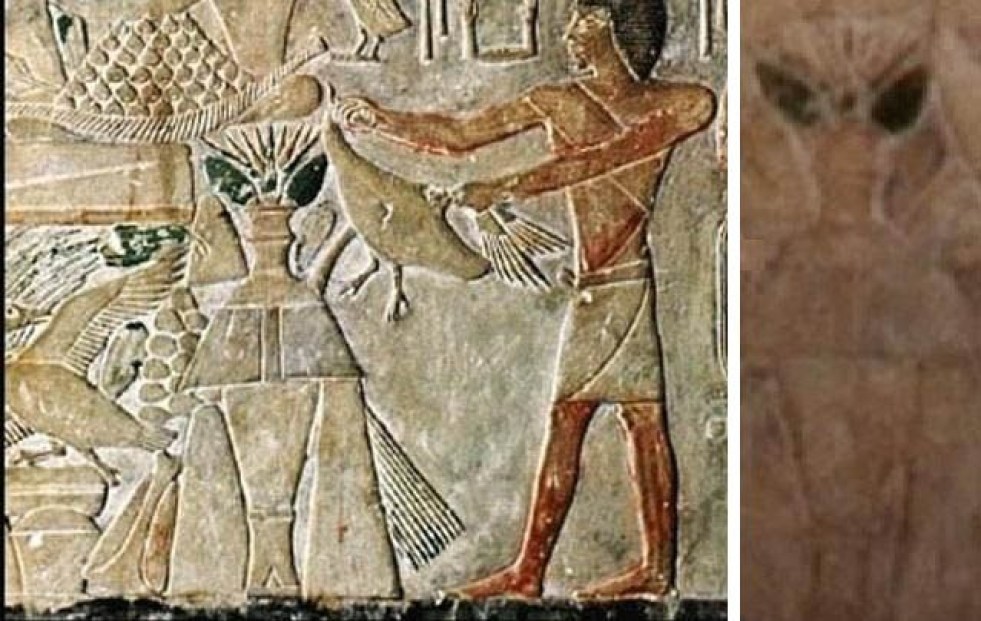 18. "Une No Chiri" (1803): Published in a book in the 19th century, this illustration depicts a real-life artifact that was found at Haratonohama by Japanese sailors. According to the explanation on the drawing, the outside was made of iron and glass.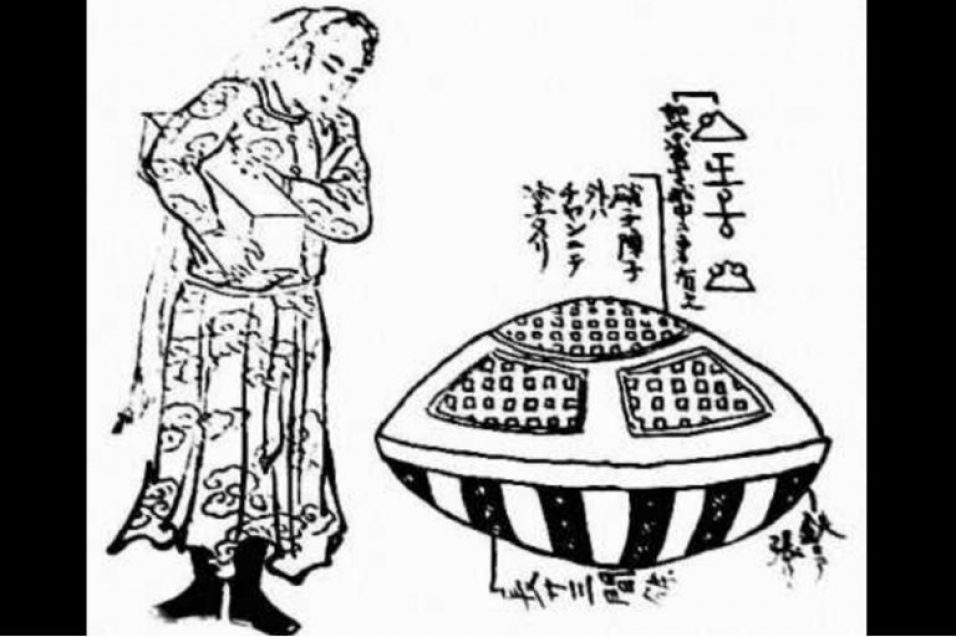 Ume No Chiri
19. Foppa Adorazione (1478): This painting has a hidden message lurking in the back. A man can be seen standing on the hill looking up at a glowing orb. Some argue that this divine painting depicts belief of extraterrestrial life.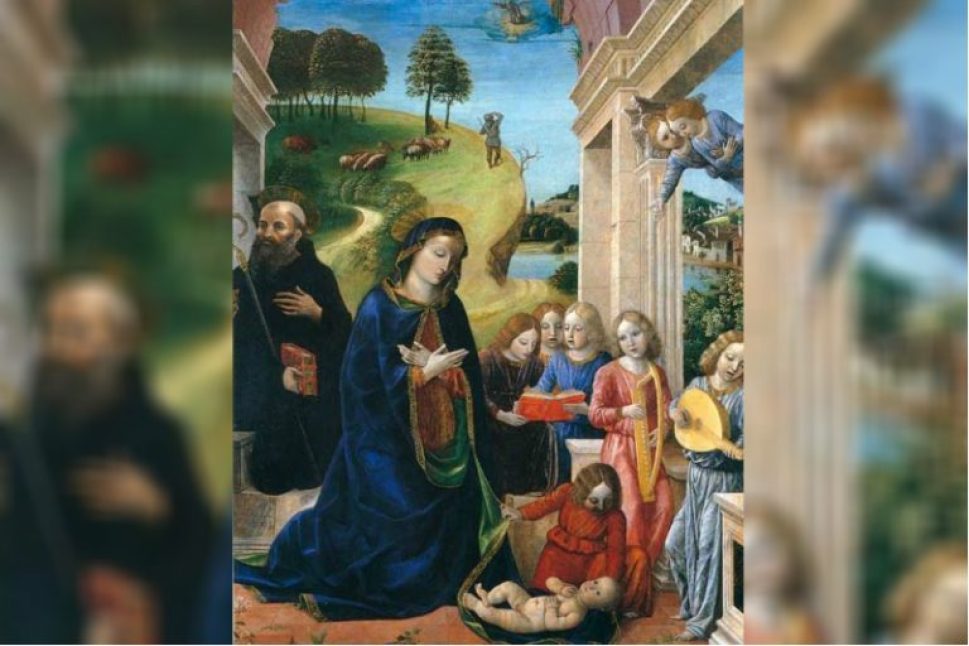 Vincenzo Foppa
20. Mona Lisa (1503) Another example of Leonardo da Vinci leaving hidden messages in his work, comes from one of his most famous paintings. If you place two mirror images of the Mona Lisa side-by-side, an alien's face becomes clearly visible.
Leonardo da Vinci
But there is actually much more to this classic than just Aliens. There is so much mystery surrounding Mona Lisa that historians continue to study the painting today, and after all these years she still has secrets to reveal…
In 2015, a French scientist using reflective light technology discovered a portrait of another woman hiding beneath the painting we see now. The underlying portrait is believed to be Da Vinci's first draft of the famous painting, but it's difficult to confirm if that belief is true or not. And Mona Lisa isn't the only one holding secrets…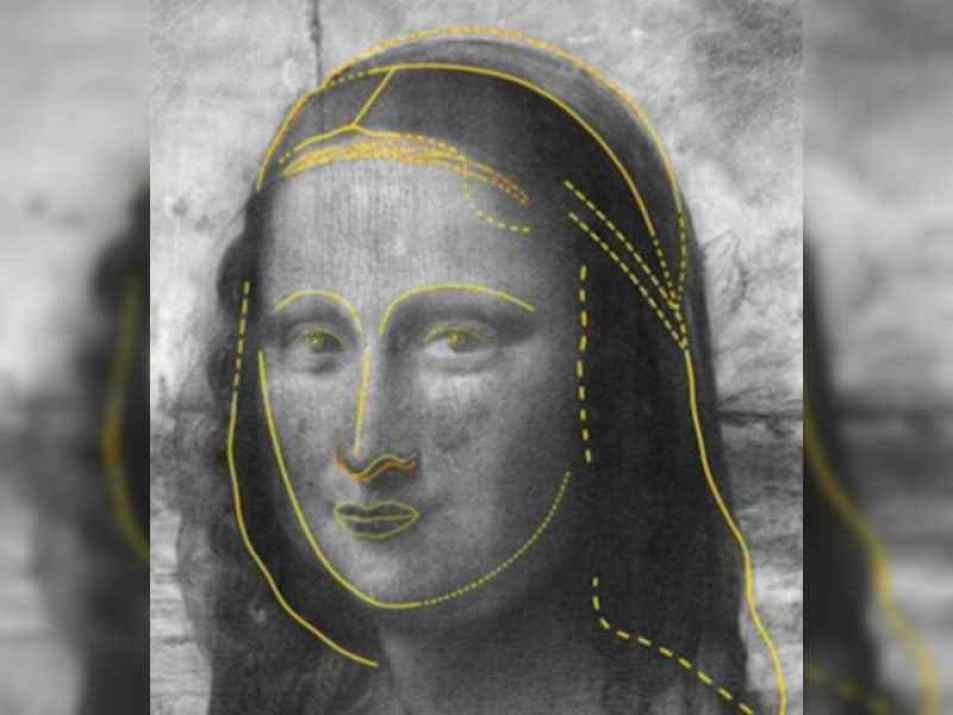 Jan van Eyck, the Netherlandish painter, created the famous Arnolfini Portraitin 1434. The painting depicts Giovanni di Nicolao Arnolfini, an Italian merchant, and his wife, Constanza Trenta. While the renowned work is impressive in itself, there's more to the painting than meets the eye…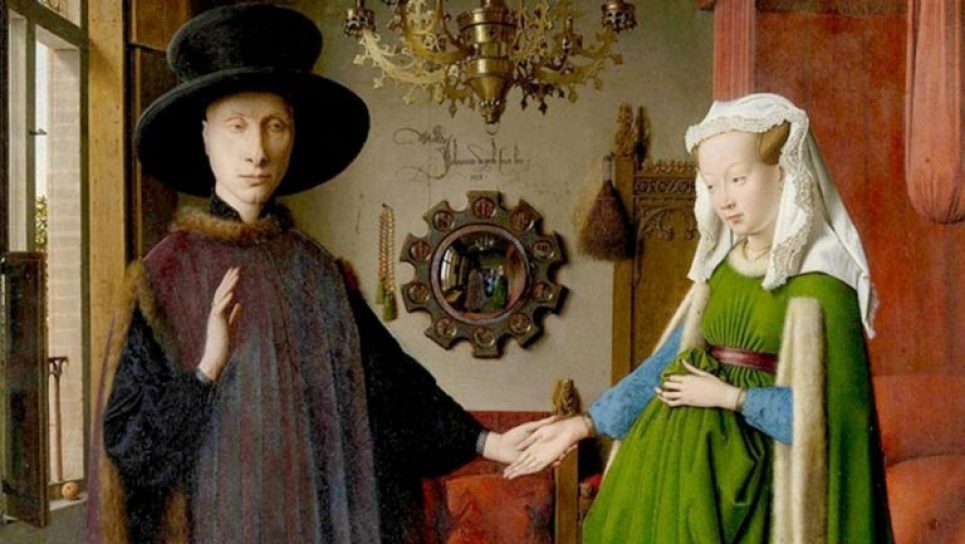 Take a closer look, you'll see a mirror centered in the background of the painting. Reflected in the mirror are two other figures who appear to be looking at the Arnolfini's. Based on our logic of mirrors, one of the figures is presumed to be the artist, Van Eyck, subtly eternalizing himself in the portrait.
We can't talk about art without bringing up the chiseled bod of David. Arguably one of the greatest sculptures of all time, Michelangelo's statue of David stands 17 feet tall. Seriously, we have to admit, David doesn't really have a bad angle going for him. But looking up at David does distort one thing that might change the way you consider the work.
David is positioned in a heroic manner. Due to its size, when we admire the statue we are forced to look up at him. His body is anatomical perfection, and, paired with his confident stance, David is often thought to be sculpted as "hero." Looking at David at eye level reveals a different story. His expression shows concern and fear, which makes sense after all given he is about to engage in a battle with Goliath!
This one is a touch macabre. In 1533, Hans Holbein the Younger painted The Ambassadors. The work showcases two rich ambassadors, seemingly healthy and in their prime, surrounded with their fine material goods. While the portrait is strikingly rich in color, the hues defy the underlying message of the work, which is far from vivifying.
Looming at the feet of the ambassadors is an anamorphic perspective of a skull. The skull, with its placement and perspective, seems so stark that it feels like it doesn't belong in the painting.
This piece was intended to hang in a stairwell so, at the angle of ascension, the skull would jump right out at you. The skull was to serve as a memento mori, which translates to, "remember you will die." So much for a welcome mat, huh?
More details here https://www.khanacademy.org
Despite his name, Pieter Bruegel the Elder is not a wizard. Unfortunately. What he is though, is one of the most notable artists of the Dutch and Flemish Renaissance painting. In 1559, he created the Netherlandish Proverbs. It may look more like a Neanderthal-ish bedlam, but this raucous scene is actually telling a story — 112 stories to be exact!
The artist is known for inserting the absurdity of humanity in his work, and he didn't miss a beat with this one. The painting literally illustrates 112 different proverbs and sayings from the Netherlands. Some of which include, "To be a pillar biter" and "Armed to the teeth." But the real proverb here is, if you're not Dutch, you're not getting much (at least not much face time in a Bruegel painting)!
The Sistine Chapel. You may have heard of it — the big, painted chapel in the Apostolic Palace, nestled in the Vatican City. Well, way back in 1512, Michelangelo was commissioned by Pope Julius II to paint the story of Genesis across 9 sections of the concave ceiling. Michelangelo's work would come to be recognized as a cornerstone of high renaissance art. Some speculate that beyond a masterpiece, the artist also left behind a message…
Michelangelo spent many years studying human anatomy. With that deep understanding, the artist was able to depict people with greater realism and insert more cerebral meaning into his paintings. In this famous section, God is surrounded by what looks like a brain. This insinuates that not only did God give Adam life, but also the ability to reason and think.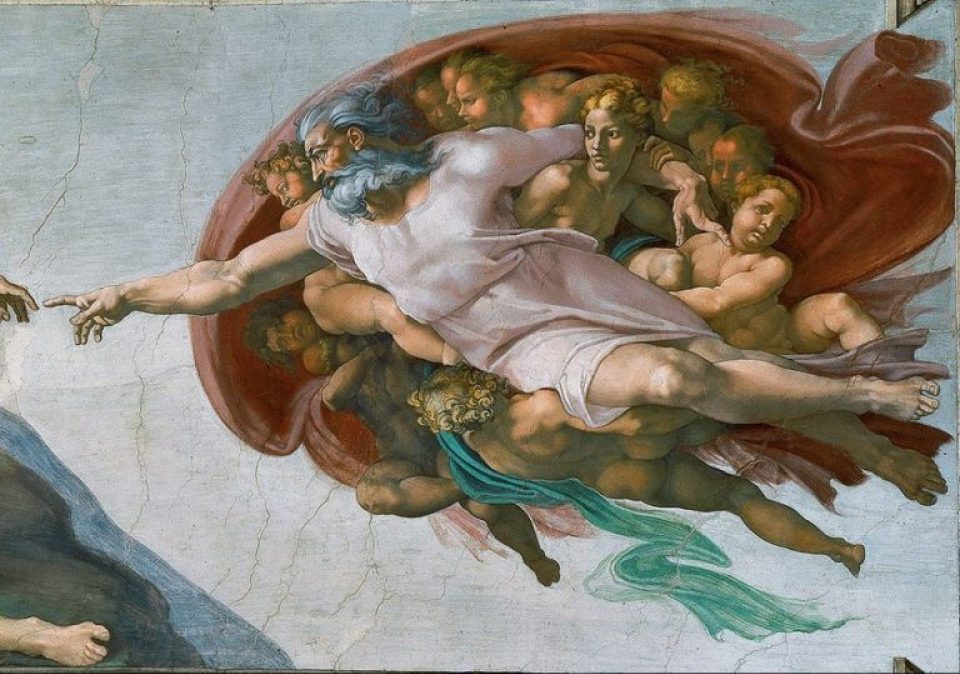 The Last Supper by Leonardo Da Vinci is almost as famous for its rumors of secret meanings as it is for its artistic brilliance. Da Vinci was unique in his genius, and much of that is to due to his vast and diverse passions. Not only an artist, Da Vinci identified as a mathematician, scientist, inventor, and even a musician.
And when a fellow musician admired Da Vinci's work, he noticed something peculiar. When the five lines of a musical staff are drawn across the supper, the bread rolls combined with the apostle's hands create musical notes. When you follow Da Vinci's signature style of right to left, the notes make up a 40-second musical composition.
Vincent Van Gogh created Café Terrace at Night in 1888, a scene so charming, you can almost hear accordions. Some art historians have a different take on this painting though. There are theories that posit this café might have a more symbolic impetus, coming from the son of a Protestant minister…
There have been many comparisons with Van Gogh's Café Terrace and Da Vinci's Last Supper. The central figure in white is thought to be a representation of Jesus, while the dark figure in the doorway is speculated to represent Judas.
There is a good story here, but first let's take a moment to appreciate the name of this painting's creator, Hieronymus Bosch. Ohhh, it's so good! Hieronymus Bosch is the creator behind this triptych oil painting titled, The Garden of Earthly Delights. What is even more delightful are the secret, behind-the-scenes notes…
These notes, found on the bottom of a tortured soul in the "hell panel" of the painting, translate into approximately 28 seconds of what can only be described as a reject Nokia ringtone. This melody is widely referred to as "the butt-song from hell."
The legendary Mexican painter Frida Kahlo had a husband who was, apparently, a painter as well. Just kidding, Diego Rivera is totally a big shot. Due to his notoriety, in the early 1940s, Nelson Rockefeller commissioned Rivera to paint a mural, Man at the Crossroads for the Rockefeller Center in New York City. Alas, even the richest of the rich don't always get exactly what they want…
Young Rockefeller didn't appreciate the inclusion of the communist revolutionary Vladimir Lenin in the mural, so he had the painting destroyed. In response, Rivera re-created the mural in 1943 in Mexico city and titled it, Man, the Center of the Universe. Not only was Lenin even more prominently featured in this mural, but Rivera, not so coyly, painted in Rockefeller's father below the bacterial illustration of syphilis.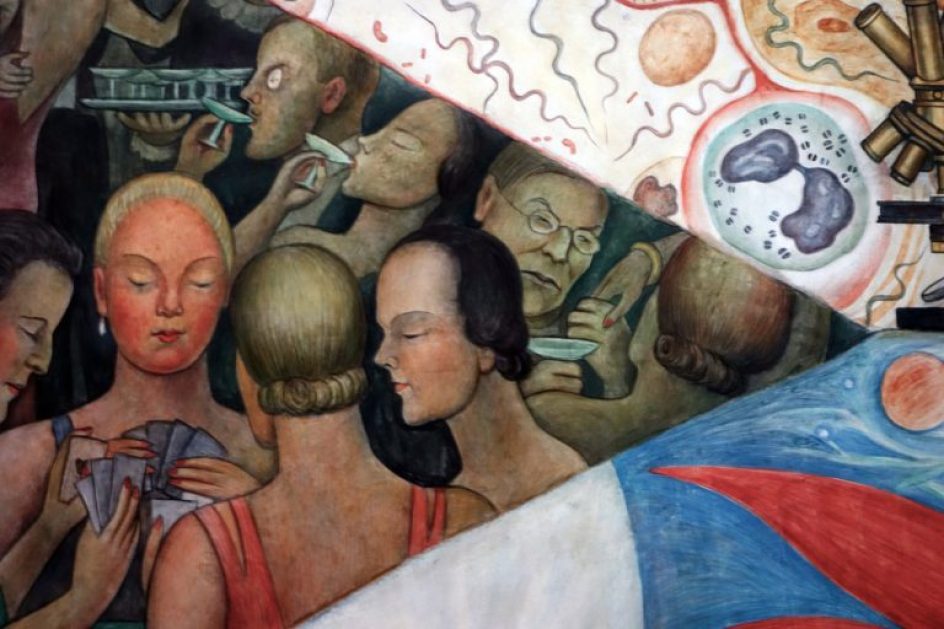 CIA Crushes CNN's Latest Trump-Russia Conspiracy Theory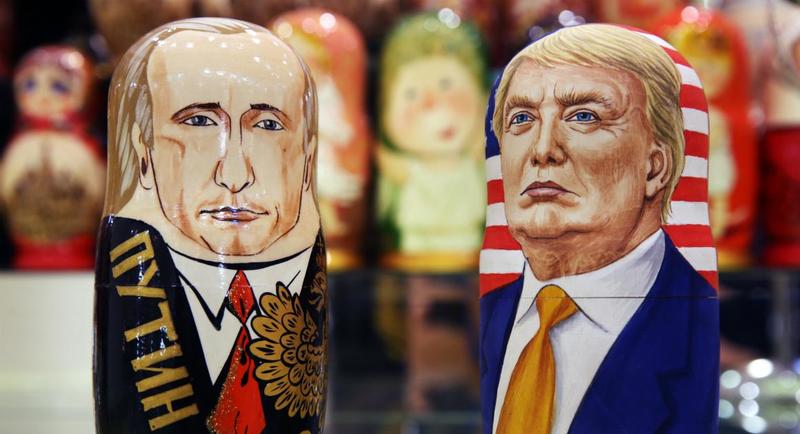 (Raul Ilargi Meijer) It's undoubtedly better to leave some stories alone, and this may be one of them. Putin's spokesman Dmitry Peskov perhaps put it best when he called it "pulp fiction" (and what's more American than that?). But this one is so exemplary of how the news is cooked up for you these days, let's have a go anyway.
What makes this story so ideal for its purpose is that it involves intelligence and state secrets, so the news outlet that runs it doesn't have to prove a thing; it can simply say it's not authorized to divulge what it doesn't write, while hinting it does know. Plus, it can use any number of covert sources.
But in the process, a damning picture can still be painted. And if that picture involves Donald Trump, and it's CNN that's painting it, well, we know what it's going to look like. Here's how it started at CNN yesterday (with some additions from today):
US Extracted Top Spy From Inside Russia In 2017
In a previously undisclosed secret mission in 2017, the United States successfully extracted from Russia one of its highest-level covert sources inside the Russian government, multiple Trump administration officials with direct knowledge told CNN. A person directly involved in the discussions said that the removal of the Russian was driven, in part, by concerns that President Donald Trump and his administration repeatedly mishandled classified intelligence and could contribute to exposing the covert source as a spy.

The decision to carry out the extraction occurred soon after a May 2017 meeting in the Oval Office in which Trump discussed highly classified intelligence with Russian Foreign Minister Sergey Lavrov and then-Russian Ambassador to the US Sergey Kislyak. The intelligence, concerning ISIS in Syria, had been provided by Israel. The disclosure to the Russians by the President, though not about the Russian spy specifically, prompted intelligence officials to renew earlier discussions about the potential risk of exposure, according to the source directly involved in the matter.

At the time, then-CIA Director Mike Pompeo told other senior Trump administration officials that too much information was coming out regarding the covert source, known as an asset.[..]
Asked for comment, Brittany Bramell, the CIA director of public affairs, told CNN: "CNN's narrative that the Central Intelligence Agency makes life-or-death decisions based on anything other than objective analysis and sound collection is simply false. Misguided speculation that the President's handling of our nation's most sensitive intelligence—which he has access to each and every day—drove an alleged exfiltration operation is inaccurate."

[..] White House press secretary Stephanie Grisham said, "CNN's reporting is not only incorrect, it has the potential to put lives in danger."

The removal happened at a time of wide concern in the intelligence community about mishandling of intelligence by Trump and his administration. Those concerns were described to CNN by five sources who served in the Trump administration, intelligence agencies and Congress. Those concerns continued to grow in the period after Trump's Oval Office meeting with Kislyak and Lavrov. Weeks after the decision to extract the spy, in July 2017, Trump met privately with Russian President Vladimir Putin at the G20 summit in Hamburg and took the unusual step of confiscating the interpreter's notes.

Afterward, intelligence officials again expressed concern that the President may have improperly discussed classified intelligence with Russia, according to an intelligence source with knowledge of the intelligence community's response to the Trump-Putin meeting. Knowledge of the Russian covert source's existence was highly restricted within the US government and intelligence agencies. According to one source, there was "no equal alternative" inside the Russian government, providing both insight and information on Putin.
Pretty bad, right? Well, we're not done just yet. Here's the BBC adding its two cents:
US Extracted High-Level Spy From Inside Russia In 2017, Reports Say
Russian media named the spy as former presidential administration official Oleg Smolenkov. The Kommersant newspaper said Mr Smolenkov went on holiday with his family to Montenegro in 2017 and disappeared, before a man with the same name and a woman with the same name as Mr Smolenkov's wife purchased a house in the US state of Virginia, near Washington DC. Russian reports said Mr Smolenkov had worked for Yury Ushakov, a senior aide to President Putin.

Asked by the BBC on Tuesday about the reports, Kremlin spokesman Dmitry Peskov confirmed that Mr Smolenkov had worked for the presidential administration but denied that he had held a high-level position, adding that he had been sacked. Mr Peskov described the US media coverage of the reported extraction as "pulp fiction".

There was no suggestion on Tuesday that President Trump directly compromised the source in Russia, and reports said that widespread media speculation about US intelligence conclusions had contributed to the decision to extract the source. Last year, Russian operatives travelled to England and used a nerve agent in an assassination attempt against a former Russian military intelligence officer, Sergei Skripal, who had spied for the British.
Isn't it just lovely how they manage to throw in Skripal there at the end? Took a bit of stretching, but the BBC is plenty flexible
Qanon: "They want you DIVIDED"
Okay, so this alleged spy is extracted (or "exfiltrated") by US intelligence, and then buys a home in Virginia. But not only that, he buys it under his own name. Presumably so that if Putin wants to find the man who divulged all those secrets for 10 years+, he can just Google him. Here's NBC:
Possible Russian Spy For CIA Now Living In Washington Area
A former senior Russian official is living in the Washington area under U.S. government protection, current and former government officials tell NBC News. NBC News is withholding the man's name and other key details at the request of U.S. officials, who say reporting the information could endanger his life. Yet the former Russian government official, who had a job with access to secrets, was living openly under his true name.

An NBC News correspondent went to the man's house in the Washington area and rang the doorbell. Five minutes later, two young men in an SUV came racing up the street and parked immediately adjacent to the correspondent's car. The men, who identified themselves only as friends of the Russian, asked the correspondent what he was doing there.

[..] The [New York] Times said the source was "the American government's best insight into the thinking of and orders" from Putin, and was key to the CIA's assessment that Putin favored Donald Trump's candidacy and personally ordered the hacking of the Democratic National Committee.
The Times previously reported that the source was considered so sensitive that then-CIA Director John Brennan had declined to refer to the person in the top secret Presidential Daily Brief during the final months of the Obama administration. Brennan sent reports from the source to the president and a small group of top national security aides in a separate, white envelope to assure its security, the Times reported.

[..] NBC News has not confirmed that the Russian living near the nation's capital fed the CIA information about Russian election interference. But for reasons that NBC News is withholding, he fits the profile of someone who may have had access to information about Putin's activities and who would have been recruitable by American intelligence officials.

Two former FBI officials told NBC News they believe he is the source referred to in the CNN and New York Times report. The Russian will likely be moved from the place he is currently living in the interest of keeping him safe, current and former officials said.
He will be moved in the interest of keeping him safe. That is just brilliant. What, you think Putin will be upset at no longer being able to Google his whereabouts?
To remain fair, let's give RT some space, too, shall we?
Was Key CIA Spy 'Extracted' From Moscow Over #Russiagate Fears?
Media outlets in Russia immediately began speculating as to the identity of the alleged mole, quickly settling on Oleg Smolenkov, state advisor of the third class who had worked at the Russian embassy in Washington before 2010. Smolenkov took his wife and three children on vacation to Montenegro on July 14, 2017, whereupon they vanished without a trace. The police have been investigating their disappearance as possible murder.

[..] Russian Senator Franz Klintsevich, deputy head of the Defense and Security Committee, dismissed CNN's story as "fake" and "carrying out orders for another attempt to discredit Trump," according to TASS. Most of the US mainstream media outlets spent the past three years promoting the notorious 'Russiagate' conspiracy theory on behalf of the Democrats, and have refused to acknowledge any wrongdoing even though special counsel Robert Mueller failed to find anything to incriminate the president after a two-year investigation.

Moreover, CNN and MSNBC have hired a number of former intelligence officials, whose fingerprints have been all over 'Russiagate,' as anti-Trump pundits.
John Brennan, James Clapper, here's looking at you. There was no need today to read much further in order to find out that the secret info Trump is accused of divulging to "the Russians" had already been published first by no other than…CNN on March 31 2017. There was no secret. Other than perhaps, says Aaron Maté, that Israel was the source. But trust us, Putin would have known that.
After the Mueller report fiasco, one would think the media who don't like Trump would be more careful with their reporting, and before reporting it. But they just keep at it.
In the process, as quoted above, through their false reporting and false claims, it's they who are endangering lives, not Donald Trump:
Brittany Bramell, the CIA director of public affairs, told CNN: "CNN's narrative that the Central Intelligence Agency makes life-or-death decisions based on anything other than objective analysis and sound collection is simply false. Misguided speculation that the President's handling of our nation's most sensitive intelligence—which he has access to each and every day—drove an alleged exfiltration operation is inaccurate." [..]
White House press secretary Stephanie Grisham said, "CNN's reporting is not only incorrect, it has the potential to put lives in danger."
It's not just the White House, the CIA itself says it too.
Asking for a friend: You think the country's still capable of having a normal conversation

found on Zero Hedge
Source:
https://www.theautomaticearth.com/2019/09/pulp-fiction-media/
More Americans Questioning Official 9/11 Story As New Evidence Contradicts Official Narrative
Whitney Webb, MintPress News
Waking Times
Today the event that defined the United States' foreign policy in the 21st century, and heralded the destruction of whole countries, turns 18. The events of September 11, 2001 remains etched into the memories of Americans and many others, as a collective tragedy that brought Americans together and brought as well a general resolve among them that those responsible be brought to justice.
While the events of that day did unite Americans in these ways for a time, the different trajectories of the official relative to the independent investigations into the September 11 attacks have often led to division in the years since 2001, with vicious attacks or outright dismissal being levied against the latter.
Unidentified Triangular Craft Near Oregon Air Base Leaves Conspiracy Theorists Guessing
Something that was universally deemed to be an exotic triangular object made its way over Portland, Oregon, arousing vast speculation over covert USAF projects, both past and present.
There has emerged a series of images supposedly showing a shadow project government spy plane in the skies over Portland, Oregon in the US, apparently a stone's throw from the Portland Air National Guard Base (PANG). The authenticity of the images has yet to be verified, however.
The triangular, partially lit-up object featured in the snaps couldn't help but intrigue the vast audience of YouTube conspiracy theorists Blake and Brett Cousins of thirdphaseofmoon, who posted the pictures in a clip over the weekend, citing "multiple accounts" from a number of onlookers in the area.
In the clip, Blake noted that the sighting, more specifically the contours, bears a striking resemblance to the alleged "infamous" TR-3B Black Manta – an aircraft that is thought to have been developed for the US Air Force as part of a black project.
Many have long speculated that the supersonic stealth plane, with a recognisable triangular design, was used during the Gulf War to provide laser designation for the Lockheed F-117 Nighthawk attack aircraft.
Blake went on to suggest that the craft in the images was most certainly "military", given the light it was throwing back.
"FINALLY! It's About To Get Real…TR-3B Pang Base Portland", the website founders wrote, while another user commented in the same manner:
"Great picture of a TR-3B."
There were, however, those who thought other options would be even more plausible:
"Judging by the pic that's not the TR3. That's the new Stealth AI Drone", one astonished viewer noted, while another butted in, saying that he would rule out CGI (computer-generated imagery).
Hordes of fans applauded the footage, bringing up the military base in the vicinity: one even suggested that it could be a new stealth drone, the XQ-58A.
Another went deeper into the conspiracy theory, suggesting "they want to be seen" as "it's part of how they control disclosure".
"This IS NOT definitely a TR3B! It looks like an F45", a user commented, with another chiming in with a completely different idea in mind:
"That is a Large Extra-terrestrial Craft. The 2nd clip. The entire ship is phasing in from another dimension and somehow how only exposing its lights. The ship does not reveal its true form for safety reasons (its [sic] massive, that's an understatement), and also due to compassion for us", the user explained.
The idea about the military testing new equipment is recurrent, though:
"This is not a UFO/this is military aircraft. They were out testing", one suggested, with another adding: "I saw what looked like an Air Force logo near the nose of the craft".