Between the moon landing in 1969 and the growth of the science fiction genre, most would likely peg the 20th century as the origin of humanity's interest in extraterrestrial life. Think about it: is there anything more "modern" sounding than the idea of aliens?
In actuality, this may not be the case. There are a number of historical paintings that some claim feature alien contact —we're talking about UFOs, people! Here are 20 works of art — painted centuries before we ever went to space — that are so out of this world they might be proof of alien existence!
1. St. John the Baptist (1513 – 1516): Leonardo Da Vinci is known for leaving hidden codes in his work. Well, if you join two mirror images of this painting, the face of an alien figure can be seen. Was he trying to send us a message?
Leonardo da Vinci
2. "Charama, India, Cave Paintings" (8,000 B.C.): Archaeologists have discovered alien-like paintings inside an Indian cave. Scientists have gone straight to NASA to investigate whether or not these paintings prove aliens visited our planet 10,000 years ago.
Times of India
3. "Two Dutch Ships" (unknown): Although the artist and era of this painting are unknown, it can be seen that two Dutch ships are sailing towards floating orbs in the sky. Upon further inspection, there appear to be faces inside the orbs suggesting that this is a UFO sighting.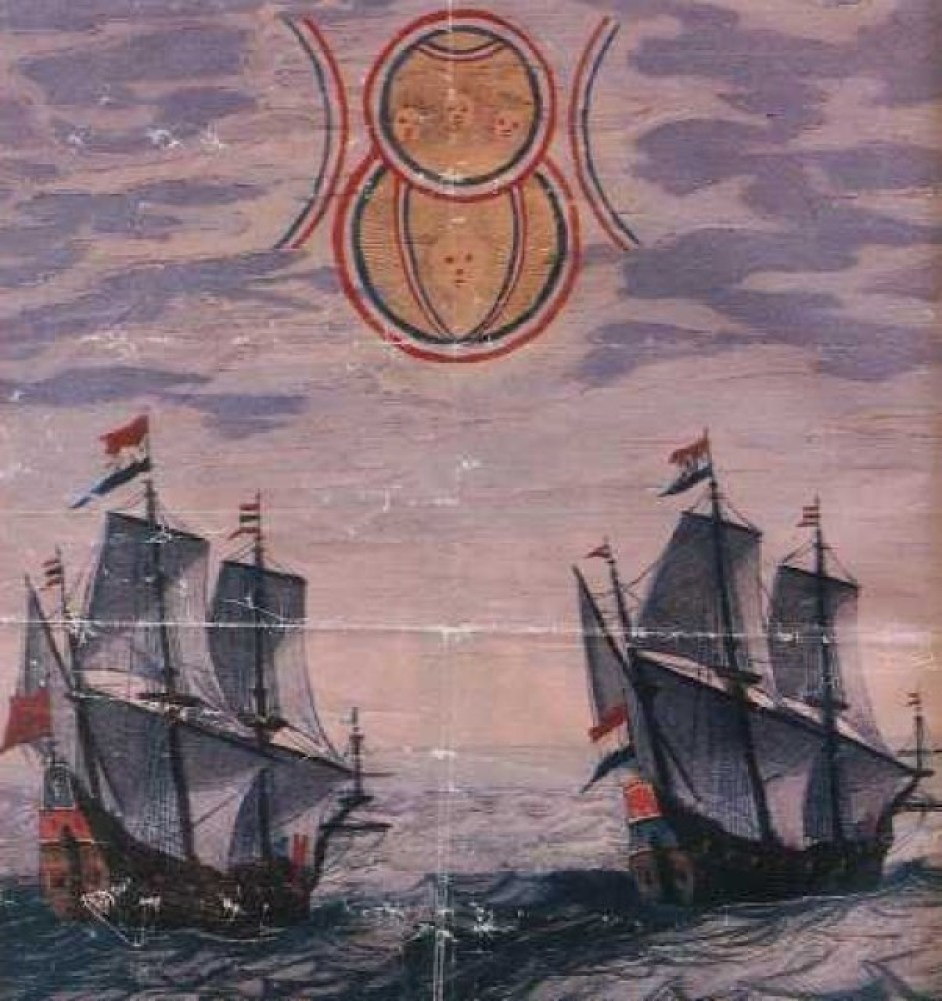 4. UFO sighting outside Windsor Castle (1783): This painting depicts Thomas Sandby's account of a pale blue object entering the night sky from beyond. He recounted that the glowing orb came to a halt and moved directions at one point during the encounter.
Thomas Sandby
5. Mayan carving (1st Century): Carved in stone, there is a man worshiping or surrendering to an alien-type figure hovering above. Some suggest the UFO carving is really just a representation of an ancient Mayan god, but the extraterrestrial reference is strong.
6. The Annunciation With Saint Emidus (1486): Painted by Carlo Crivelli, this work depicts the Virgin Mary just before she learns she is going to give birth to Jesus Christ. The light beaming down on her is either the halo of the Lord… or it's a UFO and a sign that Mary was abducted, depending on who you ask.
Carlo Crivelli
7. The Crucifixion Of Christ (1350): This painting, which hangs above the Visoki Decani Monastery in Kosovo, depicts the crucifixion of Christ. Supposedly, the objects in the upper corners are some sort of spacecraft!
8. The Baptism Of Christ (1710): Showing the baptism of Jesus, this painting by Aert de Gelder features four separate beams of light. Some believe this demonstrates that the disc in the sky is actually a UFO.
Aert de Gelde
9. The Madonna With Saint Giovannino (late 1400s): Domenico Ghirlandaio painted an object over the Madonna's left believed by some to be a UFO. A man is staring at it in the distance and a dog seems to be barking at it as well.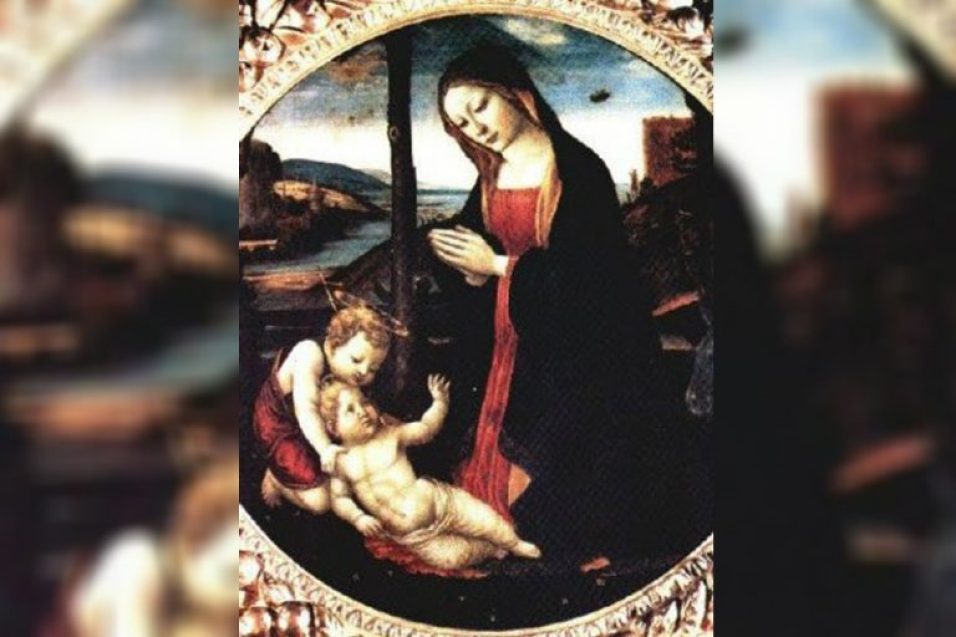 Domenico Ghirlandaio
10. Triumph Of Summer Tapestry (1538): This tapestry was created in Bruges, Belgium, and features depictions of three strange objects in the sky. They don't seem to match any known religious symbols, and the scene on the tapestry is of a ruler's rise to power.
11. La Tebaide (mid-1400s): This painting shows a number of scenes from monastic life in the 15th century, as well as the Crucifixion. Some point to the red disc at the bottom as a sign of something alien, but debunkers say it's nothing but the hat style commonly worn by cardinals at the time.
12. The Miracle Of The Snow (1428-1432): Painted by Masolino da Panicale, it evidently shows a snowfall that happened on a hot August day in Italy. Many believe the clouds might really be representative of something far more otherworldly.
Masolino da Panicale
13. "Israel, Put Your Hope In The Lord" Painting (circa 1600s): Residing now in the Church of the Dominican Monastery in Sighisoara, Romania, this eerie painting shows a church on fire. Above it appears to be some sort of UFO wreaking havoc.
14. Glorification Of The Eucharist (early 1600s): Painted by Ventura Salimbeni, it's hard not to notice the globe in the middle of the work. Some say it's evidence of time travel, while experts suggest it's a "creation globe," and the antennas are actually wands used by God and Jesus.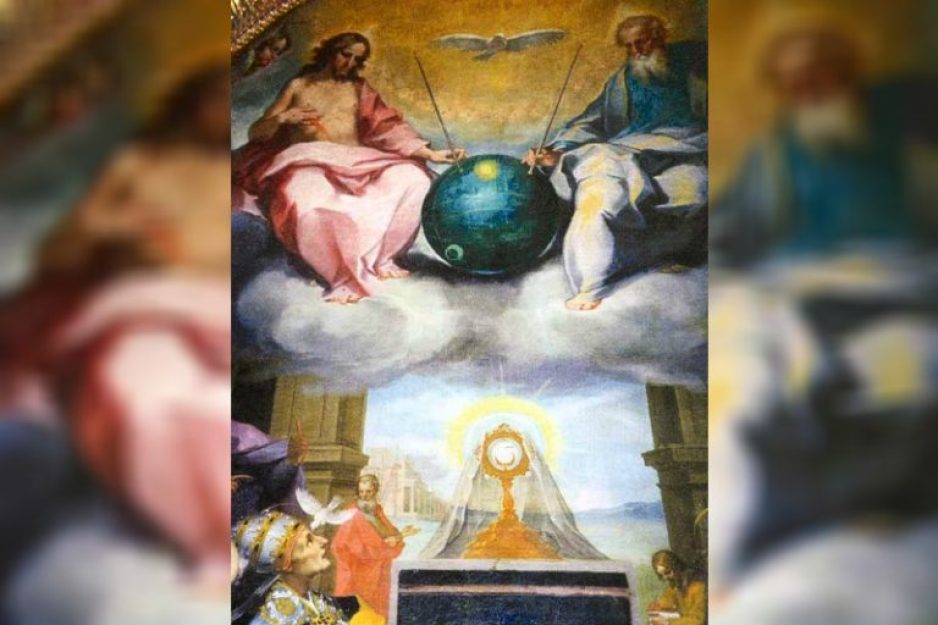 Ventura Salimbeni
15. The Crucifixion Of Christ (circa 1600s): Found in the Svetishoveli Cathedral in Mtskheta, Georgia, this painting apparently shows two flying objects on either side of Christ during the Crucifixion. Some believe this is proof that Jesus was some form of human-alien hybrid.
The Crucifixion Of Christ
16. Saint Wolfgang and the Devil (circa 1475): This piece by Michael Pacher shows Saint Wolfgang himself getting help from some devilish alien creature to build his church.
Michael Pacher
17. Egyptian Pictograph (400 B.C.): This pictograph appears to show a male Egyptian offering a live bird to a cloaked alien figure of some sort. Potentially a peace offering after unwanted aliens invaded earth?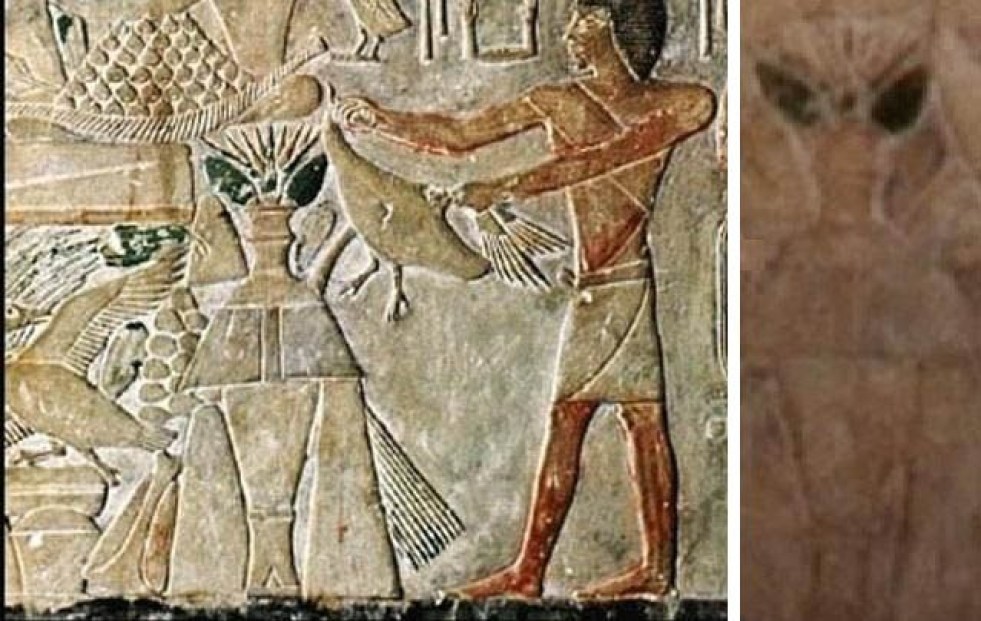 18. "Une No Chiri" (1803): Published in a book in the 19th century, this illustration depicts a real-life artifact that was found at Haratonohama by Japanese sailors. According to the explanation on the drawing, the outside was made of iron and glass.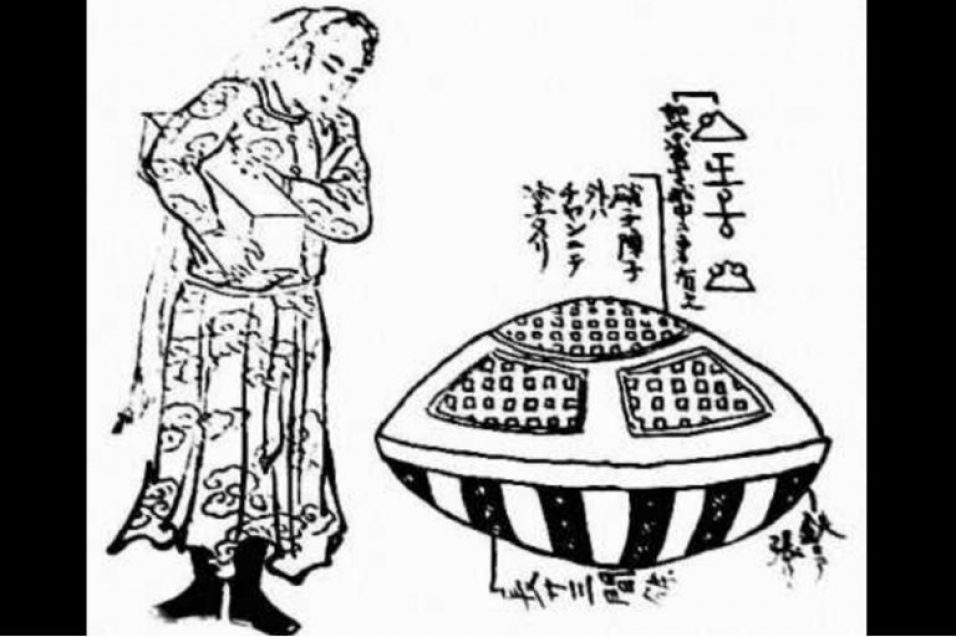 Ume No Chiri
19. Foppa Adorazione (1478): This painting has a hidden message lurking in the back. A man can be seen standing on the hill looking up at a glowing orb. Some argue that this divine painting depicts belief of extraterrestrial life.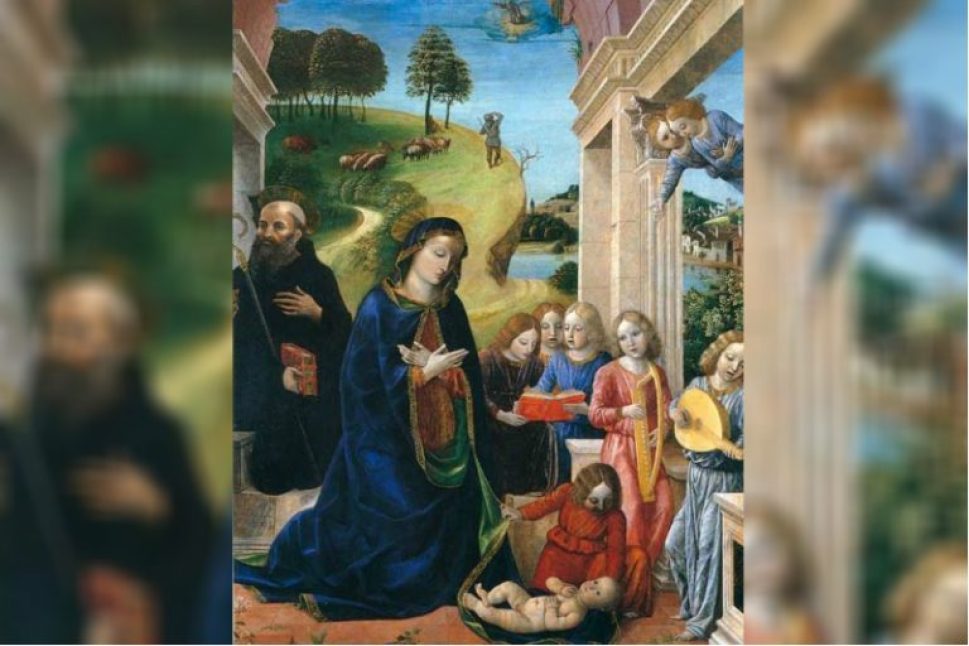 Vincenzo Foppa
20. Mona Lisa (1503) Another example of Leonardo da Vinci leaving hidden messages in his work, comes from one of his most famous paintings. If you place two mirror images of the Mona Lisa side-by-side, an alien's face becomes clearly visible.
Leonardo da Vinci
But there is actually much more to this classic than just Aliens. There is so much mystery surrounding Mona Lisa that historians continue to study the painting today, and after all these years she still has secrets to reveal…
In 2015, a French scientist using reflective light technology discovered a portrait of another woman hiding beneath the painting we see now. The underlying portrait is believed to be Da Vinci's first draft of the famous painting, but it's difficult to confirm if that belief is true or not. And Mona Lisa isn't the only one holding secrets…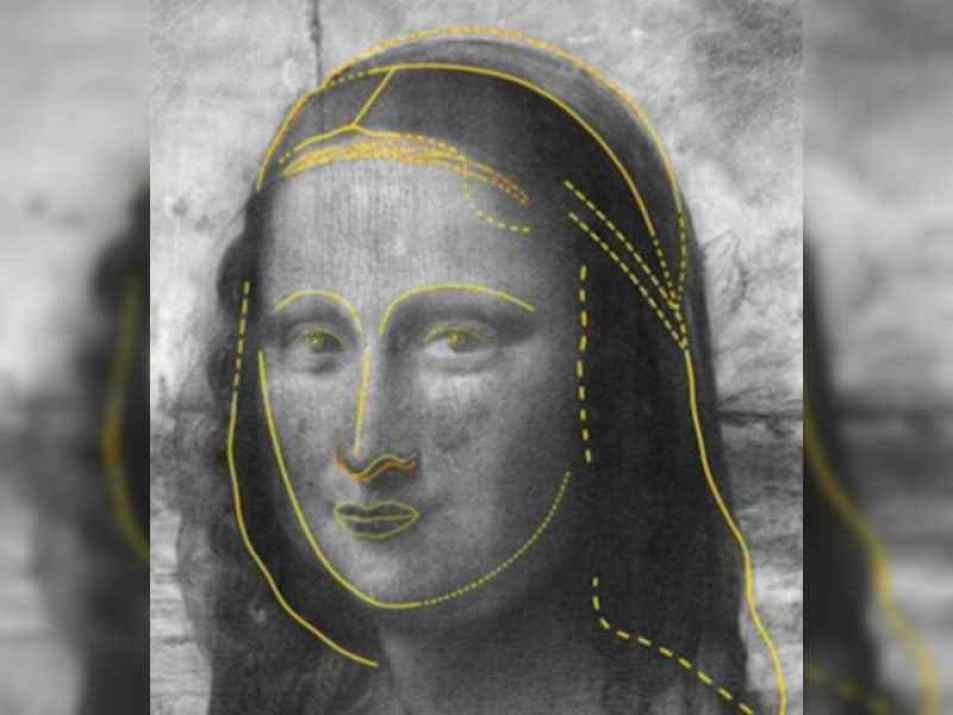 Jan van Eyck, the Netherlandish painter, created the famous Arnolfini Portraitin 1434. The painting depicts Giovanni di Nicolao Arnolfini, an Italian merchant, and his wife, Constanza Trenta. While the renowned work is impressive in itself, there's more to the painting than meets the eye…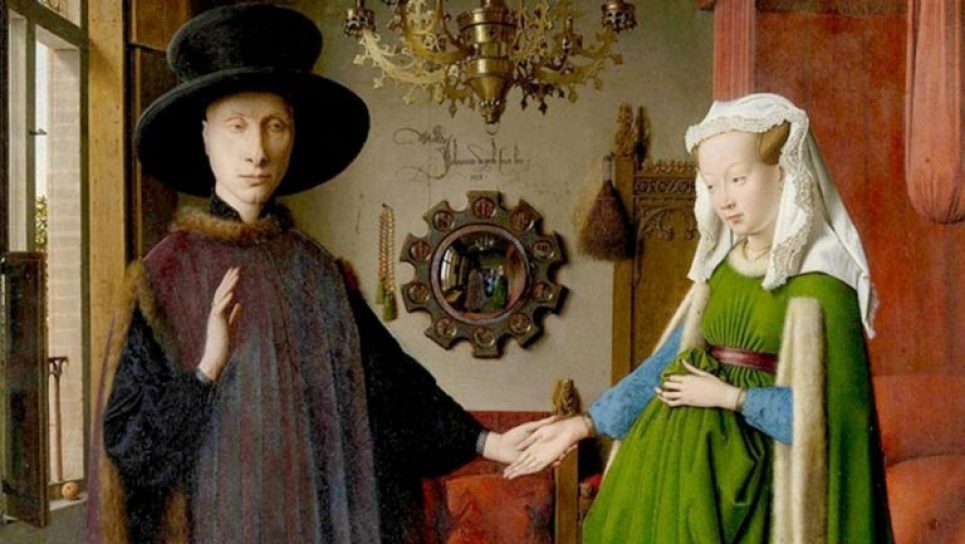 Take a closer look, you'll see a mirror centered in the background of the painting. Reflected in the mirror are two other figures who appear to be looking at the Arnolfini's. Based on our logic of mirrors, one of the figures is presumed to be the artist, Van Eyck, subtly eternalizing himself in the portrait.
We can't talk about art without bringing up the chiseled bod of David. Arguably one of the greatest sculptures of all time, Michelangelo's statue of David stands 17 feet tall. Seriously, we have to admit, David doesn't really have a bad angle going for him. But looking up at David does distort one thing that might change the way you consider the work.
David is positioned in a heroic manner. Due to its size, when we admire the statue we are forced to look up at him. His body is anatomical perfection, and, paired with his confident stance, David is often thought to be sculpted as "hero." Looking at David at eye level reveals a different story. His expression shows concern and fear, which makes sense after all given he is about to engage in a battle with Goliath!
This one is a touch macabre. In 1533, Hans Holbein the Younger painted The Ambassadors. The work showcases two rich ambassadors, seemingly healthy and in their prime, surrounded with their fine material goods. While the portrait is strikingly rich in color, the hues defy the underlying message of the work, which is far from vivifying.
Looming at the feet of the ambassadors is an anamorphic perspective of a skull. The skull, with its placement and perspective, seems so stark that it feels like it doesn't belong in the painting.
This piece was intended to hang in a stairwell so, at the angle of ascension, the skull would jump right out at you. The skull was to serve as a memento mori, which translates to, "remember you will die." So much for a welcome mat, huh?
More details here https://www.khanacademy.org
Despite his name, Pieter Bruegel the Elder is not a wizard. Unfortunately. What he is though, is one of the most notable artists of the Dutch and Flemish Renaissance painting. In 1559, he created the Netherlandish Proverbs. It may look more like a Neanderthal-ish bedlam, but this raucous scene is actually telling a story — 112 stories to be exact!
The artist is known for inserting the absurdity of humanity in his work, and he didn't miss a beat with this one. The painting literally illustrates 112 different proverbs and sayings from the Netherlands. Some of which include, "To be a pillar biter" and "Armed to the teeth." But the real proverb here is, if you're not Dutch, you're not getting much (at least not much face time in a Bruegel painting)!
The Sistine Chapel. You may have heard of it — the big, painted chapel in the Apostolic Palace, nestled in the Vatican City. Well, way back in 1512, Michelangelo was commissioned by Pope Julius II to paint the story of Genesis across 9 sections of the concave ceiling. Michelangelo's work would come to be recognized as a cornerstone of high renaissance art. Some speculate that beyond a masterpiece, the artist also left behind a message…
Michelangelo spent many years studying human anatomy. With that deep understanding, the artist was able to depict people with greater realism and insert more cerebral meaning into his paintings. In this famous section, God is surrounded by what looks like a brain. This insinuates that not only did God give Adam life, but also the ability to reason and think.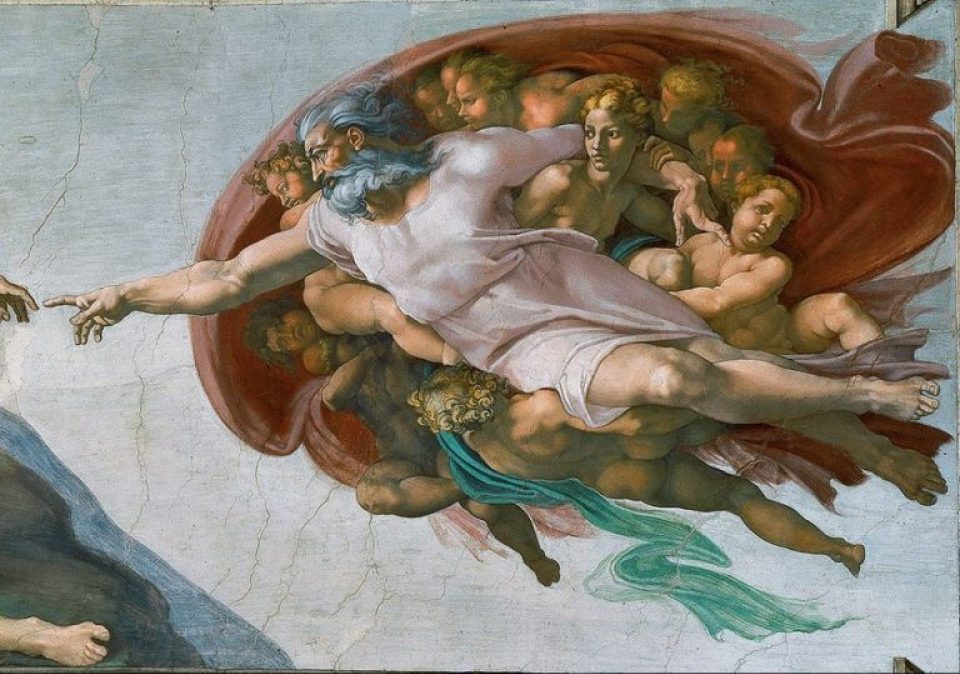 The Last Supper by Leonardo Da Vinci is almost as famous for its rumors of secret meanings as it is for its artistic brilliance. Da Vinci was unique in his genius, and much of that is to due to his vast and diverse passions. Not only an artist, Da Vinci identified as a mathematician, scientist, inventor, and even a musician.
And when a fellow musician admired Da Vinci's work, he noticed something peculiar. When the five lines of a musical staff are drawn across the supper, the bread rolls combined with the apostle's hands create musical notes. When you follow Da Vinci's signature style of right to left, the notes make up a 40-second musical composition.
Vincent Van Gogh created Café Terrace at Night in 1888, a scene so charming, you can almost hear accordions. Some art historians have a different take on this painting though. There are theories that posit this café might have a more symbolic impetus, coming from the son of a Protestant minister…
There have been many comparisons with Van Gogh's Café Terrace and Da Vinci's Last Supper. The central figure in white is thought to be a representation of Jesus, while the dark figure in the doorway is speculated to represent Judas.
There is a good story here, but first let's take a moment to appreciate the name of this painting's creator, Hieronymus Bosch. Ohhh, it's so good! Hieronymus Bosch is the creator behind this triptych oil painting titled, The Garden of Earthly Delights. What is even more delightful are the secret, behind-the-scenes notes…
These notes, found on the bottom of a tortured soul in the "hell panel" of the painting, translate into approximately 28 seconds of what can only be described as a reject Nokia ringtone. This melody is widely referred to as "the butt-song from hell."
The legendary Mexican painter Frida Kahlo had a husband who was, apparently, a painter as well. Just kidding, Diego Rivera is totally a big shot. Due to his notoriety, in the early 1940s, Nelson Rockefeller commissioned Rivera to paint a mural, Man at the Crossroads for the Rockefeller Center in New York City. Alas, even the richest of the rich don't always get exactly what they want…
Young Rockefeller didn't appreciate the inclusion of the communist revolutionary Vladimir Lenin in the mural, so he had the painting destroyed. In response, Rivera re-created the mural in 1943 in Mexico city and titled it, Man, the Center of the Universe. Not only was Lenin even more prominently featured in this mural, but Rivera, not so coyly, painted in Rockefeller's father below the bacterial illustration of syphilis.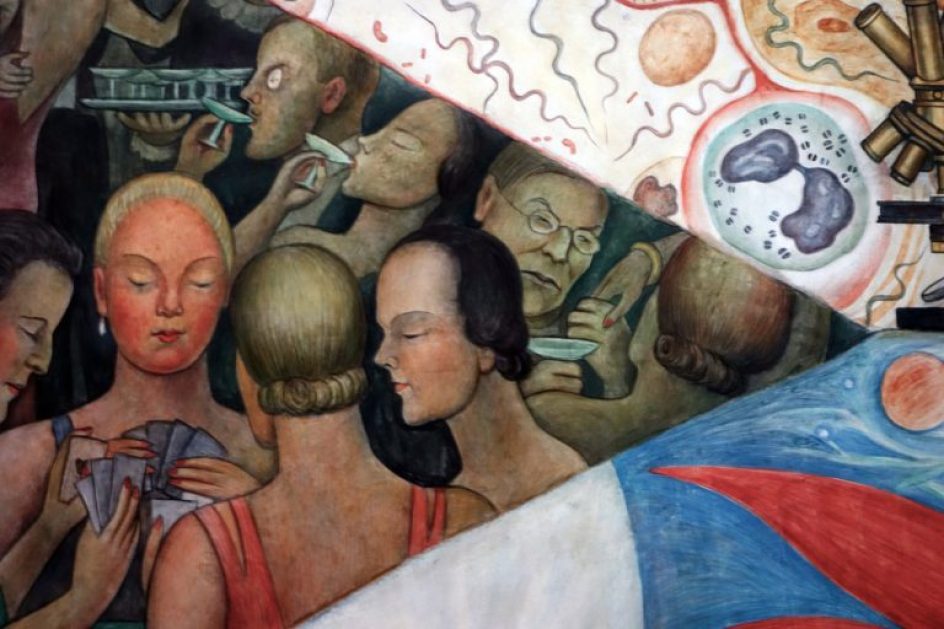 Moon Landing Conspiracy Theory Persists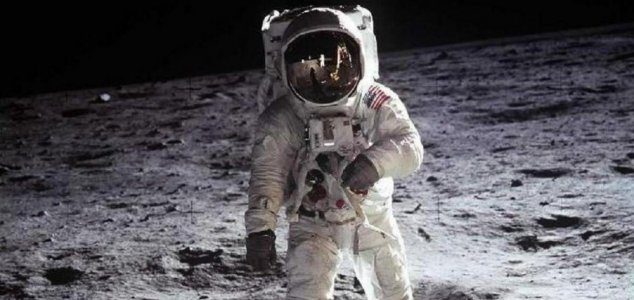 The idea that the Moon landings were faked still remains one of the most enduring of all conspiracy theories.
Peter Knight – a professor of American Studies at the University of Manchester – explores the origins of the Moon landing conspiracy and why some people still believe that we never went to the Moon.
Bill Kaysing was a former US Navy officer who worked as a technical writer for one of the rocket manufacturers for NASA's Apollo moon missions. He claimed that he had inside knowledge of a government conspiracy to fake the moon landings, and many conspiracy theories about the Apollo moon landings which persist to this day can be traced back to his 1976 book, We Never Went to the Moon: America's Thirty Billion Dollar Swindle.
The basic template of the conspiracy theory is that NASA couldn't manage to safely land a man on the moon by the end of the 1960s as President John F Kennedy had promised, so it only sent astronauts into Earth orbit. Conspiracy theorists then argue that NASA staged the moon landings in a film studio and that there are tell-tale signs on the footage and the photos that give the game away. They claim that NASA has covered up the elaborate hoax ever since.
Moon landing sceptics point to supposed clues such as photos that appear to show the astronauts in front of cross hairs that were etched on the camera glass, or a mysterious letter C visible on a moon rock. These and many other seeming anomalies have been debunked, but moon landing conspiracy theories have persisted in the popular imagination.
In the US, opinion polls indicate that between 5-10% of Americans distrust the official version of events. In the UK, a YouGov poll in 2012 found that 12% of Britons believed in the conspiracy theory. A recent survey found that 20% of Italians believe that the moon landings were a hoax, while a 2018 poll in Russia put the figure there as high as 57%, unsurprising given the popularity of anti-Western conspiracy theories there.
Ready to disbelieve
That Kaysing's conspiracy theory took hold in mid-1970s America is in large part due to a wider crisis of trust in the country at the time. In 1971, citizens read the leaked Pentagon Papers, showing that the Johnson administration had been systematically lying about the Vietnam War. They tuned in nightly to the hearings about the Watergate break-in and subsequent cover-up.
A series of congressional reports detailed CIA malfeasance both at home and abroad, and in 1976, the House Select Committee on Assassinations concluded – in contrast to the Warren Commission more than a decade earlier – that there was a high probability that there had been a conspiracy to kill Kennedy. These revelations had helped fuel a wider shift in conspiracy thinking since the late 1960s, from a belief in external enemies, such as Communists, to the suspicion that the American state was itself conspiring against its citizens.
Moon landing conspiracy theories have proved particularly sticky ever since. To understand their popularity we need to consider their cultural context, as much as the psychological dispositions of believers.
As with the Kennedy assassination, they formed a new kind of conspiracy theorising. These theories reinterpret the publicly available evidence, finding inconsistencies in the official record, rather than uncovering suppressed information. Visual evidence is crucial: for all their scepticism, their starting point is that seeing is believing. In the realm of photo evidence, the assumption is that everyone can be a detective. In the conspiracy theory communities that emerged at the tail-end of the 1960s, the self-taught buff became central.
Constructed reality
The moon landing conspiracy theories also brought to the mainstream the notion that significant events are not what they seem: they have been staged, part of an official disinformation campaign. The idea that tragic events are created by "crisis actors" employed by the government has become the default explanation for many events today, from 9/11 to mass shootings. This type of conspiracy theory is particularly harmful – for example, parents of children killed in the Sandy Hook elementary school shooting have been relentlessly hounded by internet trolls claiming they are merely paid stooges.
However, the story that the lunar landings were staged also resonates with the more plausible notion that the space race itself was as much a Cold War spectacle as a triumph of the human spirit.
The 1978 Hollywood film Capricorn One did much to popularise moon landing conspiracy theories. Based on Kaysing's book, it imagined that a Mars landing was faked in a film studio, tapping into conspiracy rumours that the moon landings themselves had been directed by Stanley Kubrick. This suggestive myth is based in part on the idea that special effects had become much more sophisticated with Kubrick's 1968 film 2001 A Space Odyssey, although still far from the capabilities that the conspiracy theories suppose.
Even if they are far-fetched in factual terms, moon landing conspiracy theories nevertheless call up the more plausible possibility that in our media-saturated age reality itself is constructed, if not actually faked.
Peter Knight, Professor of American Studies, University of Manchester
This article is republished from The Conversation under a Creative Commons license. Read the original article.
Theorists Claim Glowing Orb Over Rome May Be Alien Technology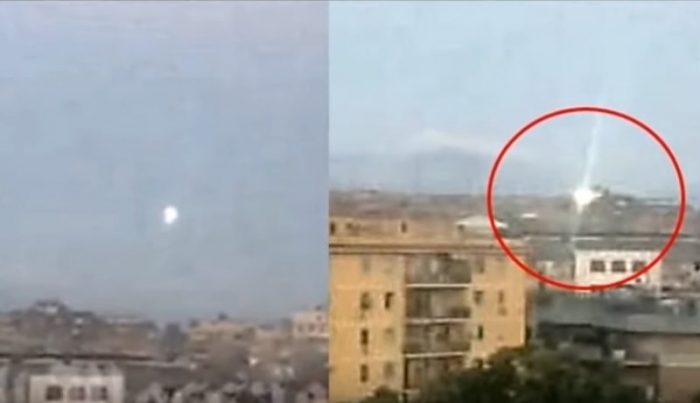 UFO conspiracy theories were unleashed as a clear daylight video showed a yellowish orb spiraling upward into the sky above the Italian capital.
A possible tad of alien activity was noted on Italian soil, as an unsuspecting family looked out of the window of their Roman villa to spot a bright, perfectly circular light hovering on the horizon. In a video posted online, people in the background can be heard asking in Italian: "What are they?"
Picked up by several media outlets, the video finally found it's way to alien hunters, as conspiracy theorists theorize wildly over the object's extraordinarily bright light.
"A luminous sphere was spotted and recorded with a mobile phone by a family living in the area of Villa Chigi in Rome," according to popular YouTube channel UFOMania, while commenters shared whacky theories as to where the technology behind its construction could have originated from.
"It is a plasma drone. It's got to be alien technology or something else, just understand that they are taking pictures of our landscape and maybe compared them to the old times," one wrote, as another chimed in suggesting that it could be an alien abduction in progress.
"This is exactly how the several spheres we saw over a busy interstate outside Albany NY took off. This looks real to me," they posted, intriguing the rest.
Skeptical observers ditched the extra-terrestrial mumbo-jumbo, however, arguing that in such a densely populated location there would have been many more sightings of the purported event.
Last week, prominent UFOlogist Scott C. Waring commented on a body that resembled a four-pronged alien spaceship right above the orbiting International Space Station, taking note of its unusual shape: "like nothing I've seen before," he posted.
In a video first singled out of NASA's livestream archives by YouTube channel Streetcap 1, a massive unidentified object can be seen whizzing swiftly past the space laboratory before taking a turn and moving back to its initial location in the background.
Sputniknews
Residents of Brooklyn complain about a strange sound that makes you sick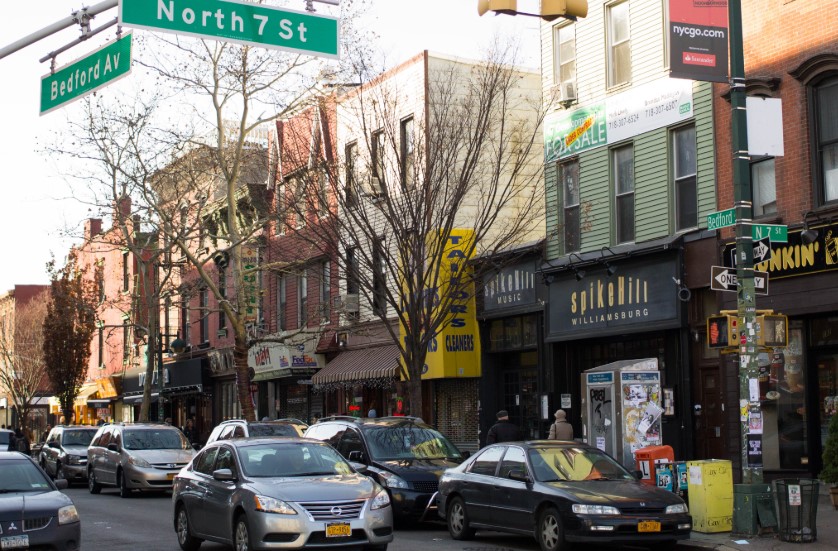 In the Bedford-Stuyvesant, Brooklyn neighborhood, New York, for the past few months, people have been complaining about a strange annoying noise. They hear this noise both outside and in their apartments and at the same time it causes medical problems.
Some conspirologists find that the symptoms are very similar to those described by American diplomats. In the past two years, diplomats from the American embassies in Cuba and in China have heard strange noises from which they had unpleasant consequences.
Only last week, 15 Brooklyn residents appealed to the authorities with unpleasant sounds. However, no action was taken, because even the authorities could not figure out the source of the noise.
This high-pitched noise is much more annoying than the usual New York hum and at the same time affects the brain. Some people had the effects of this noise like a hangover, others felt a throbbing headache.
Another part of the inhabitants reported mental stress and pressure on the nasal sinuses. Even closing the windows did not help from the noise; it easily penetrated through the walls.
"I can not run away from it and this noise is felt anywhere in our block," – says Drew Robbie.
@NYPDONeill @NYCMayor @nytimes @nypost @News12BK high pitch Noise causing headaches and mental stress in Brooklyn. Some hearing it for week and others for days…for me it is getting louder. Help…. Madison street/Franklin ave. Listen pic.twitter.com/iMjJHbAUTj

— Drew Robbi (@RobbiDrew) June 24, 2019
Robbie tried to record the noise and posted on Twitter. The sound in the video is really depressing and it is unbearably long to listen.
Both local police and officials unsuccessfully seek the source of this sound.
A similar "sound attack" was conducted in March 2019 in Michigan. Conspiracy theorists believe that someone is testing the sonic weapon in public.