1673: The Original Frankenstein?
Recently I was thumbing through early issues of Denmark's first true newspaper, Extraordinaires Maanedlige Relationer, when I stumbled upon the following report from February, 1673 (my translation):
In Frankenstein (Silesia), an ungodly body by the name Henrik Krahlen, along with his wife Eva and daughter Anna, has done a hideous and shameful thing. For 8 years they have unearthed dead people and removed their hearts and lungs in order to make a powder. This powder was mixed with poison and cumin and sold to unknowing victims, of which 5 are now known to have died. Furthermore, Henrik Krahlen has spread this powdered mixture on the streets throughout town and put it in fresh drinking wells. People were supposed to have been poisoned by this too, but god intervened, and it therefore had little effect.
Krahlen also went into a church where he held a secret feast of boiled and (prepared?) human hearts, together with his followers, who also drank from human skulls. In another church he stole from the money box and committed other injustices. With the bodies of women, he has performed in such ways that it is best kept secret, especially among Christians. Finally last year, right after the Pentecost, he and his wife and daughter were caught and thrown in jail. On the 23d of January this year [1673] he receieved his rightful punishment, when he was put on a wagon and pinched with red-hot pliers in all four corners of town. Afterwards he was taken out of town, where he witnessed the decapitation and burial of his wife and daughter. Then all of his limbs were crushed with a wheel and he was burnt alive at the stake.
The account is fairly outrageous, and sounds more like the plot of a modern horror movie. You probably couldn't sell it as a script prior to the Eli Roth generation of filmmakers, and would have to settle for an independent production similar to Nekromantik. Even with all the crazy stories in the media today, it still stands out. I have no idea if it's even partially true, though, but I think we can assume that at least something happened there. And even if it is a complete fabrication, the story is interesting from a whole other perspective.
Of course, my attention was immediately drawn to the name Frankenstein. I actually assumed that this was the story that Mary Shelley based her famous novel on, but when I tried to look it up online I could find no such reference (in fact, I can't find any info about Krahlen, period). It has often been said, however, that Shelley's Dr. Frankenstein was inspired by the life of Johann Konrad Dippel, who was born at Castle Frankenstein in 1673. The Frankenstein of the Krahlen affair was a Prussian-German town back in 1673 (today it is part of Poland and is known as Zabkowice). By contrast, Dippel's castle lies in the Odenwald mountains of Hesse, Bavaria. But even if the locations differ, there are enough shared elements to suggest that the stories about Dippel could have been inspired by the Krahlen spectacle.

Modern-day Frankenstein/Ząbkowice, maybe a nice place for a (nec)romantic holiday.
Castle Frankenstein, Bavaria
Mary Shelley drew on a lot of different sources when she wrote Frankenstein: The Modern Prometheus, such as the story of, well, Prometheus, but also that of the Golem of Jewish folklore. In more recent times it has been proposed that her central influence was the tales of Johann Konrad Dippel, who she (supposedly) heard of in 1814, while traveling along the Rhine river. The more controversial stories about Dippel paint him as a something of a real-life Herbert West – a well-educated philosopher, theologian, and alchemist, whose studies into the secrets of life and death would become gradually more extreme, and eventually cause even his most ardent supporters (Emmanuel Swedenborg was one of them) to abandon him. Some have claimed that he went so far as to dig up bodies at cemetaries and perform horrible experiments on them, although scholars consider this an unfounded rumor.
Johann Konrad Dippel (1673-1734)
On the other hand, Dippel is very well known for his experiments with dead animals. His most memorable creation was a product known as Dippel's Tieröl, an oil made from animal bones and a mix of chemicals. It is now banned by treaty, but was still being produced during World War Two, where it was used, interestingly enough, to poison wells across Northern Africa.Even if Dippel and Krahlen did go to certain extremes, one has to take the mindset and customs of the time into consideration. In the late 17th/early 18th Century, It was illegal to perform medical experiments on human corpses, so most professionals had to stick with animals. The only other options, for those convinced that they needed human subjects to advance their research, were trading with grave robbers or literally picking up a shovel themselves. I am only mentioning this to put things into perspective, since we don't know what actually happened in either case. There needn't be a sinister motive behind it, but surely rumors about such activities could easily blow out of proportions and result in being hunted down by an angry mob of villagers with pitchforks.
The torch-wielding mob from Frankenstein (1931)
So, was Dippel actually a reincarnated Henrik Krahlen, born the very same year in which the latter died so violently? Or were the rumors about Dippel simply based upon those of Krahlen? Did I actually stumble upon the true inspiration for the story of Frankenstein, completely by chance? These are interesting theories, and the location names, dates and other details would seem to support some kind of connection – whatever one chooses to believe. The real answers could be out there – but perhaps buried a little deeper than most people wish to look.
Tesla autopilot sensor recorded "ghost" in an empty cemetery
A Tesla electric car with an activated autopilot function recorded an invisible person who allegedly moved around the cemetery. Social network users jokingly noted in the comments that, most likely, this is some new function from Elon Musk, which allows you to see ghosts.
In the United States, a Tesla electric car with an activated autopilot function recorded an invisible person who allegedly moved through a cemetery.
The corresponding video was posted by Twitter user Ovidiu Maciuc.
The recording shows how a silhouette of a man appears on the monitor of an electric car, moving around the cemetery. After that, the driver raises the camera and starts filming the graveyard through the windshield, but there are no people there.
After some time, the "ghost" went in the opposite direction from Tesla and disappeared from the on-board computer screen.
Social network users jokingly noted in the comments that, most likely, this is some new function from Elon Musk, which allows you to see ghosts.
For many though, if you take into account the comments, the video seemed rather creepy. Some even tried to guess what the navigation system actually showed.
Some users thought the system could recognize ghosts. Others refuted this version and said that the reason for all this is an insufficiently accurate sensor, which was used for the equipment of the Tesla car.
Earlier it became known that Tesla electric cars in the near future may receive a new function with which they can talk with pedestrians. For this, American cars will be equipped with special external speakers.
In addition, Tesla cars in the future will receive the option to change the horn and sound of movement at low speeds to warn pedestrians. According to Elon Musk, among the sounds of movement there will be the sound of the clatter of a horse's hooves, and as a whistle – the bleating of a goat.
Mysterious energy source melts Tel Aviv sidewalks, leading to the evacuation of several buildings in Israel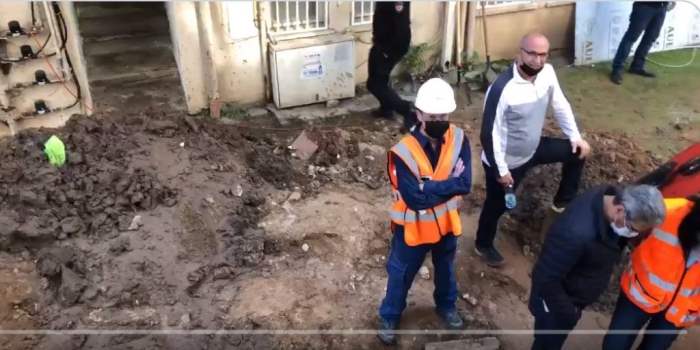 About two weeks ago, Tel Aviv residents noticed that the concrete surface outside their homes was heating up and steam was coming out of the ground. Tests showed that steam that reached 60 ° C (140 ° F) was water based.
The witness explains: "I was afraid that there was a power line in the area and asked a worker to dig out the ground with a shovel. Steam suddenly came out. I imagined it was probably a geyser. It seemed to me that this was a geological incident – also because there were no problems with electricity in the building. "
Although the experts did not find any hazardous substances or any risk to the stability of buildings at the site, residents as well as kindergartens in the area were evacuated.
Officials described the heat source as "trapped energy" of unknown origin.
Work continues, steam is still rising and the ground is still hot. It is currently unclear what is causing the warming. Note the hole dug in the area. The area is still blocked.
Mysterious origins
City officials said they will "continue to monitor the temperature of the earth, which is expected to cool down for a long time, and will continue to investigate the causes of the unusual event."
Israel Electric Corporation has not found a connection between heat and power in the area.
The Israel Geological Survey confirmed the rise in temperature after testing ground and water temperature levels, but said it has not yet found an explanation.
Despite their best efforts, municipal officials, the fire department, Israel Electric Corporation and the Ministry of the Environment have yet to find a source of heat.
Meanwhile, the Tel Aviv municipality has informed dozens of evacuees that they can return to their homes. However, residents are not going to return until they receive a detailed account of the source of the mysterious event.
"They evacuated us because they were concerned about our safety, and now they are urging us to return without any convincing explanation. How can you be sure that there is no more danger? "
The night sky in southern Taiwan shows a weird red moon alarming netizens: 2021 disaster year omen?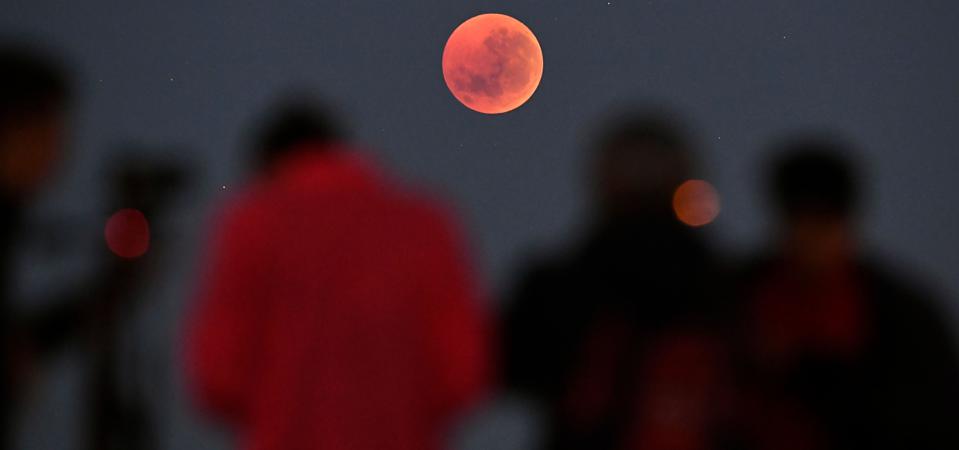 Some people in Chiayi, Taiwan took pictures of a large dark red moon hanging in the night sky on the first night of 2021 and uploaded them to Facebook. There are also people in Tainan who have photographed the rare "red moon". The weird scene has aroused heated discussions among netizens. Some people worry that an earthquake may occur, while others suspect that this is a precursor to the year of disaster in 2021?
Yesterday, on January 1 at about 8:00 in the evening, Chiayi residents shared a photo of "2021's first red moon" on Facebook. As you can see in the photo, the weather was quite good at that time. There was a clear big round moon in the night sky, but it was a dark red moon, which was very different from the usual moon.
Later, people in Kaohsiung and Tainan also posted photos of the red moon they had taken.
The weird and rare "big red moon" immediately attracted the attention of netizens. Some people think that such a sight is caused by air pollution, and some people think that the red moon is "extremely beautiful", but many people worry about whether it is a harbinger before the disaster ?
"Hope is not a harbinger of disaster~", "A harbinger of disaster in 2021???", "It looked uneasy", "After seeing the red moon, I hope everyone will be safe".
Some netizens worry that this is a pre- earthquake omen.
"Remember the red moon before the 921 earthquake (omen)", "earthquake precursors", "I feel that there will be an earthquake again recently", and "It seems that 2021 will be another year of bloody disaster."
The British clairvoyant Craig Hamilton-Parker published his prediction for 2021 on YouTube in December last year, stating that, as far as the world is concerned, 2021 will be a year full of social unrest, armed conflict and political changes. There will be difficult times right now until 2025.
He also predicted that the biggest worry is climate and earthquakes. A tsunami will occur near Japan. Large earthquakes will occur in the Himalayas, Iran and the Americas. There will also be problems such as floods, dams bursting, and huge icebergs obstructing shipping. Until 2025, the severity of environmental problems will gradually increase.