165 People Have Gone Missing from Cruise Ships Since 1995
Pushed, suicide, hit jobs or something more of a paranormal nature?
via Daily Mail:
Rebecca Coriam disappeared from a cruise ship in March 2011
On the evening of April 6 this year, John Halford packed his suitcase and left it outside the door of his cabin on the cruise liner Thomson Spirit. It was the last day of a week-long Egyptian cruise and the ship was due to dock at Sharm-el-Sheikh the following morning.
Mr Halford, 63, texted his wife Ruth, who was at home in Britain, to say he would see her at the airport the next day, then went off to dinner. At about 12.30 am, he was seen by other passengers drinking cocktails in an upper-deck bar. He then vanished.
Mrs Halford, who has three children, Lucy, 20, Sophie, 18, and Connor, 17, learned of her husband's disappearance as she was getting ready to drive to the airport to collect him.
'The phone rang, it was the Thomson's desk at the airport in Egypt,' she said. 'I was told the plane was in the air but my husband was not on it. He'd gone missing from the ship. You could have knocked me over sideways. It made no sense. The children and I were shell-shocked.
'At first I thought he must have somehow gone ashore without anyone realising, but it would have been impossible because there are various checkpoints when you disembark. He'd simply disappeared.'
Today, more than five months on, Mr Halford, a bookseller from Milton Keynes, Buckinghamshire, remains missing, his fate unknown.
His case is far from unique. Over the past few years, there have been an alarming number of unexplained and unsolved disappearances on board cruise liners.
According to the U.S.-based International Cruise Victims Association, 165 people have gone missing at sea since 1995, with at least 13 this year alone – many of them from vessels popular with British holidaymakers.
Cruise ship holidays are enormously popular. According to the Passenger Shipping Association, 1.7 million cruises will be taken in Britain this year (many will be repeat cruises by the same holidaymakers). But what is happening to all these passengers who simply vanish while at sea, never to be seen again?
Are they the victims of a sinister crime wave? Have they had a mishap at sea and fallen overboard, or perhaps chosen to take their own lives?
The sad fact is that, in many cases, no one knows. And for the family and friends they left behind, that only compounds the heartache. Loved ones such as Ruth Halford and her children, who remain in limbo; bereft, baffled and unable to grieve.
'John had been really looking forward to the cruise,' says Mrs Halford.
'He'd once worked in Libya and was intrigued by North Africa. He was fascinated by ancient Egyptian culture and wanted to see the pyramids.
'He went alone because we couldn't afford to go as a family, plus the children had exams coming up. Ships are places where it's easy to meet people, and John didn't mind going on his own. The passengers who saw him in the bar say he was not drunk and was in good spirits.
'He'd packed his suitcase ready to go but his other belongings – his passport, glasses, mobile phone and rucksack – were found in his cabin. But there was no sign of John.
'John wasn't depressed – there was no sign at all that he was contemplating suicide. He just wasn't like that.
'His suitcase was later returned to us and in it were three necklaces for me, Lucy and Sophie with our names written in hieroglyphics and a similar name bracelet. John was planning on coming home to us.'
At first, Mrs Halford, 46, believed that her husband, with whom she was about to celebrate their silver wedding anniversary, would turn up. But, as time has passed, her hope has nearly all gone.
'It has been incredibly difficult, surreal really, and terrible for the children,' she says. 'In my heart I believe he is dead, that he is gone, that he somehow slipped and went overboard. I can't think of any other explanation.
'A search of the sea was carried out at the time, but nothing was found. I am told there are sharks in the area: it is very painful to think about.'
But is the idea of someone 'slipping overboard' credible? The rails on cruise ships are at least 3ft 6in high, which makes it incredibly difficult for anyone – even someone who might be drunk or ill – to pitch overboard.
With no clues as to where or how her husband vanished, Mrs Halford is struggling to rebuild her life. After taking time off work after John went missing, she has now had to return to her job as a medical secretary to pay the bills and support the children.
'Life goes on,' she says. 'I need money to pay the bills and we've lost John's salary. John took out travel insurance and I've been on to the company to try to make a claim but they simply say: "What are you claiming for?"
'Thomson haven't given me any support, either. John was in their care, but I haven't had so much as a letter from them. I can't get a widow's pension because we don't know if John is dead.
'We're living a nightmare and we can't see a way out of it. It is so unreal that we can't grieve. We are in limbo. What do we do? Should we hold a funeral? But how can we if we're not sure he's dead?'
The parents of 24-year-old Rebecca Coriam, who went missing from a Disney cruise liner in March this year, can empathise with the tumult of emotion Mrs Halford is experiencing.
Last Monday, Mike and Ann Coriam met MP Mike Penning, the Under-Secretary of State for Transport, who has responsibility for maritime issues, to discuss a change in the law that would allow UK authorities to investigate cases of British nationals who go missing on vessels while abroad.
At the moment, investigations are handled from where the ship is registered.
Miss Coriam, from Chester, vanished as the Disney Wonder was on passage from Mexico to Los Angeles. A single policeman in the Bahamas, where the ship is registered, is investigating her disappearance.
Miss Coriam was working on the ship as a youth activities coordinator. She was last seen by a work colleague at around 5.45 am on March 22 by a male colleague and appeared upset, but when he asked her if she was all right, she said she was fine and on her way to bed.
CCTV footage on the ship shows Rebecca walking into shot with her hands in her back pockets, as was her habit. After that, there were no further sightings of her. Her credit card is missing, but has not been used.
John Jennings, Rebecca's uncle, says: 'Personally, I feel that someone has done something bad to Becky. The police officer who came aboard the ship to investigate concluded soon after she went missing that at that time there was no sign of foul play, but I don't share that view.
'The implication was that Becky had committed suicide, but there is no indication at all that she was depressed. Yes, she'd had some sort of argument, but it could have been over something quite petty.
'Rebecca had bought four tickets for Disneyland Paris as a surprise so that she could go there with her mum and dad and sister Rachael when she got back.
'That's not the action of someone contemplating suicide. We have discovered recently that someone has changed the password on Becky's Facebook account, so we can't get into it. It must be someone who knows her, who knows what the original password was.'
Her disappearance echoes another mysterious case that has been barely reported in this country – that of a 62-year-old German, identified only as Sabine L, who vanished from Cunard's prestige liner, the QE2, in 2007, as it sailed off Madeira.
Sabine and her husband Ludwig boarded the ship at Southampton on December 17, 2006, for a two-week cruise to the Canaries and Madeira.
One night, the pair went to bed at about midnight in room 5167. The next morning, when Ludwig awoke, his wife was not in the cabin. She was never seen again.
Had something sinister befallen her; or could she be among those who are suspected of having taken their own life while on a cruise ship?
Just this week, there was precisely one such incident. Passengers lined the decks as the Balmoral made its way up Southampton Water on Tuesday morning following an eight-day tour of Norway's fjords.
The passengers were preparing to disembark when the announcement was made. A passenger was missing. No one was permitted to leave the ship until the police, who were waiting at the quay, had completed an onboard investigation.
Francis Hemsley, 89, of Walton- on-Thames, Surrey, had last been seen at dinner at 9pm on Sunday. Some time between then and the next morning, as the ship headed south along Britain's east coast, he'd vanished.
A subsequent police investigation established that in this instance there was a note left in Mr Hemsley's cabin. Although they will not reveal what it said, Mr Hemsley appears to have decided that he wished to die, and wanted to spend his final days amid the serenity of the Norwegian fjords.
No body has yet been found, and officially the investigation is ongoing, but according to Hampshire police, who are investigating his disappearance, 'initial inquiries indicate the man fell overboard and that it was a non-suspicious death'.
His disappearance echoes that of another elderly Briton who vanished from the same Fred Oslen ship, the Balmoral, last October.
The 79-year-old unnamed man had been on a three-week cruise in the Adriatic with his wife. She woke in the early hours when the ship was about 45 miles south of the Lizard in Cornwall and saw that her husband was missing.
He had last been seen onboard at about midnight.
After she alerted the crew, and a search of the 43,000-tonne vessel had established he was not on board, an air-and-sea search involving British and French coastguards and two warships in the area was launched.
Nearly one year on, there is no body and no answer to the question the family keep asking themselves: what happened?
Two eerily similar disappearances, then, on the same ship.
Certainly, the fate of a 50-year-old woman who was a passenger on board the Sea Princess as it cruised the Caribbean last December, between Curacao and Grand Turk islands, gives credence to the 'suicide at sea' theory.
CCTV footage shows the unnamed woman, who was on holiday with her husband, climbing over her cabin balcony in the early hours and falling into the sea.
Her body has not been found, but at least the woman's family know that she chose to take her life and that she is gone.
For John Halford and Rebecca Coriam's families, however, and scores of other people around the world, there is no such resolution.
Thomson Cruises, the company Mr Halford went on holiday with, says it has been assisting Thames Valley police and the Foreign Office in Egypt with their inquiries, and acknowledges that it may not have given Mrs Halford as much support as it could have done.
'We are sorry to hear Mrs Halford feels she has not had our support and we would like to apologise,' says a spokesperson. 'This is a very rare occurrence and we have learnt lessons from it.'
But Mr Halford remains missing, as does Rebecca Coriam and countless others.
Most of these people disappeared on black nights, far out at sea.
Precisely what happened to them all are mysteries that look unlikely ever to be solved.
Natalie Clark
Daily Mail
The mystery of the Nazca geoglyphs: they can be a spaceship landing pad or a water delivery complex
The Nazca Lines are mysterious blueprints and signs that are found in the desert in southern Peru. They are about two thousand years old. Symbols in the form of signs, some of which resemble animal figures, have no analogues in the world. Scientists have been trying for years to figure out what meanings they have. It looks like a key has been found to the secret.
For many years, researchers have adhered to two versions. The Nazca Lines can represent either an alien spacecraft landing pad or a complex system of irrigation canals. Both versions one and the second have their advantages, but there was more evidence in favor of the irrigation system.
They were first discovered in 1940 by UFO hunters. From a bird's eye view, the beauty of complex and simple patterns is mesmerizing. They traverse the barren desert south of Lima.
Ufologists believe that these geoglyphs serve as a kind of reference point for aliens. Archaeologists claim that the lines were created by the pre-Columbian civilization but their exact purpose is not clear. A group of engineers led by Carlos Hermida from Spain came to the conclusion that there is nothing mysterious about the lines. The Nazca Lines are nothing more than a complex system of irrigation canals.
Hermida believes that the mystery of the drawings was solved with the help of numerous convincing evidence. These lines, in his opinion, were created using a pre-Inca technique known as water harvesting.
The satellites have created a mosaic of nearly 4,000 photographs that can be used for detailed analysis of geoglyphs. The mosaic has 75 rows and 50 columns of images. In total, it covers an area of ​​about 2500 square kilometers in the desert. Engineers are confident that this complex system served for irrigation – water through canals filled dry areas to the desired moisture level.
There are many mysteries in the Sahara Desert but scientific and archaeological expeditions are prohibited
Throughout the history of this African desert, tens of thousands of people have gone missing in its vicinity, and this is only according to official data. The sand is much more destructive than the ill-fated Bermuda Triangle. This is understandable, five thousand kilometers covered with sand.
Scientists know for certain that millions of years ago there were rivers, lakes, flowering gardens and, most likely, even the ocean in the desert, since numerous whale fossils were found in the sands.
The ruins of cities, underground canals, through which water once flowed, were discovered. In one of the Sahara caves, ancient drawings and hieroglyphs were found, depicting humanoid creatures, around which there was greenery and water. There are a lot of mountains in the desert, where people have never been.
Perhaps the most mysterious place in the Sahara is rocky terrain with melted earth and traces of radiation. At this place, according to scientists, an explosion of incredible power thundered. There is a theory that all this is due to the fall of a meteorite.
This is confirmed by the chemical elements that scientists find in glass and iron. These elements are of unearthly origin, and most likely came to us with a meteorite. Moreover, the crater itself is hidden somewhere under the sands, and has not yet been found.
If you look at the desert from space, then the first thing that can be seen is the rings, called the eyes of the Sahara, with a diameter of more than fifty kilometers. There are rocky rocks near the rings that are not found anywhere else on Earth. The stones themselves are most likely solidified lava.
But all these secrets and riddles are not studied in detail, since archaeological and scientific expeditions are officially prohibited on the territory of the Sahara, due to safety. On the territory of the desert, armed conflicts constantly occur, which are a great risk for scientists. This is what official sources say.
The desert can be easily studied from space, by analogy with, for example, Mars, where in the infrared range, with the help of orbiting satellites and telescopes, you can recognize artifacts, as well as make new discoveries. Unfortunately, this does not happen.
The Sahara Desert, along with the oceans of the Earth, remains the least studied.
Nikola Tesla's mysterious inventions: from laser to teleportation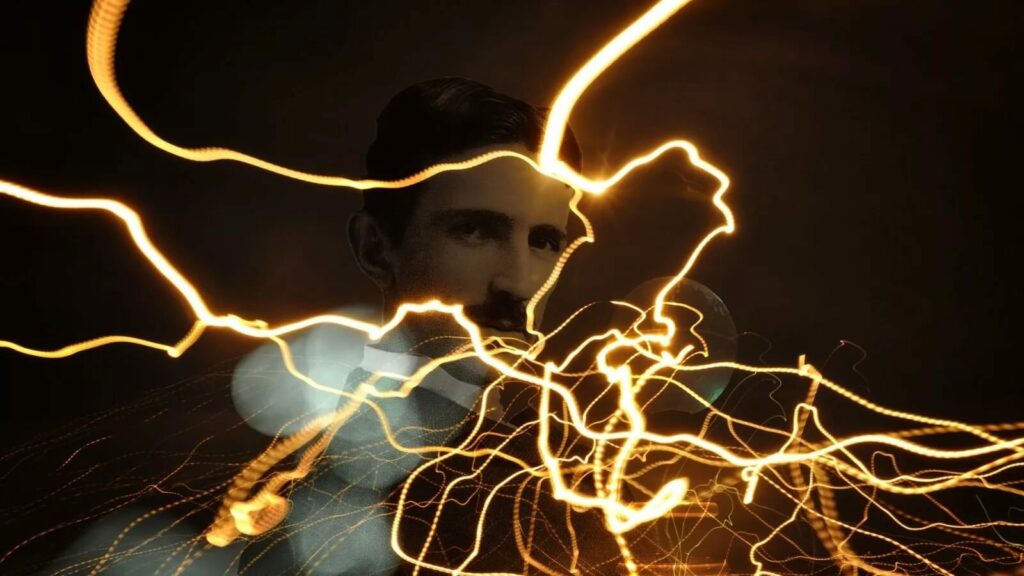 Nikola Tesla is perhaps the most mysterious and most misunderstood of all the great scientists. He was a man well ahead of his time. He owns many inventions and discoveries. Some of them remain a mystery to this day.
Tesla could have pioneered the X-ray, which Wilhelm Roentgen introduced in 1895. The fact is that Nikola had worked with vacuum tubes several years earlier. During the experiments, he discovered an unknown radiation that could penetrate objects. But the scientist was then so busy that he left the study of X-rays.Only after the discovery of Roentgen, Tesla realized what he had missed, although he did not pretend to be the discoverer. The Serb decided to return to this topic and became so carried away by it that he began to scan everyone in a row – dogs, colleagues and even himself.
To get some of the images, it took about an hour to be under the X-ray machine. At first, the researcher believed that these rays were harmless, so he irradiated the head, hands, even eyes. Tesla stopped doing this when he saw the burns.
How Tesla caused the earthquake
After a while, Tesla switched to ultrasound and even caused an earthquake. It happened in 1898 in New York. There were factories, a police station, and residential buildings in the neighborhood of the scientist's laboratory.
Then one day, the ground in the area shook, the buildings began to shake. In a panic, residents rushed into the street, thinking it was an earthquake. The police ran to Tesla's laboratory and found him smashing into smithereens some device installed on the base of the building. When the device was broken, the earthquake stopped.
It was an oscillator that generated ultra-high frequency oscillations and produced ultrasound. These vibrations caused internal resonance in objects when they coincided with the frequency of their natural vibrations. Tesla saw in this a destructive force of enormous proportions.
The invention of radio
Back in 1890, Tesla predicted the appearance of a device with which it would be possible to listen to music and human speech at a great distance from the sound source. In the same way, images or text will be transmitted, the scientist believed. We can say that the inventor predicted the era of wireless communication and the Internet.
As far as radio is concerned, Tesla conducted experiments. Nine meters from each other, he installed a 5-kilowatt spark transmitter and receiver, from which he extended wires to the ceilings, which served as antennas. Messages were sent from the transmitter to the receiver handset.
Although Tesla built the first wave radio transmitter in 1893, ahead of Marconi, the Italian was more nimble. He challenged the Serb patents for the device itself and the power transmission system in court.
So, Nikola was left without fame and patent payments, and Marconi received the Nobel Prize. It was only after the death of both inventors that the US Supreme Court confirmed Tesla's primacy in inventing a wireless communication system.
Remote control
In 1893, Tesla began designing remotely controlled vehicles. However, two years later, a fire destroyed all his developments, including the already created mechanisms. For the first time, a scientist showed his inventions at an exhibition in 1898. With the help of a remote control, Tesla made a radio-controlled boat perform various maneuvers. The display of the scientist turned out to be a sensation.
The inventor also proposed creating a remote-controlled submarine to blow up enemy ships. But the military was not interested in Tesla's developments.
Wireless energy
But then Tesla was not worried about what the military thought. He was so fascinated by the idea of ​​wireless power transmission that he went to Colorado Springs to conduct experiments. An antenna 60 meters high was built here especially for the experiments. Locals often watched the tower generate giant flashes of lightning.
Soon, banker John Morgan gives Tesla money for the project of a global radio network. But the scientist did not forget about his idea of ​​wireless transmission of electricity. With the funds received, he built a new laboratory with a frame tower in Wardencliff, which became famous all over the world.
Morgan did not understand the whole idea. Why was it necessary to build a tower, because Marconi transmitted a signal across the entire Atlantic and without it.
Then Tesla confessed to Morgan that he was not interested in radio communication, but in the wireless transmission of energy to any part of the planet. But this was not part of the entrepreneur's plans, and he stopped funding.
This whole story influenced the opinion of financiers about the scientist. They did not want to deal with Tesla and invest in him. The scientist's affairs were getting worse. In 1905, his patents for AC motors and other designs expired and payments ceased.
During the First World War, the American government decided to blow up the tower at Wardenclyffe, because it feared that it would become a beacon for German ships. This is how Tesla's dream of the informational unification of the world collapsed.
The unsolved mysteries of Nikola Tesla
And yet, many of the discoveries of the Serbian scientist are shrouded in mystery to this day. Tesla left no drawings or notes on them. Only fragmentary information and, of course, legends have survived.
Tesla is considered the "culprit" of the 1908 Tunguska explosion. A huge wave of energy could travel from the tower at Wardencliff to Siberia through the ionosphere. If it was a meteorite, then no trace of it was found. Despite the fact that the project in Wardenclyffe stopped funding in 1905, the equipment remained there, and Tesla could secretly continue his experiments.
According to the scientist himself, he received technical and scientific revelations from a certain ether – a single information field of the Earth. From there, he received inaudible signals to anyone, including from Venus and Mars.
In 1931, Tesla presented an interesting development. The gasoline engine was removed from the car and an electric motor was installed. Then Tesla, in front of the public, placed a box with two rods under the hood and connected it to the motor. With the words "now we have energy" Tesla got behind the wheel and drove off.
The car accelerated to 150 kilometers per hour, and there was no need to recharge. When asked where the energy came from, Tesla replied that it was from the ether. However, the public considered the invention to be quackery. Then the disgruntled inventor took out a miracle box from under the hood and carried it away. What kind of device it was is still unknown.
The scientist is also credited with participating in a secret military project, in which the famous Philadelphia experiment later took place.
Shortly before his death, Tesla announced the development of "death rays". His new invention could destroy aircraft at a distance of 400 kilometers. It is assumed that the military bought the blueprints and created modern laser installations based on them. Also, newspapers wrote that Tesla was working on creating an artificial mind and the ability to photograph thoughts.
Only now the world realizes what discoveries Tesla made. For example, the Kirlian effect was patented in 1949, although the glowing effect of the "aura" of objects was shown by Tesla at the end of the 19th century.
Some scientists are now carried away by studying the torsion field, and they are looking for information about it in the fragmentary records of Tesla. But there are few of them left. Perhaps Nikola burned them shortly before his death, realizing that his knowledge was too dangerous for unreasonable humanity!
"The great mysteries of our existence have yet to be solved, even death may not be the end."  N. Tesla