1,500-year-old Mummy Wearing 'adidas Sneakers' Believed To Be A Time Traveler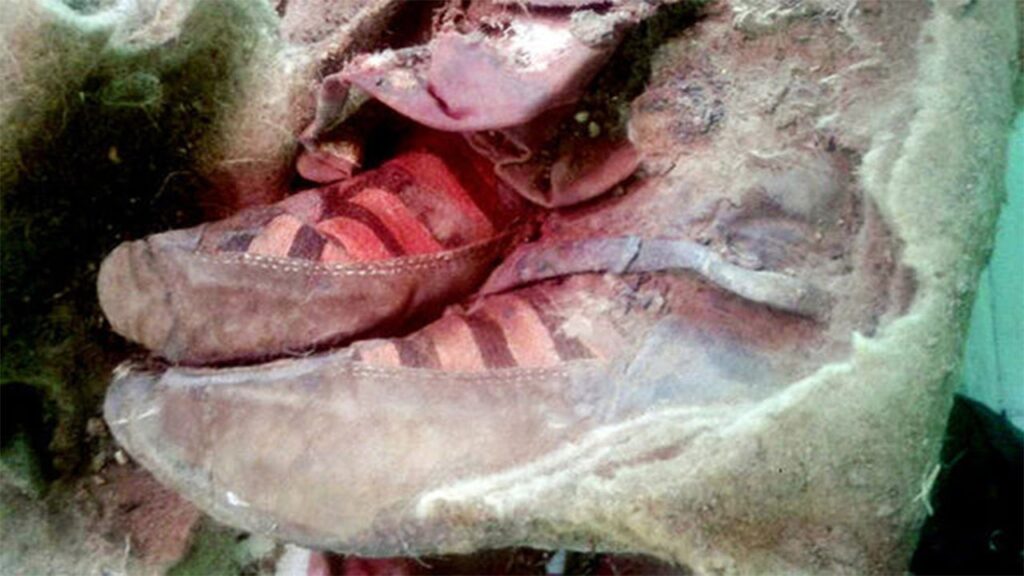 A recently unearthed mummy equipped with a well-preserved pair of 'Adidas sneaker' has intrigued archaeologists and conspiracy theorists alike. While some consider it to be only a lucky find, others have brought conclusive arguments as to why this could be the remnants of an actual time traveler.
Time travel has always been a fascinating topic, especially in present days when this concept doesn't look so futuristic after all. With our current development in technology, we can dream of cruising through time in a couple hundred years. Until that day arrives, we'll need to focus our attention on a very bizarre archaeological find from the Altai Mountains in Siberia, where an unusual mummy had recently been discovered.
So, what's the connection between those mummified remains and time travel? Well, there's a certain item on the deceased body that's strongly resembling a pair of – you guessed it – Adidas sneakers. If the pair of shoes prove to be authentic, then the world will know that time travel is a real phenomenon. However, I'm inclined to think that people at that time were only skilled shoemakers. Or were they really?
The extremely well-preserved remains belong to a Turkik person that lived some 1,500 years ago in central Asia. The body was found alongside the remains of a horse, a pillow, and a sheep's head. Archaeologists also found a saddle, bridle, clay vase, wooden bowl, trough, iron kettle, and four different 'Dool' (Mongolian clothes).

"It is the first complete Turkik burial at least in Mongolia – and probably in all Central Asia. This is a very rare phenomenon. These finds show us the beliefs and rituals of Turkiks," said B. Sukhbaatar, researcher at Khovd Museum. "We can see clearly that the horse was deliberately sacrificed. It was a mare, between four and eight years old. Four coats we found were made of cotton."
Researchers haven't been able to determine the genre of the deceased so far, but they believe the remains belonged to a woman because they found no trace of a weapon inside the tomb, where male warriors were always buried alongside their bow.
The resting place was found at an altitude of 2,803 meters, and the mummy – still wrapped in felt – was resting its bones inside a 3-metre-deep grave. The body preserved extremely well because of the cold temperatures, together with the belongings and horse remains.
"The grave was located 2803 meters above sea level.This fact and the cool temperatures helped to preserve the grave," said Sukhbaatar. "The grave was three meters deep. The finds show us that these people were very skilled craftsmen. Given that this was the grave of a simple person, we understand that craft skills were rather well developed."
There are several things that don't add up here. First of all, Mongolians are well-known for their herds of horses, which in turn determines the wealth of their people. These noble animals were (and still are) essential to them, meaning that whenever someone died, they would leave behind a substantial herd.
The grave of the Turkik mummy is considered to be rich in possessions, but since only the remains of a horse were found inside, researchers are now insinuating that the mummy didn't belong to the elitist class of the region. But how is that possible if four different garbs, together with a presumed pair of 'Adidas sneakers' and numerous other items including the wool originating from a camel were discovered inside the tomb? Could it be that this woman was of a different culture? A distant traveler with knowledge of time manipulation?
A Romanian archaeologist explains more about the burial ceremony in his book about Turkik nomads. It reveals that Turkik people preferred being buried with far less material possessions, but they sacrificed their horses to accompany them on the other side.
"When a man died, the survivors dug a pit as large as a house, in which they laid the deceased holding in his hand a wooden cup filled with a drink, as well as his belt, bow, and money…Following that, the dead man's horses were killed, the number of horses sacrificed being an indication of his personal wealth."
So how does a not-so-wealthy Turk woman end up in a strategically-placed grave atop of the Altai Mountains, together with rich possessions and a pair of sneakers from the future? Is it possible that archaeologists really stumbled across the mummified remains of a time traveler, or is this but a mere coincidence?
More images from inside the tomb can be found HERE.
Secret US aircraft or UFO? San Antonio woman films mysterious 'craft' flying over neighborhood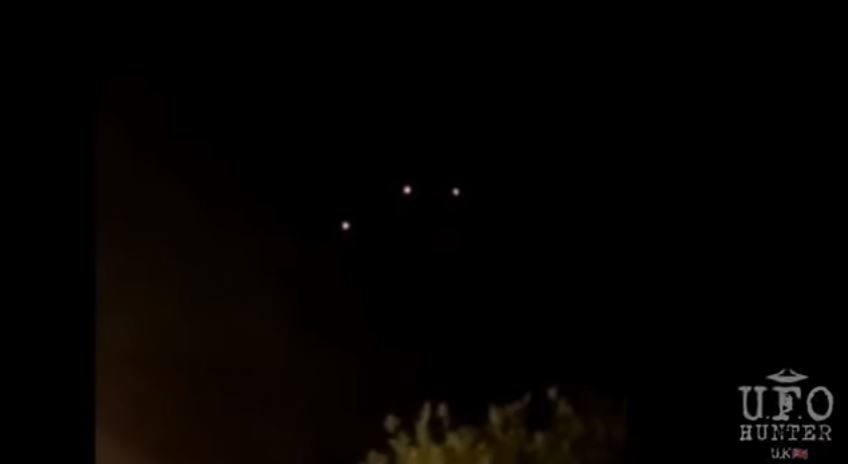 © YouTube/Red White And Disclosure
The reported UFO sighting took place over Texas, with a woman arguing with her fiancé about its nature and insisting that the craft was not of this world.
A San Antonio woman has shared footage of a mysterious object seemingly hovering in the distance in her suburban residential neighbourhood.
"Ok what is it? It's f***ing hovering," the woman can be heard saying to her partner. "It's helicopters," the man responds. "That's a UFO," she responds. "Ok what is it, it's hovering in the sky, and one of the lights disappeared," she adds.
Indeed, near the beginning of the video, the top light over the craft appears to separate from the main craft and zoom upward toward space.
Speaking about her (moderately) close encounter, the woman explained that the incident took place on April 11 at about 9:15 pm, and said that the craft "stayed stationary," with the lights seeming "to rotate slowly as it raised higher and higher and the lights went out one by one."
The frightened woman added that she heard "no sound at all" during the two minutes she and her future hubby stood in awe watching the craft.
The sighting left people excited or freaked out, with popular UFOlogist YouTuber Tyler Glockner saying the triangular-shaped formation of the lights in the craft was "very common, with many people believing they are craft from out of this world, or sightings of the infamous TR-3B, or Black Manta," an alleged surveillance aircraft being developed for the US Air Force so wrapped in secrecy that its existence has never been confirmed.
"The Black Manta is said to use anti-gravity technology that is, in turn, reverse-engineered from alien technology," Glockner added.
Sceptics were out in force too, accusing of people of "jump[ing] to UFO theories too fast," while others offering own theories about what the craft might be.
Believers stood their ground, insisting that this was indeed a UFO, or at least the secret US surveillance plane project mentioned above.
A mysterious "ice circle" appears on a lake in China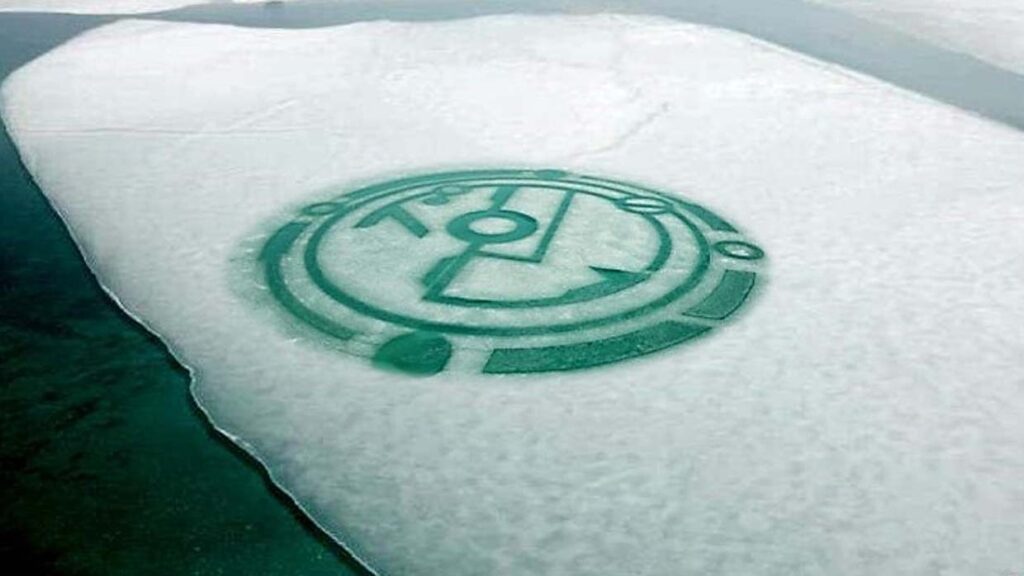 The crop circles (strange patterns that appear mysteriously from the overnight in agricultural fields) have been causing confusion and controversy since time immemorial. It is true that circles are better known in the United Kingdom, but they have spread throughout the world in recent decades. The mystery has inspired innumerable books, blogs, researchers (nicknamed "cereólogos") and even Hollywood movies. Despite having been studied for decades, the question remains: Who or what is doing them?
Many people believe that crop circles have been documented for centuries, even some scientists have their own opinion about it. In 2017, Dr. Horace Drew stated that the circles in the crops are real and contain hidden messages from aliens or time travelers. Dr. Drew, who has a Ph.D. in chemistry from the prestigious California Institute of Technology (Caltech), also suggested that circles are a method that extraterrestrial beings use to try to communicate with the human race. Whether they are well-crafted deception or extraterrestrial messages, they usually appear in agricultural fields and the last place where we would expect to see one of these circles is in a frozen lake. Well, this is what has happened in China.
Mysterious ice circle
On April 12, a gigantic and mysterious figure appeared on the ice of Qinghai Lake. According to the photographer Qing Xiu, of the tourist company Qinghai Lake Tourism Group, he took the photographs at 11 o'clock in the morning of the same day, and the circle seemed to have approximately more than 100 square meters. So far no one has been able to explain its origin and it is also unclear how it appeared in Qinghai Lake.
Due to the spectacular nature of the images, the mysterious circle has caused a stir in Chinese social networks, where thousands of users have tried to offer an explanation for the geometric figure. The most skeptical say that the "circle in the ice" has been created by pranksters to attract attention. According to some, the strange form could only have been made from the air, for example, using a helicopter, although the inhabitants near the lake did not see any aircraft for weeks.There are also those who believe that the symbol is a logo related to a Chinese automobile company called AION, so there is a possibility that the circle is a marketing strategy. But experts in the field say that in this particular case there does not seem to be any imperfection, a basic detail to detect false circles. The aliens are perfectionists due to their advanced technology. Then the explanation would be that it is a message coming from civilizations of other worlds.Whether real or fake, Qinghai Lake is the largest lake in China and receives the waters of 23 rivers and streams, located 3,205 meters above sea level, in a depression of the Tibetan plateau. In addition, it is considered the second largest lake in Central Asia after the Issyk-Kul. In the West, it is known by Kokonor, because the lake was traditionally a border area between the Mongolian and Tibetan peoples. And like other places in the world, Qinghai Lake is surrounded by legends and mysteries.
It is said that in its waters lives a beast that supposedly resembles a dragon, with a snake head and iridescent scales. But apart from this mysterious creature, many have seen numerous sightings of strange lights coming and going from Qinghai Lake, which has led some ufologists to believe that the place can house an extraterrestrial submarine base.
What is your opinion about the mysterious circle in the ice? Is it fake or an extraterrestrial message?
Halloween Which I Will Never Forget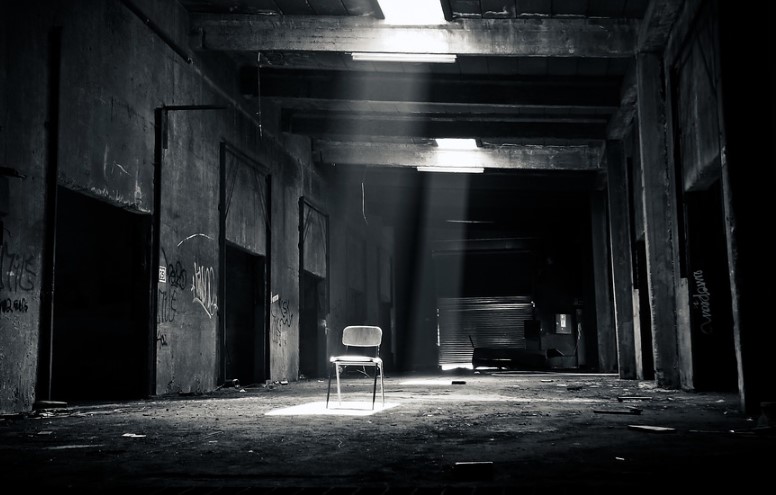 Anomalien.com reader story…
Now this story is true. I swear it on my mother's grave. I live in Montreal Quebec. Out here there are a lot of bizarre things but none so horrifying then what happened to me and my (ex-best friend). First of all, let me introduce myself. My name is Mike and my pal's name… Well, let's just call him Steve. Anyways here is our story.
It was around Halloween time last year when I and Steve got the idea to throw our party in the coolest spot we could find. So we started looking. Unfortunately, we did not have much money and all the nicest spots cost an arm and a leg to rent so we decided to start looking at other options.
We ended up finding an abandoned factory on the st-Patrick street and although it is against the law we figured what they don't find out we won't tell them. So anyways for the next couple of weeks, we went to the dollar store and we bought: candles, decorations, party favors, snacks and whatnot.
We figured we should decorate the place at the last Minute to lower the chances of getting caught. On October 30th we went down there me and Steve thinking of the coming bash and wondering where to get a good boom box in here that would work on batteries all night.
Steve was pretty nervous about the fact that a girl he liked a lot was going to be there. Anyways as we proceeded with the decorating I was hit by the most disgusting smell ever.
It reminded me of a plastic container filled with three weeks old leftover boild broccoli I once found in my refrigerator, then Steve started freaking out, telling me that he felt like there was something tightening around his throat making it hard for him to breath or swallow.
At first, I thought he was kidding me but then I started to think it was serious because his face was turning red and his eyes were bulging out and you could really see the panic in them.
Now at this point we were on the third floor of this building so I grabbed Steve and pulled him towards the stairs so we could get down and out of there.
Let me tell you that I wasn't feeling too good myself. I figured it was probably caused by the anxiety I felt for Steve, the stink in the air and the whole confusion of the moment but I felt like something was right in the back of us, when we reached the last flight of stairs only then, did I dare turn around and that's when I saw it.
It Was like a huge, thick, black shape. Very much like a shadow but much thicker and darker and I swear I could hear it laugh but the sound was very faint and distant, never the less. It chilled me to the bone and When I turned to Steve I could tell right away that he was seeing it too.
His face had turned white and he was staring at the thing with his mouth hanging open. We canceled the party and after that, I and Steve were never close the way we used to be.
Every time I tried to talk about What happened that day. He would get really mad at me and tell me to shut up about it until one day he just denied anything had happened at all and told me he did not want to see me anymore…
Mike