15 Things To Start Practicing Today To Be Happy
Albert Einstein once said that insanity is doing the same thing over and over again and expecting different results. Well, doing the same things everyday but with a slightly different approach is actually the key to happiness. Start bringing those changes in your attitude towards life and you'll see how simple it is to be happy.
Here are 15 significant attitudes that help you become happier in life.
1. Gratitude Appreciate what you have and value it. Try counting your positives and be grateful for all the good things and people in your life. Stop complaining and be thankful for what you already have and you'll soon start feeling happy.
2. Stop Labeling Stop labeling those things, people or events that you don't understand as being weird or different and try opening your mind, little by little. Minds only work when open.
3. Optimism Treat failure as an opportunity to learn a new and better lesson from life, and that's the trick to manufacture optimism in life. Never give up trying because that's an indication that something better is in store. Once you start harbouring an optimistic attitude towards life, success will automatically follow.
4. Release The Past The past you are now longing for — the past that you are now dreaming about — was ignored by you when it was present. Stop deluding yourself. Have a clear vision for the future, prepare yourself, but always be present in the now. Work on this by practicing with simple tasks every day. For example, when you cut the grass, just think about the grass and nothing else. When you're washing the dishing, immerse your full presence in dish washing. Eventually, your life will revolve around your day today, not yesterday.
5. Avoid comparison Nothing is as awful as comparing yourself to someone else. If you think you're better that the other person, you're letting yourself regale in an unhealthy sense of superiority. If you demean yourself in front of others, it means all your hard work and progress has been in vain. While social comparisons are unhealthy, self-improvement is effective.
6. Kindness There's a scientific reason behind every act of kindness that you do. Helping someone selflessly releases serotonin in your brain (Serotonin is the hormone that controls your mood) and hence makes you feel good about yourself almost instantly. Try doing one act of kindness everyday to flush out the toxins of depression from your system.
7. Stop Using Excuses Send them packing and tell them they're fired. You no longer need them. A lot of times we limit ourselves because of the many excuses we use. Instead of growing and working on improving ourselves and our lives, we get stuck, lying to ourselves, using all kind of excuses — excuses that most of the time are not even real. We sabotage ourselves beyond belief. If you find yourself making excuses, ask yourself why you are creating the excuse in the first place?
8. Nurture Relationships Relationships keep us alive and kicking. In fact, according to research studies loneliness doubles people's mortality rates. A circle of good friends, loving family members and cheerful colleagues are a reminder that you have people who care about you. There's nothing like having someone who you can share your experiences with. So nurture these relationships and say goodbye to a lonesome existence.
9. Forgiveness Hatred is a negative feeling and harbouring it will have nothing but negative effects on your well-being. Stop thinking about the hateful emotion/person and let it go. Forgive if needed, take things lightly and let it not affect your system.
10. Avoid Impressing Others Success may have nothing to do with how much money you have or how many cars you have, but how you choose to live a life of abundance which comes in many forms, many of which have nothing to do with material things. The moment you stop trying so hard to be something that you're not, the moment you take off all your masks, the moment you accept and embrace the real you, you will find people will be drawn to you, effortlessly.
11. Commit To Your Goals If you have a goal, work towards it. Anything is achievable if you put your heart into it. Wholehearted dedication and diligence can bring extraordinary results and consequentially add to your happiness. It is very easy to lose vision for what we truly want in life, but it is your dedication towars your goals above and beyond all obstacles that will make the difference.
12. Care For Your body Love yourself and love your body! Your physical condition has a direct connection with your well-being. A fit body and healthy mind is reflective of happiness. Start working towards the health of your physical, mental and emotional energy by caring for your body.
13. Believe Connect to a higher power. You're probably already doing this with or without knowing. Just a quick meditation or prayer is easy. If you have the time, join a local prayer group, visit a meditation center, or simply spend some time alone in nature. People who believe in a deity are generally happier than those who don't. Sometimes all you need to be happier is a little faith!
14. Dream Imagination fires motivation. Create a dream board and dream up something new you wish to experience. It could be finding a new lover, climbing a mountain, learning calligraphy, or going back to college. Dreams motivate, inspire and expand our sense of self. They also make us happy because they give our lives a sense of purpose. Happy people usually love what what they do, and if they don't, they love who they are. Dreams remind us who we are. 15. Give Cultivate a habit of sharing with others — your money, knowledge, service, wisdom, care, love. Find a person who shares a lot with others, and you will find a happy person. In giving, you always receive more. Not only do you get pleasure from giving, you give someone else pleasure. Giving has many unexpected benefits from attracting more happiness into your life, to inspiring others, and changing the lives of those you touch. In the end the whole world is made into a better place. Ask, "how can I serve?" Pay it forward. Give freely.
Can the Universe consciously imitate its own existence?
According to the new hypothesis, the Universe imitates its own existence in a "strange loop". In an article published by scientists from the Institute for the Study of Quantum Gravity, it is argued that the basis of the hypothesis is the theory of panpsychism, according to which everything in nature is animated. 
The article was published in the journal Entropy and, as the authors of the work write, is designed to combine understanding of quantum mechanics with a non-materialist point of view. In other words, scientists want to understand how real we are and everything that surrounds us. Agree, this is at least an interesting question for modern science and our understanding of the Universe.
What is reality?
How real is reality? What if all that you are, all that you know, all the people in your life, as well as all events do not physically exist in reality, but are a very complex simulation? Like in the series of the animated series "Rick and Morty" when one of the characters got into a simulation and did not even notice it. Our regular readers know that the philosopher Nick Bostrom addressed this issue in the foundational article "Do we live in computer simulation?", Which suggests that our entire existence may be the product of very complex computer models (simulations) controlled by advanced creatures whose the true nature we may never know.
I am not a supporter of this idea, but despite all the seeming madness of Bostrom's assumption, we really don't know what reality is. Modern science is not yet able to cognize the quantum world and understand, for example, why at the atomic level particles change their behavior when they are watched. At a time when physicists are working on building a mission that can figure out if a parallel universe or universes exists, Bostrom's idea does not look extraordinary.
But the new theory takes a step forward – what if there are no advanced creatures, but everything in "reality" is self-imitation that generates itself from "pure thought?"
The Physical Universe is a "strange loop", writes Quantum Gravity Research, a Los Angeles-based Institute for Theoretical Physics, founded by scientist and entrepreneur Clay Irwin. The work is based on the Bostrom modeling hypothesis, according to which all reality is an extremely detailed computer program – and they ask: instead of relying on advanced life forms to create the technology necessary to create everything in our world, is it not better to assume that the Universe itself is a "mental imitation of oneself"? Scientists associate this idea with quantum mechanics, considering the universe as one of many possible models of quantum gravity.
One important aspect that distinguishes this point of view from others similar to it is related to the fact that the initial hypothesis of Bostrom is materialistic and considers the Universe as physical. For Bostrom, we could just be part of an ancestral simulation created by posthumans. Even the process of evolution itself can simply be a mechanism by which future beings experience countless processes, purposefully moving people through levels of biological and technological growth. In this way, they generate the alleged information or history of our world. Ultimately, we will not notice the difference.
But where does physical reality come from that would spawn a simulation? Their hypothesis takes a non-materialistic approach, arguing that everything in the universe is information expressed in the form of thought. Thus, the Universe "self-realizes" into its own existence, relying on the underlying algorithms and the rule that researchers call the "principle of an effective language". According to this proposal, the simulation of everything is only one "great thought".
How could a simulation have arisen on its own?
Surprisingly, the answer is simple: she was always there, researchers say, explaining the concept of "timeless emergentism". This idea says that there is no time at all. Instead, there is a comprehensive thought, which is our reality, offering a built-in semblance of a hierarchical order, full of "sub-thoughts" that extend down to the wormhole to basic mathematics and fundamental particles. The effective language rule also comes into force, which assumes that people themselves are such "emergent sub-thoughts" and experience and find meaning in the world through other sub-thoughts (called "code steps or actions") in the most economical way (well, then) .
In correspondence with Big Think, physicist David Chester said:
Although many scholars advocate the truth of materialism, we believe that quantum mechanics can give a hint that our reality is a mental construct. Recent advances in quantum gravity, such as the vision of spacetime arising from a hologram, are also a hint that spacetime is not fundamental. In a sense, the mental construction of reality creates space-time to effectively understand itself, creating a network of subconscious entities that can interact and explore the totality of their capabilities.
Scientists associate their hypothesis with panpsychism, which considers everything that exists as thought or consciousness, the purpose of which is to generate meaning or information. If all this is difficult to understand, the authors offer another interesting idea that can connect your everyday experience with these philosophical considerations. Think of your dreams as your own personal simulations, the team suggests. Although they are fairly primitive (by the superintelligent standards of the future AI), dreams tend to provide better resolution than modern computer modeling and are a great example of the evolution of the human mind.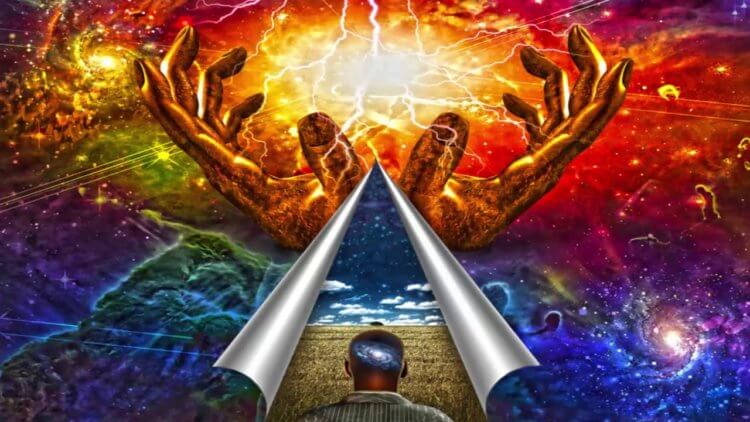 Most notable is the ultra-high resolution accuracy of these mind-based simulations and the accuracy of the physics in them. They point to lucid dreaming – when the dreamer realizes that he is in a dream – as examples of very accurate simulations created by your mind that at times cannot be distinguished from any other reality. So how do you know, while you are reading this article, that you are not in a dream? It turns out that it is not so difficult to imagine that the extremely powerful computer that we can create in the near future will be able to reproduce a similar level of detail.
Of course, some of the ideas of Clay and his team in the academic community are called controversial. But the authors of the work believe that "we should think critically about consciousness and some aspects of philosophy that are inconvenient for some scientists." We can not agree, because in science there are no or, should be no authorities. 
The journalist predicted a cancer-free future and was healed
ABC11 American journalist Michael Perchick predicted on his Twitter account that his future would not be related to cancer. The reporter later reported healing, and the post scored 1.8 million likes.
A 28-year-old North Carolina channel correspondent said in January that he was diagnosed with cancer. However, the journalist did not somehow comment on the current state, but wrote about the future. 
"In four months, I will be the 28-year-old who defeated cancer. To the battle! " – Perchik noted.
Many users supported his entry with comments with words of support. Some users remembered how they themselves fought with a similar diagnosis and they managed to prevail over a deadly disease. 
"I was diagnosed at the same age, two days after my 28th birthday. I'm 34 now. You will succeed, man. Kick your ass cancer," Humphrey03Pat wrote .
In April, Perchik announced that he had completed the necessary course of chemotherapy. 
On June 5, he retweeted his January post and wrote:
"New information about my life: I was right." 
This meant that the journalist was cured. In the comments, he met positive feedback from users. Some responded with a meme about dancing coffin carriers from Ghana, symbolizing a cancer funeral.
Death Angel Drummer talks about meeting with Satan during a coronavirus coma
Will Carroll, a member of the Philippine-American thrash metal band Death Angel, spoke about a meeting with Satan during a coronavirus coma. It is reported by the San Francisco Chronicle.
The 47-year-old drummer is sure he has been to hell. He fell ill with COVID-19 after a European tour of the band and was in critical condition for two weeks at a California medical center. Carroll was connected to a ventilator and was in a coma.
According to a member of the group, in nightmares, he appeared to have Satan in a female guise, who reproached him for being lazy and turned him into a monster resembling Jabba from Star Wars. After that, the drummer decided to abandon the use of strong alcohol and marijuana.
"I will still listen to satanic metal, and I still love Deicide and similar bands. As for my personal life and what I experienced, I don't think that Satan is so cool" Carroll said. 
He explained that he was close to death, but now he feels as if he was born again.