15 Foods A Nutritionist Refuses To Eat
Eating in the modern world can be difficult, what with all the genetically modified, chemically treated, and inhumanely raised food floating around out there. Sometimes compromising is necessary when it comes to food choices, if only to make the best of the current food crisis.
That said, there are certain foods that my philosophy as a nutritionist will simply not allow me to eat. Here are 15 foods that will never touch my lips:
1. Artificial sweeteners
Our bodies don't recognize these substances as food, and they tend not to aid weight loss in any meaningful way.
Alternatives: stevia, rice malt syrup, maple syrup, dates, raw honey (in small amounts).
2. Caged eggs
These come from egg-laying hens confined to cages, meaning they don't have space to move or stretch, and they show more fearful behavior and become prone to skeletal problems.
Alternative: Go for pasture-fed and certified organic instead.
3. Breakfast cereals
Highly processed, high GI because of the high and hidden sugar content (which causes your blood sugars to drop very quickly after eating them), high in sodium, high in preservatives. Just don't eat them.
4. Farmed salmon
Farmed salmon has a high mercury content and is usually higher in contaminants, including carcinogens, PCBs, brominated flame retardants, and pesticides.
Alternatives: Wild salmon.
5. Processed peanut butter
The second ingredient listed is often sugar, which means a large proportion of the peanut butter is sugar!
Alternatives: 100% nut butters found from in health food stores or a health foods section of grocery stores. My favorite is 100% almond butter or ABC (almond, brazil nut and cashew) nut butter.
6. Canned tomatoes
There's tons of hidden salt and sugar! The resin linings of tin cans contain bisphenol-A, a synthetic estrogen that has been linked to ailments ranging from reproductive problems to heart disease, diabetes and obesity. Acidity a prominent characteristic of tomatoes causes BPA to leach into your food.
Alternative: Use fresh tomatoes and saut to make them into tomato sauce.
7. Salted nuts
When nuts come pre-salted, the sodium content is sky high.
Alternatives: Raw and activated nuts and seeds.
8. Pre-packaged or frozen meals
Frozen or pre-packaged meals usually contain hidden sugar, high fructose corn syrup, salt and preservatives.
Alternatives: Home-cooked meals or pre-packaged meals from health food stores.
9. Table salt
Table salt is highly refined, which leaves it with little nutritional value. In high amounts it can be responsible for hypertension.
Alternative: Himalayan pink crystal salt
10. Non-organic dairy
Milk producers treat their dairy cattle with recombinant bovine growth hormone (rBGH or rBST, as it is also known) to boost milk production. But rBGH also increases udder infections and even pus in the milk. It also leads to higher levels of a hormone called insulin-like growth factor in milk.
Alternatives: Organic milk, A2 milk, almond milk, rice milk, coconut milk
11. Vegetable oil
Most commercial vegetable oils are highly processed and high in trans fats. Saturated fats usually get the blame, but TRANS fats are the ones responsible for the increase in LDL the bad type of cholesterol that may lead to bad heart health.
Alternatives: Coconut oil,
12. Packaged, processed bread
Bread you find packaged in supermarkets is typically refined and processed. These loaves are packed with (processed) wheat and gluten that the human digestive system finds very hard to break down. This kind of bread is also high in sodium, and is sometimes even high in sugar!
Alternatives: Ezeekial bread, rye or spelt, sourdough, make your own.
13. Processed meats
The animals that make these products are given growth hormones, antibiotics and other veterinary drugs, and are raised in deplorable conditions that promote disease. These meats are also filled with sodium nitrite (a commonly used preservative and antimicrobial agent that also adds color and flavor) and other chemical flavorings and dyes.
Alternatives: Grass-fed and organic meat
Margarine is high in trans fats, the fats formed during the process of hydrogenation, which turns liquid vegetable oils into a solid substance.
Alternatives: Organic butter and coconut butter
15. Unfermented soy products
Unfermented soy products, including tofu and soy milk, can mess with your hormones.
Alternatives: Fermented soy such as tempeh, miso and natto.
Polar vortex: "wild" winter is coming in the US, Northern Europe and East Asia after the 16th of January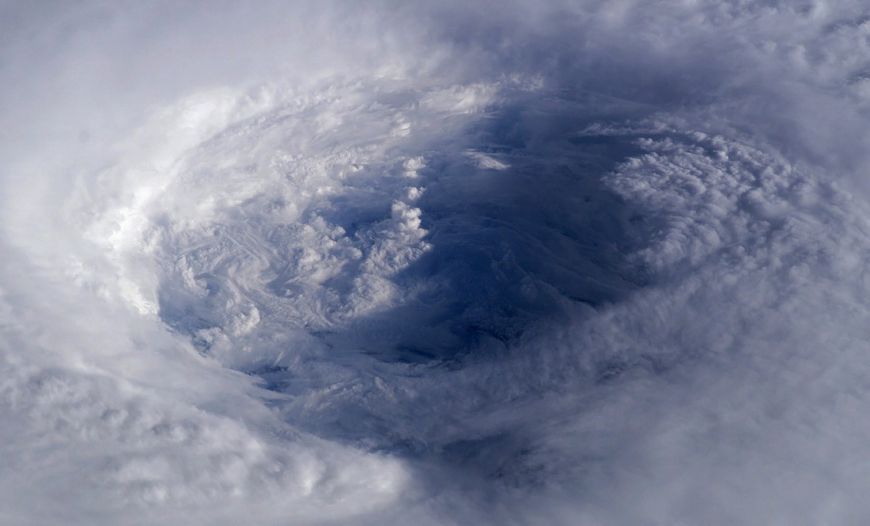 In the upper atmosphere above the North Pole, experts saw a rapidly swirling vortex of cold air that could bring severe frosts to the United States, Northern Europe and East Asia. Serious cold snap and snowy weather are expected after January the 16th.
Snowfalls and a cold snap hit South Korea since the start of 2021, hitting historic snow maximums and temperatures. In the country, for the first time since 1964, television and newer communications are sending people cold snap warnings:
The situation is similar in Japan, where a new snow storm hit historic highs:
On January 7, the thermometer In Beijing dropped to -20 degrees Celsius, breaking the 1966 record. In other regions of China, the temperature is also not sugar, and you can only move around in special uniforms:
The cold even reached Taiwan, where the temperature in some areas dropped below freezing point, snow poured down and people realized that rice terraces can be used as a ski jump:
Even more snow went to Spain, where on January 6, 2021, a temperature of -34.1 ° C was recorded – the lowest on record. After that, a snow storm hit the country, which has not been seen for 80 years:
The same thing happens in Canada and in the northern states of the United States:
It seems that after a stratospheric warming, the subpolar vortex began to split:
The vortex itself is a standard phenomenon. However, this time experts were surprised at his movement. It is possible that in the near future it will be divided into two parts. 
Scientists associate the strange behavior with the changed climate in the Arctic, which has become warmer. From September to December, the amount of ice cover decreased significantly.
The polar vortex is a low-pressure region located in the stratosphere and filled with cold air. When the jet stream of air that holds the vortex weakens, the low pressure area moves south. 
As the ice shrinks, more moisture will move inland. It will turn to snow, so snowfalls are expected. Snow, in turn, reflects heat, leading to a cold snap.
Hospital in Naples was evacuated after a new, huge sinkhole appeared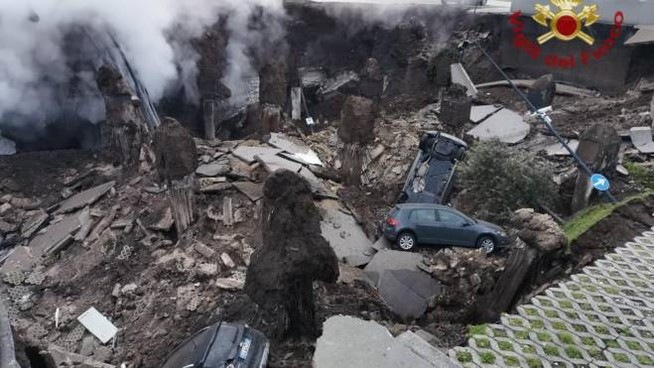 Eyewitnesses said they heard a loud crash at dawn when a huge hole in the ground formed outside the Ponticelli Ospedale del Mare hospital in eastern Naples.
Early in the morning of January 8, 2021, a sinkhole occurred in the parking lot of a clinic in Naples. The depth of the formed cavity is about 20 meters, the total area of ​​the hole is about 2,000 square meters.
No casualties were found at the scene; firefighters say the sinkhole "affected an area of ​​about 500 square meters" and engulfed several cars parked near the hospital.
As the press writes and as a little can be seen from the videos, rescuers and firefighters were running around the pit together with the governor of the area.  But who should be there in the forefront are Italian geologists, since Naples stands in the very center of the volcanic system known as the Phlegrean Fields.
If the surface collapsed, moreover – the surface reinforced with concrete and reinforced from below with some kind of communications, then we are talking about serious soil deformations caused by the activity of magma.
Italy has been in doubt since the summer of 2020, because swarms were observed there in very atypical places in May, and according to the forecasts of old Italian seismologists, who had witnessed many strong earthquakes, it should have boomed in the August region.
Fortunately, nothing bad happened to Italy and there was no big earthquake. But, since there are swarms, it means that something is being prepared, the magma is gathering strength. 
Following this particular sinkhole event – an obvious sign that a major earthquake in Italy is already very close.
A new great pandemic cycle has begun (again) in China
In the first months of 2020, the whole world with a certain fright followed the events unfolding in China, where people fell on the streets during the day and astronauts wandered, and in the evening crematoria began to smoke. And now, with the onset of December, the cycle seems to be repeating itself.
Shunyi area in Beijing, where the authorities announced "wartime status" the day before. As you can see in the videos, thousands of people are lined up in the queue for mandatory testing:
Dalian city, where "wartime" is also declared. Neighborhoods are blockaded, people are walled up in entrances, familiar characters of George Lucas roam the streets:
Chinese 'rescuers', before performing a combat mission:
Chengdu City:
Daluo Port, Yunnan – tourists came for adventure and they received the 'time of their life' after leaving the ramp:
If something happens in Beijing, it does not mean that tomorrow the same will happen everywhere. However, the trend towards such dynamics is observed and, as the practice of the first wave of the pandemic has shown, all countries and people, to one degree or another, have taken into account the 'Chinese experience'.
Therefore, one must think that everything will now be in peace, as in spring – a new global round of the fight against the Covid has begun in China, a new great pandemic cycle!