13 spooky vintage board games to play this Halloween
Battle monsters, ghosts, voodoo curses, boobytrapped mansions, haunted carnival rides, and more with these vintage spooky board games.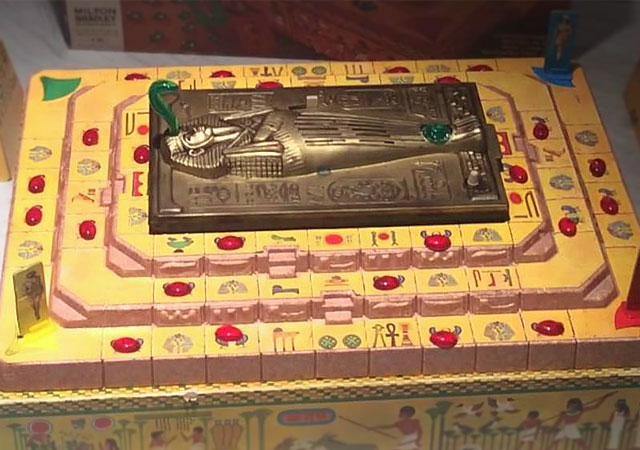 Voice of the Mummy board game
The Ouija board is the only board game known to cause so much fear that people refuse to touch it. But these vintage board games from the 1960s, 70s, and 80s are considerably spookier. We're talking about games where a mummy's voice echos from its tomb, an electronic Deathhead determines if you win a battle against demons or perish, a game where you put voodoo curses on the other players, and plenty of haunted mansions with traps, treasures, and monsters lurking around every corner.
With their eerie box art and creepy themes, these board games will add some spooky fun to the Halloween season without putting your mortal soul in danger.
1. Seance (1972)
Your dear Uncle Everett has died in this rare board game from Milton Bradley. According to the directions, Everett was a spiritualist. He believed his spirit would return from the grave to guide the distribution of his wealth.
Although he left the bulk of his estate to his parrot, players (his nieces and nephews, of course) gather in his creepy Victorian mansion to hold a seance and bid on his remaining possessions of unknown value. Everett's ghostly voice emanates from an actual record player hidden inside the seance table. When everything has been bought, Uncle Everett reveals how much each item is worth, or how much each player owes in taxes.
The player with the most money wins.
"When the game is over and the room is plunged into darkness," the instructions read, "it is said that the image of Uncle Everett may be seen."
2. Ghost Castle (1985)
Based on Milton Bradley's earlier Which Witch? and Haunted House (The Real Ghostbusters board game was also a re-themed version of this), players had to collect ghost card and avoid traps as they made their way up the stairs to close the coffin lid and "lay the ghost."
3. Mystic Skull: The Game of Voodoo (1964)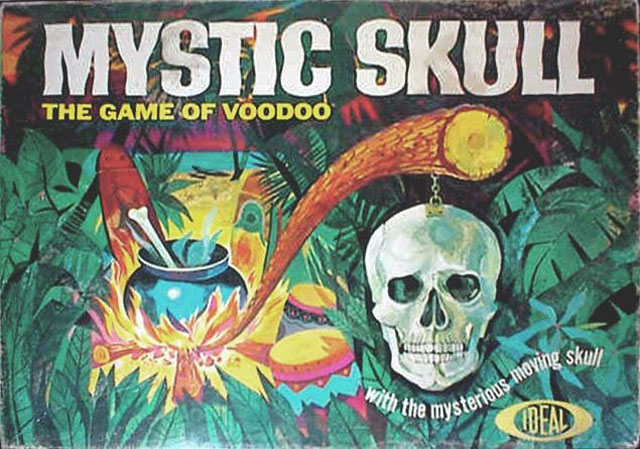 Each player is a witch doctor with a voodoo doll. When you stir the cauldron, the Mystic Skull spins and determines where you will place the next pin in your opponents doll.
4. Escape from Frankenstein (1983)
Players move around Frankenstein's castle looking for the key that matches their color, hoping to reach the laboratory and shut off the power before the monster comes alive.
5. Green Ghost (1965)

The Green Ghost board is on stilts, players can fall through trap doors, there's keys, bat feathers, bones, snakes, ghost children, pets, and it was the first board game to glow in the dark. I have no idea what you need all of these things, but the inclusion of everything creepy means it's obviously amazing.
6. Alien (1979)
Aliens have invaded the Nostromo. Each player is an astronaut trying to make their escape on the shuttle while using their own personal xenomorph to eliminate other players. While it may seem tempting, please refrain from laying eggs inside your opponents.
7. Ghost Train (1974)
Based on the Ghost Train amusement park ride, this game simulates the experience by including sudden and jolting changes of direction, dead stops, getting stuck, and mechanical ghosts. I'm keeping my fingers crossed for the expansion pack where you have to buy tickets, wait in line, and exit the ride feeling like you got seriously ripped off.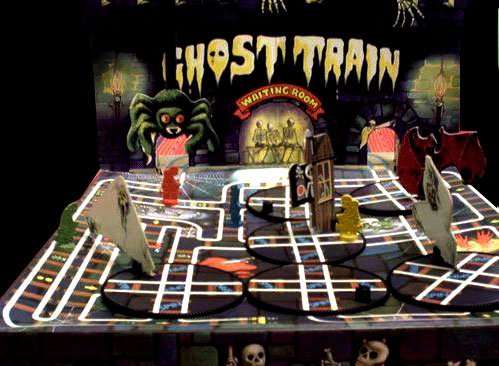 8. Mystery Mansion (1984)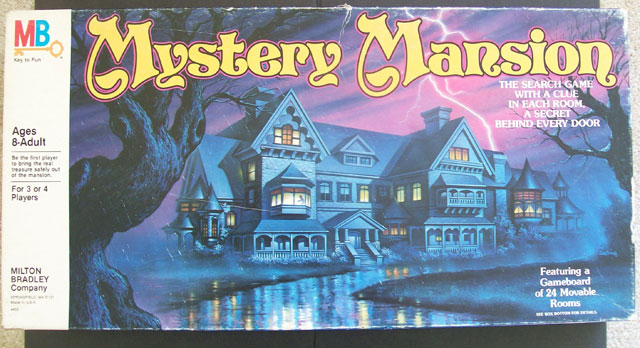 Roll the dice and search for clues as you build a Victorian mansion room by room in hopes of finding a treasure chest filled with gold and jewels rather than cobwebs and dust.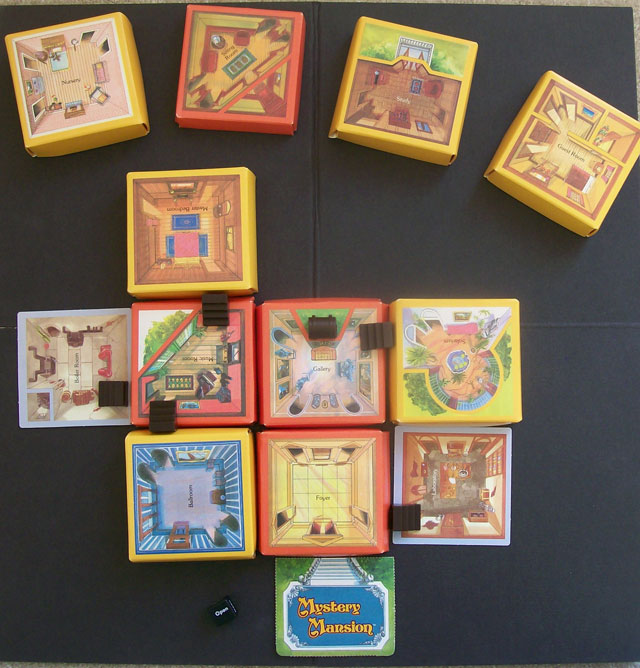 9. Voice of the Mummy (1971)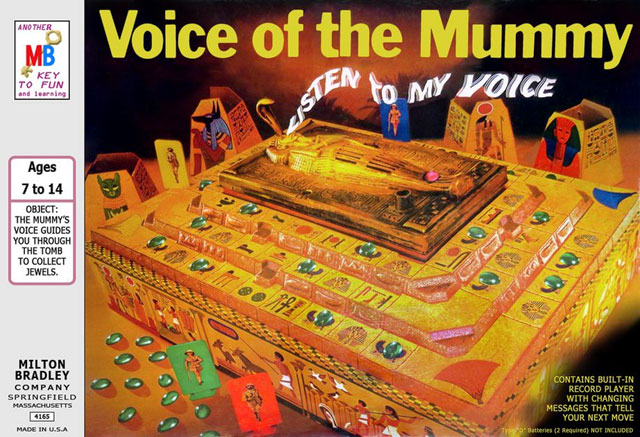 The precursor to Seance, Voice of the Mummy also has a record player inside. The mummy doles out instructions while players race around the three levels of the sarcophagus collecting gems. All the fun of looting tombs without all those pesky death curses.
10. Scream Inn (1974)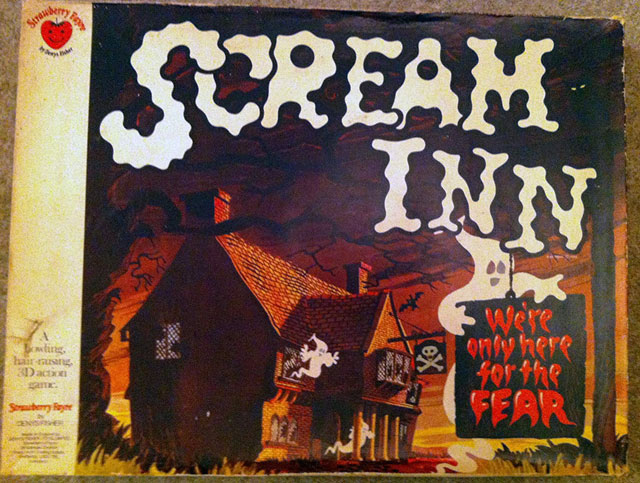 With a slogan like "We're only here for the fear!" this must be the world's first (only?) dark tourism board game. Players spin the wheel and try to get all of their pieces out of the haunted inn without disturbing a ghost.
11. Superstition (1977)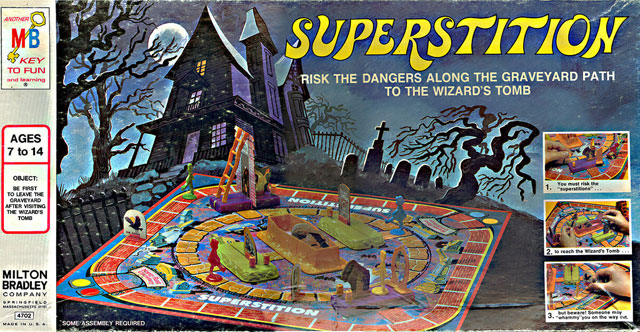 Players wander around a cemetery trying to reach the Wizard's Tomb, but the graveyard is full of rubberband-powered traps with superstitions like a black cat and a broken mirror that may fling your piece off the board.
12. It from the Pit (1992)
Players have to dash for the treasure chest while a giant green mechanical monster tries to pull their tiny plastic explorers into the pit full of bubbling green goo.
13. Horror House (1986)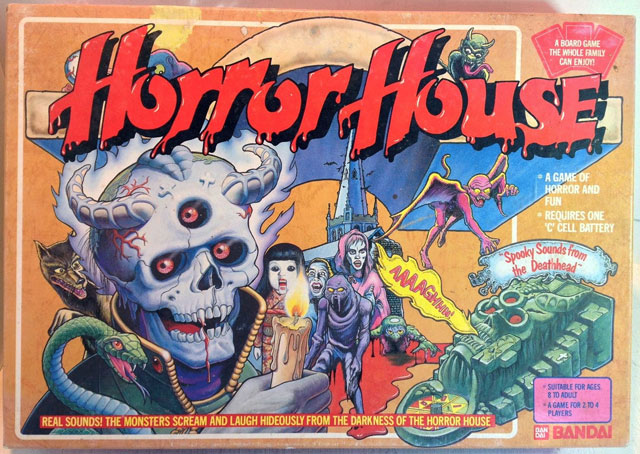 Face off against 45 monsters from around the world (including the dreaded Umbrella Monster!) in this electronic board game from Bandai. Players move through the house fighting these monsters while the Deathhead Roulette determines the outcome of each battle. The demons scream if you win. If you lose, a wicked laugh emanates from the Deathhead.
Be careful with this one, though. Bandai recommends you never play alone.
Which of these spooky board games was your favorite to play when you were young? Let me know in the comments below.
Strange Sounds Recorded Coming from Greenland's Skies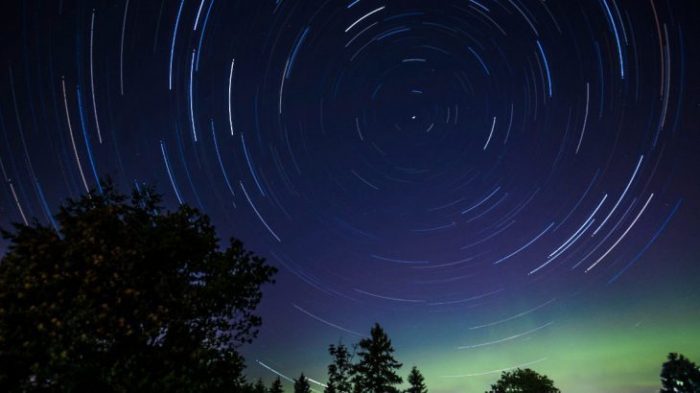 A YouTube user ('Finn Enoksen') shared video clip of strange sounds he recorded that seemed to come from the skies over Greenland on January 4th:
"I hear that strange sound like for 1hour but sometimes it silence for 5 or 10 minute, it little bit hard to heard because that strange sound is not loud."
Creepy Unsolved Murder Mysteries
The boy in the chimney
In 2008, teenager Josh Maddux left the house where he lived with his dad to run an errand. He disappeared, and seven years later, his remains were found in the fetal position, stuffed into the chimney of a nearby historic cabin. His body, devoid of wounds, showed no signs of a struggle. As The Huffington Post reported, "When the teen's skeleton was found, his knees reportedly were above his head and a hand was covering his face."
The strangest details were slowly released to the public in the following weeks. Maddux's had been clothed only in a thermal undershirt, and the rest of his clothes were lying on the floor inside the cabin. Construction workers confirmed that rebar on the chimney's opening meant he would not have been able to climb down, so he must have been trying to climb up.
To make matters worse, an anonymous Reddit post later detailed a rumor that Maddux had been coerced by a friend who went on to become a serial killer.
Hannah Upp's Disappearances
As chronicled in a New Yorker exposé, 23-year-old Pennsylvania resident Hannah Upp has led a life peppered with disappearances. Seemingly without a direct cause, Upp enters a fugue state and disappears off the grid, cutting off communication with her friends and family, and after a while, she's often found near water.
Doctors diagnosed Upp with "a diagnosis of dissociative fugue, a rare condition in which people lose access to their autobiographical memory and personal identity, occasionally adopting a new one, and may abruptly embark on a long journey." She disappeared again last year and her belongings were found near the ocean on St. Thomas — the strangest thing about her case is the fact that her parents seem apathetic, or mystical, even, when asked about their missing daughter by the press.
Kathy Hobbs Predicts Her Own Death
The kidnapping and murder of 16-year-old Kathy Hobbs is so odd that it was featured on an episode of the cult classic series Unsolved Mysteries.
After her death in 1987, Hobbs' parents and friends disclosed that all her life, Hobbs had suffered from "premonitions" that foreshadowed her death at 16. In her teen years, she developed agoraphobia and refused to leave the house, but on her sixteenth birthday she believed the curse had been broken — or, so say her family and friends. Just three months later, she was attacked coming home from buying a paperback novel and murdered with blunt force trauma to the head.
In 1989, a Toledo man named Michael Lee Lockhart was charged and convicted with Hobbs' murder, though Lockhart never confessed. The internet is divided on whether Lockhart actually shot Hobbs, but the real point of contention is the young woman's premonitions. Why was she able to predict a seemingly random act of violence?
More mysterious electrical sky events over Dublin, Juarez and amazing explosions in Kenner, Louisiana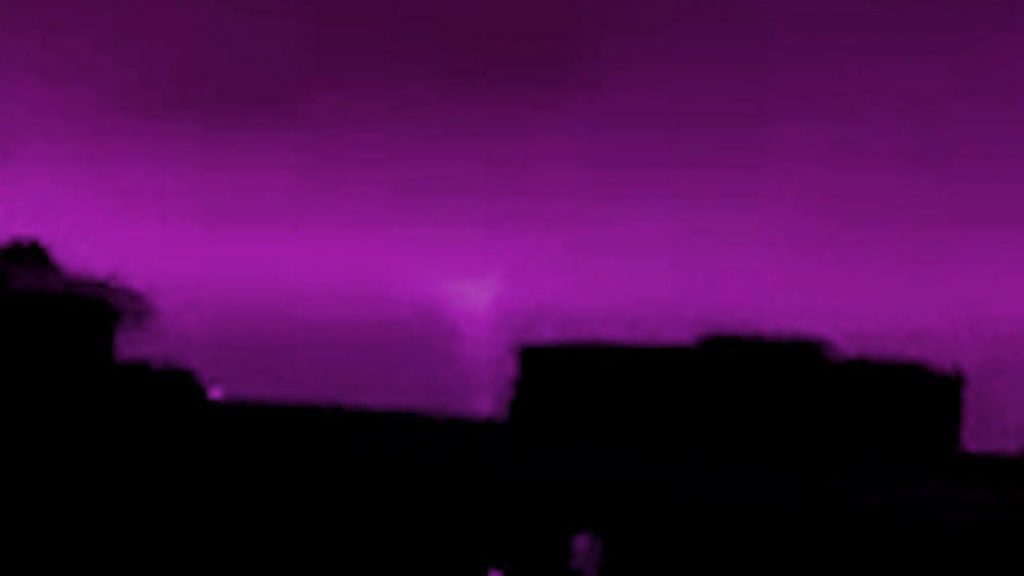 On the same day as the sky lit up with mysterious blue light over Queens, NYC, powerful electrical explosions also occurred in Kenner, Louisiana and Ciudad Juarez, Mexico. Two days after, something really weird occurred over Dublin, Ireland. It seems to be a widespread electrical phenomenon. Are they all linked? Like to a geomagnetic storm or something similar going on in space? Or are these phenomena all more grounded like the mystery behind "Project Blue Beam."
Anyone know what the light show over Dublin is? Could it be a geomagnetic storm?
Any one know what the light show over #Dublin is? pic.twitter.com/TW5oec8tRd

— James Brophy (@jamesfbrophy) 30 December 2018
This next video was recorded on December 29, 2018, around 8:45 in Drimnagh, Dublin. Here the Youtube video:
Or can these light source be caused by something more grounded? Such as the mystery behind the so called top secret "Project Blue Beam."
The following video was recorded in Dublin on December 29, 2018:
Here a summary and discussion of both sky phenomena:
Electrical explosions in Kenner, Louisiana
A video captured by Giovanni Bommarito show the dramatic moment of multiple electrical explosions in Kenner, triggering power outages for more than 10,000 customers on December 27, 2018:
Wind gusts in the New Orleans area reached as high as 51 MPH overnight Wednesday and into Thursday morning.
Coincidentally this event occurred on the same day as the sky lit up with mysterious blue light over Queens, NYC:
Strange explosion and object in Ciudad Juarez
© The Juarez Times/Facebook
There are definitely odd things happening on the planet. Perhaps these incidents are related 'electrically' in part to the 'grounding' of our Solar System?