11 crazy Bigfoot conspiracy theories
Whether or not you believe in Bigfoot, chances are you live pretty close to somebody who does: Sasquatch sightings have been reported in every state but Hawaii over the course of several centuries. In the process, a number of bizarre theories have been put forth to explain how the mysterious beasts came to be, reproduce, and constantly evade us.
1. A DNA test proved that Bigfoot is a part-human hybrid…and deserves U.S. citizenship! Texas veterinarian Melba S. Ketchum claimed last November to have proved via a Sasquatch DNA sample that the legendary apes are partially human. She even went so far as to insist that the government recognize them as "an indigenous people and immediately protect their human and Constitutional rights."
2. The government secretly removed burnt Sasquatch corpses from Mount St. Helens after the 1980 eruption. Following the disaster, a few witnesses reported seeing federal helicopters carrying off the charred remains of several Sasquatches from the area. Prior to the eruption, Mount St. Helens had already been a hot spot for supposed "ape-men" sightings since the 1920s. In fact, so many of these stories were recorded that a nearby gorge was eventually named "Ape Canyon."
3. Bigfoot is really a caveman. In 2007, Vancouver Island resident Robert Wilson claimed to have seen "what I thought was a bear. I drove down and saw what I could only describe as a large, hairy man who looked cave man-like… with sort of Neanderthal features. As big as a bear, easily." Expanding on his claim, a 2011 History Channel documentary proposed that "[the] Sasquatch might not be a giant ape at all, but could be a species of prehistoric human." You can see the segment in question at this video's 55-minute mark.
4. Bigfoot is really an alien. Two conspiracies for the price of one! In 1973, Pennsylvanian UFO researcher Stan Gordon said he noticed an increase in sightings of Sasquatches entering and exiting extraterrestrial vessels. Fascinated by the possibility that the mysterious primates may actually hail from another planet, Gordon quickly set up a "UFO-Bigfoot Hotline" that still runs to this day.
5. Bigfoot is really a giant ground sloth. While most "experts" believe the Sasquatch to be some form of shaggy primate, a few have opined that these beasts are actually surviving giant ground sloths. For more on these fascinating prehistoric mammals, do go here.
6. Sasquatches occasionally sodomize domestic cows. Animal-on-animal bestiality is far from uncommon. Accordingly, more than a few farmers claim to have witnessed male Bigfeet (which is the plural of Bigfoot) getting intimate with some unfortunate bovines. (Where's Gary Larson when you need him?)
7. Sasquatches appear in the Bible. A few modern creationists have argued that the giants briefly mentioned in the book of Genesis were actually early Bigfeet.
8. 10 percent of Sasquatches might be gay. Cryptozoologist Loren Coleman recalls having once "lightheartedly wondered aloud if 10 percent of the Bigfoot population, matching the figures we have on Homo sapiens, might be gay." Days later, he was shocked to discover a slew of angry e-mails denouncing him for calling "Bigfoot a homosexual." You can visit Coleman's official website here.
9. Sasquatches bury their dead. One of the most jarring questions for cryptozoologists is: "If Sasquatches are real, why don't we ever find their bodies?" Many believers argue that, not unlike modern elephants, the elusive apes actually bury their dead. For a lengthy list of purported "sightings" of Bigfoot burials in progress, check this out.
10. The government captured a live Sasquatch in 1999. In 1999, a number of simultaneous fires ravaged Battle Mountain, Nevada. An injured Bigfoot was supposedly spotted in the carnage before being whisked away by government officials for treatment. A brief summary of the alleged event is available at the Sierra Tahoe Bigfoot Research Blog.
11. Bigfoot calls have been documented and can be easily mimicked. Believers feel that Bigfoot calls are diverse and distinctive, as evidenced in Animal Planet'sFinding Bigfoot series.
Here's another in which the program's host, James "Bobo" Fay, shows off his Sasquatch roar to a confused Conan O'Brien.
More than 5,000 strange holes have been found at the bottom of the Pacific Ocean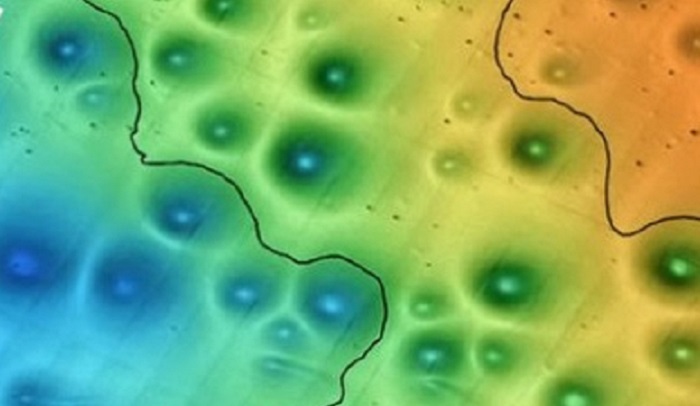 On a relatively small part of the Pacific Ocean, off the western coast of the United States, there are several thousand indentations of various sizes, the origin of which is not completely clear.
This was reported by scientists at the Monterey Bay Aquarium Research Institute (MBARI).
The larger pits have an average width of 175 meters and a depth of about five meters. Their shape is almost perfectly round.
Over the last few years, experts at MBARI and other organizations have found more than 5,200 such holes, such as smallpox, on an area of ​​approximately 1 300 square kilometers. So far, this is the largest concentration of such sites in North America.
More recently, scientists have been exploring the bottom of California in more detail. The fact is that they want to build a power plant there, but first they need to study the local conditions in detail.
Thousands of small pits or micro-depressions have been discovered using sonars mounted on autonomous submarines. Their width is about 11 meters and the depth is about a meter. Moreover, their shape is not round but oval.
Previously, similar seabed depressions have been found elsewhere in the world, and their origin is mainly due to methane emissions.
However, MBARI researchers find no evidence of this gas in the bottom sediments or in the water in this region.
Sonar data showing sludge bed layers, indicate that these points have been inactive for the last 50,000 years.
Scientists discover that the Y chromosome is disappearing from the blood of men
A study has found that Y chromosomes of men are disappearing as they get older and could put them at greater risk of cancer.
Humans have 23 pairs of chromosomes. The Y chromosome is considered the male chromosome and women don't have it: they have the XX chromosomes while men have XY.
But researchers have discovered that many men also lack Y chromosomes in some of their white blood cells.
The investigation
To reach this conclusion, scientists led by the University of Cambridge conducted a study on samples of 205,011 men, obtained from the Biobank gene bank in the United Kingdom, which contains the DNA of 500,000 volunteers.
They identified 156 autosomal genetic variants related to the loss of the Y chromosome, which were preferably close to genes involved in the regulation of the cell cycle, susceptibility to cancer or somatic drivers of tumor growth.
They found that more than four in 10 men (43.6%) had lost a notable proportion of their Y chromosomes at the age of 70.
The researchers found that one in five men in a sample of more than 200,000 had begun to lose Y chromosomes of DNA in some of their blood cells.
20% of men of all ages had lost some of the Y chromosomes in their blood and this proportion had doubled when men were 70 years old.
Subsequent analysis showed that people with high genetic predisposition to lose the Y chromosome were at greater risk of suffering from some type of cancer. The autosomal genetic variants found also influenced other aspects such as reproductive aging or type 2 diabetes.
Possible causes
The study authors believe that the loss of Y occurs through predisposition to processes that promote errors in cell division, or processes that help create an environment where aneuploid cells (cells with an abnormal number of chromosomes) are more likely to proliferate.
The team that made the discovery said that this strange change may be a sign that men's DNA was unstable and that the body was allowing random genetic mutations to accumulate.
The research has been published in the magazine Nature.
The Dani cannibal tribe and their smoky dead ancestors
In the Baliem Valley, West Papua Province in Indonesia, lives a weirdly primitive tribe called the Dani People.
A few decades ago, Dani actively practiced ritual cannibalism. It is now reported that this tradition has been discontinued.
In their recent macabre history, there is no less a frightening tradition of smoked dried carcasses of their dead relatives over a fire. And also cutting off the phalanges of women's fingers.
The phalanges were cut with a stone axe. This procedure is performed for those women who have lost a male relative: husband, son, brother or nephew, to emphasise the pain of loss and to appease the dead's spirit.
The surgery was primitive and rough, but the wounds on the hands of the women healed well and fairly quickly.
Recently, Italian photographer Gianluca Chiodini visited the village of Dani People and made unique color photographs.
Chiodini wandered in the jungle for days trying to find the tribe and finally he was lucky.
The photographer shares:
"The natives greeted me warmly and did not even try to eat me."
Gianluca was shocked to see the 250-year-old corpses of the dead, Dani's "eternal" ancestors, completely black from smoking for a long time.
The guide told the Italian that seven smoked mummies are stored in the village, but only two of them are allowed to be shown to strangers. The rest are taboos, and if the photographer tries to find them himself and photographs them, the natives could kill him.
To prevent mummies from decomposing, they are removed daily and carefully smeared with ointment of herbs and lard. Then they are hung over the fire so that the smoke can penetrate well into the body. All this has been happening daily for 250 years.
Dani people stopped eating their relatives only after 1990, at least officially. Now the meat they eat is mostly pork.
The natives hunt wild pigs with bows and arrows. After being captured and killed, the pigs are wrapped in palm leaves and allowed to be smoked by fire, like the mummies of their ancestors.
When the meat is hot, it is considered ready. Men are the first to eat, and women and children eat what is left behind.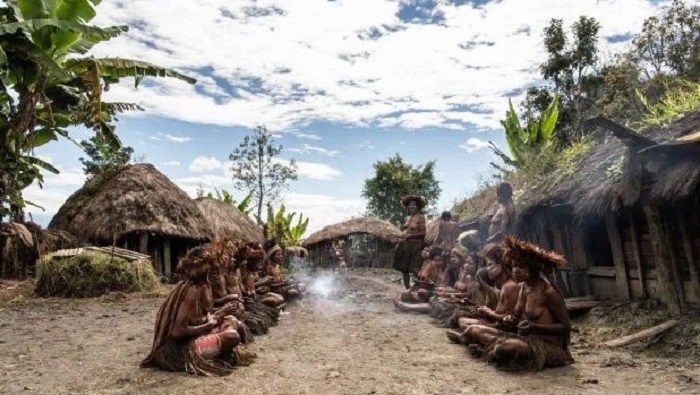 Many women in the tribe have their fingers cut off, meaning they have lost many male relatives.
Whether these deaths were in battle with neighboring tribes or through illness, history is silent …
Now, finger-cutting is also considered a forbidden procedure and in young women the fingers are already intact but you can still see the amputated hands of the older women.