1,000-Year-Old Mammoth Bone Pendant With A Mysterious Message In Turkic Runes Discovered In Yakutia
An 11-year-old boy in the village of Yakutia has discovered a 1,000-year-old message on a pendant that was carved into a mammoth bone with Turkic runic inscriptions.
The four mysterious words are believed to be in the Orkhon-Yenisei type script. Such writings are normally found in rock art in Yakutia, also known as Sakha Republic, the world's coldest region.
Academic Ninel Malysheva said: 'Runes rarely occur on such things as talismans and amulets. 'If it is confirmed that this bone found in Namsky district is genuine, it will be a great scientific discovery for the republic.  'A comprehensive study is now required involving paleontologists, archaeologists and Turkologist. Studies on exact dating and decoding the inscription are underway at the Museum of Writing, part of the North-Eastern Federal University (NEFU).
Photo © Michil Yakovlev (Image Source)
Photo ©Michil Yakovlev (Image Source)
Interesting fact:
One of the earliest recorded Turkic language is in the form of a script called "Turkic Runes", found in Russia's southern Siberia and the Xinjiang uygur Autonomous Region of China (a region not surprisingly also known as Chinese Turkestan) beginning at around the 8th century CE.
Example of Turkic runes. "Irk Bitig Fal Kitabı" page 7. 9th century. ©The International Dunhuang Project (Image Source)
What are the four mysterious words?
One theory is that the words express 'good wishes', but scientists hope to find the exact meaning.
Village where the ancient pendant was discovered is some 100 kilometres north of Yakutsk, the regional capital, and the world's coldest city. Another example of Turkic runes in Yaktutia is the so-called Petrov inscription. It is a writing made using ocher some 200 km from Yakutsk. It is known as the most northerly rune inscription in the world.
Researchers in the middle of the last century believed that the inscription indicated the location of medieval treasure.
A literal translation is said to read: 'Pearls of the tribe Az.' Scientists claim such Turkic scripts date back 1,000 years or more.
The Old Turkic script – also known as variously Göktürk script, Orkhon script, Orkhon-Yenisei script –  is the alphabet used by the Göktürks and other early Turkic khanates during the 8th to 10th centuries.
The script is named after the Orkhon Valley in Mongolia where early 8th century inscriptions were discovered in an 1889 expedition by Nikolai Yadrintsev. These Orkhon inscriptions were published by Vasily Radlov and deciphered by the Danish philologist Vilhelm Thomsen in 1893. This writing system was later used within the Uyghur Khaganate.
Additionally, a Siberian variant is known from 9th century Yenisei Kirghiz inscriptions, and it has likely cousins in the Talas Valley of Turkestan and the Old Hungarian alphabet of the 10th century. Words were usually written from right to left.
Yakut runic letters are the least studied in Siberia. They provoke heated discussions among the linguists and Turkologists. But most new finds of inscriptions are made in Yakutia. Now the total number all Yakutian finds is close to 90. Most runic inscriptions of Yakutia have not yet been deciphered.
Source: siberiantimes
Burial Site of Anglo-Saxon Prince May Be Greatest Discovery Ever in UK
When the discovery of a well-preserved royal gravesite is being compared to finding the tomb of King Tutankhamun, it's obviously a big deal. When it's in the UK and the remains may be from a 6th century Anglo-Saxon prince, it's definitely a significant find. When the richly-appointed ancient royal tomb is discovered between an Aldi's and a pub, it's the height of irony. The tomb was once believed to belong to Sæberht of Essex, the first East Saxon king to have been converted to Christianity, but new evidence points to it belonging to his brother, Saexa.
"In 2003 archaeologists from MOLA (Museum of London Archaeology) excavated a small plot of land in Prittlewell, Essex, for Southend-on-Sea Borough Council. They were astounded to discover an intact Anglo-Saxon burial chamber."
According to its website, when the team from MOLA opened what would have been a 13-foot (4 meters) square timber tomb about five feet high Prittlewell, near Southend, Essex, they found over 40 well-preserved artifacts, including a lyre (a harp-like instrument), gold coins, a gold belt buckle, drinking vessels, a sword trimmed with gold, a flagon from Syria and decorative glass beakers, all placed carefully in such a way that they knew it was the tomb of royalty. Unfortunately, what they didn't find was the royalty – the only human remains in the tomb were tooth enamel fragments. (Photos of the artifacts here.)
"The team left no stone unturned, using a range of techniques – from soil micromorphology and CT scans to Raman spectroscopy, scanning electron microscopy and mass spectrometry – in their quest to reconstruct and understand the chamber as it would have been on the day of the funeral."
After the site was excavated and the artifacts taken to MOLA, 15 years of research at first pointed to the tomb belonging to Sæberht, who ruled over the Kingdom of Essex from 604 to 616 CE. Sæberht was the first East Saxon king to have been converted to Christianity and gold crosses found in the tomb which would have been placed over the eyes confirmed this was a Christian burial, making this the earliest known Christian tomb ever found in the UK. However, further study showed the tomb being built somewhere between 575 and 605 – too soon for Sæberht.
The artifacts have been stored and displayed at the Museum of London Archaeology, but now a number of them are being moved back to Southend to go on permanent display for the first time at the Central Museum. In conjunction with the move, MOLA archeologists are now stating that the tomb most likely belonged to Saexa, Sæberht's brother who died earlier and never ruled Essex. Not much else is known about Saexa or how he died, according to Sophie Jackson, MOLA's director of research and engagement.
"There's a lot of debate about whether he was a fully-fledged hairy beast Saxon warrior, or younger. Had he died before he could really prove himself?"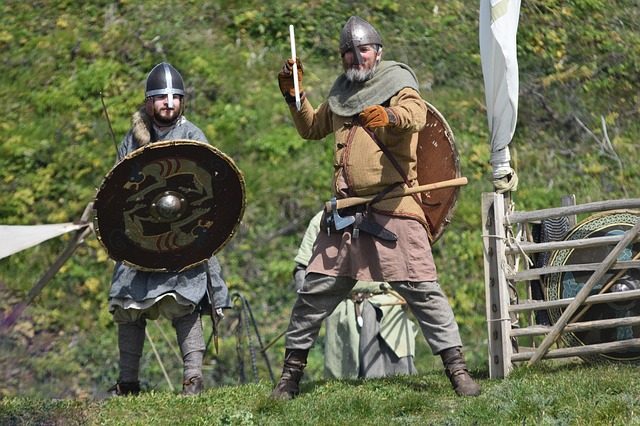 Nonetheless, Jackson joins in with those who call the discovery between a pub and an Aldi's "our equivalent of Tutankhamun's tomb." If you can't make it to the museum, MOLA has an outstanding recreation of the tomb on its website.
"A fully-fledged hairy beast Saxon warrior"? That doesn't sound much like Tut.
Source: Mysterious Universe
Chunk of Stonehenge returned after 60 years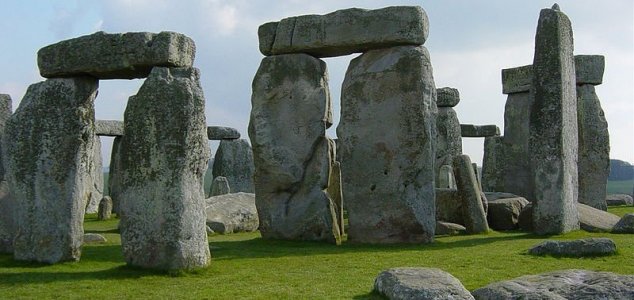 Image Credit: PD – Wiki
A little piece of Stonehenge is now back where it belongs. 
A piece of the enigmatic monument that has been missing for six decades has finally been returned.
The cylindrical fragment, which measures just over one meter long, was obtained by Robert Phillips of diamond cutting firm Van Moppes in 1958 when some of the cracked stones at the world-famous heritage site were being re-enforced with metal rods.
Phillips would end up taking the stone core with him when he emigrated to the United States but now, on the eve of his 90th birthday, he has finally asked for it to be returned to where it belongs.
"The last thing we ever expected was to get a call from someone in America telling us they had a piece of Stonehenge," said Heather Sebire of English Heritage.
Given that it was taken from the middle of one of the stones, the missing piece is not as weathered as the monolith itself, making it ideal for study. Scientists hope that a detailed analysis could help to reveal more about precisely where the stones that make up Stonehenge originally came from.
"Studying the Stonehenge core's 'DNA' could tell us more about where those enormous sarsen stones originated," said Sebire.
Intriguingly, a total of three such cores were removed from the monument during the 1950s, meaning that two more of them are still out there in the hands of private owners.
Determining their whereabouts however is likely to prove a considerable challenge.
Source: Reuters
They find remains of a mysterious Mayan queen of 1,500 years old
The complete skeleton of a 1,500-year-old Mayan queen has been discovered in a hidden pyramid in the Guatemalan jungle. Archaeologists believe that the remains of her husband, the king, are very close.
Little is known about the identity of this monarch found in an underground chamber inside a pyramid in the Holmul area – a Mayan archaeological site near the border with modern Belize.
According to the archaeologists, the technique called LIDAR was the one that allowed to find pyramids, entire cities, walls, among other Mayan treasures, that until now had gone unnoticed in the north of Guatemala.
Among these structures identified by laser technology, there is a complex of three pyramids on the outskirts of the city of Witzna. The bones of the queen, discovered under one of these pyramids, denote that she was already an old woman at the time of death, and the trousseau that accompanies her clearly evidences her position within royalty.
This finding means that at least one "king" is buried nearby, so archaeologists will continue to explore the site in search of their remains. The hypothesis is sustained, in addition, in a vase to drink chocolate found there, whose inscriptions name a monarch.(Mayan queen)
"Nobody but a king or queen would have possession of this type of item," explained archaeologist Francisco Estrada-Belli. "We know from many references elsewhere that, on certain important occasions, a king would invite his allies and his lords and make some of these vases made for him and then donate them to his closest allies. We believe that this is the reason why this individual, who is definitely not the person named in the vase, must have it. "
The excavation in the Witzna complex also revealed an old military building: a watchtower. At his feet, inside a deep well, a skull and teeth belonging to a sacrificed child were unearthed.(Mayan queen)
Also, more ritual activity in the area includes a large number of fragments of vessels that would have been offerings deposited on the top of the queen's pyramid.
Other stone monuments have signs of having suffered the effects of fire and destruction of their inscriptions; something that scholars believe represents more evidence of rituals or of some military attack.
"What happened at the base and at the top of the pyramid – burned by fire – can be two different things, but in the case of a broken stone monument, we are sure that this was basically an attack on the city . Many of the most important buildings were destroyed, burned, and the monuments with the images of the disfigured kings, "said Estrada-Belli.
More details about this discovery are released in "Lost Treasures of the Mayans", a documentary broadcast in National Geographic. What do you think? Leave your comment below.