10 Shadowy Biblical Characters No One Can Explain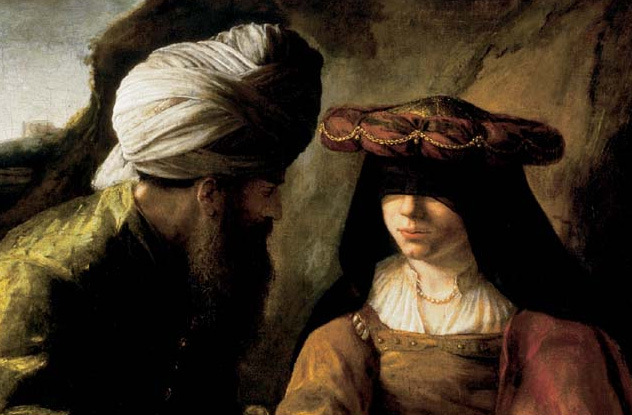 The canonical Bible is filled with mysterious characters, many of whom drop in for a cameo, do their thing, and then slide out, never to be heard from again. Some are merely extras, but some have a contextual presence that begs further examination. And some are, well, just weird.
10  Melchizedek
Probably the single most mysterious figure in the Bible, Melchizedek was a priest-king of Salem (later known as Jerusalem) in the time of Abram (Abraham), suggesting a religious organization, complete with ritual and hierarchy, that predated the Jewish nation and their priestly lineage from the tribe of Levi. He is only portrayed as active in one passage, although he is alluded to once in Psalms, and several times in the New Testament's Epistle to the Hebrews.
Some Jewish disciplines insist that Melchizedek was Shem, Noah's son. He is thought of, in Christian circles, as a proto-messiah, embodying certain traits later given to Christ. New Testament writings assert that Christ was "a priest forever in the order of Melchizedek," indicating an older and deeper covenant with God than the Abrahamic-Levite lineage.
Hebrews 7, though presents him in a more unusual light. In verses 3 and 4:
"Without father, without mother, without descent, having neither beginning of days, nor end of life; but made like unto the Son of God; abideth a priest continually. Now consider how great this man was, unto whom even the patriarch Abraham gave the tenth of the spoils."
Not only do these verses grant Melchizedek a hierarchical level above the most important Jewish patriarch, they assign him mystical qualities. Some take this to mean an earlier incarnation of Christ. Others see it as an ancient manifestation of the Holy Spirit. His identity, role, and theological function have long been debated.
The paucity of scriptural references have added to the mystery, making him a somewhat spectral figure. As such, newer spiritual traditions, as well as New Age quacks, have taken liberties with his persona. Gnostics insisted he became Jesus, and he is cited as a high-level priest in Masonic and Rosicrucian lore. Joseph Smith wrote that he was the greatest of all prophets, and Mormons still trace their priesthood back to him. The Urantia, a 20th-century pseudo-Bible that claims to merge religion, philosophy, and science, insists he's the first in an evolutionary succession of deification manifestations, with Abraham being his first convert.
There is even a school of thought that Melchizedek is a title or assumed character name, sort of a theological 007, played by a series of Judeo-Christian James Bonds.
The lore of Melchizedek is confusing but deep and fascinating. Apocryphal books give us more details, some cryptic, some relatively mundane. The Second Book of Enoch is particularly informative, insisting Melchizedek was born of a Virgin. When his mother Sophonim (the wife of Noah's brother Nir) died in childbirth, he sat up, clothed himself, and sat beside her corpse, praying and preaching. After 40 days, he was taken by an archangel to the Garden of Eden, protected by angels and avoiding the Great Flood without passage on Uncle Noah's ark.
9  Cain's Wife
Cain was, according to Genesis, the first human ever born. He later killed his younger brother Abel in a hissy fit over his sacrifice of meat being more favored than Cain's sacrificial fruit basket. God put a mark on Cain and cursed the ground he farmed, forcing him into a life as a wandering fugitive.
That part of the story is fairly well known. Later, though, we read that he settled in the Land of Nod, and, all of a sudden, he has a wife. Absolutely nothing else is mentioned about her. We don't even know where she came from. In fact, the question of where Cain got his wife, when his immediate family were apparently the only people in the world, has sent many a perceptive young Sunday schooler down the road of skepticism.
Some have posited a mysterious other tribe of people, maybe created after Adam and Eve, maybe even another race or species. But the standard response is that Adam and Eve had many other sons and daughters to populate the Earth. The only way to keep the human race going would be to mate with siblings, nieces, nephews, and cousins.
In fact, though the Holy Bible is silent on her identity, the apocryphal Book of Jubilees tells us exactly who was Cain's wife: his sister Awan, who bore his son Enoch.
8  Joseph Barsabbas
After Judas Iscariot turned in his resignation by selling out his boss, Jesus's disciples rushed to fill the open position and bring the number back up to a more theologically apt 12. The remaining disciples, including the newly convinced Thomas, looked over the candidates from the 120 or so adherents who followed Jesus. Then they cast lots to pick who would fill the position.
It went to Matthias, a fairly mysterious character himself. We don't know where he came from or his previous occupation. Some think he was actually the diminutive Zacchaeus, the tax collector who climbed a sycamore tree to get a better glimpse of Jesus's ride on the donkey.
The man who lost out was Joseph Barsabbas, also known as Joseph Justus. We know nothing solid about him, even less than we know about Matthias.
There is, however, one bit of interesting speculation. A list of names presented in Mark 6:3 includes some of Christ's earliest and most loyal adherents. One of these is a man named Joses, and another is James the Just. Biblical scholar Robert Eisenman suggests that James carried on Jesus's work, and the writer of the Book of Acts assigned him an alias to minimize his importance.
7  The Beloved Disciple
In the Gospel of John, several references are made to "the disciple whom Jesus loved." This particular favorite is present at the Last Supper, the crucifixion, and after the resurrection. The writer of the Gospel of John even states that the testimony of this disciple is the basis for the text. But there is considerable debate over the identity of this mystery figure.
The most obvious nominee is John the Apostle, one of Christ's inner circle of 12 and the namesake of the Gospel. But none of the 12 apostles were present at the crucifixion, so that crosses him off the list. Lazarus, resurrected by Christ, is also considered. He seems to have been present at the cited events and is referred to specifically, in the story of His death and resurrection, as "he whom Thou lovest."
Mary Magdalene, Judas, Jesus's brother James, or an unnamed disciple, possibly even a Roman or governmental official, have all been considered. There is even a school of thought that John is an interactive gospel, with the reader being the beloved disciple.
6  Simon Magus
"Simony" is the selling of church position or privilege. It is named for Simon Magus, or Simon the Magician, who makes only a brief appearance in the Bible, in Acts 8:9–24. Simon has since become synonymous with heretical thought, and religious exploitation.
He is presented as a powerful magician with a large following of in Samaria, who converts to Christianity and wishes to learn from apostles Peter and Phillip. When he sees the gifts of the Holy Spirit, including speaking in tongues and an ecstatic spiritual state, he offers the men money if they will give him the secret to passing these gifts to others. They are not amused.
Apocryphal texts reveal quite a bit more, like his alleged ability to levitate and even fly, emphasizing that he was something akin to a cult leader in his hometown. It is suggested that his conversion is more for economic purposes than spiritual, and he set himself up as a messianic figure himself, competing for the Jesus dollar with his own homespun theology.
He is thought by some to be a founder of Gnosticism, a patchwork of various religious systems that relied heavily on Judaic and Christian symbolism.
5  Onan
Not unlike Simon Magus, Onan's brief appearance inspired a name for a particular action.
He was the second son of Abraham's grandson Judah, the patriarch and namesake of one of the 12 tribes of Israel. His older brother, Er (yes, just "Er") was "wicked in the sight of the Lord," so God killed him. What he did to deserve such an execution remains a mystery.
Tradition at the time dictated that Er's widow, Tamar, become Onan's wife. Onan had to impregnate her to keep the lineage alive, but he was not as wild about the idea. Maybe it was the thought of impending fatherhood, or Tamar just wasn't his type. So, taking matters into his own hands, he committed the first recorded act of coitus interruptus. Or, as Genesis 38:9 so poetically put it: "And Onan knew that the seed should not be his; and it came to pass, when he went in unto his brother's wife, that he spilled it on the ground, lest that he should give seed to his brother." God was displeased and slew Onan.
The whole tale gets even more sordid. Onan had a younger brother, Shelah. Customarily, he would have been next in line to impregnate Tamar, but Judah forbade it. Tamar, rather than graciously accepting forced spinsterhood, seduced Judah and (became pregnant) by the old man. Judah fathered twins Zerah and Perez, the latter of whom was listed by Matthew as an ancestor of Jesus's earthly father Joseph…
Some have even suggested that Onan's death warns that sex is meant only for purposes of reproduction, and not for pleasure.
4  Nicodemus
Nicodemus was a member of the Sanhedrin, a council of men who ruled on Jewish law and governance. He became a friend, follower, and intellectual foil for Jesus, whose egalitarian teachings often ran counter to the Sanhedrin's rigid decrees. He was also a Pharisee, a leader within the Jewish community who toadied up to the Roman government at the time of Christ's arrest and subsequent crucifixion.
He is mentioned three times in the New Testament, all in the Gospel of John. He subtly defends Jesus as the Pharisees discuss His impending arrest. Later, he helps prepare Jesus's body for burial, indicating he had become an adherent to Christ and His teachings.
The first time he is mentioned, however, is in dialogue with Jesus, and these conversations reveal some of the most important aspects of Christian theology, such as the notion of being "born again" and the most famous reference to the divinity of Christ, John 3:16: "For God so loved the world, that he gave his only begotten Son, that whosoever believeth in him should not perish, but have everlasting life."
This detailed conversation explores the divide between the Old Covenant's dogmatic and exclusive Jewish Law and the New Covenant's spiritually inclusive concepts. But for a vital contributor to such an important passage of the New Testament, Nicodemus remains a mysterious figure. Some scholars have suggested he may be Nicodemus ben Gurion, a Talmudic figure of wealth and mystical power. Christian tradition suggest he was martyred, and he is venerated as a saint. His name has come to be synonymous with seekers of the truth and is used as a character in many works of biblically inspired fiction.
3  James The Just
He is considered, next to Paul and Peter, the most important apostolic figure in the Church's history. The Book of Acts specifically names him the head of the Christian church in Jerusalem, and he is frequently cited, both scripturally and apocryphally, as being consulted by both Paul and Peter. So who is he?
Traditionally, he is thought of as Jesus's brother (or, more precisely, His half-brother). Jesus is listed, in the Gospels, as having siblings, some younger than Him. One was named James.
But James was a common name, and there are several mentioned in the Bible. Two of the 12 disciples were named James, but both are listed as having different fathers than Jesus, and neither went on to become James the Just. James the son of Zebedee went on to be known as James the Great, and James the son of Alphaeus was called James the Less.
It is known that he was a contemporary of Jesus, although he seems to have had no real inner-circle status during Christ's ministry. The apocryphal Gospel of Thomas says Christ Himself designated James to lead the movement upon His death. The Apostle Paul initially seems respectful, even subservient, to "James the Lord's brother," calling him a "pillar" of the movement, even though he was later to disagree with him on matters of doctrine.
Some, though, have suggested the "brother" designation was spiritual, rather than physical. St. Jerome, among others, suggested that the doctrine of perpetual virginity indicated James could be a cousin, which, given the tribal associations and clannishness of the Jewish community of the time, seems valid. Such a relationship would indicate a certain social proximity without necessarily being a true sibling.
2  Simon The Zealot
Of Christ's 12 disciples, none are more mysterious than Simon the Zealot. His name was meant to differentiate him from Simon Peter and has come to symbolize, for some, that he was a member of a similarly named political movement that advocated Jewish defiance to Roman law. Some have speculated that he acted, within Christ's inner circle, as a political adviser. His presence then indicated that Jesus had a revolutionary political agenda.
The truth is much less exciting. The "Zealot" movement did not take place until long after the time that Christ would have given Simon his sobriquet, and there has never been any serious evidence that Simon, despite the designation, was a political radical. The name, and the word upon which it is based, did not take on those aggressive undertones until the movement itself was in full swing. More than likely, Simon was given his name because of intense spiritual devotion, rather than any radical political stance.
Nothing else is known of him, at least not with any surety. The Catholic Encyclopedia mentions him as possibly being a brother or cousin of Jesus, with no real evidence. The Eastern Orthodox tradition says he developed his zeal when Jesus attended his wedding and changed water into wine. Some legends say he was martyred; the philosopher Justus Lipsius somehow got it into his head that he was sawed in half.
1  Og
Cited twice specifically, but alluded to frequently in general terms, the Nephilim were a race of violent giants that lived in the pre-Flood world at the same time as humanity. Were they, as some suggest, the offspring of demons and human women? Fallen angels themselves? Or simply the descendants of Seth mentioned in the Dead Sea scrolls, a tribe of cranky cases cursed by God for their rebelliousness? Regardless, they evolved and became known by other names, like the Raphaim, and frequently battled humans for land and power.
The most storied of them was Og, the King of Bashan. He was killed, along with his entire army, and his kingdom was ransacked. All of the survivors—men, women, and children—were put to death, and the strongest and most powerful line of Nephilim descendants was eliminated. Some Nephilim bloodlines continued to do battle with the Israelites, though they were becoming less powerful and dying out. One tribe, the Anakim, allied themselves with the human tribes in Philistia. Goliath was thought to have been one of the last few descendants of the Nephilim.
Goliath's height is given in the earliest manuscripts as 275 centimeters (9′). That's hardly as awe-inspiring as the creature laying in Og's bed, which measured, according to Deuteronomy, 400 centimeters (13′ 6″). That's basically Yao Ming sitting on Shaquille O'Neal's shoulders.
Biblically, descendants of the Nephilim could not have survived the Flood, even though Og and other giants are post-Flood figures. Some biblical literalists have attributed their later existence to the descendants of Noah's family hooking up, once again, with demons. Or, being fallen angels and not human, they did survive the flood.
Jewish tradition gets deeper into information about the Nephilim and their descendants, going against the grain of the biblical account. It tells of Og booking passage on the Ark by promising to act as a slave to Noah and his family. Other accounts have him hanging on to the side of the Ark and riding the flood out rodeo-style.
NASA Images shows a huge cube shaped UFO approaching the sun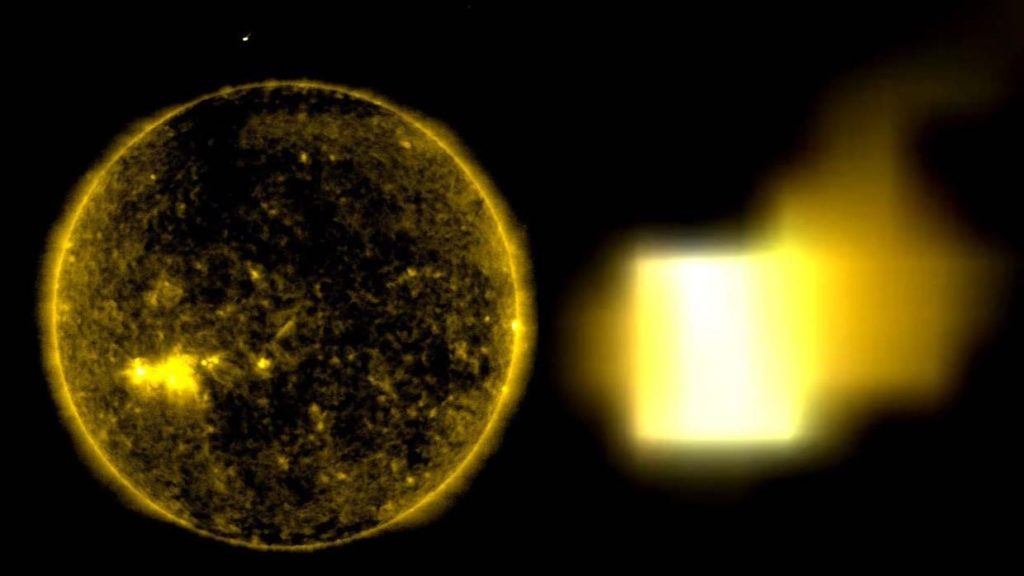 As a cutting-edge space exploration agency, NASA is also in the crosshairs of all kinds of extraterrestrial conspiracies. And so, every year, to find out what the US space agency is hiding, people search Google for the phrase "hidden NASA. " And among so many conspiracies, one of the most popular theories is that extraterrestrial civilizations are feeding on the energy of our Sun. But, incredible as it may seem, this hypothesis is not as farfetched as it seems. In 2016, scientists discovered a strange microbe in the depths of a gold mine in South Africa.
Known as Desulforudis audaxviator, rod-shaped bacteria grow 2.8 kilometers underground in a habitat lacking the things that drive the vast majority of life on Earth: light, oxygen and carbon. Instead, it obtains energy from the radioactive uranium in the depths of the mine. For, scientists this finding provided a model of how life could survive in seemingly unlivable environments throughout the cosmos. But it could also show that life in other parts of the universe could be "feeding" on the radiation of space, like that of our nearest star. And maybe the discovery of the bacteria can also explain the mysterious cube-sized structure that has appeared near the Sun.
The extraterrestrial cube shaped UFO
Popular UFO researcher Scott C. Waring has seen a cube-sized structure accessing the Sun in one of the images sent by NASA's SOHO Solar and Heliospheric Observatory. Waring said that the structure similar to a cube is approximately the same size as Earth. Interestingly, the strange pixelated object seems to be perfectly cut into a square shape. Also, it seems to leave a trail behind it with a white glow around it.
"Today I found a UFO the size of Earth near our Sun," writes Waring in his blog UFO Sightings Daily. "Will you wonder how it is possible? Because its size is like Earth's. It is not necessary to say that it is great. If you use the SOHO icon to compare, then it is a little bigger than Earth, but I want to not make a mistake … and I mean it is the size of Earth. Do you feel better?"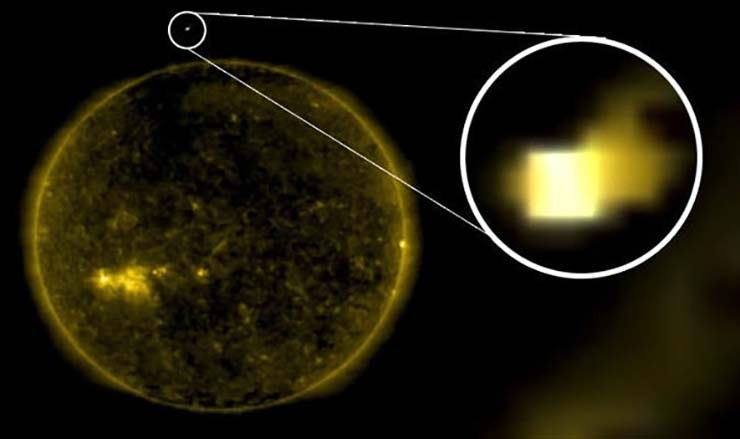 The independent researcher also added that the extraterrestrials have advanced technology capable of withstanding the extreme temperature of the Sun.(cube shaped UFO)
"How do aliens do something this big? Easy, the aliens live forever, "Waring continues. "They tell a robot to create the spacecraft, it tells him the size and requirements. Time is not important in its construction. A robot builds 10 more robots. Those 11 robots build more robots and so on until there is an army of thousands of robots working to obtain materials, make technology and build this giant ship. What could take millions of years to finish? But since you do not die, millions of years will pass quickly … so while you enjoy your life, those little robots of yours are creating a spaceship the size of Earth. There you have it! "
Related to the closure of the National Solar Observatory in Sunspot, New Mexico?
A few weeks ago, the sudden closure of the National Solar Observatory in Sunspot, New Mexico, caused all kinds of speculation about whether NASA had found something strange near the Sun. As we published, the past 6 In September, the FBI entered Sunspot, New Mexico, with a Black Hawk helicopter, and evacuated the solar observatory. In addition, a nearby post office and a dozen homes were also evicted. The FBI did not confirm or deny such a mysterious operation. The Association of Universities for Research in Astronomy (AURA), responsible for managing the installation, also gave no further information, only explaining that it was a  "security problem".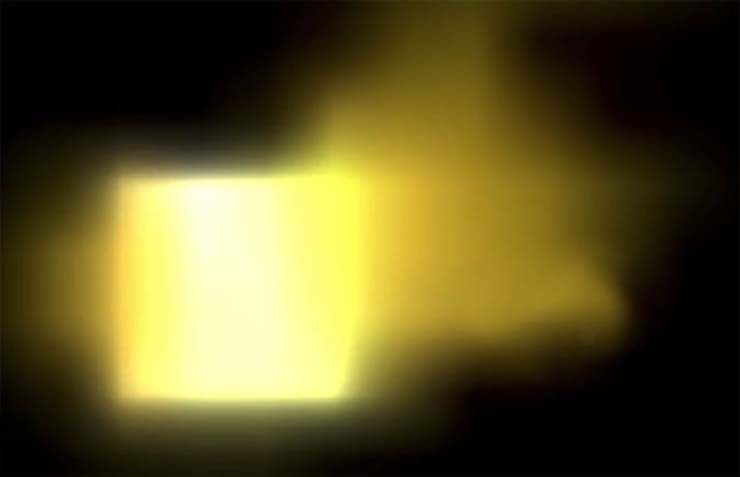 This led some conspiracy theorists to suggest that the FBI took quick action to close the observatory by the presence of extraterrestrial spacecraft near our nearest star. What's more, an astronomer corroborated this theory, claiming to have seen a huge UFO followed by a fleet of smaller ships passing behind the Sun.(cube shaped UFO)
So, if we take this theory for granted, maybe the square is hiding a large alien spacecraft. However, skeptics argue that the strange cube-sized structure could be the result of a technical failure. And the truth be told, everything is possible.
Is it an extraterrestrial spacecraft absorbing the Sun's energy? Or do you think it could be a technical failure?
Historic Paintings That Clearly Depict UFOs
Many old historic paintings are believed to portray weird flying objects. Many of these images, especially the ones showing religious events, are recognized as an authorized piece of art.
According to many believers, these are nine artworks that clearly show remarks of unidentified flying objects.
1. The Annunciation With Saint Emidus – 1486.
The Italian artist Carlo Crivelli created this painting in 1486. It illustrates Virgin Mary briefly before she understands she is going to give birth to Jesus.
The opinions over the ray of light emerging from a spherical hole in the sky to Mary's head are divided.
According to the mainstream artists, the light is, in fact, the halo of the Lord.
On the other hand, UFO enthusiasts believe the beam of light is a disc-shaped UFO. Some of them even theorize that Jesus is not divine but rather engineered when Mary was taken and impregnated by aliens.
2. The Crucifixion Of Christ (Kosovo) – 1350.
The Crucifixion of Christ is one of the many historic paintings for which the UFO believers have a rather alternative opinion.
This artwork is located above the altar of the Visoki Decani Monastery in Kosovo and it illustrates the suffering of Jesus with a mysterious floating craft in each top corner of it.
It even seems like a person is operating each of the crafts. For example, the alleged pilot in the top right corner seems to look back at the other craft behind him. Both of the pilots look like they are wearing some sort of space suit.
However, in the era when this painting was created, such a belief would have been regarded as blasphemy for sure.
3. The Baptism Of Christ – 1710.
1710's The Baptism of Christ by Dutch artist Aert de Gelde, according to UFO pursuers, clearly shows an unknown object glowing luminous lights toward the baptism spectacle.
Gelde was a student of the famous painter Rembrandt. Many people consider his paintings to communicate the deep secrets of the Vatican's art records.
The painting is currently located in the Fitzwilliam Museum in Cambridge, UK.
4. The Madonna With Saint Giovannino – the 1400s.
In this painting, flying object can be perceived behind the left shoulder of the Madonna. Moreover, there is a man looking towards the craft, with his dog obviously barking at it. Many concluded this is a sign the object does not represent something divine.
According to some explanations, the pose of the Madonna implies she is guarding her children against the dangerous beams coming out of the craft.
5. La Tebaide – 1400s.
La Tebaide is one of the historic paintings created in the mid 15th century by Paolo Uccello. It shows a combination of scenes depicting particular features of religious consciousness.
In particular, there is a part of this painting showing Jesus Christ on the cross. UFO pursuers managed to detect a red disc-shaped UFO at the corner of this specific scene.
Mainstream scholars explain that the red craft is, in fact, the traditional cardinal's hat. The person who kneels in front of the cross is wearing such a hat which looks like a craft.
On the contrary, the other opinion suggests that the UFO leaves red trails that represent erratic actions.
To sum up, La Tebaide is currently on exhibit at the Academy of Florence, Italy
6. The Crucifixion Of Christ (Georgia) – 1600s.
The Crucifixion Of Christ is located in Svetishoveli Cathedral in Mtskheta, Georgia. On it, there is a flying object visible on each side of the Cross.
Similar as the Crucifixion Of Christ of Kosovo, it also shows as there were two pilots in either of the crafts.
This particular concept of extraterrestrial motifs in Jesus's paintings is an idea especially imposed by the supporters of the ancient alien theory. In fact, they believe Jesus was a mix between a human and an alien.
7. Glorification Of The Eucharist – the 1600s.
The Glorification of the Eucharist was created by the artist Ventura Salimbeni in the 1600s in the Church of San Pietro in Montalcino. According to the UFO theorists, this is one those historic paintings that imply alien life is real.
Namely, they believe that the globular object between Jesus and the Holy Father represents an apparatus for supervising. As a matter of fact, in the down left corner of the object, there is a telescopic 'eye'.
Some people even suggested a resemblance between the globe and the first satellite into space globally famous as Sputnik 1. This similarity, then again, they say it could signify that our ancestors were able to predict the future.
8. 'Israel, Put Your Hope In The Lord' Painting – the 1600s.
Being one of the most mysterious historic paintings, 'Put Your Hope On The Lord' depicts a vast disc-shaped object just over a burning church.
This painting is currently located in the Church of the Dominican Monastery in Sighisoara, Romania. For those that don't know, this place belongs to Transylvania – the legendary place of birth of 'Vlad III Dracula'.
There is no known reciprocity between Dracula and the painting, however, many suggest there is.
Dominant scholars explain that the object is nothing more than smoke coming out of the burning church. But do you actually believe them?
9. The Miracle Of The Snow – 1428–1432.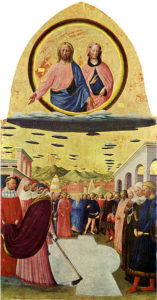 The Miracle of the Snow was painted by Masolino da Panicale. It illustrates the fable of a snowy blizzard that suddenly happened in Rome on a summer day in August.
The painting further depicts how Jesus and Mary sit on a cloud, observing the stunned people as they were cleaning after the snow.
Nevertheless, ufologists argue that there are several disc-shaped clouds or as they prefer, objects, right behind Jesus's cloud.
The MUFON World UFO Center receives a strange report from an "Extraterrestrial Entity"
A strange report was presented at MUFON, the world's largest UFO research organization. The report comes from a person who claims to be an alien to the Extraterrestrial Entity that would have stranded on Earth. The Mutual UFO Network, MUFON, a UFO research organization and Alien Contact, commonly regarded as the world's largest organization that investigates reports of aliens and UFO sightings may have recorded the first extraterrestrial contact to receive a strange relationship presented by someone who claims to be an extraterrestrial entity This report was sent on February 8, 2016. The case ID is 74362.
The relationship of this apparently afflicted "alien" and is identified as "Mogay" seems to ask for help, and according to MUFON, it is the first time that the organization has received a relationship of an "entity" that claims to represent a form of intelligent extraterrestrial life.
Mogay claims to have arrived on Earth because of an apocalyptic event on his planet and he needs urgent help, having arrived in September 2015 from a distant sector of the galaxy. Morgay at the moment says he is waiting for an answer from MUFON, Mogay resides in a human body, says that occupies the body of a human with his consent. Mogay has revealed that in its natural state it exists as an electromagnetic wave (or energy field) and is also able to take control and reside within the bodies of humans and other extraterrestrial species.
The strange being seems to have difficulty learning English in his new human body (which he supposedly borrowed). Al MUFON wrote: "I am an alien adopted by humanity. You can call me Mogay. " Explain that he and a group of his species were refugees from a distant world called Matif. They escaped to Earth after a catastrophic collision between their homeworld Matif and a celestial body that hit him. Mogay writes in characteristic English: "We remain like an electromagnetic wave, and normally we use replaceable bodies to work with.
A celestial body made the majority of our team unable to work, we tried to escape from Matif, but we failed and the celestial body (perhaps a comet or asteroid) hit our planet. Despite the adverse effects of the celestial body, we had time to take refuge using a transfer system. The disaster in Matif brought us to Earth. "
Mogay also reported that the group of Matif's alien refugees arrived on Earth in September 2015, but nobody was aware of their presence because they are like pure electromagnetic waves, and they do not look like little green men as Earthmen think. But Mogay apparently found a human being who was willing to "adopt" him.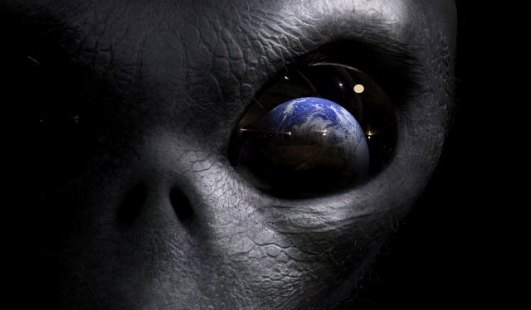 "We are extraterrestrial beings who do not have enough protection on Earth and we need your help. I live in a human body now, and this is also the reason why your people have adopted me. I learned their languages in this body, so I can talk to you, "writes Mogay. But despite having found a human body and the opportunity to learn about human culture and language, I have not been able to convince governments that I really am an alien from a distant galaxy that needs help. In the end, Mogay decided that the best way to get in touch with the government was through the largest organization in the world of UFO researchers, namely MUFON.
MUFON admits on its website that it often receives false reports. Therefore, MUFON officials say it is very likely that this SOS of Mogay is just another false alarm.
The MUFON verdict
MUFON on its reporting website UFO has cataloged this report as HOAX, or False. However, on 15 February (2016) the same supposed extraterrestrial entity that calls itself Mogay sent another report (with case ID: 74503), this time claims to be interested in getting in touch with UNOOSA ("Office of United Nations for space affairs. "Mogay also tells MUFON that if they help him, they will get a good reward and that if they wish, they can prove their identity, which is why a presumed letter (e-mail) provided by the Nations Unite, is attached to the report and is shown below:
The sender of the previous post (it has not yet been confirmed that it was really her) is Kerith McFadden, associate librarian of the Dag Hammarskjöld Library of the United Nations. Presumably, she would have replied to Mogay's emails, but nothing has been confirmed yet.
Mogay also claims to have a Twitter account, where he can receive private messages from MUFON officials if they wish. Although this story has all the clues of being a farce; the case to date is still under investigation. Above all, the authenticity of the email attached to the report should be validated, so MUFON experts consider authentic emails. Is all this true or false? Or is it just a joke at MUFON?