10 Safest Countries To Be In If World War 3 Breaks Out
[IP] While World War III is something that NO ONE wants, it can be helpful to consider who the safest countries would be.
Why is it helpful?
Because these are the countries we should be learning from. They're clearly more peaceful and conductive to world peace than other nations.
And I don't know about you, but I would feel much better morally if I were from one of the below 10 countries.
Check out this video which explains in detail why each country is a safe haven:
10 Switzerland
With a strong tradition of neutrality, mountainous terrain, and widespread bunkers, Switzerland is certainly a safe haven.
9 Tuvalu
An island nation deep in the Pacific, making it very remote and isolated. It would likely be ignored if there were world war III. They also produce their own goods as well, making them largely self-sufficient.
8 New Zealand
The Emerald Lakes seen from the Red Crater. This is about half way on the Tongariro Alpine Crossing, one of the most impressive walks in New Zealand.
One of the most secluded yet developed nations in the world. It has a stable democracy and isn't involved in major conflicts.
7 Bhutan
Despite surrounding India and China, it has a unique location that secludes itself. The country has also maintains no international entanglements.
6 Chile
One of South America's most stable and prosperous nations. It also shielded by the Indes Mountains.
5 Iceland
Iceland is very peaceful and neutral. It also shares no land borders with any other nations.
4 Denmark
While Denmark might suffer if a conflict went through Europe, Greenland is remote, mountainous, and politically not aligned.
3 Malta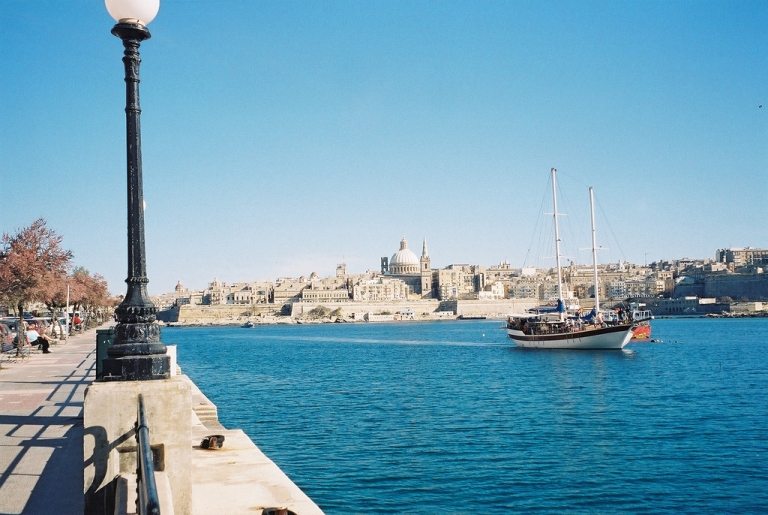 A tiny island in the Mediterranean. An invasion would be extremely costly and considering its size, would never be be worth it.
2 Ireland
Ireland has an independent foreign policy and has a long standing policy of military neutrality.
1 Fiji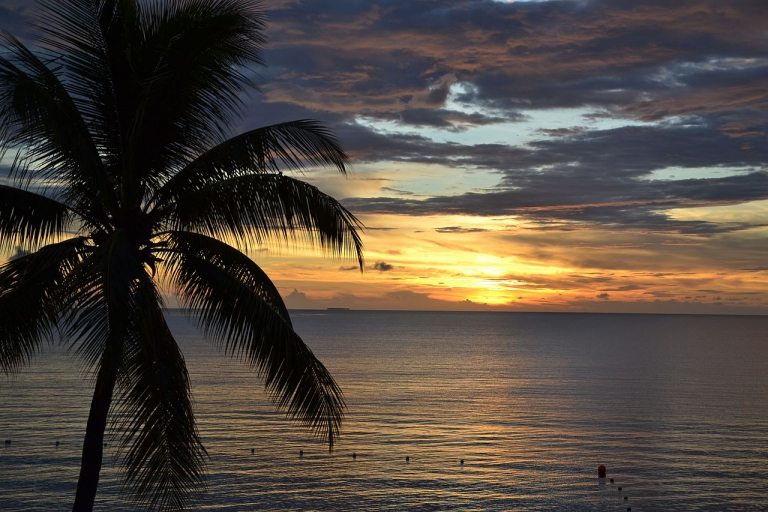 The remote island nation lies deep in the vast expanses of the Pacific Ocean, isolating it from the world. It has a small population and is neutral in foreign affairs.
Trump Signs Ambitious EMP Preparedness Executive Order
After years of the government blowing off concerns about an electromagnetic pulse, President Trump has signed an executive order that will put EMP preparedness in the hands of the White House.
What's in the executive order?
The Executive Order on Coordinating National Resilience to Electromagnetic Pulses is a first step toward learning more about how an EMP would affect us and how to protect critical infrastructure.
An electromagnetic pulse (EMP) has the potential to disrupt, degrade, and damage technology and critical infrastructure systems.  Human-made or naturally occurring EMPs can affect large geographic areas, disrupting elements critical to the Nation's security and economic prosperity, and could adversely affect global commerce and stability.  The Federal Government must foster sustainable, efficient, and cost-effective approaches to improving the Nation's resilience to the effects of EMPs. (source)
The Order outlines the responsibilities of specific offices to help get the country ready for a threat to the grid and sets up a 4-year plan.
It is the policy of the United States to prepare for the effects of EMPs through targeted approaches that coordinate whole-of-government activities and encourage private-sector engagement.  The Federal Government must provide warning of an impending EMP; protect against, respond to, and recover from the effects of an EMP through public and private engagement, planning, and investment; and prevent adversarial events through deterrence, defense, and nuclear nonproliferation efforts.  To achieve these goals, the Federal Government shall engage in risk-informed planning, prioritize research and development (R&D) to address the needs of critical infrastructure stakeholders, and, for adversarial threats, consult Intelligence Community assessments.

(b)  To implement the actions directed in this order, the Federal Government shall promote collaboration and facilitate information sharing, including the sharing of threat and vulnerability assessments, among executive departments and agencies (agencies), the owners and operators of critical infrastructure, and other relevant stakeholders, as appropriate.  The Federal Government shall also provide incentives, as appropriate, to private-sector partners to encourage innovation that strengthens critical infrastructure against the effects of EMPs through the development and implementation of best practices, regulations, and appropriate guidance.

Sec. 4.  Coordination.  (a)  The Assistant to the President for National Security Affairs (APNSA), through National Security Council staff and in consultation with the Director of the Office of Science and Technology Policy (OSTP), shall coordinate the development and implementation of executive branch actions to assess, prioritize, and manage the risks of EMPs.  The APNSA shall, on an annual basis, submit a report to the President summarizing progress on the implementation of this order, identifying gaps in capability, and recommending how to address those gaps. (source)
In 2017, those in the know were aghast when the EMP Commission was defunded by Congress.
What is an EMP?
If you're not familiar with the term "EMP" you're in for a shocking awakening. An electromagnetic pulse is one of the biggest threats out there against our well-being.  Back in 2008, the EMP Commission warned of the extreme consequences and experts concluded that 9 out of 10 Americans could be dead within a year of such an event.
So what is it?
An electromagnetic pulse (EMP) is a high-frequency burst of electromagnetic energy caused by the rapid acceleration of changed particles. A catastrophic EMP would cause the collapse of critical civilian infrastructures such as the power grid, telecommunications, transportation, banking, finance, food and water systems across the entire continental United States—infrastructures that are vital to the sustenance of our modern society and the survival of its citizens.

An EMP event can occur naturally from a great geomagnetic storm, or it can be man-made through the use of a single, crude nuclear weapon delivered by a primitive missile, and the effects would be virtually identical. (source)
With the possibility of an EMP from either our enemies and our sun, it's definitely an existential threat to which you should pay attention.
The havoc that such an event would cause is pretty difficult to imagine – and even worse, we don't actually know how bad it would be. One Second After, a fictionalized tale of an EMP, has turned many a person into a prepper.
Some say that talk of an EMP is exaggerated. Others don't.
After the Congressional report came out in 2017 about the risk of an EMP from North Korea, many mainstream outlets took to the airwaves to convince the public that it was overblown, if not a total hoax.
I asked my friend, Dr. Arthur T. Bradley about his thoughts on whether an EMP was a legitimate threat or a gigantic hoax. Dr. Bradley is an electrical engineer at NASA and has done a lot of scholarly research on the possibilities of EMP and space weather events. He's a prolific author and his book Disaster Preparedness for EMP Attacks and Solar Storms is a classic that belongs on every prepper's bookshelf. (Find all of his books here.) Needless to say, Dr. Bradley is a pro and knows that of which he speaks.
Here's his very thorough answer:
To address whether or not an EMP is a scam, we should first ask what it is we're wanting to deny. An EMP is simply a broadband electromagnetic pulse. Such a pulse can be created by the sudden release of energy, such as a spark gap or on a larger scale, a bolt of lightning. Likewise, a very large explosion can release an EMP due to gamma rays ionizing nearby air molecules. EMPs from these events are well understood, and there are countless technical papers addressing the phenomenon. Even without expert confirmation, most people have experienced the phenomenon when their radio, phone, or TV suddenly "pops" when a bolt of lightning strikes nearby. Simply put, to say that "EMP is a scam" is to deny science.

The real question at hand is are the effects of a nuclear-generated EMP really as significant as people claim. The short answer to that is no one knows for sure. The US government observed EMPs during nuclear testing in the 60's, such as during the Starfish experiments, and it was identified as a possible weapon to disrupt an enemy's infrastructures. The Russians also did extensive EMP testing during the same period, including the Soviet Test 184 in 1962 that caused extensive damage on the ground, including destroying the Karaganda power plant.

The US Air Force later built a very large $60 million wooden structure, known as ATLAS-I (aka Trestle), to study how best to harden systems against an EMP. More recently, the government commissioned a group of technical experts to assess the nation's vulnerabilities to such an attack.

This council was known as the EMP Commission and issued a Critical National Infrastructures Report in April of 2008. In it, the commission discussed in detail how the nation's critical infrastructures and citizens could be disrupted by a high-altitude nuclear-generated EMP, and the feasibility of hardening military and civilian systems. The EMP Commission was later reestablished in 2006 to make specific recommendations on reducing our susceptibilities.

Their conclusion was that an EMP "has the capability to produce significant damage to critical infrastructures that support the fabric of U.S. society and the ability of the United States and Western nations to project influence and military power," and "damage to or loss of these components could leave significant parts of the electric power grid out of service for months to a year or more." The loss of electricity would lead to the subsequent disruption of every other infrastructure, including food and water distribution, telecommunications, banking, transportation, emergency services, government, and energy production.

Whether or not the commission's assessments would prove accurate is impossible to say, since no country has ever suffered a wide-scale EMP attack. What can be said is that a group of highly-trained experts commissioned by the government came to some very dire conclusions about the effects of an EMP attack. 
In fact, there have been several EMPs of which we know.
While some folks want to wave off concerns, there's some history that tells is the warnings may not be exaggerated. In this in-depth article that discusses exactly what an EMP is, the author shared four examples.
The first is the Carrington Event of 1859, which was the first documented event of a solar flare impacting Earth. The event occurred at 11:18 a.m. EDT on Sept., 1 and is named after Richard Carrington, the solar astronomer who witnessed the event through his telescope.

The second event is the Star Fish Prime tests. In 1962, the US government launched a 1.4 megaton nuclear warhead about 250 miles into the atmosphere over the Pacific Ocean. The pulse results were much stronger than expected. It damaged street lights and microwave links in Hawaii, 900 miles away. The EMP was so intense that it was not accurately measured because "it drove much of the instrumentation off scale".

The third event was a Soviet EMP test called "Test 184". It happened around the same time as the Star Fish Prime tests. Not many details have been released from this. Although the warhead was not as powerful as the one from Star Fish Prime, it was exploded about 180 miles over the populated area of Kazakhstan.

What is known is that the EMP from Test 184 knocked out a 600-mile underground power line (shielded) that was buried 3 feet underground. It caused fires to the power station that the line was connected to. It also damaged diesel generators. (Most of the details have not been released and/or have remained classified.)…

…The final event I'll mention here is a CME that hit Canada on March 13, 1989. A powerful solar flare set off a major power blackout that left six million people without electricity for about nine hours.

According to NASA, the CME disrupted electric power transmission from the Hydro Québec generating station and even melted some power transformers in New Jersey. NASA scientists have concluded that this event was only about a 1/3 the strength of the Carrington event. (source)
So, it's definitely not impossible, although we do not know for sure the extent of the damage.
The Executive Order is a step in the right direction.
President Trump's Executive Order is a step in the right direction when it comes to a threat like EMPs. But, as every prepper knows, you can't wait for the government (or anyone else) to save you in the event of a disaster.
My personal plan for long-term grid interruption doesn't include fancy generators and equipment. In fact, it's pretty low-tech. If you're on a budget, don't spend a fortune on stuff that could potentially become very expensive paperweights.
Here's an excerpt from my article on low-tech preparedness:
If money is an object in your preparedness endeavors, (and let's face it, money is an object for most of us these days), then focus your dollars on preps that are sustainable without electrical power.  Instead of trying to live the exact same life you are living right now, only fueled by an individual generator, look for low-tech solutions instead.

This reminds me of people who stop eating gluten but still want to eat exactly like they have been eating their entire lives, only now with expensive gluten-free baked goods that cost 4 times the price of their wheat-filled counterparts.  When things change dramatically, accept the change and adapt to it, instead of trying to maintain the illusion that everything is the same.

Whether you can get power from an outlet in the wall or not, the necessities of day-to-day life will remain the same:

Water
Shelter and Warmth
Food
Sanitation and Hygiene
Light

The ultimate preparedness goal should be to provide those necessities without any help from the power grid, generators, or fossil fuel.

When my youngest daughter and I lived in the North Woods of Canada, we lost power frequently throughout the year. Lots of folks in the area had generators that they would fire up when the power went out, and that was a viable solution since gas stations were available and fuel was pretty much unlimited as long as you could afford to go get it.  We were on a tight budget, however, and we adapted our situation to live without power during those outages.

After the first couple of outages, we had worked out most of the bugs and we even began to look forward to our time without power – it was like a little vacation from the regular workday.  As plugged in as our society is, power is not actually a necessity – it's a luxury, and we can live without it as long as we are adaptable, creative, willing, and prepared. (source)
Your skills and local resources will count more than anything in a situation like that. Read more about low-tech prepping and why I suggest it here.
What do you think about this executive order?
Do you think this Order will help get the nation more prepared for an EMP? Do you think it's too late for that? On a scale of 1-10, with 1 being "not at all" and 10 being "it is my biggest worry" how concerned are you about an EMP? Why do you feel that way? Share your thoughts in the comments below.
Source:
Russia's Next-Gen Combat Suit is Getting Tech That's Resistant to Nuclear Blasts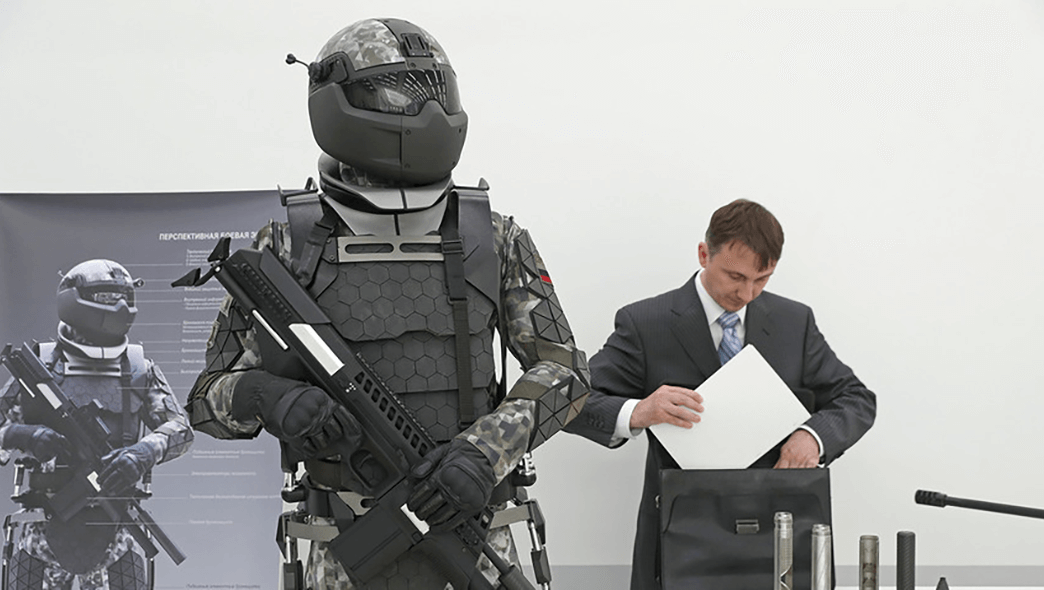 Russia has a new battle suit that seems to be visually inspired by Star Wars's Imperial Shadow Stormtroopers. While Russia's version likely doesn't come with a cloaking device, the high-tech armor does have a few tricks up its sleeves, including nuclear blast resistant tech.
The suit was developed by Rostec and is called the Ratnik-3. The latest upgrade to the new armor includes a reportedly nuclear blast resistant watch. According to a statement released by the press office, the Chief Designer for the Life Support System of the Soldier Combat Outfit at the Central Scientific Research Institute for Precision Machine Engineering, Oleg Faustov, says "The watch, which we have included in the Ratnik outfit, retains its properties upon the impact of radiation and electromagnetic impulses, for example, upon a nuclear blast."
The watch also features a self-winding mechanism and operates under water.
Other perks of the 59 items Rostec has included in the suit include a powered exoskeleton, which is said to give soldiers greater strength and stamina; the latest in bulletproof body armor tech; and a full face-covering visor and helmet equipped with a video game-esque heads-up display (HUD). According to Russian state-owned media outlet Tass, the weight of the completed combat gear will be reduced by 30% when it is released for use in the field.
The Ratnik 3 is expected to be ready for use by 2022.
Next-Gen War
The future of how we will one day wage war is being developed now. The United States is also working on a high-tech combat suit of its own. The suit, inspired by pop culture, has been dubbed the Iron Man.
Weapons are also getting next-gen upgrades, with laser weapons currently being deployed in various forms around the world. The United States Navy has the Laser Weapons System (LaWS)mounted on the USS Ponce, an amphibious naval transport dock, to defend against drone strikes and eventually incoming missiles. China has also previously given its soldiers laser weapons designed to blind opponents.
In the sky, killer drones the size of a quadcopter have been developed to carry weapons. The Air Force is even training soldiers to get the military ready for combat in space with extraterrestrials or other hostile interests.
Of course, with all these developments, it maybe good to be reminded what a nuclear showdown would do to the planet—and hope that these future technologies rarely have to be put to use.
Source futurism.com
They record a zombie deer in the garden of a house in the United States, will the infection started to humans?
A few days ago we wrote how the "zombie deer virus" has become a real problem in the United States, since it has spread to 24 states and two Canadian provinces, and experts warn that it is spreading to humans, being a potential risk too urgent to ignore. In fact, the "zombie deer virus" is called the Chronic Attrition Disease (also known as Chronic Wasting Disease or CWD).
The symptoms of this disease is that deer, elk, reindeer, and deer quickly lose weight, coordination and become aggressive; in other words, they become zombies. At the moment there have been no cases of CWD in humans, although experts are sure that we will see cases in the coming months. However, scientists do not know what kind of effects the "zombie deer virus" will have on people. For its part, the Centers for Disease Control and Prevention (CDC, for its acronym in English), has acknowledged that the CWD could be more widespread than is believed. Therefore, they recommend that hunters do not shoot or manipulate deer meat that has strange behavior.
So far it was a warning about a possible infection. But in the last hours, they have begun to spread videos that show how the first zombie deer approach populated areas.
The zombie deer
A zombie deer has been recorded in the garden of a person, which has caused panic in social networks to consider that the images show how the CWD is spreading to humans. In the video, posted on the profile of a person named Javonte Watson , you can see a deer in a garden at night. But the animal has large red bumps all over its body, especially on the face. The person who records is surprised by the state of the deer while eating.
"This is a zombie deer that is alone in Cleveland, does anyone explain this?" Says Watson.
When the deer looks at the person without fear, you can see even larger bulges on their other side, including a huge one hanging below the mammal's mouth. It must be said that this video was shared on social networks last year, although this has not prevented the great impact it has had now, especially after the warning about the spread "zombie virus of the deer" to humans.Without a doubt, the terrifying images have provoked thousands of comments, with users assuring that this is the evidence that fiction surpasses reality. In addition, it has been inevitable the similarity with the South Korean film "Train to Busan (Train to Busan)", where at the beginning you can see a zombie deer. There have also been many who say that the CWD is a disease created in a laboratory to eradicate part of the population.
Reality surpasses fiction
The CDC warning that the CWD may be more widespread than is believed, has made conspiracy theorists begin to ensure that the US government is aware that we are facing an imminent "zombie apocalypse". Moreover, they claim that the recent declaration of national emergency by order Donald Trump, which is supposedly an attempt to build its border wall, is actually the first stage of containment in the face of the imminent threat.
As we already published in Esoteric and Paranormal World, the US Department of Defense prepared a strategy to combat a more than possible zombie apocalypse. The plan, called "CONOP 8888", is a document established in three parts. The first step is to maintain a defensive plan to protect humanity from the zombies, which would be this plan; the second step would be to establish procedures to eradicate the threat, the national emergency of Trump; and the third step will be to restore society through martial law.
It seems that the case in Cleveland would be the definitive evidence of what many scientists have been warning for years. Researchers at Kent State University in Ohio said in 2015 how a pandemic of this kind could spread around the world and the devastating effects on humanity. And wounded up to this point, it may be necessary to heed the recommendations of the scientific community, that if a zombie apocalypse occurs it will have to go towards the Rocky Mountains, located in the western sector of North America.
Researchers from Cornell University believe that less populated or rural areas "could resist for at least a month" while the zombie apocalypse lasts. It is true that there are many unanswered questions about the disease of the zombie deer, but as scientists have said, we will have to wait to see the effects on humans, although it may be too late.
What do you think about the Cleveland zombie deer? Is it the first step to the real zombie apocalypse?