10 Nutrients Scientifically Proven to Make You Feel Awesome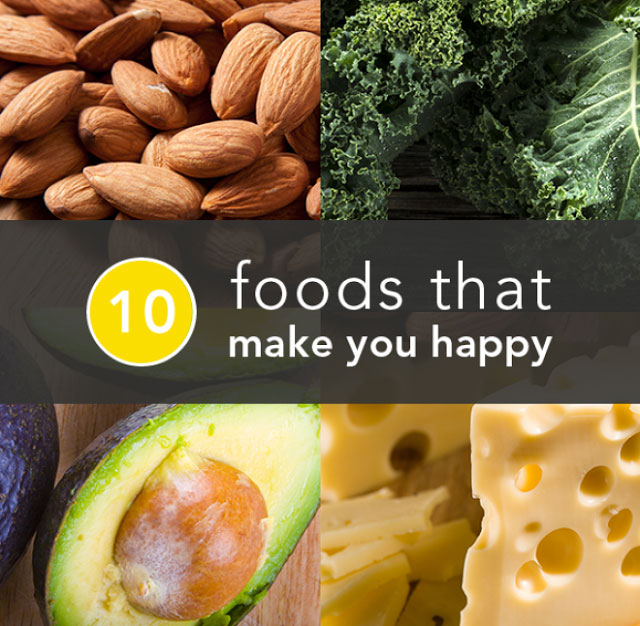 Want some pep in your step? Perhaps a dash of good cheer? (Who doesn't, right?). Look no further than the grocery store's shelves. Foods rich in vitamins, minerals, and fatty acids are not only super healthy, but can also increase happiness, lessen symptoms of depression, and quell anxiety [1] [2].
How can foods improve our moods? It all comes down to the brain. A healthy cognitive system is essential to regulating mood, and certain nutrients have a profound impact on maintaining normal brain function . To date, researchers have studied the association between foods and the brain and identified nine nutrients that can combat depression and boost our mood: calcium, chromium, folate, iron, magnesium, omega-3 fatty acids, vitamin B6, vitamin B12, vitamin D, and zinc. Try one of these foods for a mid-day pick-me-up, to promote long-term happiness, or to ward off the nagging worry that you forgot to lock the front door (You did remember, right?).
A bit about the units used below: Mg (milligram) is the typical unit of measurement for nutrients and 1,000 mg equals 1 gram. Mcg is the abbreviation of microgram and 1,000 mcg equals 1 mg.

1. Calcium
The most abundant mineral in the body, calcium plays an important role in maintaining strong bones and healthy blood vessels, and in reducing the risk of Type 2 diabetes. Low levels of calcium may play a role in PMS-related depression in particular  (Sorry guys, we couldn't find data on whether calcium can also regulate male fluctuations in mood). Calcium deficiency affects more women than men, so women should take special care to meet the daily requirements.
How eating it helps: Found in a variety of sources (non-dairy included), calcium is often paired with vitamin D to help regulate mood fluctuations attributed to PMS. Since estrogen plays a large role in calcium production, calcium consumption may improve PMS-related depression.
RDA: 1,000 mg per day for adults
Food Sources of Calcium:
Collard greens (frozen) (1 cup): 357 mg
Ricotta (part skim) (1/2 cup): 308 mg
Yogurt (plain/low fat) (3/4 cup): 310 mg
Milk (1 cup, 1%, low-fat): 305 mg
Kale (frozen) (1 cup): 179 mg
2. Chromium
A trace mineral found in small amounts in the body, chromium helps the body metabolize food. A lack of chromium hurts the body's ability to regulate insulin(the hormone that regulates sugar) and may lead to diabetes-related complications like vision loss and high blood pressure.
How eating it helps: Chromium plays an important role in increasing the brains' level of serotonin, norepinephrine, and melatonin, which help the brain regulate emotion and mood. Because chromium works directly with the brain's mood regulators, it's been found to be an effective treatment of depression.
RDA: 25 mcg per day for women; 35 mcg per day for men
Food Sources of Chromium:
Broccoli (1/2 cup): 11 mcg
Grape juice (1 cup): 8 mcg
Whole-wheat English muffin (1 piece): 4 mcg
Potatoes (mashed) (1 cup): 3 mcg
Turkey breast (1/3 cup): 2 mcg
3. Folate
Folate (alternatively known as B9 or folic acid) helps the body create new cells and supports serotonin regulation. Serotonin passes messages between nerve cells and helps the brain manage a variety of functions, from determining mood to regulating social behavior. Folate deficiency can cause fatigue in addition to lowering levels of serotonin.
How eating it helps: A pair of power nutrients, Folate and B12 are often paired together to treat depression. By itself, Folate has the added benefit of boosting the efficiency of antidepressants.
RDA: 400 mg per day for adults
Food Sources of Folate:
4. Iron
Iron plays an important role in the body, from transporting oxygen to supporting energy levels and aiding muscle strength. Low levels of iron can lead to feelings of fatigue and depression. Iron deficiency appears more frequently in women than men, especially women of childbearing age.
How eating helps: Consuming enough iron will help prevent iron anemia (not enough iron), a condition that commonly affects women more than men. Keeping enough iron in the body is important, as the fatigue, apathy, and mood change associated with the iron deficiency can often lead to depression.
RDA: 18 mg per day for women; 8 mg per day for men
Food Sources of Iron:
5. Magnesium
Magnesium is a mineral that plays over 300 roles in maintaining and protecting the body's health. Deficiency can cause irritability, fatigue, mental confusion, and predisposition to stress.
How eating it helps: Magnesium plays a large role in the development of serotonin, which is a major contributor to feelings of happiness. Due to its ability to help regulate emotions, it's a common element in homeopathic remedies for balancing mood.
RDA: 310 mg per day for women; 400 mg per day for men
Food Sources of Magnesium:
6. Omega-3s
Omega-3 is an essential fatty acid that plays an important role in brain health and contributes up to 18 percent of the brain's weight.The body does not naturally produce Omega-3s, so the fatty acid needs to be consumed from outside sources. Deficiency symptoms include fatigue, mood swings, memory decline, and depression.
How eating it helps: Studies show a correlation between consumption of fish with high levels of Omega-3 fatty acids and a decreased risk of depression and suicide. Whether eating fish or snacking on chia seeds, increasing your intake of omega 3 fatty acids may help combat depression.
RDA: There is no established RDA for Omega-3s, but the American Heart Association suggests eating a variety of fish (trout, herring, and salmon) at least twice a week. For vegetarians, there are also plenty of non-meat sources of Omega-3s (see below for a few suggestions).
Food Sources of Omega-3:
7. Vitamin B6
Vitamin B6 helps the production of neurotransmitters (which send messages from the brain to the rest of the body). Deficiency in B6 can cause short-term anemia; long-term effects include a weakened immune system, confusion, and depression.
How eating it helps: Consuming vitamin B6 is essential for regulating brain function, which influences our emotions. In addition to regulating healthy moods, Vitamin B6 is also an effective method for treating premenstrual depression.
RDA: 1.3 mg per day for adults
Food Sources of B6:
8. Vitamin B12
B12 is an essential element that aids in the creation of red blood cells and nerves.Low levels of B12 can cause short-term fatigue, slowed reasoning, and paranoia,and are associated with depression. Vitamin B-12 is found naturally in meats, eggs, and animal byproducts, meaning vegetarians and vegans have an increased risk of developing a deficiency.
How eating it helps: Because moods depend largely on signals from the brain, B12 plays an important role in regulating depression — consuming enough vitamin B12 allows the body to synthesize a group of nutrients critical for normal neurological function.
RDA: 2.4 mcg per day for adults
Food Sources of B12:
9. Vitamin D
Vitamin D helps regulate cell growth, plays an important role in maintaining the immune system, and (when paired with calcium) protects bones. Studies show that low levels of vitamin D are associated with depressive symptoms in both men and women. Most often, lowered levels of Vitamin D are the result of indoor lifestyles, limited sun exposure, and inadequate intake of vitamin-D-rich foods.
How eating it helps: If you're feeling blue, increasing vitamin D could help ward off depression. Consuming the mood-regulating vitamin is important, especially during the wintertime when light from the sun (a natural producer of vitamin D) is limited.
RDA: 600 IU per day for adults ages 15 to 60
IU (International Unit) is a type of measurement typically reserved for Vitamin A, C, D and E. 40 IU's of Vitamin D will equal 1 mcg— so Cod liver oil will have 1,360 IU or 34 mcg of Vitamin D.
Food Sources of Vitamin D:
10. Zinc
Zinc is found in almost every cell and plays an important role in supporting a healthy immune system and helping the body protect the gut from damage. Low levels of zinc in the diet can lead to a variety of ailments, including a weakened immune system, loss of appetite, anemia, hair loss, and depression. Vegetarians need as much as 50 percent more zinc than non-vegetarians due to the body's lower absorption rate of plant-based zin.
How eating it helps: Studies have identified zinc as an important factor in decreasing depressive symptoms, as the vitamin can improve the response of antidepressants while reducing the side effects of anti-depression medication. A lack of zinc can trigger depressive behaviors, so load up on zinc-rich foods to balance your mood.
RDA: 11mg per day for men; 8mg per day for women
Food Sources of Zinc:
What foods do you eat for maximum happiness? Share in the comments below
Source: altering-perspectives.com
Psilocybin mushrooms sprout in the blood of an 'experimental' patient
US doctors described the story of a man who tried to relieve depression with psilocybin mushrooms in an unconventional way. He injected an intravenous infusion of mushrooms, causing the mushrooms to continue to multiply in his blood and cause multiple organ failure. The case was reported in the Journal of the Academy of Consultation-Liaison Psychiatry.
Many drugs that people traditionally use as psychedelics are increasingly becoming the focus of medical attention. Some of them have already been repurposed and started clinical trials: for example, micro-doses of LSD have proven to be at least safe in the case of Alzheimer's disease, and psilocybin has helped patients with  migraines and  depression. Often in such experiments we are talking about microdosing – that is, the mass of the substance is not enough for a psychoactive effect.
The story of an American who decided to experiment on his own was described by doctors led by Curtis McKnight of Creighton University School of Medicine. According to relatives, the 30-year-old American suffered from bipolar disorder, but shortly before the incident stopped taking his prescribed medications and suffered from alternating states of mania and depression.
When he stumbled upon research on the potential benefits of psychedelics, he boiled psilocybin mushrooms and injected the filtered solution into his vein. A few days after this experiment, relatives found him in a lethargic state with jaundice, diarrhea and bloody vomiting and took him to the hospital.
Doctors discovered the patient had a problem with multiple organs at once: acute renal failure, liver damage, tachycardia, and low blood saturation and ionic imbalance. He was prescribed droppers to normalize the composition of the blood, vasoconstrictors to raise blood pressure, antibiotics and antifungal drugs. Despite this, he developed septic shock and DIC (excessive blood clotting) and needed plasmapheresis. Only eight days later he was discharged from the intensive care unit, and at the time of publication of the article he had already been in the hospital for 22 days.
In the patient's blood tests, in addition to the Brevibacillus bacteria , there were also Psilocybe cubensis fungi  – the same ones from which he injected himself intravenously. Apparently, due to insufficient filtration of the solution, the fungi entered the bloodstream and multiplied there, causing intoxication and multiple organ failure.
The authors of the work note that this is not the first such case – at least in the 80s of the 20th century, doctors already described a patient with similar symptoms after an intravenous injection. Therefore, McKnight and coauthors warn their colleagues: since psychedelics are increasingly used as a medicine (at the end of 2020, they began to legalize it in the United States), it is important to remind patients of the inadmissibility of self-therapy. Intravenous administration can be dangerous – doctors still do not know if it has the same psychoactive effect as the classical methods of administration.
A part of a person's essence accompanies him throughout his life: this is confirmed by a brain scan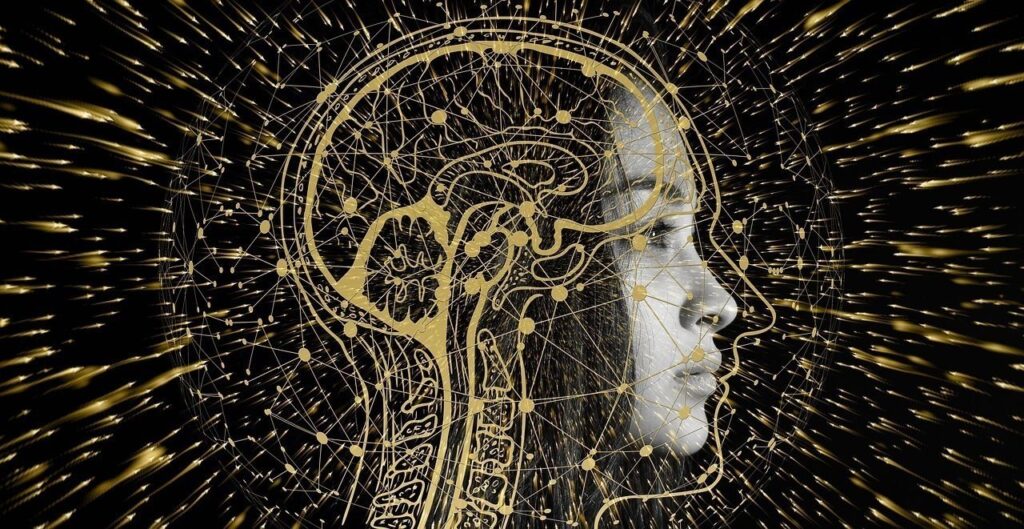 A new method of scanning the human brain has produced amazing results. It turns out that in every person there is a certain part of his essence, which accompanies him all his life from the moment of birth to death.
Scientists believe that this is the core of a person's self-awareness. It combines memories of the past with fleeting sensations of reality and provides a basis for anticipation of events in the future.
It turned out that a certain part of a person's consciousness is consistent as they grow older and older.
For centuries, scientists and philosophers have been interested in the question: can this sense of "personal self" be stable throughout life? A new psychological study with the results of a brain scan made it possible to conclude that a certain part of a person's consciousness really accompanies him throughout his life.
It is consistent as it gets older and older. Miguel Rubianes, a neuroscientist at the Complutense University of Madrid, says the aim of the study was to answer the question: Are we the same person throughout life? In combination with the results of other studies, scientists have concluded that there is a certain component that remains stable from birth to death.
The other part of consciousness remains susceptible to current changes. The scientists recognized independence as the basis of identity. And every time a person uses the word "I", he means a thread that connects together all the events and experiences that have occurred in life.
Experience gained over the years changes a person, changes the components of his identity. Each case associated with personal experiences, a broken heart, a successful career step, expected or unexpected failure lead to the fact that a person compares himself to himself before and after these events. It is a neurological programming scheme that involves visual self-knowledge as an indicator of connection with your impressions of yourself.
This effect makes it possible to cope with memories and recognition of information when it is associated, for example, with one's own photograph of an infant. Although this principle has a lot of evidence, scientists believe that the very mechanism of the brain involved in this remains a mystery.
This study was published in the journal Psychophysiology.
Beauty and diversity of our world: 10 movies that will make time stop
In the hustle and bustle of everyday life, we sometimes do not notice how time flies past us, what miracles surround us. We do not have time to listen to the rustle of leaves in the wind and we miss those minutes when the crimson moon hangs at the very horizon.
Below are 10 films that reflect the beauty and diversity of our world. You watch such a movie and forget about everything.
Kytice
7 fairy tales-ballads based on Czech folklore are filmed colorfully and poetically.
They endure a time when people were closer to nature, believed in miracles and the spirits of the forest, when the terrible and the beautiful were merged together.
Ashes and snow
Gregory Colbert's documentary has no plot, but it attracts with its stunning, unrestrained beauty, reflecting the unity of man with nature.
The film was shot for 13 years in the most exotic corners of our planet: Burma, Ethiopia, India, Antarctica, Sri Lanka, Tonga islands and many other picturesque places.
The fountain
The main character Thomas tries to find a cure for his wife Isabelle. Every day she gets worse, and he cannot be near, because he puts experiments in the laboratory. In his soul, love, the desire to be with Isabelle and the desire to extend her life are fighting.
Darren Aronofsky's philosophical drama was filmed in vivid colors, despite the fact that the director did not use computer special effects.
Samsara
This is a beautiful one and a half hour trip to the most amazing places on the planet.
Director Ron Fricke showed the inextricable connection of all people and events on earth, the cycle of death and birth, the versatility of our world, where beauty coexists with nondescriptness, and the end means the beginning.
The Bear
The story of a bear cub that lost its mother and nailed to a large wounded bear. Together they have to go through many trials, the worst of which is meeting the hunters.
The wonderful plot of the film is combined with stunning music that helps you immerse yourself in the world of nature and feel it with your whole body.
Happy People: A Year in the Taiga
The harsh Siberian nature, untouched by man, the majestic Yenisei River and the small village of Bakhta with a simple way of life.
People live and survive in these parts, rely only on themselves and also ask only themselves. Four seasons – four lifestyles for each of them.
August Rush
Young musician August Rush does not know his parents, but he really wants to find them and for some reason is sure that if he plays, they will hear and recognize him by his music.
Mesmerizing music permeates the entire film and works wonders to dispel the evil spell of separation.
Baraka
A documentary masterpiece, a philosophical essay accompanied by superb cinematography and music, goes without words. The only and main actor here is life in all its diversity and unity.
The gaze of a monkey sitting in a hot pond is equal to all the depths of cold space, and the dances of the aborigines are synchronized with the movements of the forest.
Spring, Summer, Fall, Winter… and Spring
This is a beautiful and unhurried philosophical parable about a wheel of time moving into infinity. Each time, with the beginning of a new cycle of rotation, life on earth is renewed, and everyone has the opportunity for a new rebirth.
The film by Korean director Kim Ki-dook tells about two monks – a teacher and his student – and the obstacles that must be overcome on the way to finding harmony.
Chronos
The main characters of the documentary narration are cultural and historical monuments.
They absorbed the life of the people who created them, and have remained for centuries as an imprint of bygone eras.