If you are amused by stories about how the authorities use the media for propaganda, and special services are organizing coups in other countries, then here are 10 stories that you could laugh at too, if they were not true. As a rule, the ground for the emergence of conspiracy theories becomes a lack of facts explaining an event, usually tragic — many of these theories have been around for decades and have become part of the culture.
The spread of the Internet has affected this area of human thought in two ways – on the one hand, we now have more opportunity to verify the facts.
On the other hand, it has also become easier to broadcast propaganda, because, despite the apparent democratic nature of the Internet, they are easy to manipulate, and corporations pay a lot of money to cover up their dirty tricks with various nonsense.
Of course, the main and most powerful players in this field are governments. In the 1960s, the CIA used a network of hundreds if not thousands of organizations to support the official point of view — one can only imagine how extensive this network is now.
Not to mention the fact that most of the information we receive is controlled by a single algorithm patented by Google. In the past decade, thanks to the activities of groups such as WikiLeaks and Anonymous, we have received a lot of new data and documents, previously hidden from the public, and, thanks to fearless journalists, exposers from inside companies, hackers, activists and people like Snowden, who publish secret information, the wall of lies, erected by the power of corporations, continues to arise new cracks.
1. Operation Ajax, an Iranian coup accomplished by the CIA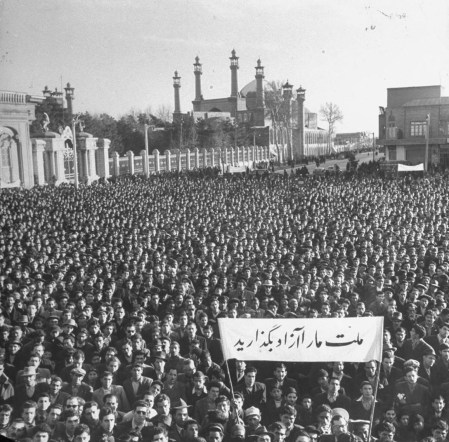 In Iran, this event is called the coup 28 of the Mordad, in the UK – the operation "Kick". No matter how you call it, this is about a coup in Iran, during which democratically elected Prime Minister Mohammed Mossadeq was overthrown and the monarchical authority of Shah Mohammed Reza Pahlavi was restored.
The main reason for the coup was Mosaddyk's attempt to nationalize the Iranian oil fields, which threatened the profits of the British-Iranian oil company owned by the British. The United States, firstly, helped the ally, and secondly, they viewed the Mossaddyk movement as a communist.
The Iranian revolution of 1979, which led to the emergence of an anti-Western Islamic republic led by Ayatollah Khomeini, became a virtually direct consequence of Operation Ajax. Although it was already a secret to Polichinel, the US government until recently continued to conceal the truth about Operation Ajax – only 60 years after the events, CIA documents were declassified.
2. "Naira's Testimony", a false pretext for the first Gulf War
Today it is believed that power and intelligence manipulated the American people and their representatives in Congress in order to unleash a second Iraq war, with false intelligence information.
Moreover, almost no one knows that the first Iraqi war began in a very similar way. People are accustomed to considering the operation "Desert Storm" an example of "just war", but the fact is that they do not know the story of a 15-year-old girl named Naira. Meanwhile, it was her testimony in the Committee on Human Rights of the American Congress in 1990 that secured the idea of Iraqi war crimes in public consciousness.
Naira told the Commission how "the armed Iraqi soldiers broke into the hospital, threw the newborns out of the incubators and left them to die on the cold floor".
This is a terrible image – and completely fictional. A detailed investigation by Amnesty International and other independent groups found that Naira's story was invented by Hill & Knowlton PR (the largest in the world at the time). She was hired by the organization Citizens for a Free Kuwait for the purpose of propaganda, designed to incline the Americans to war. The campaign was controlled by a trusted Bushman, a certain Craig Fuller.
It was a large-scale project in which 119 top managers of H & K were involved in 12 offices throughout the United States. The role of Naira has even held a casting – it turned out to be Naira Al-Sabah, the daughter of Kuwaiti Ambassador to the United States Saud Nasser Al-Saud Al-Sabah.
3. Operation "Clip"
Operation Clip (the first name is "Hopelessness") was a secret plan for recruiting Nazi scientists by American intelligence at the end of World War II for further work in the United States — about 1,500 Germans, including engineers and technicians, participated in it.
Formally, scientists were taken to prevent the Nazis from restoring the German government, in addition, it was important to prevent technology from falling into the hands of the USS
R. Whatever the plan behind Operation Clip, as a result, ruthless Nazi criminals were also resettled in the United States. According to the publication Ynet, Nazi scientists, rescued by the CIA from a military tribunal, helped develop American chemical weapons, and together with American scientists developed LSD – then it was believed that this would be a "truth serum."
4. Operation Gladio, anti-communist provocations in Italy
Operation Gladio was a joint post-war project of the CIA, NATO and MI-6 to fight communism in Italy. It lasted two decades and used the networks created by the CIA, designed to act in the rear of the Communists in the event of their invasion of Western Europe.
During this time, from the 1960s to the 1980s, a number of terrorist attacks were committed, the responsibility for which was placed on the Communists and other left-wing political opponents in order to present communism in an unfavorable light.
As a result of several explosions, hundreds of innocent people, including children, were killed, and the most noticeable act of terrorism was an explosion at the Bologna railway station on August 2, 1980, which resulted in 85 people being killed. How do we know about the operation "Gladio"?
There are two main sources. The first is an investigation by Italian judge Felix Casson, which turned out to be so convincing that Italian Prime Minister Giulio Andreotti had to confirm the existence of Gladio. The second source is the testimony of the Gladio operative, Vincenzo Vinciguerra, who is serving a life sentence for murder.
5. The government uses insects, rodents, and drones to spy

Often they say jokingly that, supposedly, that bird is a government spy, how carefully it looks at you. Meanwhile, although we do not know the details, it is certain that the American government has similar technologies, and they are used both for military purposes and to spy on their own citizens.
The insect-drone conspiracy theory first emerged in 2007, when anti-war protesters reported strange buzzing insects. Officials rejected this assumption, calling it nonsense, but many witnesses reported strange objects soaring in the sky, resembling a dragonfly. Meanwhile, the military use of miniature drones and "animal spies" is undeniable. In 1999, DARPA launched the Stealthy Insect Sensor project ("Insect as an inconspicuous sensor"), the goal of which was to learn how to use bees in combat zones as bomb detectors. In his book The Brain of the Pentagon.
The history of the DARPA, a top secret US military research agency, without censorship "(of The Pentagon's Brain: of An Uncensored History of the DARPA, America's the Top Secret Military Research Agency) journalist Annie Jacobsen showed that the agency is working on a" biogibridov ", ie animal cyborg with military purposes.
6. Killings and coups in foreign countries, organized by the CIA
When supporters of the Democratic Party say that foreign agents have influenced the recent US presidential elections, it's hard not to notice the irony. First, they have no evidence, except that intelligence agencies allegedly consider this to be true. And secondly, over the past 100 years, the US government and security services, namely the CIA, have aggressively intervened in elections abroad many times, and in some cases directly financed the killing of candidates. Here are just a few of the most obvious cases of CIA interference in foreign elections and other political processes:
South Korea (late 40s); Italy (1948 – mid 70s); Guatemala (1954); Congo (1960); Dominican Republic (1961); South Vietnam (1963); Brazil (1964); Uruguay (1969); Bolivia (1971); Chile (1970-1973); Argentina (1976); Australia (1975); El Salvador (1980); Iran (late 70s); Grenada (1983); Haiti (1986); Panama (1990); Nicaragua (1990); Czechoslovakia (1990); Peru (1990–2000); Yugoslavia (2000).
This is only a small sample of countries where even the main news agencies, and in many cases the CIA itself, have recognized the fact of the interference. It would not be an exaggeration to say that there are dozens of other examples – and now we are talking only about "soft" coups, otherwise we would have to include in the list the complete military destruction of Iraq, Afghanistan, Libya and other Middle Eastern countries during the "war against terrorism", as well as countless imperial wars against the "communist threat". (conspiracy theories)
7. Media – the propaganda branch of the State Department
People have long accused the major media of having become a trusted division of the US State Department, in a very complex and well thought-out way to simultaneously form public opinion and mimic the presence of opposition. The first evidence that the media could indeed be the mouthpiece of the government came after the disclosure of the so-called Operation Mockingbird. In effect, the CIA forced journalists, US news agencies, and large broadcasters to become propagandists and spies. In the end, journalists from all leading news organizations — literally thousands of people — were drawn into this symbiosis with the CIA.
This policy was carried out in the 50s, at the beginning of the Cold War, under the pretext of fighting communism. The CIA began to limit the use of journalists in the program "Mockingbird" in 1976, but many believe that since then it has transformed into something more powerful and omnipresent.
During the presidential election of 2016, several alarming revelations appeared on WikiLeaks, exposing collusion between the media and politicians – namely, the Democratic National Committee and Hillary Clinton headquarters. But it was not only about influencing the election result. New revelations have shown that the government is actively seeking to launch hands into the largest media corporations in order to influence how the world shows them.
8. "Deep State" (or conspiracy theory, formerly known as the New World Order)
For decades, radical ideologies of both left and right were arguing about the conspiracy idea of the shadow secret government, or the "New World Order," which supposedly controls the heads of state and industry leaders.
After the 2016 elections, the concept of a "deep state" became common in the discourses of theorists from alternative media, spreading along various trends and refracted in various ideologies. Now everyone, from the "alternative left" to the "alternative right," believes in the existence of a collision between elites, represented by the political establishment and non-conservative industrialists, who allegedly run a geopolitical show.(conspiracy theories)
Fortunately for the people of Earth, the revelations that have appeared on WikiLeaks and in other sources over the past few years clearly show that the New World Order not only exists but is a much more influential organization than naive supporters of conspiracy theories could imagine.
9. The CIA used psychics to infiltrate the USSR during the Cold War.

This is a popular plot in fiction: a man with supernormal abilities, which the authorities use to find the criminal. The concept of the government program for the creation of mental weapons has become particularly popular after the release of the film "Mad Special Forces", based on the history of the semi-mythical project StarGate.(conspiracy theories)
Of course, we are used to laughing at such stories and attributing them to meaningless conspiracy theories. But recently, hundreds of thousands of declassified documents of the CIA finally confirmed: the services of psychics are regularly resorted to by the police and other law enforcement agencies, and, moreover, the government actually tried to create an army of psychics during the Cold War to get information from the Soviet Union.
10. CIA monitors US citizens through their gadgets
In early 2017, WikiLeaks began to publish shocking revelations about the possibilities of hackers from the CIA. The data shows that the agency has access to an incredibly wide range of vulnerabilities, exploits and specially created "secret passages", which, according to many experts, means a gross violation of civil liberties.
The main of these violations is surveillance of their own citizens and hacking of user devices – as the WikiLeaks documents show, for this the CIA has a lot of opportunities.(conspiracy theories)
The agency can hack a smartphone on Android and iOS or a personal computer, in fact, having obtained full remote control over the device; can access smart TVs to listen to your conversations; can crack cars and arrange accidents – "almost imperceptible murders". And, of course, the CIA hides these vulnerabilities that could be exploited by hackers from other countries.
This can hardly be called a surprise – information about government crimes leaks slowly but inexorably, continuing to embarrass and alarm citizens, activists, entrepreneurs and international leaders.
Terra-forming Is Happening To Planet Earth For Extraterrestrial Beings
There is something happening to Planet Earth, that is causing the manipulation of weather and affecting natural habitats for wildlife. Certainly people are contributing to the pollution of the planet, yet temperatures have changed across various landscapes. It doesn't take a rocket scientist to see, that some places are experiencing cooler temperatures more so than ever before.
Through a series of transformations, "Earth-shaping" will continue to happen. This process is a deliberate modification of the Earth's atmosphere where temperatures change along with the topography.
Perhaps Earth will undergo a physical pole shift, that would destroy all if not most of humanity. There are various theories about how the world might end. One of them is the great Nibiru cataclysm, a ticking time bomb of destruction where Earth will collide with a large planetary object (either from a collision or a near-miss). This allegedly will happen sometime in the early part of the 21st century.
This kind of thinking, has been labeled as mere hearsay and conjured up by "conspiracy theorists". Likely all of this is happening, due to the reports of different alien and UFO sightings. This includes the large numbers of abductions that have happened. Some people have gone missing without a trace.
What happened to these people? Did they quite literally vanish off the face of the Earth? Were they taken by some kind of alien species? All of it is rather strange indeed, such as the cattle mutilations found. Are people being experimented on and cross bred with another species?
Some believe, that our planet is being changed in different ways, to make it more inhabitable by these extraterrestrials. There are apparently six to seven different alien species, that are fighting for the control of our world. The following species are believed to be here already:
The Sirians, a species believed to be from the Sirius B star system. They previously transmitted their knowledge to selective human civilizations. Some think that the Egyptians were blessed with both medical and astrological Know-how.
The Short Grays, are species between 3 to 5 feet tall. These creatures have round heads along with big black eyes. Despite having mouth, they rarely ever speak because most of their communication is conducted telepathically. They are minions of The Tall Grays. These short stature d aliens are both unemotional and vicious.
The Tall Grays, are a species described as being between 7 to 9 feet tall. Believed to be in agreement with a global shadow government, they oversee every abduction and human experiment. However, they don't attend these sessions personally. Instead, they employ the Short Grays to do their bidding. They come from a star system in the Orion constellation.
The Alpha Draconians, are thought to be between 14 and 22 feet tall and weigh around 1,800 pounds. They are thought to be exceptionally intelligent and are described as having large sized heads along with serpentine type eyes. Possibly, they have both tails and wings. Their boundless egos, make them believe they have rights to rule planet Earth among other worlds, since they consider us as second-rate species.
The native Reptilians, are a race believed to have been here on Earth before us. They have infiltrated society controlling different affairs of human life. Their influences include the construction of our financial system among religious influences. They reside underground and control media and different corporate businesses. It is also believed that they stand behind most crimes against humanity.
The Anunnaki, represent a noble race of creatures from another galaxy know as Illywn. Their home was a planet called Rizq which was later destroyed, making planet Nibiru their new "residence". Before they went to Earth, The Anunnaki colonized the planets in the Orion star system.
Their arrival on the Earth happened millions of years ago. Their intention was to seek for gold material so they alter their life on Nibiru. In order to do that, they are said to have created mankind so they could get help from them as a workforce in their process. It is thought that the Anunnaki are supervised by the Draconians and human beings share most of their DNA with these types of aliens.
All of this is quite a lot to comprehend and while it is far out there, some if not all of it could hold some truth. Hopefully, people will keep an open mind about what is actually happening in our world. There is much kept hidden away from us, to keep us under control.
20 Historical Paintings That Conspiracy Lovers Can't Get Enough Of
Between the moon landing in 1969 and the growth of the science fiction genre, most would likely peg the 20th century as the origin of humanity's interest in extraterrestrial life. Think about it: is there anything more "modern" sounding than the idea of aliens?
In actuality, this may not be the case. There are a number of historical paintings that some claim feature alien contact —we're talking about UFOs, people! Here are 20 works of art — painted centuries before we ever went to space — that are so out of this world they might be proof of alien existence!
1. St. John the Baptist (1513 – 1516): Leonardo Da Vinci is known for leaving hidden codes in his work. Well, if you join two mirror images of this painting, the face of an alien figure can be seen. Was he trying to send us a message?
Leonardo da Vinci
2. "Charama, India, Cave Paintings" (8,000 B.C.): Archaeologists have discovered alien-like paintings inside an Indian cave. Scientists have gone straight to NASA to investigate whether or not these paintings prove aliens visited our planet 10,000 years ago.
Times of India
3. "Two Dutch Ships" (unknown): Although the artist and era of this painting are unknown, it can be seen that two Dutch ships are sailing towards floating orbs in the sky. Upon further inspection, there appear to be faces inside the orbs suggesting that this is a UFO sighting.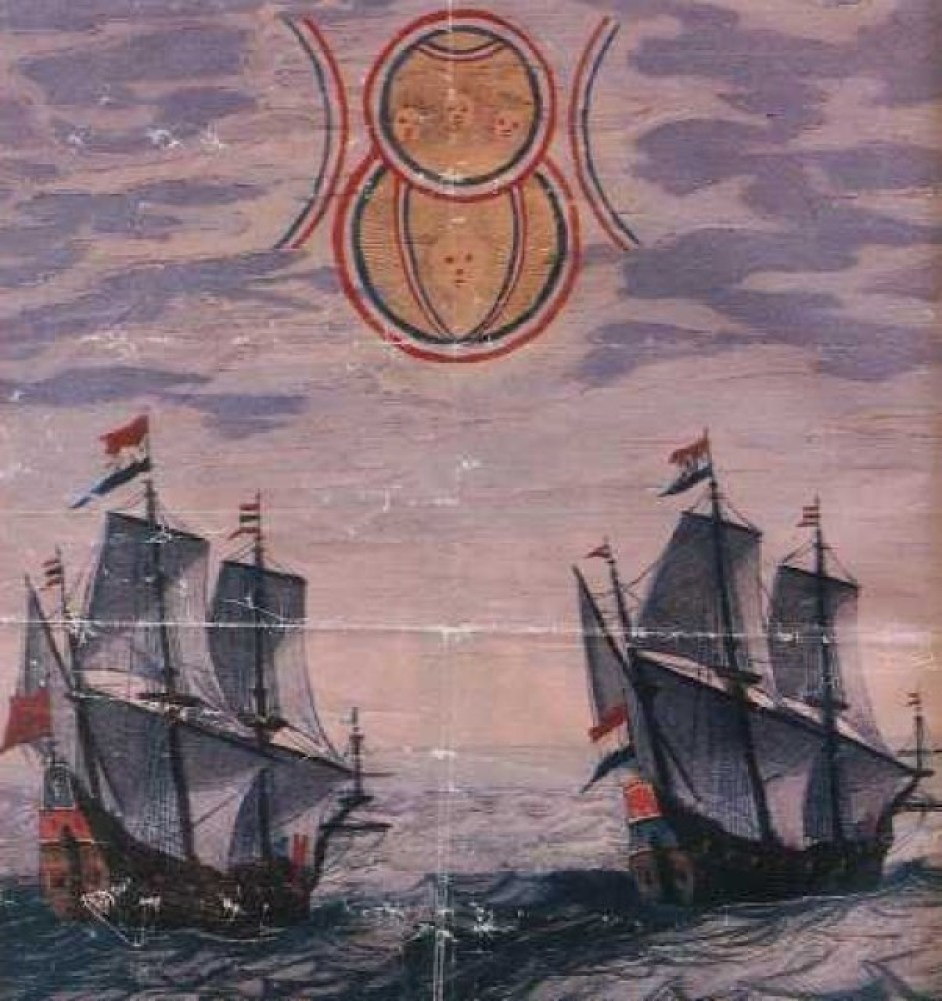 4. UFO sighting outside Windsor Castle (1783): This painting depicts Thomas Sandby's account of a pale blue object entering the night sky from beyond. He recounted that the glowing orb came to a halt and moved directions at one point during the encounter.
Thomas Sandby
5. Mayan carving (1st Century): Carved in stone, there is a man worshiping or surrendering to an alien-type figure hovering above. Some suggest the UFO carving is really just a representation of an ancient Mayan god, but the extraterrestrial reference is strong.
6. The Annunciation With Saint Emidus (1486): Painted by Carlo Crivelli, this work depicts the Virgin Mary just before she learns she is going to give birth to Jesus Christ. The light beaming down on her is either the halo of the Lord… or it's a UFO and a sign that Mary was abducted, depending on who you ask.
Carlo Crivelli
7. The Crucifixion Of Christ (1350): This painting, which hangs above the Visoki Decani Monastery in Kosovo, depicts the crucifixion of Christ. Supposedly, the objects in the upper corners are some sort of spacecraft!
8. The Baptism Of Christ (1710): Showing the baptism of Jesus, this painting by Aert de Gelder features four separate beams of light. Some believe this demonstrates that the disc in the sky is actually a UFO.
Aert de Gelde
9. The Madonna With Saint Giovannino (late 1400s): Domenico Ghirlandaio painted an object over the Madonna's left believed by some to be a UFO. A man is staring at it in the distance and a dog seems to be barking at it as well.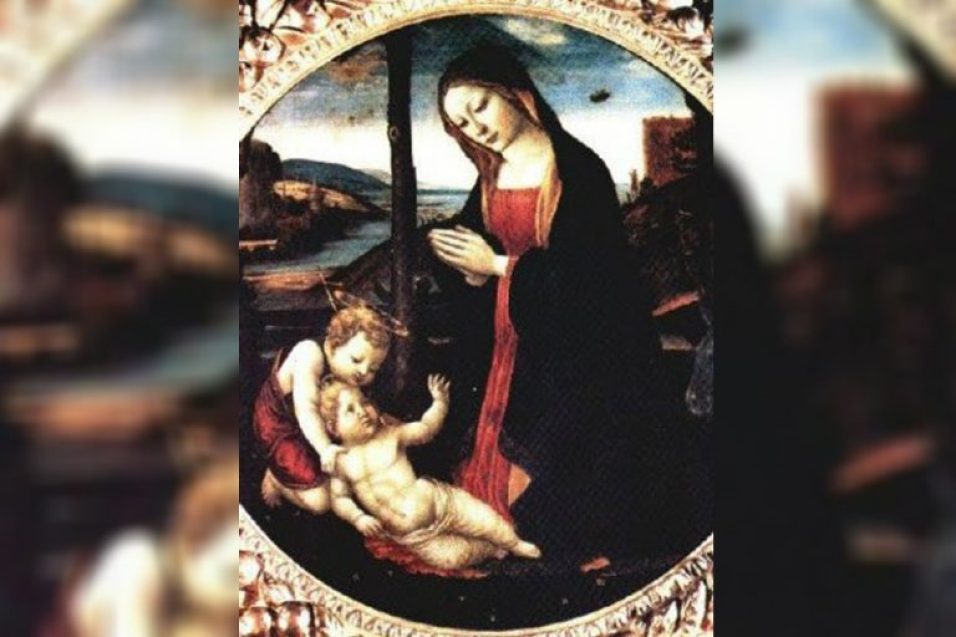 Domenico Ghirlandaio
10. Triumph Of Summer Tapestry (1538): This tapestry was created in Bruges, Belgium, and features depictions of three strange objects in the sky. They don't seem to match any known religious symbols, and the scene on the tapestry is of a ruler's rise to power.
11. La Tebaide (mid-1400s): This painting shows a number of scenes from monastic life in the 15th century, as well as the Crucifixion. Some point to the red disc at the bottom as a sign of something alien, but debunkers say it's nothing but the hat style commonly worn by cardinals at the time.
12. The Miracle Of The Snow (1428-1432): Painted by Masolino da Panicale, it evidently shows a snowfall that happened on a hot August day in Italy. Many believe the clouds might really be representative of something far more otherworldly.
Masolino da Panicale
13. "Israel, Put Your Hope In The Lord" Painting (circa 1600s): Residing now in the Church of the Dominican Monastery in Sighisoara, Romania, this eerie painting shows a church on fire. Above it appears to be some sort of UFO wreaking havoc.
14. Glorification Of The Eucharist (early 1600s): Painted by Ventura Salimbeni, it's hard not to notice the globe in the middle of the work. Some say it's evidence of time travel, while experts suggest it's a "creation globe," and the antennas are actually wands used by God and Jesus.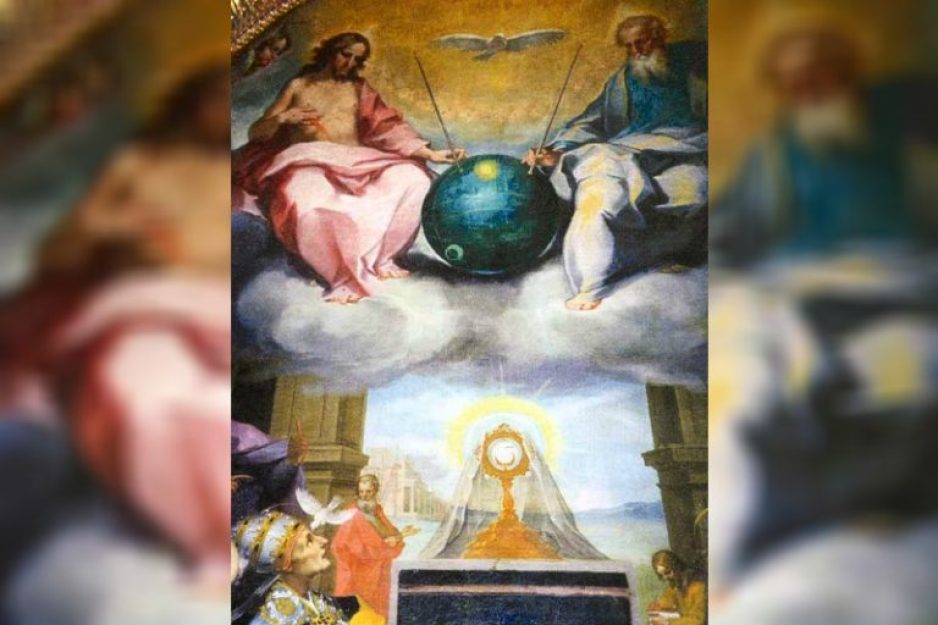 Ventura Salimbeni
15. The Crucifixion Of Christ (circa 1600s): Found in the Svetishoveli Cathedral in Mtskheta, Georgia, this painting apparently shows two flying objects on either side of Christ during the Crucifixion. Some believe this is proof that Jesus was some form of human-alien hybrid.
The Crucifixion Of Christ
16. Saint Wolfgang and the Devil (circa 1475): This piece by Michael Pacher shows Saint Wolfgang himself getting help from some devilish alien creature to build his church.
Michael Pacher
17. Egyptian Pictograph (400 B.C.): This pictograph appears to show a male Egyptian offering a live bird to a cloaked alien figure of some sort. Potentially a peace offering after unwanted aliens invaded earth?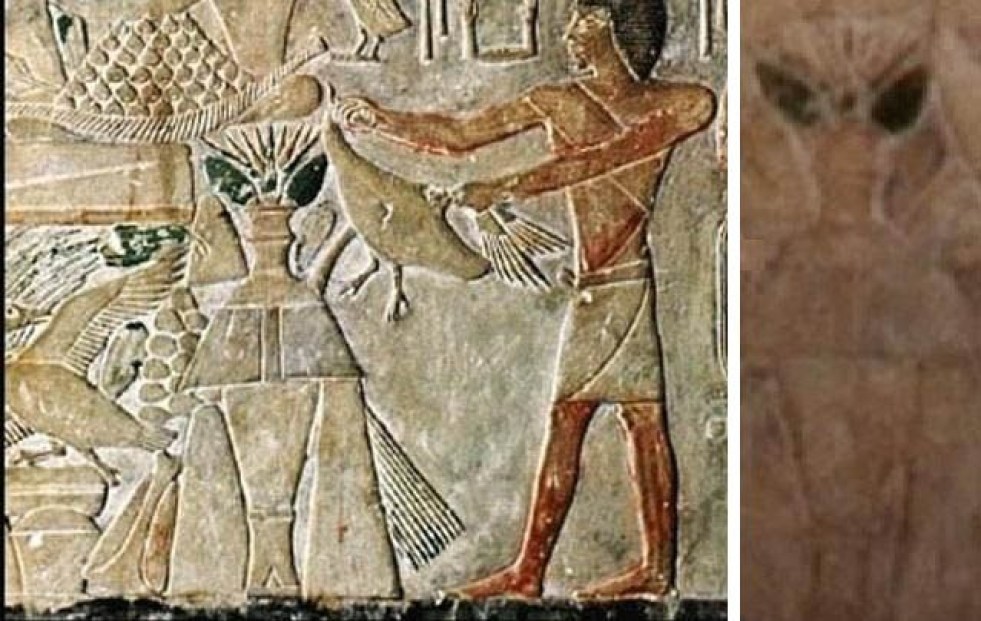 18. "Une No Chiri" (1803): Published in a book in the 19th century, this illustration depicts a real-life artifact that was found at Haratonohama by Japanese sailors. According to the explanation on the drawing, the outside was made of iron and glass.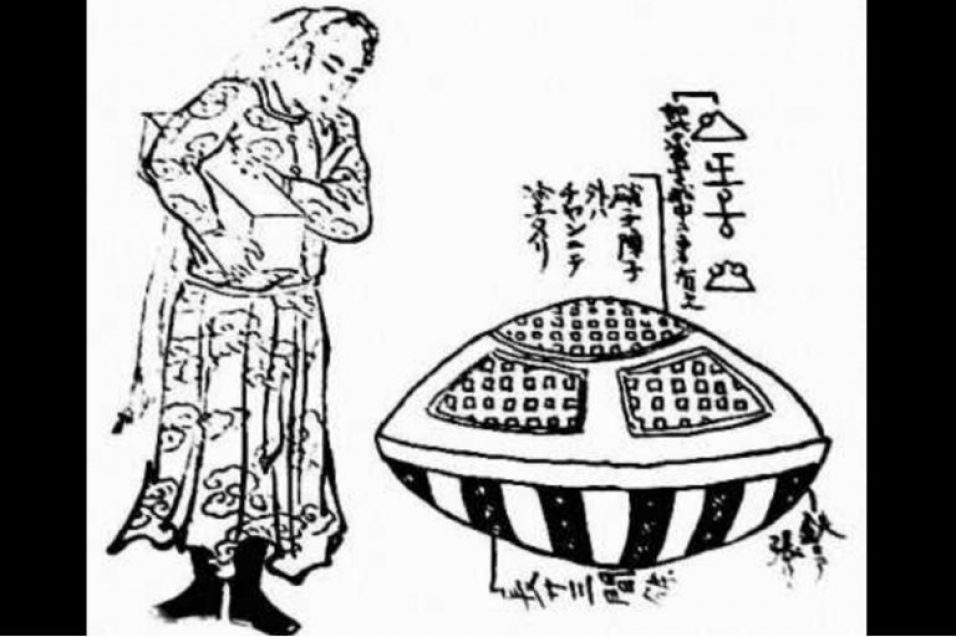 Ume No Chiri
19. Foppa Adorazione (1478): This painting has a hidden message lurking in the back. A man can be seen standing on the hill looking up at a glowing orb. Some argue that this divine painting depicts belief of extraterrestrial life.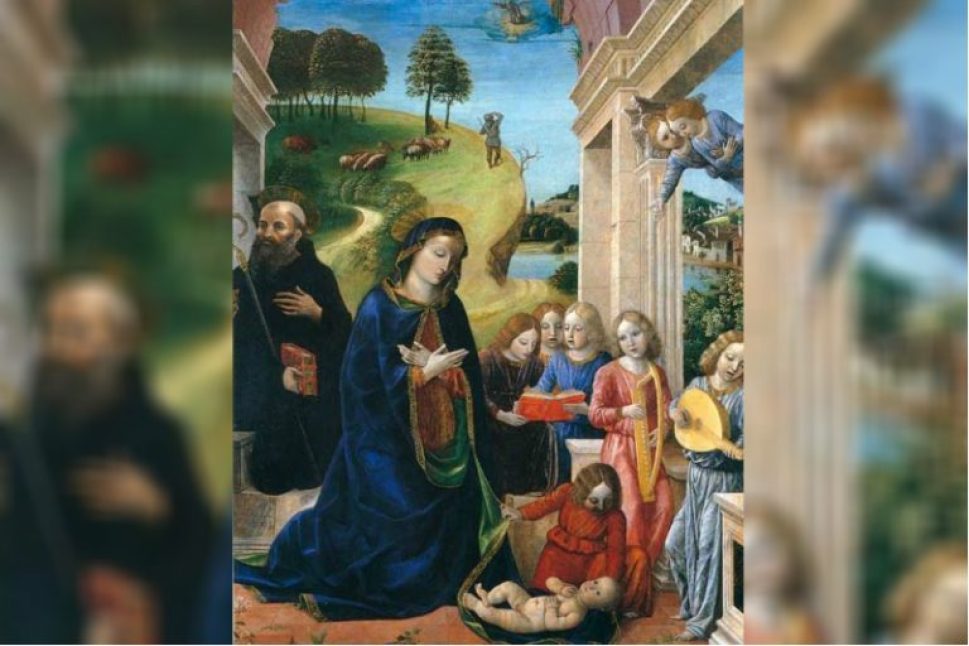 Vincenzo Foppa
20. Mona Lisa (1503) Another example of Leonardo da Vinci leaving hidden messages in his work, comes from one of his most famous paintings. If you place two mirror images of the Mona Lisa side-by-side, an alien's face becomes clearly visible.
Leonardo da Vinci
But there is actually much more to this classic than just Aliens. There is so much mystery surrounding Mona Lisa that historians continue to study the painting today, and after all these years she still has secrets to reveal…
In 2015, a French scientist using reflective light technology discovered a portrait of another woman hiding beneath the painting we see now. The underlying portrait is believed to be Da Vinci's first draft of the famous painting, but it's difficult to confirm if that belief is true or not. And Mona Lisa isn't the only one holding secrets…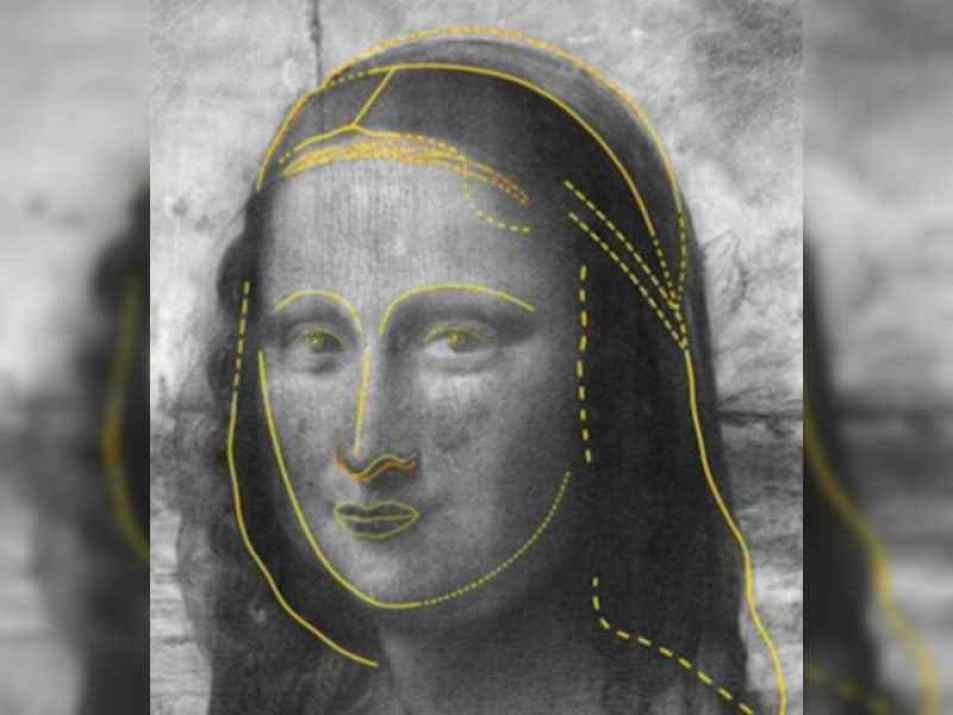 Jan van Eyck, the Netherlandish painter, created the famous Arnolfini Portraitin 1434. The painting depicts Giovanni di Nicolao Arnolfini, an Italian merchant, and his wife, Constanza Trenta. While the renowned work is impressive in itself, there's more to the painting than meets the eye…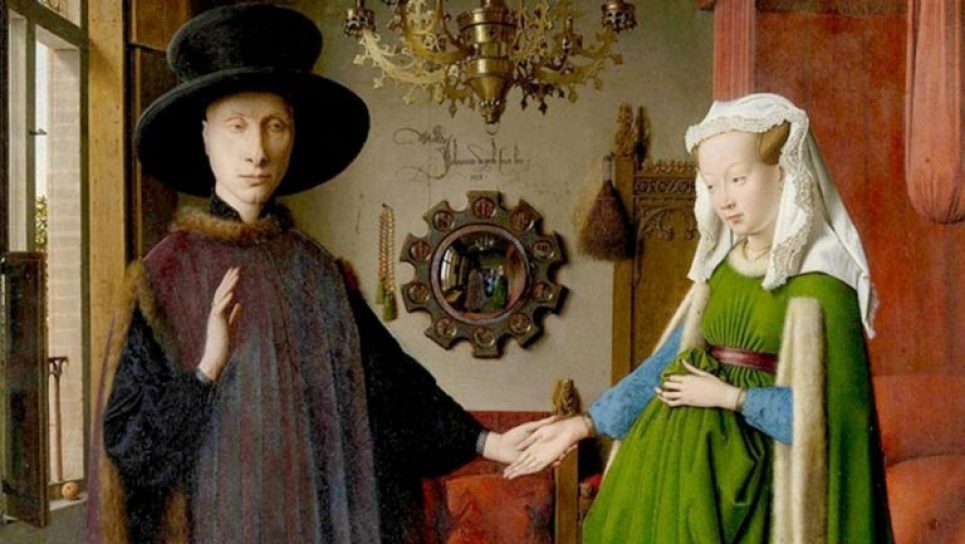 Take a closer look, you'll see a mirror centered in the background of the painting. Reflected in the mirror are two other figures who appear to be looking at the Arnolfini's. Based on our logic of mirrors, one of the figures is presumed to be the artist, Van Eyck, subtly eternalizing himself in the portrait.
We can't talk about art without bringing up the chiseled bod of David. Arguably one of the greatest sculptures of all time, Michelangelo's statue of David stands 17 feet tall. Seriously, we have to admit, David doesn't really have a bad angle going for him. But looking up at David does distort one thing that might change the way you consider the work.
David is positioned in a heroic manner. Due to its size, when we admire the statue we are forced to look up at him. His body is anatomical perfection, and, paired with his confident stance, David is often thought to be sculpted as "hero." Looking at David at eye level reveals a different story. His expression shows concern and fear, which makes sense after all given he is about to engage in a battle with Goliath!
This one is a touch macabre. In 1533, Hans Holbein the Younger painted The Ambassadors. The work showcases two rich ambassadors, seemingly healthy and in their prime, surrounded with their fine material goods. While the portrait is strikingly rich in color, the hues defy the underlying message of the work, which is far from vivifying.
Looming at the feet of the ambassadors is an anamorphic perspective of a skull. The skull, with its placement and perspective, seems so stark that it feels like it doesn't belong in the painting.
This piece was intended to hang in a stairwell so, at the angle of ascension, the skull would jump right out at you. The skull was to serve as a memento mori, which translates to, "remember you will die." So much for a welcome mat, huh?
More details here https://www.khanacademy.org
Despite his name, Pieter Bruegel the Elder is not a wizard. Unfortunately. What he is though, is one of the most notable artists of the Dutch and Flemish Renaissance painting. In 1559, he created the Netherlandish Proverbs. It may look more like a Neanderthal-ish bedlam, but this raucous scene is actually telling a story — 112 stories to be exact!
The artist is known for inserting the absurdity of humanity in his work, and he didn't miss a beat with this one. The painting literally illustrates 112 different proverbs and sayings from the Netherlands. Some of which include, "To be a pillar biter" and "Armed to the teeth." But the real proverb here is, if you're not Dutch, you're not getting much (at least not much face time in a Bruegel painting)!
The Sistine Chapel. You may have heard of it — the big, painted chapel in the Apostolic Palace, nestled in the Vatican City. Well, way back in 1512, Michelangelo was commissioned by Pope Julius II to paint the story of Genesis across 9 sections of the concave ceiling. Michelangelo's work would come to be recognized as a cornerstone of high renaissance art. Some speculate that beyond a masterpiece, the artist also left behind a message…
Michelangelo spent many years studying human anatomy. With that deep understanding, the artist was able to depict people with greater realism and insert more cerebral meaning into his paintings. In this famous section, God is surrounded by what looks like a brain. This insinuates that not only did God give Adam life, but also the ability to reason and think.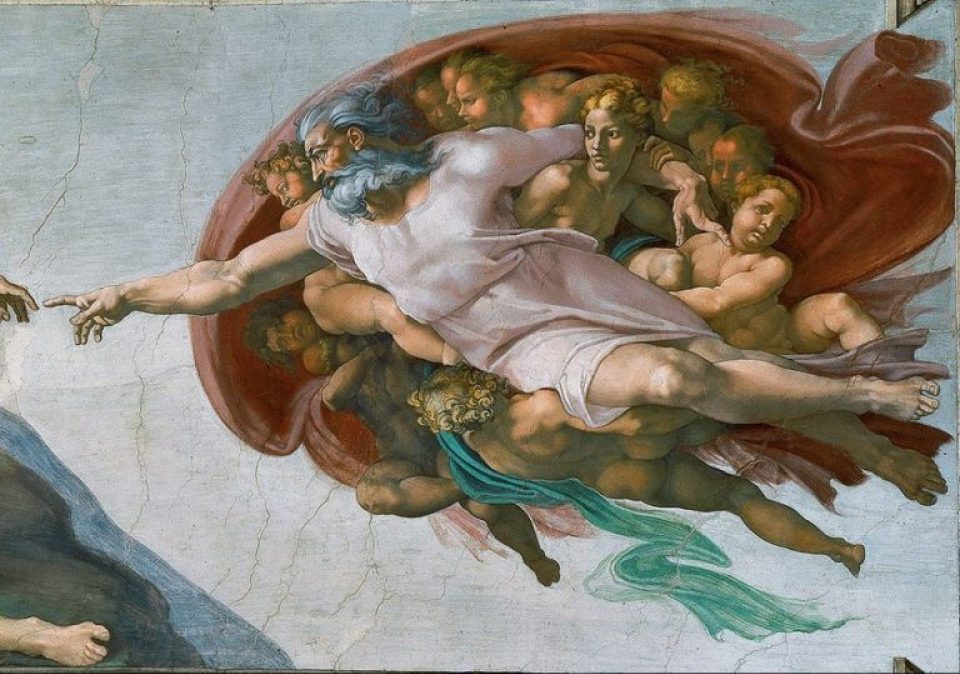 The Last Supper by Leonardo Da Vinci is almost as famous for its rumors of secret meanings as it is for its artistic brilliance. Da Vinci was unique in his genius, and much of that is to due to his vast and diverse passions. Not only an artist, Da Vinci identified as a mathematician, scientist, inventor, and even a musician.
And when a fellow musician admired Da Vinci's work, he noticed something peculiar. When the five lines of a musical staff are drawn across the supper, the bread rolls combined with the apostle's hands create musical notes. When you follow Da Vinci's signature style of right to left, the notes make up a 40-second musical composition.
Vincent Van Gogh created Café Terrace at Night in 1888, a scene so charming, you can almost hear accordions. Some art historians have a different take on this painting though. There are theories that posit this café might have a more symbolic impetus, coming from the son of a Protestant minister…
There have been many comparisons with Van Gogh's Café Terrace and Da Vinci's Last Supper. The central figure in white is thought to be a representation of Jesus, while the dark figure in the doorway is speculated to represent Judas.
There is a good story here, but first let's take a moment to appreciate the name of this painting's creator, Hieronymus Bosch. Ohhh, it's so good! Hieronymus Bosch is the creator behind this triptych oil painting titled, The Garden of Earthly Delights. What is even more delightful are the secret, behind-the-scenes notes…
These notes, found on the bottom of a tortured soul in the "hell panel" of the painting, translate into approximately 28 seconds of what can only be described as a reject Nokia ringtone. This melody is widely referred to as "the butt-song from hell."
The legendary Mexican painter Frida Kahlo had a husband who was, apparently, a painter as well. Just kidding, Diego Rivera is totally a big shot. Due to his notoriety, in the early 1940s, Nelson Rockefeller commissioned Rivera to paint a mural, Man at the Crossroads for the Rockefeller Center in New York City. Alas, even the richest of the rich don't always get exactly what they want…
Young Rockefeller didn't appreciate the inclusion of the communist revolutionary Vladimir Lenin in the mural, so he had the painting destroyed. In response, Rivera re-created the mural in 1943 in Mexico city and titled it, Man, the Center of the Universe. Not only was Lenin even more prominently featured in this mural, but Rivera, not so coyly, painted in Rockefeller's father below the bacterial illustration of syphilis.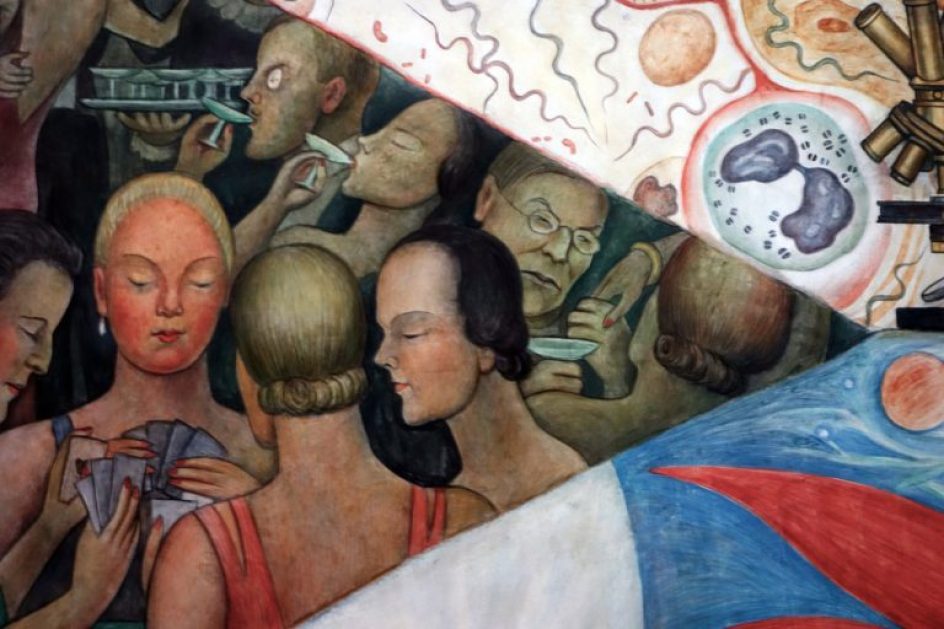 The elites are not human: This is how these Reptilians act with us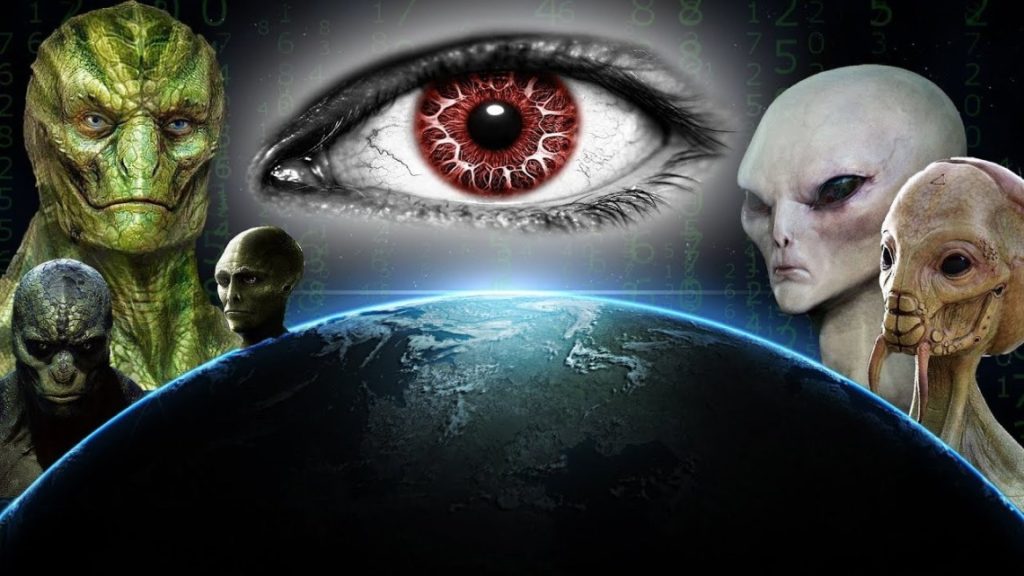 One of the most surprising theories in the panorama of conspiracies is that which has been defended by the British researcher and writer David Icke, who since 1990 devoted himself to searching for the "reptiles that control the world".
Apparently David Icke's idea of ​​a conspiracy of lizards may seem like idiocy; but the investigating experts who have come to study Icke's theses, in many occasions to try to dismantle their eccentric visions, have found with the surprise that the theories of this English writer are of absolute solvency and that they are perfectly structured and documented.
In his writings, Icke warns that world control resides in a few magnates, powerful people from the economic, political and world royalty spheres, who are descendants of a race of humanoid reptiles that have always controlled all of humanity .
These dominant "lizards" are those who wield world power through the occult society of elite "Illuminati".
That the control of the economic and political power of the world is structured from occult secret societies, followers of the Devil, is something that was already known. The great novelty introduced by David Icke is the element "lizard", that is, to say that these controllers of world power are reptilian beings and that they transform their form.
David says that most of the world leaders, of any social structure, like George Bush, the Rockefellers, the Rothschilds, and even the Royal Family of England, are 7-foot-tall, humanoid reptiles that feed primarily on blood.
Snake beings, also called, can transform their physical appearance, from human to reptile, depending on whether they are in private or in public at that moment.
According to an interview with David Icke, Christine Fitzgerald, a confidante of Princess Diana , tells that Diana told her, that the Royal Family were reptilian aliens, and that they could change shape.
David Icke states that September 11 is a conspiracy by the Reptilians to enslave through fear of humanity, George Bush being a servant of the lizards.
David Icke's theories may be difficult for some to understand, but what is undeniable is the fact that when you listen to his propositions, he makes a very good discussion with his case. This is a time of great changes in the world.
People have started to wake up, deciding for themselves what resonates as truth and what does not. We live in an era of massive information exchange, thanks to the advent of the Internet. People are connecting from around the world to share knowledge and create changes on a large scale.
The most important thing that each of us must do during this time is to inform ourselves as much as possible. In short, we are the ones who have the power to create what we want as a society. When we tune into our true potential, everything is possible.