The 10 bizarre phenomena that still have scientists baffled

By Hayley Birch, Science Uncovered
Scientists have spent centuries uncovering the many mysteries of the natural world, yet some phenomena still baffle even the sharpest of scientific minds.
From strange lights in the sky following earthquakes to rocks that spontaneously glide across the ground, these naturally-occurring events from around the world seem to have no purpose or meaning.

Science Uncovered's Hayley Birch has compiled a list of the top 10 most strange, cryptic and incredible naturally-occurring events from around the world. 
For mystery, controversy and epic scale, nothing beats earthquake lights – the unexplained illuminations in the sky that can accompany a seismic shudder. The various theories include heat caused by friction, radon gas and piezoelectricity – an electric charge accumulating in quartz rocks as tectonic plates move
1. EARTHQUAKE LIGHTS: Ethereal lights that appear in the sky before and during a quake
For mystery, controversy and epic scale, nothing beats earthquake lights – the unexplained illuminations in the sky that can accompany a seismic shudder.

The mystery: what causes them? The controversy: do they even exist? And the epic status? Well, it's like an earthquake and a lightning storm all rolled into one. It's beyond Biblical.
The original article appears in issue 2 of the brand new science magazine, Science Uncovered, on sale now
Italian physicist Cristiano Ferugia assembled a complete account of earthquake light reports dating back to 2000BC. For a long time, however, geoscientists remained sceptical about the strange phenomenon. It wasn't until 1966 that hard evidence emerged, in the form of photos from the Matsushiro earthquake in Japan.
Now, of course, you have only to head to the internet to come across hundreds of pages full of earthquake light photos, many of dubious authenticity.

But the lights appear in so many different colours and forms – from red to white to blue, and in globes, flickers and glows – that it's difficult to spot a fake.

The various theories include heat caused by friction, radon gas and piezoelectricity – an electric charge accumulating in quartz rocks as tectonic plates move.
In 2003, NASA physicist Dr Friedemann Freund carried out lab experiments, which suggested that earthquake lights are caused by electrical activity in rocks.

He said shockwaves from earthquakes can change the electrical properties of silicon and oxygen-containing minerals, allowing them to transmit currents and emit light.

But Professor David Brumbaugh, at the Arizona Earthquake Information Center in Flagstaff, Arizona, thinks the theory can be considered only a 'possible explanation' at best.
'Although Freund's theory seems promising, the answer may be a bit more complicated,' he said. Brumbaugh, however, admits he's not aware of any new research that would be as useful as Freund's.
Covering a 450km expanse of coastal desert, the Nazca Lines are oversized artworks etched into the Peruvian plains, pictured. They are thought to have been created by the Nazca people over a 1,000-year period between 500BC and 500AD, but no one knows why
2. THE NAZCA LINES: Vast shapes drawn in the Peruvian sand by an ancient population – but no one knows why
Covering a 450km2 expanse of coastal desert, the Nazca Lines are oversized artworks etched into the Peruvian plains. Including large geometric designs as well as pictures of animals, plants and rarer human-like figures, they are visible from the air as giant line drawings.

They are thought to have been created by the Nazca people over a 1,000-year period between 500BC and 500AD, but no one knows why.
Despite World Heritage status, the Peruvian authorities have trouble protecting the Lines from squatters. According to Peruvian law, which protects the landless, squatters only have to stay for a single day in order to be able to stake a claim.

Last year, reports emerged of Peruvians raising pigs on the artworks. In their view, the site is simply an expanse of wasted space in a region with a rapidly growing poor population.
Meanwhile, archaeologists are trying to study the Lines before they are destroyed. Early claims that the designs formed part of an astronomical calendar have been discredited and, since 1997, researchers working as part of a Peruvian-German collaboration have turned their attention to the history and culture of the people who created them – how they lived and what happened to them.
In 2012, Yamagata University, in Japan, announced that it would open a research centre at the site as part of a 15-year project to study more than 1,000 drawings.
Millions of monarch butterflies, pictured, migrate 2,000 miles every year. In 1976, zoologists found them at the top of the 'Mountain of Butterflies' in Mexico. While scientists know the monarchs target 12 to 15 Mexican mountain sites, they don't know how they navigate there
3. INCREDIBLE BUTTERFLY NAVIGATION: Monarch butterflies find their way thousands of miles to specific mountains
Each year, millions of North American monarch butterflies migrate 2,000 miles south for winter. For years, no one knew where they ended up.

Then, in the 1950s, Norah Urquhart and her husband Fred, a zoologist, began tagging and tracking the creatures. In 1976, tipped off by a local woodcutter, they climbed to the top of the 'Mountain of Butterflies'. All the butterflies in North America, it seemed, were in a mountain forest in Mexico.
That's not where the story ends. While we know the monarchs target just 12 to 15 Mexican mountain sites, we don't know how they navigate there.

Studies suggest they use the position of the Sun to fly south, adjusting for the time of day through circadian clocks in their antennae. But the Sun only gives them a general direction. What guides them towards the Michoacan mountains?

'They are funnelled in, probably by landmarks as they reach the overwintering site,' said Professor Steven Reppert, a monarch expert at the University of Massachusetts. 'But how they home in is still a mystery.'
Landmarks such as the Gulf of Mexico couldn't provide enough information to take butterflies all the way, so they must use other short-range navigation systems.

One theory is that a geomagnetic force attracts them, although, says Reppert, 'that's never really panned out'. Scientists only recently acquired some of the genetic tools needed to probe the details of their navigation systems. Now they have a full genetic code, they are starting to knock out genes to see how this affects the animals' sense of direction.
The phenomenon of ball lightning has generally been described as being a luminous sphere that appears during or after a thunderstorm. Some theories suggest ball lightning, pictured, is a plasma, others that it is the result of a chemiluminescent process – light that occurs due to a chemical reaction
4. BALL LIGHTNING: Spheres of light that appear during or after a thunderstorm.
Nikola Tesla, the physicist who invented AC power, supposedly created ball lightning in his lab. He wrote in 1904 that he 'never saw fireballs, but…succeeded in determining their formation and producing them artificially'.

It was a surprising claim then, and is perhaps even more surprising now given that modern scientists have struggled to reproduce the results.

What's more, many in the scientific community remain sceptical about the existence of ball lightning, full stop. However, eye witness reports of naturally occurring ball lightning were made as far back as the era of the ancient Greeks.

In modern times, the phenomenon of ball lightning has generally been described as being a luminous sphere that appears during or after a thunderstorm. There have also been reports of lightning balls passing through window panes and down chimneys.
Some theories suggest ball lightning is a plasma, others that it is the result of a chemiluminescent process – light that occurs due to a chemical reaction.

In August 2013, researchers at the US Air Force Academy in Colorado made and photographed bright white plasmoid balls in their lab. The balls were generated from high-power electric sparks, discharged by electrodes partly submerged in electrolyte solutions.
Even the researchers couldn't be sure that what they had created was ball lightning. Therefore, they refer to the phenomenon as "ball-lightning-like atmospheric pressure plasmoids". Slightly less exciting than Tesla's fireballs, perhaps, but it's certainly the closest that anyone has come to repeating his work.
At Racetrack Playa in the Death Valley, California, pictured, heavy rocks appear to move across the floor while no one is looking. Scientists believe the movement may be caused by the ice stuck to the bottom of the stones, which are then moved in the wind. However, no-one has caught the stones in the act
5. WANDERING ROCKS OF DEATH VALLEY: Stones that slide across the ground under some kind of mysterious force
At Racetrack Playa in the Death Valley National Park, California, strange forces are at work. Forces capable of pushing heavy rocks across the flat surface of a dried-out lake while no one is looking.

Scientists have scratched their heads over the trails left by these sliding stones since early in the 20th Century. In the 1960s, Californian geologists started a rock monitoring programme.

They tracked 30 stones, weighing up to 25kg, 28 of which moved during a seven-year period – some more than 200m. Analysis of the stones' trails suggested speeds of 1m per second. In most cases, the stones travelled in winter. In the decades that followed, theories about ice and wind gained support. Others involved algal slime and seismic vibrations.
So what's happening? Are the stones sliding around in bad weather? 'We think so,' says Dr Gunther Kletetschka, of the Academy of Science of the Czech Republic and Charles University in Prague, who led a 2013 study on the stones.

His team's research describes what happens when water on the Playa surface freezes. According to their theory, ice stuck to the stones remains frozen longer than the surrounding ice – because rock conducts heat away faster. This reduces the force between the rocks and the Playa surface, so they can be pushed by the wind. 
No one has yet caught the stones in the act, and they've been strangely still of late. Kletetschka thinks this is due to water levels. 'The reason for stones not moving recently is the presence of an artificial trench, draining the excess water from the Playa,' he says.
An unidentified hum is a low-frequency noise that's been heard from Bristol to Bondi. Scientists have attributed this drone to tinnitus, distant waves crashing, pictured, industrial noise and singing sand dunes. In 2006, one New Zealand scientist claimed to have recorded the sound
6. THE ANNOYING LOW FREQUENCY HUM: An unidentified drone that only some people are able to hear
It sounds like the title of a dodgy horror film about killer bees. The Hum is actually the name given to an irritating low-frequency noise that's been bothering the locals everywhere from Bristol to Bondi. Here's the thing, though – not everybody can hear it. Less than one in 20 people can.

Which is pretty annoying if you're that one in 20 and nobody will believe you.
Last year, residents of Beaufort in County Kerry, Ireland, begged the local council to deal with a persistent humming noise that had begun the previous April. One resident told the Irish Examiner, 'Not everybody in the parish has heard the noise, but just because they can't hear it doesn't mean it isn't there.' The council tried switching off water pumps that residents blamed for The Hum, but it made no difference.
Elsewhere, scientists have attributed The Hum to tinnitus, distant waves crashing, industrial noise and singing sand dunes. In 2006, one New Zealand scientist claimed to have recorded the sound.
In 2013, cicadas emerged from the ground after not being seen since 1996. Scientists have no idea how they were knew when it was the right time to leave the ground
7. REAPPEARING CICADAS: Insects that suddenly wake up after nearly 20 years to find a mate
The adolescents emerge from their dark little homes, after a 17-year slumber. They arrive noisy, in a frenzied search for a partner. No, they're not teenagers on the way to their school prom. They're cicadas.
Periodical cicadas are, for the most part, quiet and solitary, spending their days burrowing underground. They're long-lived for insects and don't mature until their 17th year. In the summer of this year, however, something happens. En masse, they rise from the ground as a plague of lust, in search of mates.

Two or three weeks later, they die, leaving behind the products of their furtive love-making. The hatchlings worm their way into the soil to start the cycle again.

The question is: how do they do it? If you were stuck in the dark for a few days, you'd probably have trouble telling the time. These guys don't. In 2013, they hadn't been seen since 1996. But that summer, billions of Magicicada septendecim appeared, bang on schedule, to make cicada babies across the eastern U.S.

It gets weirder. While 17-year cicadas hit the north-east states, the more south-easterly states are struck by an invasion that takes place every 13 years. The connection between 13 and 17? They're prime numbers.
This has led scientists to speculate that the cicadas' life cycles evolved to avoid coinciding with those of their predators. Both 13 and 17 have only two factors (one and themselves).

So, cicadas stayed out of sync with foes that had two- or three-year life cycles. In fact, they avoided every predator with a life cycle longer than one year and shorter than their own. A neat trick, but it doesn't explain how they keep track of the time.
Scientists are sceptical about animal rain. Odzaci, in Serbia, has supposedly been pelted by frogs, and perch have fallen on Lajamanu, Australia. After tadpoles rained on the Japanese cities of Nanao and Hakusan in 2009, it was suggested birds dropped them but this has never been proved
8. RAINING SPRATS AND DOGSRaining sprats and frogs: When wildlife falls from the skies like rain
In January 1917, biologist Waldo McAtee presented a paper to the Biological Society of Washington, rather disturbingly entitled Showers of Organic Matter.

The paper's contents list reads like a recipe for a witch's potion, covering everything from hay and flesh to ants and toads. In the eight-page report, he dispenses with more spurious claims, while seeming to accept salamander larvae raining down on Minnesota, and showers of sprats, whitings and herrings in the UK.
Odzaci, in Serbia, has supposedly been pelted by frogs, and perch have fallen on Lajamanu, Australia. After tadpoles rained on the Japanese cities of Nanao and Hakusan in 2009, it was suggested birds dropped them. If this were true, though, the tadpoles should have been more widely distributed.
Scientists are sceptical about animal rain, but one simple explanation by a French physicist in the 19th century is that high winds pick up and drop the animals.

A slightly more complex theory involves a 'tornadic waterspout' – a tornado that crosses a pond or lake, sucking in aquatic life as it goes. Fish might be pulled in by the vortex and deposited wherever the waterspout runs out of steam. However, while there seems to be tentative agreement that this would be possible, there are no scientific studies that confirm it.

McAtee was more concerned with how these chance events might serve population dispersal. 'Fishes are fated to fall where they cannot survive,' he wrote. 'Their inability to live long out of water strictly limits the possibilities of their deriving advantage by wind transport.'
The great balls of Costa Rica, pictured, were found in the 1930s. Some are as large as two metres in diameter. Now dated to between 600 and 1000 AD, the balls are known locally as Las Bolas. Yet, there are no written records of the culture of the people who created them
9. THE GREAT BALLS OF COSTA RICA: Giant stone spheres whose purpose is unfathomable
Why the people of pre-Spanish colonisation Costa Rica decided to carve hundreds of giant balls out of stone is as much a mystery today as it was when the balls were discovered.

The Great Balls of Costa Rica were found by the United Fruit Company in the 1930s, when it was clearing land to turn into banana plantations. Some are as large as two metres in diameter.
Now dated to between 600 and 1000 AD, the balls are known locally as Las Bolas. What makes solving the mystery particularly challenging is there are no written records of the culture of the people who created them. Spanish settlers ensured the indigenous population's cultural heritage was wiped out.
One of the first investigations of the stones was published in 1943 by archaeologist Doris Stone, who mapped their distribution. University of Kansas anthropologist Professor John Hoopes has dismissed most theories about the stones' purpose – in particular those concerning lost cities and space ships.

In 2012, he travelled to Costa Rica to evaluate their potential for World Heritage Status. A decision has not yet been made.
Fossilis uncovered in geographical regions and archaeological time zones they don't belong to have fuelled creationist arguments. Some of these have yielded new information about our ancestry. Others have been revealed as fakes. Recently, a human skull unearthed in Sussex was found to be a forgery
10. IMPOSSIBLE FOSSILS: The remains of long-dead creatures that crop up in the wrong place
Since the theory of evolution emerged in the 19th century, scientists have been faced with some surprising discoveries that have seemed to defy it.

Perhaps the most puzzling have been fossils – and, in particular, human fossils – turning up in the 'wrong' place.

Fossilised fingers and footprints uncovered in geographical regions and archaeological time zones they don't belong to have fuelled creationist arguments and forced scientists to defend Charles Darwin's widely accepted theory.
Some of these discoveries may yield new information about our ancestry. Others will undoubtedly be revealed as honest mistakes or, at worst, fakes. In one of the most famous examples of a fossil forgery, an apparently human skull was unearthed in the Sussex hamlet of Piltdown in the UK.

From a series of finds starting in 1911, amateur archaeologist Charles Dawson pieced together fragments that were considered to be from a 500,000-year-old, big-brained human, dubbed Piltdown Man. At first, Piltdown Man's oversized head led scientists to believe he was 'the missing link' between humans and apes.

But by the 1950s, it had become clear that Piltdown Man was a hoax. His ape-like jaw was not just ape-like – it once belonged to an ape and had been combined with a diseased human skull that radiocarbon dating revealed was less than 1,000 years old. Chemical analysis also showed that the skull was probably stained to make it look older.
The original article appears in issue two of the brand new science magazine, Science Uncovered, on sale now. To find out more about the magazine, visit www.science-uncovered.com.
There are many mysteries in the Sahara Desert but scientific and archaeological expeditions are prohibited
Throughout the history of this African desert, tens of thousands of people have gone missing in its vicinity, and this is only according to official data. The sand is much more destructive than the ill-fated Bermuda Triangle. This is understandable, five thousand kilometers covered with sand.
Scientists know for certain that millions of years ago there were rivers, lakes, flowering gardens and, most likely, even the ocean in the desert, since numerous whale fossils were found in the sands.
The ruins of cities, underground canals, through which water once flowed, were discovered. In one of the Sahara caves, ancient drawings and hieroglyphs were found, depicting humanoid creatures, around which there was greenery and water. There are a lot of mountains in the desert, where people have never been.
Perhaps the most mysterious place in the Sahara is rocky terrain with melted earth and traces of radiation. At this place, according to scientists, an explosion of incredible power thundered. There is a theory that all this is due to the fall of a meteorite.
This is confirmed by the chemical elements that scientists find in glass and iron. These elements are of unearthly origin, and most likely came to us with a meteorite. Moreover, the crater itself is hidden somewhere under the sands, and has not yet been found.
If you look at the desert from space, then the first thing that can be seen is the rings, called the eyes of the Sahara, with a diameter of more than fifty kilometers. There are rocky rocks near the rings that are not found anywhere else on Earth. The stones themselves are most likely solidified lava.
But all these secrets and riddles are not studied in detail, since archaeological and scientific expeditions are officially prohibited on the territory of the Sahara, due to safety. On the territory of the desert, armed conflicts constantly occur, which are a great risk for scientists. This is what official sources say.
The desert can be easily studied from space, by analogy with, for example, Mars, where in the infrared range, with the help of orbiting satellites and telescopes, you can recognize artifacts, as well as make new discoveries. Unfortunately, this does not happen.
The Sahara Desert, along with the oceans of the Earth, remains the least studied.
Nikola Tesla's mysterious inventions: from laser to teleportation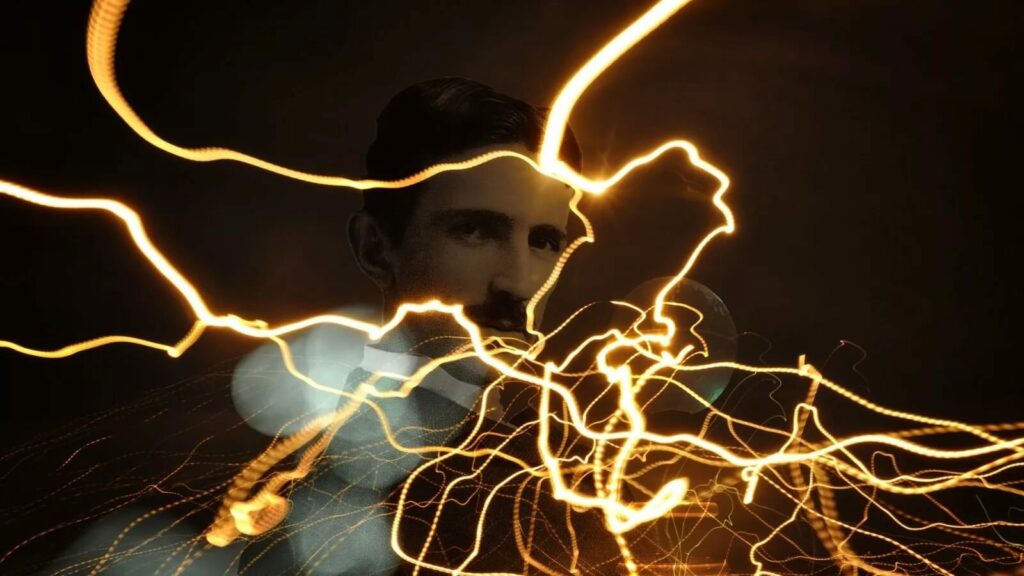 Nikola Tesla is perhaps the most mysterious and most misunderstood of all the great scientists. He was a man well ahead of his time. He owns many inventions and discoveries. Some of them remain a mystery to this day.
Tesla could have pioneered the X-ray, which Wilhelm Roentgen introduced in 1895. The fact is that Nikola had worked with vacuum tubes several years earlier. During the experiments, he discovered an unknown radiation that could penetrate objects. But the scientist was then so busy that he left the study of X-rays.Only after the discovery of Roentgen, Tesla realized what he had missed, although he did not pretend to be the discoverer. The Serb decided to return to this topic and became so carried away by it that he began to scan everyone in a row – dogs, colleagues and even himself.
To get some of the images, it took about an hour to be under the X-ray machine. At first, the researcher believed that these rays were harmless, so he irradiated the head, hands, even eyes. Tesla stopped doing this when he saw the burns.
How Tesla caused the earthquake
After a while, Tesla switched to ultrasound and even caused an earthquake. It happened in 1898 in New York. There were factories, a police station, and residential buildings in the neighborhood of the scientist's laboratory.
Then one day, the ground in the area shook, the buildings began to shake. In a panic, residents rushed into the street, thinking it was an earthquake. The police ran to Tesla's laboratory and found him smashing into smithereens some device installed on the base of the building. When the device was broken, the earthquake stopped.
It was an oscillator that generated ultra-high frequency oscillations and produced ultrasound. These vibrations caused internal resonance in objects when they coincided with the frequency of their natural vibrations. Tesla saw in this a destructive force of enormous proportions.
The invention of radio
Back in 1890, Tesla predicted the appearance of a device with which it would be possible to listen to music and human speech at a great distance from the sound source. In the same way, images or text will be transmitted, the scientist believed. We can say that the inventor predicted the era of wireless communication and the Internet.
As far as radio is concerned, Tesla conducted experiments. Nine meters from each other, he installed a 5-kilowatt spark transmitter and receiver, from which he extended wires to the ceilings, which served as antennas. Messages were sent from the transmitter to the receiver handset.
Although Tesla built the first wave radio transmitter in 1893, ahead of Marconi, the Italian was more nimble. He challenged the Serb patents for the device itself and the power transmission system in court.
So, Nikola was left without fame and patent payments, and Marconi received the Nobel Prize. It was only after the death of both inventors that the US Supreme Court confirmed Tesla's primacy in inventing a wireless communication system.
Remote control
In 1893, Tesla began designing remotely controlled vehicles. However, two years later, a fire destroyed all his developments, including the already created mechanisms. For the first time, a scientist showed his inventions at an exhibition in 1898. With the help of a remote control, Tesla made a radio-controlled boat perform various maneuvers. The display of the scientist turned out to be a sensation.
The inventor also proposed creating a remote-controlled submarine to blow up enemy ships. But the military was not interested in Tesla's developments.
Wireless energy
But then Tesla was not worried about what the military thought. He was so fascinated by the idea of ​​wireless power transmission that he went to Colorado Springs to conduct experiments. An antenna 60 meters high was built here especially for the experiments. Locals often watched the tower generate giant flashes of lightning.
Soon, banker John Morgan gives Tesla money for the project of a global radio network. But the scientist did not forget about his idea of ​​wireless transmission of electricity. With the funds received, he built a new laboratory with a frame tower in Wardencliff, which became famous all over the world.
Morgan did not understand the whole idea. Why was it necessary to build a tower, because Marconi transmitted a signal across the entire Atlantic and without it.
Then Tesla confessed to Morgan that he was not interested in radio communication, but in the wireless transmission of energy to any part of the planet. But this was not part of the entrepreneur's plans, and he stopped funding.
This whole story influenced the opinion of financiers about the scientist. They did not want to deal with Tesla and invest in him. The scientist's affairs were getting worse. In 1905, his patents for AC motors and other designs expired and payments ceased.
During the First World War, the American government decided to blow up the tower at Wardenclyffe, because it feared that it would become a beacon for German ships. This is how Tesla's dream of the informational unification of the world collapsed.
The unsolved mysteries of Nikola Tesla
And yet, many of the discoveries of the Serbian scientist are shrouded in mystery to this day. Tesla left no drawings or notes on them. Only fragmentary information and, of course, legends have survived.
Tesla is considered the "culprit" of the 1908 Tunguska explosion. A huge wave of energy could travel from the tower at Wardencliff to Siberia through the ionosphere. If it was a meteorite, then no trace of it was found. Despite the fact that the project in Wardenclyffe stopped funding in 1905, the equipment remained there, and Tesla could secretly continue his experiments.
According to the scientist himself, he received technical and scientific revelations from a certain ether – a single information field of the Earth. From there, he received inaudible signals to anyone, including from Venus and Mars.
In 1931, Tesla presented an interesting development. The gasoline engine was removed from the car and an electric motor was installed. Then Tesla, in front of the public, placed a box with two rods under the hood and connected it to the motor. With the words "now we have energy" Tesla got behind the wheel and drove off.
The car accelerated to 150 kilometers per hour, and there was no need to recharge. When asked where the energy came from, Tesla replied that it was from the ether. However, the public considered the invention to be quackery. Then the disgruntled inventor took out a miracle box from under the hood and carried it away. What kind of device it was is still unknown.
The scientist is also credited with participating in a secret military project, in which the famous Philadelphia experiment later took place.
Shortly before his death, Tesla announced the development of "death rays". His new invention could destroy aircraft at a distance of 400 kilometers. It is assumed that the military bought the blueprints and created modern laser installations based on them. Also, newspapers wrote that Tesla was working on creating an artificial mind and the ability to photograph thoughts.
Only now the world realizes what discoveries Tesla made. For example, the Kirlian effect was patented in 1949, although the glowing effect of the "aura" of objects was shown by Tesla at the end of the 19th century.
Some scientists are now carried away by studying the torsion field, and they are looking for information about it in the fragmentary records of Tesla. But there are few of them left. Perhaps Nikola burned them shortly before his death, realizing that his knowledge was too dangerous for unreasonable humanity!
"The great mysteries of our existence have yet to be solved, even death may not be the end."  N. Tesla
Subconscious Games: Eliza Müller's Martian Language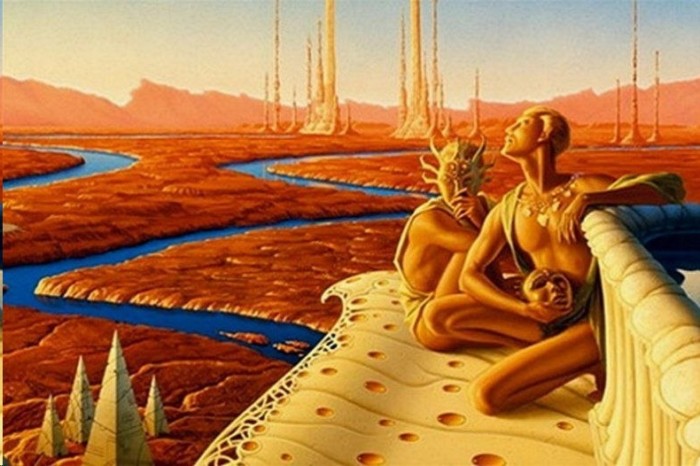 The Swiss psychologist Theodore Flournoy did not know that, having accepted an invitation from a colleague to attend a seance, he would spend five years of his life studying the secrets of the medium's subconscious. A tall, beautiful woman sat at a round table, glaring at those who came.
Eliza Müller recently turned 33 years old, but she never got married. At the end of the 19th century, this was considered a tragedy. Eliza did not take money for the sessions, earning good money in the accounting department of a famous trading house. Talking about her, Flournois hid her real name, giving Frau Müller the pseudonym Helen Smith.
During the session, she was transformed, falling into a trance. Her eyes opened wide, her gaze rushed into space or wandered senselessly. At this moment, Eliza's dilated pupils did not react to the bright light, and her face turned into a lifeless mask. A few minutes later, Eliza began to speak on behalf of the "spirit" that had infiltrated her – Cagliostro, Marie Antoinette, Victor Hugo and other celebrities.
At the same time, her voice completely changed, imitating those whose "spirit" was embodied in her. Sometimes Eliza spoke in a normal voice, describing the visions that appeared to her. In a trance, Frau Müller spoke to only one of those present, answering his questions. The rest of the people did not exist for her.
When Cagliostro moved into Eliza, she stood up, proudly straightening herself up, and began to speak, majestically crossing her arms over her chest. Her voice became loud and low, like that of a man, and her pronunciation was similar to Italian, with ancient turns. Cagliostro answered questions familiarly, referring to the interlocutor on "you".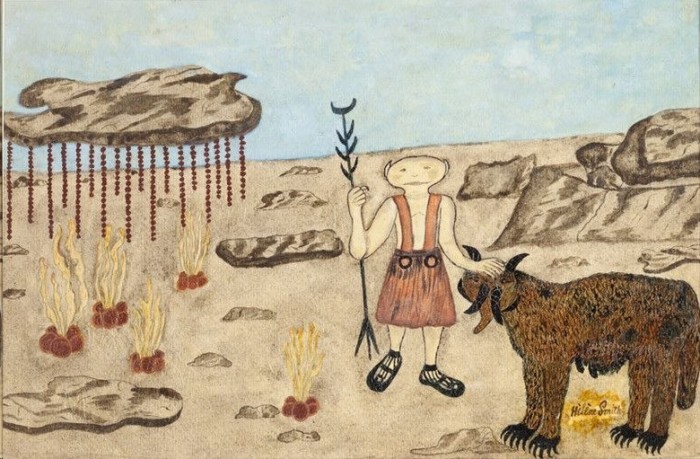 Another "spirit" that entered the medium was the Indian princess Simandini, the daughter of an Arab sheikh and the eleventh wife of Prince Nayak Sivruk of the Canary Islands, who built the Chandragiri fortress in 1401.
"The real daughter of the East appeared before us," recalled Theodore Flournoy. – She sat on the ground with crossed legs; her solemn kneeling before the invisible incense burner, full of religious feeling, her arms crossed reverently on her chest and threefold bows gave the impression of inimitable naturalness; the melancholic tenderness of her songs, the free flexibility of her serpentine movements – such a varied facial expression, distinguished by a purely exotic character, all these movements bore the imprint of originality and ease. Unwittingly, bewilderment arose, how could a woman who did not know the East at all learn them.

During the sessions, Simandini uttered words and whole phrases that no one understood. When they were recorded and contacted by specialists, it turned out that she spoke Sanskrit. Once Eliza, in a trance, wrote a few words in a strange language. Experts in oriental writing told Theodore that this is an Arabic proverb: "A little friendship is already a lot."
At the end of the session, announced by three knocks on the table, Frau Müller gradually returned to her normal state. It did not come immediately – it was preceded by several short awakenings, alternating with falling asleep. The woman who came to her senses did not remember what happened in the trance.
Flights to Mars
On November 25, 1894, immersed in a trance, Eliza saw a bright light at a high altitude. Then she felt herself pumped.
An example of a text in "Martian language" as presented by Helen Smith
It seemed to her that her head was empty and her body was gone. Some force was carrying her up. Then Frau Müller saw a beautiful ball and was on its surface.
– Where I am? – She asked the familiar "spirit" who was nearby.

"On a planet called Mars," he replied.
Eliza began to describe her first impressions. She saw carts without horses and wheels, which, sliding, scattered sparks; aircraft similar to coach lights; houses with water fountains on the roof; people who spoke a strange language and, greeting each other, gave clicks in the nose; children who slept in a cradle, which instead of curtains had an iron angel with outstretched wings …
Frau Müller began to visit Mars during almost every trance. Little by little, she learned to speak and write in Martian. It turned out that one of the rulers of the planet, a certain Astane, lived on Earth in a past life and was familiar with Simandini.
Once Eliza in the company of Astane attended a magnificent local celebration. Dressed in a sequined dress (she imagined it was a Martian one), she entered a large square hall, lit by lamps at the corners.
Many ornamental plants hung everywhere. In the middle of the room was a grove surrounded by small, shiny tables. Inside was a cheerful crowd of young men and women, whose hairstyles bore the appearance of a pink, blue, or green moth.
At a sign given by Astane, everyone sat down at the tables decorated with flowers. Two men placed square plates and forks without handles in front of the Martians. Then they served strange-looking dishes, but the taste was excellent. The holiday ended with dances and songs.
Even stranger things were said by Eliza about her visit to the Martian foster home. In the huge hall along the walls there were "cradles" that resembled changing tables. In each "cradle" lay a child.
Martians walked around the hall with domestic animals, which had a wide, flat, almost hairless head and large kind eyes, like those of seals. Their large udders were inserted into a square tube milking unit. The Martians now and then stuck a pipe into the mouths of babies, feeding them milk.
On the way to the solution
Trying to find out as much as possible about the past of the medium, Flournoy found the family doctor Frau Müller. After talking with an elderly doctor, the psychologist showed him a note with an Arabic proverb. The doctor replied that this was his writing style. Several years ago, he traveled to Arabia and knew Arabic well.
Every time he gave a book about travel to friends, he would add an Arabic saying to his autograph. Eliza saw one of the autographs and in a trance drew it from memory from left to right, and did not write, like a real Arab woman, from right to left.
When Flournois invited a famous linguist to the sessions, the scientist said that Simandini's language is not real Sanskrit, but a mixture of it with words similar in sound, but at the same time meaningless. The linguist got the impression that Eliza somehow saw the Sanskrit dictionary or grammar and leafed through it out of boredom.
Frau herself, of course, had forgotten everything a long time ago, but the subconscious mind kept the words it saw in its memory and then used them during the trance, plugging the blanks with words of its own invention.
Then it was the turn to find out if Princess Simandini and her husband Sivruk existed. All historians amicably answered that these names were unfamiliar to them. Flournoy was ready to give up, but then an old book on the history of India, written in 1828, fell into his hands. Everything that the princess said to herself turned out to be exact quotes taken from there!
Flournoy was able to prove that the source of information from the "spirits" were books that Frau Müller read as a child and forgot. During her trance, her brain would extract pieces of forgotten memories and build plots from them – of course, without the knowledge of her sanity.
Scientists were presented with a fantastic game of the mind and subconscious, surpassing everything that they had previously encountered. The process, when fragments from long-forgotten memories float out and are perceived by the subject himself as something alien, otherworldly, Theodore called cryptomnesia.
Subconscious games
The scientific assault on the "Martian language" was short-lived. Linguists said that the Martian language completely copies the grammar of the French language.
"This is a language that a young child could compose by replacing every word in the French dictionary with an arbitrary combination of letters and each letter with an arbitrary sign," the experts said. "The language is childish, but as an effort of memory it is a miracle."
Eliza Müller's subconscious was trying to get out not only in a trance state. Sometimes she switched to the "Martian language", not noticing that the interlocutor did not understand her. There could be several such interruptions during one conversation. Even in business correspondence, Frau Müller often inserted phrases or individual letters in "Martian" without noticing the mistake.
In 1900, Flournoy's book "From India to the Planet Mars" was published, where the author summed up the five-year work of a team of scientists. After reading it, Eliza was furious. Since then, no specialist has received permission to attend her sessions.
A year later, a wealthy American woman gave Eliza financial support so that she could quit her job and focus on developing her mediumship. Frau Müller, who is so good at drawing, has a new talent. Going into a trance, she took up brushes and painted pictures on religious themes. Eliza's paintings are considered a prime example of art brut – art of non-professionals, which has a spontaneous character and does not depend on cultural traditions.
Frau Müller died on June 10, 1929 in Geneva. Until her last breath, Eliza believed that she was the chosen one of spirits, aliens and saints, called to bring the truth to our lost world.
Mikhail GERSHTEIN, magazine "Secrets of the XX century"