Worlds Waters Turn Blood-Red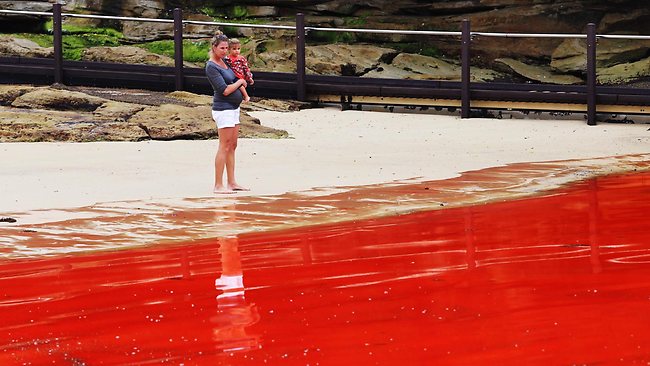 Exodus 7:17 This is what the LORD says: By this you will know that I am the LORD: With the staff that is in my hand I will strike the water of the Nile, and it will be changed into blood.  SEVERAL popular Sydney beaches, including the iconic Bondi, resembled scenes out of a apocalyptic film today after an algae bloom turned the water blood red.
SEVERAL popular Sydney beaches, including the iconic Bondi, resembled scenes out of a apocalyptic film today after an algae bloom turned the water blood red.

Patches of the red algae, a natural phenomenon that can be exacerbated by certain weather conditions, were sighted between Bondi Beach and Maroubra Beach this morning.

Both Bondi Beach and Clovelly Beach were closed while authorities conduct tests in the water.

Gordon's Bay was also closed due to the algal bloom, with Beachwatch posting a photograph on Twitter showing water the colour of tomato juice.

Waverley head lifeguard Bruce Hopkins said the bloom was spotted drifting off the north side of Bondi Beach at around 6.30am.

"It has got quite a fishy smell to it," Mr Hopkins told AAP.

"It can irritate some people's skin but generally not much more than that."

Mr Hopkins said the bloom has a "reddy-purple" tinge and sits on the surface like oil sheen. The bloom was dissipating off Bondi, with hopes the beach might be reopened by this afternoon, he said. Red algae was uncommon but not unheard of at Bondi, Mr Hopkins added.

Algae bloom

A seagull searches for a meal in the algal bloom which has killed many fish on the coast of Sydney.

At just before 12.30pm Beachwatch NSW announced that Clovelly Beach had also been closed because of the bloom.

The closures will come as a blow to tourists and other beachgoers if they continue throughout a week which is forecast to have soaring temperatures peaking at more than 40C on Saturday.

A Randwick Council spokesman said red algae can potentially be dangerous to humans exposed to it.

"There are some possible risks to human health from red algae including skin rashes and eye irritation, and for this reason the beach will remain closed until the algae dissipates," the spokesman said.

"Signage has been installed at Clovelly Beach, and council lifeguards are advising people not to swim."

Algal bloom

The red algal bloom at Clovelly beach. Picture: Craig Greenhill Source: The Daily Telegraph

A spokesman for the NSW Office of Water said testing was being done to discover what caused the bloom.

One cause, he said was an upwelling of colder nutrient-rich water.

He said algal blooms, sometime referred to as "red tides", are more common around spring and autumn when there are higher water temperatures and greater movements in ocean currents.

The NSW Office of Water expects the test results some time on this afternoon but could not confirm the beaches would be opened by the end of the day.

It comes after toxic algal bloom was detected in Botany Bay, south of Bondi on Friday.

That particular species of algae produced paralytic shellfish poisoning toxins, the NSW Department of Primary Industries said.

The NSW Office of Water spokesman said the two blooms were "probably not related", but were unable to confirm further details until test results on the algae at Bondi became available.

While many locals have been deterred by the phenomenon, many people – believed to be tourists – are still swimming in the water.

Algal bloom

The red algal bloom at Bondi Beach. Picture: Craig Greenhill Source: The Daily Telegraph

Bondi local Michael Strum said the algae had stopped him swimming in the water.

"It looks like pink sludge, it's disgusting," he said.

"You can even see it on the sand."

Irene Eristian, 33, said the colour of the water was "quite intense".

"I wasn't sure if I should let my daughter into the water as I wasn't sure what it was," she said.

Some, like 18-year-old Bondi woman Josie Capel, said she was curious to find out what the effects are and "what the risks are, if there are any".

Late this afternoon Bondi beach was reopened after the algae bloom broke up sufficiently to allow swimmers to safely return to the water.

A spokeswoman for Waverley Council said most of the algae had either washed up, or broken up in the water.

Further south, Clovelly beach remains shut.

It is believed the red algae will continue to break up overnight, with Waverley Council not expecting to need to close beaches again tomorrow.
China's Yangtze River "Turns Blood Red": Residents of Chinese city left baffled
It is the last thing the residents of Chongqing would have expected to see. But the Yangtze river, which runs through the city in south-western China, turned a bright shade of orange-red yesterday.
The waterway where the Yangtze met the Jialin River provided a fascinating contrast as the red started to filter into the other river.
Meeting point: A ship sails across the junction of the polluted Yangtze River (left) and the Jialin River in Chongqing, China, yesterday
Shock: The Yangtze river, which runs through the city in south-western China, turned a bright shade of orange-red yesterday
Dirty/clean: A ship sails across the junction of the Yangtze River and the Jialin River at the exact spot where the dyed river starts to bleed into the Jialin
In the thick of it: A fisherman goes about his daily business
While officials investigate the cause of the colouring, one fisherman went about his daily business as if nothing had happened.
Others were so amazed that they collected samples in water bottles.
Although the cause is yet to be determined, this is not the first time a river has turned red in China. Last December, the Jian River in the city of Luoyang, in the north Henan province, turned red after becoming polluted by a powerful dye.
The dye was being dumped into the city's storm drain network by two illegal dye workshops.
Officials raided the factories to shut them down, and then disassembled their machinery.
According to chapter 16, verse 4 of the Bible's book of Revelations, one of the signs that Armageddon is near will be an angel pouring a bowl into the rivers, turning them into blood.
Bizarre: The red river gave Chongqing an apocalyptic appearance yesterday
According to the Inquisitr reports
Lake In France Turns Blood Red

Natural bodies of water like lakes and rivers turning blood red sounds like something apocalyptic straight out of the Bible, but a lake in southern France displaying this phenomenon has a perfectly natural explanation for it: salt.
A lake in the Camargue in southern France, a river delta right where the Rhône meets the sea, turned blood red, causing some panic. But fear not: scientists are saying that the color is due to a natural phenomenon, and not a chilling portent of doom, reports NY Daily. A high concentration of salt taking the form of salt flats caused the water to run an eerie blood red color, says scientists.

The salt build-up can be seen on plants, rock formations, and beaches in photographs snapped by Russian photographer Sam Dobson. The strange and eerie photos, seen here, were described by the photographer thusly:

"Every small branch is covered with crystals. with the red water as a background it looks like something extra-terrestrial," said Dobson of the strange phenomenon. "I was just overwhelmed with emotions the whole time I was there. Despite my numerous travels, I have never seen anything like this before."

This isn't the only time such a thing has happened, either. Lake Retba in Senegal recently took on a strawberry milkshake-like hue for similar reasons, reports the Daily Mail.

"The strawberry [color] is produced by salt-loving organism Dunaliella salina. They produce a red pigment that absorbs and uses the energy of sunlight to create more energy, turning the water pink," Michael Danson, a bacteria expert from Bath University said. "Lakes like Retba and the Dead Sea, which have high salt concentrations, were once thought to be incompatible with life – hence the names. But they are very much alive."

So even though fish and birds are dying by the thousands, and bodies of water are turning blood red, these are not signs of the end-times. You can rest easy: it's all natural.
The time has come,
Soon we will all witness the master plan meticulously crafted by the mystery people.
Will No. 44 be the last as a president or a shall we have a continuation in UN leadership?
Ogmios is waiting…
WW3 In June 2016 – 1.2 Billion Will Die Says Doomsday Prophet!
A man by the name of Pastor Ricardo Salazar has been getting some attention in the media lately for making predictions that we are on the verge of World War 3 with China and Russia. Other prophecies that he has made include that an asteroid will hit the earth and kill 1.2 billion people, the Antichrist will appear in 2020, and that the second coming of Jesus Christ will take place in 2023. Is there any validity to his claims? You will learn so much from watching this video.
WWIII HAS BEGUN ! Chinese Warplanes Join Their Russian Counterparts in Devastating Air Raids Against Obama Backed ISIS Terrorists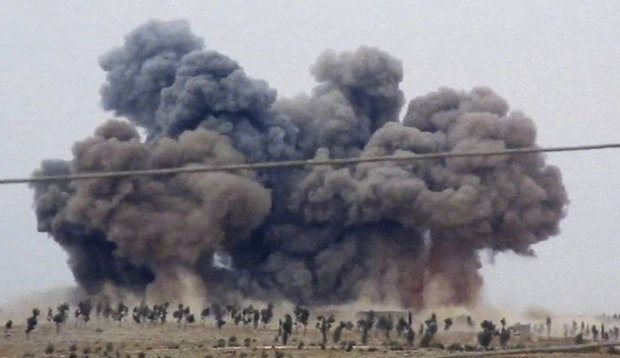 China has told Moscow that they will join in the bombing in Syria from their Aircraft Carrier. This has HUGE implications folks. HUGE!
It is a well-known fact that the Nation of Iran today has two chief allies, Russia and China. They have stood by Iran through the thick and thin especially with controlling interest as permanent members of the United Nation's Security Council. Without Russian and China, Shiite Iran would have been history decades ago.
Today again, they are proving that they will be prepared to stand in opposition to the United States and NATO because all four are vying for world dominion.  So also the rest of the world's prophetic nations are aligning themselves either for or again either of two global forces.
China To Join Russian Air Strikes In Syria, Russia Gains Iraq Air Base
BELGRADE – DEBKAfile's military and intelligence sources report that China sent word to Moscow on Friday, October 2, that J-15 fighter bombers would shortly join the Russian air campaign that was launched Wednesday, September 30. Baghdad has moreover offered Moscow an air base for targeting the Islamic State now occupying large swathes of Iraqi territory, debka.com reports.
The J-15 warplanes will take off from the Chinese Liaoning-CV-16 aircraft carrier, which reached Syrian shores on September 26, according to DEBKAfile. This will be a landmark event for Beijing: its first military operation in the Middle East as well the carrier's first taste of action in conditions of real combat.
Thursday night, China's foreign minister Wang Yi, made this comment on the Syrian crisis at a UN Security Council session in New York: "The world cannot afford to stand by and look on with folded arms, but must also not arbitrarily interfere (in the crisis)."
A no less significant development occurred at about the same time when Iraqi Prime Minister Haider al-Abadi, speaking to the US PBS NewsHour, said he would welcome a deployment of Russian troops to Iraq to fight ISIS forces in his country too. As an added incentive, he noted that this would also give Moscow the chance to deal with the 2,500 Chechen Muslims whom, he said, are fighting with ISIS in Iraq.
DEBKAfile's military sources add that Al-Abadi's words came against the backdrop of two events closely related to Russia's expanding role in the war arena:
1.  A joint Russian-Iranian-Syrian-Iraqi war room has been working since last week out of the Iraqi Defense Ministry and military staff headquarters in Baghdad to coordinate the passage of Russian and Iranian airlifts to Syria and also Russian air raids. This command center is also organizing the transfer of Iranian and pro-Iranian Shiite forces into Syria.
2.  Baghdad and Moscow have just concluded a deal for the Russian air force to start using the Al Taqaddum Air Base at Habbaniyah, 74 km west of Baghdad, both as a way station for the Russian air corridor to Syria and as a launching-pad for bombing missions against ISIS forces and infrastructure in northern Iraq and northern Syria.
Russia has thus gained a military enclave in Iraq, just as it has in Syria, where it has taken over a base outside Latakia on the western coast of Syria. At the same time, the Habbaniyah air base also serves US forces operating in Iraq, which number an estimated 5,000.