Winged humanoid creatures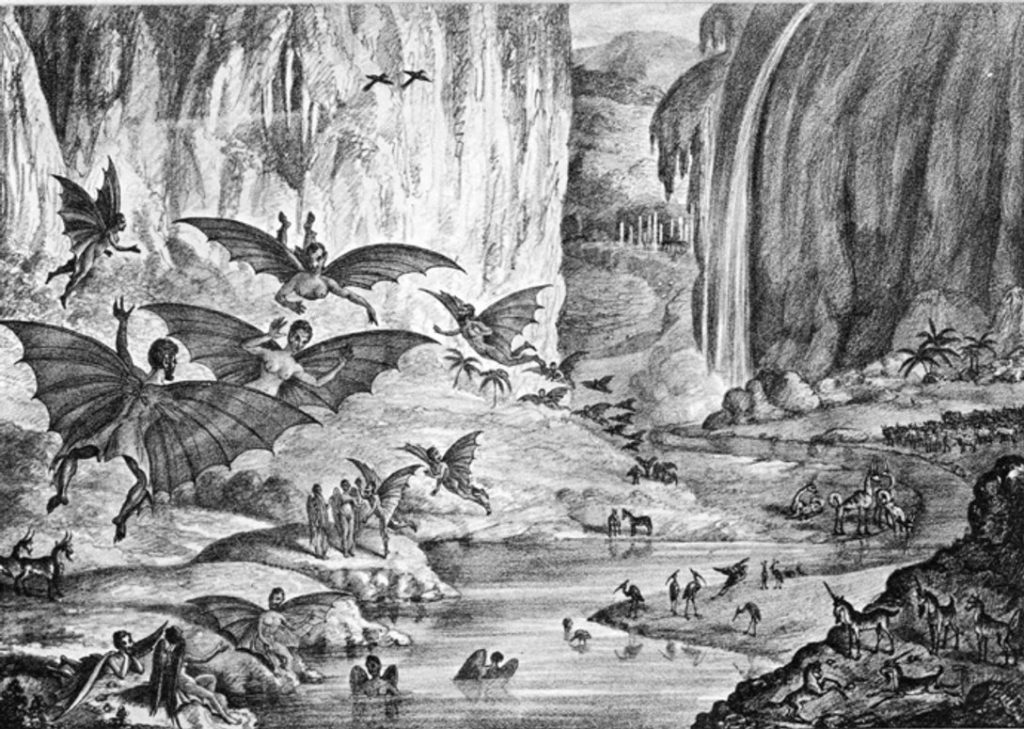 Nothing could have prepared night watchman José Padrón for the sight that confronted him on the night of August 30, 1967. An enormous shape was heading in his direction, taking prodigious strides. The monstrous being had wings which Padrón would later compare with those of a small airplane. The sound it produced was apparently made by the creature's claws as it tried to take flight.
Padrón had been getting ready to go to sleep within the cramped interior of the tin shack serving as guardhouse for the construction area on Mexico's Route 57. At around 1:00 A.M., he had been awakened by the sound of something large stumbling around the motor pool. Fearing vandalism, the watchman had shaken himself awake and gone to investigate.
Padrón ran back to the shack, cowering fearfully inside until daybreak, when supervising engineer Enrique Rueda arrived on the site. Rueda listened carefully to the badly shaken watchman and proceeded to measure a series of fresh footprints found near the shack. The prints measured a little over one foot wide and had a depth of six inches. The engineer's computations showed that whatever had made the impressions on the soil had weighed more than 600 pounds. Photos of the strange prints later appeared in the El Sol de San Luis newspaper. Fortean researcher Godofredo de la Fuente subsequently made plaster casts of the footprints. He deduced that the creature had traveled in a northeast-southeast trajectory, bordering a barbed-wire fence several hundred feet from the highway.
This incident, which would have made a great X-Files episode, drew international attention to the city of San Luis Potosí in Mexico's minerals and metallurgy belt. But unlike many sightings of "winged weirdos," the San Luis creature graced the construction site with its presence a second time. It returned the following night with a similar creature — possibly its mate — and both entities left a considerable number of footprints. The watchman, while understandably scared, observed them carefully. He said the creatures appeared to be headed toward the San Miguelito Mountains, adding a curious detail: The ground trembled as the creatures flew off.
This renewed visit caused the supervising engineer to increase the number of watchmen. Godofredo de la Fuente would later write in his journal, "Next to the last of the twelve footprints we noticed a broken mesquite branch which appeared to have been forcefully snapped off due to the passage of the swift mystery creatures. Only something having considerable physical strength could have snapped off a solid, spiny branch of the mesquite tree. Our inspection of the area did not yield any samples of hair nor feathers." Fortunately, the story of the gryphon-like creatures did not rest solely on the testimony of the frightened night watchman. On September 1, 1967, a number of American tourists who had parked their campers at San Luis's famous Cactus Inn claimed to have seen strange creatures with tremendous wingspans flying overhead. The Cactus Inn was less than a quarter mile from the construction site.
A Chilling Discovery
Hector Urdiales, a member of Mexico's Cosmos A.C. paranormal research foundation, decided to lead an investigation during Easter week, 1984, to a seldom-visited area located behind Monterrey's Cerro de la Silla, an enormous, irregular-shaped hill dominating the city. Stories of a monstrous winged being prowling the area had come to Urdiales' attention. Accompanied by a friend, the explorer stopped at a roadside general store on the road to San Roque, where he interviewed the owner, who was among the many witnesses to the creature. They followed his indications as to where to camp and mount their watch.
Nothing unusual happened during their first day and night in the area. On the following morning, while combing the banks of a stream running through a copse of savin trees, Urdiales and his companion made a chilling discovery.
The grass at the base of one of the trees by the stream was covered in the blood and entrails of an animal. Closer inspection revealed that the savin tree's entire trunk was streaming with blood flowing from above. Hesitantly they followed the trail of blood with their eyes until they came upon a surreal sight. Twenty feet off the ground, a large boar had been split open and spitted to a tree limb. Fear washed over the re-searchers, since they realized that the tall savin lacked the strong lower limbs which would have assisted a human to deliver the grisly cargo to such a dizzying height. Their minds couldn't conjure up any feline predator strong enough to drag a 200-pound boar up a tree. Only a carnivorous winged predator having the wingspan and talons needed to attack that kind of prey could have possibly been responsible for the carnage.
On July 20, 1994, a farm worker at Rancho El Sabino in Monterrey was heading back to his house to have lunch at around 11:00 a.m. As he walked past a nearby graveyard, the farm worker noticed something emerge from another footpath at a distance of 100 feet. As he got closer, he realized that he was looking at a half-human, half-avian creature which was indifferent to the startled human's presence. The creature continued to walk, chicken-like, down the footpath until it reached a crossroad. The birdman then flexed its enormous wings and turned down another path. By the time the farm worker reached the intersection, the figure was half a mile ahead of him. Then he lost sight of it altogether.
Five days later, a woman who had gone to decorate one of the tombs at the graveyard came upon the same creature and notified the authorities. News of the case prompted researchers Marco A. Reynoso, Ernesto Estrada, Esteban Guzmána, and Leopoldo Zambrano to investigate the site on July 29, 1994. Reaching the graveyard around midnight, they fanned out to cover all corners of the site but were unable to stumble across the gryphon-like presence.
Later on the following day they were able to videotape an interview with the farm worker, who gave them a comprehensive description of the entity sighting: the creature had been covered in grayish feathers and was human-looking from its head down to its torso, with bird-like attributes of wings, feathers, and talons below. The farm worker added that he didn't pursue the creature for fear that it might attack him.
Tourist baffled by bizarre sea creature captured on camera near Corfu, Greece
Naomi Leach Daily Mail, UK
There is no question that the sea holds mysteries and inhabitants beyond our imagination, that we are yet to encounter.
But a Scottish tourist was left in shock after unwittingly capturing the image of a bizarre sea creature in his holiday snaps.
Harvey Robertson, 52, was on a boat cruise with his family in Corfu when he took a number of photographs inside a sea cave.
He held the camera over the side of the boat to take pictures of the sea.
But when he lifted his camera back up, Robertson later realised a mysterious creature had appeared in one of the frames.
Robertson said: 'I have no idea what it could have been, I have never seen anything like it.
'I caught the picture by accident. I was in a sea cave on a small boat about 20 miles south of Albania on the west coast of Greece.
'I was trying to capture the water colour and was not looking at the water, the flash went off. I only saw the creature when looking back through my pics.'
'The creature, that has so far been unable to be identified by experts, evokes images of Greek mythology.'
Is this photo proof Ourimbah panther exists?
RICHARD NOONE Daily Telegraph
COULD this be the first photographic evidence of the notorious 'Ourimbah panther' not seen stalking the Central Coast in almost a decade?
Captured by a motion detection camera in the dead of night, the image shows a large feline shape walking along a "game trail'' in dense bush behind Palmdale in the Ourimbah State Forest.
Source: Supplied
Self-styled bush tucker expert and animal tracker Jake Cassar spent several days living in a cave in the remote area following game trails — paths worn in the bush by wallabies and other native animals — and scratch marks on trees to capture the image on one of several camera traps.
Having culled feral cats in the past Mr Cassar honestly believes it was one Australia's elusive "big cats'' and he plans to catch it in a specially built trap.
Source: Supplied
Source: News Corp Australia
"If it's a feral cat, it's the biggest one I have ever seen,'' he said.
"I used to cull feral animals for conservation, it's got to be four or five inches bigger than any feral cat I've seen … it's more like a bobcat than a panther.
"I reckon I will get it in a trap whatever it is.''
Mr Cassar was commissioned to find evidence of the cat, not seen on the Central Coast since 2006, by a local production company for a series of YouTube episodes branded Terror Australis.
The first episode went online last week showing Mr Cassar embarking on his search and inspecting scratches in gum trees "unlikely to be koalas'' and "much larger than possums''.
In the next episode tomorrow (Wednesday), it shows his reaction when he gets back to his cave to download the images the camera traps had taken overnight.
"I was surprised when I saw it, like whoa!'' he said.
"I was really excited to have found something, I was given a challenge and I came home with something, it was no ordinary cat and I think it was more likely the Ourimbah panther.''
After discovering the image he took a photograph of his Staffordshire-boxer cross "Benson'' at the same spot for a size comparison.
The last time there had been multiple sightings of the famed black panther was in 2006.
Maggie Dowton was visiting her father's gravesite at Palmdale on Anzac Day when she reported seeing a large black catlike figure about a kilometre away in a clearing at the foot of dense forest before it slunk away.
Source: Supplied
Source: News Limited
Source: News Limited
Source: News Limited
Two months later a man reported seeing a large black panther near Narara train station.
It followed numerous sightings of big cats years earlier at Kulnura.
Feral cats have been known to grow up to four times larger than domestic cats and weigh in at up to 19kg.
But this is still well shy of a melanistic or black leopard, which can weigh as much as 90kg.
Other theories behind panther sightings on the coast and more in the Blue Mountains include they could have been the offspring of panthers, which escaped private menageries and travelling circuses last century.
However Mr Cassar said he was prepared "to cop a bit of flack'' for believing the image he captured was of a "big native cat'' after hearing some of the early Aboriginal stories about the area.
"The Wollemi pines are 150m tall and don't smell you and run away when you're coming, and they thought those were extinct for thousands of years'' he said.
"These are incredibly elusive creatures.
"As an environmentalist I want to find if these things are out there and what sort of damage these things are capable of.''
The Beast of Bray Road's First Appearance
by Len Faytus
The Beast of Bray Road first came to light in southeastern Wisconsin when The Week ran an article by Linda Godfrey on the last Sunday of December 1991. The article described a werewolf-like creature that had been recently seen on Bray Road just east of Elkhorn, north of Lakeland Hospital and the old county poor farm and insane asylum.
Bray Road looking east from the west end.
Almost immediately, it became the topic of local conversation which commonly led to jocular speculation by armchair theorists that it was the result of a strange experiment at the county hospital. Others felt that the logical answer was an escapee from the insane asylum which had been closed for decades or a deformed dog or coyote that walked on two legs. The sheriff's department suggested the latter as the most reasonable explanation of the phenomena. For numerous reasons, that particular theory was the most ludicrous suggestion of all.
Bray Road near the east end
Dozens of witnesses claimed to have seen the werewolf throughout the 1980s and 1990s. Sightings were especially concentrated on Bray and Bower roads, Highway 11 between Elkhorn and Delavan, and La Grange Township, all in Walworth County. The beast was also seen, however, in a large twenty-five mile belt, a wide corridor stretching from Geneva Lake to the small city of Jefferson, 32 miles to the north. Some sightings were reported in Rock County to the west. To the northeast, the beast was sighted throughout the Kettle Moraine State Forest area and into Waukesha County and as far as Holy Hill in Washington County. The entire area alternated between farmland, dense woods, and impassable swamps.
Linda Godfrey, the premiere beast expert of Wisconsin, reported that Mark Schackelman had seen the creature twice at St. Coletta, which was a Catholic convent east of Jefferson, in 1936. It was messing around with an ancient burial mound and he stated that it was "straight out of hell." The Hebron area in Jefferson County was also a hotbed for sightings.
By most accounts, the Beast of Bray Road was man-sized at 150 to 200 pounds, standing 5 to 6 feet tall when erect. Witnesses described it as being covered in fur, barrel chested, with a wolf-like face with pointed ears. It possessed a bushy tail and canine legs. The beast was seen eating road kill, chasing down deer, and actually kneeling.
Showing little fear of humans, the creature eerily stalked witnesses on several occasions in a menacing fashion. Reportedly, it had high shoulders with a downward sloping back like a hyena when it was on all four legs and could glide both swiftly and smoothly on four legs. Surprisingly, it was also observed walking and running quickly on two legs. As a biped, the werewolf's gait was odd but not ungraceful. It was powerful, and the beast was not just nocturnal as it was also seen during the day.
Similar sightings have been reported in states such as Michigan, Tennessee, Illinois, Pennsylvania, Virginia, and Georgia where it was known by different local names. In Tennessee, there were reports of its violent appearance in the 1800s. Native Americans called it Windigo. The fairly recent appearance of the Chupacabra and its subsequent sightings, appear to almost describe the same animal, especially those reported in historic times.
The Beast Makes an Appearance in Geneva Woods
With all the recent sighting of the werewolf in southeastern Wisconsin, you may wonder if the creature is of recent vintage or was the animal also sighted in the past by early pioneers? The answer is that it was indeed seen in the region in earlier times and was first documented in 1857.
The affair took place eight months before the county's first murder when Richard Pierce had shot and killed David Hamilton at a small charivari outside of Whitewater. Pierce had retained two lawyers for his defense, Asa W. Farr of Geneva and 26-year-old Newton S. Murphy. Murphy lived at the Whitewater Hotel across from the train depot and kept an office on Center Street, Whitewater, at the Metropolitan Block. The defense lost the case at the trial and Pierce was given a life sentence. More important for us however is the correspondence that Murphy received from his brother F. S. Murphy in June 1857.
The letter described strange events that had recently occurred in Geneva Township, which was located 17 miles southeast of Whitewater and 6 miles south of Bray Road. There had been an unusual occurrence at the 64 ¼ acre homestead of 33-year-old John Deignan. The farm was one mile east of what is now Schofield Road on the north side of Highway 50, on the edge of the large and then still wild Geneva Woods, between Como and Geneva lakes.
The forest consisted of old growth oak that had occupied half of the township, encompassing some 18 square miles. At one time it surely covered some 200 square miles and was first described in 1831 by Mrs. John H. Kinzie who accompanied her husband and a small party from Fort Dearborn to Fort Winnebago. Somewhat provocatively, Geneva Lake, which was called Kish-wa-ke-ta, roughly "crystal water" by the Potawatomie, was known as Big Foot Lake by early settlers. The name hints of Sasquatch but actually and much less mysteriously referred to Chief Big Foot. He had migrated to western Kansas with his entire village from the headwaters of the lake, now Fontana, in 1836.
The Strange Abduction of Catherine May Deignan
John and his wife, 31-year-old Ann Flynn Deignan, had emigrated from Ireland and were just starting their family. Their daughter Catherine May was born in nearby Bloomfield Township a few years earlier on April 23, 1854. Her younger brother John was born in 1856. The family's frightening experience began late in May. At the time, the homestead was still surrounded by forest. On Friday morning, May 29, three-year-old Catherine was seized from the threshold of the Deignan home by a large and ferocious looking animal which had emerged from the shadows of the woods.
It immediately took off with the girl, heading back towards the dense cover. The frantic screams of her mother caused the fierce animal to drop Catherine after she had been carried some 50 to 100 feet. Incredibly, this was the second time that the animal had appeared and taken the girl. On Tuesday morning, May 26, it had come out of the woods and snatched Catherine from the front yard of the homestead. The animal had succeeded in carrying her about 88 yards into the dark woods, in spite of the efforts of John and Anna to rescue their daughter, before it reluctantly let her go.
The animal that had twice grabbed the girl had been seen several times that spring by neighbors but always at a distance. Their isolated farms, which were hacked out of the forest, were surrounded by large tracts of woods. They did not know what kind of animal it was but recognized that it had little fear of humans. People that had not seen the animal firsthand assumed it was a bear, based on the descriptions given by the terrified family.
Eyewitnesses did not identify it as a bear, however. Furthermore, Murphy's letter to his brother implied that the creature grabbed the girl up in arms rather than by its mouth. The neighborhood was both alarmed and agitated by the event. Subsequently, a large party of determined township men hunted for the creature beginning on Wednesday, May 27, looking for its lair, but did not meet with success.
They planned to capture it if it was still in the area, which in 1857 meant that they planned to kill it. The sly creature unfortunately proved to be quite elusive. Kate, who survived the harrowing ordeal, never married. She died at Lake Geneva on the morning of January 15, 1896 of consumption, outliving her father by 12 years. Interestingly, her younger brother John who was alive during the abductions had died in 1889. The last person to witness the abduction firsthand, Anna Deignan, died on April 25, 1902. The farm remained in the family until the early 1990s.
W3312 Highway 50, the site of Kate Deignan's abduction. The highway was once known as the Delavan Road. Lake Geneva village was one mile to the east, downhill. Dating back to 1836, the county's earliest settlement was destined to become a summer haven for wealthy Chicagoans after the Great Chicago Fire of 1871
Another Early Appearance of the Beast
On November 5, 1869, a very similar strange looking animal was seen by farmers, east of Janesville, on the Delavan Road, now Highway 11. It had been seen for a few evenings and was described as being very ferocious. It had fearlessly attacked some large and rough farm dogs. From appearances, the local farmers suggested that it looked like it was capable of quickly devouring a good sized boy. Once again, non-witnesses proposed that it was also a bear, a suggestion scoffed at by those that had seen it.
Other Rare Animals
People of the nineteenth century generally knew a bear when they saw one, especially rural folk. In the late 1830s, early pioneers had shot numerous black bears in the area, some quite large. A real bear was spotted in Perry Township, Dane County, a few times over a 12-day period in 1866. A dozen men were organized to capture it and on a drive on September 30, Ole Halverson shot it with a .58 caliber Minnie ball, from an army musket. The bear weighed 400 pounds.
Other uncommon animals also wandered into the area on occasion. On the afternoon of July 29, 1867, August Hager, a 43-year-old Prussian, killed a large wildcat in some bushes near the Crawfish River bridge, about one mile from Jefferson, with two shots. It was three feet long and two feet tall. Three men, Lorenzo Dow Abbey, 48, his brother-in-law William Carnes, 44, and son-in-law James M. Burnham, 33, killed an enormous lynx with the help of a couple of boys including 13-year-old George Abbey on June 22, 1868.
The boys had seen it cross an open field on the William Harnden farm in Hebron Township, Jefferson County, just 16 miles north of Bray Road. Dogs were used to pursue it and after a severe fight with the dogs it took to the trees. Shot had no effect onit and it took a rifle slug to the head to capture him. He was 5 ½ feet long, measured 2 feet 9 inches high, and had black tasseled ears. Although the bear, wildcat, and lynx had not been native to the area for decades, the farmers knew what they were and never described them as strange unknown creatures.
Early Mention of Bigfoot
The creature was more than likely not a Bigfoot type creature either. Bigfoots had been seen periodically in the Midwest and were not described as strange creatures but as large hair covered wild men. One sighting appeared in the Jefferson Banner on July 15, 1868. The paper stated that another wild man had been seen, in this case, on the Manitou Islands in Lake Michigan. The wild man was 8 feet tall, covered in hair, with a heavy brow. It was explained that the wild man was probably a 4-year-old boy that had grown up there. There was a rumor that he was lost there about 20 years earlier. Plainly, people of the era attempted to rationalize what was seen.
Wolves, Cougars, and Weirder Things
Curiously, several animals have made reappearances in the area in recent years. Lone male wolves that were eradicated since WWI have been seen, albeit mainly found dead on the highways. Black bears also occasionally lumber down from the north. An image of a bear was captured near Delavan in 2011 and authenticated. I myself saw a dead cub on Highway 12/18 in 2010 a few miles west of Cambridge in southeastern Dane County.
More than one cougar has been sighted in this part of the state too, verified by the Department of Natural Resources. In addition, a half dozen years ago, there were many reported sightings of the more paranormal black panther along Turtle Creek within the eastern city limits of Beloit, 27 miles to the southwest of Elkhorn. The creek, surrounded by dense woods and undergrowth, flows from Turtle Lake, midway between Whitewater and Delavan. Many of the witnesses were credible. One witness in those sightings was a Beloit schoolteacher.
I accompanied an APHIS wildlife specialist late in January 2009 on his niece's Watertown Township farm. The federal specialist was investigating the slaying of a horse named Ginger. A second mare, Big Mama survived the predawn barnyard attack, 50 yards from the farmhouse. In that case, the agent determined that that it was an example of canine, possibly wolf, depredation.
The Wisconsin DNR, on the other hand, remained convinced that the culprit was a rogue cougar. Interestingly, a lone set of canine tracks were found at the scene. While the prints were definitely large enough to be wolf tracks, the gait was more like that of a domestic dog. While no plausible explanation was forthcoming, the incident did have elements to suggest some other creature was involved.
The Watertown affair seemed strangely reminiscent of another incident described by Godfrey that also occurred in Jefferson County, over three decades earlier. In that event, which took place near St. Coletta in 1972, a creature had been seen walking in a barnyard. Two weeks later it had caused pandemonium at the farm by shaking the screen door and leaving a 30-inch slash wound in a horse's neck. It was investigated at the time by the DNR. Accounts of that creature tended to suggest it was a Bigfoot rather than werewolf.
Both of the above mentioned incidents involved physical confrontations with an unknown predator and possessed elements more related to the Deignan affair than to most sightings. The majority of Beast of Bray Road encounters were not physically aggressive although, many times, the animal was aggressive in nature. Many witnesses have reported to be frightened or threatened during their encounters but were not actually attacked.
Bray Road in 2013
Ever Elusive
The Beast of Bray Road was indeed actually seen by early pioneers, who attempted to hunt it down after it snatched up a young girl. The pioneers were quite skilled in woodcraft but were unable to kill it, not surprisingly. Undeniably, the werewolf is never seen by the large numbers of modern hunters that traverse the country side during deer season either. No lair, hair, or other evidence has ever been discovered.
Skeptics propose that for these reasons the beast does not exist or is the creation of hoaxers. The idea that it is a hoax would imply logistics over a great length of time that would be unsustainable. A prankster, furthermore, would be risking being shot by a 30.06 or 12 gauge slug for his or her efforts in this mostly rural area. Not much fun and definitely not worth the risk. Perhaps the answer lies more in the paranormal although when it is seen ,it appears to consist of real flesh and blood. Not that the creature really cares what humans believe anyways. It is as resilient as the Jeepers Creepers bat-like monster of movie infamy that was also described as coming "straight out of hell."