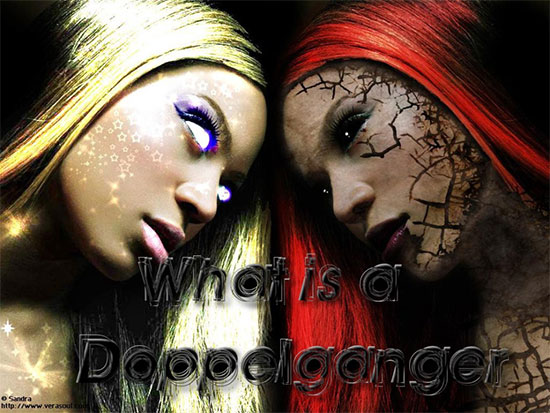 The word doppelgänger is a loanword from German Doppelgänger, consisting of the two substantives Doppel (double) and Gänger (walker). Although this is supposedly a fictional type character or a myth, this is actually are real phenomena. Typically, it represents a paranormal double of a living person, representing evil or misfortune. This seems to readily express itself as in the example of Dr. Jekyll and Mr. Hyde. Some describe is as a sensation of having a glimpse of oneself in the peripheral vision, in a position where there is no chance that it could have been a reflection. But, this 'fictional' story seems to represent no simulation but instead, altered states of consciousness and even disfigurement. But this mind you, gives me time to question not only the origin of this plot but also the scenario of Jack the Ripper! Freud would have had a field day with this, huh?
Considered to be a sinister form of bilocation, they are regarded as harbingers of something bad on the horizon. Legends tell of people who have seen their friend/relative/loved one while the real person is at home dying and this was a sort of omen. Also others tell that seeing one's own doppelganger is an omen of their own death. I'm sure there are the 'shrinks' who will give their version of a doppelganger as nothing but a case of split personality or simple stylized schizophrenia. Alter ego/personalities were given many diagnoses in earlier times for insanity purposes.
In Norse mythology, a vardøger is a ghostly double who precedes a living person and is seen performing their actions in advance. In Finnish mythology, this is called having an etiäinen, i.e., "a firstcomer". In Ancient Egyptian mythology, a ka was a tangible "spirit double" having the same memories and feeling as the original person. In one Egyptian myth titled "The Greek Princess," an Egyptian view of the Trojan War, a ka of Helen was used to mislead Paris of Troy, helping to stop the war. In some myths, the doppelgänger is a version of the Ankou, a personification of death. Folklore tells us that they cast no shadow, and have no reflection in a mirror and water.
I remember as a child being told that we all have a twin walking the earth! Was this a superstitious connotation which pertained to the same entities? Considering how superstitious my family was, I believe this to be true.
Percy Bysshe Shelley On July 8, 1822, the English poet Percy Bysshe Shelley drowned in the Bay of Spezia near Lerici. On August 15, while staying at Pisa, Percy's wife Mary Shelley wrote a letter to Maria Gisborne in which she relayed Percy's claims to her that he had met his own doppelgänger. A week after Mary's nearly fatal miscarriage, in the early hours of June 23, Percy had had a nightmare about the house collapsing in a flood, and … talking it over the next morning he told me that he had had many visions lately — he had seen the figure of himself which met him as he walked on the terrace and said to him — "How long do you mean to be content" — No very terrific words & certainly not prophetic of what has occurred. But Shelley had often seen these figures when ill; but the strangest thing is that Mrs. Williams saw him. Now Jane, though a woman of sensibility, has not much imagination & is not in the slightest degree nervous — neither in dreams or otherwise. She was standing one day, the day before I was taken ill, [June 15] at a window that looked on the Terrace with Trelawny — it was day — she saw as she thought Shelley pass by the window, as he often was then, without a coat or jacket — he passed again — now as he passed both times the same way — and as from the side towards which he went each time there was no way to get back except past the window again (except over a wall twenty feet from the ground) she was struck at seeing him pass twice thus & looked out & seeing him no more she cried — "Good God can Shelley have leapt from the wall?…. Where can he be gone?" Shelley, said Trelawny — "No Shelley has past — What do you mean?" Trelawny says that she trembled exceedingly when she heard this & it proved indeed that Shelley had never been on the terrace & was far off at the time she saw him. Percy Shelley's drama Prometheus Unbound (1820) contains the following passage in Act I: "Ere Babylon was dust, / The Magus Zoroaster, my dead child, / Met his own image walking in the garden. / That apparition, sole of men, he saw. / For know there are two worlds of life and death: / One that which thou beholdest; but the other / Is underneath the grave, where do inhabit / The shadows of all forms that think and live / Till death unite them and they part no more…." This entry from Wikipedia give an intriguing dialogue of an experience such as described above, but the more interesting piece of it being the drama called Prometheus…from the Atlantean deities. It also mentions Babylon, Magus Zoroaster, and this I find to be extremely vital to the Norse mythology connections. Greek, Egyptian, and Norse myths all seem to parallel these same deities called by different names but are actually one in the same. Following this is the notation of quotes and references in William's Shakespeare's play 'The Tempest'. Then it touches the Biblical references to mythology and legend including Lilith, Samael, and succibi.
The first written record of a 'ghost' story might be found in cave pictographs, and it doesn't take a massive leap of imagination to consider a cave painting in Lascaux in the Dordogne region of France as the first pictograph story. Depicted in dark brown dissolving into while, the ghostly horse appears to be vanishing or materializing in the midst of an animal stampede (Plate III in the pamphlet La Grotte de Lascaux by Jean Taralon [Caisse Nationale des Monuments Historiques, 1953]). But, perhaps the artist tired but what remains is a hauntingly mysterious drawing. Scrutiny of Mayan, Greek, Roman, Indian, Chinese, and other cultures' ancient artifacts would yield a brush of the 'ghostly'. Study of Egyptian pyramid décor might also yield a story of the 'mythical' Osiris, King of the Underworld, who was killed by his evil brother Set and temporarily brought back to life by Isis (Guardian of the Living and the Dead) who, although she was also his sister, became his wife and the mother of their child, Horus. The spirit world's interaction with the "real" world can be interpreted in countless languages and ways. Many scholars agree that in 2700 B.C. Shin-equi-unninni, a cuneiform scribe, who wrote the first story about communicating with a ghost/spirit. On the twelfth tablet of the Epic of Gilgamesh, there is an addendum to the actual story, almost a dirge about a grieving Gilgamesh who converses lyrically with the wraith of his great friend Enkidu about the afterlife after he begs a god to allow him to speak with him. But this all ties together with amazing integrated details. All one need do is research these subjects for a time and you will begin to see the parallels of spiritual phenomena and demons. History has a way of repeating itself and then we have those who repeatedly insert falsities to spread confusion.
Other definitions call this a 'ghostly' counterpart of a living person. I find this, in part, to be closer to the truth. It is a supernatural entity.
EMILIE SAGÉE One of the most fascinating reports of a doppelganger comes from American writer Robert Dale Owen who was told the story by Julie von Güldenstubbe, the second daughter of the Baron von Güldenstubbe. In 1845, when von Güldenstubbe was 13, she attended Pensionat von Neuwelcke, an exclusive girl's school near Wolmar in what is now Latvia. One of her teachers was a 32-year-old French woman named Emilie Sagée. And although the school's administration was quite pleased with Sagée's performance, she soon became the object of rumor and odd speculation. Sagée, it seemed, had a double that would appear and disappear in full view of the students. In the middle of class one day, while Sagée was writing on the blackboard, her exact double appeared beside her. The doppelganger precisely copied the teacher's every move as she wrote, except that it did not hold any chalk. The event was witnessed by 13 students in the classroom. A similar incident was reported at dinner one evening when Sagée's doppelganger was seen standing behind her, mimicking the movements of her eating, although it held no utensils. The doppelganger did not always echo her movements, however. On several occasions, Sagée would be seen in one part of the school when it was known that she was in another at that time. The most astonishing instance of this took place in full view of the entire student body of 42 students on a summer day in 1846. The girls were all assembled in the school hall for their sewing and embroidery lessons. As they sat at the long tables working, they could clearly see Sagée in the school's garden gathering flowers. Another teacher was supervising the children. When this teacher left the room to talk to the headmistress, Sagée's doppelganger appeared in her chair – while the real Sagée could still be seen in the garden. The students noted that Sagée's movements in the garden looked tired while the doppelganger sat motionless. Two brave girls approached the phantom and tried to touch it, but felt an odd resistance in the air surrounding it. One girl actually stepped between the teacher's chair and the table, passing right through the apparition, which remained motionless. It then slowly vanished. Sagée claimed never to have seen the doppelganger herself, but said that whenever it was said to appear, she felt drained and fatigued. Her physical color even seemed to pale at those times.
Queen Elizabeth I of England was shocked to see her doppelganger laid out on her bed. The queen died shortly thereafter.
SISTER MARY OF JESUS Bilocation seems to be the flip side of the doppelganger coin. One of the most astonishing cases took place in the 1620s. In 1622, Father Alonzo de Benavides was assigned to the Isolita Mission in what is now New Mexico. He was puzzled to encounter Jamano Indians who, although they seemed never before to have met French or Spanish peoples, carried crosses, knew Roman Catholic rituals, had altars and knew Catholic liturgy – all in their native tongue. Father Benavides wrote to both Pope Urban VII and King Philip of Spain to find out who had been there before him, obviously working to convert the Indians. The response was that no one had been sent previously. The Indians told him that they had been instructed in Christianity by a beautiful young "lady in blue" who came among them for many years and taught them this new religion in their own language. She also told them that white-skinned people would soon arrive in their land. "She came down from the heights to us," the Indians said, "she taught us the new religion, she stayed among us for a time, she told us you would come and to make you welcome, and then she went away. That's all we know." Who was this mysterious lady in blue? Father Benavides knew that the nuns of the Poor Clare order wore blue habits and thought there might be a clue there. He found a painting of a Poor Clare nun and showed it to the Jamanos. "Is this the woman?" he asked. The dress was right, the Indians told him, but this was not the woman. The woman in the painting was rather portly, but the lady in blue was young and beautiful. When he returned to Spain, Father Benavides was determined to solve the mystery. How could the Indians have encountered a Poor Clare nun when they were a cloistered order: from the day they took their vows until their deaths, the nuns never left their convents, much less traveled to distant lands on missions. His investigation led him to Sister Mary of Jesus in Agreda, Spain, who claimed to have converted North American Indians – without leaving her convent. Now 29 and Mother Superior of the convent, Sister Mary said she had visited the Indians "not in body, but in spirit." Sister Mary said she regularly fell into a cataleptic trance, after which she recalled "dreams" in which she was carried to a strange and wild land, where she taught the gospel. As proof of her claim, she was able to provide highly detailed descriptions of the Jamano Indians, including their appearance, clothing and customs, none of which she could have learned through research since they were fairly recently discovered by the Europeans. How did she learn their language? "I didn't," she replied. "I simply spoke to them – and God let us understand one another." Sister Mary is also said to have appeared to Mexican Indians, who said they had been visited by "a very beautiful woman, who used to come down from the heights, dressed in blue garments." THIS ONE is very interesting considering the FACT that the Roman Catholic religion is a false religion set up by the Ascended Masters who are BLUE in appearance when the appear to people. Likened to the Fatima apparitions, this is very supernatural in nature but NOT the positive kind!
Man Finds His Doppelganger in 16th Century http://abcnews.go.com/blogs/headlines/2012/11/man-finds-his-doppelganger-in-16th-century-italian-painting/
This brings to mind the whole story of Nicolas Cage; http://www.hollywoodreporter.com/live-feed/nicolas-cage-vampire-letterman-ghost-rider-289323
Reportedly, a Seattle-based man who found the photo was asking $1 million in his eBay listing. "Personally, I believe it's him and that he is some sort of walking undead/vampire, et cetera, who quickens/reinvents himself once every 75 years or so" reads the listing. "150 years from now, he might be a politician, the leader of a cult, or a talk show host." In the reply to the media outburst, Cage told David Letterman, "Now look, I don't drink blood and the last time I looked in the mirror I had a reflection, " he said. Wow! This is strikingly like a doppelganger…hmmm. Interesting….no reflection on vampires or doppelgangers? Cage also told Letterman, "It's a somewhat slowed down version of me." That's an interesting choice of words in this statement….is it not? Then, we have to consider that Cage has starred in "Vampire's Kiss", and played a demonic role in "Ghost Rider".
From yourghoststories.com: Reading stories about copycat ghosts and doppelgangers reminded me of an incident that occurred when I lived in San Diego. I was about 7-10 years old, not sure. I slept in my grandpa's room we slept in different beds. My bed was on the far side of the room farthest away from the door so if the door was open I could see what was on the other side of it. Well I woke up in the middle of the night probably between 12 A.M. To 3 A.M. The door was opened a little bit. Well I woke up and I was still lying on my bed and peered through the opening. I thought I saw a figure that was my little brother. The figure was short like him since he was young back then he was small and I saw him entering my grandma's room. I was like what is he doing going into my grandma's room this late. I just sat there wondering and decided to see what was going on. I went and peeked through the crack. What I thought I saw was my grandma sitting up against the wall watching T.V. And my little brother on the chair watching T.V. As well because there was a bluish light in the room. I was like T.V. This late what the heck. So I opened the door a bit more and then thought wow I'm stupid. The light that I thought was from the T.V. Was my grandma's nightlight. Then I walked over to the chair since my brother is small you could not see him from the back of the chair if he was sitting there. Nobody was sitting there and I looked up to where my grandma was and she was lying on the bed, eyes closed, sleeping. She had one of those rubber things that you put on your stomach and fill up with hot water when you are pregnant hanged above her head. I thought that was her head, which created the illusion of her sitting up against the wall. Well after that I just thought to my self uhh? I swear I saw somebody walk in there. Then I thought about the image of when I peeked through the door and it was a pretty creepy image when I think about it now. The room was like green-bluish colour because of the nightlight and the thing hanging over my grandma's head made it look like she was sitting up and well it looked like my grandma was hypnotized just sitting there watching T.V. When I think about it now but I guess I was just paranoid. OK well the weird thing is what did I see go into my Grandma's Bedroom? Was I just seeing things or and then became paranoid or what? Or maybe it was a doppelganger? END
Final Thoughts My take on this is that these demons take on the image of a loved one. They duplicate the appearance and use this to confuse us. It is likened to a ghost, which of course I DO NOT believe in. They are just demons. So, it's the same ole story….demons in disguise. Supernatural entities using their wonders and signs to amaze people in order to seek their communication. We are not to communicate with these spirits. We are never to worship them. We are told in the Bible that these are demons. And this is the Truth.
Sources
http://paranormal.about.com/od/Doppelgangers/a/doppelgangers.htm
Intruders and incubi: The waking nightmare of sleep paralysis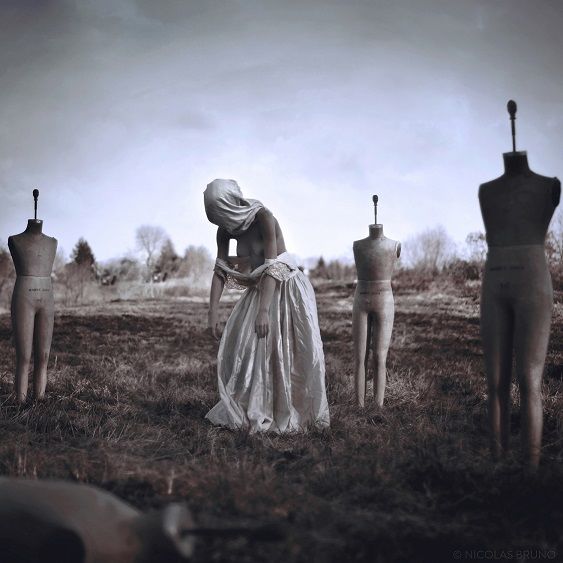 Brian Barrett Motherboard
© Nicolas Bruno
Once, when I was 17, I woke up in the dark and couldn't move.
I could hear, at least. That's why I was awake to begin with: someone was banging on the front door in the middle of the night, insistent, sharp, angry.
I could see, too. My eyes were open to the ceiling above me. My head, though, was locked into position by some invisible vise. I tried to yell, to warn my parents about the angry intruder outside, and the irrevocable harm I was convinced he would do. I couldn't yell. The knocks got louder.
No matter how insistently I begged my body to jump out of bed and find a place to hide, it remained a slab. Something terrible was about to happen to me, to my family. The door was going to give way. The outsider was going to come in. I was going to face whatever—whoever?—came after completely immobilized and alone.
It was the most afraid I've ever been in my life. What I realized, looking back later, was that it still would have been even if it weren't for those knocks on the door, and my certainty that something awful would follow. My deepest fear came from the realization that my body, in that moment, had become completely dissociated from anything I recognized as myself. It was a car sinking to the bottom of a lake, my mind its captive passenger, waiting to drown.
I don't remember how long it lasted, but eventually it wore off. I quickly found out that the person on the porch was my older brother, home at an unexpected hour on an unexpected visit from college. It took me a few more years to figure out that the other part, the immobility, the sense of self reduced to flickering consciousness, even the deepness of the fear I felt, had a name. It was sleep paralysis.
At least, that's what we call it now. Dr. S.A. Kinnier Wilson coined the term in a 1928 edition of the medical journal Brain. His description then should feel familiar to anyone who has experienced sleep paralysis today: a man dreamed of a murderer, then carried that dream over to a conscious state. The patient in question "lay thus, flat on the floor, motionless but suffering acute mental stress."
That's not to say that sleep paralysis is a relatively new human experience. A Dutch physician named Isbrand van Diemerbroeck published several case histories that accurately describe sleep paralysis in 1664, one of which, titled "Of the Night-Mare," may as well have been penned by Mary Shelley.
"In the night time, when she was composing her self to sleep, sometimes she believed the devil lay upon her and held her down, sometimes that she was choaked by a great dog or thief lying upon her breast, so that she could hardly speak or breath, and when she endeavored to throw off the burthen, she was not able to stir her member,"van Diemerbroeck wrote, suggesting moderate exercise and plenty of juice as a possible remedy to the invisible nighttime demon attacks. [17th century sics implied throughout.]
Even that landmark medical documentation isn't remotely the first reported instance. Go back further still, and you'll find references to sleep paralysis in medieval Persia and Ancient Greece and even more ancient (400 BCE) China. There's probably a cave drawing somewhere that depicts a red-eyed saber-toothed tiger sitting atop a paralyzed Neanderthal's chest. Sleep paralysis is as ageless and as universal as fear itself.
It's not quite as simple as simply being afraid, though. It's a complex confluence of physiological and psychological occurrences that force you to experience your deepest nightmares with eyes wide open.
Take a normal night of sleep, assuming you still have those once in awhile. Your body cycles through five sleep stages, the last of which is REM, which you probably remember from your high school biology class as being your brain's lights-out, shut-it-down, dream-time state.
Which is great! Dreaming is wonderful, especially if you ever wondered what it might feel like to fly down Rodeo Drive with a soft serve twist cone in one hand and a chainsaw in the other. Dreaming, though, can also be dangerous, because your big dumb body doesn't necessarily know that your brain is just playing pretend. Given the opportunity, your body will act out those dreams, which can lead to a whole other terrifying condition called REM sleep behavior disorder (RBD).
You've heard of sleepwalking, which can technically be a type of RBD, depending on whether it occurs during the REM stage of sleep. Many RBD episodes are much more involved than just puttering down the hall, however. Think of it like this: juggling with tennis balls and juggling with flaming swords are both technically types of juggling, but you'd never confuse the two.
Comedian and storyteller Mike Birbiglia turned his experiences with RBD into a very entertaining show, book, and film called Sleepwalk with Me. Well, entertaining but also terrifying; at one point in his mid-20s, Birbiglia threw himself out of a closed, second-story La Quinta motel window. At the time, in his dream, he was trying to escape an incoming guided missile.
The reason more people don't experience RBD is that the brain also has a safety valve. "During dreaming… bursts of neural activity called PGO waves spread through the cortex, producing the imagery we experience during dreams," explained James Allan Cheyne, sleep paralysis expert and professor emeritus at the University of Waterloo. "Simultaneously, activation spreads down the spinal column causing spinal interneurons to suppress signals that normally would produce muscle movement."
Your body, in other words, paralyzes itself during REM sleep to keep you from throwing yourself down a stairwell when you dream about laying out for touchdown pass to win the state championship.
Sleep paralysis, then, is what happens when you wake up before that effect has had a chance to wear off. Your body has frozen to keep you from acting out your dreams. But also, haha, good joke, you're still dreaming.
"You have aspects of REM sleep that are going on when you have waking, conscious awareness," said Brian Sharpless, assistant professor of psychology at Washington State University and author of a recent book about sleep paralysis. "First, you're paralyzed, and second, you are having dreams, but unlike normal dreaming these two things are happening while you're awake and able to look around the room."
Not just any dreams, though. Sharpless estimates that while a little less than a third of our normal dreams could be considered nightmares, 80 to 90 percent of dreams experienced during sleep paralysis qualify. "You can kind of imagine why," he said. "If you're lying on your back and can't move, that's scary enough. And if you're having hallucinations that are scary as well, that's a bad mix."
My own sleep paralysis, then, was fairly textbook. The banging on the door vaulted me into consciousness but not out of REM, leaving me frozen in a liminal hell of the mind, waiting for a bad man with an axe to bust down my door. Actually, I got off easy.
As it turns out, sleep paralysis nightmares can be divided into three tidy categories, two of which—the Intruder and the Incubus—would make for decent Paranormal Activity sequels. The third is "vestibular and motor," a less-fun name for a more-fun condition.
Cheyne cautions that these categories are broad, and the experiences the describe can vary greatly. On the other hand, he also is one of three authors of a landmark 1999 scientific paper, published in Consciousness and Cognition, that helped define them.
Vestibular and motor incidents—Cheyne calls it "Unusual Bodily Experiences" in his 1999 paper—are relatively harmless, potentially even enjoyable. "It's fancy term for feeling like your body is being moved without its volition," Sharpless explains. "You could feel like you're floating, or levitating, or your arm is being lifted." Not so bad, right? Your standard Sigourney-Weaver-in-Ghostbusters scenario.
The other two, Cheyne says, have no such upside potential.
"For Intruder experiences, the main sensation is the sensed presence—a feeling of something in the room," he recently explained over email. "That something may then also be seen, heard, or physically felt. It may move around the room, approach the bed, and sometimes climb onto the bed."
Scary! But remember, at this point you also can't move. As far as you know, you may never be able to move again, even if you somehow survive being horribly violated by the shadow monster in your periphery. Screaming would at least be cathartic, but you can't scream, and you can't breathe all that well, so all that's left is to wait.
I was fortunate in that my Intruder scenario involved an actual (friendly!) person. That gave quicker closure, presumably, than some hallucinatory demon-dog lurker might have. I was fortunate, also, that I didn't draw an Incubus instead:
"The Incubus experiences often continue this sequence by climbing on top of the 'sleeper,' Cheyne continues, "perhaps smothering, and even assaulting them physically and sexually." This is how your brain works. This is van Diemerbroeck's devil.
© Nicolas Bruno
Beginning in February of 1995, reports began to circulate throughout Zanzibar of a spirit that assaulted men and women in the dark of night. Its name was Popobawa, which means "winged bat," because that was the form it was said to take most often, though it was just as often invisible.
As social anthropologist Martin Walsh detailed in 2009, Popobawa attacks spread quickly throughout the country, jumping from person to person, house to house, and village to village, eventually constituting a full-blown paranormal pandemic.
The bat demon was said to sodomize its victims. The response was violent. At one point, residents of Zanzibar City murdered a suspected Popobawa who unsurprisingly turned out to be a human, one who had visited the capital in search of mental health treatment. The terrors, both spiritual and corporeal, continued. Then, three months after they began, the Popobawa incidents stopped.
An entire nation plagued by a sex-starved bat demon would laughable as a SyFy channel script. As reality, it seems impossible. That it led to mobs and murder, more so.
It happened, though. And again, to a lesser degree, in 2007 ("Sex attacks blamed on bat demon" read the restrained BBC headline that time). How?
"A typical [Popobawa] assault involved somebody waking up in the night to find themselves being attacked by an amorphous or shape-shifting intruder, which was most frequently described as 'pressing' or 'crushing' their chest and ribs, and of suffocating them until they had difficulty in breathing and passed out," Walsh wrote. "In general all of the victims experienced extreme terror, and were often frozen speechless when they were assaulted."
An intruder. An incubus. The inability to move. The loss of respiratory control. The Popobawa, Walsh concludes, was no demon. It was textbook sleep paralysis, at a massive scale.
Zanzibar's example is extreme, but far from isolated. Every culture has its bogeyman. Every century has ghost sightings. Everyone has heard things go bump in the night.
"We believe that sleep paralysis is a good, naturalistic explanation for a lot of paranormal beliefs," said Sharpless. "Alien abductions that occur at night; visits by ghosts and demons; more recently, shadow people. If you look at people's first-hand descriptions of these events, they map really well on to sleep paralysis."
"Different cultures have come up with unique names for sleep paralysis that are descriptive of various common experiences in how it manifests," explains Kevin Morton, who five years ago founded a site dedicated to better understanding sleep disorders as part of an undergraduate project at Stanford University. "In Japan it's been known as 'Kanashibari' (retaliating spirit), in Thailand 'Phi um' (enveloping ghost), or the 'Hauka'I po' (night marchers) in Hawaii."
In the same way that we might ascribe a happy coincidence to a guardian angel or God, we paint sleep paralysis with the brushstrokes of our deepest terrors.
Sleep paralysis being blamed on ghosts, spirits, and demons transcends cultures, but you can count on Japan to give it the perfect anime treatment.
Estimates vary as to how many people will experience sleep paralysis at least once in their lifetime. Sharpless pegs it at 8 percent of the general population, with students (28 percent) and psychiatric patients (32 percent) even higher. Sharpless thinks that spike may be attributable to those groups having disrupted sleep patterns to begin with, making sleep paralysis more likely. Cheyne notes that incidence rates are higher still "in societies with an active tradition of haunting night spirits."
Despite the prevalence of sleep paralysis, especially among certain groups, there's been no large intervention trials to determine an effective treatment for it. In a 2014 paper, Dr. Sharpless and co-author Jessica Lynn Grom outlined a few preemptive methods (e.g., changing sleep positions and patterns), as well as techniques to help mitigate the impact mid-episode. Among the most effective of those? Simply trying to calm yourself down in the moment, if you can manage it. Focus on trying to move your extremities. Don't worry about the demon on your chest.
That's more easily accomplished if you're aware that you're experiencing sleep paralysis, or even of what sleep paralysis is. It's a condition that's been largely (apologies) in the dark, in part because it's not an easy thing to talk about. I didn't tell anyone about my experience for years, and even then it was only after I had found out what it was. Until then, I was too worried that it signaled something deeply wrong with my body or mind or both.
"Sleep paralysis has quite a large awareness bias associated with it," says Morton, whose site has received hundreds of submissions from people who have lived it, and a magnitude more visitors looking for answers. "It is such a crazy experience–waking up with your body paralyzed, often hallucinating frightening dream imagery, occasionally of a sexual nature–that those who experience it often don't talk about it with others, usually out of fear that they will be seen as crazy or possessed, or just otherwise stigmatized if they bring it up."
Morton is optimistic about the internet's power as a great normalizer; all it takes is a quick search of symptoms to find out that you're neither possessed nor insane. Sleep paralysis also seems to be having a larger cultural moment beyond the web, if a phenomenon as old as consciousness itself can be said to have moments.
That's a brief clip from The Nightmare, a documentary from Rodney Ascher, which brings brings to life people's real descriptions of sleep paralysis events. Ascher, who previously directed the critically lauded Room 237, pursued the topic after experiencing it himself. Devil in the Room, a short film released in 2014, takes a similar approach, while photographer Nicolas Bruno has a series of photographs depicting the horrors he has experienced in his years of sleep paralysis.
Most dreams stop when they want to, not when you tell them. A modicum of awareness, though, helps with what comes after. Even if you can't beat sleep paralysis, you can cope with its reverberations.
There's comfort in knowing that the demon on your chest actually resides in your mind. Or at least, that yours isn't the only mind with demons.
The Charlie Charlie Challenge – what is the spooky craze?
A strange new viral phenomenon has left social media buzzing with attempts to summon a Mexican spirit.
Although it has been around for quite some time, the challenge, which involves using pencils and a piece of paper to summon a spirit named Charlie, has really taken off this week.
To play, participants are required to take a piece of paper, balance two pencils in a cross shape in the middle and then write the words "yes" and "no" at the four corners of the page.
To begin, those taking part must then clearly recite the phrase "Charlie, Charlie, are you here?".
If the pencil moves then, according to the myth surrounding the game, the spirit of Charlie will have arrived to begin answering your questions.
Despite the widespread uptake of the challenge on social media this week however the mechanism behind this alleged paranormal communication is actually very simple – the pencils will invariably move by themselves no matter what because they are so precariously balanced.
The vibration of a footstep, someone shuffling around in the room or even a subtle draft from a window or door can make it seem as though Charlie has come out to play.
Nevertheless with the "Charlie Charlie Challenge" becoming increasingly popular online it is likely that we will be seeing quite a few reaction videos of pencils moving over the next few weeks.
Source: Independent
A Drug Addict Changed His Ways When He Saw Something Strange In This Photo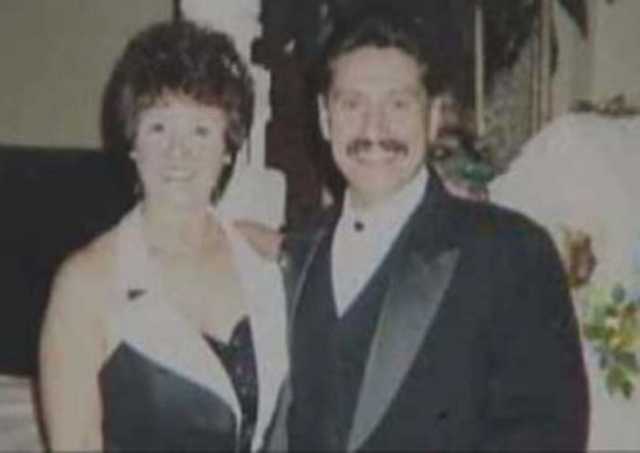 While some consider ghosts to be expert photobombers, they're certainly not alone in the world of paranormal photobombing. Demons also seem to be quite good at it. In fact, demons might actually be better photobombers than ghosts, which is something Joe Martinez learned a few years ago in the most shocking way.
Martinez, who was heavily involved with drugs at the time, went with his wife to his in-laws' wedding anniversary celebration. It was a fairly ordinary party by all accounts. At one point in the evening, however, someone snapped a picture of Martinez posing with his wife. No one thought anything of it…until the picture was developed.
Could it actually have been a demon? Perhaps it was a trick of the light? According to Martinez, several reputable paranormal investigators examined the photo and found no evidence of tampering. Even stranger is the fact that the demon creature did not appear in any other photos from the anniversary party. Fake or not, at least this photo did some good in getting Martinez to clean up his life.