Were the Hanging Gardens really in Babylon ?
The Hanging Gardens of Babylon, one of the  Seven Wonders of the Ancient World, weren't in Babylon at all – but were instead located 300 miles to the north in Babylon's greatest rival Nineveh, according to a leading Oxford-based historian.
After more than 20 years of research, Dr. Stephanie Dalley, of Oxford University's Oriental Institute, has finally pieced together enough evidence to prove beyond reasonable doubt that the famed gardens were built in Nineveh by the great Assyrian ruler Sennacherib  – and not,  as historians have always thought, by King Nebuchadnezzar of Babylon.
Dr. Dalley first publicly proposed her idea that Nineveh, not Babylon, was the site of the gardens back in 1992, when her claim was reported in The Independent – but it's taken a further two decades to find enough evidence to prove it.
Detective work  by Dr. Dalley  – due to be published  as a book by Oxford University Press later this month – has yielded four key pieces of evidence.
First, after studying later historical descriptions of the Hanging Gardens, she realized that a bas-relief from Sennacherib's palace in Nineveh actually portrayed trees growing on a roofed colonnade exactly as described in classical accounts of the gardens.
That crucial original bas-relief appears to have been lost in the mid 19 century.  When it was discovered by the British archaeologist, Austin Henry Layard, in the 1840s, it seems to have already been in such poor condition that its surface was, in all probability, rapidly crumbling away. Alternatively, it may have been amongst a group of Layard's UK- bound Nineveh carvings which were lost when the boat carrying them sank in the River Tigris. Luckily, however, an artist employed by Layard had already drawn the bass-relief – and that drawing, recently recognised by Dr. Dalley as portraying the garden, had been reproduced in Layard's book about Nineveh published in London in 1853.
Further research by Dr. Dalley then suggested that, after Assyria had sacked and conquered Babylon in 689 BC, the Assyrian capital Nineveh may well have been regarded as the 'New Babylon' – thus creating the later belief that the Hanging Gardens were in fact  in Babylon itself. Her research revealed that at least one other town in  Mesopotamia  – a city called Borsippa – was being described as  "another Babylon"  as early as the 13 century BC, thus implying that in antiquity the name could be used to describe places other than the real Babylon.  A breakthrough occurred when she noticed  from earlier research  that after Sennacherib  had sacked and conquered  Babylon, he had actually renamed all the gates of Nineveh after the  names traditionally used for Babylon's city gates. Babylon had always named its gates after its gods. After the Assyrians sacked Babylon, the Assyrian monarch simply renamed Nineveh's city gates after those same gods. In terms of nomenclature, it was clear that Nineveh was in effect becoming a 'New Babylon'.
Dr. Dalley then looked at the comparative  topography of Babylon and Nineveh and realized that the totally flat countryside around the real Babylon would have made it impossible to deliver sufficient water to maintain the sort of raised gardens  described in the classical sources. As her research proceeded it therefore became quite clear that the 'Hanging Gardens' as described could not have been built in Babylon.
Finally her research began to suggest that the original classical descriptions of the Hanging Gardens had been written by historians who had actually visited the Nineveh area.
Researching the post-Assyrian history of Nineveh, she realized that Alexander the Great had actually camped near the city in 331BC – just before he defeated the Persians at the famous battle of Gaugamela. It's known that Alexander's army actually camped by the side of one of the great aqueducts that carried water to what Dr. Dalley now believes was the site of the Hanging Gardens.
Alexander had on his staff several Greek historians including Callisthenes, Cleitarchos and Onesicritos, whose works have long been lost to posterity – but significantly those particular historians' works were sometimes used as sources by the very authors who several centuries later described the gardens in works that have survived to this day.
"It's taken many years to find the evidence to demonstrate that the gardens and associated system of aqueducts and canals were built by Sennacherib at Nineveh and not by Nebuchadnezzar in Babylon. For the first time it can be shown that the Hanging Garden really did exist" said Dr. Dalley.
The Hanging Gardens were built as a roughly semi-circular theatre-shaped multi-tiered artificial hill some 25 metres high. At its base was a large pool fed by small streams of water flowing down its sides. Trees and flowers were planted in small artificial fields constructed on top of roofed colonnades. The entire garden was around 120 metres across and it's estimated that it was irrigated with at least 35,000 litres of water brought by a canal and aqueduct system from up to 50 miles away. Within the garden itself water was raised mechanically by large water-raising bronze screw-pumps.
The newly revealed builder of the Hanging Gardens, Sennacherib of Assyria – and   Nebuchadnezzar of Babylon who was traditionally associated with them – were both aggressive military leaders. Sennacherib's campaign against Jerusalem  was immortalized some 2500 years later in a poem by Lord Byron describing how "the Assyrians came down like a wolf on the fold," his cohorts "gleaming in purple and gold."
Both were also notorious for destroying iconic religious buildings.  Nebuchadnezzar of Babylon destroyed Solomon's Temple in Jerusalem and according to one much later tradition was temporarily turned into a beast for his sins against God. Sennacherib of Assyria destroyed the great temples of Babylon, an act which was said to have shocked the Mesopotamian world. Indeed tradition holds that when he was later murdered by two of his sons, it was divine retribution for his destruction of those temples.
Bizarrely it may be that the Hanging Gardens were the first of the seven 'wonders' of the world to be so described – for Sennacherib himself referred to his palace gardens, built in around 700BC or shortly after,  as "a wonder for all the peoples". It's only now however that the new research has finally  revealed that his palace gardens were indeed one of the Seven Wonders of the Ancient World. Some historians have thought that the Hanging Gardens may even have been purely legendary.  The new research finally demonstrates that they really did exist.
40,000-Year-Old Bracelet Made With Advanced Technology — the Evidence
Dating back to the Denisovan species of early humans, scientists have confirmed that a bracelet found in Siberia is 40,000 years old. This makes it the oldest piece of jewelry ever discovered.
The bracelet is discovered in a site called the Denisova Cave in the Altai region of Siberia in 2008 and after detailed analysis Russian experts now accept that the bracelet's age as correct.
Scientists conclude it was made by our prehistoric human ancestors, the Denisovans, an extinct species of humans genetically distinct from Neanderthals and modern humans, and shows them to have been far more advanced than ever realized.
But what made the discovery especially striking was that the manufacturing technology is more common to a much later period, such as the Neolithic era. Indeed, it is not clear yet how the Denisovans could have made the bracelet.

Writing in the Novosibirsk magazine, Science First Hand, Dr Derevyanko said:
"There were found two fragments of the bracelet of a width of 2.7cm and a thickness of 0.9 cm. The estimated diameter of the find was 7cm. Near one of the cracks was a drilled hole with a diameter of about 0.8 cm."

"Studying them, scientists found out that the speed of rotation of the drill was rather high, fluctuations minimal, and that was there was applied drilling with an implement – technology that is common for more recent times", Dr. Derevyanko told the Siberiantimes.
Image: Bracelet is made of Chlorite – Inside are traces of drilling.
Image credit: Anatoly Derevyanko and Mikhail Shunkov, Anastasia Abdulmanova.
It is known that the Denisovans migrated out of Africa and having branched away from other humanoid ancestors some 1 million years ago.
Genetic studies confirm that skeletal remains of Denisovans, that dated back as early as 600,000 years ago were quite different to both Neanderthals and modern man and the studies confirm that they did coexist not only with modern humans and the Neanderthals, prior to become extinct, but as DNA evidence suggests, the Denisovans also must have interbred with an as yet unknown and undiscovered species of humans beings… or maybe an Extraterrestrial species?
300,000 year old nanostructures found in the Ural mountains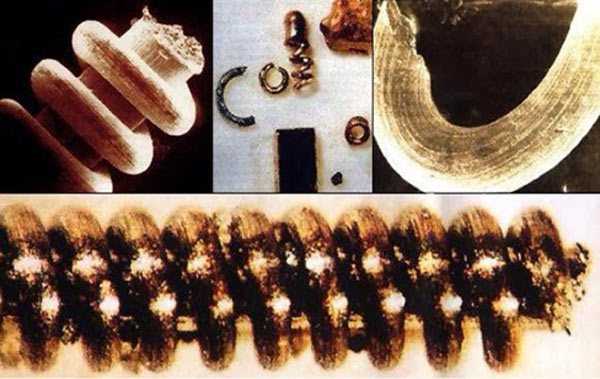 Found in the Ural Mountains in Russia, these objects have caused quite a buzz since their discovery. A lot of websites went on and posted articles about these mysterious objects that were discovered in 1991 near the banks of Russia's Kozhim, Narada, and Balbanyu rivers. The tiny structures are believed to have been the product of an extremely ancient civilization that was capable of developing nanotechnology about 300,000 years ago. The age of these mysterious nanostrctures have placed them in the list of "out of place artifacts" given the fact that researchers estimate them to be around 300,000 years old.
The objects were discovered during a geological research mission whose purpose was the extraction of gold in the Ural mountains in Russia, and while gold was the number one thing to look for, researchers weer amazed to find something apparently much more valuable. The pieces discovered are coils, spirals and shafts among the list of unidentified components that were unearthed during the geological missions in the area.
The Russian Academy of sciences performed several tests on these mysterious objects and the results were quite interesting. Researchers found out that the largest pieces that were unearthed were made almost entirely out of copper and the smaller ones from tungsten and molybdenum.
The Russian Academy of Science has a structure of 11 specialized scientific divisions, three territorial divisions also referred to as branches, and it consists of 14 regional scientific centers. The Academy has numerous councils, committees and commissions, organized for different purposes and studies.
A lot of people who read about these artifacts have discredited their discovery and meaning stating that there is no research facility from the RAS and that the research performed was dubious but they are mistaken as the Ural Division of the RAS was established in 1932, with Aleksandr Fersman as its founding chairman. Research centers are in Yekaterinburg, Perm, Cheliabinsk, Izhevsk, Orenburg, Ufa and Syktyvkar.
The materials were submitted to a more extensive research a couple of years after their discovery to find out more about the mysterious objects and their composition and according to the Russian Academy of Science and their department for Geology; the metals have not originated in nature on their own, meaning that they are components that have a artificial technological origin, in other words they were manufactured.
According to the information available, these nanostructures were found at a depth between 10 and 40 feet, research also shows that they range in date from 20,00 to over 300,000 years. But who made them and for what purpose? are they the result of a now extinct ancient civilization? Or are they the result of something beyond our planet? These are the questions that have been asked when it comes to the origin of these ancient nanostructures.
Even though research has been made in Russia, some argue that given the skeptical opinion worldwide about this findings, it would have been interesting to see what other researchers in other countries have to say about these nanostructures and even though the materials were studied in Helsinki, St. Petersburg and Moscow there have been no documents made available concerning the nanostructures, their origins and purpose.
According to Dr. E.W. Matveyeva, of the Section for Geology, Prospecting Techniques, and Economics of Precious Metal Alluvial Deposits; The layer which contains the spiral-shaped objects is characterised as gravel and detritus deposits of No. 3 stratum, which in our view, show inner-sedimentary erosion of polygenetic accumulative layers (i.e. layers composed of material of various origins). From their orientation these layers can be dated to 100,000 years and correspond to the lying parts (i.e. the lower regions) of the Mikulinsk horizon of the upper Pleistocene.
Particular attention should be paid to the final conclusion reached by the Moscow institute. Report No. 18/485 states that the age of the deposits and the results of the tests give a very low probability to the assumption that the origin of these unusual, thread-shaped tungsten crystals is of a technogenic cosmic nature, due to the rocket take-off route from the Plesetsk space-station over the polar part of the Ural region.
Debate over these object will continue due to the "mysterious" nature of these objects and while there is a possibility that these nanostrcutres could have originated from n ancient civilization that lived on Earth hundreds of thousands of years ago, other possibilities cannot be excluded.

( via ancient-code.com )
The Dispilio Wood Tablet – One of the Oldest Written Texts in History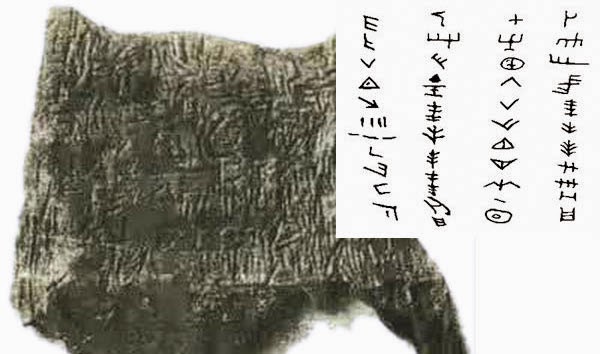 by John Black, Ancient Origins
According to conventional archaeology, writing wasn't invented until 3000 to 4000 BC in Sumeria.  However, an artefact was found over a decade ago which contradicts this belief – and perhaps this is the reason why few people know about the discovery.
The Dispilio tablet was discovered by a professor of prehistoric archaeology, George Xourmouziadis, in 1993 in a Neolithic lake settlement in Northern Greece near the city of Kastoria. A group of people used to occupy the settlement 7,000 to 8,000 years ago.
The Dispilio tablet was one of many artefacts that were found in the area, however the importance of the table lies in the fact that it has an unknown written text on it that goes back further than 5,000 BC.
The wooden tablet was dated using the C12 method to have been made in 5260 BC, making it significantly older than the writing system used by the Sumerians.
The text on the tablet includes a type of engraved writing which probably consists of a form of writing that pre-existed Linear B writing used by the Mycenaean Greeks. As well as the tablet, many other ceramic pieces were found that also have the same type of writing on them.
Professor Xourmouziadis has suggested that this type of writing, which has not yet been deciphered, could be any form of communication including symbols representing the counting of possessions.
More artefacts were discovered that show the economic and agricultural activities of the settlement, proof of animal breeding and their diet preferences as well as tools and pottery, figurines and other personal ornaments.
Decoding the writing is going to be difficult if not impossible, unless a new Rosetta stone is found. Unfortunately, by the moment the tablet was removed out of its original environment, contact with oxygen started the deterioration process and it is now under preservation.
It is impressive to think that the wooden tablet had remained at the bottom of the lake for 7,500 years.
While this artefact predates the Sumerian writing system, I am sure in the future more will be found in other areas of the world that will go even further back in time, until the true history of humanity will be unravelled and completely change what we know about our history.
The Danube civilization is rarely mentioned, yet it is probably the oldest in Europe.