Top 10 UFO sightings: from Roswell to a pub in Berkshire
As the MoD releases its final UFO files, here are the world's most famous sightings of alien spaceships – sorry, we mean unidentified flying objects. Keep watching the skies
1 Roswell, 1947
Alien autopsy? A still from the documentary The Roswell Incident Photograph: Channel 4Conspiracy theorists claimed the US military had captured a crashed alien aircraft, but "The Man" maintained it had merely recovered debris from a top secret surveillance balloon. Ask Ant & Dec – they made a film about it: 2006 flop Alien Autopsy.
2 Belgian wave, 1989-90
A sighting from the Belgian UFO wave (29 November 1989 to April 1990).Over five months, 13,500 people claimed to have witnessed large, silent, low-flying black triangles, and around 2,600 of them filed written statements. Sceptics blame helicopters or mass delusions caused by eating chips with mayonnaise.
3 Westall encounter, 1966
[youtube https://www.youtube.com/watch?v=JarEi97OsAU?enablejsapi=1&version=3]More than 200 students and teachers at two Melbourne schools saw a flying saucer descend into a grass field, then ascend over a local suburb. There are no pictures, but witnesses still gather for reunions. Some of them are probably "spunks". Others are "dags" who can "rack off".
4 Kenneth Arnold case, 1947
Pilots EJ Smith, Kenneth Arnold, and Ralph E Stevens look at a photo of a UFO that they spotted in Washington. Photograph: Bettmann/CorbisThe press first coined the term "flying saucer" after this Idaho pilot claimed he had seen a string of nine shiny, saucer-shaped objects flying at supersonic speeds near Mount Rainier, Washington. What's the frequency, Kenneth?
5 Bracknell pub pair, 2013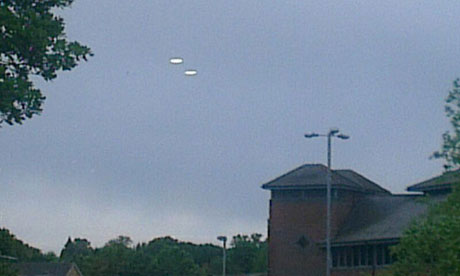 UFOs – flying discs – spotted in the sky over in Bracknell in 2013.Earlier this month, two glowing discs were photographed hovering near Bracknell, Berkshire – in the skies above a pub, spotted by a drinker in the beer garden. Hopefully he stared at the label on his bottle afterwards, like in the films.
6 Ronald Reagan, 1974
[youtube https://www.youtube.com/watch?v=f9ZoKfYCNlM?enablejsapi=1&version=3]Presidents Jimmy Carter and Ronald Regan both claim to have seen UFOs. Carter was widely mocked for his 1973 sighting, but the man who eventually succeeded him in the White House also saw a mysterious object – in 1974 above Petersfield, California. Probably wisely, the wily old cowboy kept pretty quiet about it.
7 Levelland case, 1957
Reports of a UFO sighting in Levelland, Texas in 1957. Photograph: guardian.co.ukTexas motorists reported their engines stalling after encountering a glowing, egg-shaped object – and that their vehicles restarted after it flew past. An investigation concluded that it was down to an electrical storm and "ball lightning".
8 Phoenix lights, 1997
[youtube https://www.youtube.com/watch?v=KdIdDpJYSOM?enablejsapi=1&version=3]Several witnesses spotted an "otherworldly" flying V-shaped craft, several city blocks across and with five spherical lights, in the skies over Arizona. Not to be confused with Phoenix Nights, which is a Peter Kay sitcom. Shabba!
9 Sao Paulo chase, 1986
[youtube https://www.youtube.com/watch?v=zaBBdS226Vk?enablejsapi=1&version=3]Twenty UFOs were spotted and detected by radar around Brazil but reportedly disappeared when military aircraft were sent to intercept them. Experts attributed the sighting to debris ejected by Soviet space station Salyut-7. Of course they did. They would. Right, guys? Guys?
10 Tehran incident, 1976
  US military report into a sighting of a UFO over Tehran in 1976.A UFO allegedly whizzed over Iran's capital, disabling the electronic instrumentation of two F-4 Phantom II jets and jamming ground control equipment. Iranian generals said on record that they thought the object was extra-terrestrial. Don't tell Melanie Phillips.
Videos show 3 UFOs moving past the surface of the moon
Jon Dean Daily Mirror, UK
A remarkable series of videos appear to show three unidentified flying objects zooming past the surface of the moon.
The mysterious dark objects seem to pass close the celestial body and amazingly one looks like it's powered by rocket jets.
The UFOs were captured by an expert cameraman who spends many days videoing the sky and documents what he finds.
Crrow777, as he is identifed by his user name, put the clips on YouTube and claims to never post any hoax footage.
He does use some effects, like zoom, colour and contrast, but only to highlight anomalies.
Speaking on one clip, he says: "I am not saying this is an alien, but it is a ship being intelligently controlled."
The object are not satellites, he says, because they take almost a minute to pass the moon's surface.
Man made objects orbiting the earth would take just two or three seconds, he claims.
He said: "You will see only video I have personally shot.
"Everything is in high definition, and a lot of it is shot through an eight-inch telescope.
"I have shot UFOs, chem trails and the UFOs that accompany them, the moon, lunar UFOs and space anomalies.
"I make a pledge to all subscribers on my channel to never run false or deceptive clips and I will never edit the clips in a way that is deceptive.
"What you see is what I observe through my camera and telescope."
Many people watching the videos have been very impressed with the footage.
One posted: "Consistent with NASA's video of the tether incident.
"They do exist and are watching us.
However another added: "Have you considered the possibility that you just saw an errant space rock?
"As we all learned from the Chelyabinsk meteor [which exploded unexpectedly over Russia in October 201], we don't exactly know about all the rocks flying around out there."
Massive alien mothership 'the size of Idaho' has parked near the Sun: Spotted in NASA images by ufologists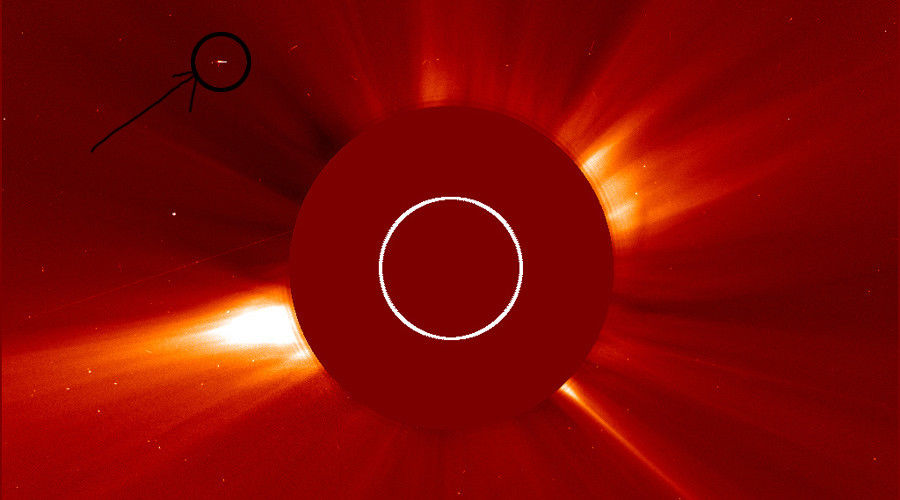 BREAKING NEWS!
A massive alien spacecraft, around the size of the US state of Idaho, has been spotted near the sun by ufologists in recent NASA pictures. They say the object definitely has a structure.
The video released by Youtube user Streetcap1 shows the original NASA image of the sun captured by the Solar and Heliospheric Observatory (SOHO) on July 15, 2015.
"This UFO is awesome! Every time I try to ask NASA about these UFOs on Twitter, they ignore me. They have never answered me and refuse to talk about these giant UFOs near our sun," said a statement from the UFO Sightings Daily, a website devoted to possible UFO detections on or above our planet.
According to the website, whose slogan is "the truth is within our grasp" (echoing the X-Files' "The Truth is Out There"), the alleged alien craft is about the size of Idaho (216,000 square kilometers).
UFO Sightings Daily cited an eyewitness who said the object, which is definitely not a space rock or a piece of space junk, "has structure and for NASA to dismiss it as nothing is an insult to people's intelligence. If they post data then they must expect UFO hunters to find anomalies and share them."
Express.co.uk, Jul 21, 2015
UFO hunters claim ANOTHER huge alien mothership is draining Sun of energy in NASA images.
Our planet seems to be a popular tourism destination for aliens, according to UFO Sightings Daily website. It has recorded about 113 alien faces on the earth and about 231 building on the moon. The site says it has the scoop on why UFOs create crop circles and how alien spaceships are sometimes captured on live TV.
NASA's SOHO project is a collaboration between the European Space Agency (ESA) and NASA. Launched in 1995, the project is designed to study the internal structure of the sun, its outer atmosphere and the origin of solar wind – the ionized gas that blows throughout the solar system. The project has become the number one comet finder, charting over 2,700 comets sightings since observations began.
NASA accused of cutting off live feed to hide UFO sighting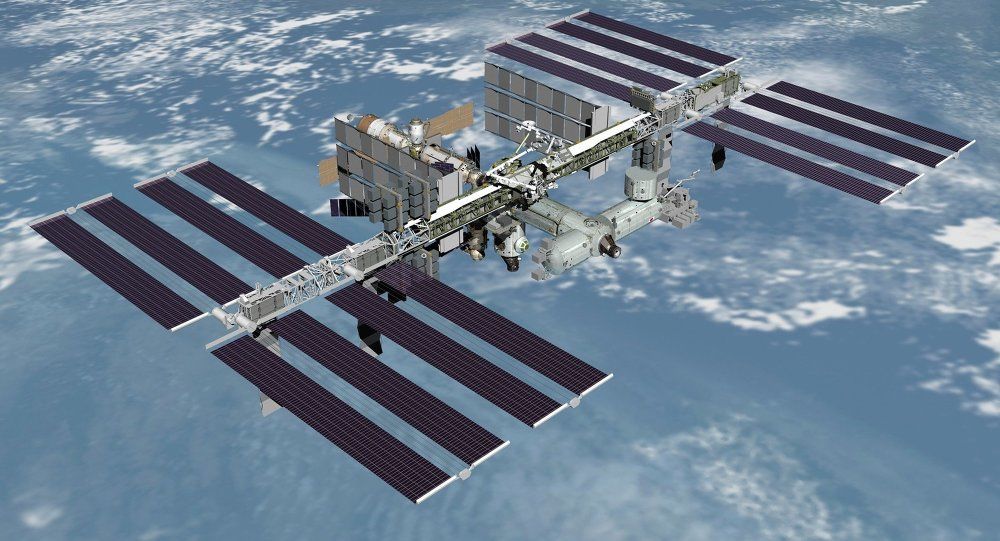 A video posted to YouTube on June 21 – claiming to show three UFOs leaving the Earth's atmosphere, and accusing NASA of deliberately cutting its feed from the Space Station – has been going viral.
The video, titled "UFO Mysteries: UFOs, Angels Or Biological Creatures Seen Leaving The Earth?" is said to be footage from the livestream of NASA's International Space Station.
The footage of three lights, combined with the alleged suspicious timing of camera difficulties, has many declaring we now have "definitive proof" that aliens exist. Further, many claim it proves a government coverup of a mysterious alien species.
The truth, however, may be far less exciting.
In the YouTube video, a small speck of light can be seen rising from the atmosphere, followed by two more very small and faint lights, also rising away from the Earth.
The feed then cuts out, with the message: "Please stand by. The High Definition Earth Viewing experiment is either switching cameras, or we are experiencing a temporary loss of signal with the International Space Station."
Now, these specks very well could be some alien visitors, just leaving dinner at Roswell, but there are also alternative explanations.
The light may have been satellites, space debris, a glitch, or even glimmers of sunlight. The ISS completes an orbit of Earth every 92.91 minutes and moves at 17,100 miles (27,600km) per hour, so it is not unlikely to run into any of these things.
While the ISS camera runs 24/7, it often cuts out or switches cameras, sometimes even temporarily shutting down the feed.
The new viral video surfaced approximately a week after UFO hunters claimed to find a pyramid on Mars, thus proving the planet was once inhabited. Scientists have scoffed at their claims, saying it is actually a rock that is roughly the size of a car.