The Boy Who Cried Wolf: 2012, Fenrir and Asteroid DA 14
Via SacredGeometryInternational.com
We all remember the well known fable told by the ancient Greek slave and storyteller, Aesop, about the shepherd boy drafted to keep watch over a flock of sheep, and who, out of boredom, decided it would be great fun to fool the nearby villagers by pretending that a wolf was attacking the sheep. After the villagers rushed out to save the sheep a number of times based upon the boys fabrications they refused to believe him when the wolf actually did show up and began to consume the sheep. The obvious declared moral of the story is generally expressed as "There is no believing a liar, even when he is telling the truth." However, there is, I submit, a second, unstated moral to the story as well. In spite of the shepherd boys prevarications the wolf was real. And the wolf did, in the end, show up to devour the poor sheep.

Which brings us to the point of this article. For centuries various predictions have been made about the end of the world on certain dates by assorted means and on quite a number of occasions these predictions have been believed by a significant number of people. Obviously the world did not perish in late December of 2012, the most recent date proffered in a long tradition of doomsday predictions that failed to materialize.

There have been countless dozens of other such failed predictions stretching back through the centuries. I think we could say that the batting average of those prognosticators of world destruction has so far been about zero. All of which, however, raises an interesting question. Why are so many people so fearful of and ready to believe in an impending doomsday? I think the answer to that question brings us to the unstated moral of Aesops fable. In spite of all the false alarms the wolf turned out to be very real. And eventually the wolf showed up.
Read more at SacredGeometryInternational.com
The time has come,
Soon we will all witness the master plan meticulously crafted by the mystery people.
Will No. 44 be the last as a president or a shall we have a continuation in UN leadership?
Ogmios is waiting…
WW3 In June 2016 – 1.2 Billion Will Die Says Doomsday Prophet!
A man by the name of Pastor Ricardo Salazar has been getting some attention in the media lately for making predictions that we are on the verge of World War 3 with China and Russia. Other prophecies that he has made include that an asteroid will hit the earth and kill 1.2 billion people, the Antichrist will appear in 2020, and that the second coming of Jesus Christ will take place in 2023. Is there any validity to his claims? You will learn so much from watching this video.
WWIII HAS BEGUN ! Chinese Warplanes Join Their Russian Counterparts in Devastating Air Raids Against Obama Backed ISIS Terrorists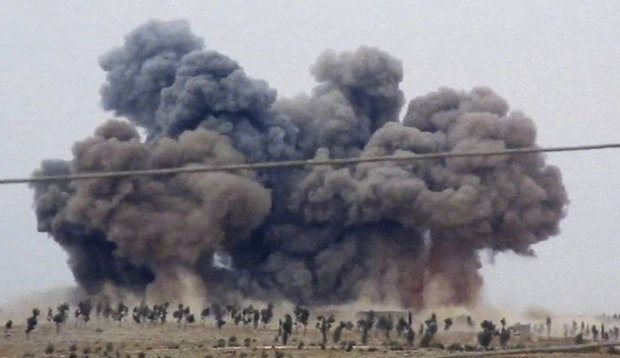 China has told Moscow that they will join in the bombing in Syria from their Aircraft Carrier. This has HUGE implications folks. HUGE!
It is a well-known fact that the Nation of Iran today has two chief allies, Russia and China. They have stood by Iran through the thick and thin especially with controlling interest as permanent members of the United Nation's Security Council. Without Russian and China, Shiite Iran would have been history decades ago.
Today again, they are proving that they will be prepared to stand in opposition to the United States and NATO because all four are vying for world dominion.  So also the rest of the world's prophetic nations are aligning themselves either for or again either of two global forces.
China To Join Russian Air Strikes In Syria, Russia Gains Iraq Air Base
BELGRADE – DEBKAfile's military and intelligence sources report that China sent word to Moscow on Friday, October 2, that J-15 fighter bombers would shortly join the Russian air campaign that was launched Wednesday, September 30. Baghdad has moreover offered Moscow an air base for targeting the Islamic State now occupying large swathes of Iraqi territory, debka.com reports.
The J-15 warplanes will take off from the Chinese Liaoning-CV-16 aircraft carrier, which reached Syrian shores on September 26, according to DEBKAfile. This will be a landmark event for Beijing: its first military operation in the Middle East as well the carrier's first taste of action in conditions of real combat.
Thursday night, China's foreign minister Wang Yi, made this comment on the Syrian crisis at a UN Security Council session in New York: "The world cannot afford to stand by and look on with folded arms, but must also not arbitrarily interfere (in the crisis)."
A no less significant development occurred at about the same time when Iraqi Prime Minister Haider al-Abadi, speaking to the US PBS NewsHour, said he would welcome a deployment of Russian troops to Iraq to fight ISIS forces in his country too. As an added incentive, he noted that this would also give Moscow the chance to deal with the 2,500 Chechen Muslims whom, he said, are fighting with ISIS in Iraq.
DEBKAfile's military sources add that Al-Abadi's words came against the backdrop of two events closely related to Russia's expanding role in the war arena:
1.  A joint Russian-Iranian-Syrian-Iraqi war room has been working since last week out of the Iraqi Defense Ministry and military staff headquarters in Baghdad to coordinate the passage of Russian and Iranian airlifts to Syria and also Russian air raids. This command center is also organizing the transfer of Iranian and pro-Iranian Shiite forces into Syria.
2.  Baghdad and Moscow have just concluded a deal for the Russian air force to start using the Al Taqaddum Air Base at Habbaniyah, 74 km west of Baghdad, both as a way station for the Russian air corridor to Syria and as a launching-pad for bombing missions against ISIS forces and infrastructure in northern Iraq and northern Syria.
Russia has thus gained a military enclave in Iraq, just as it has in Syria, where it has taken over a base outside Latakia on the western coast of Syria. At the same time, the Habbaniyah air base also serves US forces operating in Iraq, which number an estimated 5,000.