Ten Creatures That Shocked The World
The past few years has seen a menagerie of strange beasts that  would be worthy of the Island of Dr Moreau,  the 1896 science fiction novel written by H. G. Wells,  that spawned a number of Hollywood  feature films.  The text of the novel is the narration of Edward Prendrick, a shipwrecked man rescued by a passing boat who is left on the island home of Doctor Moreau, who creates human-like beings from animals via vivisection. The novel deals with a number of philosophical themes, including pain and cruelty, moral responsibility, human identity, and human interference with nature. The following ten creatures may speak to a troubling state of pollution that is causing the birth of mutated creatures and the current state of morality that allows such pollution.
Pig Man of Gautemala
In  2012, residents of the Guatemalan village  decided that a pig's odd human-shaped head was the work of extraterrestrials, after strange bright lights were spotted hovering in the sky on the night of its birth. The poor pig, which was one of a litter of 11, as described as looking like a cross between a human and something from science fiction movies.
Farmer Laureano Escobar Arias said: 'I was shocked – it was a really terrifying experience.
'It looked like some kind of alien creature.'
However, local health officials have suggested that there are more earthly reasons for the pig's appearance.
'We don't know for certain but it could have been caused by a genetic problem or by environmental pollution,' one commented.
Monkey Pig From China
In 2012 the birth of a strange pig in China caused a sensation.  The strange beast was rumored to be a cross between a frisky monkey and a sow.
Half human half sheep
On Monday, January 22, 2012, doctors and staff of Fakon Idi Veterinary Clinic, in Sokoto metropolis were hit with amazement when a sheep was delivered of a monster-like creature.
The news of a "half sheep, half human" creature born to an adult sheep in the town of Sokoto, Nigeria quickly spread across the world. The locals claimed witchcraft,
Dr. Dahiru Sani who was one of the surgeons that carried out the operation on the controversial sheep said infections such as German measles, excess drugs and radiation could cause such abnormalities in animal pregnancy.
Half-human half-goat
According to the Daily Post in Nigeria, in September, 2012 a general hospital located in Jahun, Jigawa state became a theater of absurd and bizarre when a woman who had labored for 9 months gave birth to what looks like a combination of human head and goat legs. The woman whose identity is yet to be revealed had delivered peacefully only to have had a child with human head with no neck, and goat legs handed to her by the doctor.
Half-man, half-goat discovered in Zimbabwe
The Daily Telegraph on September 28, 2009 reported a goat, which died just a few hours after birth in Lower Gweru, Zimbabwe, had a huge head and face which resembled a human as well as goat legs and a tail. The Zimbabwe Guardian reported that Midlands Governor and Resident Minister Jason Machaya maintained the creature was the result of a coupling between man and goat.
"This incident is very shocking. It is my first time to see such an evil thing. It is really embarrassing," Machaya  said.   "The head belongs to a man while the body is that of a goat. This is evident that an adult human being was responsible. Evil powers caused this person to lose self control
Montauk Monster
The "Montauk Monster" was found in the area  of Montauk , Long Island, a coastal New York, town in 2008.  It had a hairless body like a doga dog but a beak and teeth that were very strange.
Some say the  "Montauk Monster" was raccoon carcass that washed ashore dead.  The identity of the creature, and the veracity of stories surrounding it, has been the subject of controversy and speculation. It is unknown what happened to the carcass.
William Wise, director of Stony Brook University's Living Marine Resources Institute, interpreted the photo along with a colleague; they deemed the creature a fake, most likely the result of "someone who got very creative with latex", although his "next-best guess" was that the creature could be a diseased dog or coyote which had "been in the sea for a while". Wise discounted the following general possibilities:
Raccoon – the legs appear to be too long in proportion to the body.
Sea turtle – sea turtles do not have teeth, and the body cannot be removed from the shell without doing damage to muscle and skin tissue and the spine.
Rodent – rodents have two huge, curved incisor teeth in front of their mouths.
Dog or other canine such as a coyote – the prominent eye ridge does not match the creature's feet.
Sheep or other ovine – sheep have two-toed hooves, not multi-toed paws.
Plum island is an animal disease center just outside Long island wich is one of the most dangerous bio-labs in the U.S. They are performing studies and tests on bio-warfare and exotic diseases of animals .  Some maintain the creature was an experiement from that lab.
  Monster face otter
A bizarre creature with a long hairy body with bald skin on its head, feet and face showed up in a small Canadian town, according to media reports. It was discovered by two nurses in the town of Kitchenuhmaykoosib in Ontario, Canada, while they were out on a walk with their dog.
The two took some photographs of the dead animal pulled out by their dog from a lake, then they left it alone. When locals went back to retrieve the body, it was gone.
It has dark brown fur, head , face, smooth legs , no feathers . The face was like a boar with the nose of a big dog.
East River Monster Mystery
Photographer Denise Ginley shot pics of the rotting, sand-covered corpse on Sunday while strolling with her boyfriend along the Manhattan side of the East River in July 2012.
Credit: Denise Ginley
Credit: Denise Ginley
"The Parks Dept. was probably very quick to identify it as a pig and dispose of it, but it is most certainly NOT a pig," Denise Ginley stressed to the Daily News. "The most obvious sign being the lack of a cloven hoof, instead this creature has five digits all close together."
Read more: http://www.nydailynews.com/new-york/dead-east-river-monster-confounds-new-yorkers-animal-experts-article-1.1121889#ixzz2JmUshEY5
Russian Trench Creature.
In 2009 these weird creatures were found in an abandoned foundation pit in the Russian city of Chelyabinsk. Some maintain they were horseshoe crabs.
The creature had more than 20 little legs.
Chupacabra monster of Chhina
Chupacabra is Spanish for a creature that attacked goats and sucked their blood. Rumors of the   mysterious monster myth originated in Puerto Rico but soon spread to North and South America,  .In March of March of 2010 , in the area of the city of Suining in Sichuan province, southeast China,  an animal very similar to the description of the Chupacabra was captured.
The animal attacked chickens in the area, according to Suying Ke, the chickens' owner . He saw the animal bite to eat meat from a shredded cicked. . He tried to chase the strange beast with a stick but hado success . Finally thanks to the help of neighbors, they were locked up in cage the beast .
The beast looks like mixed between mice , kangaroo and a dog with huge claws . It is about 60 cm long with a 30 cm long tail When villagers fed vegetables and meat to it it would  chew the food voraciously People said that it was extremely aggressive.
Man Bear Pig
The man bear pig was a spoof of former Vice President Al Gore, global warming and cryptic creatures.
Mind control and time travel experiments taking place at real-life 'Stranger Things' base, claims investigator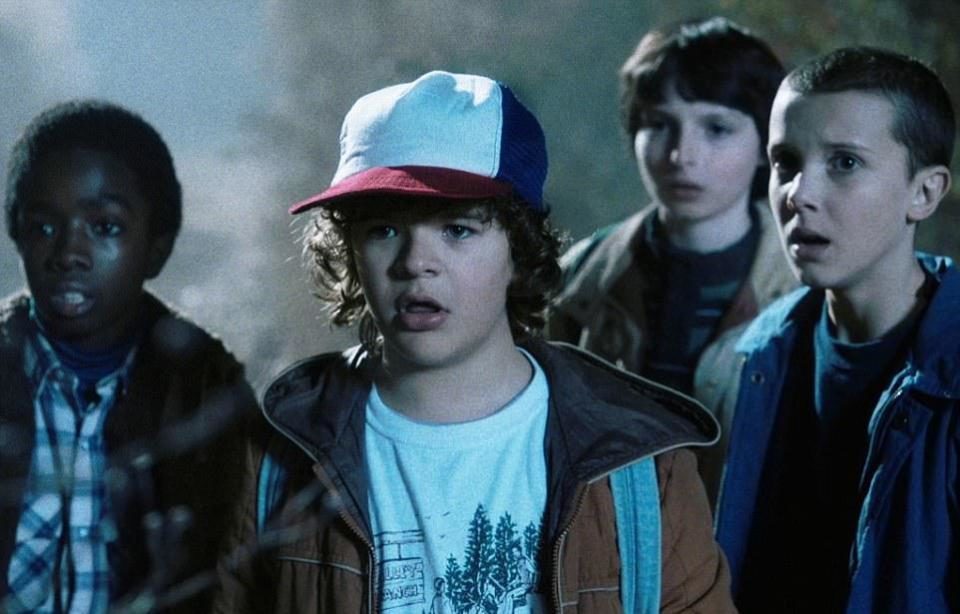 A US military base that inspired hit drama Stranger Things is using secret mind control experiments to trigger deadly shootings by a worldwide army of brainwashed assassins, a filmmaker claims.
Chris Garetano, who grew up close to Camp Hero, claims he has uncovered eerie goings-on over decades including child abductions and even time travel.
The former Cold War radar station in Montauk, New York state, has been the subject of rumours and conspiracy theories since it shut in the 1980s.
Locals have heard talk of government scientists conducting experiments on snatched foster kids and making contact with aliens.
Crucially, it is claimed the base's Sage radar tower broadcast the frequency needed to affect human consciousness.
One former worker has also described operating the Montauk Chair – a mind-reading device – and said once the computer accidentally summoned up a monster from a subject's imagination, which then went on a rampage through the air base.
Preston Nichols also told The Sun there were time-travel portals that sucked people to a different place and time.
It was these stories that inspired the creators of the hit Netflix sci-fi series Stranger Things, which was originally titled Montauk.
Most of the base is now a state park filled with picnickers but some parts near the old military installations and concrete bunkers remain sealed and guarded.
Now Chris has taken a fresh look at the creepy site amid claims some of the sinister activities could still be happening today.
He told the Daily Mirror: "The more you find out it's a little heartbreaking, as it's terrifying.
"I wouldn't be surprised if this site and these experiments are connected to mind control. The worst thing I can imagine is they were developing a mass mind control situation.
"There's new random shootings happening increasingly across the world now.
"And each time people say 'I didn't expect that person to do this.'
"It's very strange and it's happening far too much now."
Chris said government operatives could have set out to cause mayhem "to get the public to see things in a certain way, to persuade them or scare them."
Assassins could have been programmed at the site and years later are prompted by subliminal messages.
He said: "If this is true, that is terrifying. I don't want to believe it."
After the Second World War it is claimed the US government experiment on its own citizens including the Tuskegee Airmen, who are said to have been deliberately infected with syphilis and left untreated.
Others claim the CIA ran a mind control programme called MKUltra in the 1950s and 1970s. It allegedly involved testing how drugs like LSD could be used to extract information or erase memories.
And some point to Project Stargate, a CIA mission to see if psychic phenomena such as clairvoyancy could be used by spies. Spoon bender Uri Geller was one of the psychics who took part.
Another theory claims thousands of vulnerable children were kidnapped from the local area and subjected to mind control techniques to create an army of sleeper cell soldiers called the Montauk Boys.
Stewart Sweadlow claimed that, in 1970 when he was 13, he was regularly abducted for the Montauk Project.
He said: "They used derelicts, foster children and drug addicts and then ultimately they decided that people with certain genetics, people with certain backgrounds were conducive to the more advanced experiments and that's when I was taken in.
"With all of these children their memories were wiped, their genetics were altered and they couldn't always remember what happened. It would be in the form of nightmares or flashbacks.
"But with me, they could not erase my memory. I became an anomaly for them.
What These Archaeologists Found All Over The World Is Deeply Disturbing. And Yes, It's Real.
Over the course of human history, societal sensibilities have changed quite a bit. For example, apparently 8,000 years ago having a stake driven through your noggin was not much more than a bad case of the Mondays. Thanks to the work of archeologists, we are now discovering just how horrifying life used to be. By the end of this list, you'll be glad you don't live thousands of years in the past because it looks seriously messed up.
1. Babies In The Bathhouse
Researchers on a dig in Israel were combing through the structures of an Ancient Roman/Byzantine bathhouse. The building was fitted with a sewage system for drainage purposes, but what they found there was disturbing. In the pipes were the bones of hundreds of babies. Why the infants were placed there remains unknown.
2. Neandethal Cannibal Attack
Though neanderthals are separate from humans, they're close enough to make this list. In 2010, archeologists in Spain discovered the remains of a cannibal feast. Three adult females, three adult males, three teenagers, two young children and an infant showed indications that they were the lunch of another group of neanderthals. Yikes.
3. The Headless Vikings of Dorset
Railroad workers in Dorset, England were in the midst of a regular day when they came upon a burial of sorts. The bones of a small contingent of fighting-age Scandinavian men had been placed together and each one was missing his head. Experts surmise the men may have been executed for some sort of defection.
4. The Claw of the Mount Owen Moa
In 1986, a expedition into the cave systems of Mount Owen in New Zealand came upon a well preserved limb. It was the foot of what looked like a recently deceased bird. In actuality it wasn't very recent. This specimen was from a prehistoric creature called the Upland Moa which will now haunt my dreams for the foreseeable future.
5. Spike To The Skull
In the process of excavating a lakebed in Motala, Sweden, archeologists were surprised to find several skulls that had spikes driven through them. Others also had the pieces of other skulls placed inside them. This horriyfing scene likely occurred around 8,000 years ago.
6. The Grauballe Man
Though mummies in marshes and bogs are not entirely unique discoveries, this man's story was special in how well it was told by the information in and around his remains. The large slash on his necks suggests his death was the result of a sacrifice – likely in the name of a healthy harvest.
7. Venetian Vampire Vs. Brick
While seemingly a silly solution when compared to a wooden stake or garlic, this method of vampire prevention wasn't so odd hundreds of years ago. The brick and cement placed in this person's mouth were believed to prevent its ability to rise from the dead and bite much of anything. Terrible, but effective.
8. The Oldest Leper
Lepers have never really gotten much slack throughout history, despite the disease not being very contagious. But the first known instance of its stigma comes in the form of a skeleton from about 4,000 years ago. The Indian man's body is largely intact, despite Hindu tradition calling for cremation. This suggests he was an outcast and was not give the same sort of burial rights.
9. Burned Alaskan Child
During an excavation of a home estimated to be about 11,500 years old, researchers discovered a grisly sight. Inside the ancient hearth was the charred remains a 3-year-old child. It appeared that the home was abandoned after the cremation.
10. Chemical Warfare In Ancient Syria
About 2,000 years ago, a group of 20 or so ancient Roman soldiers were subject to a particularly gruesome demise. Whilst besieging the Syrian town of Dura, Persian soldiers began to dig tunnels in order to get past the Roman defenses. The Romans thought it smart to dig their own tunnels and try and intercept the intrusive Persians. In response to this, the Persians left a trap that was bad by any measure of wartime deaths. They left a petrochemical concoction that would have likely turned the Romans' lungs to acid. Sounds like a bad time.
Source: List25
Scientist Missing For Over 20 years Found Living Inside Secret LSD Drug Lab Hidden in Basement
A Couple from Cottage Grove, Minnesota discovers a man living inside a secret laboratory inside their basement. On Tuesday, officers with the Warrington County Sheriffs Office went to the Morgan family's home after receiving a call of a possible break in. When the officers pulled up they saw the Morgan Family standing by the road.
"They ran up to use and said they heard a man shouting inside their basement and that's when they called it in to 911" Said Captain Bruce Normans with the Warrington County Sheriff's Office.
Officers say they could hear the man yelling in the basement the moment they entered the Morgan's home. But when they moved cautiously into the basement they saw nothing but could hear banging sounds coming from behind the northern wall of the Morgan family's basement, specifically echoing from behind a large storage cabinet.
"It was a very odd situation. We assumed the possibility that a vagrant may have been trapped behind the cabinet and needed help" Officer Jim Catelli told Channel 6 news.
When the Officers moved the large metal cabinet they uncovered an entry way to a large basement room that was full of various science equipment along with a terrified, elderly man. The 83 year old man was identified as Dr. Winston Corrigan, a chemistry professor from the University of Minnesota who went missing in the fall of 1984 and was a previous resident of the home.
"He had clearly been living down there for a long time and had suffered severe psychological trauma probably from not socializing with anyone for a while. I don't know if he had been living down there since the 80's but I wouldn't doubt it" Said EMT personnel Landon Choler.
Dr. Winston is currently being held at Abbott Northwestern Hospital in Minneapolis for observation but will eventually be sent to the state psychiatric ward in Prairie Hills Clinic where will undergo a psychiatric evaluation to determine the extent of any psychological illnesses and possibly reintroduced to modern society.
"I just can't believe it….it's just so odd. The family that used to live there moved because they said the house was haunted so I guess that makes sense now." Said a neighbor who had lived next door for 33 years.
The Police recovered over $500,000 worth of lab equipment stolen from the University, along with 3 Hand guns, an assault rifle, 50 years' worth of military grade rations and twelve 55 gallon barrels (including three almost empty barrels) of what DEA labs have identified as pure liquid Lysergic acid diethylamide, a powerful hallucinogenic drug more commonly known as the street name LSD or Acid.
It is not yet known if or when Dr. Winston will be convicted of any crime.