Scientists Discover Quadruple Helix: Four Strand DNA In Human Cells
The human race knows very little of itself, almost like a race with amnesia. As we continue to move forward through time, new discoveries are made that make old theories obsolete and false. Its a good lesson that shows us how we can attach ourselves to truths and believe them whole-heartedly, often forgetting that truth is constantly changing and new paradigms of perception always lurk around the corner.
Decades after scientists described our chemical code of life using the double helix DNA, researchers have discovered four-stranded DNA within human cells. The structures are called G-quadruplexes, because they form in regions of DNA that are full of guanine, one of the DNA molecules four building blocks. The others are adenine, cytosine and thymine. A hydrogen bond is responsible for holding the four guanines together. The four stranded DNA usually presents itself right before cell division.
The discovery was published online in Nature Chemistry, and you can take a look at it here. The study was led by Shankar Balasubramanian at the University of cambridge, UK.
For us, it strongly supports a new paradigm to be investigated  using these four-stranded structures as targets for personalized treatments in the future.We have found that by trapping the quadruplex DNA with synthetic molecules we can sequester and stabilise them, providing important insights into how we might grind cell division to a halt  Shankar Balasubramanian
The study went on to show certain links between concentrations of four-stranded G-quandruplexes and the process of DNA replication, which is crucial to cell division and cell production. G-quadruplexes, (when targeted with synthetic molecules responsible for trapping and holding these DNA structures) prevent cells from replicating their DNA, thus blocking cell division. Scientists believe that this discovery could possibly lead to a stop in cell proliferation at the root of cancer
We are seeing links between trapping the G-quadruplexes with molecules and the ability to stop cells dividing, which is hugely exciting. The research indicates that G-quadruplexes are more likely to occur in genes of cells that are rapidly dividing such as cancer cells. Its been sixty years since its structure was solved but work like this shows us that the story of DNA continues to twist and turn  Shankar Balasubramanian
We now know that G-quandruplexes form in the DNA of human cells. If anybody had mentioned this earlier, they would probably be labelled as crazy. Maybe we could take this as a lesson and accept the fact that there are always new discoveries to be made about our biology, as well as the nature of our reality. For all we know, our DNA could be multidimensional in nature? It could be 12 stranded DNA? Maybe we have yet to discover it?  Maybe a majority of our DNA, and the biological functions it serves are largely undiscovered. Maybe some portions of our DNA have yet to be activated? The more we discover about our own biology, the better, as we are witnessing with the discovery of the G-quandruplex.
http://www.nature.com/nchem/journal/v5/n3/full/nchem.1548.html
http://www.cam.ac.uk/research/news/four-stranded-quadruple-helix-dna-structure-proven-to-exist-in-human-cells
http://www.scientificamerican.com/article.cfm?id=four-strand-dna-structure-found-cells
Sunlight in a Bottle? Its Real, and its Changing Millions of Lives‏
Alfredo Moser's invention is lighting up the world. In 2002, the Brazilian mechanic had a light-bulb moment and came up with a way of illuminating his house during the day without electricity – using nothing more than plastic bottles filled with water and a tiny bit of bleach.
In the last two years his innovation has spread throughout the world. It is expected to be in one million homes by early next year.
So how does it work? Simple refraction of sunlight, explains Moser, as he fills an empty two-litre plastic bottle.
"Add two capfuls of bleach to protect the water so it doesn't turn green [with algae]. The cleaner the bottle, the better," he adds.
Wrapping his face in a cloth he makes a hole in a roof tile with a drill. Then, from the bottom upwards, he pushes the bottle into the newly-made hole.
"You fix the bottle in with polyester resin. Even when it rains, the roof never leaks – not one drop."
The inspiration for the "Moser lamp" came to him during one of the country's frequent electricity blackouts in 2002. "The only places that had energy were the factories – not people's houses," he says, talking about the city where he lives, Uberaba, in southern Brazil.
The lamps work best with a black cap – a film case can also be used
"An engineer came and measured the light," he says. "It depends on how strong the sun is but it's more or less 40 to 60 watts," he says.
While he does earn a few dollars installing them, it's obvious from his simple house and his 1974 car that his invention hasn't made him wealthy. What it has given him is a great sense of pride.
Following the Moser method, MyShelter started making the lamps in June 2011. They now train people to create and install the bottles, in order to earn a small income.
In the Philippines, where a quarter of the population lives below the poverty line, and electricity is unusually expensive, the idea has really taken off, with Moser lamps now fitted in 140,000 homes.
The idea has also caught on in about 15 other countries, from India and Bangladesh, to Tanzania, Argentina and Fiji.
The sports car that runs on SALTWATER: Vehicle goes from 0 to 60mph in 2.8 seconds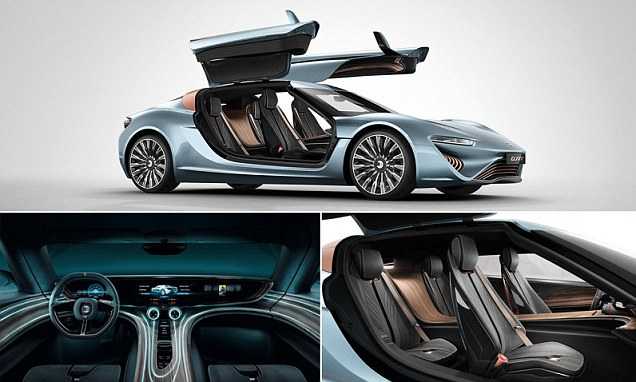 Sports cars may not have the best reputation for being environmentally-friendly, but this sleek machine has been designed to reach 217.5 mph (350 km/h) – using nothing but saltwater.
Its radical drive system allows the 5,070lbs (2,300kg) Quant e-Sportlimousine to reach 0-60 mph (100 km/h) in 2.8 seconds, making it as fast as the McLaren P1.
After making its debut at the 2014 Geneva Motor Show in March, the saltwater technology has now been certified for use on European roads.
The 920 horsepower (680 kW) Quant e-Sportlimousine uses something known as an electrolyte flow cell power system to power four electric motors within the car.
It works in a similar way to a hydrogen fuel cell, however, the liquid used for storing energy is saltwater.
The liquid passes through a membrane in between the two tanks, creating an electric charge. This electricity is then stored and distributed by super capacitors.
The car carries the water in two 200-litre tanks, which in one sitting will allow drivers to travel up to 373 miles (600km).
Overall, the four-seater is 5.25 metres (0.4ft) long, 2.2 metres wide (7.2ft), the 1.35 metre (4.4ft).
Its 22-inch wheels sit just beneath double gull-wing doors which feature 'Chrystal Lake Blue' paint.
Inside is a full-length interactive dash, with wood-theme features and an Android-based entertainment system.
No price or sale date has yet been revealed, but some experts suggest it could cost more than £1 million ($1.7 million)
NanoFlowcell AG, a Lichtenstein-based company behind the drive, is now planning to test the car on public roads in Germany and elsewhere in Europe as the company prepares for series production.
It claims the technology offers five times the energy capacity of lithium-ion batteries of the same weight.
'We've got major plans, and not just within the automobile industry,' says NanoFlowcell AG Chairman of the Board Professor Jens-Peter Ellermann.
'The potential of the NanoFlowcell is much greater, especially in terms of domestic energy supplies as well as in maritime, rail and aviation technology.'
Satirical Depictions of Our Technology-Obsessed Culture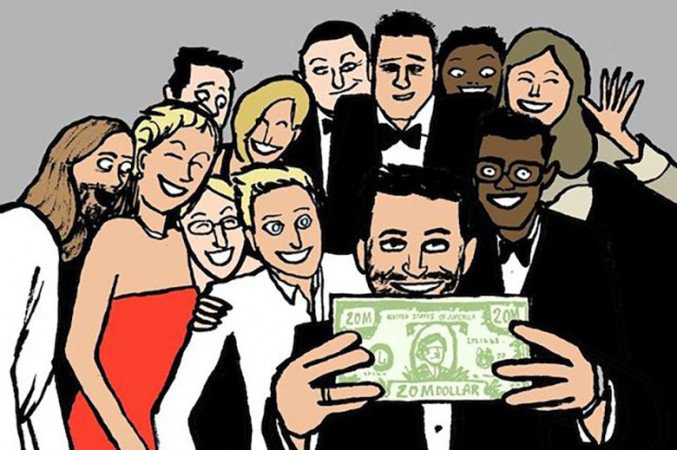 Just in case you all aren't burned out on the satirical art (we've been posting quite a bit lately), I have another artist to showcase. Jean Jullien is a French-born artist who depicts our narcissistic obsessions with technology — one to which I am not particularly immune.
The Art:
See more artwork at Ignant.
The Film:

A Little Film About… Jean Jullien from Handsome Frank on Vimeo.