On The Side Of Angels: The Life Story of Gordon Higginson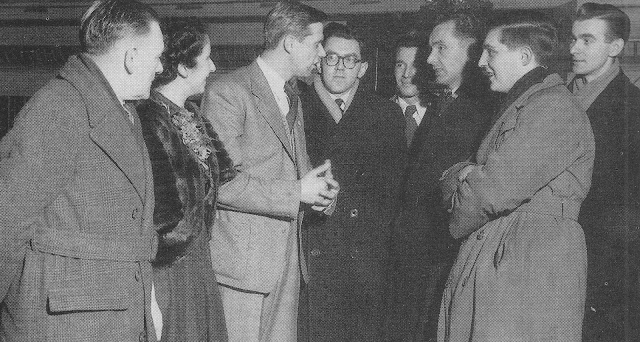 The life of medium Gordon Higginson (1918-1993) is described in the 1993 biography On The Side Of Angels compiled by Jean Bassett.  Gordon served as president of the Spiritualists' National Union for more than 20 years.  He joined the SNU after World War II and once gave a sitting to Arthur Findlay, who bequeathed his Essex mansion Stansted Hall to the union.  The estate is administered by the union as a College for the advancement of psychic science. Gordon's mother Fanny had also been a medium.  She had been trained by trance medium Annie Brittain.  Gordon began participating in his mother's 'development circle' when he was five or six years old.  He recalled having once glimpsed "a clear vision" of his Black guide 'Cuckoo': "That was not her name: it was the way I called to her, then she would call back.  Because of this she chose to be called Cuckoo . . . Cuckoo had always talked to me and often used to come with me to school."
I became a boy medium when I was 12 years old and travelled with my mother and a speaker.  I had been trained as a demonstrator so needed a speaker to go with me.  My mother worked to develop my mediumship to the calibre she felt was necessary. I became known before the war for giving full names and addresses.  This was considered quite remarkable and widely reported in the papers in the towns where I worked as well as the Spiritualist publications.
Gordon was 18 when he realized he was a trance medium.  He remembered shutting his eyes when he felt drowsy at a Sunday Spiritualist Church service.
The next thing I knew was that the chairlady stood by my side offering me a glass of water.  I thought I had fainted, apologised and said to her, "Am I to give the demonstration now?"  "Yes, after we have sung the hymn," came the reply.  I asked if the address had gone all right.  "But you gave the address!" said Mrs. Northall. Of course, I told her that I couldn't have done as I didn't do the speaking.  She explained I had given an excellent trance address, and moved down the steps from the pulpit among the people.  The spirit control had then given those present a message to be given to me, the medium, when I came out of trance.
The message was for my mother.  It stated she was to find an envelope in which would be found the name of the spirit control, Light, and that this was also my spirit name. Upon telling his mother about the incident, she went to her room and brought back the sealed envelope enclosing a paper with his 'spirit name' written on it by Annie Brittain at the time of his naming (the Spiritualist alternative to Christening) — "Of course, the name on that paper was Light!" World War II resulted with Gordon turning 21 while serving in the army.  He commented, "As a gifted medium, I was able to help so many young men who were troubled."
I made many friends whom I knew were going to survive the war because a medium is conscious not only of the past and present, but also the future as well.  When mediums are working, they are not conscious of time, but are sharing a consciousness of no time.  We are conscious of an existence that goes beyond the present.
During the post war years, his first appearance in London resulted with a couple who had received messages, Mr. and Mrs. Hiscock, confirming the accuracy of the messages in a letter to Psychic News.  In the 1950s, Gordon consistently sat in a circle to develop his physical mediumship at the suggestion of his guides.
I have experienced burns and injury when my seances had unexpected interruption so you see how important it is to know what you are doing before you embark on this type of development. It was some seven years before we were getting good trumpet and apport phenomena; we nearly always had one sometimes two trumpets moving.  We had spirit lights and the movement of objects quite early on . . .
It was around 1964 when the circle started to observe materializations.
We started our seance with an invocation and then had one short hymn.  I would take that opportunity to go into trance.  Once I was entranced, the proceedings were then handled by the spirit guides. Of course, two of my guides have become so well-known to people through my physical mediumship; they are Cuckoo and Paddy.  Cuckoo, as already explained, has been with me ever since I can remember, a great friend to me over the years.  Paddy usually takes charge during physical seances and is very good.  I have another guide called Choo Chow of whom I was aware, but who did not come forward until the beginning of my trance mediumship and seemed to take charge.  It was through him that I became a trance speaker. I have another guide who only comes to me once a year.  He takes over during my regular Christmas Day trance address, speaking about the world and the current and future situations. This guide is Light.  I am named after him in the spirit world.
Gordon began giving public demonstrations with his circle around 1970 with Paddy usually being Gordon's chief communicator.  Gordon mentioned that not all of the seances were successful.
Early in 1970 my good friend and colleague, Frank Tams, built a cabinet for me to use in the library at Stansted Hall.  The cabinet is not to conceal anything that is happening, but used to focus the energy around the medium for Spirit to utilize in their work.  Although there are curtains, these are usually drawn back so people can clearly see what is happening.
Gordon shared his perspective of Direct Voice mediumship:
There are mediums that have provided the direct voice and can be in the normal state of consciousness while working.  But if you follow them, as I have done, you find that in the early stages of development they were a deep trance medium.
Gordon commented that Direct Voice mediums "have to be developed by the link from the Spirit.  They really do the work.  We really do very little; we provide the conditions.  It is work that is direct from the spirit world." On The Side Of Angels includes Gordon's reminiscences of observing other mediums' seances and there are anecdotes of occasions when he worked in association with 'psychic artist' Coral Polge.
Of course, there has always been a Spiritualism because Spiritualism is all about facts.  It is about your being here, coming to the earth, living here, having a soul and about a God, which is not a man, but rather a power, a universal mind. I believe that Spiritualism is the oldest known movement in the world.  There has always been a Spiritualism, not as we understand it today, but never the less contact with the higher forces of the spirit world, going as far back as Abraham. Bernard Shaw was another remarkable man.  He wrote: "I am a medium.  When I take my pen or sit down to my typewriter, I am as much a medium as Daniel Dunglas Home or as Joan of Arc." Many of the so-called spirit writings produced in the name of Spiritualism have within them as many faults and mis-statements as those of old which are venerated because of their stated source rather than their rational content. We cannot, should not, reduce everything to the rational, but we must apply a certain logic when assessing the work of any medium, be they from ancient times or from this era.
Higginson observed that although he was not widely known as a healing  medium, he had considerable success in that field.  The following  excerpt is from Chapter 26 "Ministry of Healing."
I was always eager to have Stansted Hall used more as a centre for healing, but it never seemed to take off in that way.  I seldom did any healing at Stansted, but concentrated more on my work in my own church.  Most of my healing took place there in the 1950s.  After that I couldn't be there as often. Healing is part of any church work, but we were trying in all ways to improve everything that Longton church offered.  I started a group to be run under my leadership.  I had a very good spirit helper called Dr. John, who specialised in healing and was a first class diagnostician.  Frank Tams, a very dedicated medium and an excellent healing channel, was to work closely with me in this project. I arranged that Kath Jebb would be in charge of the organisation.  She was a tower of strength in our church.  It is through her that I am able to recall just a few of the many hundreds of people who were helped through my healing ministry.  Kath also kept all the records of the physical circle which met for year in Longton church.  That was a monumental task in itself. It was decided that Dr. John would see the most serious cases.  In the beginning he also gave me healing, but as time went on he started to run the healing more like a clinic and only came in on special cases. Dr. John would receive patients, diagnose what was wrong and very often tell them just how they had got into that condition.  He prescribed what type of healing was needed, which healer was suitable to give a particular patient healing and where the hands should be placed. Kath recorded these instructions and would arrange it all.  If Dr. John wanted to see any person again, she would make an appointment.  It all depended on how serious their condition was.  We were always very busy, especially after people knew that the healing was being run in this way by Spirit. In 1952 I remember a plea for help from a village about 12 miles from our church.  It was from the mother of a young lady called Jean.  She was unable to walk, was crippled with arthritis and also had TB.  Jean was a lovely person.  She had a great sense of humour, but was so frail it was pitiful to see her. She was so young, so pretty and yet lived her life confined to a hospital type bed where there were facilities to lift her without causing her even more pain.  Her mother had heard of some of the things we were doing.  We were her last hope.  They were a lovely family, so close and so courageous.
A photo from the book: Jean.
Frank and Kath went to visit Jean at first.  For weeks, Frank gave her healing.  In the end, he asked if I would go as he felt Dr. John's expertise was needed.  I agreed and went not once or twice, but many times in the following months. The guides used to talk to Jean.  So did Frank, Kath and I.  We spoke about Spiritualism, about life and death, about the many things which are important to the spirit self.  Jean seemed to have a tremendous insight and gradually gained hope of a different horizon.  I never promised her she would walk again.  I couldn't because I knew the eventual outcome. I did promise that one day she would join in with a Spiritualist service.  Then the time came when I realised she had not much time to go.  There was part of me that was sad.  Jean was so young, but had suffered so much.  Even with spirit help, we couldn't change her destiny. I decided that she would see a service, even though I had to make special arrangements for it to be in her own home.  I spoke to our church members.  Bill Harratt arranged some hymns whilst Frank came along and did a reading.  Kath gave a short address and I a demonstration. It was a proper service, even though there were only a few there.  Some of our church people joined us along with members of Jean's family.  Two weeks later, her time here on earth ended and she passed into her new home.  We had become very fond of this child yet could not grieve. There was a rather marvellous sequel to this which happened only a few weeks later.  In the physical circle I held regularly in our church at that time the voice of Cuckoo was heard, saying, "I have a surprise for you." The ectoplasm built up, and a form moved to the outside of the cabinet.  A young person with a swirling gown moved gracefully and confidently out towards Kath.  It was Jean! "Look Kath," she said.  "I can walk!  Look at my hands!"  She held out her hands.  And the fingers were straight and true; those poor fingers so deformed in this life were straight and supple.  Tears of joy ran down Kath's face.  Other members of our circle who had not known Jean felt the emotion and responded in turn. Jean thanked Bill Harratt for the hymns played at her own special service.  She moved across the room to Sally Morgan, a member of our church who attended the service at Jean's home, thanking her for the flowers which she gave to brighten her room.  Lastly she spoke to Frank.  "I enjoyed your reading," she said.  "Please thank Gordon.  He gave me so much happiness."  "May God bless him" were her last words as she returned to the cabinet.
Chasing Money For Happiness? Watch this video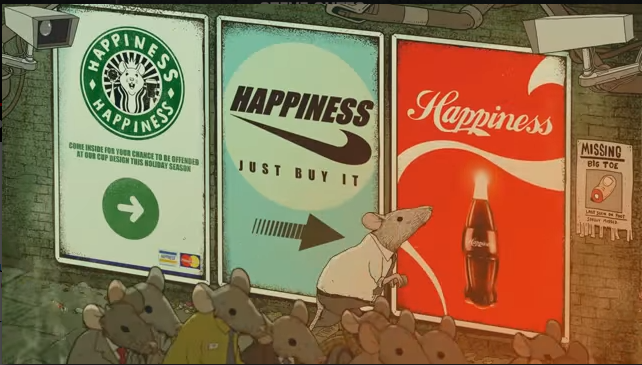 Happiness is something that most of us are are in pursuit of. Love, beautiful relationships,  fun hobbies and the like are all followed in an attempt to allow happy chemicals to freely flow through us.
The problem is there has been a collective exploitation by advertisers and profiteers at the expense of society. We have been sold the illusion of happiness at a dollar value. This gives a false sense of temporary happiness which can easily be taken a moment's notice.
The film from Steve Cutts illustrates this perfectly in a hard hitting, powerful animated movie using mazed rats as a metaphor for the capitalist society in the west.
Our backwards society displayed in these powerful art illustrations
(This post was originally published on Occultforum by Haelos)
In this contribution, I will share with you the secrets of the Mystery of Death in plain English for all to understand. Do not let the simplicity of my ideas hide the inner secrets. You will be tempted to read this and glance past it without a second thought.
These secrets have come from many sources, including, and not limited to:
The Bardo Thodol (Tibetan Book of the Dead) the "Egyptian Book of the Dead"
several hundred people who have had Near-Death experiences and gone on to write about them Franz Bardon, an adept spiritual practitioner from WWII-era who proved his skill and wisdom to many, including his students Shamanic practitioners who have shared stories of their visits to the otherworlds
When a human body dies, it does not mean the end of their consciousness. As all magicians should know, the Human is composed of three key parts (with the names of these parts differing by tradition); The physical body; The mental, or astral body (your mind) and the Spirit, or soul (The "immortal" body, sometimes excluded).
All magicians should also know the influence of Life Force, Vital Energy, or Qi (Chi, Ki, Prana, etc.) and how it relates to the human body, as well as to life in general.
At the last breath taken in the physical realm, your mental body separates from your physical body and you fully enter into the mental plane. Your Qi follows a specific path out of your physical body,  causing all of your functions to cease. You still retain a link to your physical body until certain key spiritual organs decay.
There are two kinds of Death; Conscious, and Unconscious death. These have varying phenomena after this point.
If you are conscious during your death, you will likely see your body, your gathered loved ones, and anything else in the immediate vicinity. This is all real, and physical, but you are not of a solid form.
If you are unconscious, it is likely you will only see darkness. In reality, you will see the same things as those who are conscious, you just won't be able to remember any of it, or act with any sense of reason.
After a short time* the dead will come to see a light. This is the light of The Source. It's blindingly paralyzing, and many, many, many people are afraid of it and what lies beyond. It's not so much fear of the light as fear of the unknown (or rather, fear of the known unknowing).
(*Varying sources say different things. Most say this moment could be anywhere from articulo mortis (the moment of death), as long as the time it takes for Rigor Mortis to set in. Anywhere from an instant to 4 weeks or more.)
If the dying person steps into this light, they will immediately incarnate into their next life with the last thought they had in mind (thus shaping their life). You will be taken to a higher or lower plane, as needed, for you to incarnate in. If they are ready, they will transcend and attain Nirvana. In Nirvana, you can either dissolve your consciousness into the source, and "end" your soul incarnation, or you can choose to work with divine providence in shaping reality. Either way, a dissolution of the consciousness occurs, and the mental body is dissolved. Most people who die consciously take these steps into the light and pass on with no issues. Anyone instructed in the science and art of Dying is also quite capable of passing on with ease.
More often what happens, is the dead person is too afraid to go into the light, and instead turns to the side and witnesses what is there. They see other dead spirits, or even their loved ones, traversing the mental plane, and they find familiarity. They get stuck in what many call "Limbo", which in reality, is simply the astral or mental plane. Excessive weeping and grief from loved ones can bring the recently deceased here as well.
When a dead human lands in the astral plane, the first thing that happens is they are visited by their ancestors, or people they would trust (sometimes this happens in the "intermediate state", where they are still enveloped by the light of The Source.) They can also meet with spiritual entities or symbols that  they looked to for guidance during life. Generally, these people try to coax you into going with them, and offering you assurance in your path.
For most, this is all that's needed, as they have some type of religious or spiritual belief that can coincide with such a thing happening.
Some, however, become terrified at seeing all of their dead loved ones, and flee. This usually sets them further back on the path of dissolution.
Over time, as the physical body decays, the link attached to it separates as well. Before, the deceased would likely hang around in a place they knew, or even around the site of their death.  After this link is fully dissolved, they are no longer what you could theoretically consider a human. Their mental body begins the process of dissolution and decay in the same way that the physical body does. It takes a very long time (in linear measurement), and every step is entirely painful for the person. The Bardo Thodol states that this is the time when many demons will come to terrorize you.
Eventually, the mental body will fully decay, and you'll be left with a tired soul crying for release. Many of these souls return to the "bridge" of the light of The Source and attempt to go beyond it, yet no matter how hard they try or how much they Will, fear overpowers them. (In fact, at any point a person can try to come back to this "bridge" and cross it, but most get stuck there. I'm sure every now and again a deceased person is able to pass without help after previously being stuck.)
From what has been learned by gurus before me, when a person is stuck in the mental plane after death,they are faced with many entities that offer spiritual progression. For this reason, the after-death experience has been known to provide a boost to your spiritual enlightenment. It's just a matter of whether you retain the knowledge and consciousness or not. As stated above, the first part of this process begins with the positive entities, such as loved ones and Gods, or angels, or whatever else was fancy to you in life. This lasts for about two weeks, according to the Bardo Thodol (if my memory serves correct). The next process, also stated above, will have the dead witnessing all manners of negative entities that will try and terrorize them, while simultaneously providing the biggest jump in spiritual growth possible in this incarnation (provided they can stand to their fear and realize that nothing can hurt them, as they've already passed "the final frontier".)
Soul Recovery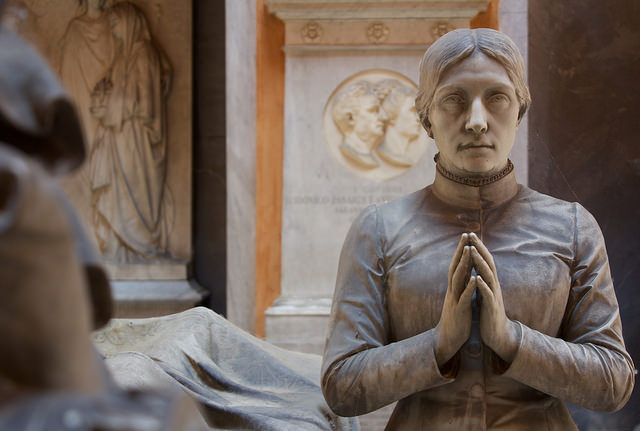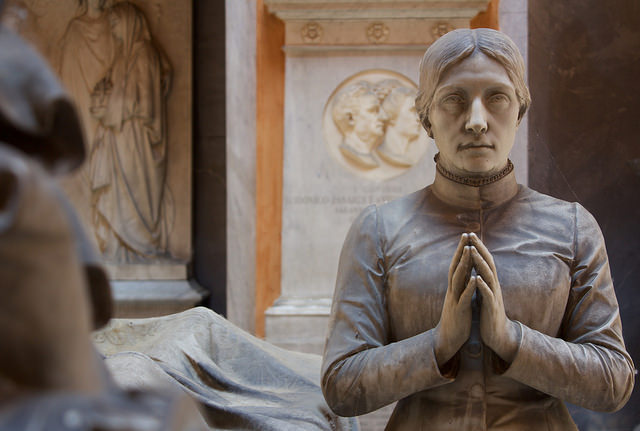 Something I did not know is that many shamanic practitioners are dedicated to rescuing those souls who get stuck in the otherworlds. They use their trance-states to travel to these realms (often called the Middle or Lower worlds by shamans. Simply two different parts of the astral in the zone near the earth, as taught in Hermetics.) Most of their job involves them simply listening to the last wishes of a spirit. Sometimes they need to attempt to coax the spirit beyond, sometimes they need to simply hold their hand, and nothing more.
Other times, religious dogma holds them back. For instance, I read the story of a soul-retrieval in which a man was being forced to pay a toll to board a boat crossing a river that would lead him to his final destination (The Source), yet he had no coins or money to give. The shaman, who was provided with a small shiny stone by her spirit guide, met with this man and simply offered him the stone to use as payment. He was overjoyed, was able to cross, and transcended. In this way, his own mental constructs were holding him back because of what he believed in life.
As any magician who's been there knows, the astral plane appears entirely dependent on your perceptions of it. Everything you see is altered and shaped to fit what you can understand. This is not so in a soul recovery. In these instances, you see the astral plane from the perception of the person whom's "plane" you're inhabiting (I say this in quotes because it sort of is like a "Personal Heaven", in that your reality in your area is based only on what you know to be true at some level.)
With this information, you can see why so many yogis in the past have done their best to share with us the secret of dying and how to overcome our inabilities to face Death. Having sat down with Him myself a few times, I can assure you there is nothing but peace, should that be your desire. The big problem is, humans are primal, and on some level, do not want peace, even after death.
It's our jobs as magicians, mystics, and spiritual practitioners of all walks of life to dedicate time to understand Death, both in the physical and scientific processes, as well as the spiritual processes that take place after most can no longer see. Some may be called on in the future to offer guidance to a passed loved one. Others may simply need to prepare themselves for their own future. The most important thing to remember is that you need to die *consciously*. You need to "remember yourself" at every possible stage of the process, and you need assurance and confidence in yourself and your abilities. After death, you've already died, so what's the worst that can happen? Seriously; The worst thing known to humans happens, and you're okay? Personally, I wouldn't take that as a sign that I'm dreaming, I'd take it as a sign that I'm Infinite.
Hopefully those who read this can see the truth behind the mystery and still retain a sense of wonder. Even with all this information, no one really knows what is beyond that light, other than reincarnation (should that be in your path.). Personally, I think that's the big one to wonder about.