Ghosts of Flight 401 – The official airline of the paranormal
The most extraordinary and credible research into the ghost phenomenon ever documented is the so-called "Ghosts of Flight 401." On December of 1972, an Eastern Airlines Tri-Star jetliner, Flight 401, crashed into a Florida swamp. The pilot, Bob Loft (on the left), and flight engineer Don Repo (on the right), were two of the 101 people who perished in the air crash. Not long after the crash, the ghosts of Loft and Repo were seen on more than twenty occasions by crew members on other Eastern Tri-Stars, especially those planes which had been fitted with parts salvaged from the Flight 401 wreckage. The apparitions of Loft and Repo were invariably described as being extremely lifelike. They were not only reported by people who had known Loft and Repo, but their ghosts were also subsequently identified from photographs by people who had not known Loft and Repo.

The strange tales of the ghostly airmen of Flight of 401 circulated in the airline community. An account of the paranormal happenings even appeared in a 1974 US Flight Safety Foundation's newsletter. John G. Fuller, the best-selling author of The Ghost of Flight 401, carried out an exhaustive investigation into the hauntings with the aid of several cautious airline personnel. A mass of compelling testimony was produced as a result. The website Flight 401 – The Black Box Story provides an account of the crash as told using material from the Black Box. It highlights how poor cockpit resource management caused a tiny light bulb to distract the pilots and bring down a Tristar jetliner.

The cause of the crash was found to be a couple of minor design faults in the controls, and Lockheed rapidly corrected them. However, it was after some of the undamaged parts of the aircraft were subsequently recycled onto other planes that the mysterious incidents began to be reported. Although Eastern Airlines refuses to discuss the matter, researchers have interviewed numerous individuals claiming to have encountered the ill-fated pair on L-1011s. As the reports would have it, Loft and Repo have devoted their after-lives to watching over the passengers and crew of these Lockheed passenger planes.

Many of the testimonies are extremely persuasive. Many come from people in highly responsible positions: pilots, flight officers, even a vice president of Eastern Airlines, who allegedly spoke with a captain he assumed was in charge of the flight, before recognizing him as the late Loft.

Other sightings are convincing because they have multiple witnesses. A flight's captain and two flight attendants claim to have seen and spoken to Loft before take-off and watched him vanish – an experience that left them so shaken they cancelled the flight.

One female passenger made a concerned enquiry to a flight attendant regarding the quiet, unresponsive man in Eastern Airlines uniform sitting in the seat next to her, who subsequently disappeared in full view of both of them and several other passengers, leaving the woman hysterical. When later shown a sheet of photos depicting Eastern flight engineers, she identified Repo as the officer she had seen.

Another incident occurred when one of the L-1011 passenger planes that had been fitted with salvaged parts was due for take-off. The flight engineer was mid-way through carrying out the routine pre-flight inspection when Repo appeared to him and said, "You don't need to worry about the pre-flight, I've already done it."

Repo and Loft are apparently not content merely to be present on these airplanes. Often their style is far more hands on, particularly in Repo's case. Aside from his appearance to a pre-flight engineer who he appeared to have been assisting, there is testimony from a flight attendant who observed a man in a flight engineer's uniform, whom she later recognized as Repo, fixing a galley oven. The insistence of the plane's own flight engineer that he had not fixed the oven, and that there had not been another engineer on board, would seem to lend weight to her claim. Repo was also seen in the compartment below the cockpit by a flight engineer who had accessed it in order to investigate a knocking he heard coming from there.

On another occasion, Faye Merryweather, a flight attendant, saw Repo's face looking out at her from an oven in the galley of Tri-Star 318. Understandably alarmed, she fetched two colleagues, one of whom was the flight engineer who had been a friend of Repo's and recognized him instantly. All three heard Repo warn them to, "Watch out for fire on this airplane." The plane later encountered serious engine trouble and the last leg of its flight was cancelled. It is interesting to note that the galley of Tri-Star 328 had been salvaged from the wreckage of flight 401.
The sightings were all reported to the Flight Safety Foundation (an independent authority) which commented: "The reports were given by experienced and trustworthy pilots and crew. We consider them significant. The appearance of the dead flight engineer (Repo) … was confirmed by the flight engineer." Later, records of the Federal Aviation Agency recorded the fire which broke out on that same aircraft.

One of the vice-presidents of Eastern Airlines boarded a Miami-bound TriStar at JFK airport and spoke to a uniformed captain sitting in First Class. Suddenly, he recognized the captain was Loft, at which point the apparition vanished.
Another incident occurred when Repo appeared to a captain and told him, "There will never be another crash. We will not let it happen."
A female passenger found herself sitting next to an Eastern Airlines flight officer who looked pale and ill, but would not speak; she called a stewardess but before the eyes of several people, the man disappeared. The woman was later shown photographs of Eastern Airlines engineers and she identified the man as Repo.
Unfortunately, further research into the well-witnessed paranormal incidents was severely hampered by the airline company which steadfastly refused to co-operate with the ghost investigators.

Eastern Air Lines Flight 401 left New York's JFK airport, bound for Miami International Airport, on December 29, 1972. The Lockheed L-1011 carried 163 passengers and 13 crew members. The flight was under the command of Captain Robert Loft, 55, a veteran Eastern Airline plot. His flight crew included First Officer Albert Stockstill, 39 and Second Officer (flight engineer) Donald Repo, 51.

The flight departed at 9:20 pm and crew and passengers enjoyed a routine flight until 11:32 pm. At this time, the flight was near its destination in Florida and the crew began to prepare for landing. First Officer Stockstill noticed that the landing gear indicator did not illuminate. The other crew members assisted Stockstill, but became distracted by it. While the crew was focused on the landing gear indicator, the plane crashed.

Stockstill died on impact as the plane crashed into the swampy Florida Everglades. Captain Robert Loft and Second Officer Donald Repo survived the crash, briefly. Captain Loft died before he could be pulled from the wreckage. Officer Repo died the next day.

Of the 176 people on board, 101 died.

The Ghost of Flight 401
[youtube https://www.youtube.com/watch?v=vJt0oSpYJM8]Frank Borman, prior to becoming CEO of Eastern Airlines, arrived at the scene after the crash to assist with rescue efforts.
Over the next several months, the employees of Eastern Airlines began to report sightings of the dead crew members Loft and Repo on board another L-1011. Parts from Flight 401 were reportedly salvaged after the Flight 401 crash investigation and refitted into another L-1011 in service. Ghostly sightings began to be reported by those who knew Loft and Repo. Eastern's management threatened dismissal to those caught spreading "ghost stories", it was said.

By this time, the rumors of the haunting had spread far and wide. Television and books told the stories of the ghosts. By this time, Frank Borman was the CEO of Eastern Airlines. Borman called the stories of a haunting "garbage" and considered suing the producers of the 1978 made-for-TV movie The Ghost of Flight 401 for libel.

Despite this, former Eastern Airlines employees still insist to this day that they saw the ghosts of Loft and Repo on board the other L-1011. Parts were said to have been removed from the plane. After the parts removal, there was no further mention of any more appearances by Loft and Repo.

After the 1972 crash, it was discovered that the indicator light that distracted the Flight 401 crew was caused by a burned-out light bulb. The landing gear could have been manually lowered with or without the light. The crash was due to the error of the crew. It is said that this is the reason Loft and Repo haunted Flight 401 – to keep future flights safe from human error.

The Ghosts of Flight 401

Over the following months and years, employees of Eastern Air Lines began reporting sightings of the dead crew members, captain Robert Loft and second officer (flight engineer) Donald Repo, sitting on board other L-1011 (N318EA) flights.

Parts of Flight 401 were salvaged after the crash investigation and refitted into other L-1011s. The reported hauntings were only seen on the planes that used the spare parts. Sightings of the spirits of Don Repo and Bob Loft spread throughout Eastern Air Lines to the point where Eastern's management warned employees that they could face dismissal if caught spreading ghost stories.

While Eastern Airlines publicly denied some of their planes were haunted, they reportedly removed all the salvaged parts from their L-1011 fleet. Over time, the reporting of ghost sightings stopped. An original floor board from Flight 401 remains in the archives at History Miami in South Florida.

The story of the crash and its aftermath was documented first in John G. Fuller's 1976 book The Ghost of Flight 401, and later in Rob and Sarah Elder's 1977 book, Crash.
Two made-for-television movies based on the crash were aired in 1978: Crash of Flight 401, aired in October, was based on the Elders' book, and dramatized the crash, rescue efforts and NTSB investigation; while The Ghost of Flight 401, aired earlier in February, was based on Fuller's book and focuses more on the ghost sightings surrounding the aftermath.


Eastern Air Lines CEO (and former Apollo astronaut) Frank Borman called the ghost stories surrounding the crash "garbage".[37] Eastern considered suing for libel, based on assertions of a cover-up by Eastern executives, but Borman opted not to, feeling a lawsuit would merely provide more publicity for the book.[38] Loft's widow and children did sue Fuller, for infringement of Loft's right of publicity, for invasion of privacy, and for intentional infliction of emotional distress; but the lawsuit was dismissed and the dismissal upheld by the Florida Fourth District Court of Appeal.[39]

Musician Bob Welch recorded a song on his 1979 album Three Hearts titled "The Ghost of Flight 401".

The crash also appeared in a Season 5 episode of Mayday (also known as Air Crash Investigation). The episode was titled "Who's at the Controls?" (In some countries, the title "Fatal Distraction" was used.)

The flight was also mentioned in Season 1 episode 4 (entitled Phantom Traveler) of the television show Supernatural.
The World's 7 Most Haunted Forests Will Make You Never Try Camping Again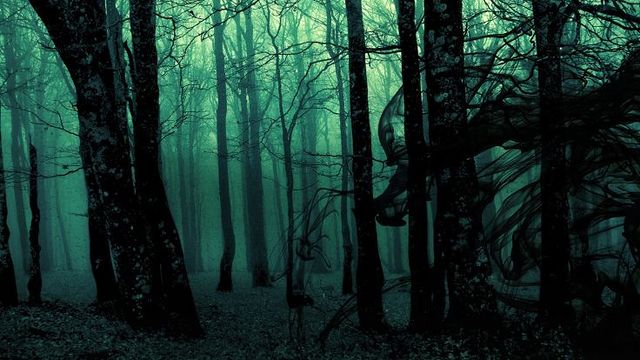 Growing up in New England, I was surrounded by shadowy forests that seemed to go on forever. As I got older, I began to discover bits and pieces of local lore that trickle down into campfire tales and scary bedtime stories. It seemed to me that every forest had enough history to be haunted, which led to me having a Blair Witch Project reaction any time anyone suggested camping.
Now that I'm a bit older, I can see that while these spots may have had their own merits, they didn't have anything on the really haunted forests in the world. Here are the seven most spine-tingling, scream-inducing woods across the world that you should never, ever step foot in.
7. Old House Woods, Virginia
Let's start this list off with something nearly every haunted forest requires: a violent history. Old House Woods in Virginia was home to many a gruesome battle during the Revolutionary War and American Civil War. As a result, people have reported the ghosts of soldiers and slaves between the trees, searching for a way out.
Adults tell local children not to venture into the woods, lest they never return. Those who were lucky enough to come back reported precipitous drops in temperature, spectral figures in military regalia, and misty women floating before disappearing completely. Apparently, these woods are privately owned, and the owner will call the police on trespassers if he sees one. Could he be protecting folks from an even darker force hidden in the forest?
6. Screaming Woods, United Kingdom
Outside of Pluckley, also known as the "most haunted village in Britain," are the Dering Woods. Despite having a normal name, most people refer to them as the Screaming Woods due to the fact that most visitors who happen upon them are bombarded with blood-curdling, banshee-like screams that are far from simply human.
These screams are said to go all the way back to the 18th century, when a highwayman named Robert Du Bois was captured by villagers and brought to the woods to be killed with a sword. Du Bois continues to harbor a grudge against those who find him in the woods. If you're there and hear the sound of footsteps with no discernible body attached, run back the way you came.
5. Ballyboley Forest, Northern Ireland
Based on the circular trenches and distinctive stone arrangements, Ballyboley Forest in Northern Ireland is considered to be an ancient Druid site. From 1400-1700, this forest was notorious for the disappearances of several individuals without any explanation. The freakiness has only become more pronounced with time.
Very few people are willing to enter these woods, but those that did explore them have reported billows of black smoke and disembodied screaming voices in the distance. In one particularly terrifying episode, two men thought they heard a lady howling in pain. Leaving the path to attempt to find her, they discovered a tree dripping with thick strokes of blood. As they fled from sounds that started to encroach on them, one man turned around to see human-like figures in the forest, motionless and watching in brown head coverings. Stories like these have led people to believe that Ballyboley is a gateway to the Celtic "Otherworld."
4. Freetown State Forest, Massachusetts
Part of the Bridgewater Triangle area known for a bevy of paranormal activity, the Freetown State Forest is where most of the haunting occurrences take place. Its haunted status goes all the way back to colonial times, when settlers purchased the land from the Wampanoag Tribe. This deal was dicey at best because the Native Americans believed the forest to be sacred (housing multiple American Indian burial grounds), and some consider this exchange to have driven it to be cursed.
The curse lives on into modern times as the area became synonymous with Satanic cults and murderous rituals. One famous case involved a local pimp named Carl Drew who slaughtered women as a sacrifice for his occultist leader. In an especially sadistic show, Drew ripped out a woman's hair and fingernails before removing her head to kick around like a ball with his followers until he ended the ritual by raping her headless corpse. These dark forces continue to haunt the forest, leading visitors to feel pushed and prodded among sounds of heavy breathing and screams.
3. Devil's Tramping Ground, North Carolina
In horror movies, pets and other animals are often the first to recognize an otherworldly presence, but humans rarely heed their warning. In real life, things aren't much different. Dogs are said to flee from the forest clearing known as the Devil's Tramping Ground in North Carolina, a burnt, lifeless circle of ash where nothing ever grows.
The local legend goes that the circle of devastation is caused by the Devil, who uses this area to "tramp" and contemplate ways to destroy all of humanity. No vegetation or wildlife thrives in this circle, and scientists have taken samples to study this baffling phenomenon to no avail. Those who have tried to spend a night there either don't last until sunrise or go mad. Stranger still, any inanimate objects placed in the circle overnight are thrown outside its limits by dawn, a result of the Devil brushing aside anything in his wake.
2. Hoia-Baciu Forest, Romania
In an area often referred to as the Bermuda Triangle of Transylvania, the Hoia Baciu Forest is notorious for unexplainable paranormal activity. Though locals have long been terrified of entering those woods, the forest became notorious in 1968 after a biologist named Alexandru Sift recorded a UFO-like object hovering overhead.
Supposedly, the creepily curved trees grew normally for decades, until a supernatural presence warped them. Those brave enough to enter the forest have reported rashes, nausea, vomiting, migraines, and intense, debilitating anxiety while roaming the forest, especially the constant sensation that they were being watched. The most disturbing but repeated theory is that Hoia-Baciu is home to an interdimensional portal, which causes people to disappear and have no concept of how much time has passed.
1. Aokigahara Forest, Japan
The well-known "Suicide Forest" borders Mt. Fuji in Japan and has a depressingly accurate nickname. Since the 1950s, an estimated 500 people have journeyed to Aokigahara to end their lives, and the forest continues to beckon people to die. Those who have visited the forest as tourists have come across rotting bodies swaying from tree branches and skulls and bones littering the ground.
Due to the sheer amount of tragic death, the forest has become something of a purgatory, filled with ghosts known as yurei who howl with suffering for their lives that were ended too soon. Some say that the trees themselves are filled with a malevolent energy that wants to keep you in the forest, possibly explaining why so many choose to commit suicide there. Indeed, even those who have just gone to check it out have admitted feeling a sense of permanence, like they were bound to the forest for the rest of their lives.
Cops saw 'ghost' during 9/11 rubble search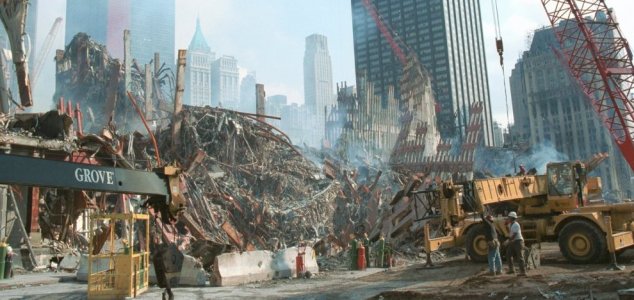 A retired New York City police officer claims he encountered a ghostly figure while sifting through the rubble from the Sept. 11, 2001, terrorist attacks.
Retired Lt. Frank Marra said he saw what appeared to be a black woman holding a tray of sandwiches while he searched for human remains in the rubble taken to the Fresh Kills landfill in Staten Island, reported the New York Post.
The former officer said he saw the woman, who was dressed like a World War II-era Red Cross worker, several times.
She always appeared to be more than 50 yards away, Marra said, and would vanish as he strained his eyes for a better look.
"But you could clearly see it was a person," he said.
The 48-year-old Marra said he buried the memory of the ghostly woman until 2013, when he conducted interviews for a book, "Hallowed Ground," with others who had searched the landfill.
"You ever hear the stories about the old Red Cross worker trying to serve sandwiches and coffee out by the sifters?" said one retired crime-scene detective.
The recollection triggered Marra's own memory.
"It hit me like a ton of bricks — I had put that dormant – and it just reminded me that I remembered seeing her," Marra said.
He said a psychic medium later explained to him that he and the other officers may have seen a "soul collector" who guides other spirits to the afterlife.
Marra said other law enforcement officers told him about shadows and "large black masses" they saw while sifting through the rubble.
The remains of more than 1,600 people killed at the World Trade Center have been identified, he said, but the remains of 1,000 victims were never found.
"How many had their ashes and remains uprooted and brought to this place?" Marra said. "Why isn't their presence believable?"
Watch video of the search efforts posted online by WTC911demolition:
Source: Raw Story
'Ghost' captured on CCTV at former Nazi concentration camp blamed for making objects disappear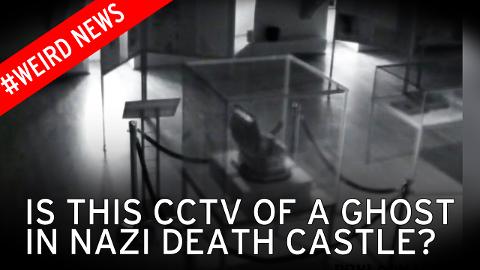 A shadowy figure is seen on camera at the 400-year-old castle in Czech Republic
A 'ghost' has been captured on CCTV in a 400-year-old Czech castle that was once used as a Nazi concentration camp.It has been blamed for the mysterious disappearance of objects from a closed exhibition, as the building is now used as a museum for local history.
In this video, a shadowy figure appears to move in front of the camera when all rooms were locked and closed.
It is also reported that no cleaners were in the room at the time.
The 17th century castle in the Czech town of Ostrov was captured by the Nazis in 1939 and turned into a concentration camp for Czech resistance fighters and opponents to the regime.
Mysterious: A shadowy figure appears on camera
CCTV footage was reviewed after objects allegedly started to vanish, and the strange figure was seen on the 12th and 14th of last month.
The story was published in local media after the matter was reported to police.
The camera is in the exhibition room where treasures belonging to the former castle owners – the Schlick family – are stocked.
Franz Joseph Heinrich Graf Schlik zu Bassano und Weisskirchen was born in 1789 in Prague and was the former owner of the castle.
His family was a Czech-German noble family and his father Count Joseph Heinrich Schlick was an Austrian imperial ambassador to the Danish kingdom and in the German state of Hessen.
Castle: The 400-year-old building was once used as Nazi death camp
Franz Heinrich served in the Austrian army, and later he became a general in the army fighting against Napoleon, playing a major role in Aspern in 1809 when Napoleon was beaten for the first time.
The count lost his right eye in 1813 in the battle of the nations in the German city of Leipzig when he fought against Napoleon's soldiers.
He ended his army career in 1859.
He died in the Austrian capital Vienna in 1862 in age of 72.
The castle's guide Jana Dvorakova told Czech TV Nova: "I would never go there alone, not now.
Ostrov: The town as it looks today
"I must admit I never had a good feeling about the place and now I am afraid."
Paranormal investigator Hana Mackeova, who was called to look into the matter, said: "I felt some negative zones in some rooms.
"Something is definitely wrong there.
"I was very weak, felt sick and I had to leave."
Local council employee Zuzana Zelezna, one of those who have offices in the castle, said: "The ghost removes objects at night.
Owner: Franz Joseph Heirich Graf Schlik who lived in the castle
"We know that nobody cleans the rooms affected."
"According to family legends Franz Joseph Heinrich Schlik carried a silver box always with him, even at battles.
"The silver box was a case for important documents and coins.
"The legend says that he has been guarding his silver box even after his death."
The Count is reported to have been a popular figure during his lifetime, introducing educational reforms and developing both local agriculture and the economy.