Former Ambassador of Panama: "Hugo Chavez is dead!"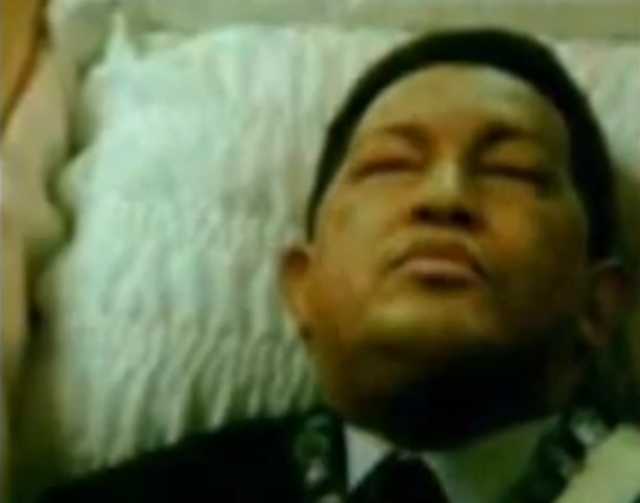 For weeks, Chavez has not been heard from, following a series of cancer treatments in Cuba. Earlier reports from Havana said he was fighting a respiratory infection that had developed after his fourth cancer surgery.

Chavez' respiratory problem – referred to officially as "respiratory deficiency" – reportedly was due to a severe lung infection.
Chavez was first diagnosed with cancer in June 2011.
Castro sent an open letter to Venezuelan Vice President Nicolas Maduro that was published in the Cuban Communist Party's Central Committee newspaper, Granma, reminiscing about when he first met Chavez in 1994.
The key words in the 350-word article were Castro's observation that "however painful (Chavez's) absence, all of you will be capable of continuing his work."
Chavez may have died two weeks ago, when further public information about him stopped, according to Venezuelan opposition and intelligence sources.
However, the sources concede they have no confirmation. Chavez, who had won re-election, was due to be sworn in for another presidential term in mid-January. His absence created a mini-constitutional crisis
Opposition leaders have argued that since Chavez wasn't sworn in for his new term, the Venezuelan Supreme Court should determine who is president.
The Spanish daily ABC had cited unnamed sources who say Chavez had been put into an induced coma and placed on life support.
Dr. Michael Pishvaian of the Georgetown University's Lombardi Cancer Center in Washington, D.C., said respiratory infections could require antibiotics and supplemental oxygen.
"It could be a very ominous sign," Pishvaian said, indicating that Chavez may have been on life support.
Other sources indicate that once put on life support following the type of cancer surgery Chavez had, along with respiratory complications, the chance of survival is slim.
Recent comments by members of Chavez's family said he was stable, although Maduro insisted the Venezuelan president had "enormous strength."
However, a doctor who is in contact with Chavez's medical team said several weeks ago the Venezuelan president wasn't responding to antibiotics, had a constant fever and hadn't eaten solid food for weeks.
The doctor, Jose Rafael Marquina of Florida, said Chavez then was on life support and that the medical team was "only prolonging unnecessary suffering." Marquina is an opponent of Chavez.
Chavez hasn't been seen in public since his last surgery in Havana Dec. 11.
Until now, the government has been silent on the latest rumors of Chavez's death, even though he had designated Maduro to succeed him.
Cuban officials also may be withholding information because of concern they would lose the significant influence they've acquired in Venezuela through Castro's close relationship with Chavez.
Since there is no record that Chavez was sworn in for his new presidential term, the Venezuelan constitution requires the government to call for new elections.
Opposition leaders are demanding that the government provide more information about the condition of Chavez and want new elections.
U.S. officials say they are watching developments closely but would have no comment on reports the 58-year-old Venezuelan president had died.
They're here: Dead LA man who had 1,200 guns identified, is 'part alien'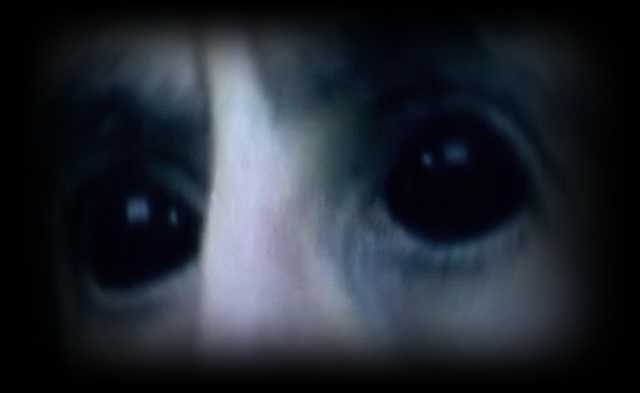 The bizarre statement came Wednesday as the betrothed woman's lawyer identified the dead man as Jeffrey Alan Lash — almost one week after he was discovered rotting in his car parked on the street in the tony Pacific Palisades neighborhood.
Los Angeles police found more than 1,200 guns, nearly 7 tons of ammunition, bows and arrows, knives, machetes and $230,000 in cash inside Lash's home last Friday.
They also discovered a Toyota SUV designed to drive underwater among the 14 vehicles registered in his name.
The collection was as odd as Lash's confessions to his soon-to-be-wife Catherine Nebron that he was working as an undercover operative for multiple unnamed government agencies, according to her defense attorney Harland Braun.
"The story itself sounds totally crazy, but then how do you explain all this?" Braun said. "There's no evidence he was a drug dealer or he stole these weapons, or had any criminal source of income, no stolen property, all the stuff you'd look for."
Lash was also believed to be an alien "sent to Earth to protect us," according to Laura VadBunker, the mother of 39-year-old Dawn VadBunker, who used to work for Nebron.
"I can't believe this," Laura VadBunker told KTLA. "It's worse than a Twilight Zone movie. He was part alien and part human and was out to save the world."
Authorities are still working to confirm the man's identity and figure out why he possessed so many cars and firearms, many of which were still in boxes or had price tags.
LAPD Deputy Chief of Detectives Kirk Albanese said he does not believe he was doing anything illegal with the weapons.
He had been decomposing inside his car for nearly two weeks before police found him on July 17.
Police do not suspect any foul play involved in his death, but there is an investigation into the cause.
Braun said Nebron parked him in a car down the street from the condo they shared after he died. He had trouble breathing but refused to go to the hospital or call 911, the attorney said.
The longtime girlfriend of 17 years then left for Oregon, believing government agencies would come for his body and the items in his house.
Hitler DID escape Germany in 1945: Staggering new claims point to huge Nazi cover-up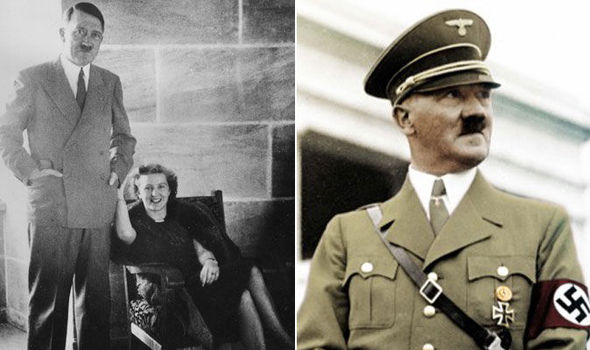 By Nathan Rao
ADOLF Hitler did not commit suicide but escaped before his death was faked in a massive cover up by the Nazis, historians have sensationally claimed.
In allegations set to debunk one of the biggest slices of world history, Russia is also accused of hiding vital evidence proving the Fuhrer and his wife Eva Braun fled in disguise.
Two corpses found after the Second World War reported to be those of Hitler and Braun were in fact murdered body doubles.
The claims due to be aired in an explosive television expose tomorrow will blow wide open theories of what happened to the world's most infamous mass murderers.
The programme claims Hitler did not die at the end of the war and threatens to expose the foundation of post-Second World War history as nothing more than a tissue of "lies".
Official records hold the brutal dictator, shamed in defeat in April 1945, shot himself in the head in a bunker in Berlin while his wife took a lethal cyanide pill.
But their bodies were swiftly burned with reports confirming their deaths based on what is now claimed to be dubious eyewitness evidence.
Hitler with Eva Braun escaped Nazi Germany according to historians
Journalist, author and historian Gerrard Williams claims two innocent lookalikes were murdered with the world falling victim to a "duplicitous deception".
He said: "I believe that in April 1945 the real Hitler along with Eva Braun were spirited out of the bunker where they escaped.
"They did not die, we were lied to, we're still being lied to."
He claims secret FBI documents reveal the Americans were investigating sightings of the Nazi leader months and years after the end of the war.
According to official records Hitler's body was found with Eva Braun's in Berlin before they were destroyed and their deaths announced by German officials.
That November an official report was released by the British Intelligence Services claiming the evil duo died shortly after 2.30 on April 1945.
Hitler was smuggled out of Germany by the Nazis, according to historians
However it was largely based on third party accounts and contains an admission that the deaths were confirmed "as conclusively as possible without bodies".
Any speculation was put to bed 23 years later when a Russian autopsy apparently matched a recovered jawbone to Hitler's dental records.
A skull fragment complete with bullet hole confirmed the cause of death to be suicide with subsequent DNA testing in 2009 backing these findings.
However historians now claim this data was flawed and the Russian government is still refusing any access to the body parts.
They say "eyewitness evidence" used to write the British Intelligence Services report was nothing more than feeble statements given to Soviet interrogators.
Professor Williams said the Russians' failure to announce they had found the body of Hitler in 1945 casts serious doubts adding "we have been sold a dummy".
He said: "There are no bodies reported discovered in 1945 and this is something which amazes me.
"It's only in 1968 they said 'well actually 23 years ago, despite what we said at the time, we did discover the bodies of Adolf and Eva'.
"It just doesn't make any sense at all."
He warns of "real problems within official history" and said official records confirming the deaths of Hitler and his wife are seriously flawed.
"It is supported by eyewitnesses who actually never saw anybody get shot," he said.
"They never see the Fuhrer and Eva go into his private quarters in the bunker.
"They see bodies coming out but nobody ever see Hitler and Eva dead.
"I am pretty convinced two people probably did die in the bunker at the end of April 1945 but they weren't Hitler and Eva Braun.
"Two doubles replaced them and it was those who were murdered and their bodies disposed of later.
"The FBI never believed Hitler was dead, they looked for him around the world."
Sonke Neitzel, Professor of history at the London School of Economics, said witness accounts used to compile the British report into Hitler's death are unreliable.
He said: "We know that prisoners who had been in the bunker most likely lied to the Soviets when they were interrogated."
It is thought Hitler escaped Germany in an elaborate plan coordinated by his private secretary Martin Bormann.
After he and Eva Braun were out of danger two innocent people were executed and their bodies planted in a shallow grave later to be discovered.
Professor Williams said: "And that's it – end of history, end of Hitler.
"After these deaths everybody thought this is what's happened.
"If you tell a lie often enough and loudly enough it becomes the truth, and in this case what the world accepted as the truth is this lie."
Theories have come to light that Hitler was taken to a stronghold in the South Pole where the Nazis had plans of colonisation.
Hibernating Alien discovered inside Secret Chamber in the Great Pyramid
Would you believe a story about an alien mummy being found in the Great Pyramid of Giza?
In the March 2000 issue of the Egyptian magazine Rose al-Yūsuf, a strange article posed the same question.
As the story goes, in the year 1988, a French Egyptologist named Louis Caparat was exploring the interior of the Great Pyramid when he accidentally discovered a secret chamber. The room had been sealed right after the pyramid was completed, more than 4,500 years ago, and it contained "a crystalline transparent case."
Apparently, the crystalline case served as life-support for a small humanoid alien or human-alien hybrid, which Caparat believed was hibernating or in a stage of suspended animation. The discovery of a previously unknown chamber inside the Great Pyramid sounds intriguing, but finding an actual alien being inside it would be an extraordinary event, if we are to trust this particular account.
 Further inspection of the chamber revealed clues about the identity of its millennial occupant when archaeologists found a papyrus scroll. According to hieroglyphic inscriptions on the scroll, the creature was in fact an extraterrestrial messenger that had arrived in ancient Egypt during Pharaoh Khufu's reign. His mission was to announce the arrival of his brethren, who expressed their interest towards the Egyptian people.

Apparently, the Pharaoh held the visitor in high regards, since the papyrus claimed the Great Pyramid was actually built as a receptacle for the crystal capsule containing the small humanoid. The fact that the life support system was still working after thousands of years supports the theory that the pyramids were built with the aid of advanced alien technology and it also gives credence to the idea that the pyramids acted as energy receivers.
Shortly after his discovery, Caparat called his friend and colleague, biologist F. de Braga, who was in Spain at the time. He boarded the next plane to Cairo, hoping to obtain blood, tissue and DNA samples from the hibernating alien. But when his plane landed, de Braga was promptly sent back to Madrid by the Egyptian authorities. The alien and its crystal coffin were ultimately confiscated by the State Security Investigations Service and taken to an undisclosed location and that's where the trail stops.
No further mentions of Caparat or the secret chambers are made and Egypt has offered no official statement regarding this episode.

But this is neither the first nor the only incident when a decidedly non-human body was found in a pyramid.
According to legend, the first man to break into the Great Pyramid of Giza was a powerful caliph named Abdullah al-Ma'mun, the son of Harun al-Rashid. In 813 CE, after weeks of arduous manual drilling, his team of hired Egyptian laborers broke through several blocks of granite and into a burial chamber that contained the remains of a humanoid alien. The alien had been buried with great respect and was surrounded by precious items.
In Secrets of the Great Pyramid, author Peter Tompkins mentions the event:
Some Arabian authors have reported that al Ma'mun found in the sarcophagus a stone statue in the shape of a man. They say that within the statue lay a body wearing a breastplate of gold set with precious stones, an invaluable sword on his chest, and a carbuncle ruby on its head the size of an egg, which shone as with the light of day."
Another mysterious mummy of an otherworldly being was allegedly uncovered in a small pyramid in El-Lahun, just south of Pharaoh Senusret the Second's tomb. As the story goes, Viktor Lubek, a retired University of Pennsylvania University professor made this discovery on 1997 but there is very little information available.
The mummy was that of a frail creature measuring around 5 feet in length. It had been buried with special honors, and a number of intriguing objects were found inside the tomb. According to an article published in a 2003 issue of Weekly World News,
the mummy dates from about 1880 B.C. and is humanoid, but clearly not human. It's unclear what sex it was, but we know it had unusual reptilian-like skin, no external ears and overly-large, almond-shaped eyes."
Inscriptions inside the tomb read that the mummy belonged to an important being that had been appointed counselor to the king. Its name was Osirunet, 'meaning star – or heaven-sent.'

The body of Osirunet had been preserved in a very unusual manner, and it was covered with linen wraps and a mixture of clay and gold.
As for the unknown objects found inside the pyramid, they were described as "devices made of a tough synthetic-type material that no one has been able to identify, and the uses of these strange machine-like items are a complete mystery."
This finding was particularly upsetting for many Egyptian officials who insisted that it remain secret until a plausible explanation was found. The mummy was allegedly flown to Florida for an in-depth analysis but that's the last time anybody's heard of Osirunet.
A similar incident involved a 15-inch long mummified finger discovered in 1988.
Even if these stories sound far-fetched or offer little evidence to support their claims, when considering the greater picture offered by Egypt's many mysteries, they seem possible. Some would say unlikely, but possible.
When (and if) the ancient Egyptians built the Pyramids of Giza, they exhibited great engineering, mathematical and astronomical skills and we can easily see how the magnificence and precision of their monuments could be attributed to external influence.
But in the end, you could say it's really a matter of perspective.
Source: locklip