Everything You Wanted to Know About Cannibalism
It's the time of year when seeing flesh-eating zombies on the streets is actually kind of normal. So let's talk about cannibalism. You know you're wondering.
When did all this craziness start?
Neanderthal Model from the Chicago Field Museum, 1920. Photo Courtesy of Getty Images
Paleoanthropologic evidence suggests that Neanderthals were butchering each other as far back as 100,000 years ago. Bones from sites in France, Croatia, and Italy all bear marks from stone tools indicative of defleshing. Analysis of some of the bones in France revealed that the marks are concentrated in places consistent with butchery, and not ritual defleshing.
Evidence also suggests* that humans in Europe, North and South America, India, New Zealand, Australia, the Solomon Islands, New Guinea and Sumatra practiced cannibalism at various times beginning just prior to the Upper Paleolithic period. American anthropologist Marvin Harris has argued that it was common practice for humans living in small groups, but disappeared as societal groups got bigger and states were formed. Eventually, cannibalism became taboo in many cultures, and by the 19th century it persisted only among a few isolated groups in the South Pacific. Today, very few cultures are still believed to engage in the practice, though isolated instances involving individuals or small groups have been confirmed in the last twenty years (several of them involving soldiers engaged in wars in Africa).
Why would you want to eat another person?
In the days of pre-modern medicine, cannibalism was explained by a proposed black humour (the body fluids that Hippocrates believed caused moods, emotions and behaviors) that filled the ventricle and caused hunger for human flesh. Our understanding of cannibalism is a little better today, and we even have a technical term for it: anthropophagy (anthropos, or "human being," plus phagein, meaning "to eat").
Anthropologists divide anthropophagy into two categories, both rather broad: survival cannibalism and learned, or customary, cannibalism.**  Survival cannibalism is what's about to happen whenever you see two cartoon characters stuck in a life raft and one of them has a thought balloon above their head depicting the other one with a roast chicken for a body. Outside of cartoons, survival cannibalism may be—given extreme and desperate enough situations—the easiest form of cannibalism to accept, and Western society has historically been relatively forgiving of it.  In 18th and 19th century seagoing communities, it was pretty much accepted as something that happened from time to time as a hazard of the occupation and lifestyle. By the 19th century, sailors and fishermen had even worked out some general guidelines should the "custom of the sea" need to be performed. Straws were drawn to decide who would be killed and eaten and who would have to do the killing (usually the second shortest straw made you the killer, and the shortest made you dinner).
Perhaps the most famous example of survival cannibalism is the Donner party, a group of eighty-seven settlers heading to California in 1846. When the party reached the Sierra Nevada Mountains, the weather turned, and they were blocked by snow at a point now called Donner Pass. The party splintered into three groups. One set up camp at a nearby lake, one camped in the nearby Alder Creek Valley, and one group of 15 travelers, later dubbed the Forlorn Hope, made snowshoes and began the 100-mile journey to Sutter's Fort. While individuals in all three groups eventually resorted to cannibalism, it wasn't the feeding frenzy that most people imagine. The people who turned to eating human flesh did so as a last resort (after eating everything from boiled rawhide to leather scraps) for a very brief period of time before their rescue.
Another example, that many people know from the movie Alive, is the 1972 plane crash that left the players and staff of a Uruguayan rugby team and some of their friends and family members stranded in the Andes Mountains. As people died from their crash-related injuries, the survivors resorted to cannibalizing the dead. Some refused to eat human flesh and starved to death. Of the 45 people onboard the plane, only 16 survived the 72 day ordeal.
Cannibals carrying their master, World's Columbia Exhibition, Chicago, 1893.
Learned or customary cannibalism is pretty much what it sounds like: the consumption of human flesh in a socially prescribed, ritualized manner, often passed down through the generations. Learned cannibalism can be divided into two categories: endo- and exocannibalism. Endocannibalism is the consumption of the flesh of a person who is a member of the same group (whether family, tribe, society, culture, etc.—any defined group fits the bill), often practiced as a funeral rite. The Wari' people of the Amazon consumed the flesh of their deceased in order to transform their tribesmen into spirits that could take animal form and provide food for the tribe. Anthropologists also found that the tribe's endocannibalism also helped survivors cope with grief. Endocannibalism among Wari' ended, as it did for most other groups, in the 1960s, when missionaries and governments began to encroach on their societies.
Exocannibalism is the consumption of the flesh of a person outside of one's own social group, often as a way to intimidate an individual or group, steal another's life force, or express domination of an enemy in warfare. Certain tribes in the Fiji islands maintained ritualized acts of cannibalistic "battle rage," where captured enemy warriors were publicly tortured, killed, and consumed.
The accusation of exocannibalism may be even more damaging to enemies than eating them. When Christopher Columbus encountered the Carib Indians, he described them as "sub-human eaters of men," labeling them inferior to Europeans and not much better than animals. They were seen as a dangerous "other," and the murder of their people and theft of their land was easily justifiable because of that. The slur of cannibalism goes both ways, however. When the Spaniards arrived in Mesoamerica, and when explorer David Livingstone encountered certain African cultures, both the Aztecs and the African tribes assumed their white visitors were cannibals.
Do Other Animals Do It?
Getty Images
Cannibalism is a common occurrence in thousands of species, even herbivorous and detritivorous ones, to the point where zoologists refer to it as "ubiquitous" in the natural world. Female black widow spiders and praying mantises famously practice sexual cannibalism, killing and consuming males of their species during, or after, reproduction.
Filial cannibalism, where adults eat the young of their own species, is also common among non-human animals. Groups of adult male chimpanzees have been observed to attack and eat infant chimps. Adult male elephants, dogs, bears, lions, and even some types of fish have all been observed to kill and consume infants when replacing a previous dominant males and taking over a group.
Sharks in the order Lamniformes, which includes great whites and sand tigers among others, have been known to exhibit intrauterine cannibalism, where multiple embryos are created during impregnation and the larger or stronger individuals consume their weaker siblings during development in utero.
Is That It?
Well, no. "Deep down," science writer Carl Zimmer says, "we are all cannibals. Our cells are perpetually devouring themselves, shredding their own complex molecules to pieces and recycling them for new parts." Zimmer's exploration of cellular cannibalism (and the sexual cannibalism I mentioned above) can be found in the New York Times.
* "Suggest" is the key word here, as it is with the Neanderthals. While most anthropologists agree that ritual cannibalism has occurred in certain societies around the world over the course of history, researchers are sometimes reluctant to associate it with a particular group of people without concrete evidence. The conservative view is that there is no definitive proof that cannibalism exists in a group until an anthropologist sees, with their own two eyes, a member of that group take a piece of flesh off a body and eat it. For archaeologists, the best proof that cannibalism took place in a group that no longer exists is the presence of human muscle protein in fossilized human feces.
** Cannibalism in the vein of Jeffrey Dahmer or Hannibal Lecter is known as pathological anthropophagy, the consumption of human flesh because of insanity. It's generally outside the scope of anthropology.
Mind control and time travel experiments taking place at real-life 'Stranger Things' base, claims investigator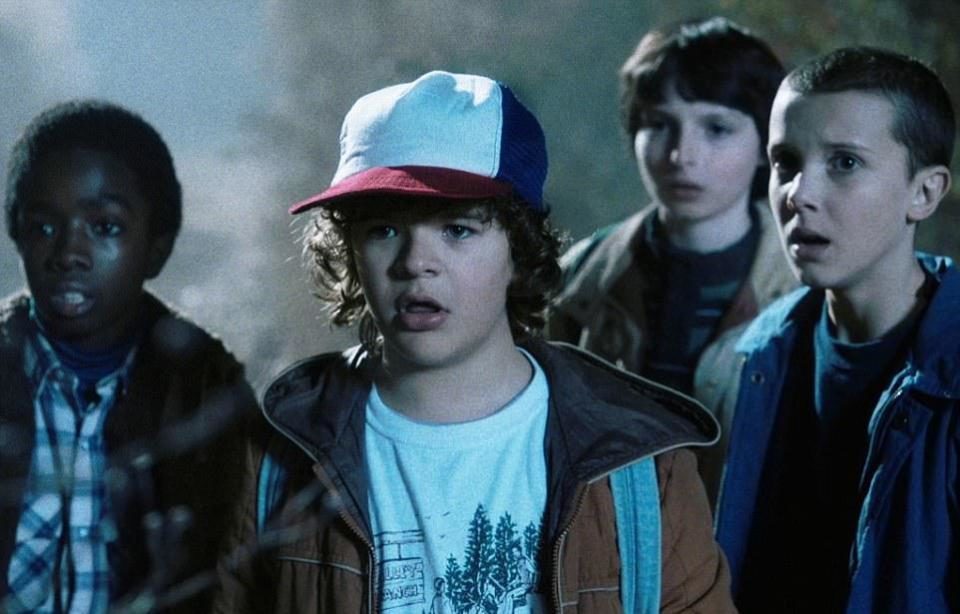 A US military base that inspired hit drama Stranger Things is using secret mind control experiments to trigger deadly shootings by a worldwide army of brainwashed assassins, a filmmaker claims.
Chris Garetano, who grew up close to Camp Hero, claims he has uncovered eerie goings-on over decades including child abductions and even time travel.
The former Cold War radar station in Montauk, New York state, has been the subject of rumours and conspiracy theories since it shut in the 1980s.
Locals have heard talk of government scientists conducting experiments on snatched foster kids and making contact with aliens.
Crucially, it is claimed the base's Sage radar tower broadcast the frequency needed to affect human consciousness.
One former worker has also described operating the Montauk Chair – a mind-reading device – and said once the computer accidentally summoned up a monster from a subject's imagination, which then went on a rampage through the air base.
Preston Nichols also told The Sun there were time-travel portals that sucked people to a different place and time.
It was these stories that inspired the creators of the hit Netflix sci-fi series Stranger Things, which was originally titled Montauk.
Most of the base is now a state park filled with picnickers but some parts near the old military installations and concrete bunkers remain sealed and guarded.
Now Chris has taken a fresh look at the creepy site amid claims some of the sinister activities could still be happening today.
He told the Daily Mirror: "The more you find out it's a little heartbreaking, as it's terrifying.
"I wouldn't be surprised if this site and these experiments are connected to mind control. The worst thing I can imagine is they were developing a mass mind control situation.
"There's new random shootings happening increasingly across the world now.
"And each time people say 'I didn't expect that person to do this.'
"It's very strange and it's happening far too much now."
Chris said government operatives could have set out to cause mayhem "to get the public to see things in a certain way, to persuade them or scare them."
Assassins could have been programmed at the site and years later are prompted by subliminal messages.
He said: "If this is true, that is terrifying. I don't want to believe it."
After the Second World War it is claimed the US government experiment on its own citizens including the Tuskegee Airmen, who are said to have been deliberately infected with syphilis and left untreated.
Others claim the CIA ran a mind control programme called MKUltra in the 1950s and 1970s. It allegedly involved testing how drugs like LSD could be used to extract information or erase memories.
And some point to Project Stargate, a CIA mission to see if psychic phenomena such as clairvoyancy could be used by spies. Spoon bender Uri Geller was one of the psychics who took part.
Another theory claims thousands of vulnerable children were kidnapped from the local area and subjected to mind control techniques to create an army of sleeper cell soldiers called the Montauk Boys.
Stewart Sweadlow claimed that, in 1970 when he was 13, he was regularly abducted for the Montauk Project.
He said: "They used derelicts, foster children and drug addicts and then ultimately they decided that people with certain genetics, people with certain backgrounds were conducive to the more advanced experiments and that's when I was taken in.
"With all of these children their memories were wiped, their genetics were altered and they couldn't always remember what happened. It would be in the form of nightmares or flashbacks.
"But with me, they could not erase my memory. I became an anomaly for them.
What These Archaeologists Found All Over The World Is Deeply Disturbing. And Yes, It's Real.
Over the course of human history, societal sensibilities have changed quite a bit. For example, apparently 8,000 years ago having a stake driven through your noggin was not much more than a bad case of the Mondays. Thanks to the work of archeologists, we are now discovering just how horrifying life used to be. By the end of this list, you'll be glad you don't live thousands of years in the past because it looks seriously messed up.
1. Babies In The Bathhouse
Researchers on a dig in Israel were combing through the structures of an Ancient Roman/Byzantine bathhouse. The building was fitted with a sewage system for drainage purposes, but what they found there was disturbing. In the pipes were the bones of hundreds of babies. Why the infants were placed there remains unknown.
2. Neandethal Cannibal Attack
Though neanderthals are separate from humans, they're close enough to make this list. In 2010, archeologists in Spain discovered the remains of a cannibal feast. Three adult females, three adult males, three teenagers, two young children and an infant showed indications that they were the lunch of another group of neanderthals. Yikes.
3. The Headless Vikings of Dorset
Railroad workers in Dorset, England were in the midst of a regular day when they came upon a burial of sorts. The bones of a small contingent of fighting-age Scandinavian men had been placed together and each one was missing his head. Experts surmise the men may have been executed for some sort of defection.
4. The Claw of the Mount Owen Moa
In 1986, a expedition into the cave systems of Mount Owen in New Zealand came upon a well preserved limb. It was the foot of what looked like a recently deceased bird. In actuality it wasn't very recent. This specimen was from a prehistoric creature called the Upland Moa which will now haunt my dreams for the foreseeable future.
5. Spike To The Skull
In the process of excavating a lakebed in Motala, Sweden, archeologists were surprised to find several skulls that had spikes driven through them. Others also had the pieces of other skulls placed inside them. This horriyfing scene likely occurred around 8,000 years ago.
6. The Grauballe Man
Though mummies in marshes and bogs are not entirely unique discoveries, this man's story was special in how well it was told by the information in and around his remains. The large slash on his necks suggests his death was the result of a sacrifice – likely in the name of a healthy harvest.
7. Venetian Vampire Vs. Brick
While seemingly a silly solution when compared to a wooden stake or garlic, this method of vampire prevention wasn't so odd hundreds of years ago. The brick and cement placed in this person's mouth were believed to prevent its ability to rise from the dead and bite much of anything. Terrible, but effective.
8. The Oldest Leper
Lepers have never really gotten much slack throughout history, despite the disease not being very contagious. But the first known instance of its stigma comes in the form of a skeleton from about 4,000 years ago. The Indian man's body is largely intact, despite Hindu tradition calling for cremation. This suggests he was an outcast and was not give the same sort of burial rights.
9. Burned Alaskan Child
During an excavation of a home estimated to be about 11,500 years old, researchers discovered a grisly sight. Inside the ancient hearth was the charred remains a 3-year-old child. It appeared that the home was abandoned after the cremation.
10. Chemical Warfare In Ancient Syria
About 2,000 years ago, a group of 20 or so ancient Roman soldiers were subject to a particularly gruesome demise. Whilst besieging the Syrian town of Dura, Persian soldiers began to dig tunnels in order to get past the Roman defenses. The Romans thought it smart to dig their own tunnels and try and intercept the intrusive Persians. In response to this, the Persians left a trap that was bad by any measure of wartime deaths. They left a petrochemical concoction that would have likely turned the Romans' lungs to acid. Sounds like a bad time.
Source: List25
Scientist Missing For Over 20 years Found Living Inside Secret LSD Drug Lab Hidden in Basement
A Couple from Cottage Grove, Minnesota discovers a man living inside a secret laboratory inside their basement. On Tuesday, officers with the Warrington County Sheriffs Office went to the Morgan family's home after receiving a call of a possible break in. When the officers pulled up they saw the Morgan Family standing by the road.
"They ran up to use and said they heard a man shouting inside their basement and that's when they called it in to 911" Said Captain Bruce Normans with the Warrington County Sheriff's Office.
Officers say they could hear the man yelling in the basement the moment they entered the Morgan's home. But when they moved cautiously into the basement they saw nothing but could hear banging sounds coming from behind the northern wall of the Morgan family's basement, specifically echoing from behind a large storage cabinet.
"It was a very odd situation. We assumed the possibility that a vagrant may have been trapped behind the cabinet and needed help" Officer Jim Catelli told Channel 6 news.
When the Officers moved the large metal cabinet they uncovered an entry way to a large basement room that was full of various science equipment along with a terrified, elderly man. The 83 year old man was identified as Dr. Winston Corrigan, a chemistry professor from the University of Minnesota who went missing in the fall of 1984 and was a previous resident of the home.
"He had clearly been living down there for a long time and had suffered severe psychological trauma probably from not socializing with anyone for a while. I don't know if he had been living down there since the 80's but I wouldn't doubt it" Said EMT personnel Landon Choler.
Dr. Winston is currently being held at Abbott Northwestern Hospital in Minneapolis for observation but will eventually be sent to the state psychiatric ward in Prairie Hills Clinic where will undergo a psychiatric evaluation to determine the extent of any psychological illnesses and possibly reintroduced to modern society.
"I just can't believe it….it's just so odd. The family that used to live there moved because they said the house was haunted so I guess that makes sense now." Said a neighbor who had lived next door for 33 years.
The Police recovered over $500,000 worth of lab equipment stolen from the University, along with 3 Hand guns, an assault rifle, 50 years' worth of military grade rations and twelve 55 gallon barrels (including three almost empty barrels) of what DEA labs have identified as pure liquid Lysergic acid diethylamide, a powerful hallucinogenic drug more commonly known as the street name LSD or Acid.
It is not yet known if or when Dr. Winston will be convicted of any crime.