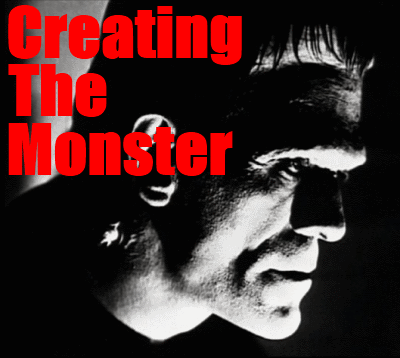 "Beware; for I am fearless, and therefore powerful." ― Mary Shelley, Frankenstein
Dr. Victor Frankenstein was based on the real-life Johann Konrad Dippel (1673-1734), an 18th century scientist and alchemist who was born in 1673 near Mühltal and Darmstadt, Germany at, you guessed it, Castle Frankenstein. The story of Victor Frankenstein and the monster he created come from the novel Frankenstein
by Mary Wollstonecraft Shelley, wife of the acclaimed poet Percy Bysshe Shelley.
Educated as a physician, Dippel set up a laboratory at Castle Frankenstein where he would be free to conduct his unusual experiments. Dippel (who often went by the name Konrad Frankensteina) spent a lot of his time with his hobby of alchemy…a popular pursuit of the day. Alchemy is a kind pseudo-scientific experimentation with the elements…whose ultimate challenge was to be able to turn lead into gold. Like Victor Frankenstein, Dippel was also fascinated by the possibility of immortality through scientific means. He really did use the parts of butchered animals and exhumed human corpses in his vain attempt to "engender life in the dead," in his own words.
Instead of rigging up the body parts to elaborate lightning-powered gizmos and spark generators, Dippel boiled skin, muscle, bone, blood, hair and organs in large vats. When the surrounding community got wind of what Dippel was up to, they eventually forced him out of town.
Shelly undoubtedly based her novel on Dippel's antics, since it is documented that she visited Castle Frankenstein in 1814 when she eloped with Percy.
"Life, although it may only be an accumulation of anguish, is dear to me, and I will defend it." ― Mary Shelley, Frankenstein
MARY SHELLEY: THE WOMAN BEHIND THE MONSTER
English Romantic novelist, biographer and editor, best known as the writer of FRANKENSTEIN, OR, THE MODERN PROMETHEUS (1818). Mary Shelley was 21 when the book was published; she started to write it when she was 18. The story deals with an ambitious young scientist. He creates life but then rejects his creation, a monster.
"But success shall crown my endeavours. Wherefore not? Thus far I have gone, tracking a secure way over the pathless seas: the very stars themselves being witnesses and testimonies of my triumph. Why not still proceed over the untamed yet obedient element? What can stop the determined heart and resolved will of man?" from Frankenstein

Mary Wollstonecraft Shelley was born in London. Her mother, Mary Wollstonecraft, died of puerperal fever 10 days after giving birth to her daughter. Mary's labor lasted 18 hours and then it took four hours to remove the rest of the placenta. She was one of the first feminists, the author of A Vindications of the Rights of Woman
(1792), and the novel Maria, or the Wrongs of Woman
in which she wrote: "We cannot, without depraving our minds, endeavour to please a lover or husband, but in proportion as he pleases us." In the intellectual circles of London, her acquaintances included the painter Henry Fuseli, Erasmus Darwin, Charles's grandfather, and William Blake, who illustrated an edition of her book, Original stories, from real life; with conversations, calculated to regulate the affections, and form the mind to truth and goodness, by Mary Wollstonecraft.

Mary Shelley's father was the writer and political journalist William Godwin, who became famous with his work Enquiry Concerning Political Justice
(1793). Godwin had revolutionary attitudes to most social institutions, including marriage. In feminism he found an "amazonian" element. Among his other books is Adventures of Caleb Williams
(1794).
In her childhood Mary Shelley was left to educate herself amongst her father's intellectual circle, the critic Hazlitt, the essayist Lamb, the poet Coleridge and Percy Bysshe Shelley, who came into Godwin's circle in 1812. Godwin took a second in 1801, but Mary never learned to like her. In 1812 Godwin sent her to live in Dundee. Mary published her first poem at the age of ten. At the age of 16 she ran away to France and Switzerland with Shelley; they had met at the end of 1812. Percy and Mary married in 1816 – Shelley's wife Harriet had committed suicide by drowning. Their first child, a daughter, died in Venice, Italy, a few years later. In History of a Six Weeks' Tour Through a Part of France, Switzerland, Germany and Holland: With Letter
(1817) the Shelleys jointly recorded their life. Thereafter they returned to England and Mary gave birth to a son, William.
The story of Frankenstein started on summer in 1816, when Mary joined with Percy Shelley and Claire Clairmont near Geneva Lord Byron. She took a challenge, set by Lord Byron, to write a ghost story. With her husband's encouragement, she completed the novel within a year. At the Villa Diodati she had been a "silent listener" of her husband and Byron, who discussed about galvanism. At Eton College Shelley had become interested in Luigi Calvani's experiments with electric shocks to make dead frogs' muscles twitch. It is possible that his teacher, James Lind, had demonstrated the technique to Shelley. Byron and Shelley talked Dr Darwin's experiments with a piece of vermicelli. In her 'Introduction' to the 1831 edition Mary revealed that she got the story from a dream, in which she saw "the hideous phantasm of a man stretched out, and then, on the working of some powerful engine, show signs of life, and stir with a uneasy, half vital motion."
FRANKENSTEIN; OR, THE MODERN PROMETHEUS (1818) The novel starts with series of letters from Robert Walton to his sister. Walton is an English Arctic explorer who spots a strange creature on a dog-sled. The exhausted Victor Frankenstein arrives, in pursuit of the creature,and while recuperating tells his story. He has been born into a wealthy Geneva family. After his mother dies of scarlet fever and becomes a student of natural philosophy and medicine. Inspired by occult philosophy and the teaching of his mentor, Waldman, he builds a creature in the semblance of a man and gives it life. It body is assembled from parts which Frankenstein has stolen from butcher shops, dissecting rooms, and charnel-houses. The creature is repeatedly rejected by those who see it, but the monster proves intelligent, and later highly articulate. Receiving no love, it becomes embittered. Frankenstein deserts his creation, who disappears. "I had worked hard for nearly two years, for the sole purpose of infusing life into an inanimate body. For this I have deprived myself of rest and health. I had desired it with an ardour that far exceeded moderation; but now that I have finished, the beauty of the dream vanished, and breathless horror and disgust filled my heart." (from Frankenstein) Frankenstein hears that his younger brother has been strangled, but Justine, his family's servant confesses the murder. However, later the monster tells that he murdered William and framed Justine. Frankenstein then agrees to make a mate for the monster so that it will not bother anyone again. A wave of remorse makes him destroy the female. The lone creature swears revenge. He kills Frankenstein's bride, Elizabeth, on their wedding night. The scientist becomes mad, but recovers and chases the creature across the world. The two confront in the Arctic wastes. Frankenstein dies. The creature describes eloquently to Walton his efforts to seek out beauty and how crime has degraded it beneath the meanest animal. "He is dead who called me into being; and when I shall be no more the very remembrance of us both will speedily vanish. I shall no longer see the sun or stars, or feel the wind play on my cheeks. Light, feeling, and sense will pass away; and in this condition must I find my happiness." The monster leaps from the ship on a ice-raft, disappearing again in the darkness. – The novel contains no supernatural elements; the creation of the monster is described in the third edition on a rational scientific basis. Frankenstein is a scientist who challenges the Creator of the world with the possibilities of modern science, but is destroyed because he cannot anticipate the outcomes of his own acts. The story has also been interpreted as an exploration of the artist's – creator's – relation to society.
The first edition of book had an unsigned preface by Percy Shelley. Many thought that it is also his novel, disbelieving that only 19-year-old woman could write such horror story. However, when the book was published in 1818, it became a huge success, although it received mixed reviews. John Wilson Croker wrote in Quarterly Review (January 1818) that "the dreams of insanity are embodied in the strong and striking language of the insane, and the author, notwithstanding the rationality of his preface, often leaves us in doubt whether he is not as mad as his hero." Walter Scott, on the other hand, noted that the work was "written in plain and forcible English, without exhibiting the mixture of hyperbolical Germanisms with which tales of wonder are usually told" (Blackwood's Edinburgh Magazine, March 1818).
In 1818 the Shelleys left England for Italy, where they remained until Percy Shelley's death – he drowned during a heavy squall on July 28, 1822, in the Bay of Spezia near Livorno. In 1819 Mary suffered a nervous breakdown after the death of William – he died of malaria at the age of 3. Mary had also lost a daughter the previous year. In 1822 she had a dangerous miscarriage and she believed that she would die. Mary Shelley wrote to her friend Maria Gisborne about this loss and her husband's death, concluding the letter: "Well here is my story – the last story I shall have to tell – all that might have been bright in my life is now despoiled – I shall live to improve myself, to take care of my child, & render myself worthy to join him. soon my weary pilgrimage will begin – I rest now – but soon I must leave Italy -". Of their children only one, Percy Florence, survived infancy. In 1823 Mary returned with her son to England, determined not to-re-marry. She devoted herself to his welfare and education and continued her career as a professional writer. Sir Timothy Shelley, her father-in-law, was not eager to help her and her son Percy financially. Mary Shelley never married, but she flirted with the young French writer Prosper Merimee, and hoped to marry Maj. Aubrey Beauclerk.
None of Shelley's novels from this period matched the power of her first legendary achievement. Shelley gave up writing long fiction when realism started to gain popularity, exemplified in the works of Charles Dickens. She wrote a numerous short stories for popular periodicals.
The story of Frankenstein's monster has inspired over 50 films. James Whale's version from 1931, Frankenstein
starring Boris Karloff, is considered a classic, and became the major source for a number of other adaptations. The monster kills little Maria on the lake and is hunted down and killed. All reviews of the film were not positive: "I regret to report that it is just another movie, so thoroughly mixed with water as to have a horror content of about .0001 percent… The film differs greatly from the book and soon turns into a sort of comic opera with a range of cardboard mountains over which extras in French Revolution costumes dash about with flaming torches." (Creighton Peet in Outlook & Independent, December 9, 1931) Mel Brook's parody Young Frankenstein
(1974), starring Gene Wilder in the role of the famous doctor, was beautifully photographed – Brooks used many archaic optical devices, including the old 1:85 aspect ratio for height and width of the frame. The film received an Academy Award nomination for its script. Among its highlights is the scene in which Peter Boyle as the monster visits a well-meaning, lonely blind man, Gene Hackman, who nearly manages to destroy his guest. Kenneth's Branagh's film Mary Shelley's Frankenstein
(1994) was faithful to the book. The director himself was Frankenstein and Robert De Niro played the monster under a heavy mask. – http://kirjasto.sci.fi
"Hateful day when I received life!' I exclaimed in agony. 'Accursed creator! Why did you form a monster so hideous that even you turned from me in disgust? God, in pity, made man beautiful and alluring, after his own image; but my form is a filthy type of yours, more horrid even from the very resemlance. Satan had his companions, fellow-devils, to admire and encourage him; but I am solitary and abhorred.' – Frankenstein's monster" ― Mary Shelley, Frankenstein
Frankenstein (75th Anniversary Edition) (Universal Legacy Series)

The Bride of Frankenstein (Universal Studios Classic Monster Collection)

The Ghost of Frankenstein / Son of Frankenstein (Universal Studios Frankenstein Double Feature)

Universal Classic Monsters: The Essential Collection [Blu-ray]
They're here: Dead LA man who had 1,200 guns identified, is 'part alien'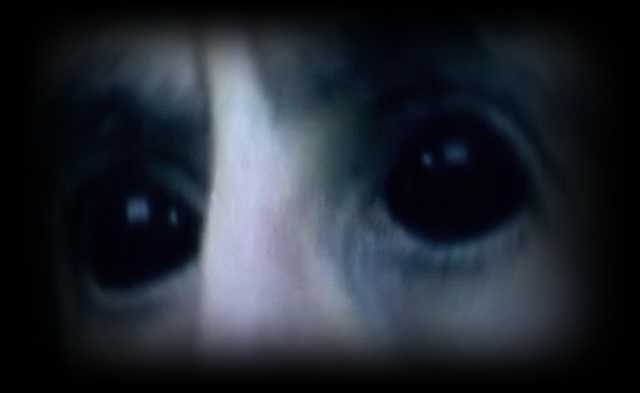 The bizarre statement came Wednesday as the betrothed woman's lawyer identified the dead man as Jeffrey Alan Lash — almost one week after he was discovered rotting in his car parked on the street in the tony Pacific Palisades neighborhood.
Los Angeles police found more than 1,200 guns, nearly 7 tons of ammunition, bows and arrows, knives, machetes and $230,000 in cash inside Lash's home last Friday.
They also discovered a Toyota SUV designed to drive underwater among the 14 vehicles registered in his name.
The collection was as odd as Lash's confessions to his soon-to-be-wife Catherine Nebron that he was working as an undercover operative for multiple unnamed government agencies, according to her defense attorney Harland Braun.
"The story itself sounds totally crazy, but then how do you explain all this?" Braun said. "There's no evidence he was a drug dealer or he stole these weapons, or had any criminal source of income, no stolen property, all the stuff you'd look for."
Lash was also believed to be an alien "sent to Earth to protect us," according to Laura VadBunker, the mother of 39-year-old Dawn VadBunker, who used to work for Nebron.
"I can't believe this," Laura VadBunker told KTLA. "It's worse than a Twilight Zone movie. He was part alien and part human and was out to save the world."
Authorities are still working to confirm the man's identity and figure out why he possessed so many cars and firearms, many of which were still in boxes or had price tags.
LAPD Deputy Chief of Detectives Kirk Albanese said he does not believe he was doing anything illegal with the weapons.
He had been decomposing inside his car for nearly two weeks before police found him on July 17.
Police do not suspect any foul play involved in his death, but there is an investigation into the cause.
Braun said Nebron parked him in a car down the street from the condo they shared after he died. He had trouble breathing but refused to go to the hospital or call 911, the attorney said.
The longtime girlfriend of 17 years then left for Oregon, believing government agencies would come for his body and the items in his house.
Hitler DID escape Germany in 1945: Staggering new claims point to huge Nazi cover-up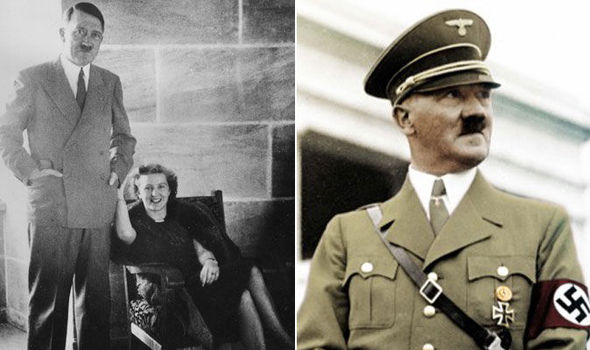 By Nathan Rao
ADOLF Hitler did not commit suicide but escaped before his death was faked in a massive cover up by the Nazis, historians have sensationally claimed.
In allegations set to debunk one of the biggest slices of world history, Russia is also accused of hiding vital evidence proving the Fuhrer and his wife Eva Braun fled in disguise.
Two corpses found after the Second World War reported to be those of Hitler and Braun were in fact murdered body doubles.
The claims due to be aired in an explosive television expose tomorrow will blow wide open theories of what happened to the world's most infamous mass murderers.
The programme claims Hitler did not die at the end of the war and threatens to expose the foundation of post-Second World War history as nothing more than a tissue of "lies".
Official records hold the brutal dictator, shamed in defeat in April 1945, shot himself in the head in a bunker in Berlin while his wife took a lethal cyanide pill.
But their bodies were swiftly burned with reports confirming their deaths based on what is now claimed to be dubious eyewitness evidence.
Hitler with Eva Braun escaped Nazi Germany according to historians
Journalist, author and historian Gerrard Williams claims two innocent lookalikes were murdered with the world falling victim to a "duplicitous deception".
He said: "I believe that in April 1945 the real Hitler along with Eva Braun were spirited out of the bunker where they escaped.
"They did not die, we were lied to, we're still being lied to."
He claims secret FBI documents reveal the Americans were investigating sightings of the Nazi leader months and years after the end of the war.
According to official records Hitler's body was found with Eva Braun's in Berlin before they were destroyed and their deaths announced by German officials.
That November an official report was released by the British Intelligence Services claiming the evil duo died shortly after 2.30 on April 1945.
Hitler was smuggled out of Germany by the Nazis, according to historians
However it was largely based on third party accounts and contains an admission that the deaths were confirmed "as conclusively as possible without bodies".
Any speculation was put to bed 23 years later when a Russian autopsy apparently matched a recovered jawbone to Hitler's dental records.
A skull fragment complete with bullet hole confirmed the cause of death to be suicide with subsequent DNA testing in 2009 backing these findings.
However historians now claim this data was flawed and the Russian government is still refusing any access to the body parts.
They say "eyewitness evidence" used to write the British Intelligence Services report was nothing more than feeble statements given to Soviet interrogators.
Professor Williams said the Russians' failure to announce they had found the body of Hitler in 1945 casts serious doubts adding "we have been sold a dummy".
He said: "There are no bodies reported discovered in 1945 and this is something which amazes me.
"It's only in 1968 they said 'well actually 23 years ago, despite what we said at the time, we did discover the bodies of Adolf and Eva'.
"It just doesn't make any sense at all."
He warns of "real problems within official history" and said official records confirming the deaths of Hitler and his wife are seriously flawed.
"It is supported by eyewitnesses who actually never saw anybody get shot," he said.
"They never see the Fuhrer and Eva go into his private quarters in the bunker.
"They see bodies coming out but nobody ever see Hitler and Eva dead.
"I am pretty convinced two people probably did die in the bunker at the end of April 1945 but they weren't Hitler and Eva Braun.
"Two doubles replaced them and it was those who were murdered and their bodies disposed of later.
"The FBI never believed Hitler was dead, they looked for him around the world."
Sonke Neitzel, Professor of history at the London School of Economics, said witness accounts used to compile the British report into Hitler's death are unreliable.
He said: "We know that prisoners who had been in the bunker most likely lied to the Soviets when they were interrogated."
It is thought Hitler escaped Germany in an elaborate plan coordinated by his private secretary Martin Bormann.
After he and Eva Braun were out of danger two innocent people were executed and their bodies planted in a shallow grave later to be discovered.
Professor Williams said: "And that's it – end of history, end of Hitler.
"After these deaths everybody thought this is what's happened.
"If you tell a lie often enough and loudly enough it becomes the truth, and in this case what the world accepted as the truth is this lie."
Theories have come to light that Hitler was taken to a stronghold in the South Pole where the Nazis had plans of colonisation.
Hibernating Alien discovered inside Secret Chamber in the Great Pyramid
Would you believe a story about an alien mummy being found in the Great Pyramid of Giza?
In the March 2000 issue of the Egyptian magazine Rose al-Yūsuf, a strange article posed the same question.
As the story goes, in the year 1988, a French Egyptologist named Louis Caparat was exploring the interior of the Great Pyramid when he accidentally discovered a secret chamber. The room had been sealed right after the pyramid was completed, more than 4,500 years ago, and it contained "a crystalline transparent case."
Apparently, the crystalline case served as life-support for a small humanoid alien or human-alien hybrid, which Caparat believed was hibernating or in a stage of suspended animation. The discovery of a previously unknown chamber inside the Great Pyramid sounds intriguing, but finding an actual alien being inside it would be an extraordinary event, if we are to trust this particular account.
 Further inspection of the chamber revealed clues about the identity of its millennial occupant when archaeologists found a papyrus scroll. According to hieroglyphic inscriptions on the scroll, the creature was in fact an extraterrestrial messenger that had arrived in ancient Egypt during Pharaoh Khufu's reign. His mission was to announce the arrival of his brethren, who expressed their interest towards the Egyptian people.

Apparently, the Pharaoh held the visitor in high regards, since the papyrus claimed the Great Pyramid was actually built as a receptacle for the crystal capsule containing the small humanoid. The fact that the life support system was still working after thousands of years supports the theory that the pyramids were built with the aid of advanced alien technology and it also gives credence to the idea that the pyramids acted as energy receivers.
Shortly after his discovery, Caparat called his friend and colleague, biologist F. de Braga, who was in Spain at the time. He boarded the next plane to Cairo, hoping to obtain blood, tissue and DNA samples from the hibernating alien. But when his plane landed, de Braga was promptly sent back to Madrid by the Egyptian authorities. The alien and its crystal coffin were ultimately confiscated by the State Security Investigations Service and taken to an undisclosed location and that's where the trail stops.
No further mentions of Caparat or the secret chambers are made and Egypt has offered no official statement regarding this episode.

But this is neither the first nor the only incident when a decidedly non-human body was found in a pyramid.
According to legend, the first man to break into the Great Pyramid of Giza was a powerful caliph named Abdullah al-Ma'mun, the son of Harun al-Rashid. In 813 CE, after weeks of arduous manual drilling, his team of hired Egyptian laborers broke through several blocks of granite and into a burial chamber that contained the remains of a humanoid alien. The alien had been buried with great respect and was surrounded by precious items.
In Secrets of the Great Pyramid, author Peter Tompkins mentions the event:
Some Arabian authors have reported that al Ma'mun found in the sarcophagus a stone statue in the shape of a man. They say that within the statue lay a body wearing a breastplate of gold set with precious stones, an invaluable sword on his chest, and a carbuncle ruby on its head the size of an egg, which shone as with the light of day."
Another mysterious mummy of an otherworldly being was allegedly uncovered in a small pyramid in El-Lahun, just south of Pharaoh Senusret the Second's tomb. As the story goes, Viktor Lubek, a retired University of Pennsylvania University professor made this discovery on 1997 but there is very little information available.
The mummy was that of a frail creature measuring around 5 feet in length. It had been buried with special honors, and a number of intriguing objects were found inside the tomb. According to an article published in a 2003 issue of Weekly World News,
the mummy dates from about 1880 B.C. and is humanoid, but clearly not human. It's unclear what sex it was, but we know it had unusual reptilian-like skin, no external ears and overly-large, almond-shaped eyes."
Inscriptions inside the tomb read that the mummy belonged to an important being that had been appointed counselor to the king. Its name was Osirunet, 'meaning star – or heaven-sent.'

The body of Osirunet had been preserved in a very unusual manner, and it was covered with linen wraps and a mixture of clay and gold.
As for the unknown objects found inside the pyramid, they were described as "devices made of a tough synthetic-type material that no one has been able to identify, and the uses of these strange machine-like items are a complete mystery."
This finding was particularly upsetting for many Egyptian officials who insisted that it remain secret until a plausible explanation was found. The mummy was allegedly flown to Florida for an in-depth analysis but that's the last time anybody's heard of Osirunet.
A similar incident involved a 15-inch long mummified finger discovered in 1988.
Even if these stories sound far-fetched or offer little evidence to support their claims, when considering the greater picture offered by Egypt's many mysteries, they seem possible. Some would say unlikely, but possible.
When (and if) the ancient Egyptians built the Pyramids of Giza, they exhibited great engineering, mathematical and astronomical skills and we can easily see how the magnificence and precision of their monuments could be attributed to external influence.
But in the end, you could say it's really a matter of perspective.
Source: locklip